Keep reading to find out how you can get your logo designed for just $5.
---
 9 Best eSports Logos
It isn't easy to know where to start when creating a new logo. Knowing this, my colleague tested various logo design services to see which ones performed the best. His results were certainly eye-opening! Check out his
expert logo design service review
 to see how some of the most popular services held up in his test.
How to Get a $5 Logo Design
Getting a bespoke eSports logo for only $5 may seem impossible, as gaming logos tend to have a very specific style. Finding a designer that specializes in this field for just $5 may seem unlikely, but trust me, they're out there! Fiverr is a freelancing platform where specialist gaming designers can offer packages that begin at $5. Even very experienced designers maintain this price point to keep themselves competitive while offering a quality of work that seems deserving of a much higher price tag. Sounds good, right? Game on!
Head to the Fiverr homepage
 and search "eSports logo" to start hunting for your perfect designer. There are thousands of designers on the site, so take your time as you look through your results. Clicking on a result will open that designer's full profile and you can open multiple tabs to compare designers that interest you.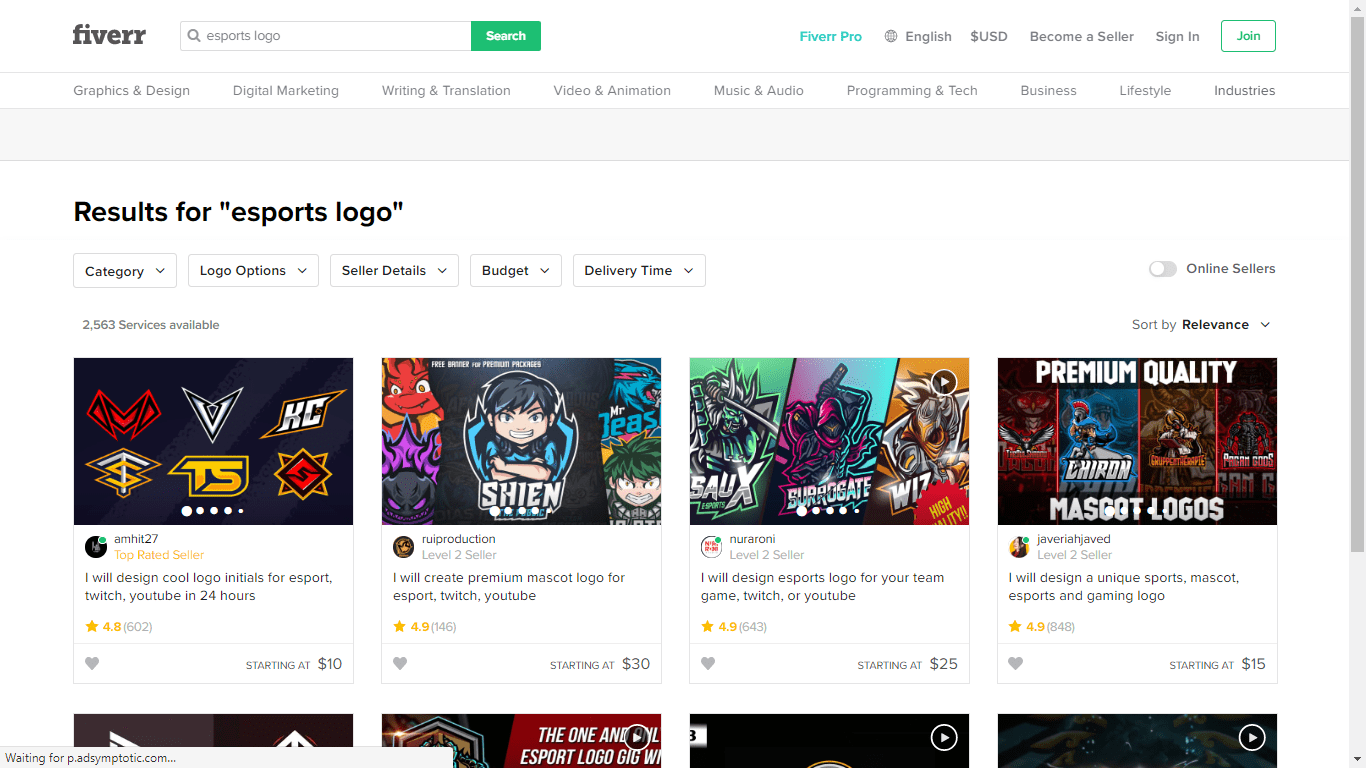 In the full profile view, you'll be able to see the designer's "About This Gig" section, portfolio of work, customer reviews, and package offerings. Take a look through all the listed information to decide if they're the right fit for you. When you're ready to hire a designer, click
Continue
to head to the next page.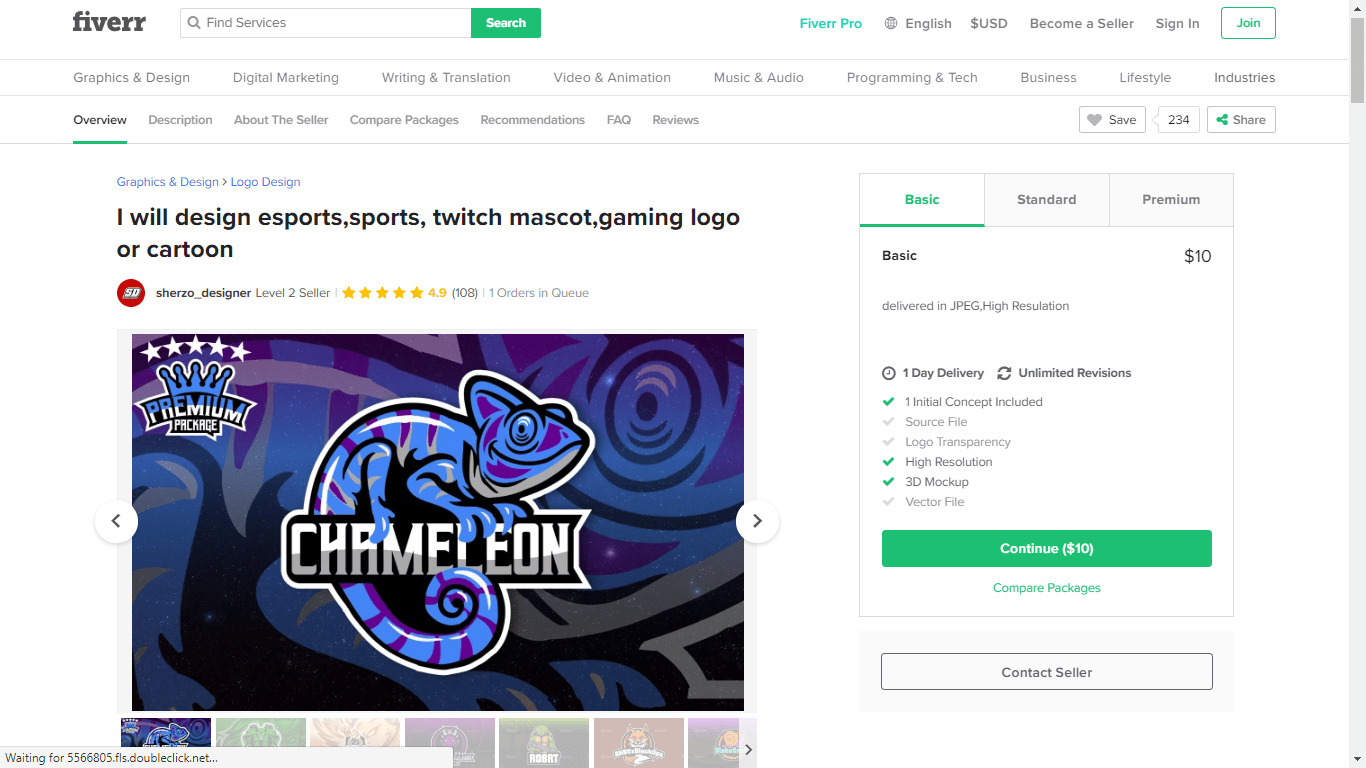 The payment preview page shows the final cost of your chosen package and all the services included. Once you're sure you've got the perfect balance of services and price for your needs, click
Order Now
to enter your payment details.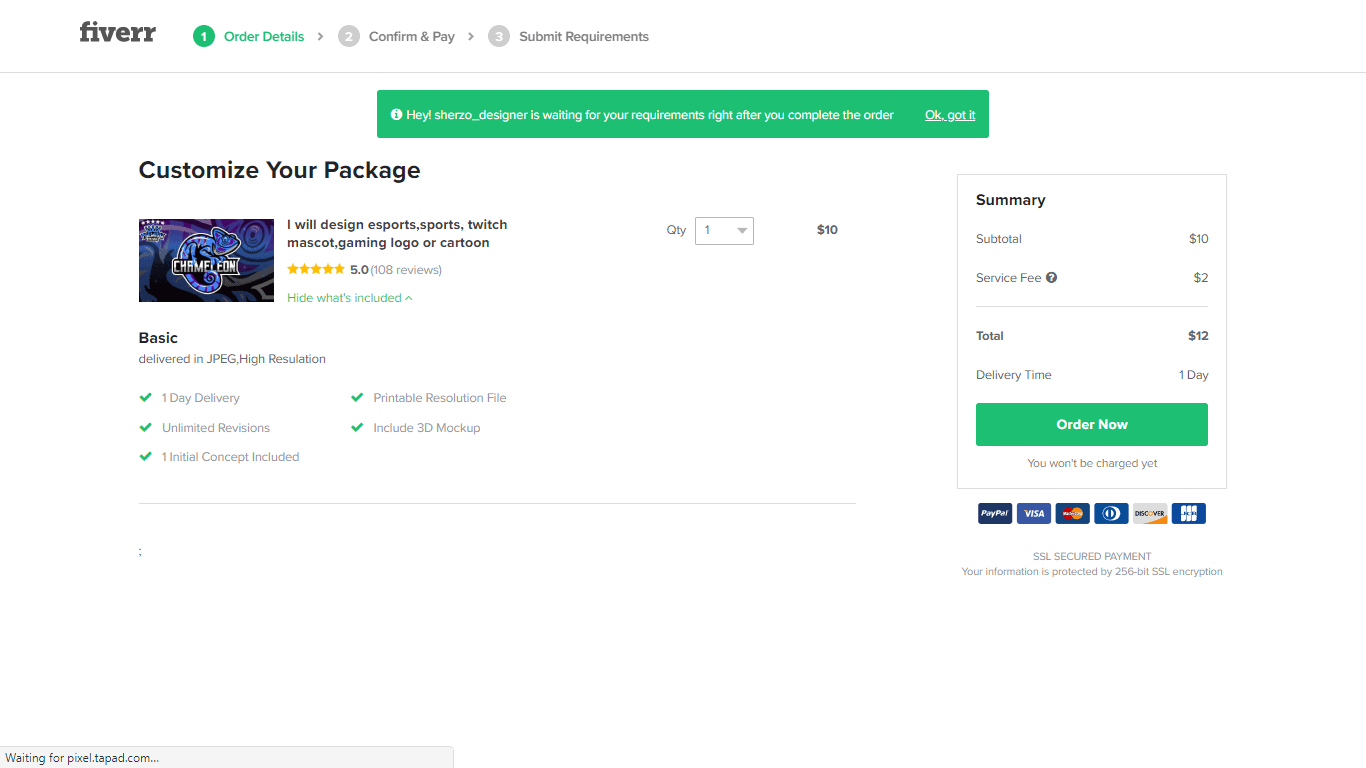 Finalize your payment and send instructions to your designer and your job is complete! Now you just have to wait for the finished logo to be sent to you. A few more cool Fiverr features:
Payment protection – Though your payment is made upfront, it's never released to the designer until you're happy with their work. Once approved, the payment is sent and you can download your new logo for use.
No unexpected charges – Your designer can't add charges for services you've already paid for. The price you pay at the start for your package is the only price you'll ever pay.
Designer search filters – Use the multiple search filters, like budget, logo style, and delivery time, to find designers that fit all your needs.
Seller levels – Each designer is assigned a level based on their time on the site and their customer reviews. Designers with higher seller levels can ensure a high-quality product and service.
Interested in Fiverr?
Check out our in-depth review for more tips
and example logos.
How to Make Your Own Logo Design
Designing a logo is never easy, and that's especially true for amateur designers. But it is possible to make your own logo, as long as you're prepared to commit some time and artistic effort. Don't worry about downloading expensive software to create your logo, a DIY logo maker is the easiest and cheapest way to bring your new logo to life. My favorite logo maker on the market is Wix Logo Maker – it's always my number one recommendation. The tool is so easy to use and the outcome is always high quality. All you have to do is answer a few questions to help its artificial intelligence (AI)  learn about your style preferences, and it'll generate lots of customizable, logo templates tailored just to you.
Head to the Wix Logo Maker homepage
 to begin. Create a profile and enter your company details to get started.
Next, start typing your industry into the search bar until a relevant option appears in the dropdown menu. There's an option for "eSports team", which just goes to show how in-depth Wix Logo Maker's user interface truly is.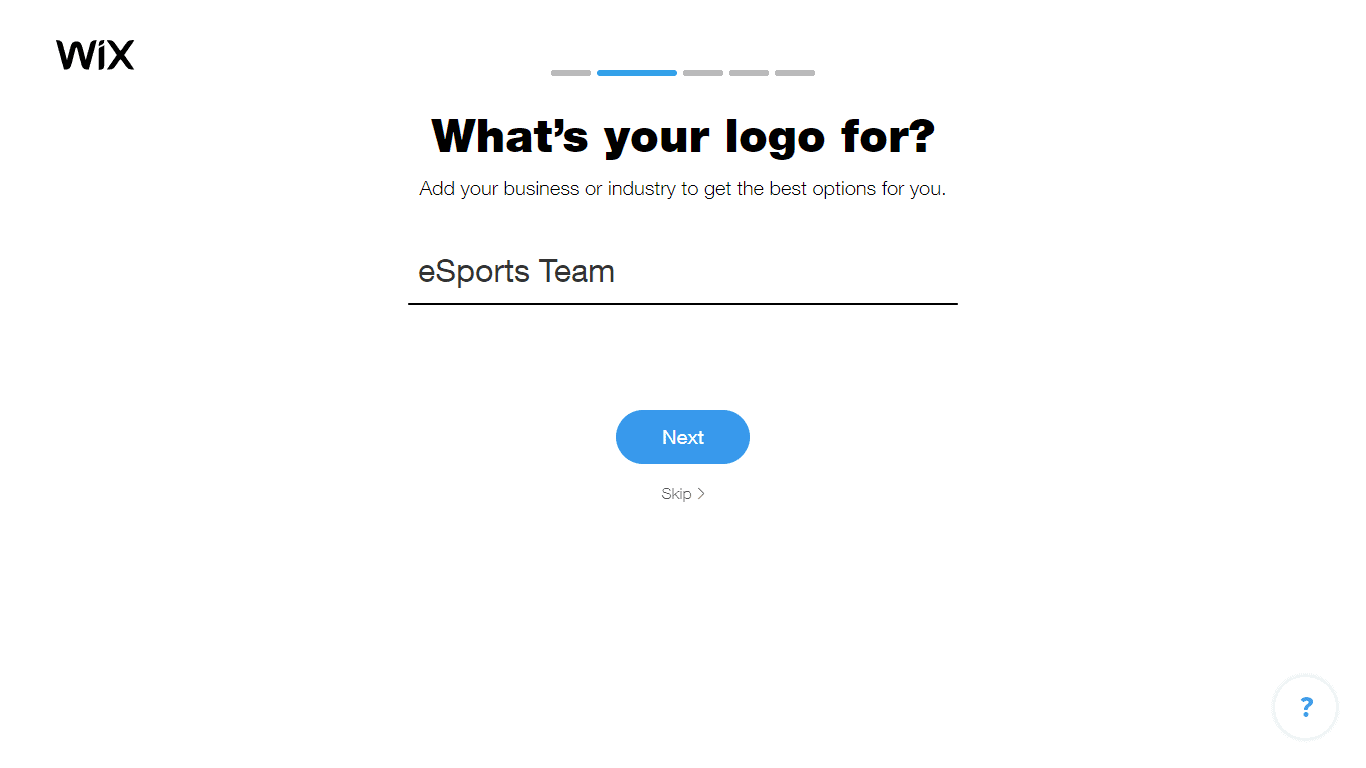 Next, you'll see a group of adjectives. Choose the words that best describe what you want your finished logo to look and feel like to help guide the AI toward the right styles for you.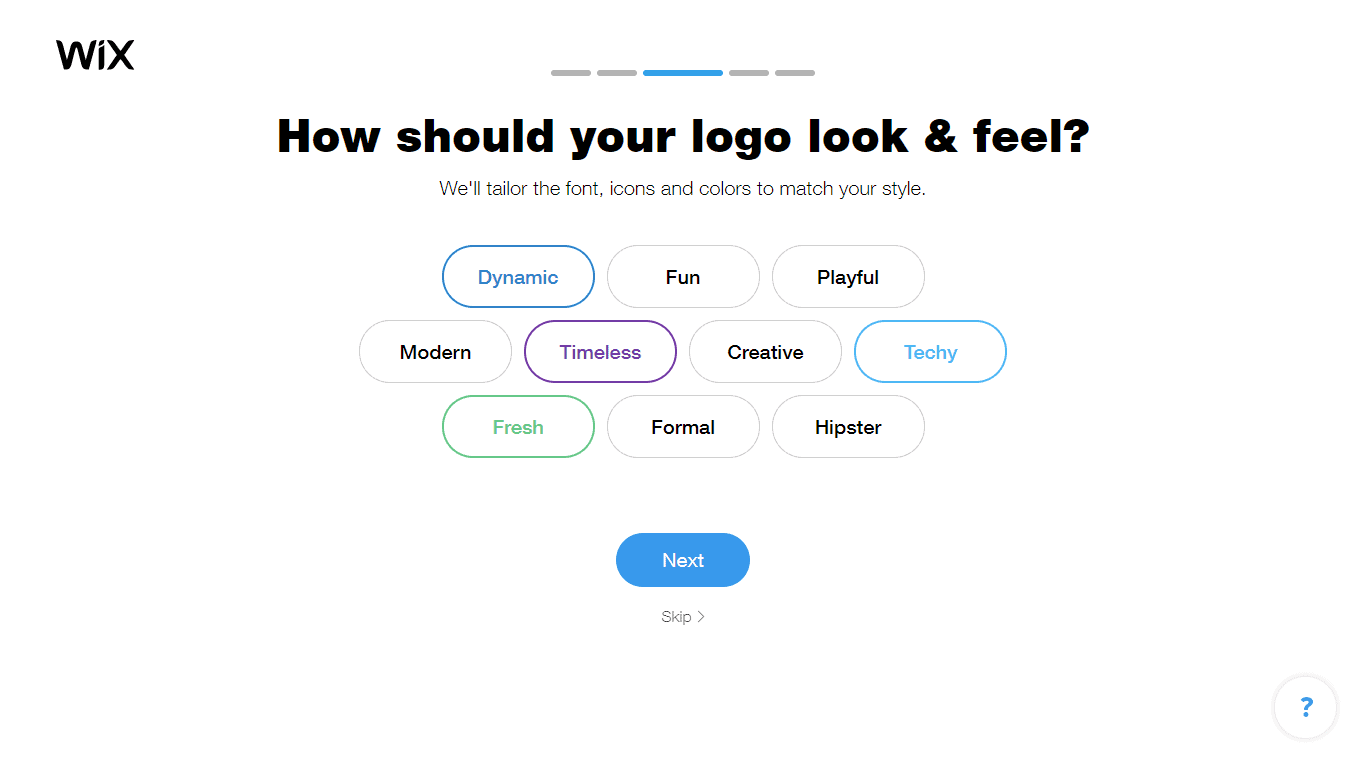 In the next stage, you'll be shown a series of quickfire logo pairs to choose between. Select the logo in the pair that you like the best. Click
I don't like either of them
to skip the pair and move on.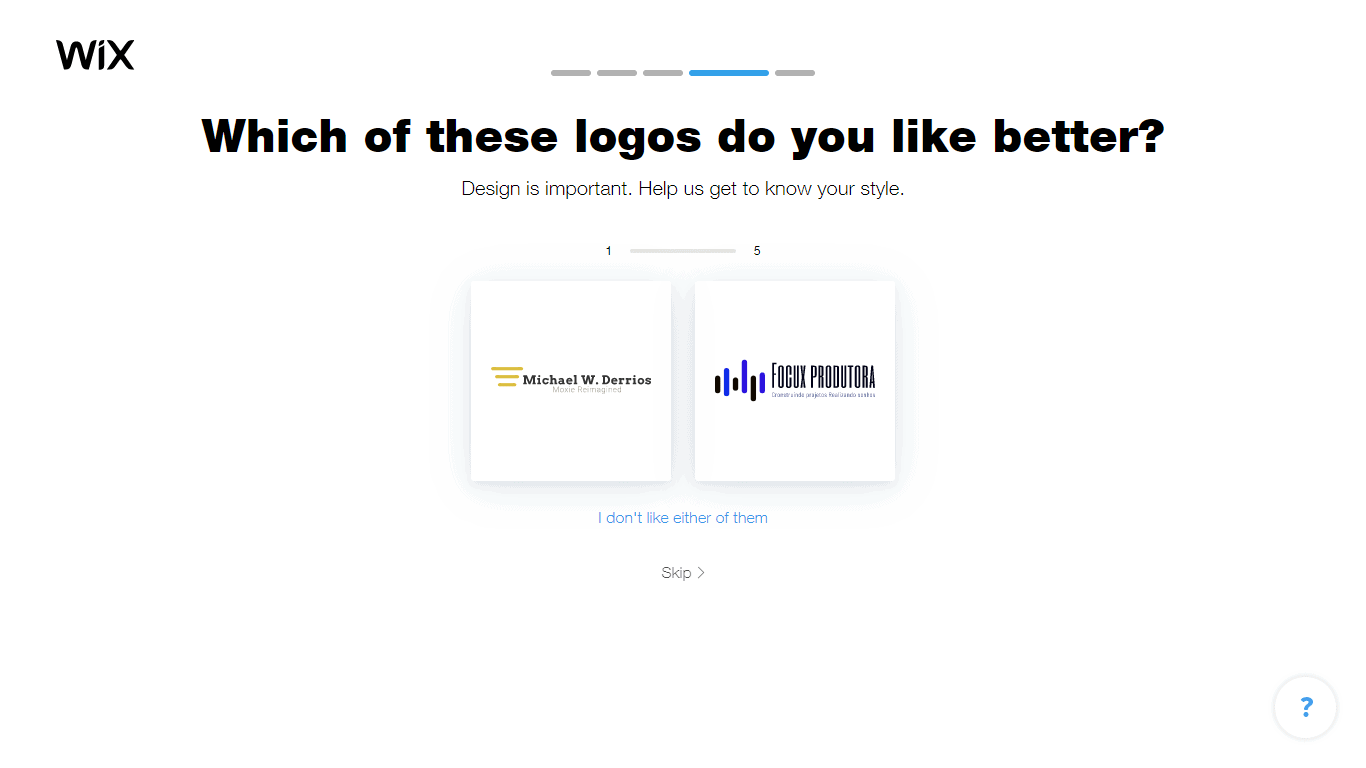 Lastly, tell Wix Logo Maker where you plan to use your logo, like on a website, business cards, or social media. If you're unsure, select all the options just in case.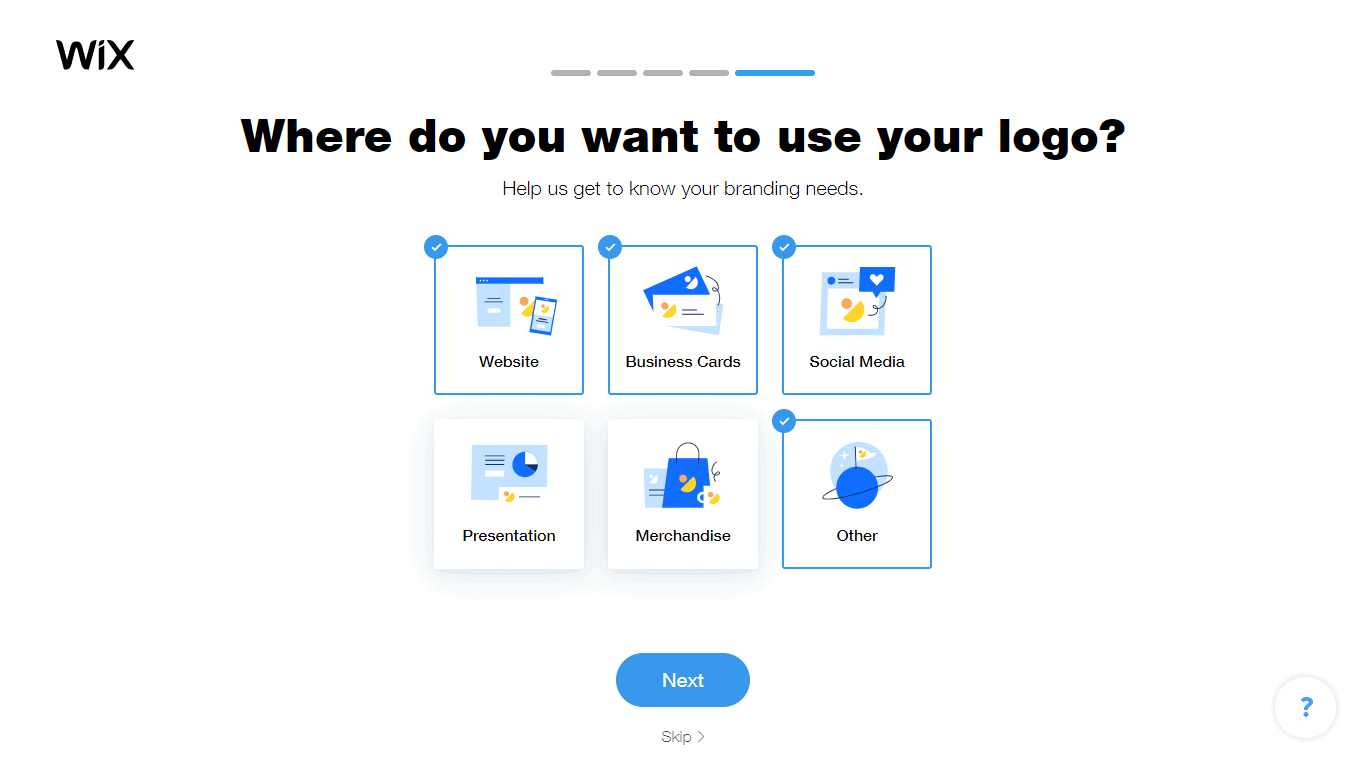 Your logo suggestions are up next! You'll see that the AI generates quite a few suggestions, so take your time exploring the results.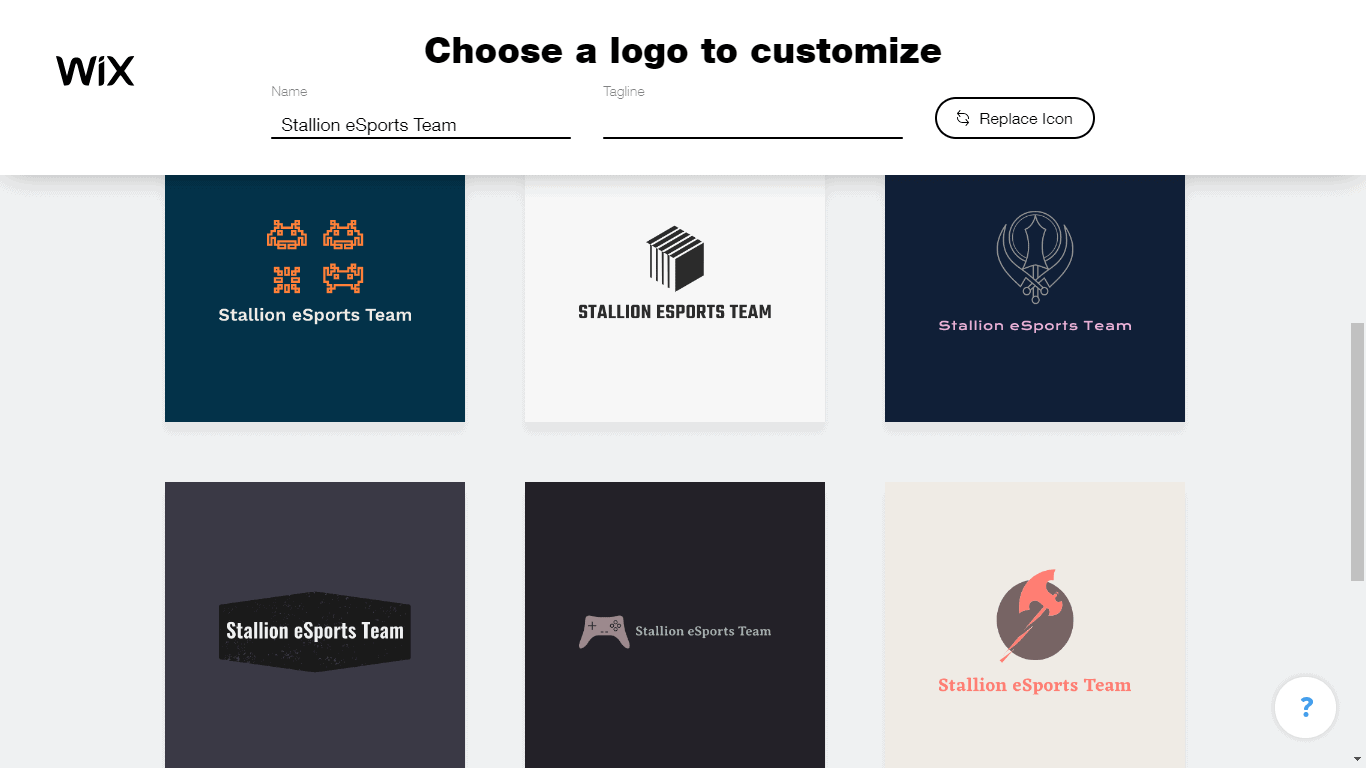 To find more icons, click
Replace Icon
and search "eSports" or "gaming" or another relevant term to pull up options. When you've found an icon you like, clicking on it will replace the image in all of the existing logo templates.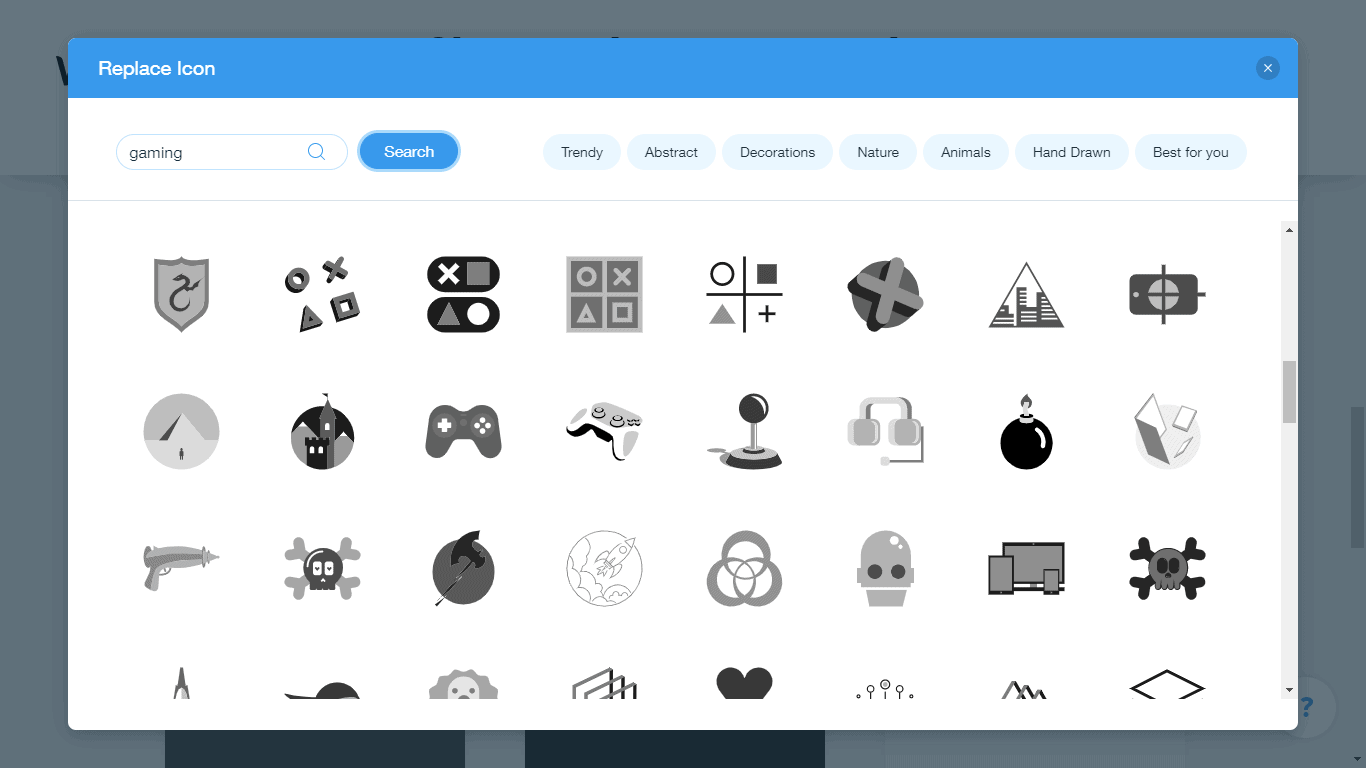 Choose the template that has the most potential to customize in the next stage. The logo editor gives you access to a huge range of useful features. There are plenty of unique fonts to choose from, as well as shapes and icons. You can also create a brand new color scheme or choose from a preset palette.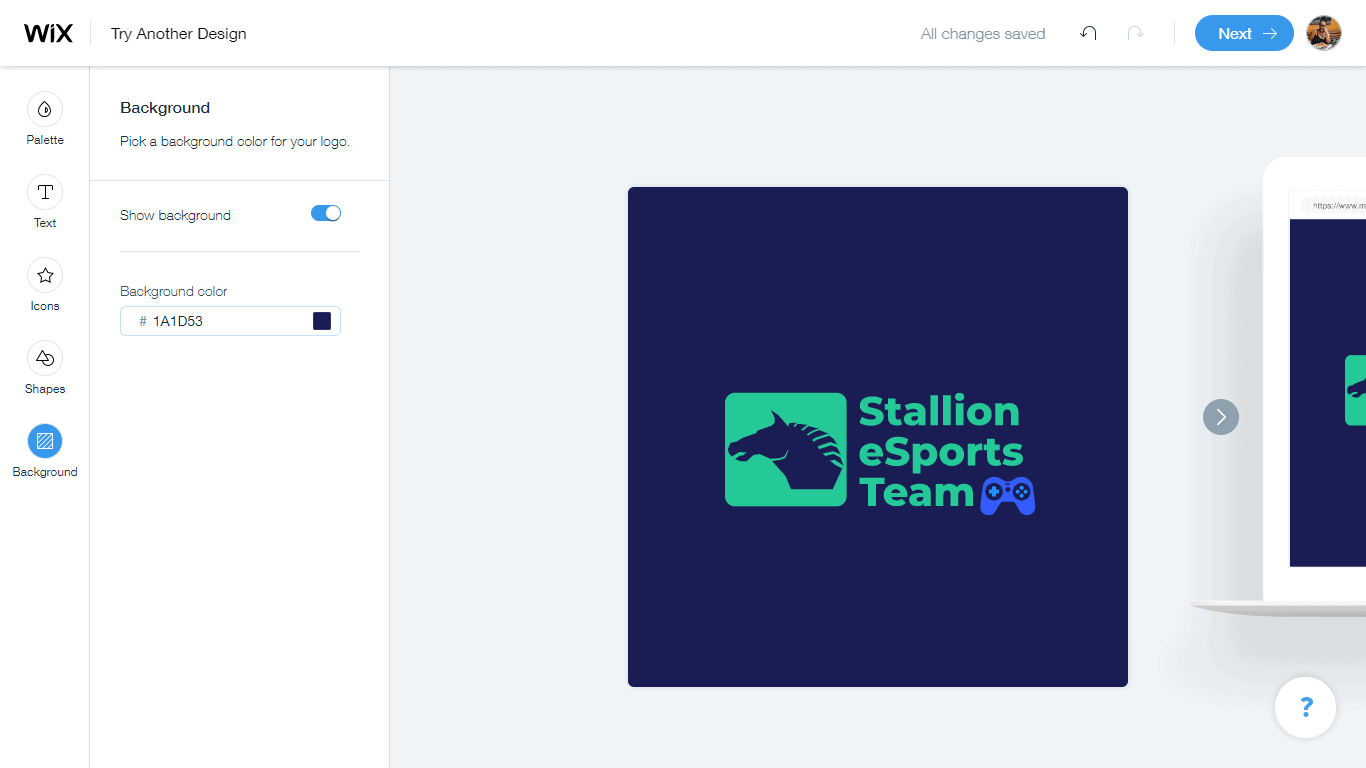 Finished with your edits? Click
Next
to choose your logo package. Enter your payment information and you'll be able to download your new logo in a high-res format. Not sure if you're ready to commit? Download a free, smaller size version that you can use for comparisons later on. Want to know more? Read our
expert Wix Logo Maker review
to see some logo samples.
Wix Logo Maker Alternatives:
DesignEvo – With DesignEvo, you can choose from more than 10,000 design templates in 18 searchable categories. Type "gaming" into the search bar to pull up ready-to-go templates for a super-simple design process.
Looka – Businesses that are interested in rebranding or embarking on their branding journey will find Looka to be an ideal solution. Looka enables you to create your logo and explore additional branding components, such as a social media kit and website design, conveniently within a unified platform!
In Conclusion
Like with any sport, you want a logo that ensures you'll be taken seriously – so don't risk ending up with a design that looks amateurish or bland.
Fiverr connects you with thousands of eSport logo designers
 who can take your gaming persona to the next level! When it comes to DIY,
let Wix Logo Maker take some of the stress out of your logo creation
. Making your own logo is a great way to pour your creative energy into something tangible and end up with a handmade logo that reflects exactly who you are. If you're still not sure which logo design option is right for you, don't be discouraged. Getting the perfect logo sometimes takes a little digging. Head over to my colleague's
detailed logo design service review
 to see how other tools held up against Wix Logo Maker and Fiverr.