The legal marijuana market was estimated at $7.06 billion in 2016, with growth predicted at a rate of 24.9% until 2025.
That means that while businesses that trade in cannabis stand proudly in the public marketplace, they're also having to fiercely compete with each other for customers. So after years of needing nothing but the marijuana leaf to mark your business, your cannabis company now needs a standout logo that attracts attention and sticks to memory.
How to Make Your Cannabis Business Logo Stand Out from the Crowd
Inevitably, your logo affects the way that customers relate to your product.
As the cannabis market continues to expand, now more than ever do cannabis businesses need to show what makes them different from the competition.
To achieve the
best logo design
for your cannabis business, identify your target audience and make your logo resonate with them.
Medical Marijuana Users
If you're in the medical marijuana field, you want your logo to convey a message of good health or relief from pain.
You could use white together with fresh green for a hygienic and clean look, or health-related visual icons like a green and white cross.
High-end Cannabis-Product Consumers
If you're aiming at experienced cannabis users, you could focus on the purity of your product and its high quality.
Sophisticated, minimalist layouts; elegant color combinations; and sleek fonts show that you have a premium cannabis product. By contrast, bright colors, funky fonts, and bold images might better resonate with those who use marijuana for leisure.
Environmentally Conscientious Cannabis Users
Another marijuana market segment is made up of eco-friendly users, who combine their love for the Leaf with a wider love for the environment and nature.
Cannabis companies that showcase images of nature or that use shades of green in their logo are likely to be perceived by consumers as being eco-friendly.
First-timers
Many cannabis companies serve new marijuana users.
These customers might be a bit nervous about taking cannabis for the first time, so they're drawn to logos that are reassuring and create a sense of trust.
5 Things to Avoid When Creating your Cannabis Logo
You want your cannabis business logo to capture interest and be memorable — but only in a good way. Here are five ways to prevent your logo from becoming a talking point for the wrong reasons:
Don't break the law. Rules that govern how cannabis businesses market their products vary depending on where you are in the world, and these rules should inform your logo's design. If you have any doubts, do your due diligence and/or hire legal counsel to ensure you don't embroil yourself in the law.
To take the U.S. as an example, your design can't appeal to kids and under-age users, so avoid cartoons and images of children in your logo. In some states like Massachusetts, Minnesota, and Nevada, it's also illegal for logos to feature images of cannabis itself, or people smoking it, or even just the paraphernalia they use to do so (e.g., joints, bongs, hookahs, and pipes). You might also be barred from showcasing established medical symbols like the red cross or the Caduceus, or from making colloquial references to cannabis (e.g., weed, pot, Mary Jane, or reefer) if your logo has text. The Interactive Advertising Bureau (IAB) provides an excellent quick reference for U.S. state legislation regarding marijuana advertising.
Don't overuse the Leaf. For years, the distinctive seven-point leaf has represented cannabis everywhere. But it's become too universal. According to the United States Patent and Trademark Office, 44% of cannabis businesses use the Leaf on their logo. It's no longer an image that makes your business stand out in the marijuana marketplace.
Similarly, you don't need to stick to green to reference weed; there's a whole color palette out there that can make your logo attractive and unique.
Don't break copyright or infringe on trademarks. While Mary Jane was illegal, traders could get away with a lot of names and brands that infringed on copyright, like Reefer's Peanut Butter Cups. But breaking copyright can land you in an expensive lawsuit, so don't copy names, distinctive images, or layouts in your cannabis logo.
Avoid marijuana's shady past. You want your cannabis logo to be taken seriously by the wide range of people now using marijuana, so avoid referencing underground deals. Instead, focus on positive associations with weed. For example, you can highlight the fact that it's a natural product that provides powerful pain relief.
Move away from Rastafarian and reggae. You want everyone to be interested in your product, whether they are Rasta or Buddhist, head-bangers or jazz enthusiasts. It's best to separate from connections to reggae or Jamaica; however, if you're aiming at the Rasta community, go right ahead.
7 Awesome Cannabis Business Logos, and Why We Love Them
Here are some of the best cannabis logos on the market, and why they're great!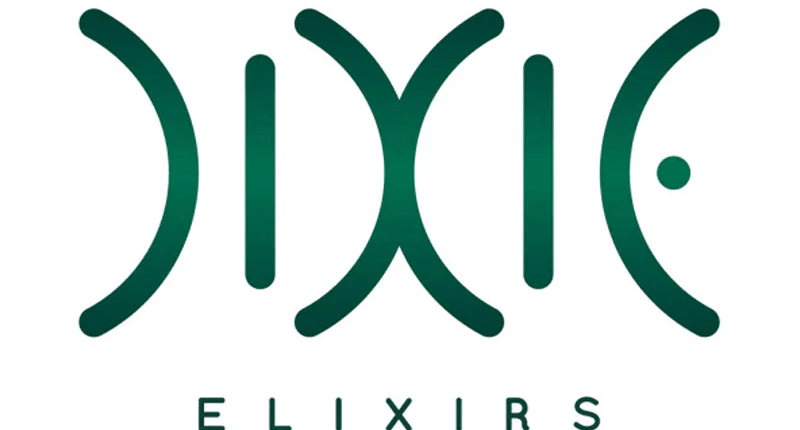 Dixie's logo shows shades of green that characterize a typical cannabis leaf, but it doesn't use any other visual reference to weed. The logo is clean, modern, and fresh — just what Dixie wants customers to associate with its product.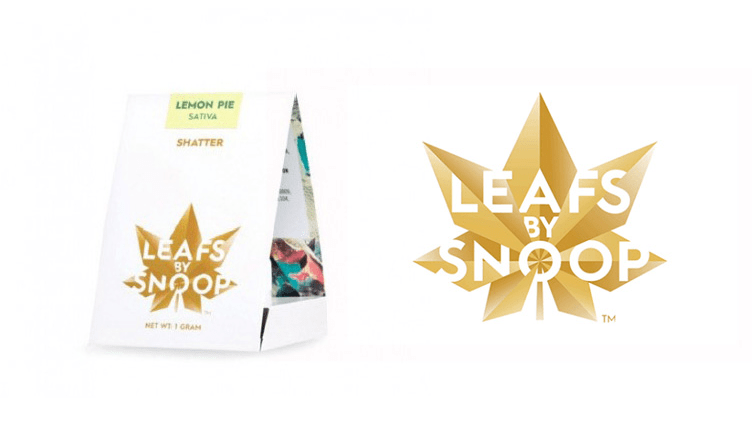 Leafs by Snoop's logo clearly conveys a high-end product. It showcases an elegant design with a rich gold color scheme set against a clean white background.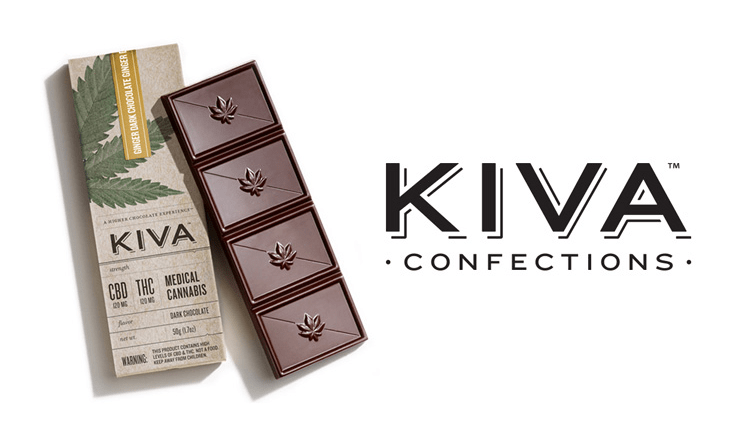 Kiva sells cannabis chocolates, which fits perfectly with their vintage, muted branding. The logo tells you that they don't need bold or flashy — they are gourmet chocolatiers serving connoisseurs who recognize the best.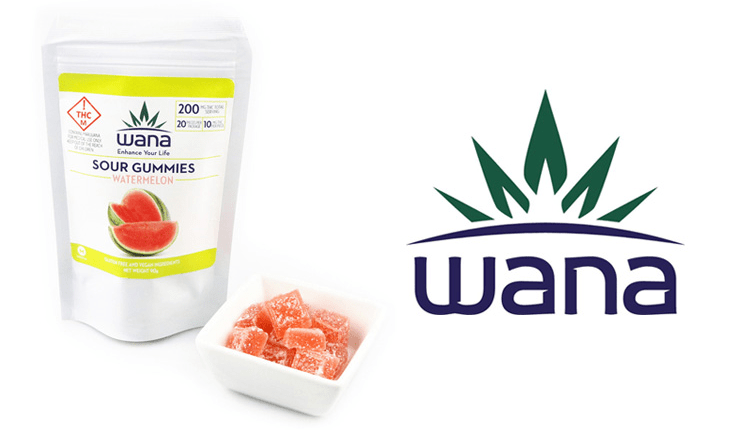 Wana Edibles references the Leaf without over-selling it. So if you didn't know that these confections were infused with weed, you might think that the logo's icon looked like a sunrise — not a bunch of marijuana leaves.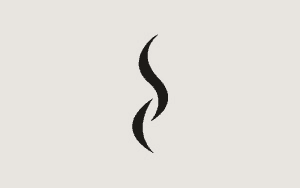 As a high-end connoisseur's choice for cannabis products, Cannaseur's logo is suitably elegant and understated. It appears as a stream of smoke, but hidden in the design is a C and S for CannaSeur.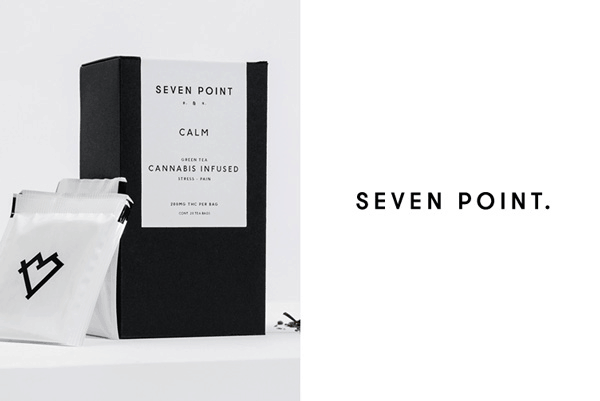 In clean black and white, with a spare sans-serif font, Seven Point's branding just breathes reassurance and cleanliness. Seven Point sells medical marijuana products, and you can tell the product is good for you just by looking at the logo.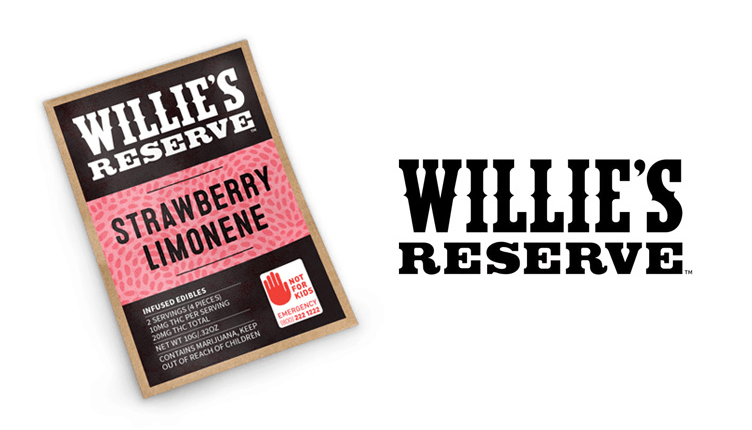 Singer Willie Nelson's bold and colorful packaging perfectly matches the fun-loving, extroverted, weed-smoking culture that is his brand's message. There are no shades of green or references to the Leaf here.
The Best Cannabis Logo Design Starts Here
The best cannabis logo designs are based on the same principle as any great business logo: Communicate the uniqueness of your product in a way that attracts your ideal customers.
When it comes to cannabis businesses that want to avoid the stereotypical green leaf, it's a good idea to reference how your weed was produced and/or how it will be used.
For example, an image of a farmer watering plants can convey a message of marijuana's natural origins. Another image of a ring of people puffing and passing weed to each other can communicate a sense of community. With these logo design tips, you'll be well on your way to creating an awesome logo that's perfect for your cannabis business.
---
United States Patent and Trademark Office stats
: https://www.slate.com/blogs/the_eye/2016/04/18/marijuana_branding_needs_to_branch_out_beyond_the_cliched_cannabis_leaf.html
IAB
: https://www.iab.com/marijuana-legalization-advertising-restrictions-united-states/