Jump ahead to find out how you can hire an expert designer for just $5.
9 Best Boutique Logos
In a mission to find a new logo for this website, my colleague tested some of the most popular logo design platforms for quality and value. I thought I'd be able to predict his results, but there were some pleasant surprises. Head over to his
expert logo design service comparison
to see examples from Fiverr designers and others in his experiment.
How to Get Your Logo for Just $5
Hiring a professional designer used to cost hundreds or thousands of dollars but now, if you know where to look, you can get an expert logo with even a tiny budget. Head to Fiverr, a platform for freelance professionals who offer their services from a starting price of just $5. Ready to start the search for your brand new logo?
Go to the Fiverr homepage
 and search for "boutique logo". This will bring up all of the logo designers offering packages that match your needs. Browse through the results until you find a profile with a style you like.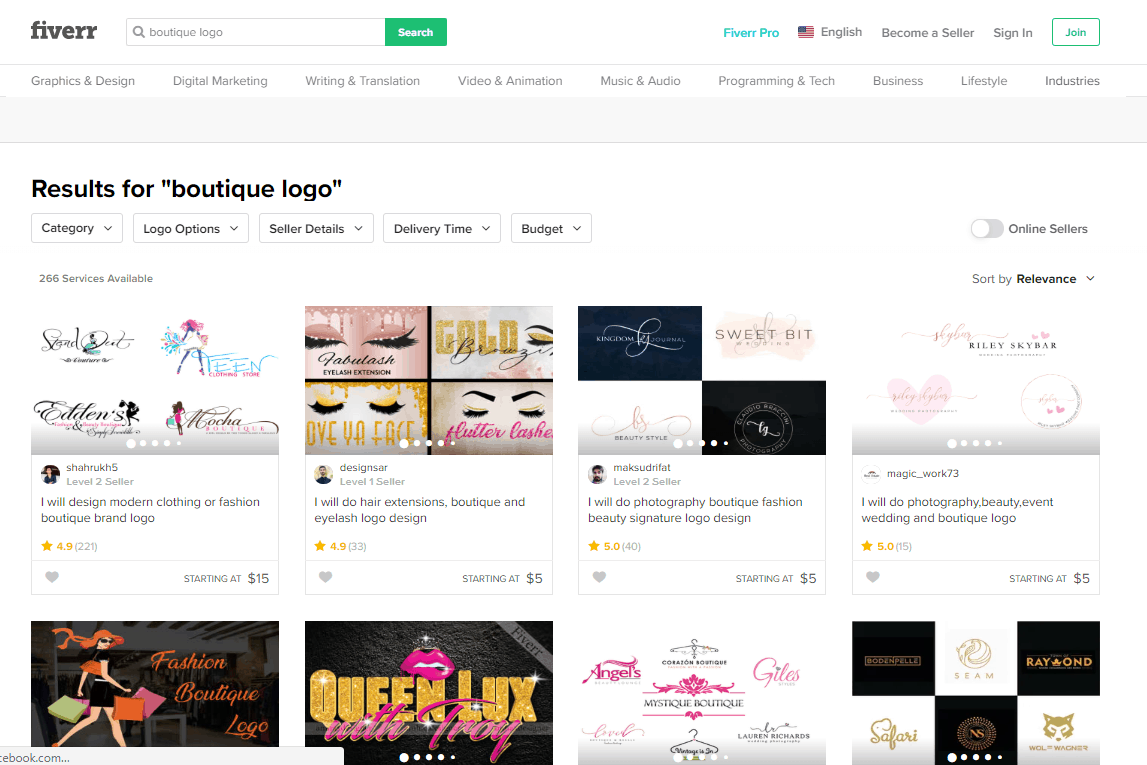 Click on the profile to see the designer's portfolio, customer reviews, and the services offered in each package. Each designer offers multiple packages at different price points, so you can find the one that best suits your needs. Happy with your choice? Click
Continue
to head to the payment review page.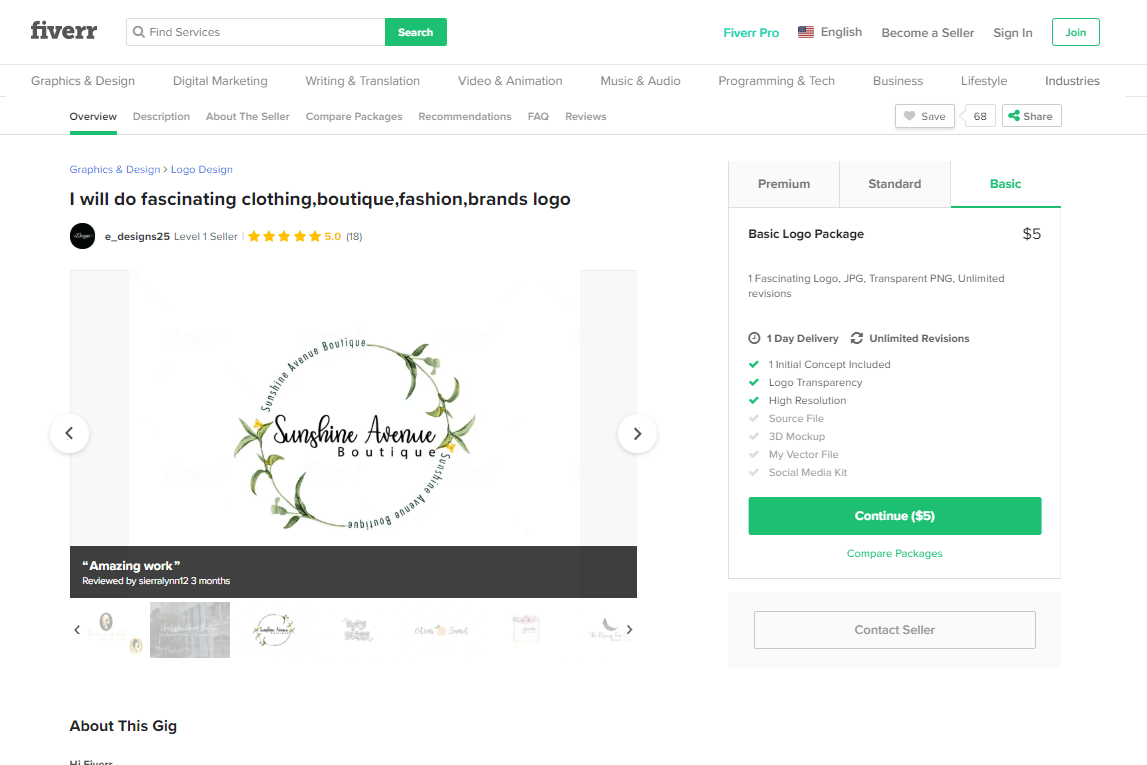 Some designers (like the one in my example) offer package extras, which you can add at this stage. They include things like multiple revisions, social media kits, or 3D mockups. Once you've added all the services you need, click
Order Now
to complete your payment and finish the hiring process.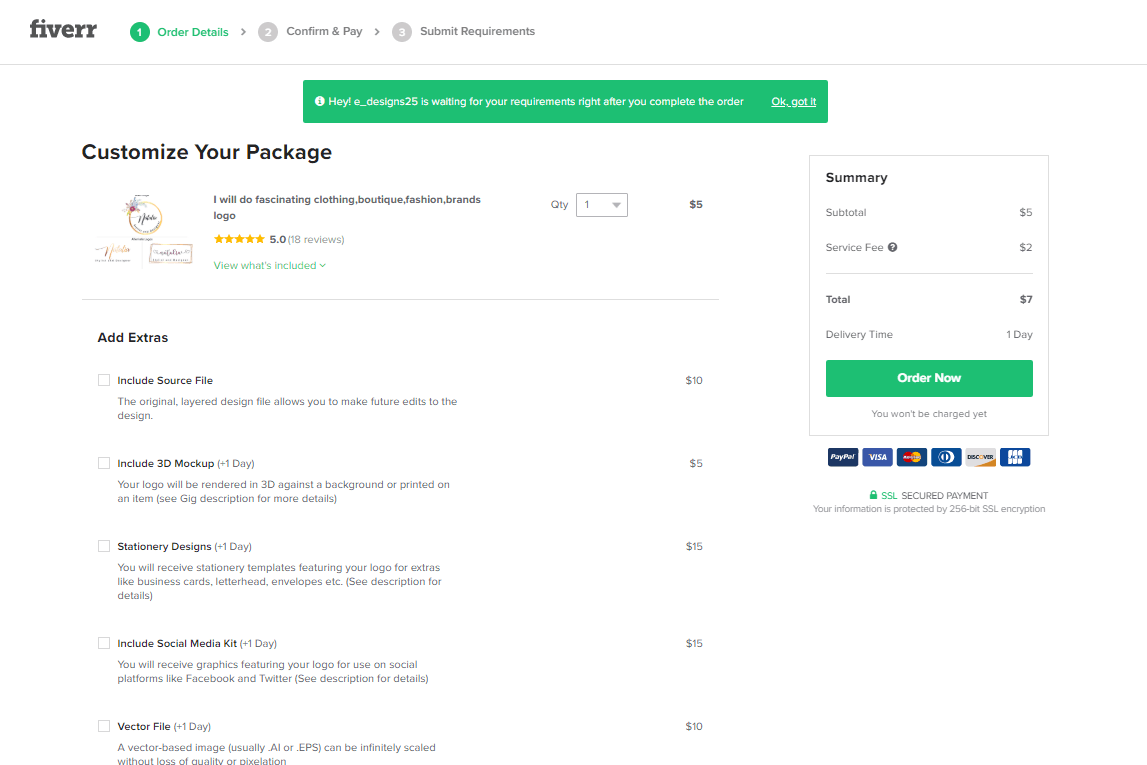 Using Fiverr to hire a logo designer is quick and affordable. Here are a few other Fiverr perks you should know about:
Designer search options – Filter the thousands of designers in the search results by budget, logo style, and delivery time – making it easier to find the right freelancer for you.
Seller levels – Designers are arranged into levels based on their customer reviews, time on the site, and quality of work. Choosing a higher level designer may help guarantee quality and good customer service.
Protected payments – Your payment is made upfront before your logo is designed, but is only released to the designer once you're satisfied with their work.
No unexpected fees – You'll never have extra fees or hidden costs sprung on you. The price you pay at the start is all you'll pay.
Want to know more? Read our
expert Fiverr review
 to see some logo samples.
How to Make Your Own Logo
Making a logo is a commitment that requires effort and creativity and the best way to do it is with a logo maker. Online logo makers are usually easy to use and let you create a logo for free (although you'll need to pay to download your design in a high-resolution format). If you have your heart set on
creating your own boutique logo design
, I'd highly recommend using Wix Logo Maker. Its impressive artificial intelligence (AI) tailors a list of logo suggestions for you based on your answers to a few simple (but important!) questions. To get started, you'll need to
go to the Wix Logo Maker homepage
 and create a free profile. Your logo, and any others you create, will be saved to your profile if you need to access it later. Step one is entering your company name and tagline.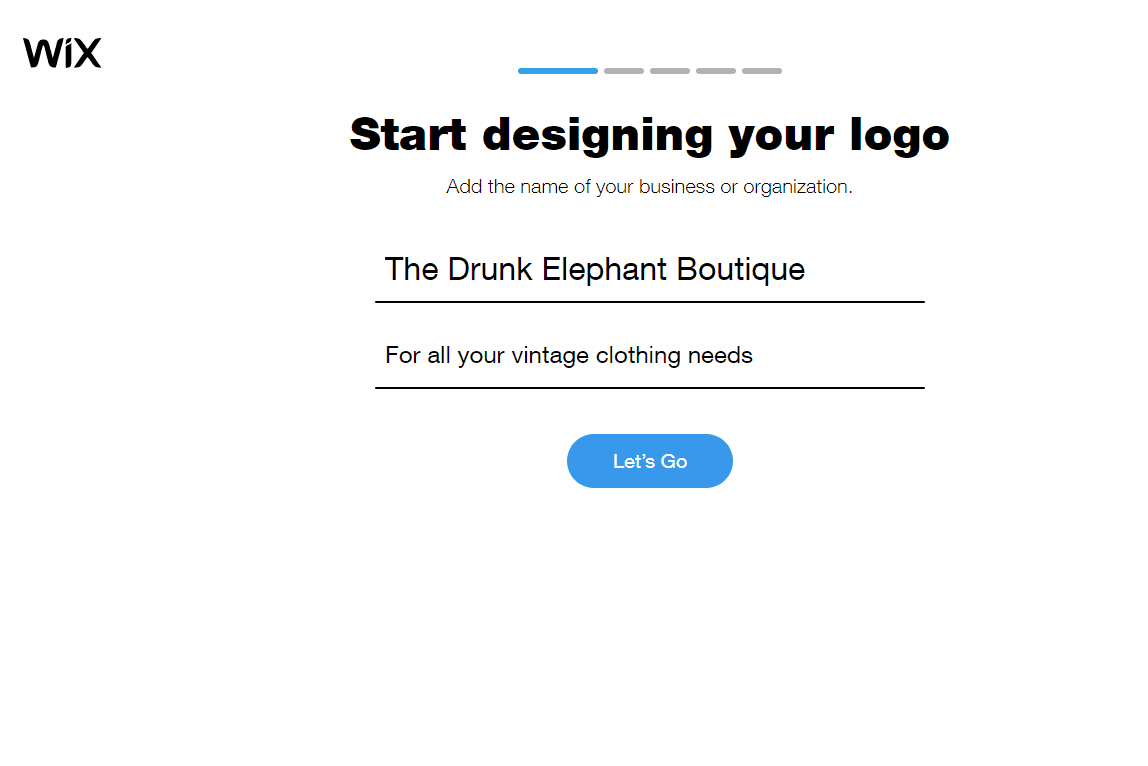 Choose your industry next – as you can see, there are quite a few "boutique" options available, so choose the one that best aligns with your business.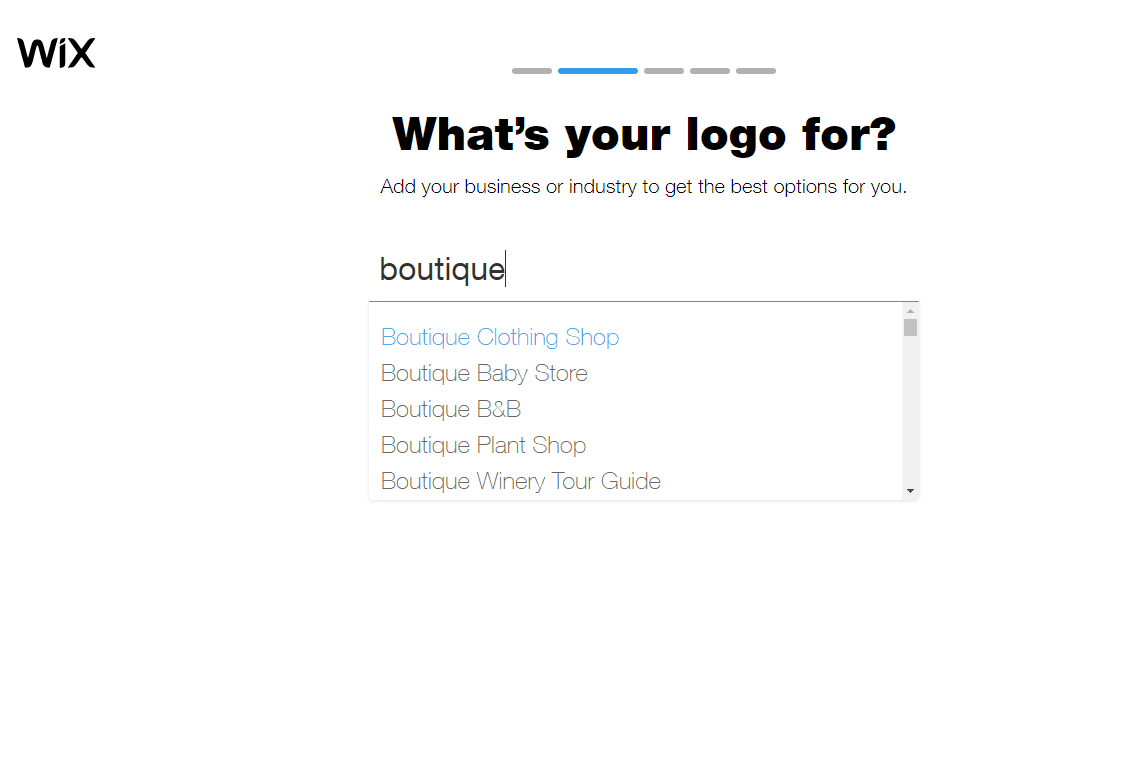 Then, from a list of adjectives, choose the words that best describe your ideal logo, such as timeless, creative, or modern. It can help to think about how you would describe your existing branding or business idea.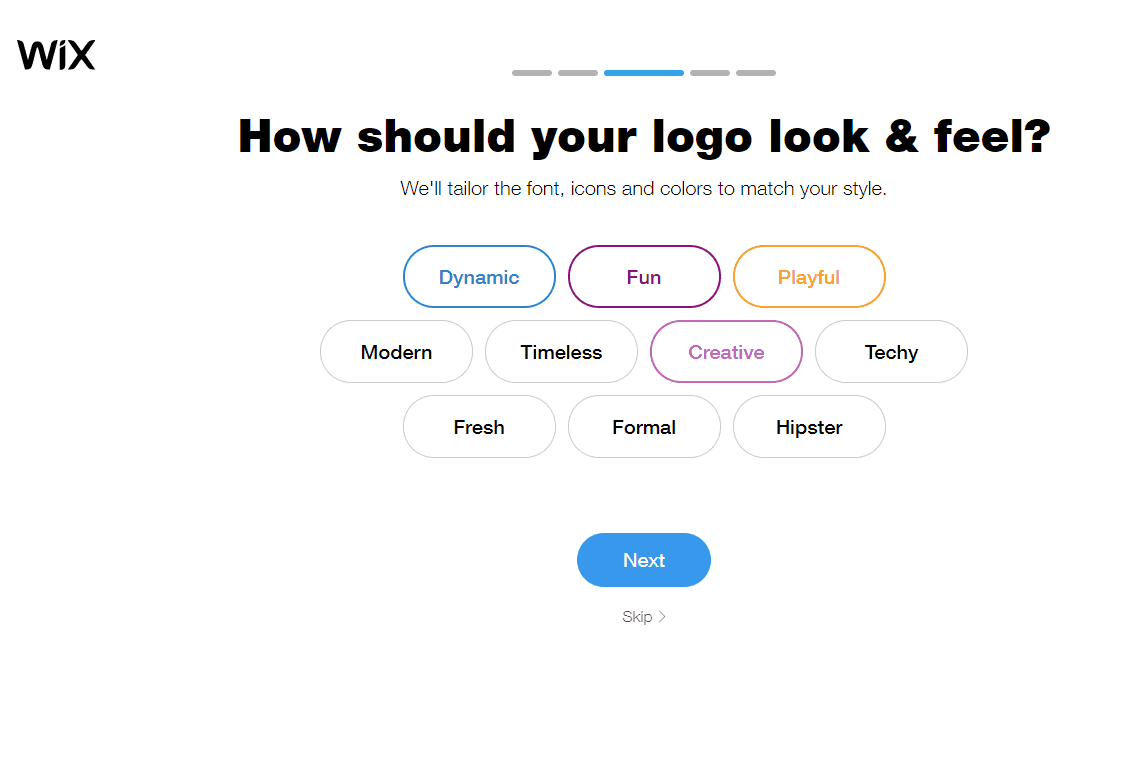 Next, you'll see a few logo pairs with different fonts and styles. Select the logo from the pair that you like best or click
I don't like either of them
to skip the pair entirely. This gives the AI some insight into your tastes.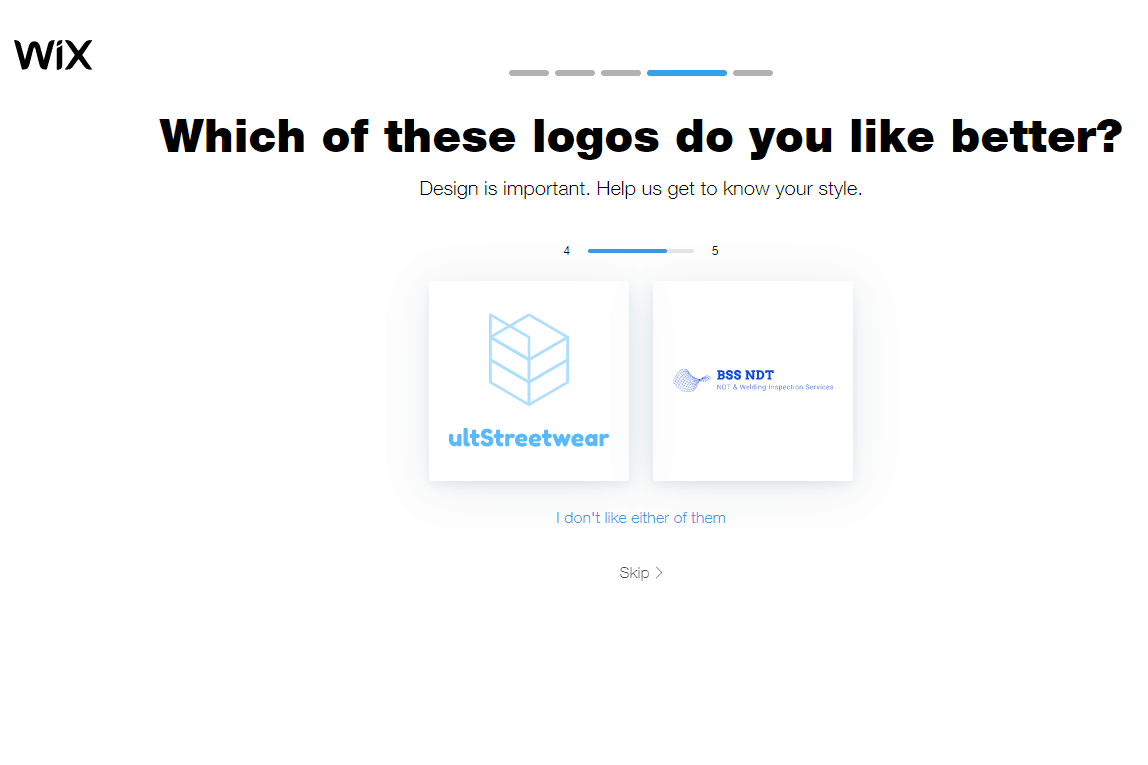 Lastly, give Wix Logo Maker an idea of where you'll be using your logo, like on a website or social media.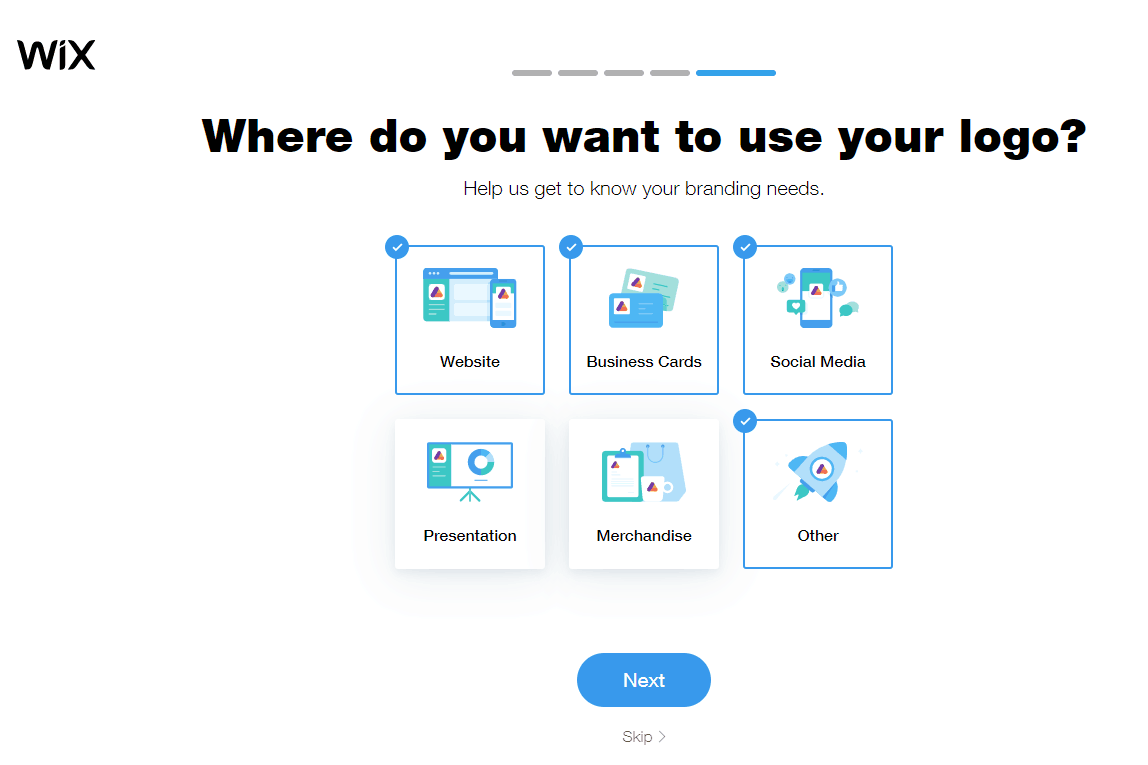 Now the exciting bit – the AI will generate your logo suggestions. Scroll through the logo templates and keep an eye out for one you like.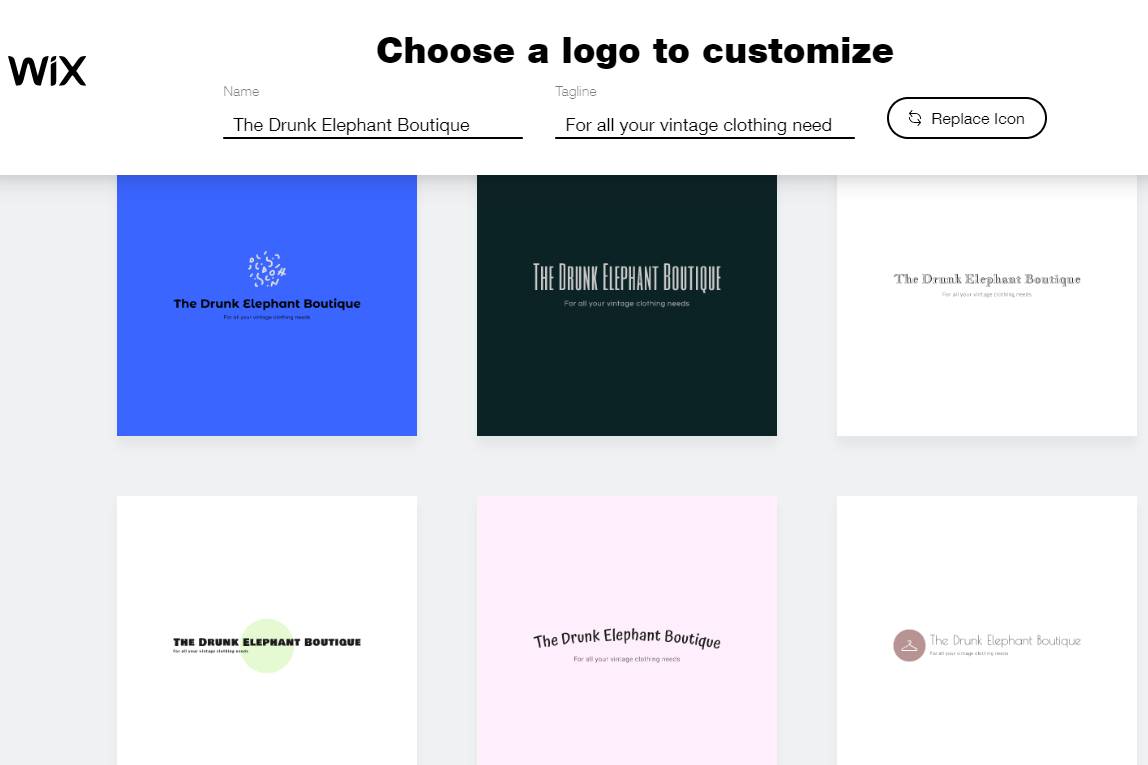 Not feeling the icons you see? Click
Replace Icon,
and search "boutique" or a term that suits your business. I searched "boutique" but also tried "elephant" (to match my made-up company name). Depending on what you stock, you could try terms like "feather", "bouquet", "plant", or "fashion".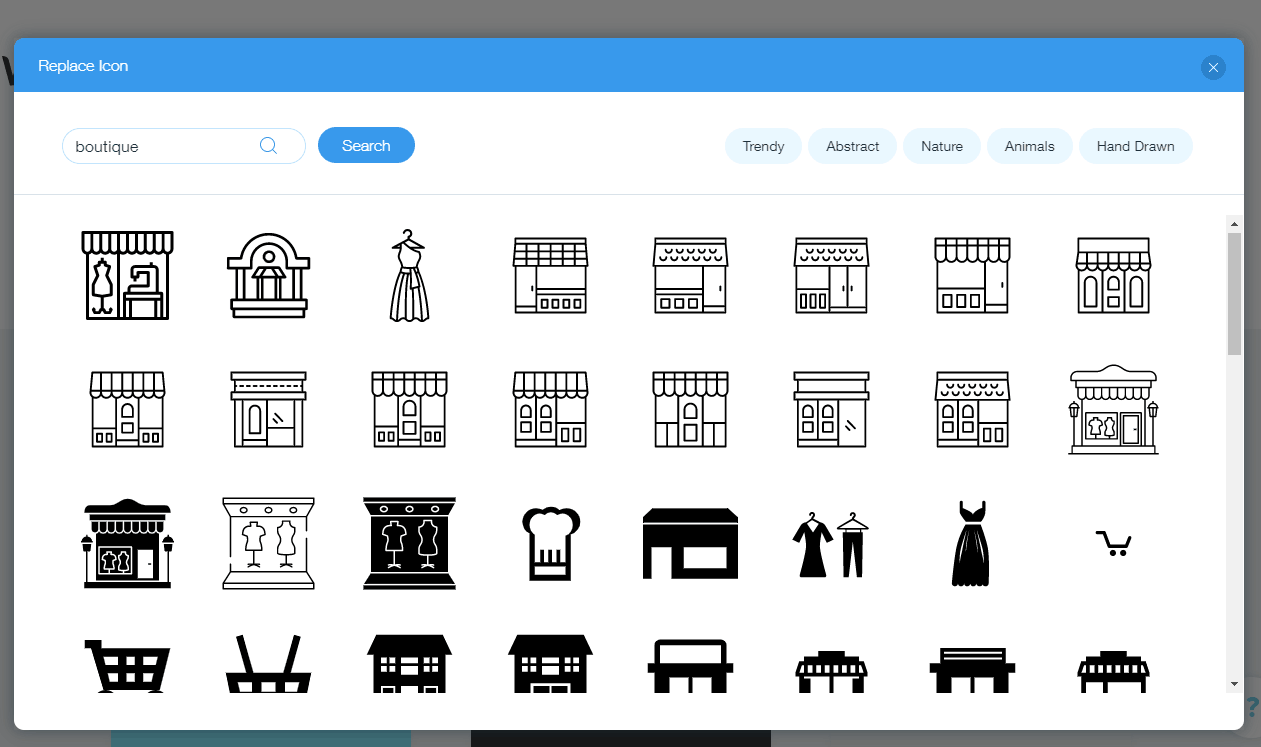 After replacing the icon, feel free to explore the templates further. After scrolling through and identifying your favorites, simply click on the desired logo you wish to customize. The logo template I selected was nearly perfect, requiring only a few minor color adjustments to achieve my satisfaction. However, you have the complete freedom to make extensive tweaks using the logo editor and craft something entirely distinct and unique according to your preferences.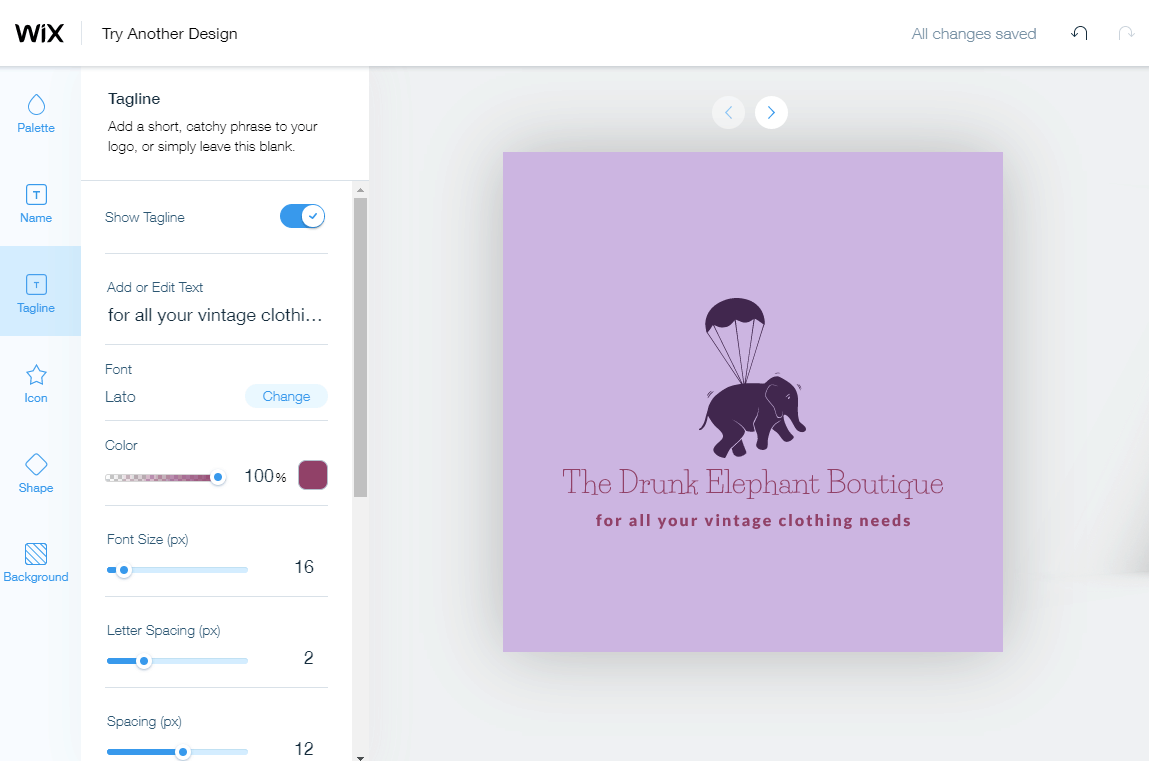 When you're finished, click
Next
to choose a package, make your payment, and download your logo in high-resolution, ready to use. Want to learn more about the platform? Read our
in-depth Wix Logo Maker review
 for a detailed guide. Here are a couple of other logo makers you might like:
Final Thoughts
When your perfect logo design could cost you just $5, it's a no brainer! Head to
Fiverr
 to find a designer to create your logo for less than the change you may have in your wallet. Using
Wix Logo Maker
 to make your own logo is the best way to go if you've committed to a DIY approach. Simple and easy, you can have a new logo in minutes, which is great if you're in a real hurry. Still undecided? Check out my colleague's
expert logo design service comparison
to see how other popular services performed against each other.