I'll show you my secret to getting your new logo professionally designed for as little as $5
.
---
9 Best Anime Logo Designs
My colleague ran an experiment trying out the top logo design services available. He collected his results in a detailed review and scored each design service based on performance. Take a look at his
full logo design service comparison
 to see how each service ranked (and which one designed our new logo!).
How to Get a Pro Logo for $5
If you're a true anime fan, you won't be taking the design of your logo lightly. Knowing how to capture the essence of this style is a skill that not every designer will have. So how can you find a great artist for your logo, without draining your bank account? My answer to that question is Fiverr. Fiverr is a freelancing website where creatives with various skill-sets offer their services for as low as $5. There are thousands of talented graphic artists and logo designers with design packages at this low price-point or not far from it. Even better, you can easily search for designers that specialize in designing anime logos. Start by
heading to the Fiverr homepage
 and typing "anime logo" into the search bar. Your search results will show all the designers that offer anime-focused design packages. Scroll through the results until you find a profile you're interested in.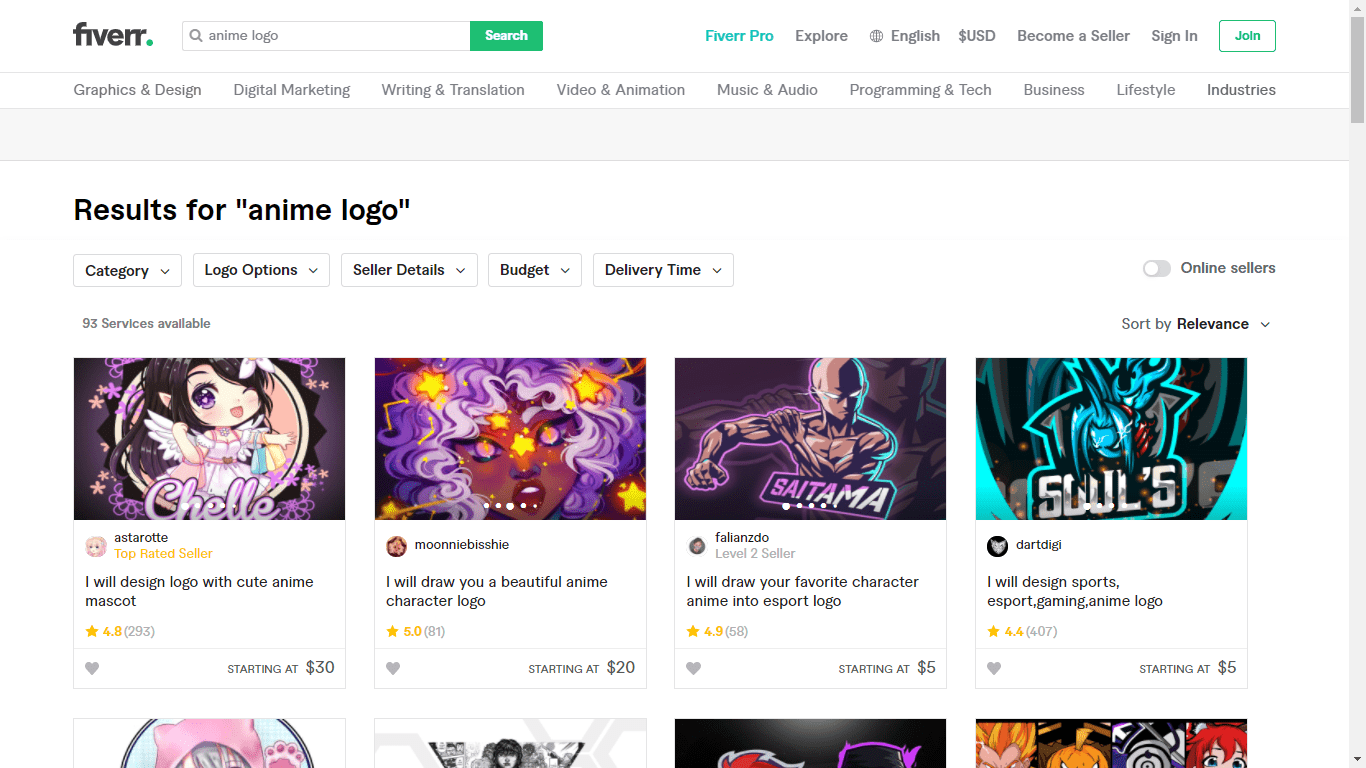 Clicking on a profile will take you to the full view. Here, you'll find a designer's portfolio, customer reviews, services, and the cost of each package. You can also read through their "About This Gig" for more information on their style and offerings. When you're ready to proceed with hiring, choose the package that best suits your budget and click
Continue
.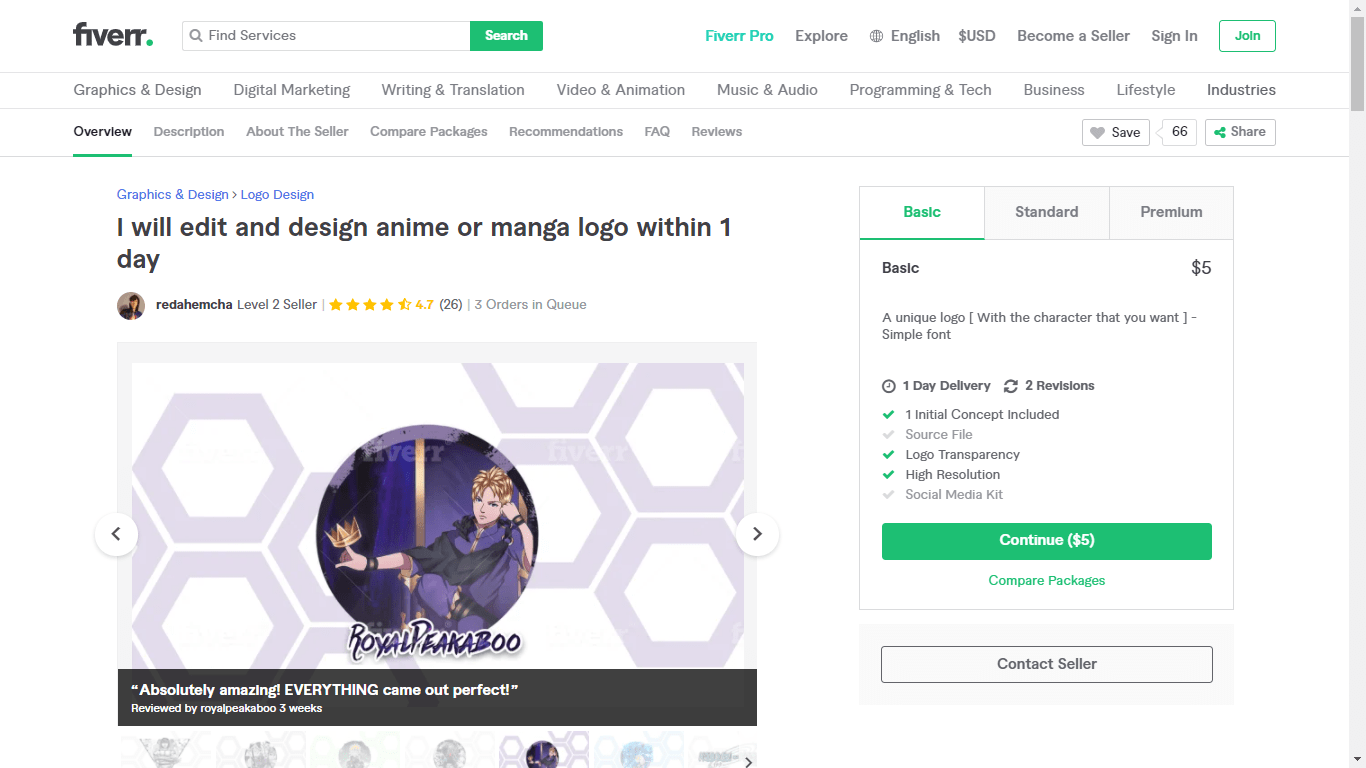 The payment preview page displays the final cost of your chosen package and its included services. Just click
Continue to Checkout
when you're ready to enter your payment details. After checkout, you'll be able to fill out a short survey form with information about your ideal logo design.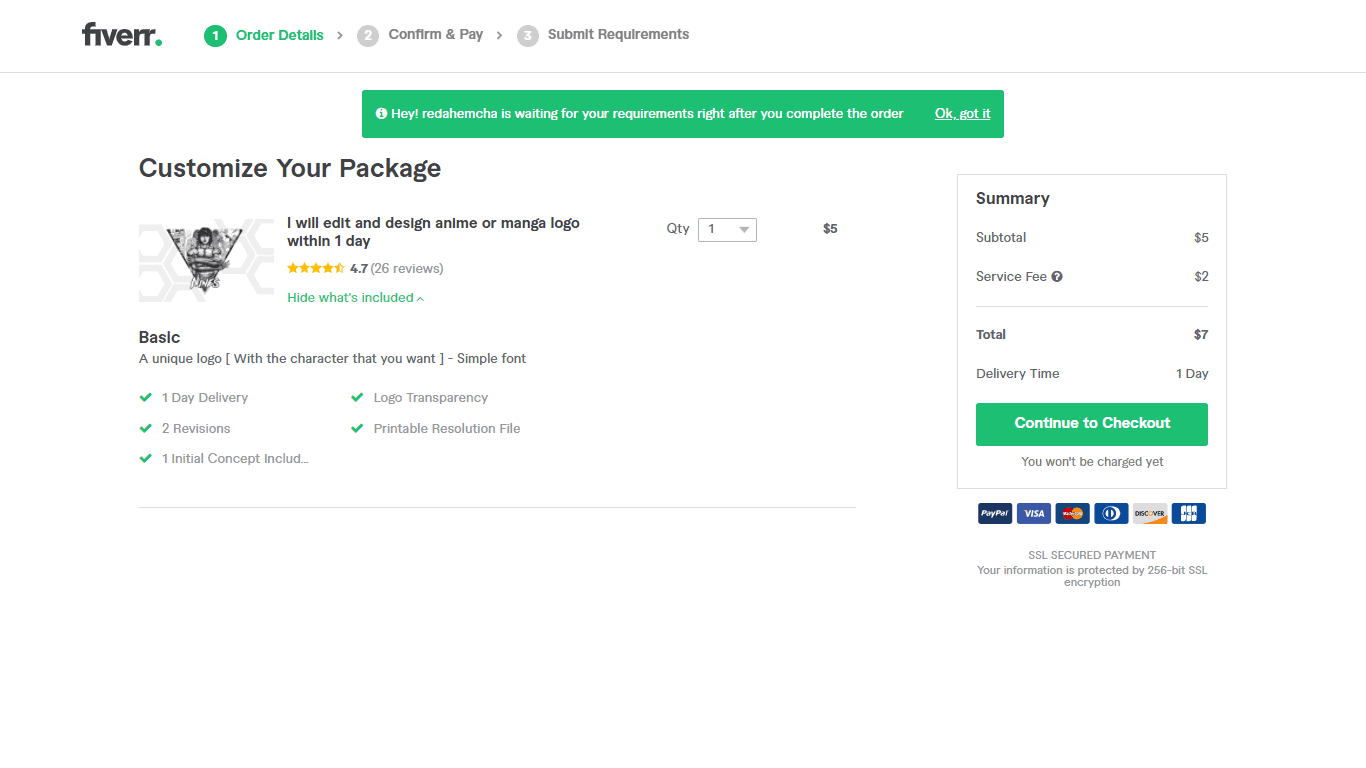 In just a few days, your designer will have finished and delivered your new, professional logo! Here are a few more reasons I like to use Fiverr:
Time-saving search filters – You can search for designers based on attributes like delivery time, logo style, budget, and seller level.
Package customization – For an additional fee, many designers offer package extras, like business card design and expedited delivery. You can add these to your package before checkout.
Escrowed payments – You pay upfront, but you don't have to worry about the safety of your money. Your funds are held in escrow until you receive your finished logo and release the funds to the designer.
No unexpected fees – Your designer can never add fees or charges after they've been commissioned.
Interested in finding a freelancer? Check out our
full Fiverr Logo Design review
for more tips on hiring designers.
How to Create a DIY Logo
It seems like there's a way to DIY anything imaginable, and logo design is no different. To make your own anime logo, all you need is a great logo maker, a little time, and some artistic vision. My number one recommendation is always Wix Logo Maker. This tool uses modern AI technology to make logo creation stress-free. All you have to do is answer a few quick questions and the AI will generate logo suggestions for you to edit. These suggestions will already be personalized with your company name and style preferences. To get started,
head to the Wix Logo Maker homepage
 and create a profile. Your logo will save here as you create it, as will any future designs. Enter your company name and tagline (if you have one) and click
Let's Go
to start the series of questions.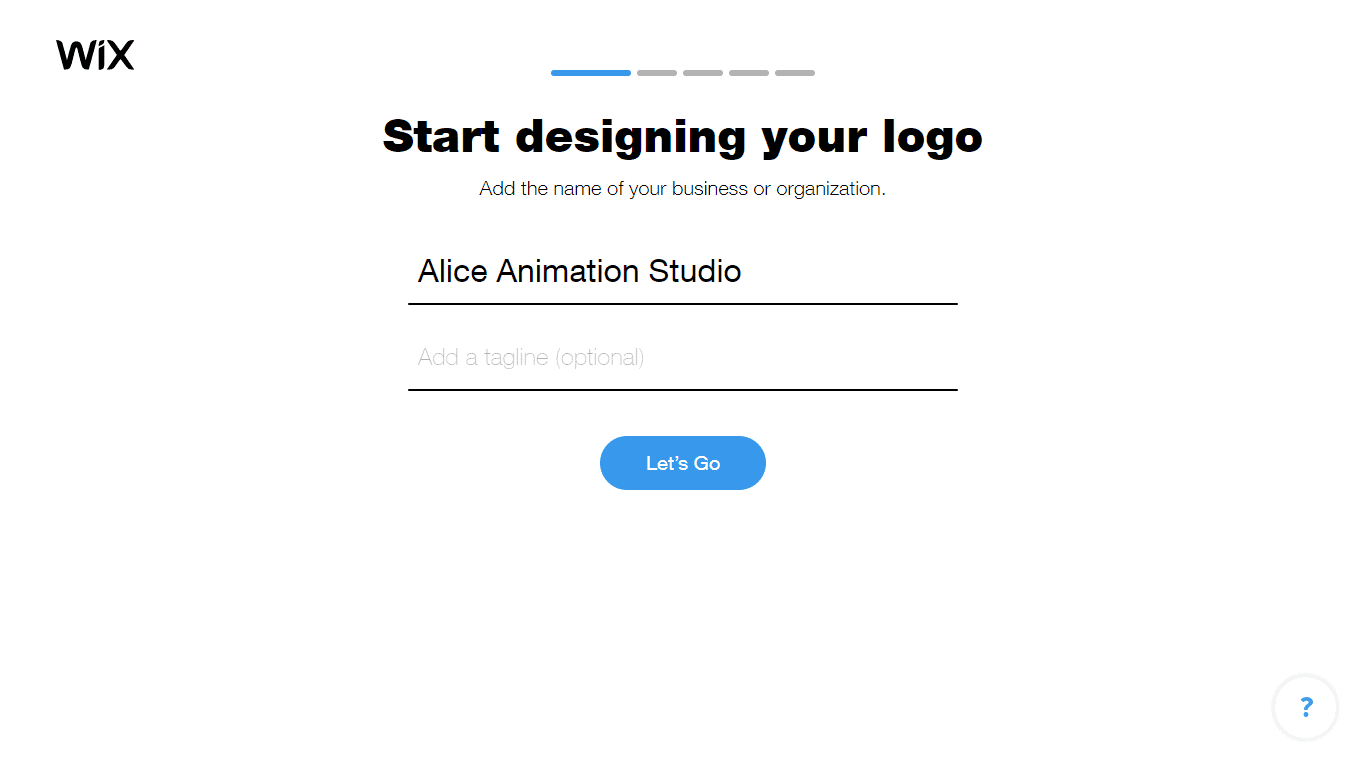 Start typing the name of your industry into the search box. There's a huge list of options, so you should have no problem finding a close match.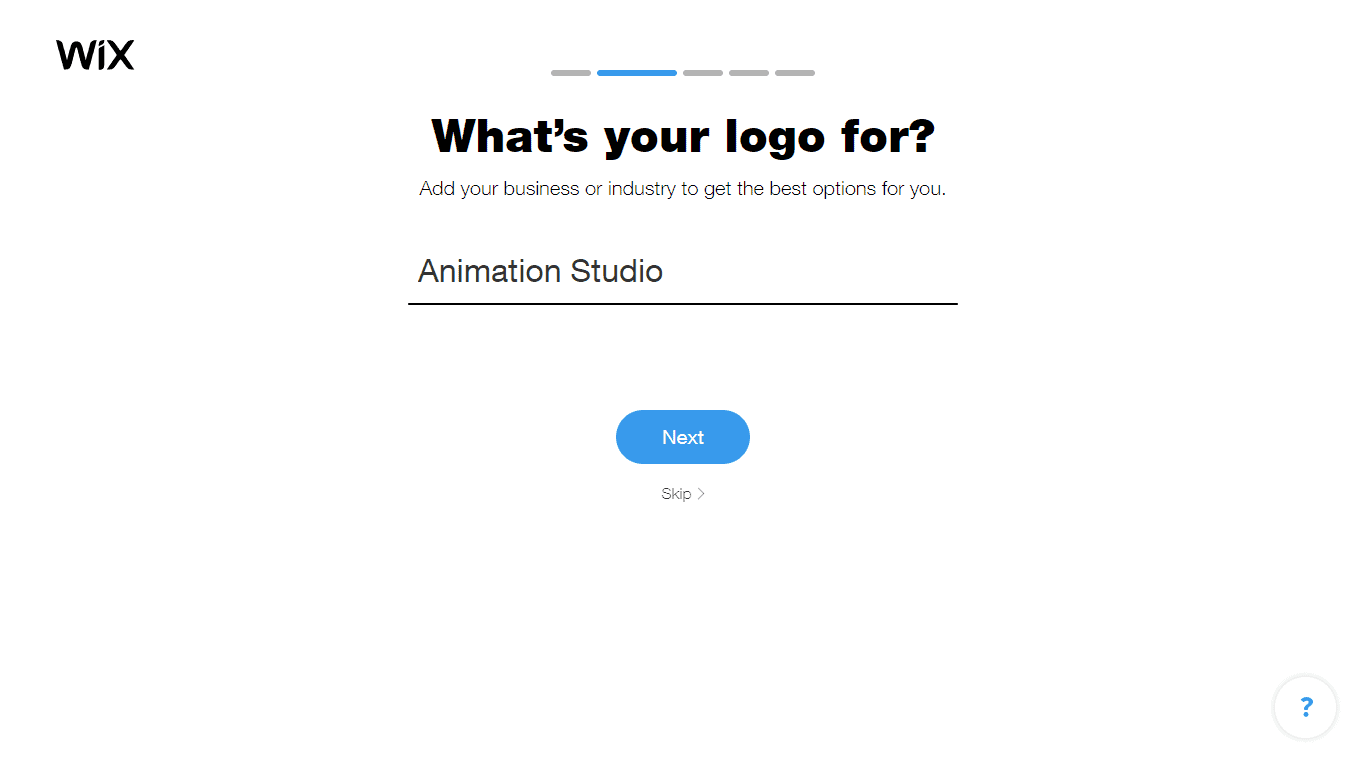 What type of look and feel does your finished logo have? Select the labels from the selection on offer that best describe your ideal logo, like techy, dynamic, or fun.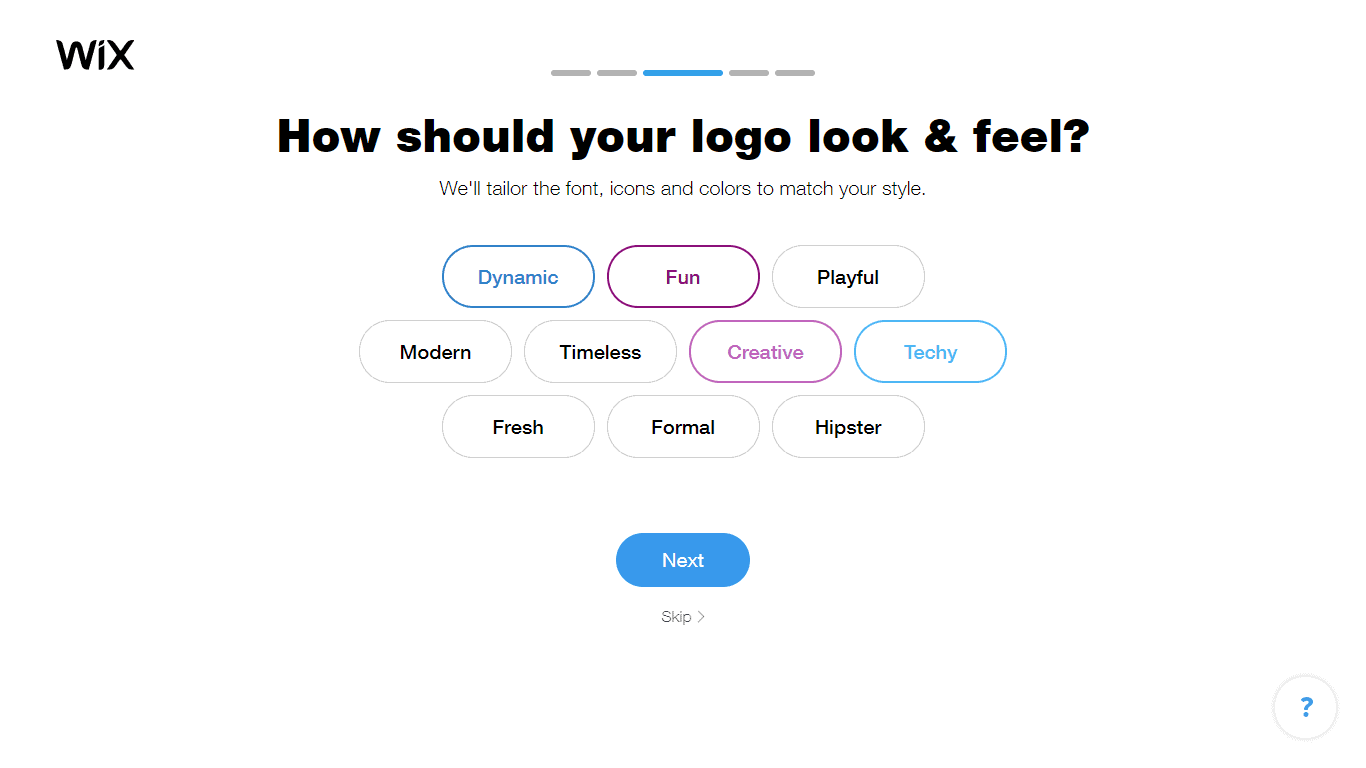 Next up, you'll be shown a series of logo pairs. Click on the logo in each duo that you like best. If neither design appeals to you, click
I don't like either of them
to skip to the next pair.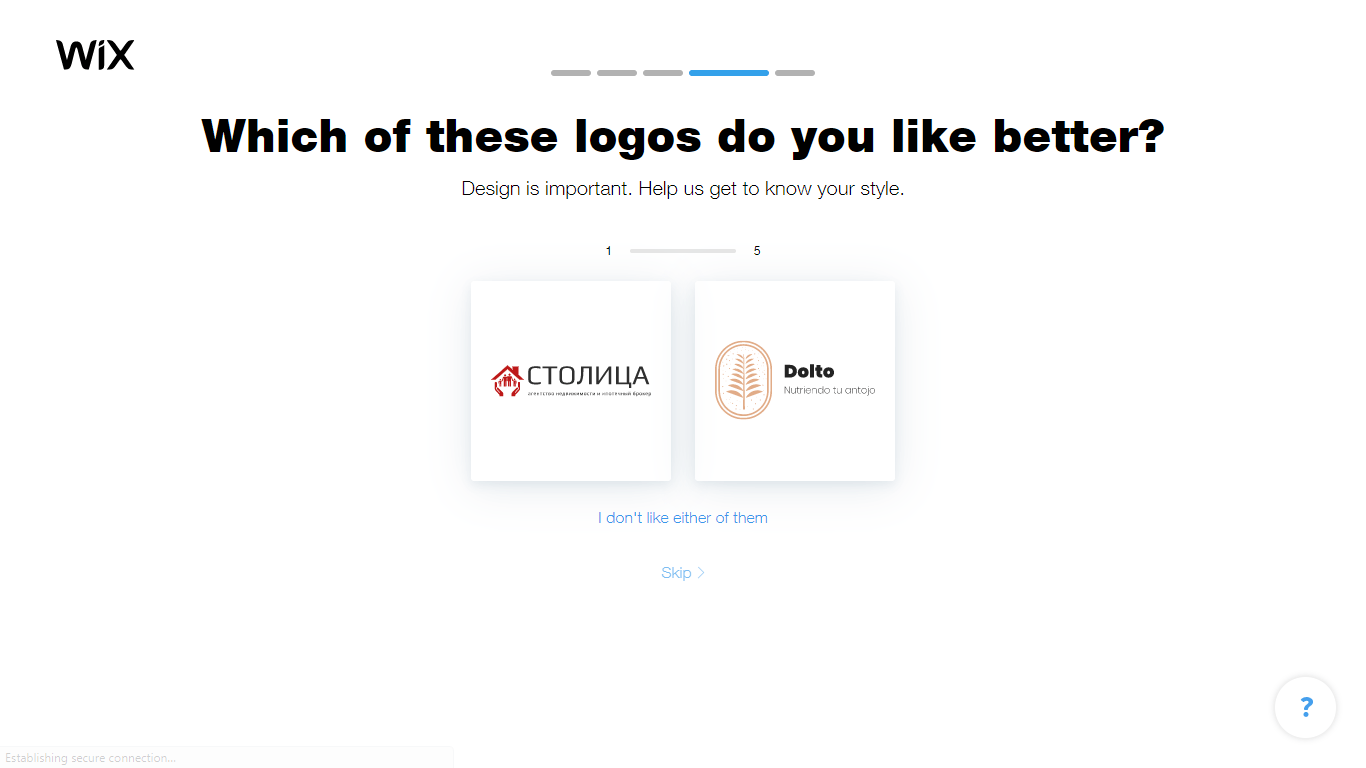 Do you know where you'll be using your logo? If you do, select the option(s) that apply. If you aren't sure, you can select all of the options, just in case.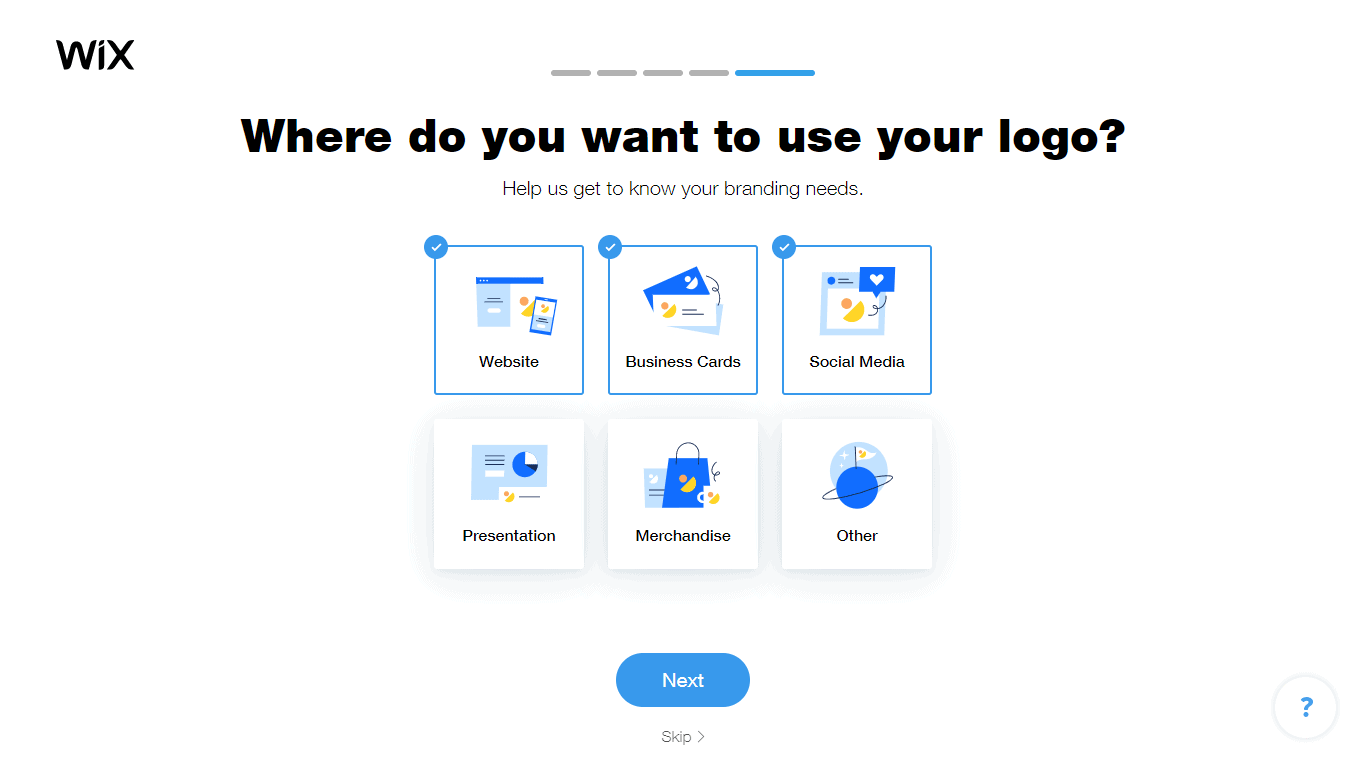 Your logo suggestions are up next! Look through the results to see what kind of logo designs the AI has generated.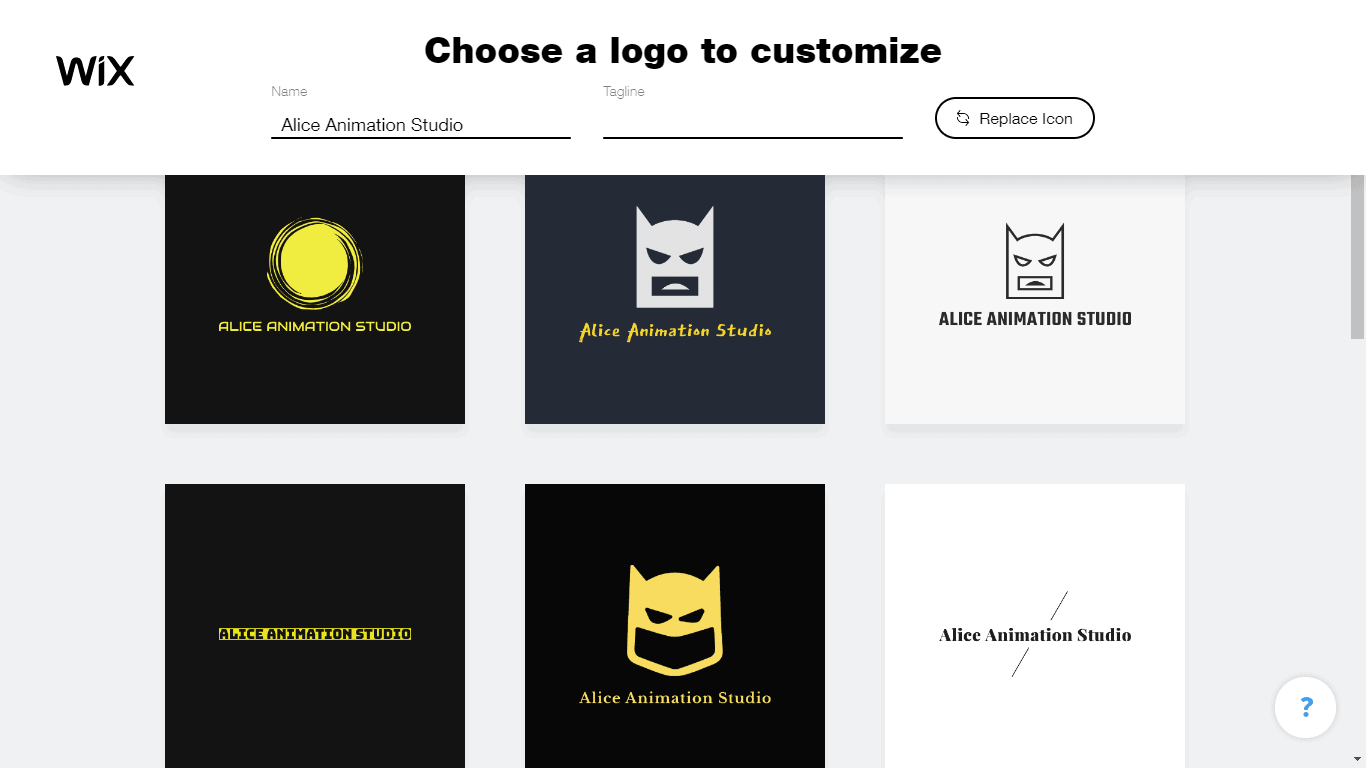 The icons might not be quite right at this stage. But don't worry, you can find new options by clicking the
Replace Icon
button. Type "anime" into the search bar to see what icons are available. I was pleasantly surprised with my options here. Click on the one you like best to add it to all of the logo suggestions on the results page.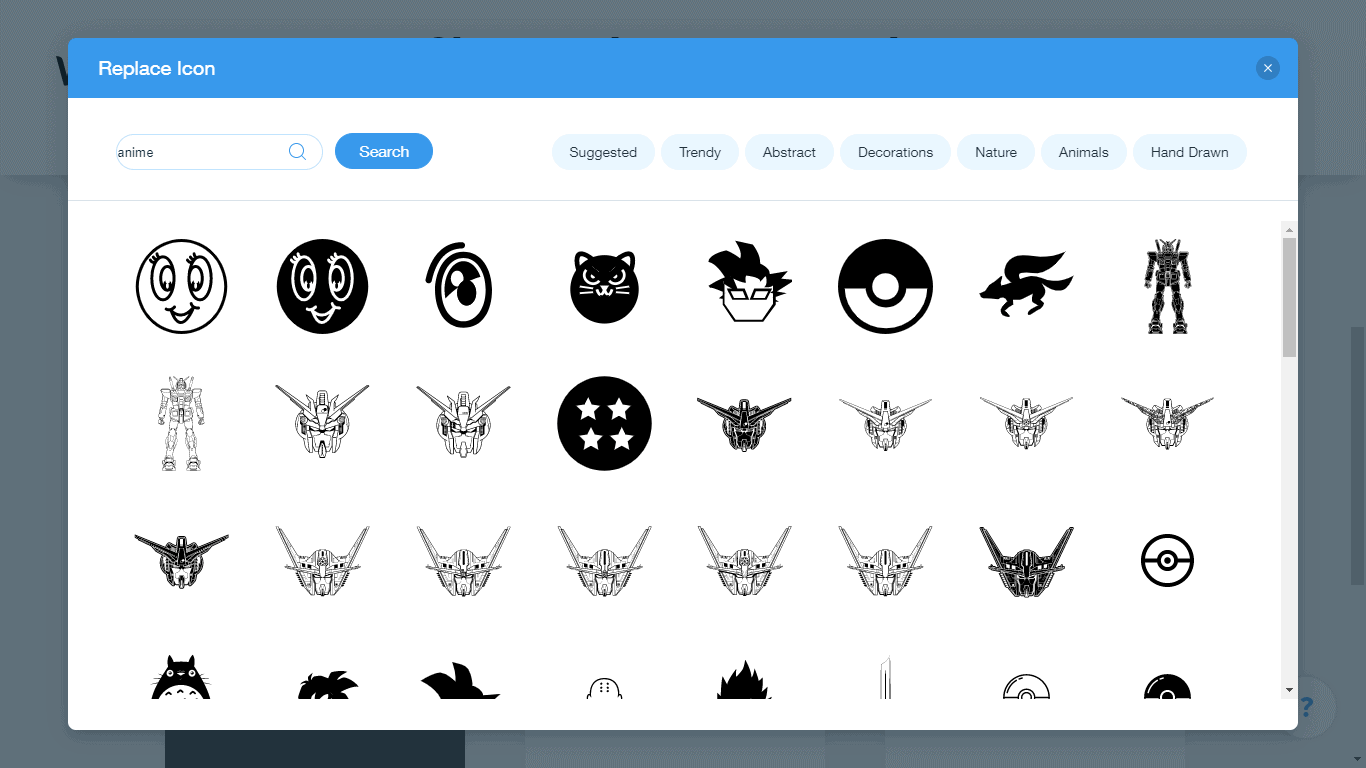 Simply click on the logo template that interests you the most for customization. This action will take you to the logo editor, where you will discover numerous options for personalizing your logo. This is where it really pays off if you have a creative eye. The templates are all attractive, but here you can make sure the logo matches your brand by adding multiple icons or creating your own color scheme. You can also choose from more than 200 fonts. Once your design is looking the way you want it, click
Next
to move to the package selection page.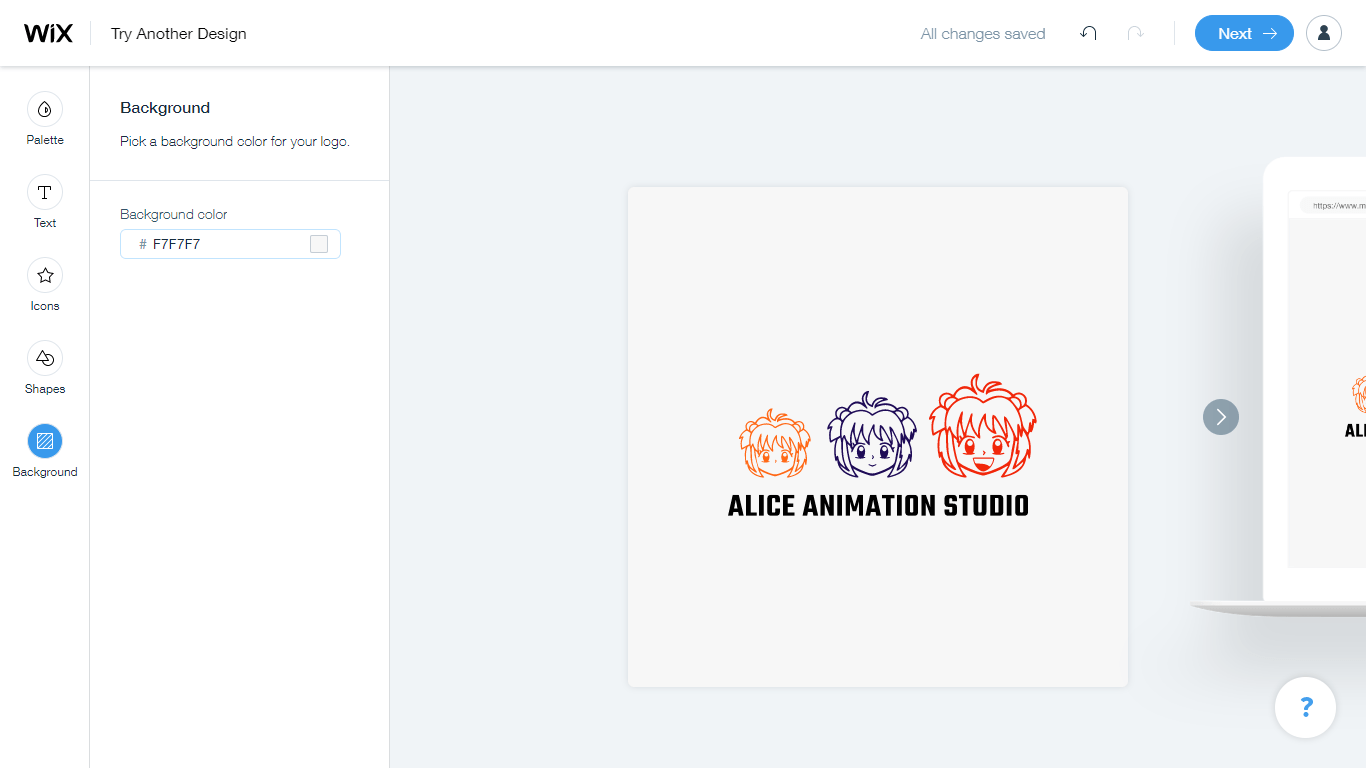 All that's left to do is choose the package you want and make your payment, and you'll get instant access to download your new logo in high-resolution!
Wix Logo Maker Alternatives:
DesignEvo – If you need a logo design in a hurry, head to DesignEvo and use the search feature to quickly find relevant logo templates among the site's 10,000+ pre-made options.
Looka – With Looka, you can design a logo and score branding materials for your company at the same time. This is the ideal tool if you need business cards or website design along with your other branding needs.
To learn more,
read our in-depth Wix Logo Maker review
.
Final Thoughts
It doesn't take a neuroscientist to understand the benefit of a site where you can get bespoke, high-quality graphic artwork for less than a cup of artisanal coffee.
Fiverr is the only $5 logo design option
. Your anime logo deserves a pro, and Fiverr is full of talented designers waiting to create the logo of your dreams. If you want a little more excitement in your life,
you can try using Wix Logo Maker to make your own logo
. Not every online logo maker will be able to manage a style as niche as anime, but I was pretty impressed with Wix Logo Maker's offerings. With just a bit of time and effort, you can design a quality logo that you'll be proud to show off. Still having some doubts about your logo design options? Have a look at my colleague's expert
logo design service comparison
 to see how other design services performed. Both Wix Logo Maker and Fiverr ranked on his list – so you can easily compare them with other options.