What better way to make your logo stand out than to make it three dimensional? A 3D logo ensures your design is memorable without making it overly complicated. By adding another dimension to the design, you instantly increase interest and visual appeal. Three-dimensional designs make your logo pop – literally! Your 3D design can be simple and minimalistic or bold and extravagant. It all depends on your brand. The right logo designer will know exactly how to transform your dream into a reality. Want to hire a logo designer, but don't think you have room in the budget for such a costly service? The good news is you don't have to pay big bucks for a bespoke, professional design service.
Keep reading for my brilliant tip on how to score your new logo design for just $5
.
---
9 Best 3D Logos
The process of getting a new logo can be an uphill battle. To help make logo hunting a little easier, my colleague tested the top logo design services and ranked them in his detailed review. Want to find out how each of these services performed in his test? Check out his
full logo design service comparison
.
How to Get Your $5 Professional Logo
When you're working with a small budget, expensive services like graphic design might seem way out of your reach. Even "cheap" graphics can cost hundreds of dollars – which you might not be able to afford if you're just starting out. So, how can you get a quality logo design, without overspending or having to re-work your entire budget? The answer is Fiverr, a freelancing platform for all types of creatives. The site is home to thousands of logo designers, all with their own specialties and areas of expertise.
Design packages begin from as little as $5
, with many designers offering packages in the single digits. Whatever your budget may be,
Fiverr is sure to have a talented designer for you
.
Head to the Fiverr homepage
and search "3D logo" to get started. The results that pop up should include all the logo designers with packages matching your query. Browse through all the available options until you find a profile you want to take a closer look at.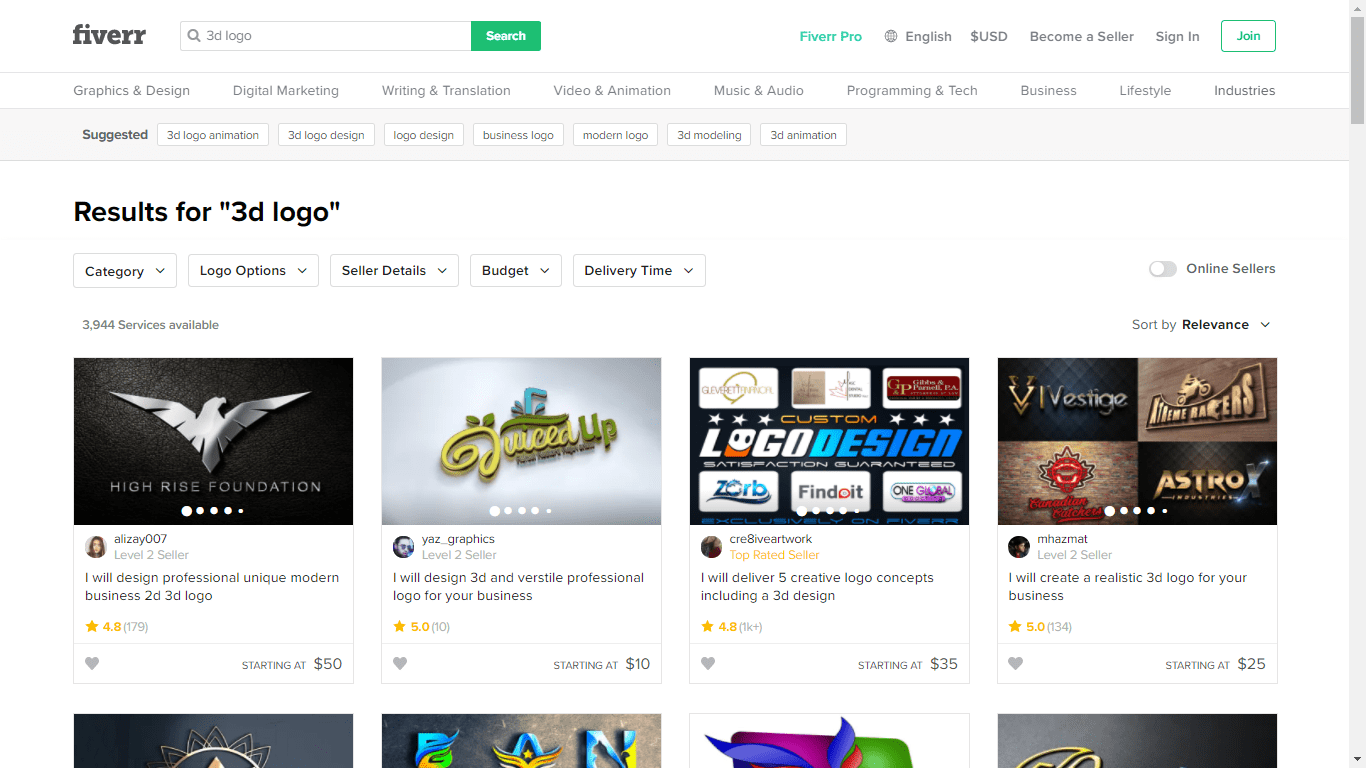 Click on a profile to open the full view, where you'll find more information on the designer. Each designer's profile details the services and packages they offer. You'll also be able to see their portfolio, "About This Gig" section, and past customer reviews. When you're ready to move ahead, click
Continue.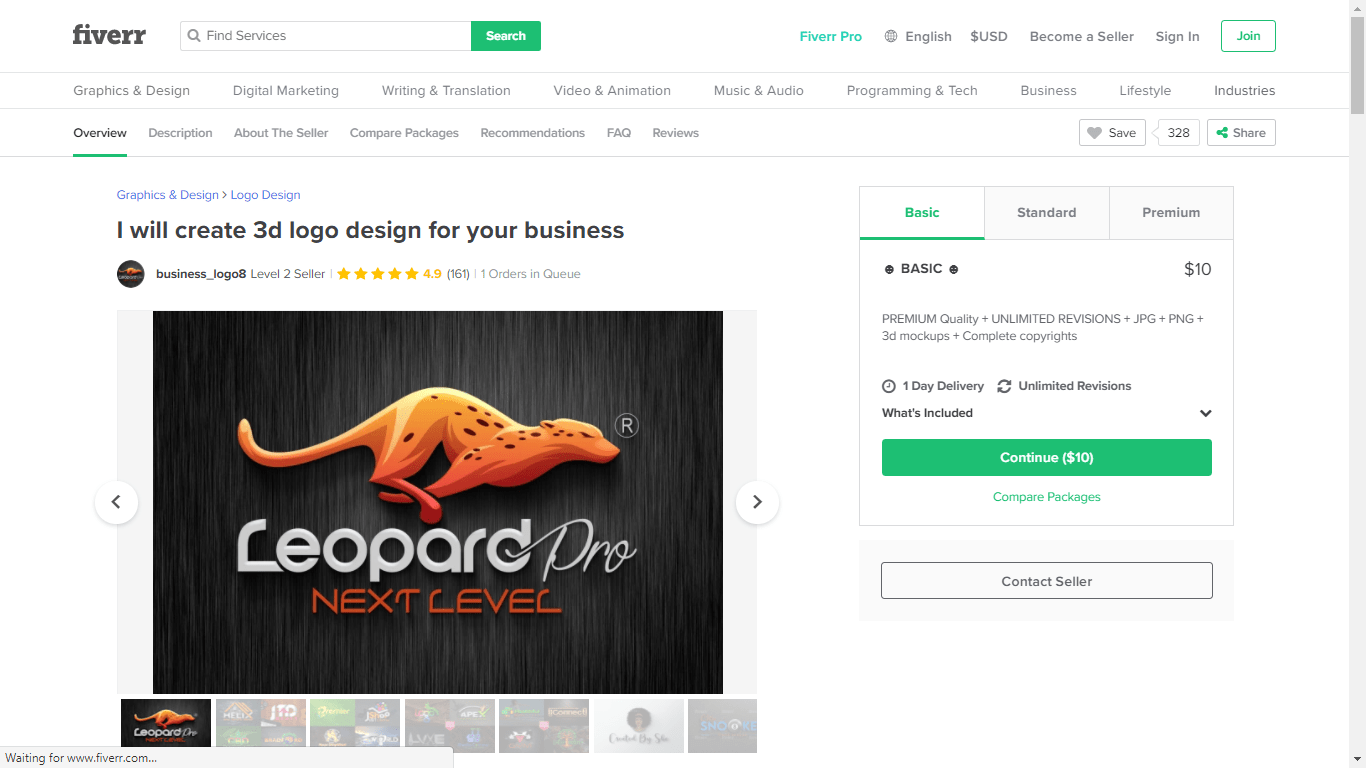 The payment preview page shows you the final cost of the package you've selected. You can also see the full list of services your package comes with. Review this information closely and click
Continue to Checkout
when you're ready to enter your payment details. Afterward, you can send your design requirements to your new designer, including any images or sketches you may have for inspiration and reference.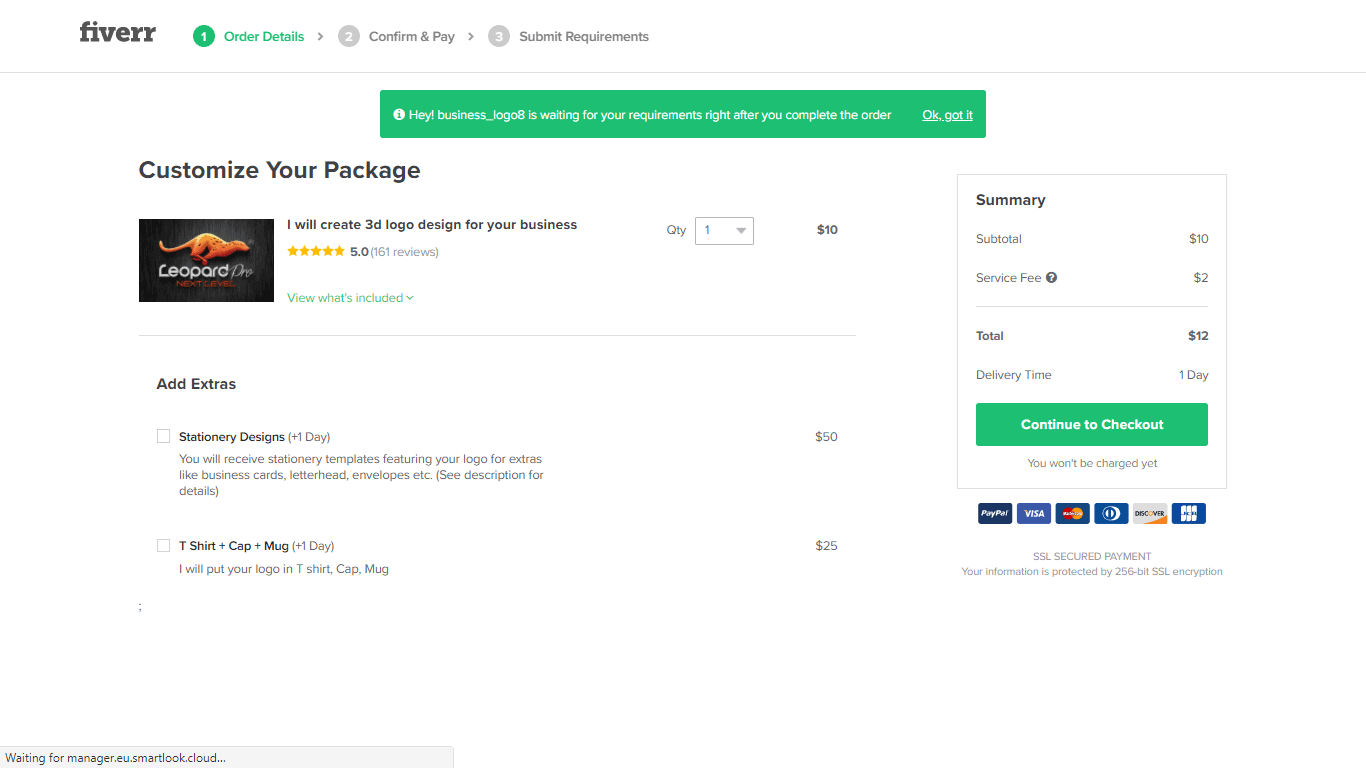 And, there you have it. Your new logo is commissioned and will be delivered to you in just a few days. A few other noteworthy Fiverr features:
Payment protection – When you make your payment, the funds are held by Fiverr until you receive your finished logo design. If you're 100% satisfied with the work, you can release these funds to your designer and they'll be compensated right away.
Build-your-own packages – With some designers, you can add package extras like expedited delivery and stationery design for an additional fee.
Time-saving search filters – To help refine your search, use filters like budget, logo style, and delivery time. This will help ensure the designer you choose meets all your criteria.
Seller levels – Each designer is placed in a level based on their time on site, their completed work, and their customer reviews. Choosing a high-level seller guarantees the quality of your logo design.
To learn more, read
our in-depth Fiverr review
.
How to Create Your Own Logo
When you feel the need to unleash your creativity, making your own logo is a great way to add another personal touch to your business. You don't need expensive software to create your logo, which is good news since design software is often very expensive and complex to learn. My recommendation is Wix Logo Maker.
This tool is a wonderful mash-up of all the best logo-making features in one convenient and easy-to-navigate platform
. Wix Logo Maker uses AI technology to generate logo suggestions tailored to you. Just answer a few quick questions and you'll get pages of quality logo templates to choose from. You can
head to the Wix Logo Maker homepage
 and create a profile to get the process started. Type in your company name and tagline and click
Let's Go.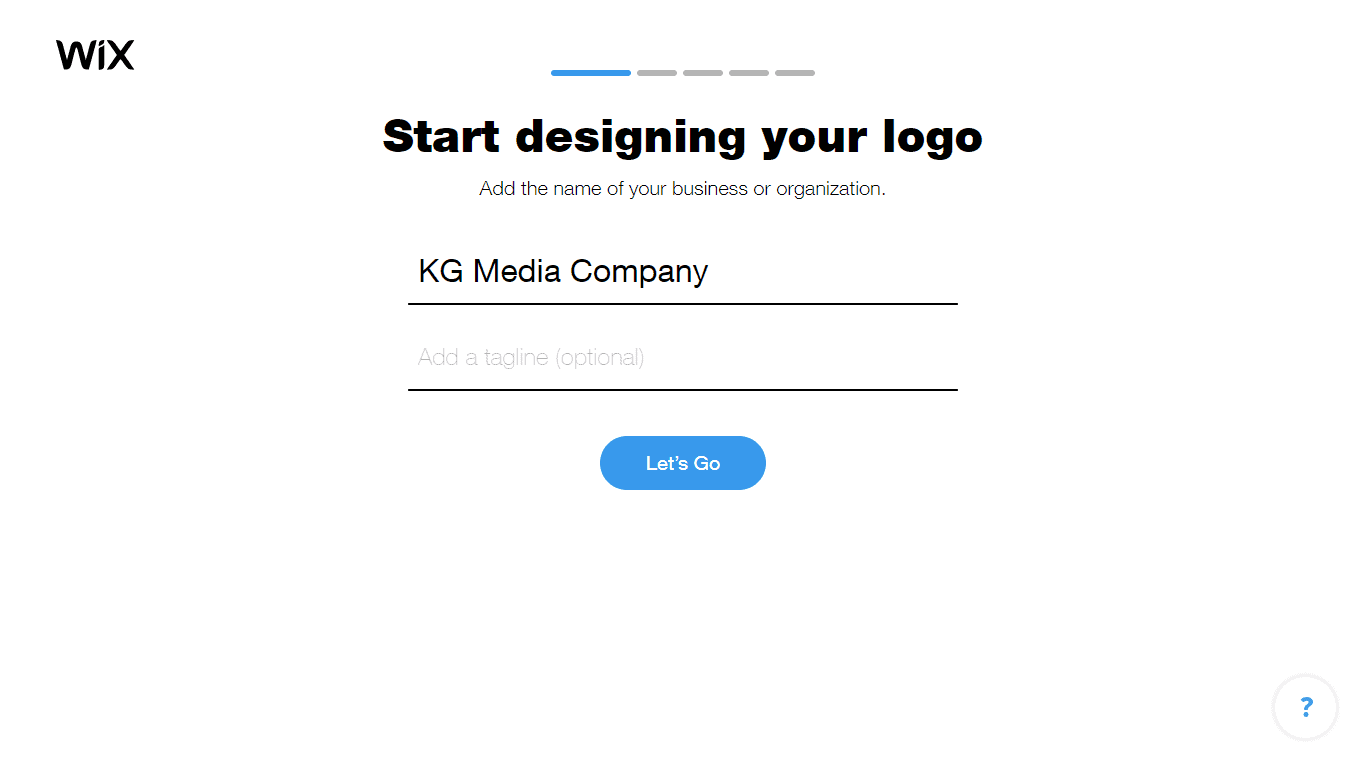 Search for your industry by typing it into the search bar. Then select it from the dropdown menu or choose the option that's the closest match.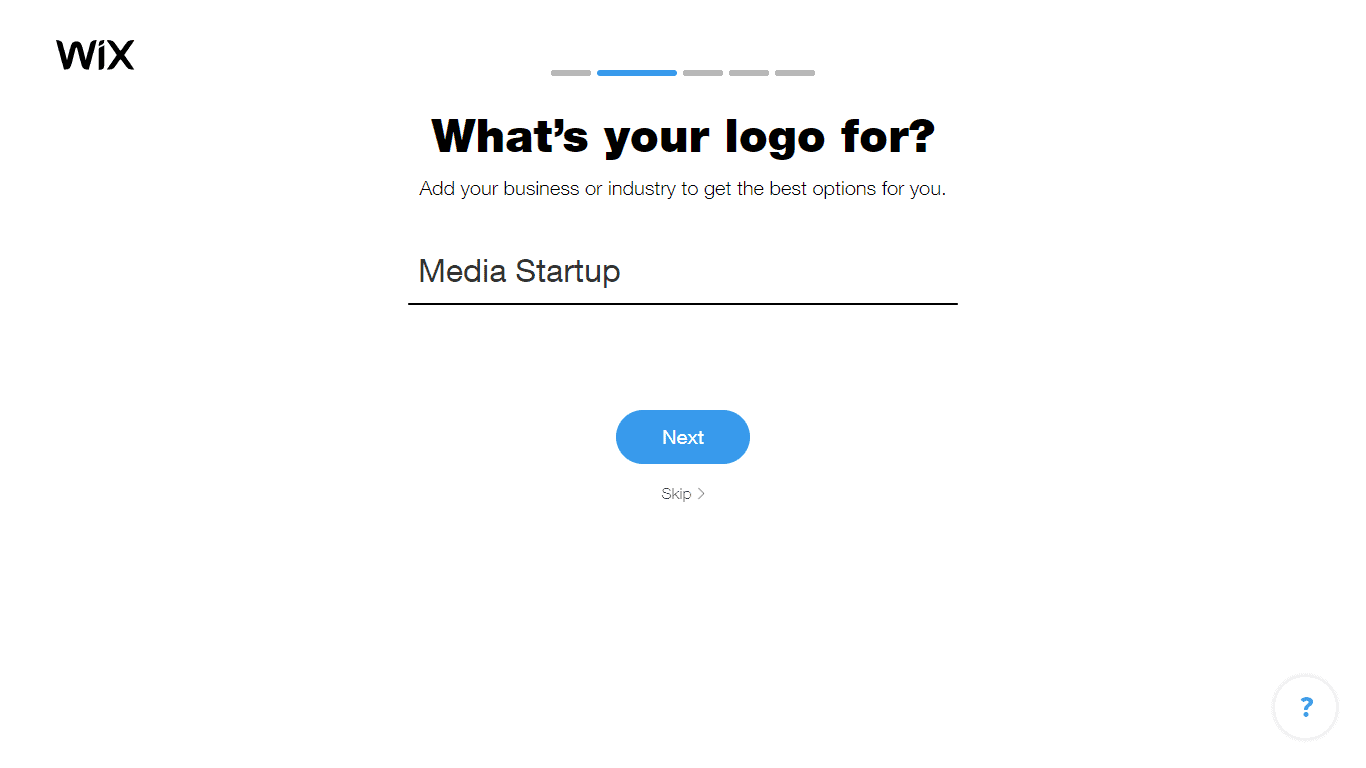 What's your vision for the final look and feel of your logo design? Choose the words in the group of adjectives that describe the vibe of your finished logo.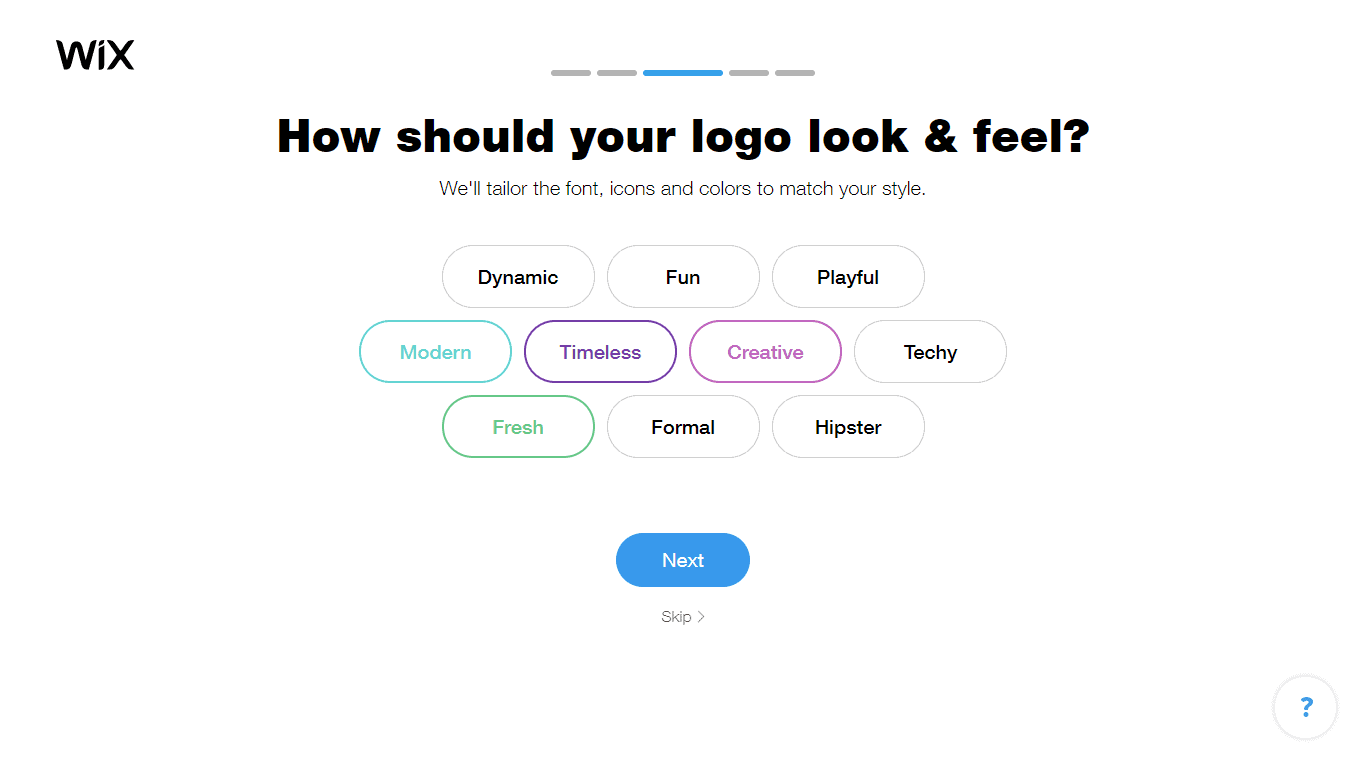 The logo pairings are important for the AI to learn your tastes, so choose your answers carefully. Select the logo in each pair with the design you like best. If neither design is your style, click
I don't like either of them
to skip ahead.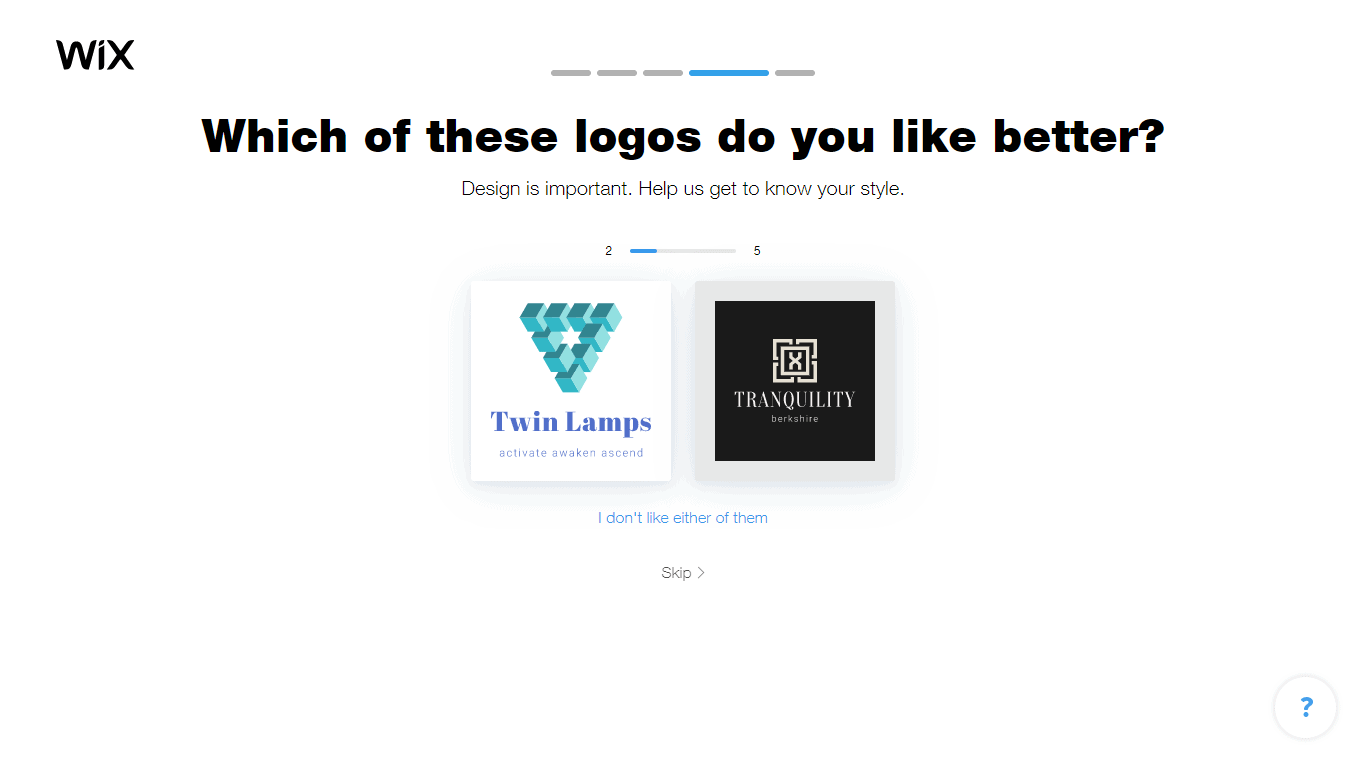 In conclusion, inform Wix Logo Maker about the intended usage of your logo, whether it involves a website, social media, or merchandise. If you're uncertain, feel free to choose all available options to cover all possibilities.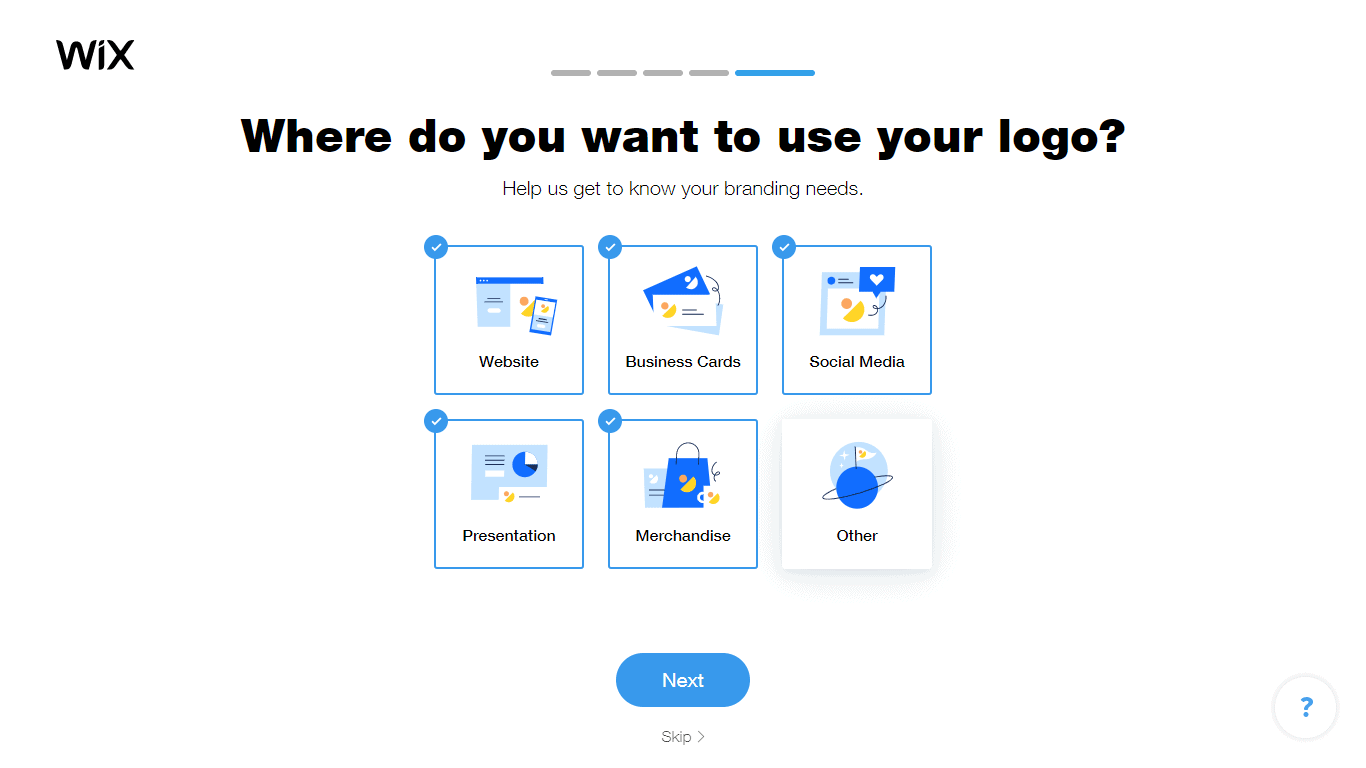 Now for the creative bit! Your logo suggestions are ready, so scroll through the results until you find a design you're interested in editing further.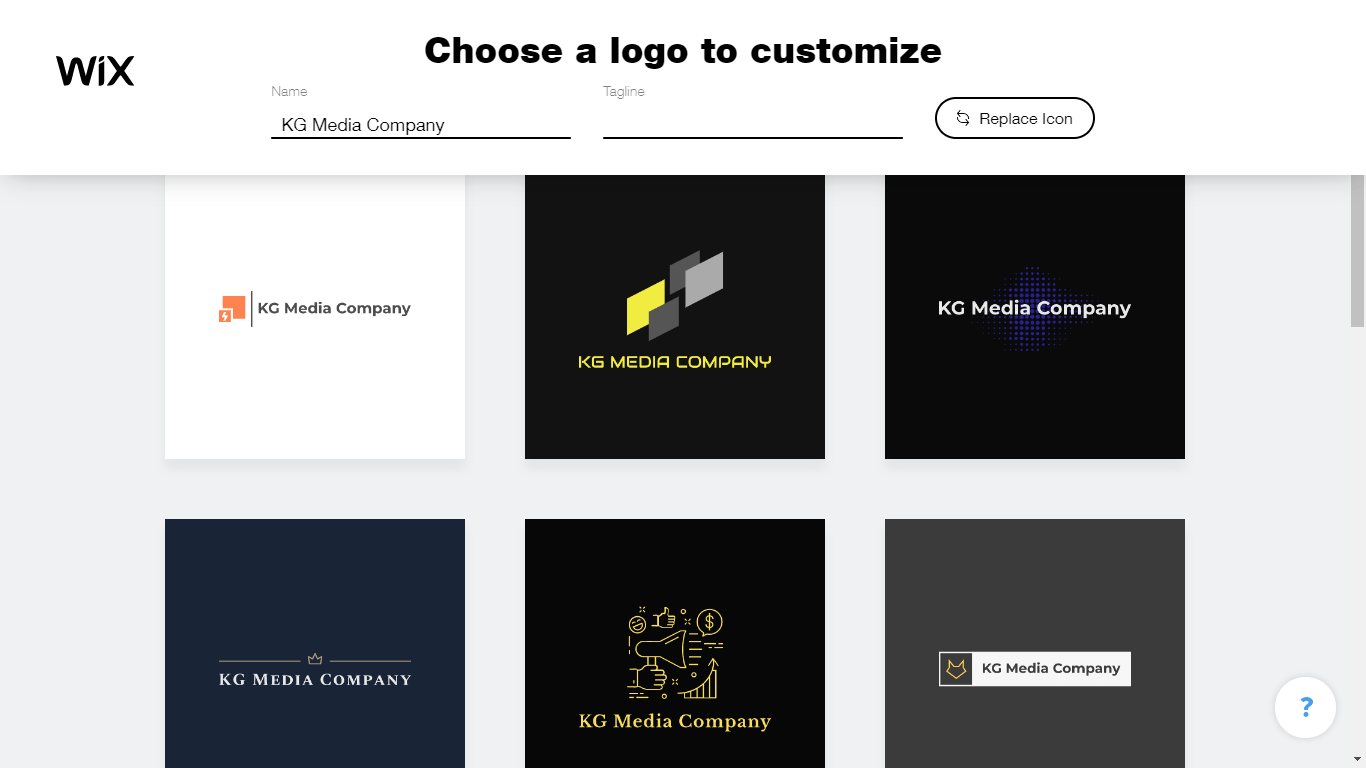 Click
Replace Icon
to search for even more image options for your logo. Type "3D" into the search bar to find 3D options you can add to your logo. Then simply click on your chosen icon to add it to all the templates in the search results.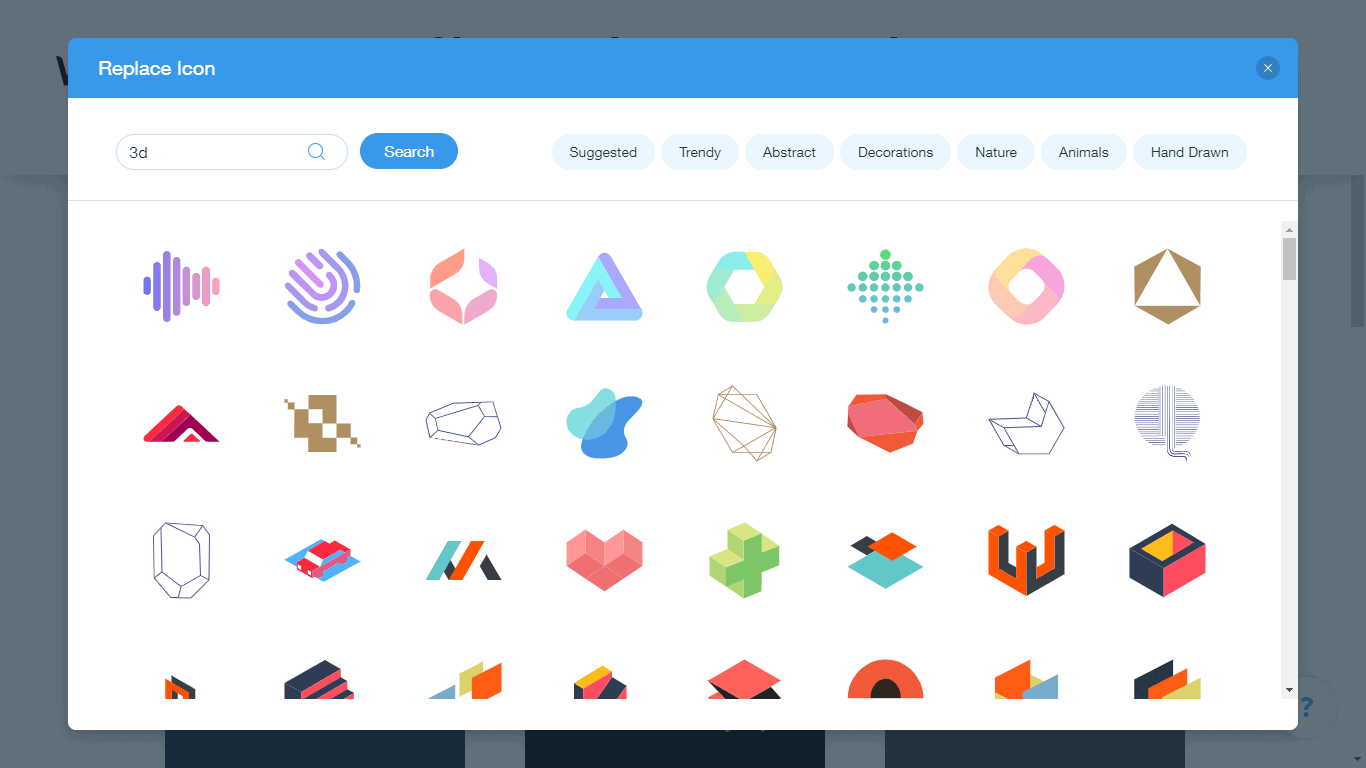 When you're ready to edit your logo, click
Customize
 to be taken to the logo editor. There are so many tools to play with here. There are more than 200 font styles and a huge range of color presets (although you can create your own color scheme, too). When you're ready to add your 3D element to your logo, there's a wide range of options to choose from. Have fun testing out these features until you get the perfect design.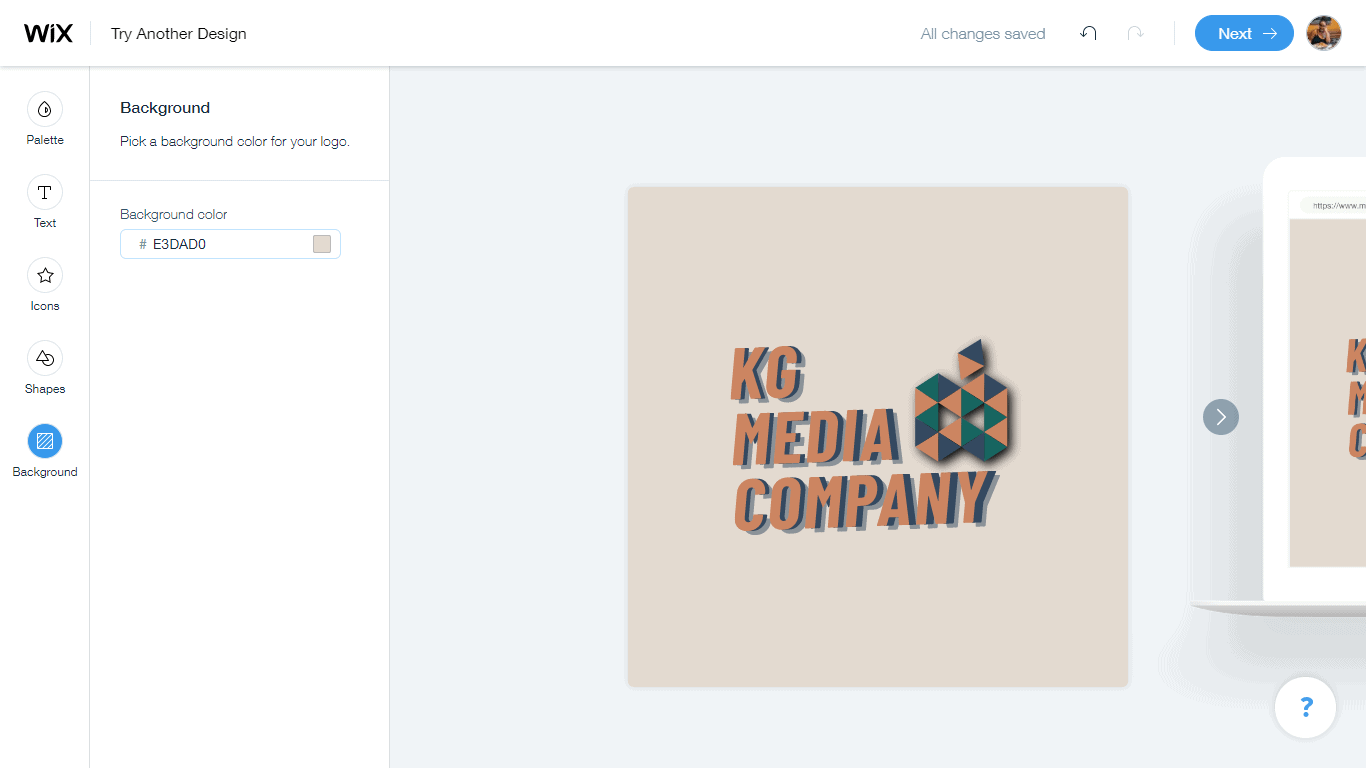 Happy with what you've got? Click
Next
to select your package, make your payment, and download your new high-res logo. You can also download a small logo file for free.
 Wix Logo Maker Alternatives:
Looka – With Looka, you can design your logo and purchase branding materials, all in the same place. Do you need website design or business cards? You can add your logo's design to either of these options for easy brand integration.
DesignEvo – DesignEvo has 10,000+ logo design templates in 18 searchable categories. Simply search "3D logo" to bring up the logo templates already designed in a 3D style – that's the hard work done!
Want to know more? Read our
expert Wix Logo Maker review
to see some logo samples.
To Sum Up
If you have a leak, you call a plumber. If you need your house rewired, you call an electrician. If you need a new 3D logo design,
head to Fiverr and find a specialist, experienced designer. And it could only cost you $5
!
 In my opinion, Fiverr is the best solution that guarantees quality work for little cost. If you're more of a do-it-yourself person, then making your logo might be right up your alley.
Wix Logo Maker lets you get creative with your logo
, but the tool's intelligent AI makes the whole process stress-free by giving you personalized templates for customization. There's no need to start from scratch staring at a blank screen! Getting the perfect logo can take some time. If you're still undecided, head over to my colleague's
comprehensive logo design service review
 to see how platforms similar to Wix Logo Maker and Fiverr ranked in his experiment.