SilvusHost is a Brazilian company that sells enterprise-level packages. As well as hosting, SilvusHost also sells internet services to residential customers. The basic website is provided in Portuguese only.
Features and Ease of Use

The VPS and dedicated server plans come with the following core features:
99.8% uptime guarantee
Backups can be configured
Up to 200GB HD SATA III
Unlimited monthly traffic
Linux operating system
SilvusHost has its servers co-located in a Canadian data center. The uptime guarantee is low at 99.8% (as opposed to the industry standard of 99.9%), but the average ping speed is good at 120ms to 180ms for Brazil.
The servers are built on KVM Virtualization, meaning your environment is completely isolated from your neighbors, reducing the risk of oversold resources or issues from spikes in traffic or malicious traffic.
With full control panel access and full root access via SSH, you can administer and configure your server easily e.g., perform reboots, add IPs, configure hostnames, and so on.
All plans come with full DDoS protection and SilvusHost will manage your migration for free from your old host, if required. A small consideration, unlike other similar companies, new customers may need to wait up to 24 hours for activation of their environment after purchase.
Pricing and Support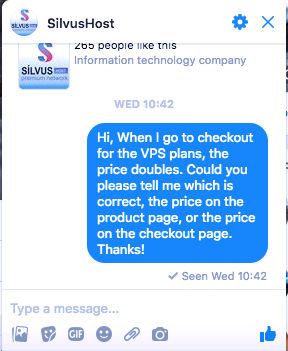 The prices are on the product pages appear cheap, however, once you start the checkout process, the price doubles! The second price may still be in line with other companies, it's obviously just not as good of a deal as I originally thought. I tried to get confirmation from customer service on the correct price, but unfortunately, I did not hear back.
The plans are only available on a monthly term, so you won't get a long term discount. As well as having a seven-day money-back guarantee, if you make a purchase and SilvusHost does not deliver as promised, you can request your money back in full.
Customer service is available Monday to Friday from 9:00 AM to 5:30 PM via phone, email, online contact form, ticket, WhatsApp, and Facebook messenger. There are no help documents, so it's even more important that customer service is of good quality.
Sadly, in my experience, I sent a Facebook message at around 7:00 AM on a weekday. It was before business hours, so I didn't expect an instant reply. I could see that the message had been read straight away, but despite waiting several days for a response, none came.