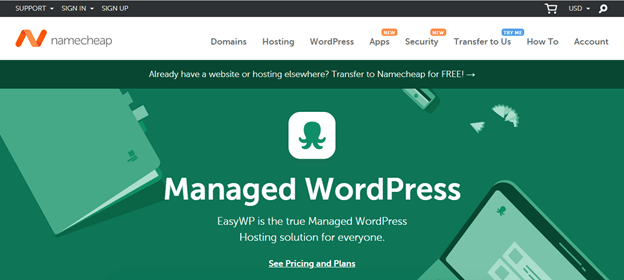 Fast and Easy to Use, Perfect for Beginners and Basic Websites
Namecheap is widely known for its discounted domain names, but like many other registrars, it has also branched out into hosting. Are the hosting solutions on par with the best of the best the internet has to offer? I signed up to find out.
Namecheap has been in the business since 2000 and has over 10 million active domains registered. It's website hosting plans cover most hosting types and include shared, managed WordPress, VPS (virtual private server) machines, dedicated servers, and even private email hosting. All services are available in English.
Now, while it's extremely tempting to purchase your domain name and hosting plan from the same provider, you should be wary of doing so. An all-in-one solution simplifies everything – from management to support and billing – but a jack of all trades is (usually) a master of none.
Laughing in the face of danger, I took the risk upon myself and signed up for managed WordPress hosting. To my surprise, I found a managed WordPress platform like few others, seamlessly designed and providing a fantastic user experience.
Still, does that ease of use come at the cost of features? Can the service really answer advanced needs, or will you find yourself limited and unable to grow? Well, read on and see for yourself!