You need an experienced professional for your project, and you need them now. 
You'll find thousands of voice-over gigs listed on Fiverr. There are people who can provide audio tracks with any accent imaginable, and include everything from background music to broadcasting rights. Whether you need someone to read your audiobook, do an impersonation for a radio spot, or record your company's automatic telephone system,
you'll be able to find a gig that fits your requirements and stays in-budget.
But, as I said, there is a very wide range of talent – and you can't risk your project sounding anything
but
amazing. So I'm going to make things easy and let you know exactly what you should be looking for when it comes to
hiring high-quality Fiverr voice-over talent.
Why Use Fiverr?
Fiverr is the world's largest marketplace for professional and creative services.
It's essentially a one-stop shop for any type of service you may need
– whether you are looking for female voice actors (or male voice actors) or you want to hire for a few cartoon voice-over jobs. Instead of wasting time searching through dozens of websites, resumes, and portfolios, you can simply visit Fiverr and use their search engine. This is one of the many reasons why
users like Fiverr
.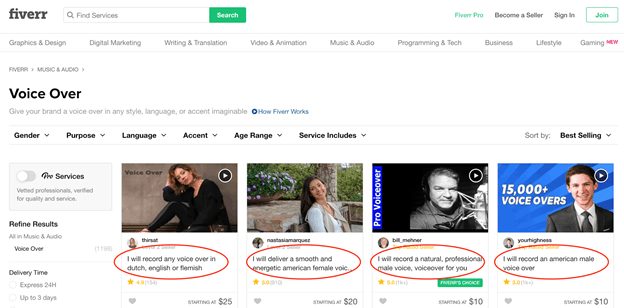 One thing that you'll notice on Fiverr is that there is a wide range of prices for talent,
so you'll always be able to find something in your budget.
Originally, the platform charged $5 for all services, hence its name. But the platformed loosened its pricing structure so sellers could better charge according to their offerings and level of expertise – providing you with more variety and options. Fiverr also helps sellers "productize" their services. Instead of simply paying for "a voice-over" – which can mean different things to different people – sellers break up their services into different "items" for sale.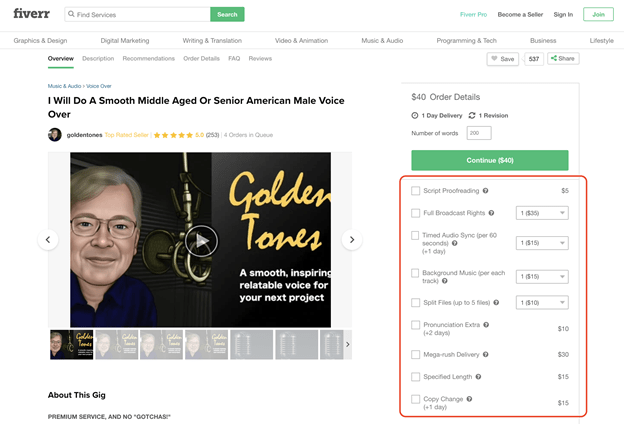 This means that you don't pay a flat rate for a voice-over or narration. Instead, you can customize your order by picking and choosing
exactly
what you need to complete your project (e.g., background music, proofreading, split files, multiple takes).
How to Use Fiverr to Find Voice Actors and Narrators
With thousands of voice-over actors on Fiverr, the platform is practically a goldmine. But so many options can also be overwhelming. There's a risk of purchasing a fake gig or receiving something other than what you're expecting or paying for. And, chances are, you are looking for a very specific voice-over style or skill set. By following our pro tips – and keeping an eye out for red flags – you'll quickly narrow down your options and find exactly the right talent for your project.
Pro Tip #1: Leverage Fiverr's Search Settings
Fiverr makes it super easy to browse voice actors and narrators. Either search by keywords or, from the top menu, click on Music & Audio > Voice-Over to see all the Fiverr professionals in that category. Then, on the left side,
refine the results by factors like delivery time, price range, gender, accent, or purpose
– further customizing the category results to match your needs. You can also sort results by best-selling services, recommended sellers, or the newest arrivals on Fiverr.
It's also possible to search for sellers that are currently online,
which is great if you need to start your project right away. This filtering process can save precious time and energy as you sift through all of the different Fiverr voice-over actors.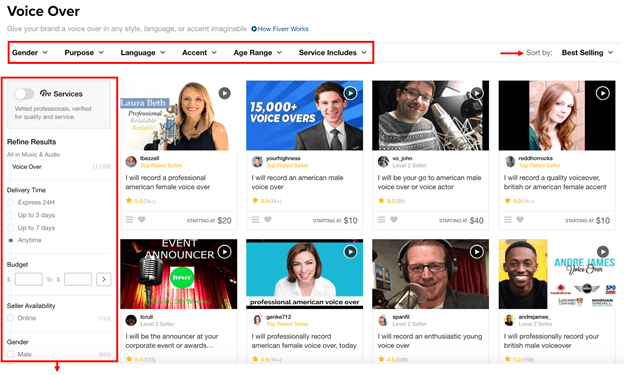 For example, searching for "voice-over" from the Fiverr homepage delivers more than 7,600 results. Who has time to look through all that? No one. Let's say I was looking for a woman to narrate my new animated cartoon. I'd set my keywords as "voice-over female cartoon," which immediately brings back around 330 results. To narrow it down some more, I'd alter some of the search parameters:
Gender: "Female"
Purpose: "Video Narration"
Accent: "English American"
Service Includes: "Commercial Use"
Setting these parameters brings my options down to 54 results, a much more browsable number.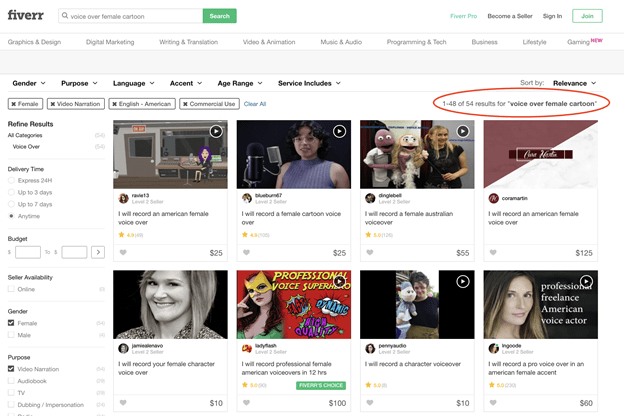 Pro Tip #2: Pay Attention to These Key Profile Points
Fiverr sellers use their profile to market their services and talent. It's up to you as a buyer to read each profile thoroughly to determine if they would be a good fit for your project. First, take a look at the seller's profile overview.
Pay special attention to the "Member Since," "Avg. Response Time," and "Recent Delivery" sections,
as these tell you about the seller's history and activity with other buyers.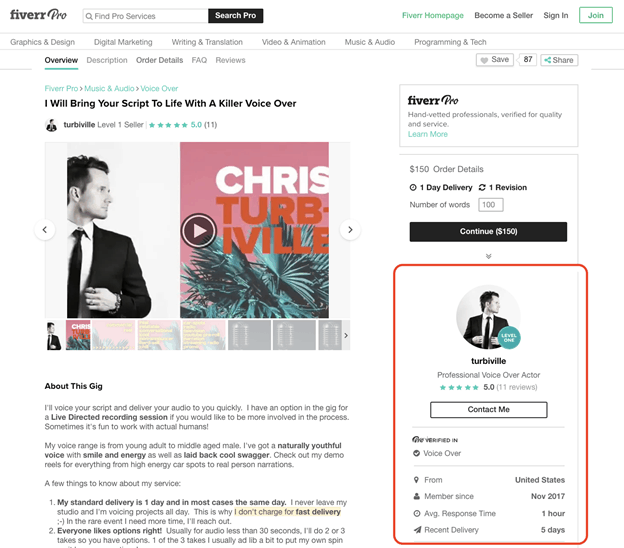 Second, browse the seller's portfolio.
The best voice actors will develop a highlight reel where they introduce themselves and showcase some of their past work.
Avoid hiring someone unless they include work samples. Otherwise, how can you really know what they are capable of? Third, read through the "FAQ" section. These are commonly asked questions that the seller has likely received from other buyers and can be a sign of how experienced and professional they are.
Look for someone that proactively addresses questions that a client is likely to have.
Here are some common questions that seasoned voice-over artists are likely to include and answer:
What type of audio file will I get?
What studio gear are you using?
What time zone are you in and what hours are you in your studio?
What level of audio do you deliver with each project?
When should I purchase Commercial or Broadcast Rights?
What if I have a copy change?
The following FAQ is from one of Fiverr's ProVerified female voice actors. You can tell by the questions alone that this is an experienced professional.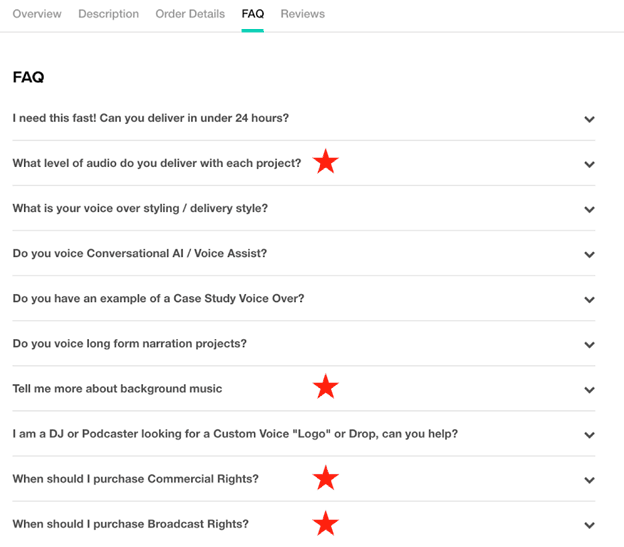 Read each FAQ in detail they may answer questions you didn't even know you had. If you have any lingering questions, you can always reach out to the seller.
Pro Tip #3: Know Which Customer Reviews Matter
Customer reviews are a great way to identify the best voice actors and narrators. Reviews are submitted by customers who've paid for and received services, so they can give you a good idea of what it's like to work with a particular seller. But keep in mind that not all reviews are dependable – and some may actually be fake (more on that later). When browsing reviews for sellers you may be interested in,
look for detailed descriptions about communication, service details, turnaround time, and voice quality.
Here are some other tips for using reviews to find the best voice actors and narrators on Fiverr:
Look for reviews for past jobs that had similar criteria to yours. What was the buyer's experience?
Consider the negative reviews. Was this something the freelancer had control over? Or was the negative experience due to a difference in style or unrealistic client expectations?
Look for instances where a buyer was not happy with the first voice-over iteration. How did the freelancer address the buyer's concerns and remedy the situation?
What is their rehire rate?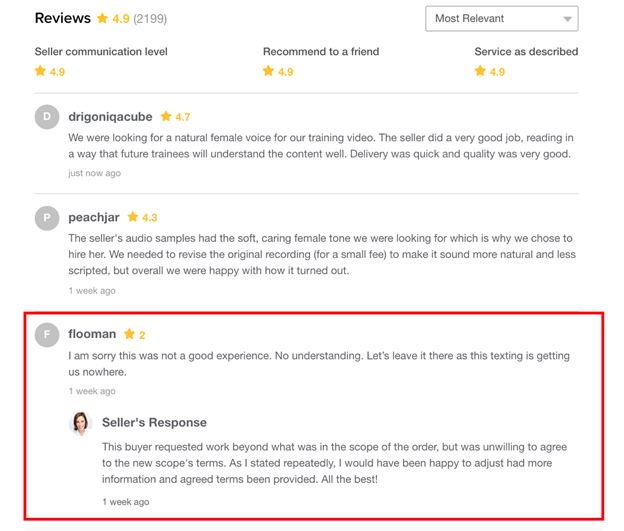 While some real buyers will only post a short review, it's best to disregard the ones that don't include any details or explanation. Not only could these be fake, but they also don't give you any meaningful information to help you decide between sellers.
Pro Tip #4: Look For "Pro Verified" Actors and Narrators
Fiverr Pro offers "hand-vetted professionals, verified for quality and service." That means that Fiverr does the work for you, vetting and reviewing Fiverr contractors so you don't have to. Any buyer can access this feature at no extra charge.
While these gigs do tend to be more expensive, you can be confident that you'll receive high-quality work.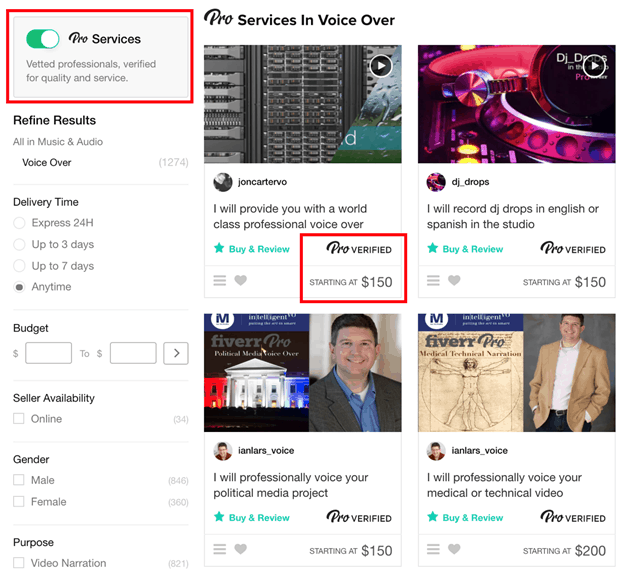 The Pro Verified certification is based on a background check, proven professional experience, and a display of on-going excellence. Only about 1% of Fiverr freelancers are ProVerified. Also, if you purchase a Pro Service, you gain access to Fiverr's 24/7 Pro Customer Experience team.
Pro Tip #5: Find the Highest Quality at the Cheapest Price
Like I said above, all services on Fiverr used to be $5. While a $5 voice-over sounds phenomenally cheap, it's probably a little too good to be true.
For most services, quality often corresponds to price.
This makes sense as better voice actors and narrators tend to charge more. When browsing Fiverr, you'll likely see
all
kinds of prices. Should you avoid those who provide cheap services? What about those who have little or no Fiverr experience and reviews? Keep these factors in mind when considering sellers who are charging very little or those who are brand new to the platform:
Cost of living. To some extent, a freelancer's price will depend on where they live. A voice-over actor living in NYC might have less experience but still be charging more than a seasoned professional living in the midwest, for example. You may see this especially if you're hiring a voice-over for another language or accent.
Off-platform experience. Does the freelancer have a website or links to other work they have done elsewhere? Just because someone is new to Fiverr doesn't mean that they don't have years of experience under their belt.
The "new seller discount." It is tough to be a new seller on an already-crowded platform. Feel free to ask new sellers for sample readings of your script to see if their style could work for your project. You may have to pay a small fee, but many will be happy to make the effort in attempt to land their first gig and get a positive review.
Bonus Tip: Be Someone You'd Want to Work With 
Hopefully, this goes without saying: If you expect high-quality, professional work from your voice-over artists and narrators, you should be giving them the same courtesy. Before you hire someone on Fiverr, reach out to them to provide project details and see if they have any questions. Provide clear direction and thoughtful answers. Don't take two weeks to give feedback and then expect a two-hour turnaround time. Respect their talent and process, and they'll respect your project and parameters. Being a model client is the best way to find and hire model voice-over talent. By establishing a good line of communication from the beginning, you'll get a sense of their personality and work style. This will also help you build a professional relationship that can last for projects to come.
3 Common Fiverr Red Flags
There's always a risk when hiring remote, freelance talent. If you're not aware of what to watch out for, you could end up hiring the wrong voice-over artist and wasting precious resources.
Red Flag #1: Few Details or Work Samples
On Fiverr, there are lots of voice-over jobs for beginners, meaning that many of the freelancers don't have much experience in this line of work…yet. Depending on your project, you might not need a seasoned professional – in fact, you may be happy to save some money in exchange for a lower-quality product. But if you can't take that risk, keep an eye out for the following signs of an inexperienced freelancer:
No professional portfolio or work samples
A sparse or very basic FAQ section
Generic offerings with no details regarding style or deliverables
Accepting a job without asking any questions or for project details
Red Flag #2: Requesting to Work Off of Fiverr
Fiverr's platform is in place to protect both buyers and sellers. If a seller ever asks to exchange work and money off the platform, consider this a bright red flag. This person might be attempting to scam you or avoid Fiverr fees – either way it puts their legitimacy in question. Never give out personal or financial information to any sellers, such as your home address, phone number, or bank account information. Fiverr exists so that buyers and sellers can avoid scams or dangerous business dealings. Follow the rules on Fiverr to protect yourself and your work.
Red Flag #3: Potentially Fake Reviews
Keep in mind that not all reviews are dependable. Fake reviews on this platform can be a real problem – look out for these telltale signs:
Review dates. If a bunch of positive reviews were all published around the same time – without much activity since then – they might be fake.
Repetitive language. If there are multiple reviews from "different buyers" that are all the same or include the same phrases over and over, they have probably been copy-and-pasted.
Inconsistent details. If the reviewer describes a service that the seller doesn't offer, or refers to the seller using a different name, it's likely fake.
Use Fiverr to Give Your Project a Voice
Looking to hire a voice-over actor for your new animated comic series? You can also find a ton of
graphic designers
with every imaginable style and skill set. Or maybe you need a narrator for a radio spot? Fiverr is a great place to hire
translators
that can help you write the script in different languages. One of the best things about Fiverr is just how broad its offerings are – there are some really
crazy gigs
out there. Bottom line? No matter how big your project, or the type of skills you are looking for, you'll be able to find talent on Fiverr. You just need to know how to look. If you want to learn more,
read our expert Fiverr review
.