Fiverr Learn
, features some big instructor names. Every course seems to be rated at least four out of five stars. But so are most Fiverr gigs – and it's no secret that those are often low quality. So, how do you know if it's the real deal? If you're going to invest your time and money in a course,
you want to feel confident that it will actually help you learn new skills
so you can ultimately make more money as a freelancer. Not only have I spent hours researching the platform, I actually took a course on Fiverr Learn to truly test the quality. In my Fiverr Learn review, I'll answer the questions that I'm sure you're already wondering about:
What kinds of courses are available?
How much is it going to cost you?
How does it compare to your other options?
Do these courses make sense for you?
If you're ready to start gaining some new skills and boost your freelancing game, start here. This unbiased look at Fiverr Learn will help you determine if it's time to register for a course, or start looking somewhere else.
What Is Fiverr Learn? A Quick Summary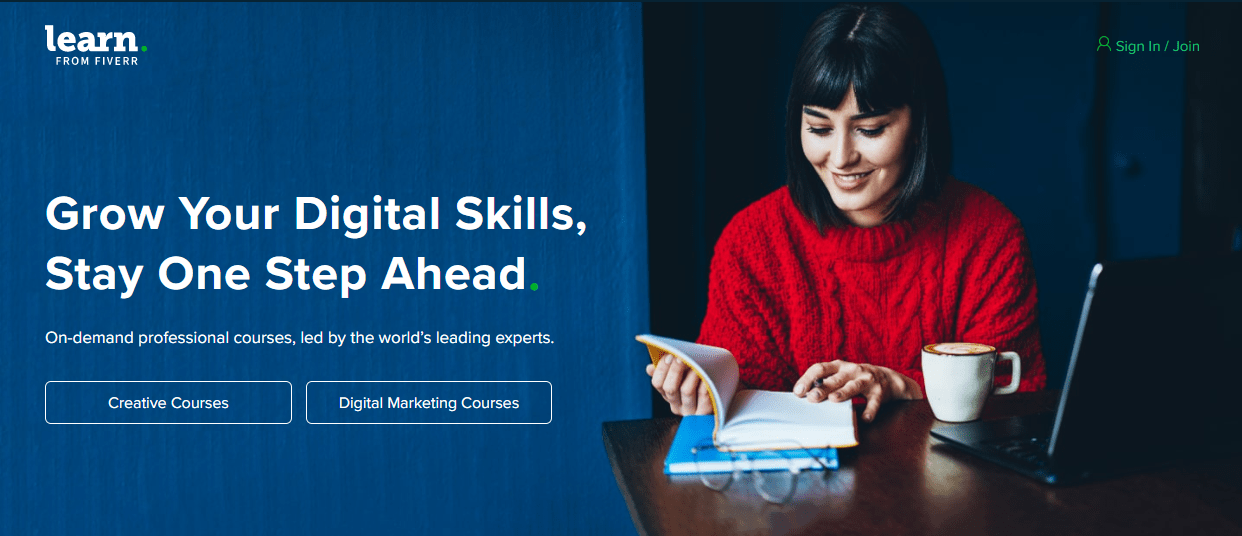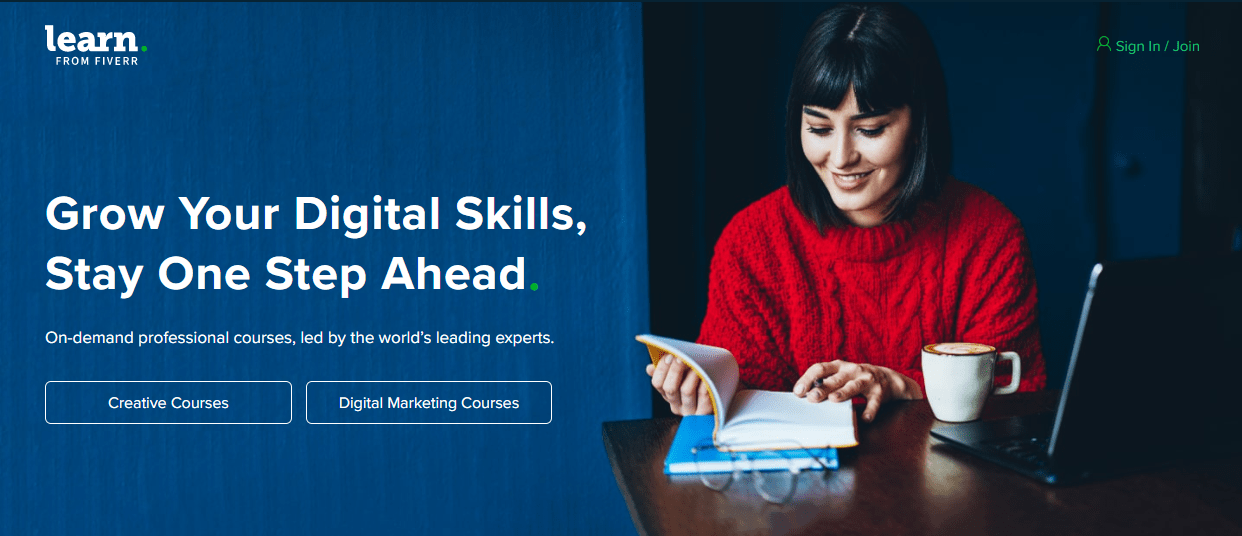 Fiverr Learn is another online course platform, which launched in late 2018.
It is mainly for freelancers and people who want to pick up a new marketing or creative skill
. Courses are focused on specific skills that could be offered as a gig on the
Fiverr marketplace
. But unlike the Fiverr marketplace,
not anyone can post a course on Fiverr Learn
. Instead, courses come from only a select group of instructors who are at the top of their fields. You can take a course from people like:
Jon Youshaei: Marketing manager at YouTube
Sharon Lee Thony: Wharton MBA with more than 15 years of experience as a digital marketer for global brands
Ian Cleary: A well-known content marketer and the founder of RazorSocial
Aaron Nace: A YouTube Photoshop educator with more than 1.5 million YouTube subscribers
Keith Harris: A Fiverr freelancer for more than six years, with more than 600 5-star reviews
Types of Courses Offered on Fiverr Learn
You're not going to find courses in literature or computer science on Fiverr Learn –
all courses are focused on either digital marketing or creative skills
. Some courses are related to each other and can be bought together as a "program," but there are also a bunch of standalone options.
When you complete a course, you get a little badge on your Fiverr profile
, which – in theory – could help you win more jobs on the Fiverr marketplace.
Digital Marketing Courses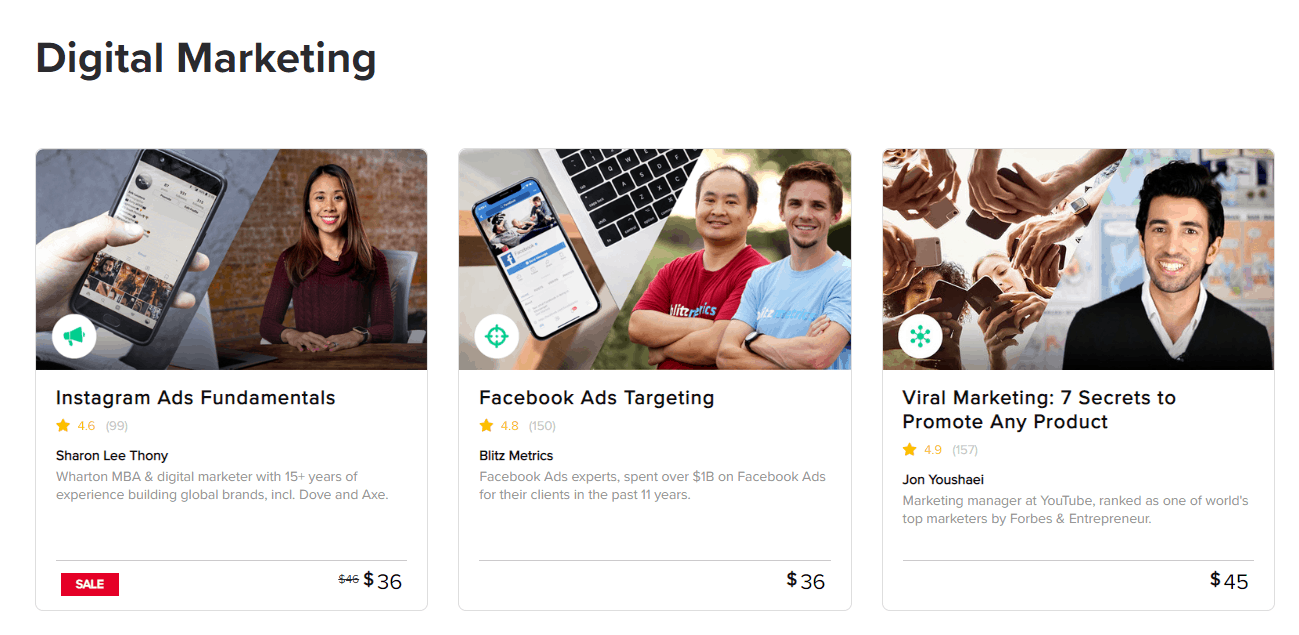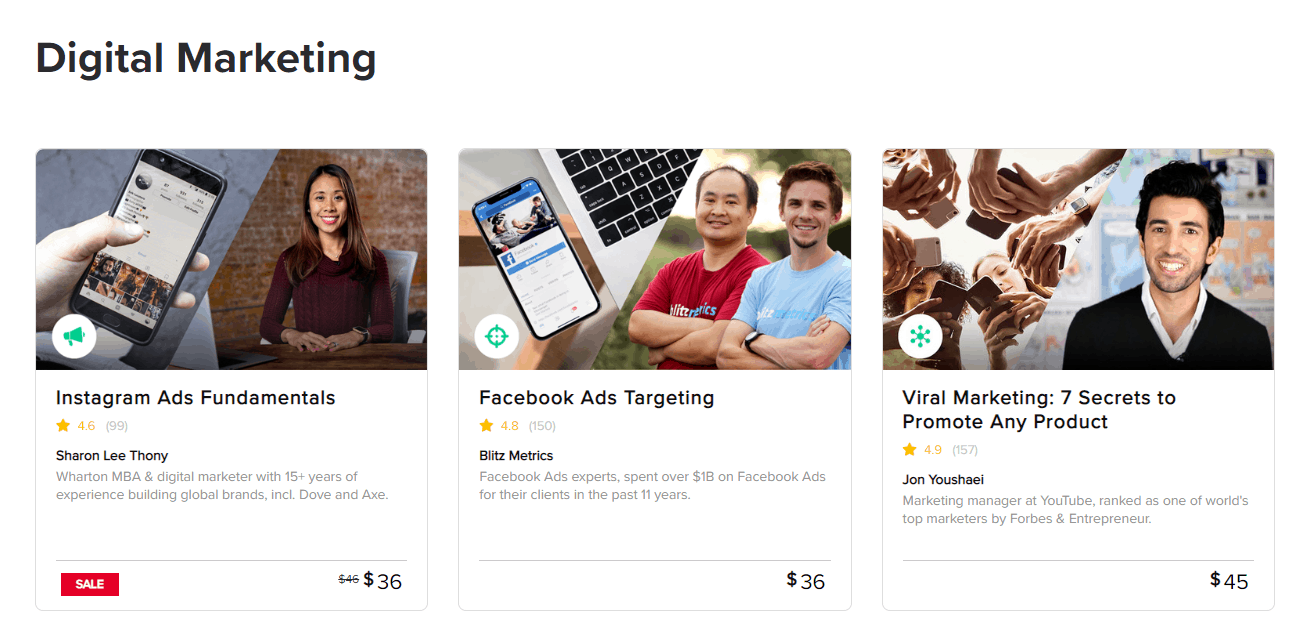 There are
only 11 digital marketing course topics
 right now. There are also two programs (which include two to three courses) if you want an online marketing certificate in the form of a profile badge. The courses focus on basic topics, like:
Instagram ads fundamentals
Blog content strategy
Basic SEO
Google Analytics
Digital marketing analytics
If you already have a few years of experience as a digital marketer, you're unlikely to find any useful courses. However, if you're new to the industry,
this could be a good place to start building a foundation for your freelancing career
.
Creative Online Courses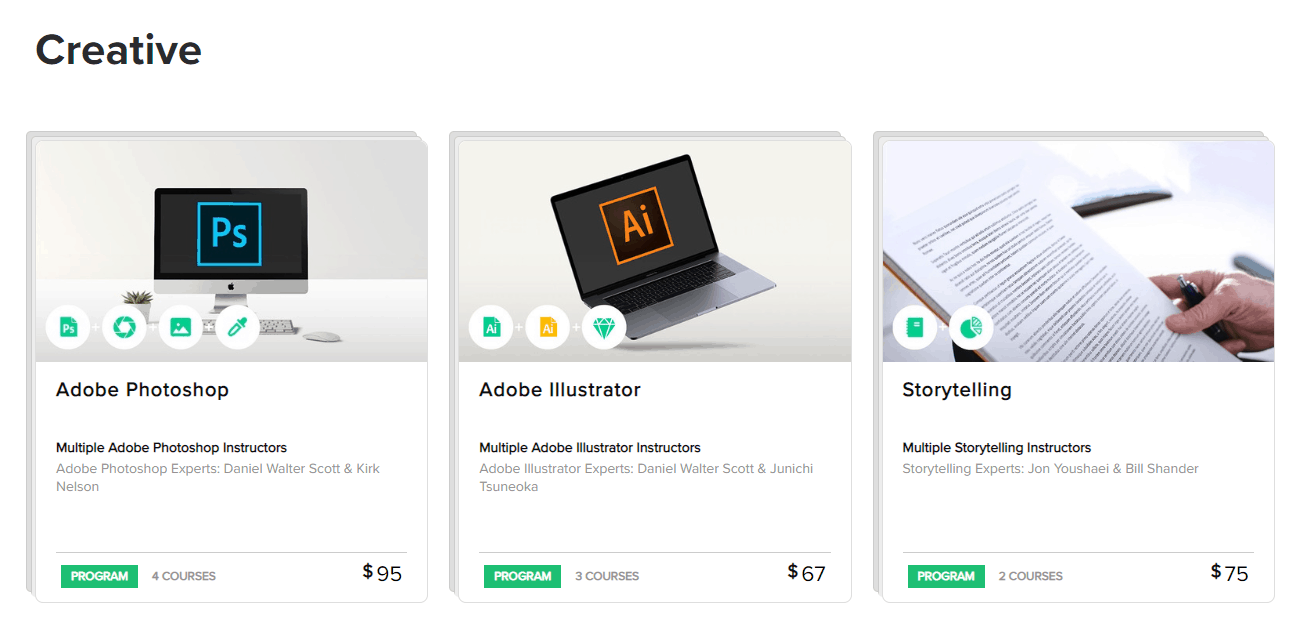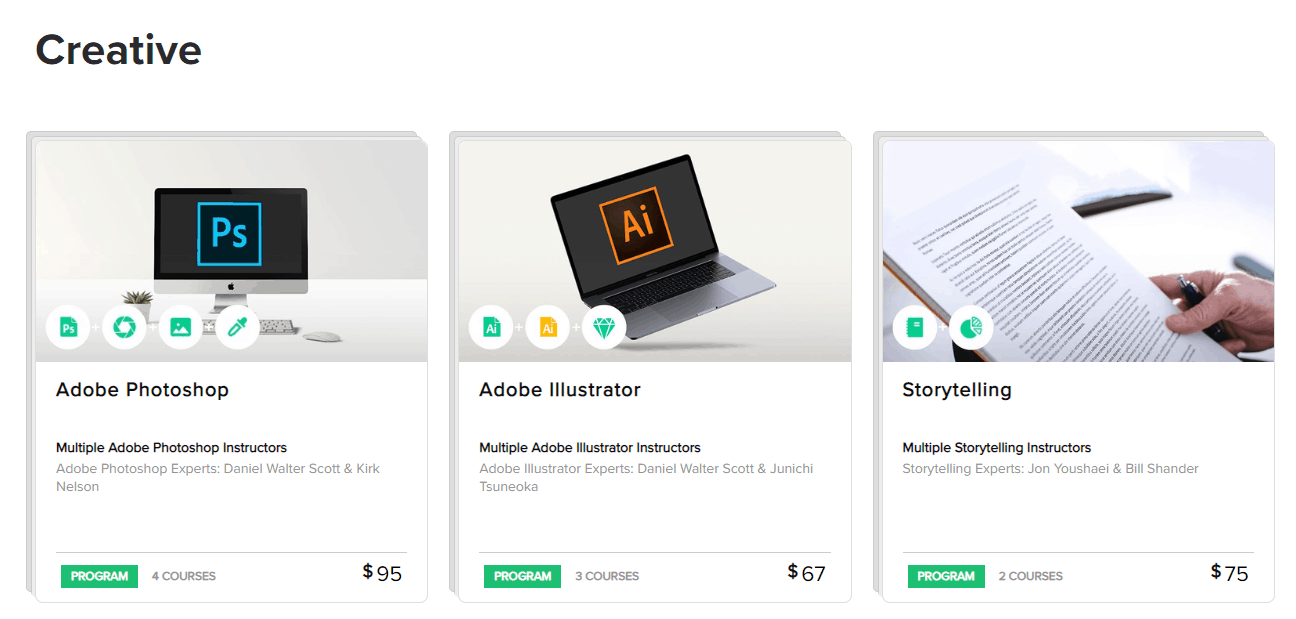 There are a few more creative courses at the moment,
17 in total
. In addition, there are three programs that bring related courses together for a discounted price. Again, the focus is mostly on developing basic creative skills, including options like:
Using Adobe Photoshop
Telling stories
Creating illustrations
Creating brand strategies
Fiverr Learn Pricing (Are There Any Hidden Fees?)
To buy a course on Fiverr Learn, you need to
create a standard Fiverr account
(if you don't already have one). It only takes about a minute to click the "Buy" button and finish checking out. Then you'll have instant access to the course.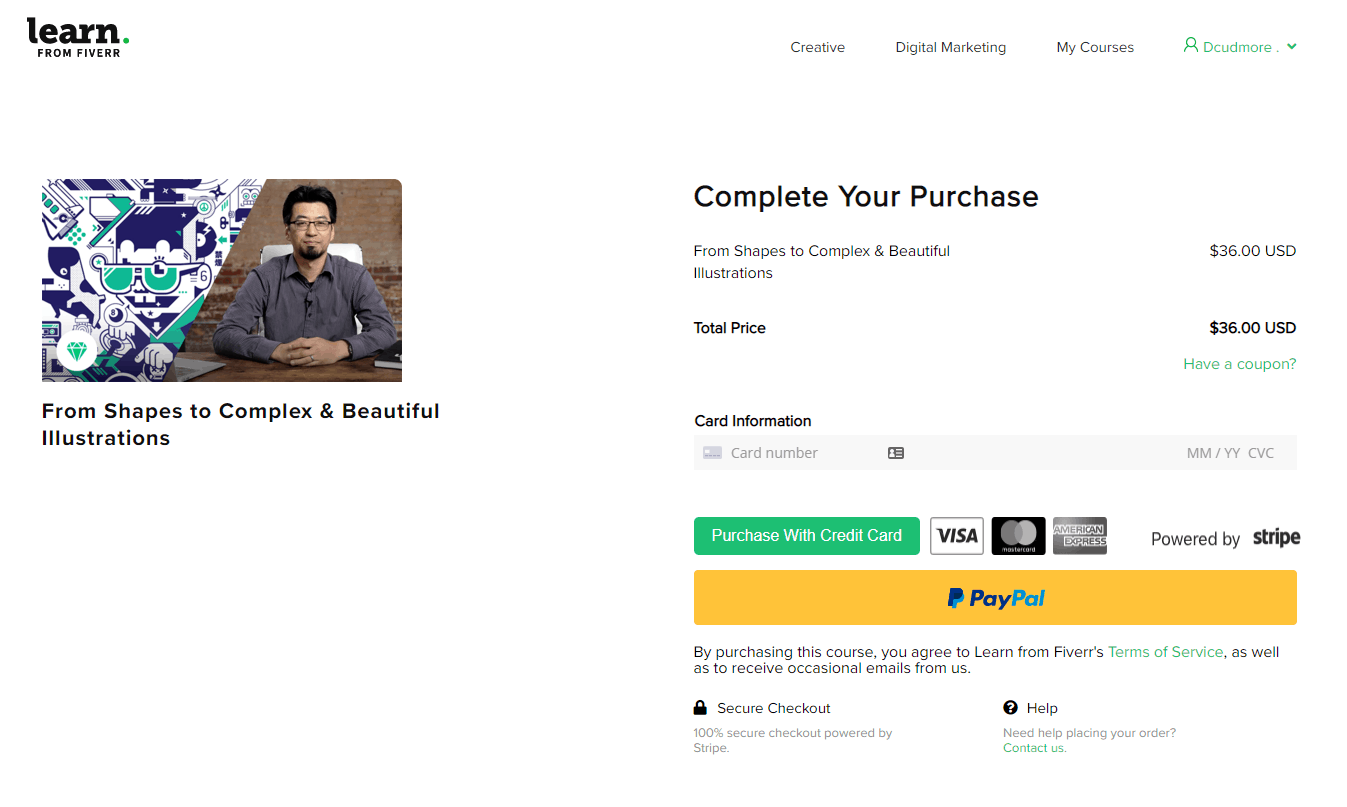 You can pay with any major credit card (Visa, MasterCard, American Express) or PayPal. There are no hidden fees that pop up once you start the purchasing process.
Most courses range from $19 to $90
, but there are frequent sales and coupons that can significantly bring down the cost.


Can You Get a Refund?
There's no money-back guarantee, but there's a fairly loose refund policy. As long as you don't
finish
a course you bought, you can contact Customer Support to request a refund within 30 days of buying it. In most cases,
you should get your refund within five to ten business days
. If you buy a program with multiple courses, you can only get a refund for the courses that are incomplete.
I Took a Course: Here Are My Thoughts
Sure, Fiverr Learn looks pretty from the outside, but in order to really review the platform, I needed to experience it for myself. Since I've written about online marketing and worked as a freelance consultant for years, I decided to take an SEO-related course (
Website Technical Audit Fundamentals
). I figured this way I could fairly judge whether the concepts were well-covered or lacking.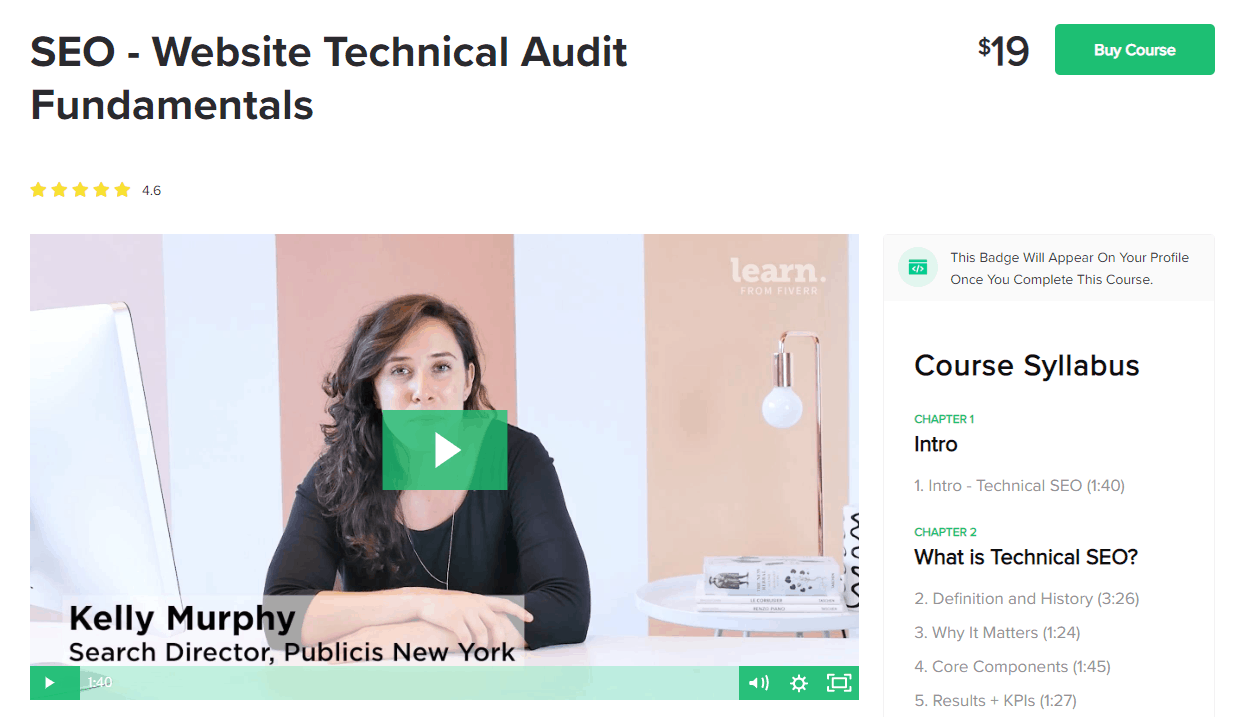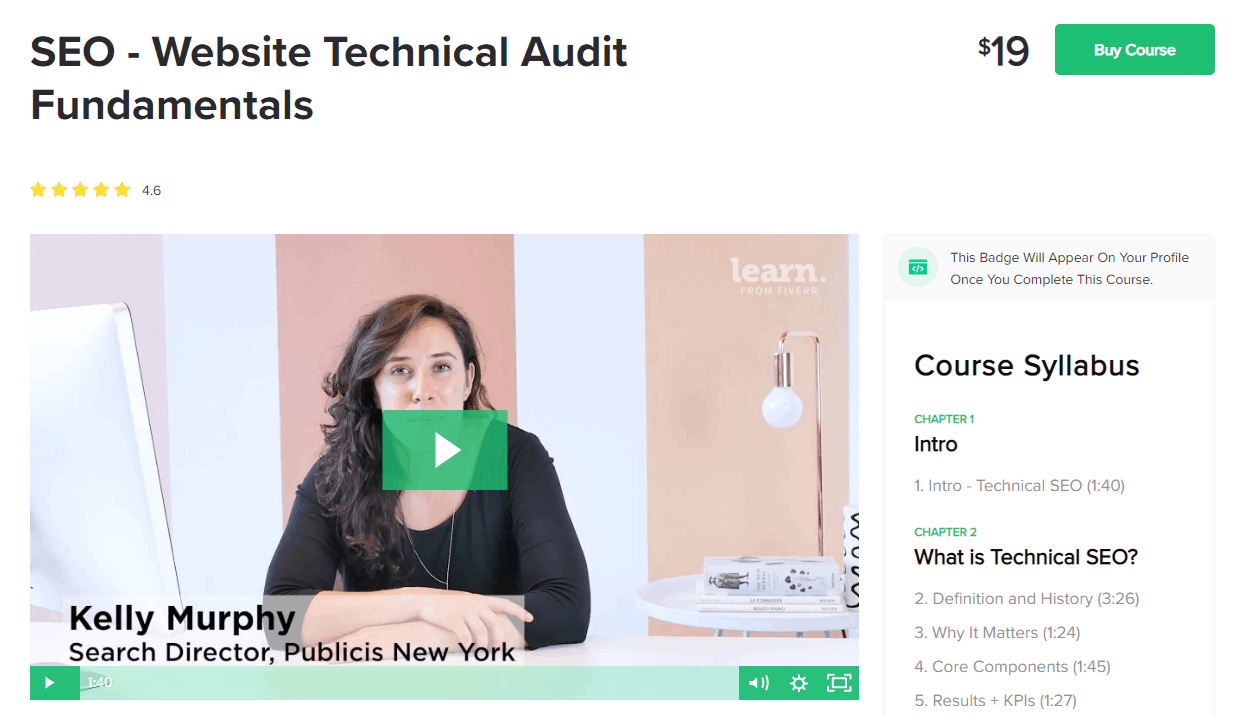 What I Liked About It
The software looks great and is intuitive to use. The navigation is all on the left panel, which shows you which sections you've completed.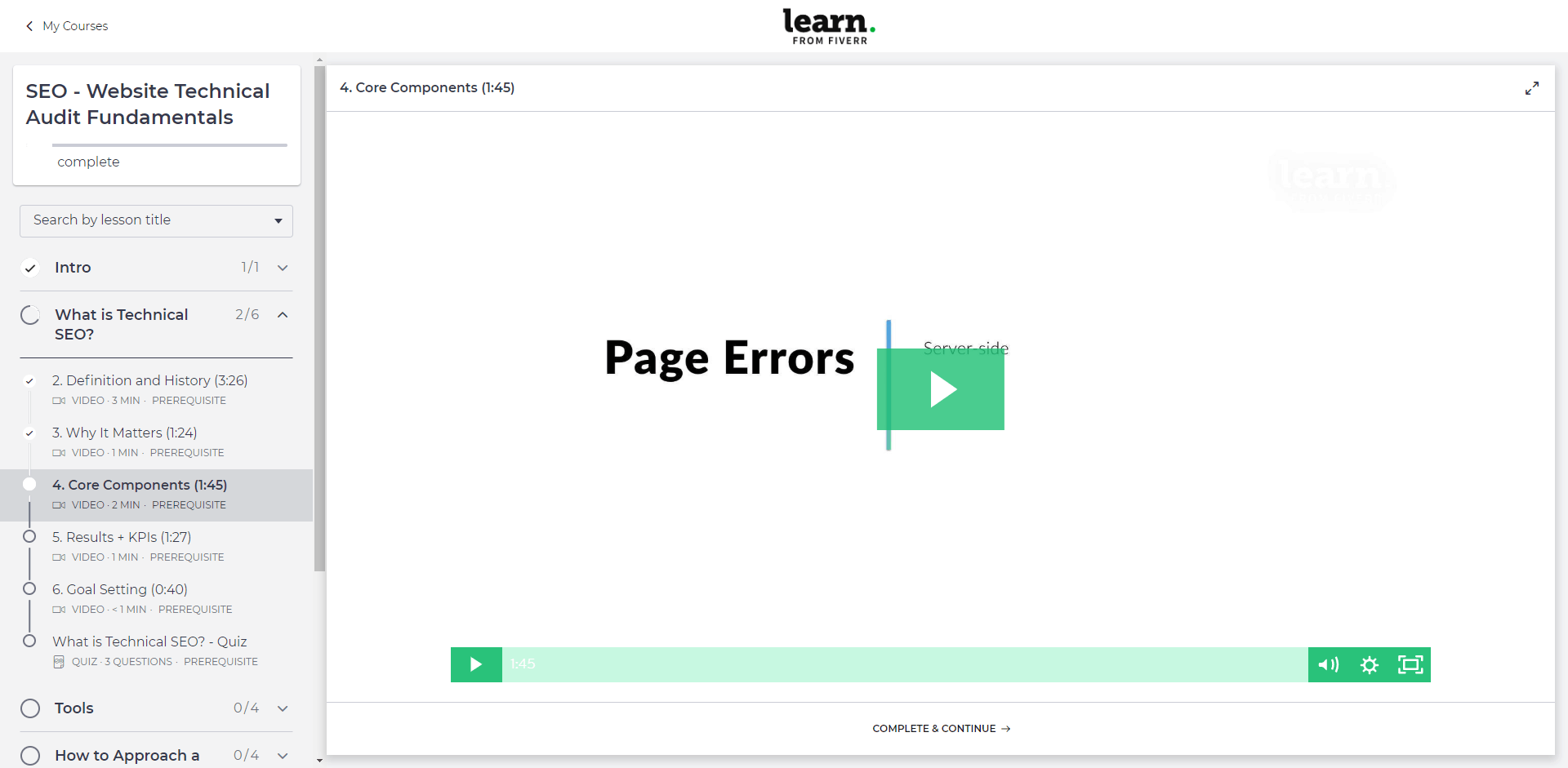 I like that you have an experienced and knowledgeable instructor.
The chosen topics were covered clearly and accurately
. It's also helpful that each section is divided into smaller chunks. This can make the class feel more manageable, help you fit it into your busy schedule, and stay motivated along the way. The course included 23 videos that came to a little over an hour-long, in total. With a price tag of about $20, this seems about right, or maybe a bit on the short side. If this seems high to you, consider the cost of a university course, which is often more than $1,000 for 40 hours or so. It works out to a similar amount per hour, and in both cases, you're being taught by really knowledgeable instructors.
What I Didn't Like About It
While there were some good things about the course, there were also a few things that I found less than impressive. First off, the sound quality wasn't great. I can't say for sure, but it sounded like the professor literally used her laptop mic to record – not exactly professional quality. More importantly, it was distracting. However, other course videos might be different. Next,
there's nowhere to ask questions
. There's no comment section, forum, or way to ask the instructor – or another student – for help if you don't understand something. The final issue I had was with the topics that were included in the course.
It jumped right from the very basics of technical SEO to pitching clients and getting work
.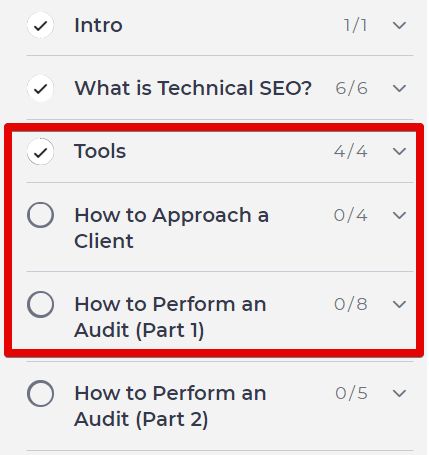 You may not have much experience in SEO, but if you do, you know that SEO consultants don't have a great reputation in general. And it makes sense. There's a very low bar to entry, and a lot of people that have no experience (besides reading a blog post or two) start calling themselves experts.
This course is part of the problem
. In no way does this course give you anywhere near enough information to be able to competently offer a full technical SEO service and actually fix client issues. You'll end up over your head, and potentially damaging someone's business. It would be one thing if this course led into an intermediate course on technical SEO, but it doesn't. It's fully intended to be a standalone course that's enough for anyone to start offering SEO gigs on the Fiverr marketplace.
Is Fiverr Learn Better Than the Alternatives?
Of course, there are other places you can take online courses, like Udemy and Coursera. How do they compare? Well, Fiverr Learn fulfills its own niche, which is easy to see when you look at the top platforms head-to-head.
| | | | |
| --- | --- | --- | --- |
| | Fiverr Learn | Udemy | Coursera |
| Courses taught by: | Industry professionals | Anyone can post a course | Top companies and university professors |
| Typical course price: | $19–$90 | Free–$200 | Free to enroll (costs $29–$99 for most certificates) |
| Number of courses: | ~30 | 100,000+ | 2,700+ |
Udemy and Coursera have courses on
everything
– but are really competing more with one another than with Fiverr Learn. These platforms are meant for professionals who want to gain new skills to land a job or promotion. But for creatives and digital marketers, those courses aren't extremely useful.
Fiverr Learn focuses on freelancers, not employees
. The courses aren't as long or broad. Instead, they focus on specific, actionable skills that could be offered as gigs. If you are in search of the finest online marketing courses, I believe Udemy outpaces Fiverr Learn. Its courses typically delve much deeper, offering a wealth of additional resources. Nevertheless, it's important to note that Fiverr Learn is currently in its early stages, which leaves room for potential changes down the line.
Will Fiverr Learn Dominate the Online Course Market?
Fiverr Learn is not aiming to be the next Udemy or Coursera. However,
it's the first of its kind to really focus on courses specifically for freelancers
. It wants you to learn with Fiverr courses, and then become a freelancer (or a more successful freelancer) on its marketplace. And while it's off to a decent start, there are ways it could be improved to more firmly establish its position in this niche. In fact, I wouldn't be surprised if rival freelance marketplaces like Upwork launched their own course platform in the near future. For now, Fiverr Learn needs to focus on adding:
More courses
More advanced courses
Forums, comments, or other resources to help students
I think
Fiverr Learn
will be useful if you're trying to learn the basics about freelancing in digital marketing or a creative field.
But if you already have years of experience, it won't be super helpful
. If you do end up signing up for a class, expect to do some additional learning outside of the course if you really want to offer excellent freelance services. If you'd like to learn more about the Fiverr freelance platform, don't miss our
in-depth review
.