On the surface, Twitter looks simple. But anyone who's used it to connect with customers, promote products, or grow a business knows that Twitter can be a tough platform to thrive on.
We get it – the platform demands constant content, engagement, and efficiency. It's almost impossible without a little help, which is why we compiled this guide on the best tools for Twitter management.
What We Look For in the Best Twitter Management Tools
With so many social media management tools on the market, it can be hard to know which one to choose. Not to worry. We've done the hard work for you. We examined a variety of tools that allow you to best manage your Twitter content, engagement, and reporting. Here's what we looked for:
An intuitive dashboard: Your Twitter management tool should be as simple and smart as the platform itself.
Smart content scheduling: Successful Twitter accounts are active Twitter accounts. Scheduling content ahead of time removes the pressure to tweet 24/7 – because who has the time to do that? Some of these platforms even suggest the best times to post.
Easy engagement: Twitter is more than the content you post. These tools will help you monitor, engage, and reply to relevant content that others post, too.
Intelligent analytics and reporting: See how your Twitter posts are performing and learn how to use that data to inform other advertising and marketing decisions.
With that in mind, let's jump right in.
1. Buffer – For Planners and Proactive Tweeters
Buffer is both beginner-friendly and budget-friendly, and it gets excellent reviews. The platform is a great choice if you are looking to make your first financial investment in managing Twitter content and marketing. Why? Buffer offers relatively inexpensive plans while still allowing you to manage multiple accounts and schedule a huge amount of content.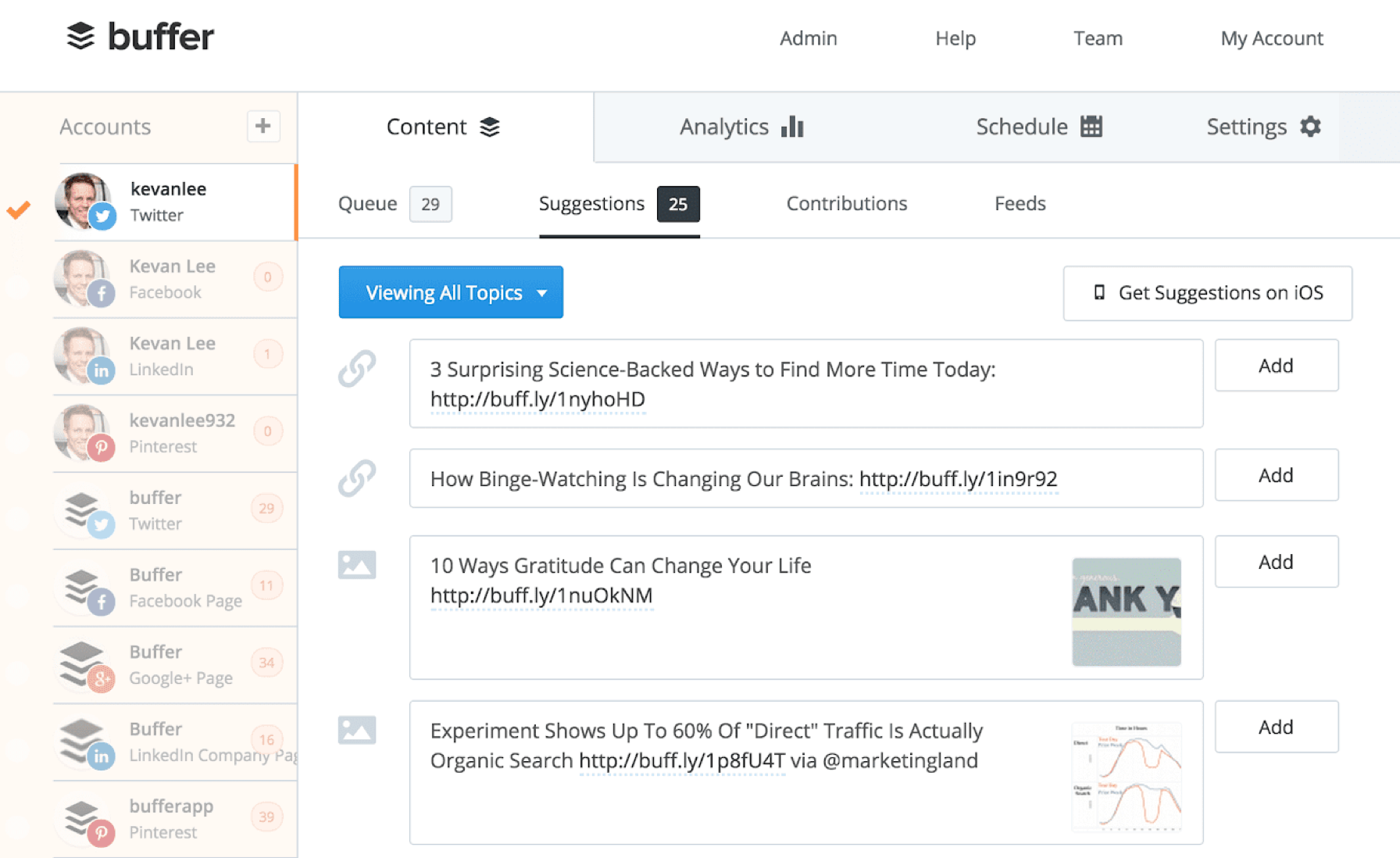 Buffer stands out with its gorgeous user interface and intelligent post scheduling. You can bulk schedule tweets ahead of time, visualize your content in a calendar view, and – best of all – rely on Buffer to choose scheduling times for you according to its research on the best times to post.
Notable Buffer Features
Download the Buffer browser extension and mobile app to curate and schedule Twitter content on-the-go
Manage multiple Twitter and social media accounts from one simple platform
Set your own posting schedule, and Buffer will schedule your posts automatically
Avoid daily, monthly, or yearly post scheduling limits – simply schedule as many posts as the queue allows (based on your plan) and continue to schedule as your posts are published
Keep track of your activity with customizable, exportable analytics and reports
| | |
| --- | --- |
| Free Trial | 7 days (there's also a limited forever-free plan) |
| Character-saving link shortener | Yes, buff.ly tracking |
| Analytics | With paid plans only (advanced social analytics not available on the Pro plan) |
| Additional Social Networks | Facebook, Linkedin, Instagram, and Pinterest |
2. Hootsuite – For Multi-Platform Marketers
If you post to multiple Twitter accounts or have more than one person managing your social media, Hootsuite could be a good fit for you. Hootsuite is definitely a user favorite, but it can be one of the more expensive options on this list (depending on the plan you choose). However, its intuitive scheduling capabilities, vast integration network, and detailed analytics make it worth the price.
Within the platform, team collaboration is a breeze. Assign content, set up reviews, approve workflows, and share feedback through comments, replies, and notes. Hootsuite also displays all of your Twitter DMs in one inbox and allows you to assign and check off completed tasks.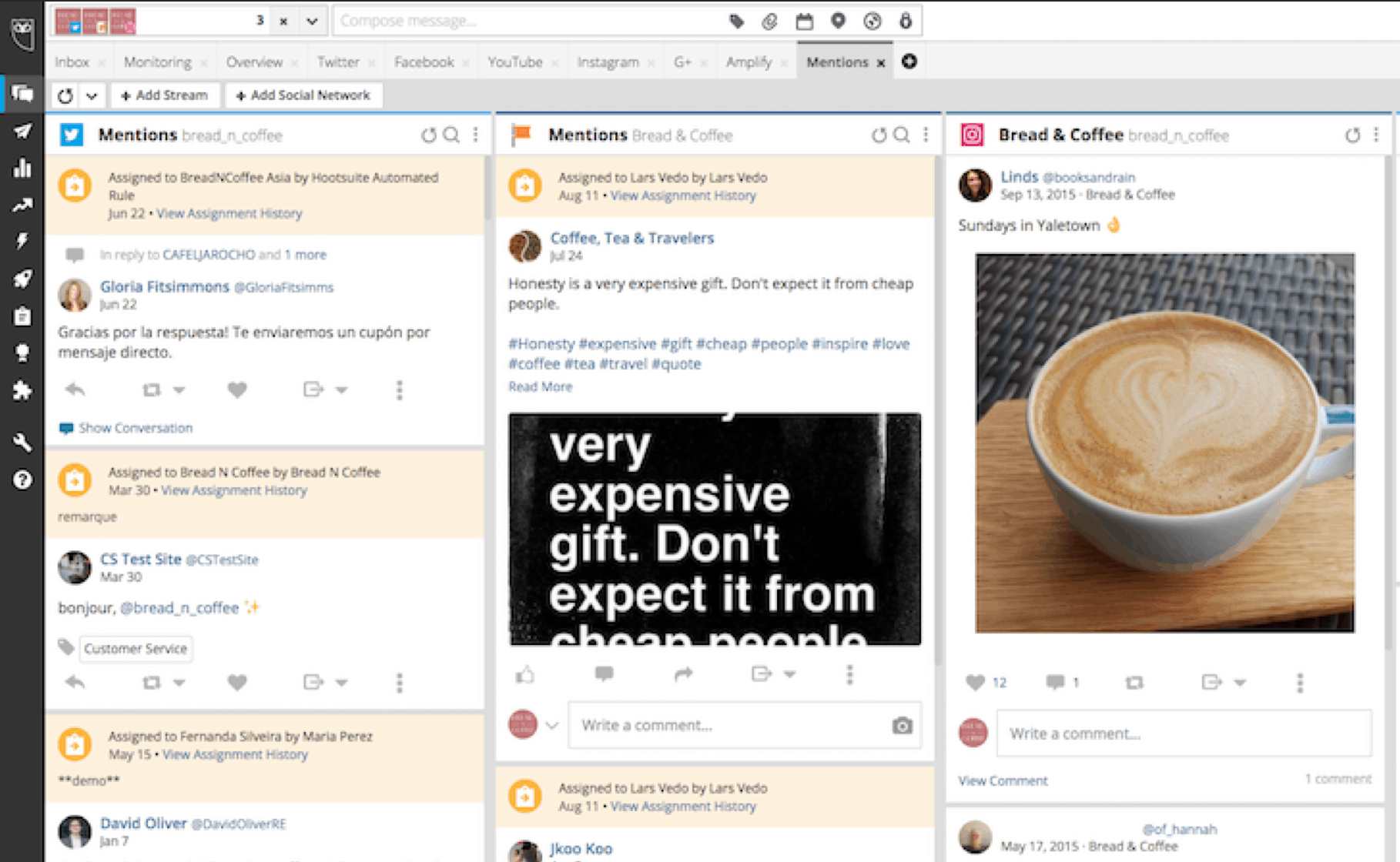 Notable Hootsuite Features
Schedule your posts automatically with Hootsuite's data-driven scheduling tool
Plan and invest in Twitter advertising from within the Hootsuite platform
Curate new Twitter content and media directly from your dashboard
Connect any of the 150+ applications that integrate with Hootsuite, such as Slack or WordPress
| | |
| --- | --- |
| Free Trial | 30 days |
| Character-saving link shortener | Yes, owl.y |
| Analytics | With paid plans only (customizable reports not available on Professional plan) |
| Additional Social Networks | 20+ social networks supported, including Facebook, Instagram, YouTube, Google+, LinkedIn, and Pinterest |
3. TweetDeck – For Twitter Beginners
TweetDeck is by far the simplest software option on the list. Owned by Twitter itself, TweetDeck is a good fit for first-time Twitter users or entrepreneurs and small businesses warming up to Twitter marketing. Why? For one, the interface is very similar to Twitter itself, making it easy to adapt to. (You can read more about Tweetdeck here.)
TweetDeck's functionalities are also super simple – pretty much all you can do on the platform is schedule and monitor posts. You can keep your scheduled, active, trending, and DM content neatly organized in columns, as well as search for specific keywords or media types.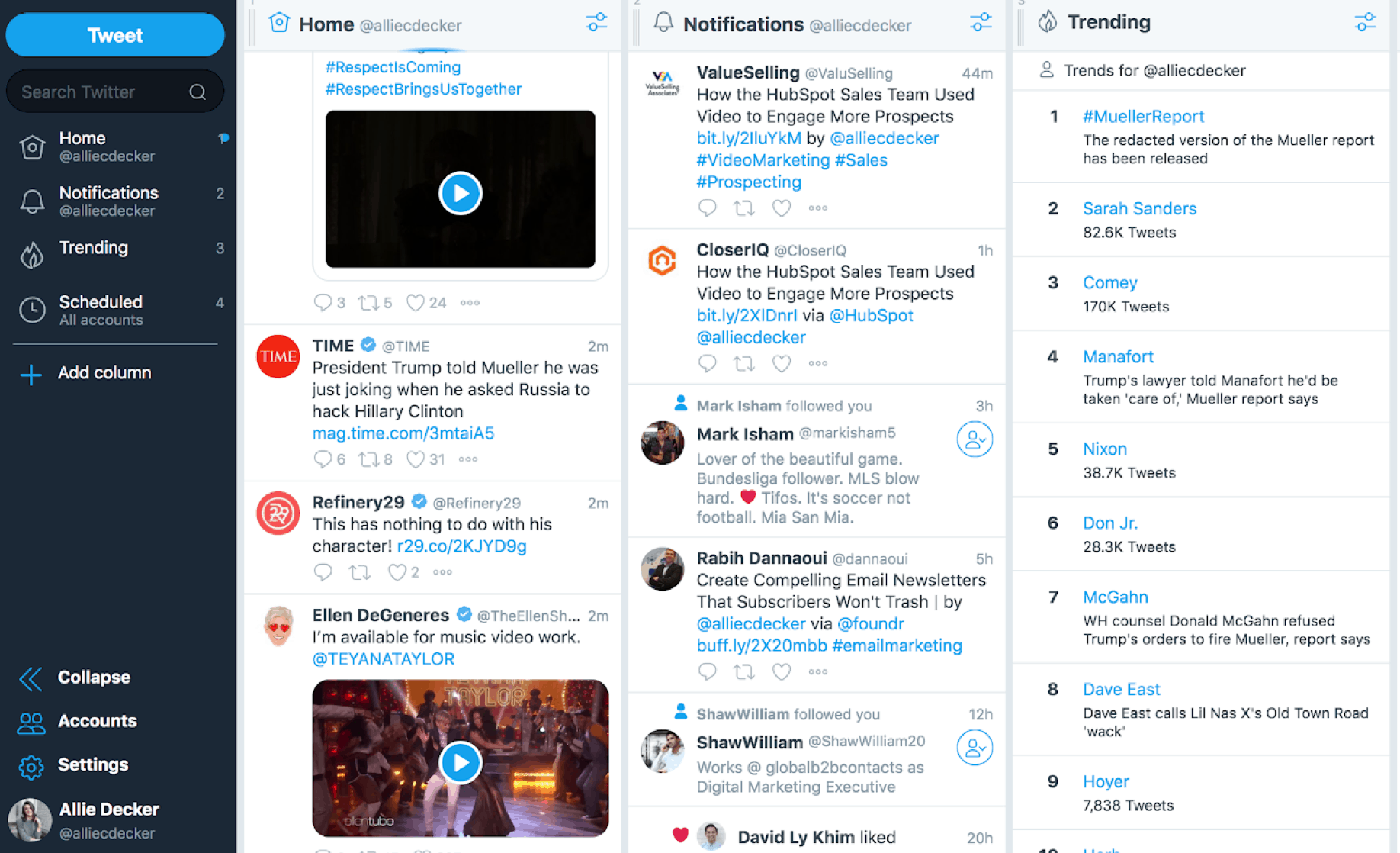 There are some areas where TweetDeck is lacking, for example, there's no analytics and you can't autoschedule the same post multiple times. But other offerings make up for the platform's shortcomings, like simple social listening, list management, and easy scheduling.
Notable TweetDeck Features
Link and manage multiple Twitter accounts from one dashboard
Filter your column content by specific words, media types, authors, and more
Segment your Twitter audience into groups for more targeted marketing
Download the TweetDeck mobile or Mac applications to curate and schedule Twitter content on-the-go
| | |
| --- | --- |
| Free Trial | The platform is completely free |
| Character-saving link shortener | Yes, t.co |
| Analytics | N/A |
| Additional Social Networks | Only Twitter |
4. Sendible – For Established SMBs and Client-Based Businesses
Sendible is a solution that works for "solopreneurs" and larger businesses alike. The platform offers an affordable single-user plan that allows you to proactively schedule social shares, develop reports in seconds, and manage all of your updates within one inbox. It's easy to see why reviewers like it.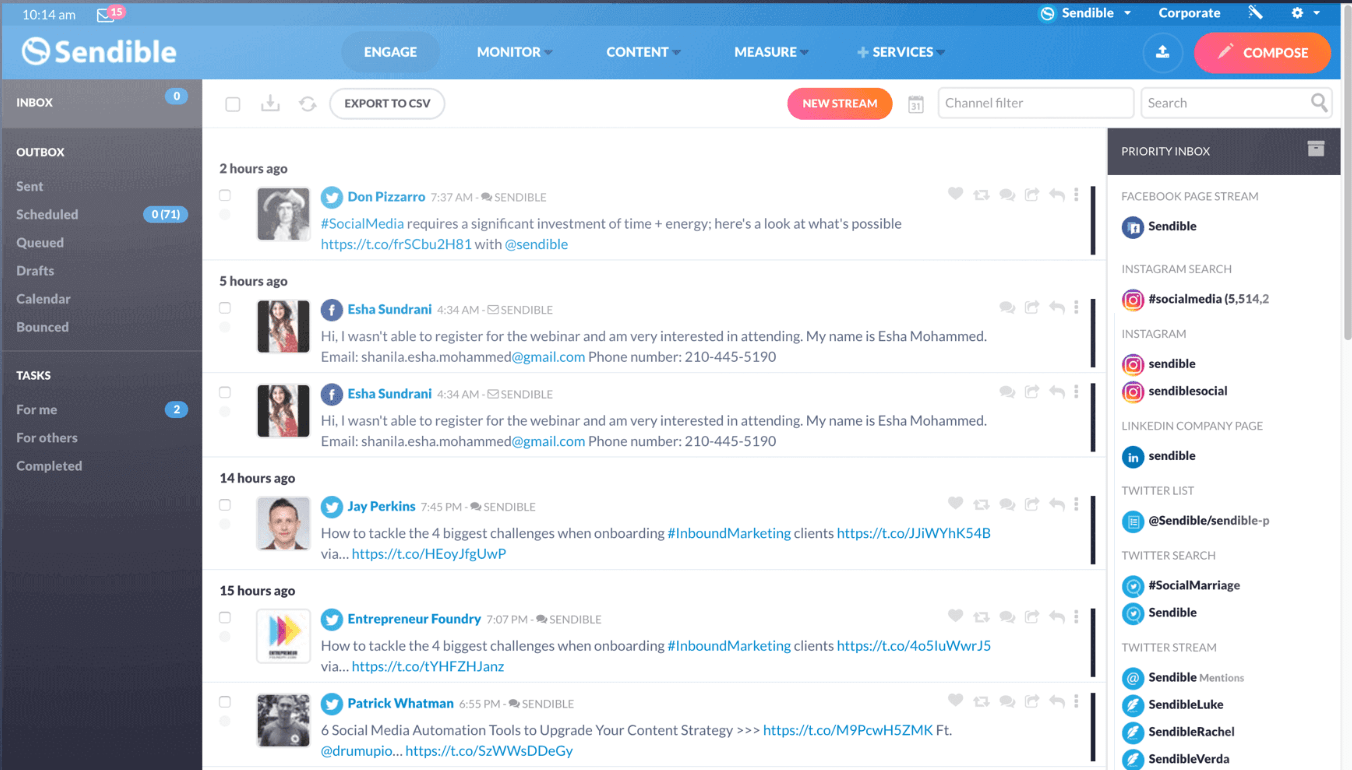 It's incredibly easy to collaborate within the Sendible platform. Your social media team can enjoy easy task assignment and management, user hierarchies, and Tweet approval workflows to help you stay aligned and productive. However, you do have to pay for each user.
Notable Sendible Features
Customize your Twitter account(s) based on which Sendible services you need, such as posting, scheduling, and automation
Monitor keywords to track brand mentions, advertising reach, and company trends
Integrate Google Analytics with your Sendible account for more advanced reporting
Purchase additional users or Sendible services as needed
| | |
| --- | --- |
| Free Trial | 30 days |
| Character-saving link shortener | Yes, connects with bit.ly |
| Analytics | Yes, plus Google Analytics integration |
| Additional Social Networks | Facebook, LinkedIn, Instagram, Pinterest, YouTube, and multiple blogging platforms (WordPress, Tumblr, etc.) |
5. Sprout Social – For Twitter Marketing Experts
If you've mastered Twitter and you're looking for an in-depth marketing solution, Sprout Social is your best option (beginners, beware). Although it offers lots of training options — knowledge base articles, webinars, etc. — Sprout Social can be complicated to adopt, especially if you are new to Twitter and social media marketing.
Sprout Social sets itself apart with its social listening tools. Set keywords for Sprout Social to "listen" for, and the tool will aggregate them for you to read, monitor, and respond to. The platform is also known for excellent analytics and around-the-clock customer service, making it popular among users.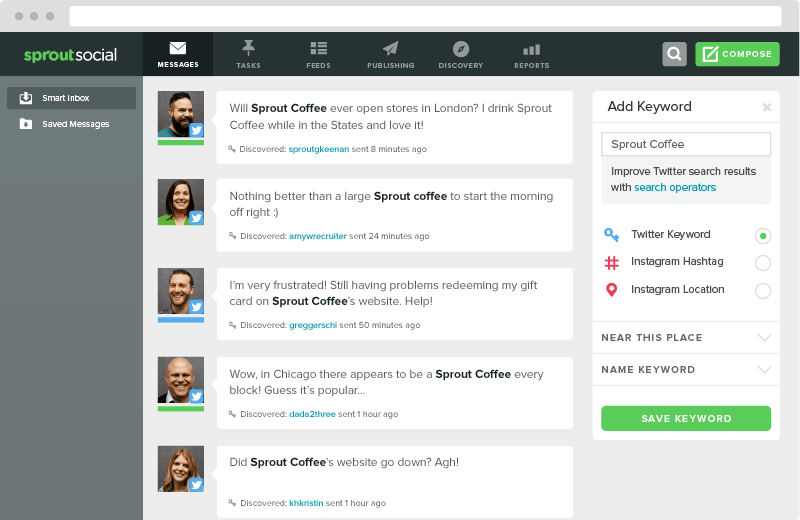 Notable Sprout Social Features
Access a built-in social CRM that provides context on contacts and any previous conversation history
Use Suggest Replies, a tool that recommends consistent answers to FAQs on Twitter
Collect customer and follower feedback using Sprout Social's automated DM surveys
Integrate Helpdesk software to track your team's support performance (available on Professional and Advanced plans)
| | |
| --- | --- |
| Free Trial | 30 days |
| Character-saving link shortener | Yes, connects with bit.ly |
| Analytics | Yes, in-depth |
| Additional Social Networks | Facebook, LinkedIn, Instagram, Pinterest |
So, Which Twitter Management Tool Is Best for You?
You need a Twitter management tool that's a good fit for your specific needs. Are you just looking for some help scheduling your content? Maybe you're more interested in listening to what's being said about your brand online? Perhaps your social media team needs a tool that can help divvy up the workload? It's always a good idea to pinpoint your business goals before choosing a tool.
Let's review the basics for each.
Twitter Management Tool
Get it for free for…
Best if…
Not so great if…
Buffer
Forever with the limited free plan

Otherwise, try one of the paid plans for 7 or 14 days

You need an easy and intuitive scheduler
You need multiple users or accounts
Hootsuite
Forever with the limited free plan

Otherwise, try the paid plans for 30 days

You have a team and need help collaborating
You're on a budget
TweetDeck
Forever
You just want to schedule and monitor content
You need Twitter analytics and reporting
Sendible
30 days
You manage Twitter accounts for clients who also need access
You're looking for a simple, no-brainer software
Sprout Social
30 days
You'd like the ability to "listen" to what's being posted about your brand
You're only interested in a scheduling tool
On the surface, Twitter content is shared in 280-character increments, but the platform demands much more behind the scenes. These tools will help you plan, curate, and publish your Twitter content, engage your followers and reply to customer inquiries, monitor and track your brand mentions, and analyze your social activity.