Video continues to be huge—both for business and consumers—with usage constantly on the rise. Consider this: Tweets featuring
videos are six times more likely to be retweeted
than those with photos, and three times more than tweets with GIFs. Knowing the best—and necessary—specs when it comes to creating your shared videos can mean the difference between capturing your audience's attention and them scrolling past to something that does.
Requirements for a Twitter Video
As with every social media platform, uploading a video (either an existing video or one you record with the Twitter app) has some parameters:
Length
Videos can be up to 2 minutes and 20 seconds long (140 seconds)
Minimal duration is 0.5 seconds
Format
For web, Twitter supports MP4 video format with H264 format
MP4 and MOV video formats are supported on mobile apps
Audio
AAC audio
Mono or stereo audio, not 5.1 or greater
Size
512MB as the maximum size limit
Resolution
Minimum resolution is 32 x 32
Maximum resolution can be 1920 x 1200 or 1200 x 1900 (depending on the orientation)
Twitter also uses square videos whose maximum resolution is 1200 x 1200
Aspect Ratio
Must be between 1:2.39 and 2.39:1
Video must have 1:1 pixel aspect ratio
Frame Rate
The maximum frame rate and bitrate are 40 FPS and 25 Mbps, respectively
The above includes the key technical requirements for a successful upload.
There are also rules and policies regarding content you need to account for
. Twitter's media policy
allows you to publish pretty much anything
, including some forms of graphic violence, hateful imagery, and/or adult content that is otherwise deemed sensitive media—although, not in a live video or your profile/header images. If your content contains such media, the social network will place it behind an
interstitial (warning message) to advise viewers
. More excessive content may be subject to removal, although limited exceptions apply. Your best bet is to go through Twitter's media policy and see how it defines sensitive content, as well as how to mark it in order to avoid a period of temporary or even permanent account suspension.
Twitter's Recommendations
The tweet-powered social network is kind enough to provide upload recommendations. While not strictly required, these best practices make the entire process a bit easier. It might be a good idea to
keep these guidelines on hand to double check
before you send your video out into the Twitterverse.
Video Codec: H264 High Profile
Frame Rates: 30 FPS, 60 FPS
Video Resolution:

1280 x 720 for landscape
720 x 1280 for portrait
720 x 720 for square

Minimum Video Bitrate: 5,000 kbps
Minimum Audio Bitrate: 128 kbps
Audio Codec: AAC Low Complexity Profile
Aspect Ratio:

16:9 for landscape and/or portrait videos
1:1 for square videos
Landscape-Oriented Videos Upload Recommendations
| | | |
| --- | --- | --- |
| Resolution | Video Bitrate | Audio Bitrate |
| 1280 x 720 | 2048K | 128K |
| 640 x 360 | 768K | 64K |
| 320 x 180 | 256K | 64K |
Portrait-Oriented Videos Upload Recommendations
| | | |
| --- | --- | --- |
| Resolution | Video Bitrate | Audio Bitrate |
| 720 x 1280 | 2048K | 128K |
| 360 x 640 | 768K | 64K |
| 180 x 320 | 256K | 64K |
Square-Oriented Videos Upload Recommendations
| | | |
| --- | --- | --- |
| Resolution | Video Bitrate | Audio Bitrate |
| 720 x 720 | 2048K | 128K |
| 480 x 480 | 768K | 64K |
| 240 x 240 | 256K | 32K |
Useful Tips and Tricks
First, take a look at a Twitter video done well. The creators clearly know that the vast majority (93%) of Twitter's video views take place on mobile devices, so
making a video with mobile viewers in mind is paramount
. That means both square and portrait orientations are better fits for a Twitter video because of the mobile screen layout, allowing viewing without any distractions and filling up the maximum space of the screen.
A fast track to the future. Learn more about hyperloop technology: https://t.co/O2UfN8qNtq #china #technology pic.twitter.com/cKGQ9puoQb
— World Economic Forum (@wef) November 30, 2018
A predominantly mobile audience also means you should think about
using a "sound-off" viewing strategy
to maximize viewership. Twitter's own research revealed that
the first three seconds don't require audio to capture attention and drive response
. There are some creative attributes that entice viewers. These include:
An early story arc
The presence of people
Incorporation of trending content
Use of captions
Overall, sound is important when someone watches the entire video (nothing beats good music!) but considering that many viewers are on the go—commuting or standing in line at a shop—
captions and visual cues that draw the viewer in can be just as good
.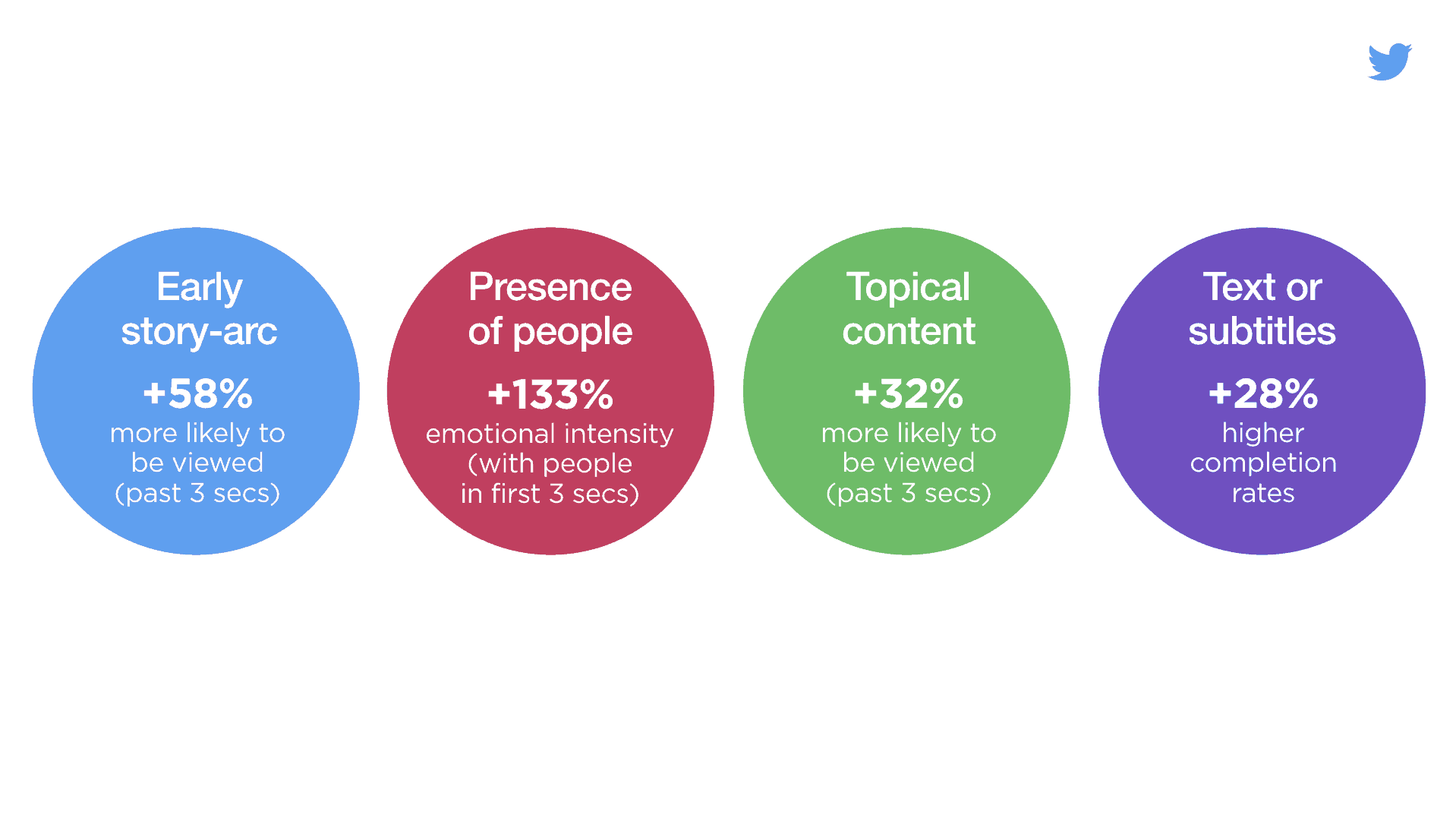 Since Twitter is a fast-paced platform where users expect short bursts of information, the length of the video also matters. HubSpot's research shows
it's best to keep videos short, up to 45 seconds long
. All videos that are 6.5 seconds or shorter will automatically loop. You can't tag people in a video—but what you can do, since videos do not count toward the character limit in a tweet, is
take advantage of 280 available characters and use hashtags
, especially trending ones, to get your videos in front of a wider audience. If the tasks mentioned above seem overwhelming, you can always choose the alternative of employing professional assistance to complete the work on your behalf. Numerous services are available that can craft videos that capture attention for your brand, ensuring the right file format and optimization in alignment with all of Twitter's video specifications.
What Twitter Video Brings to the Table
Data shows that
people who view videos on Twitter are 50% more likely to be aware of the brand
in question. Not only that,
Twitter videos specifically are twice as memorable
as those on other premium platforms. People are typically receptive to brand videos they see on Twitter, with
14% users feeling more favorable about the brand
. This makes video very effective within the timeline, especially with the autoplay viewing. With the trend of video usage going up on a yearly basis, Twitter video allows you to stay relevant and pull in an audience that greatly relies on video content for information.
Videos on Twitter increase the purchase intent by 34%
. In reality, Twitter is more than just 280 characters:
it's an opportunity to tell a story, your story
.
---
Sources
https://business.twitter.com/en/blog/3-reasons-videos-capture-twitters-mobile-audience.html
https://blog.hubspot.com/marketing/how-long-should-videos-be-on-instagram-twitter-facebook-youtube
https://blog.twitter.com/marketing/en_gb/a/en-gb/2017/how-to-create-video-with-thumb-stopping-power-on-twitter.html
https://blog.twitter.com/marketing/en_gb/a/en-gb/2016/5-reasons-why-you-should-use-video-on-twitter.html
Image Credits

https://blog.twitter.com/marketing/en_gb/a/en-gb/2017/how-to-create-video-with-thumb-stopping-power-on-twitter.html