Looking to promote your business on social media? Great idea.
There are more than three billion active social media users around the world
, which serves as a huge audience for companies of any size or industry to market to. If your resources are limited or you are just starting out, don't waste your time with the small players. Instead, focus your attention on Facebook and Twitter, the two giants of the social media world today. Even though they both have tremendous popularity, Facebook and Twitter are starkly different in a number of ways, meaning that what works for one brand, business, or audience may not work for another.
Audience
Facebook has considerably more users, boasting an audience of more than one billion vs. Twitter's 500 million.
Could this be because Facebook has been around longer? Perhaps. Having said that, it's more likely down to the fact that these two social media outlets attract
two different types of audience
.
Age Group
Facebook is seeing "the rise of the social seniors," with the number of individuals over 75 years old using the platform doubling in size over the past year, while online youth has experienced a decline. Conversely,
81% of Millennials
reportedly check Twitter once a day. Why? Well, being fast-paced in essence, the platform is often the place to discover trending news—and young people generally like to stay ahead of the curve.
Scope
Moreover, Twitter is the favored social network for journalists, celebrities, and politicians, with
83% of world leaders
in the political landscape frequently tweeting according to The Digital Policy Council (DPC). Nonetheless, Facebook has an advantage in terms of attracting
a larger global audience
; the platform is available in more than one hundred languages, whereas Twitter is only available in about a third as many.
Size vs. Nature
Even though Facebook tends to outperform any other social media channel in terms of the number of users, it's important that you target a specific network according to the audience's
nature
, rather than size.
If you're specifically targeting Millennials or young professionals, opt for Twitter. Alternatively, if you're trying to capture an older crowd or a range of generations, then Facebook might be your best bet.
Either way, define your core audience and the rest will fall into place.
Advertising
When it comes to advertising, both social media channels offer campaign options that are easy to create and track.
Facebook Ads
The main benefits of using Facebook as a way of promoting your business are as follows:
Targeted Reach: When creating your campaign, you can specifically focus your attention on the people that are most likely to buy your product or service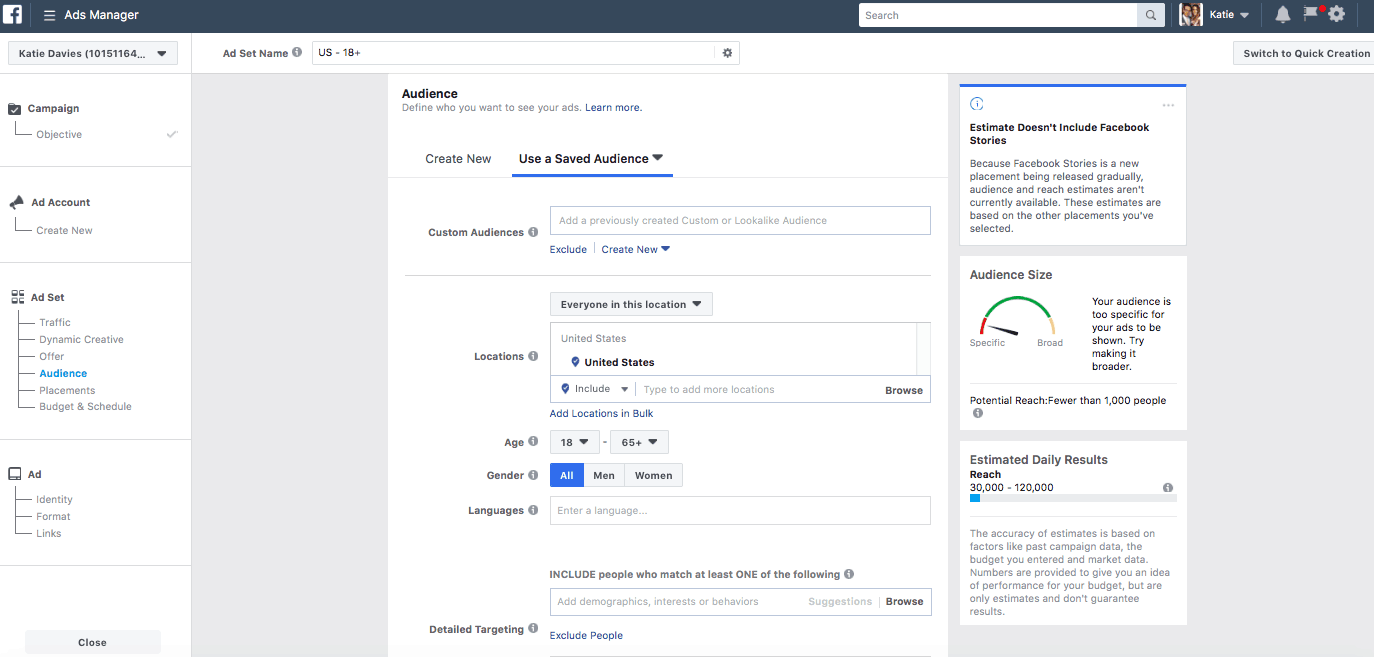 Scope of Sharing: You can share a wealth of information with your audience due to the lack of character limits and multiple multimedia attachment options
Click here for our top tips on how to
improve your Facebook ad conversions
.
Twitter Ads
Twitter is a tempting way to advertise your business because of their main benefits:
Less Competition and More Reach: The company landscape isn't quite as saturated on Twitter as it is on Facebook. It's easy to attach yourself to relevant news topics using trending hashtags to efficiently expand your reach
Simple Functionality: Twitter is known as the "no frills" platform as you can get your point across immediately in a 140-character tweet (although there are also other more in-depth options). It's also incredibly intuitive and makes it simple for users to click the "follow" button. As a result, you can quickly build a loyal following with little effort
Read about the 20
Twitter accounts every small business owner should follow
.
Long-Term vs. Speedy Results
Even though you can develop more in-depth, focused campaigns with Facebook, which deepens the relationships with your consumers in the long run, you can reach broader markets and generate more leads faster by advertising your brand on Twitter
Features
Both Facebook and Twitter have varied features that make them alluring for marketing purposes.
Facebook USPs
Alongside the ability to create supreme targeted campaigns, Facebook has the following unique selling points (USPs):
Pages to Watch: You can monitor the pages of competitors using this feature, which helps you to develop a more competitive marketing strategy
Post Analytics: By simply clicking the "Posts" tab, you can find out how certain posts have performed in terms of audience, engagement levels, and other measurement metrics. This allows you to analyze each campaign so that you can make improvements for the future and obtain better results
Facebook Messenger for Business: This chat solution allows consumers to ask questions or make comments through a company page. It's designed to be quick and painless to enhance your customer service response levels
Twitter USPs
As well as the potential to reach different markets through trending hashtags, Twitter has the following unique features:
Advertiser Cards: Need more than 140 characters to market to your audience? No problem—these cards allow you to go beyond the usual limits and attach media experiences like photos or videos. They also make it possible for your followers to visit a product landing page or sign up to your email list without even leaving the platform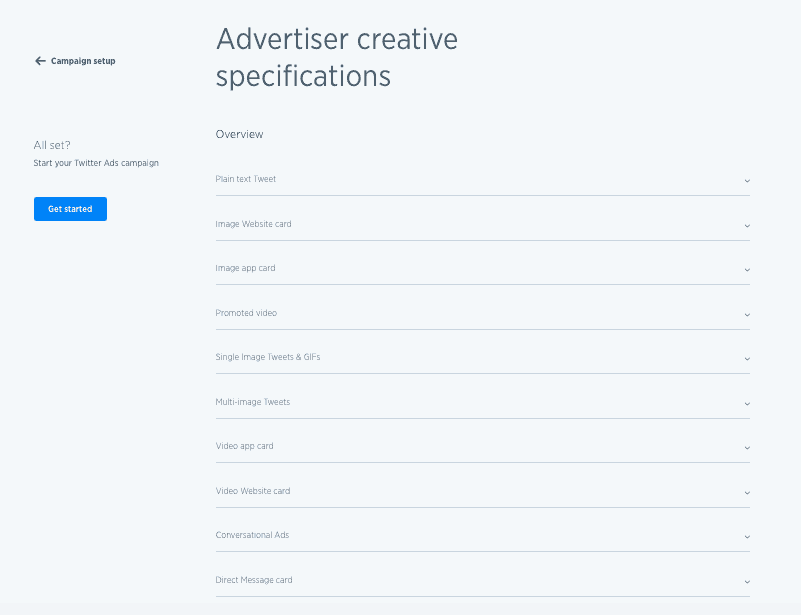 Campaign Analytics: This tool allows you to retrieve statistics and metrics almost instantaneously so that you can assess the performance of your campaign faster
Anti-Harassment: In 2017, Twitter rolled out a "sensitive account" system to make their users feel safer. Essentially, users' profiles can be flagged if they contain "potentially sensitive images or language." The fact that users have to agree to see these profiles makes the platform less hostile, which is an ideal place to build a strong, trustworthy brand
Video Innovation
Facebook and Twitter are both considered
innovative marketing tools
in their own right. After all, it was Twitter who launched the concept of the "live" video first with Periscope as a way of boosting engagement levels. Be that as it may,
Facebook truly made this concept a success with the introduction of Facebook Live in 2016
. Since then it has continued to grow, in part due to many businesses opting to use this tool over the traditional text-based post. Impressive, right? It all depends on your specific marketing objectives as to which platform you choose to promote yourself on. Not sure what you're aiming for? Click here for five of the
most common goals of social media marketing
.
Drawbacks
On the flip side, both Facebook and Twitter are both known to possess some less-than-perfect qualities.
Privacy
Facebook, for instance, has
various privacy settings
that you can customize according to the personal needs of your business. This was all well and good until the recent privacy scandal of 2018, whereby it was revealed that Facebook held onto personal data from the profiles of millions of users without their consent—which it went on to use for political purposes. Since then, users' trust in Facebook as a social platform has seen a considerable decline.
Twitter, on the other hand, has never been involved in any major privacy controversies
. Yet, they only have two privacy settings that aren't customizable: public and private, which can be somewhat restrictive.
Abuse
Twitter has received a lot of
negative media attention
for the amount of trolling that regularly occurs across their platform. Reporting and blocking users who tweet unpleasant comments is a straightforward process; although, the account will continue to show up in searches unless Twitter removes it—and that can take a long time. Facebook, however, has a
strong follow up
when abusive behavior is reported. If an account has been set up solely to harass another user, it's taken down almost immediately.
Functionality
You don't need to have superior website skills to be able to run a Twitter profile. Nevertheless,
sending out updates in 140-character tweets can be rather challenging
. Why? Well, 21st century consumers have short attention spans and are easily distracted. You must learn to tweet succinctly and distinctively, otherwise
your message can become lost in the crowd
. With Facebook, there are no character limits when you update your status, which eliminates this problem. However, it can be extremely difficult to get a consumer to like your Facebook page.
The market is oversaturated, which means that competition is stiff and you need to try harder to captivate the attention of your audience
.
Utilize the Best Social Media Channel for Your Business
Both Facebook and Twitter are effective marketing tools in their own way
, therefore, it's up to you to decide which one is right for your business. In summary:
Choose Facebook: If you're looking for wider reach that transcends generations. Ultimately, this platform is ideal for extensive communication and connecting to your consumers on a deeper level over a longer period of time
Choose Twitter: If you're looking for a vibrant and fast-paced atmosphere that attracts world leaders, journalists, and politicians, this is the place to be. Thanks to its trending virality, it offers an excellent opportunity to expand into wider markets, generate excitement, and establish brand recognition at a more superficial level
Still not sure which channel to focus on? Not to worry—simply set yourself up on both and start posting. After a considerable amount of time, use the analytics tools to assess which one is giving your business optimum results
If you need help posting, the best social media tools will aid you with managing your accounts and developing a consistent content schedule.
Either way, always keep in mind that
social media is a waiting game
. If you're willing to put in the time and effort to communicate and engage with your audience, then you're sure to reap the rewards.
---
Sources
https://www.diffen.com/difference/Facebook_vs_Twitter
https://www.telegraph.co.uk/news/2017/06/14/rise-social-seniors-number-over-75s-facebook-doubles/
https://sproutsocial.com/insights/facebook-vs-twitter/
https://www.prnewswire.com/news-releases/world-leaders-on-twitter–adoption-stagnates-even-as-follower-base-explodes-300208802.html
https://www.thebalancecareers.com/twitter-vs-facebook-which-is-better-3515069
https://www.theverge.com/2017/3/9/14872270/twitter-anti-harassment-feature-test-sensitive-accounts
https://www.forbes.com/sites/cherylsnappconner/2018/06/30/troll-control-twitter-and-instagram-premier-new-tools-for-abusive-social-media-use/#a028d796a208