which tool will really help you manage your social media marketing the right way
to achieve your business goals? We've put both tools to the test, so you can figure out which one wins for you. We've compared Hootsuite vs. Sprout Social in several categories, including:
Social media platforms: Which social media sites does each tool support and how well do they do it?
User interface: Is the platform intuitive and easy to operate?
Publishing and scheduling: How easy is it to make sure your social media content appears at the right time?
Analytics: How good is the tool at helping you to understand the data behind your social media interactions?
Integrations: How many external tools does each tool support?
Price: How does the pricing compare, and which tool offers better value for money?
Hootsuite Integrates with WordPress – Sprout Social Lets You Post to Facebook Messenger
When you compare Sprout Social vs. Hootsuite, a key issue is whether it works with the social media platforms that matter for your business.
Both social media management tools support posting to Twitter, LinkedIn, Facebook, Instagram, and Pinterest
. That means if you're only active on these networks you can pretty much take your pick. But there are a few differences in how the tools operate. For example,
Hootsuite also lets you post to YouTube and WordPress
. If you've got a YouTube channel or want to manage your blog from the same interface, then this is pretty useful.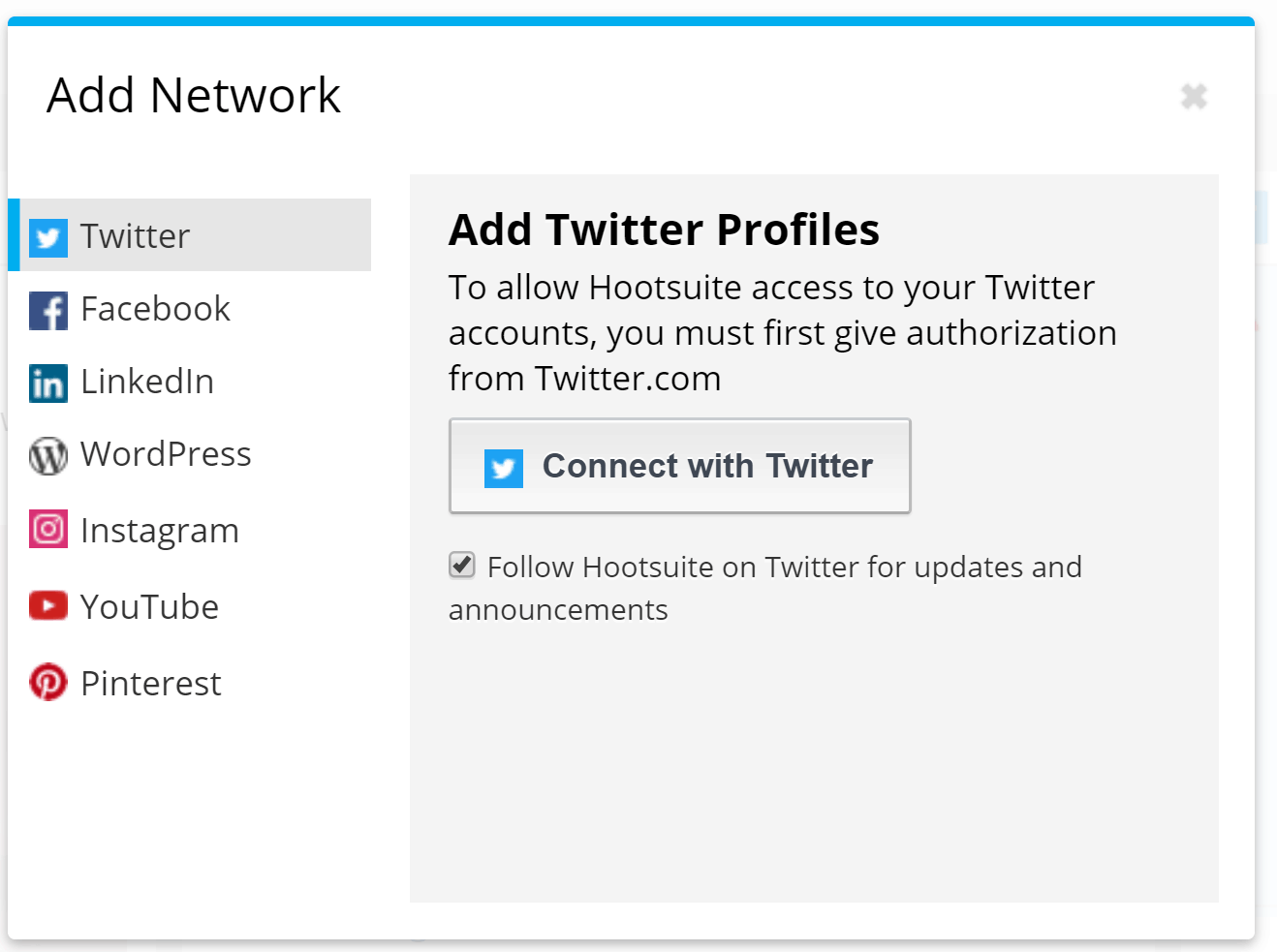 Sprout Social lets you post to Facebook Messenger
. This is a good feature if the messaging app is a key part of your social media presence. But note that with Sprout Social's basic plan (more on that later), you can only schedule content for five platforms. And
Hootsuite's free plan
allows only three social connections.
And the Winner Is…
Both Hootsuite and Sprout Social present distinct features, making it challenging to determine a clear winner. However, Hootsuite gains an advantage due to its inclusion of several additional social media platforms. Certainly, if effective management of Facebook Messenger interactions is your priority, Sprout Social would be your favored choice.
Sprout Social Has a Modern User Interface – Hootsuite Just Got a Refresh
Believe it or not, user interface is an important factor when assessing a social media tool. But it's not just about how a tool looks, it's about how it works. Let's start with first impressions.
Sprout Social has a clean, modern-looking interface
. Hootsuite has
finally
updated its look, going for a similar, clean white background. But does the look make a difference to using these social media tools?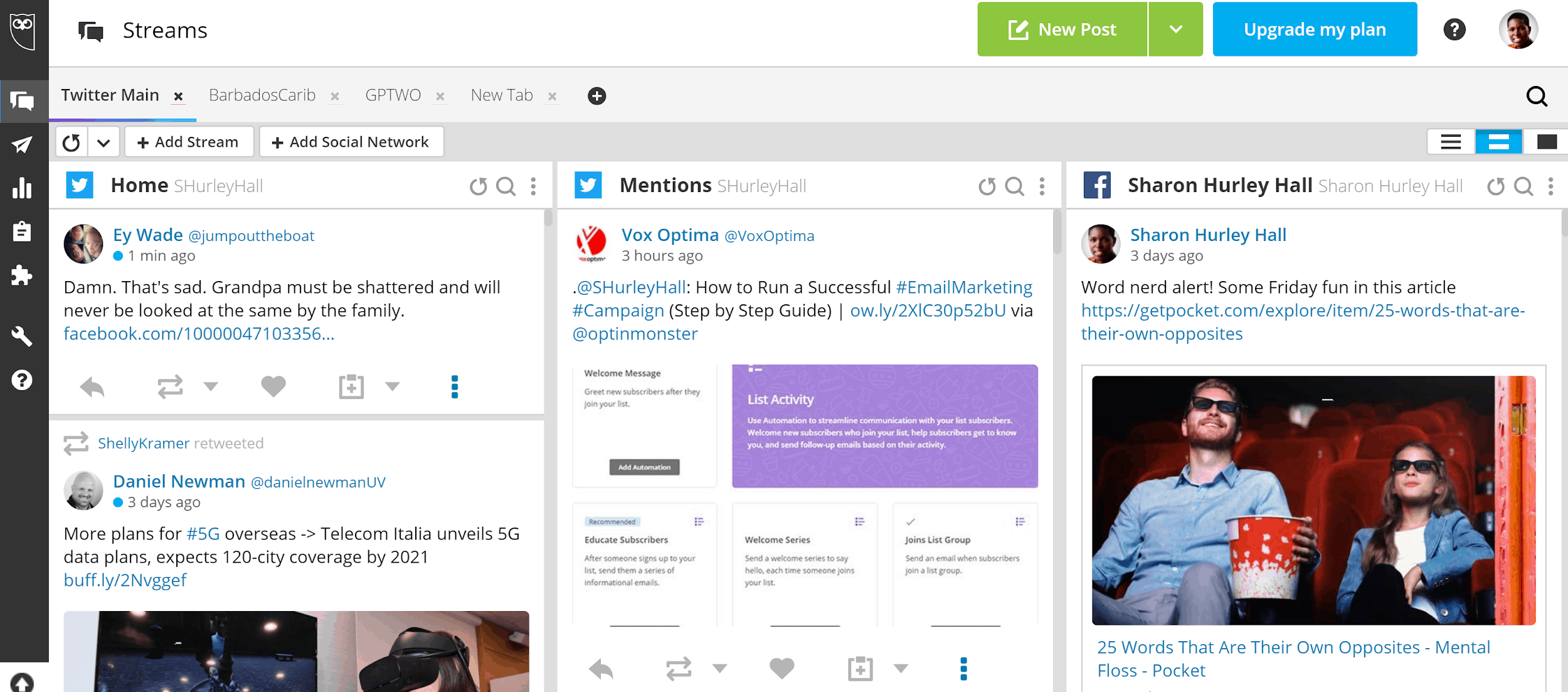 With both tools, you can monitor multiple social media sites. Sprout Social makes it easy to focus on only what interests you. This can help you find out what your audience cares about so you can be responsive. It has handy buttons at the top of the page so you can filter content streams. With Hootsuite, you add a dashboard column for every stream you're monitoring. While this is a useful feature – especially for businesses active on multiple sites and social media managers juggling multiple clients – this can soon feel a bit cluttered.
And the Winner Is…
Sprout Social. It has the advantage in terms of the look of the actual dashboard, and this is only one of the reasons it gets such
positive reviews
. It's super clean, which makes it really intuitive and user-friendly. But don't discount Hootsuite, which is still a very powerful tool.
Hootsuite Is a Publishing Powerhouse – Sprout Social Has a Killer Feature for Instagram
When you're running social media, you need to keep the content coming, so it's no surprise that both tools have great publishing features.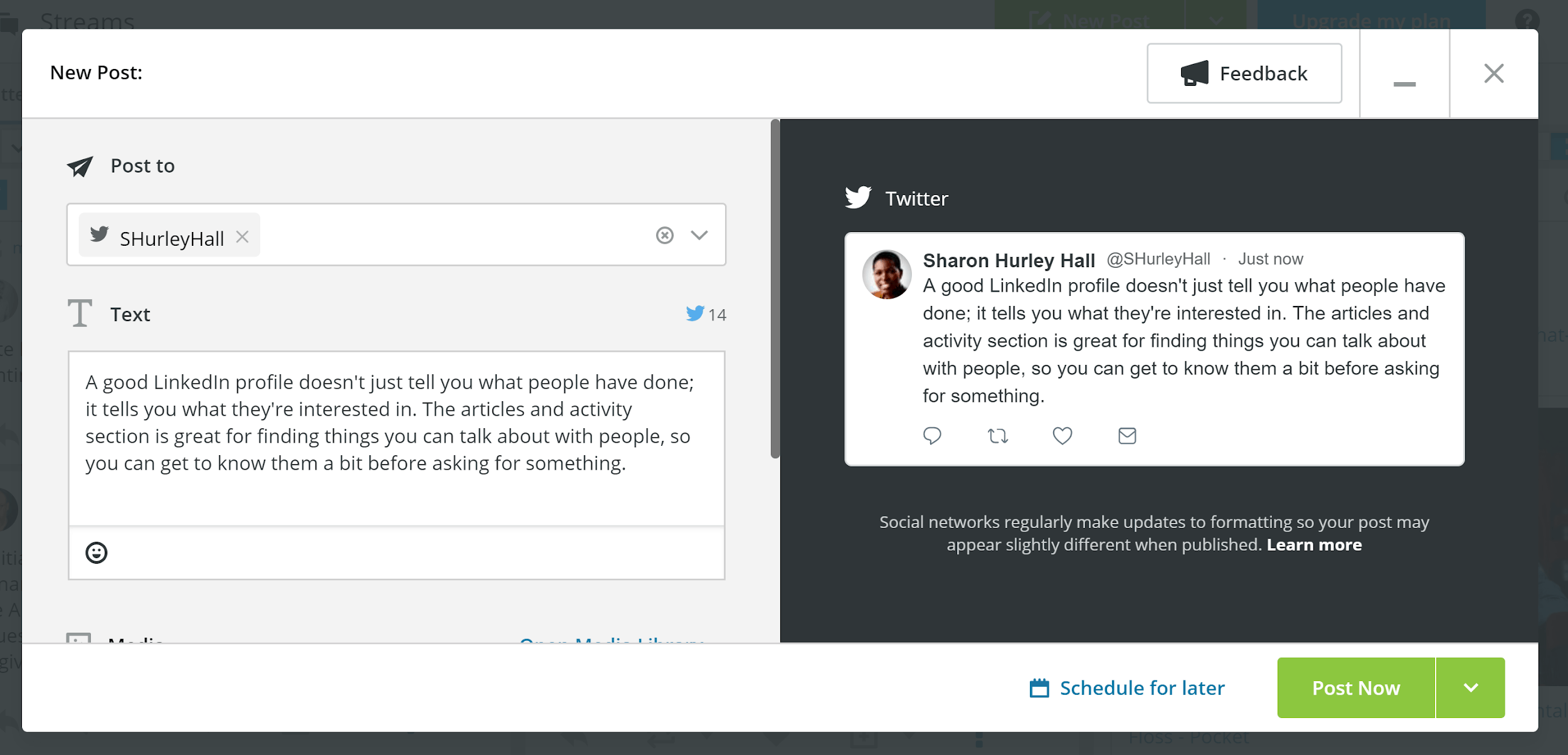 With both Hootsuite and Sprout Social, you can schedule text, images, and videos. Plus, you'll get a preview of how your social media content will look. You can manage content from within a content calendar, and use drag-and-drop features to move items around.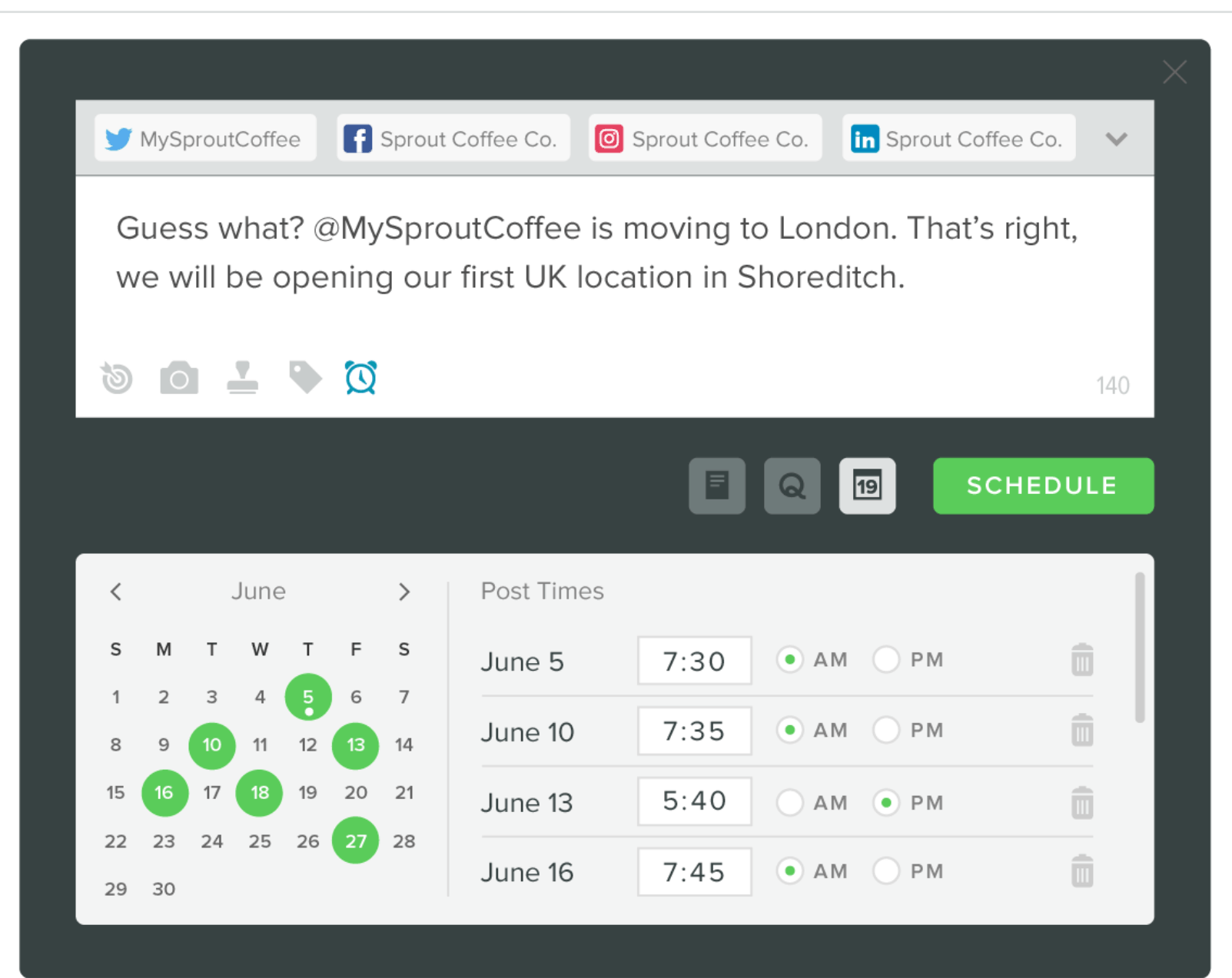 Both tools also allow you to monitor incoming content such as social mentions, shares, retweets, and so on. This helps with social media engagement, which is critical for businesses. Sprout Social has a social inbox, with everything in one place. In contrast, Hootsuite keeps each stream separate. However, each platform has a killer feature. What is Hootsuite's killer feature?
The ability to respond to all content from within the dashboard, whether you posted it via Hootsuite or not
. This is extremely useful when you're looking for a single place to manage social media (and don't forget you can post blog content and YouTube content, too). This feature is available even in Hootsuite's free plan. So, what is Sprout Social's killer feature?
When you post to Instagram, in addition to the image, you can post the first comment
. Since this is where people often add more hashtags to make content more discoverable, it's really useful to be able to do this at the same time as uploading or scheduling an image.
And the Winner Is…
In this category, it's a tie, since both tools offer the same basic functions. Which one's better for you will depend on which platform you're most active on. If you're a YouTuber, pick Hootsuite; if Instagram is key to your social media strategy, then that Sprout Social first comment feature is pretty useful.
Hootsuite Reports on All Your Social – Sprout Social Provides Customizable Templates
Whether you're running social media for your business or managing social accounts for a client, you're going to need to report on your progress with hitting key metrics for attention and awareness. Both social media tools provide analytics to help you do this. With
Hootsuite's analytics
, you get data on every connected social media platform, even if you haven't posted the content from within Hootsuite itself. This is pretty useful. Note that you'll only get traffic stats on links posted on Hootsuite, though. On Hootsuite, you'll also get
sentiment analysis for social messages
. This makes it easy to get a sense of how your followers feel about you, which is part of your brand reputation. If there are too many negative messages, you'll want to take action – fast.

Overall, Hootsuite makes it easy to
get an overview of social media performance
, and you can export reports as PDFs. Upgrade your plan, and you get more reporting formats, plus enhanced analytics reports. Sprout Social provides
a wide range of reports
on every platform, allowing you to explore what's happening on business pages and groups. And remember to pay attention to tags and keywords.
These help you keep track of key business-related terms so you can respond to and engage with your audience
. For example, if you're in the travel industry, you'll likely want to know what people are saying about hotels, airlines, and car hire. Sprout Social integrates with the major social networks so you can really dig deep into your performance. You can even
compare your social media performance with that of your competitors
and tweak your strategy as needed.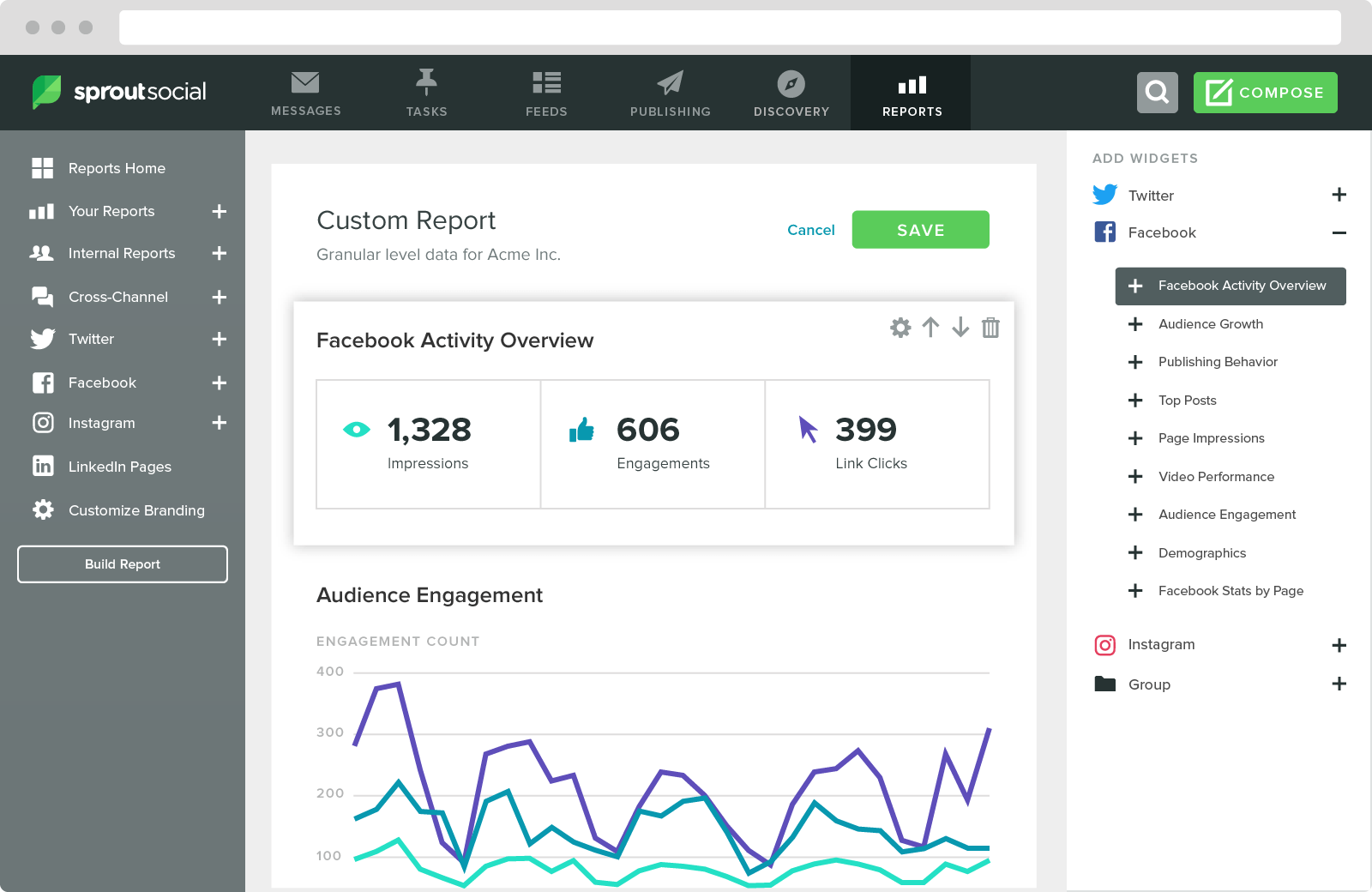 And the Winner Is…
Sprout Social. While both tools offer social media reporting, the sheer number of different reports available in Sprout Social makes it the winner. But don't discount Hootsuite altogether. With features like sentiment analysis, it could still be the right social media tool for you.
Sprout Social Has a Few Major Integrations – Hootsuite Has 100+
Since you're not managing social media in a vacuum, it's essential to have your social media tools work well with the other external tools you use. There's a clear difference between Hootsuite vs. Sprout Social here.
Sprout Social has integrations
with tools like Google Analytics, Zendesk, and UserVoice, all of which can help you get better social media analytics or deliver better customer service. But
Hootsuite has its own app directory
featuring hundreds of integrations (like Adobe and Slack, which aren't listed by Sprout Social) so that you can have a single place to manage your interactions. This is one of the advantages of Hootsuite's long presence in the market.
And the Winner Is…
Hootsuite. If you're just looking at the number of integrations, Hootsuite has a clear advantage, as is often mentioned in
user reviews
. But don't write Sprout Social off just yet. It's got a built-in social CRM for managing social interactions, which helps if you're using social media to drive sales.
Sprout Social Hits You in the Wallet – Hootsuite Has an Excellent Free Plan
There's no denying it; you'll have to spend some cash if you want to use Sprout Social. Positioned as a social media tool for brands, it has a price tag to match. At more than 4x the cost of Hootsuite's Pro plan, Sprout Social's standard plan is definitely an investment. And if you need features like more social media profiles, competitive social media reports, or help determining optimal send times for social content, you'll need to spend even more. The good news is there's a
30-day free trial
, so you have time to assess Sprout Social before making a final decision. These are Sprout Social's plans to choose from:
free plan
that lets you use three social media profiles and schedule 30 messages in advance. This is more than enough to try it out – check out what each of these three plans will get you:
And the Winner Is…
When it comes to price, it's hard to beat Hootsuite's free plan, especially if you're just starting out with social media management. But don't just be swayed by price – the important issue is whether a particular tool has the features you actually need.
Which Social Media Tool Should You Choose?
So, which of these social media tools is the ultimate winner? Before we share our recommendations, check out the comparison table below.
Social media platforms
Sprout Social supports Twitter, Facebook, LinkedIn, Pinterest, and Instagram, as well as Facebook Messenger
Hootsuite supports Twitter, Facebook, LinkedIn, Pinterest, and Instagram, as well as YouTube and WordPress
User interface
Sprout Social has a modern interface, with simple filtering tools
Hootsuite just refreshed its interface, but can still look cluttered
Publishing and scheduling
Sprout Social lets you publish and schedule content; you can post the first comment on Instagram posts
Hootsuite lets you publish and schedule content; you can easily respond to content generated outside the platform
Analytics
Sprout Social has a wide range of reports, which can help with your competitive strategy
Hootsuite gives you an overview of all your social media performance, plus sentiment analysis
Integrations
Sprout Social has a few useful integrations
Hootsuite has 100+ integrations
Price
Sprout Social has a 30-day free trial, and is more than 4x the price of Hootsuite's Pro plan
Hootsuite has a limited free plan; and pretty affordable paid plans
In the end, the winning social media tool will depend on your own needs. If you're focused solely on affordability and don't mind some feature limitations, then Hootsuite is clearly the better choice. Hootsuite also works if you need to integrate YouTube and WordPress. However, if you want a wider range of reporting that can help inform your communication and competitive strategies, then Sprout Social wins. It has more features that will appeal to brands who can handle the higher price tag. Still not sure? Check out these other
Sprout Social competitors
, plus our in-depth
Sprout Social
and
Hootsuite
reviews.