and
track my billings. And, ideally, all of this would come in a single tool. About a year ago, I turned to
AND CO
, an invoicing program specifically designed for freelancers. My professional life has been better ever since. To save you time, I'll give you the lowdown on what AND CO does, how it can help, and when you'll want to upgrade.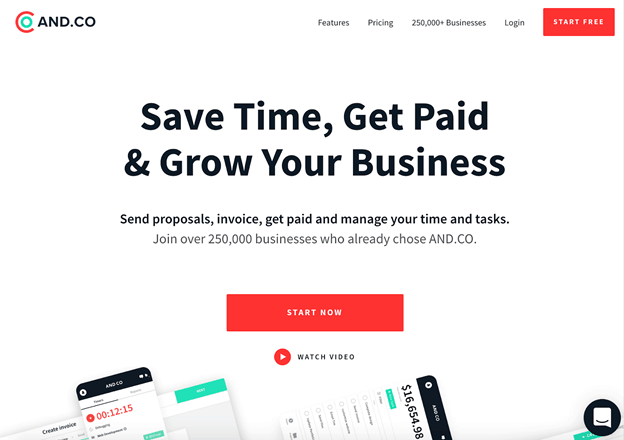 What Exactly Is AND CO?
Initially,
I signed up for AND CO
 to save time with invoicing. But I was happily surprised to discover that
AND CO helps with all the tasks involved in running a business that I used to dread and worry about.
Yes, I use it to send invoices. But you can also use AND CO to create and track proposals. Plus, you can customize a basic contract example created by the Freelancers Union for specific clients and projects. And if I'm super organized (a state that comes and goes), I can also track my time. AND CO offers time tracking for freelancers that can help you make better business decisions, such as making sure that the project is profitable by analyzing hours spent compared to amount earned. I can also look at my past data when pricing projects. Last year, I used the project management features to help organize all the moving pieces that come with self-publishing a book.
Instead of having my important documents stashed and stored in various folders on my laptop and desktop, everything is now in a single place. 
And – even better – come tax time, I can create all the reports I need for income and project expense tracking. My accountant no longer rolls his eyes at me walking in with multiple envelopes of receipts and checks, which are often stained with Diet Mountain Dew because I stayed up most of the night before trying to get it all done.
8 Super Cool Features of AND CO
While I find most of the features useful, a few of them really stand out and make my life easier. Invoicing used to be my least favorite part of running a business. Not to mention, I often made errors that lost me credibility with clients. Not only do I have more time, but my stress level has also gone down several degrees. Here are some of the features that will help you organize and grow your business:
1. Goal Setting:
So, I might be a bit competitive. But make it a game or set a goal and I really kick into overdrive. AND CO lets you set financial goals, such as how much to bill per month. Basically, I can track how close I am to a celebration dance in my kitchen.
2. Time Tracking:
I am the queen of wasting time. Sure, there are some great apps that also help you with this, but that's an extra tool you need to open. With AND CO,
you can track time from the dashboard
and assign it to a project. And the bright red bar on the dashboard makes it easy to see when the timer is on and how long you've spent on the current task.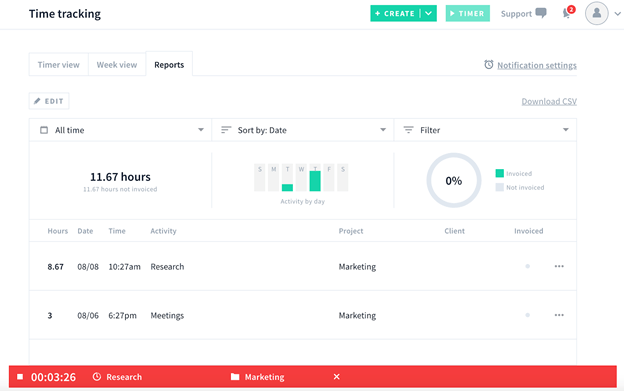 But it's what you do with this information after you turn off the timer that helps you make more money. By looking at the numbers, you can see which projects are the most profitable so you can focus your attention on that client. On the flip side, you can also see which projects are not very profitable, so you can either ask for a raise or let the client go. With detailed time tracking metrics, you can also predict how long current projects will take. This helps you predict future availability so you can walk the thin line between too much work and lots of extra time.
3. Create Invoices from Proposals:
Instead of going back and forth between a new invoice and the original proposal to get all the details and amounts right, AND CO does the work for you. With a few clicks, you can turn the proposal into an invoice, which saves time and means less errors.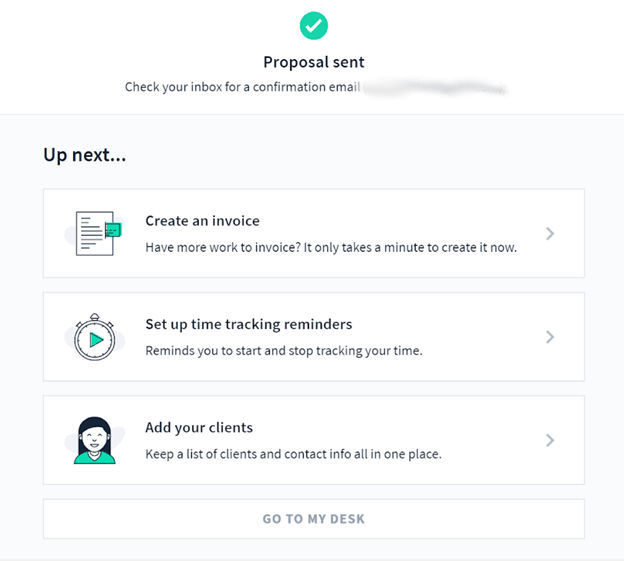 AND CO reminds you what you need to do to keep things organized.
4. Automatic Invoice Generation: I am great when it comes to meeting deadlines. But remembering to invoice? Not so much. AND CO lets you automate invoices either on a set time schedule or based on the boilerplate contract terms. You'll look more professional, because your clients won't have to hunt you down at the end of the month. And you'll have fewer things to worry about at 3 a.m.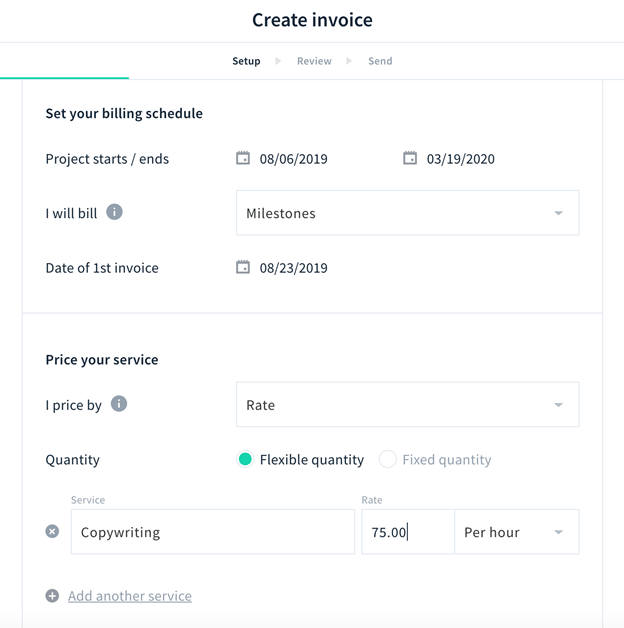 AND CO makes it easy to create a new invoice.
5. Invoice Reminders: Because I often have to send an invoice when a project ends, I am head over heels (yes, I'm being slightly dramatic, but not much) in love with the invoice reminder features. Basically, if you haven't sent a client an invoice in a set number of days or weeks, AND CO will send you a reminder.
6. Payment Integration:
I've been paid in many different ways – PayPal, Stripe, direct deposit. And one client pays me with his corporate American Express in increments up to the amount he has to get approved, just to limit his hassle with accounting. Other invoicing programs I checked out only let you use a few of these different methods –
but
AND CO works with pretty much every payment method available.
7. Receipt Tracking:
I used to use a separate app to take pictures of my receipts and track my expenses – especially for work-related travel. But that was a whole extra step. With AND CO, you can do the exact same thing within its Shoebox feature.You just add all your receipts to Shoebox and attach them to the corresponding project. Instead of uploading the documents, you can also email them to AND CO directly and the program will file them for you.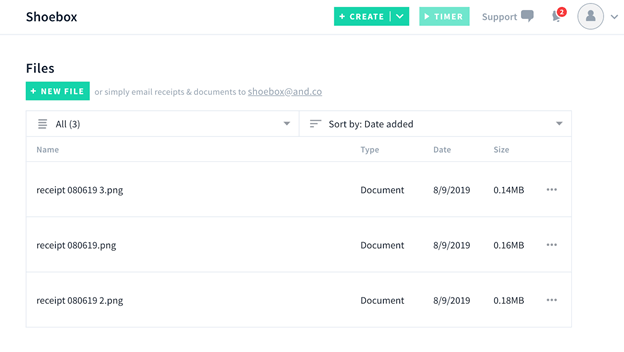 8. Payment Alerts:
No more checking my bank account to see who's paid through ACH each day. You'll get notified when your money has been deposited into your bank account.
Bonus Feature:
I haven't used it, but my virtual assistant has, and she raved about it. When you buy a paid plan, you get a free training session with a real person – no automated bots or recorded sessions. You can ask all your questions and get help on how to use AND CO for your specific industry, preferences, and goals.
Who Should Use AND CO
AND CO's website marketing copy proclaims that the tool is for freelancers, entrepreneurs, and solopreneurs. And yes, that's totally true. But to avoid confusion, I'm just going to say "freelancers" from here on out when referring to all three types of business owners. That said, the tool will be particularly beneficial to some freelancers more than others, especially:
Freelancers with Multiple Clients: Sure, you can use a spreadsheet and Word file method of invoicing when you have just a couple of clients. But if you often work with five or six different clients each week, the manual methods will quickly become overwhelming.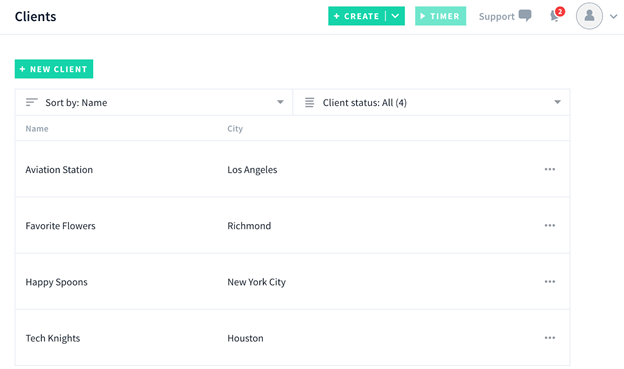 It's easy to keep track of all your clients with the sorting options and handy search filters.
Freelancers Who Manage Projects: One of the biggest benefits is the integrated project management features. This helps you keep everything that has to do with a project – like tasks, files, notes, etc. – all in one spot.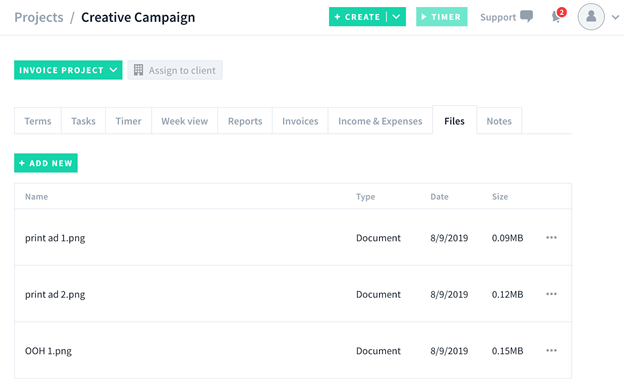 Freelancers Who Struggle with Organization: For years my accounting method was to deposit all my checks into an account then add it up at the end of the year. Yes, I know this is a terrible practice for many reasons. So, for me, moving to an invoicing system was life changing because it kept everything organized.
Micro Businesses: While AND CO would not work well with a true small business that has more than a few employees, it is a good fit for tiny businesses that are bigger than solopreneurs.
What I Like About AND CO
There are many things that I like about AND CO. Originally, I had way too many good points listed here, and I had to cut them down for space. But just know that this section was the easiest part of the article for me to write.
Made Specifically for Freelancers
Your needs are probably different than those of someone who owns a small business. Freelancers are unique.
And because AND CO was specifically designed for independent contractors, it helps solve the challenges and fit into the processes that freelancers are most likely to experience.
Has (Mostly) Everything Needed to Run a Freelance Business
About a week after I started using AND CO, I got rid of my project management program, my expense tracking app, and my time tracking app. Not to mention, my contract and proposal templates in Word now sit there unused. I don't have to worry about multiple tools, just a single one.
Super-Duper Easy to Use
I pretty much opened it up and started clicking around. Only a few times did I go to online help, and when I did, the answer was always there. To me, the beauty of freelancing is that we can create a business that works for our specific strengths and personalities.
With all the customization options, I was able to tweak AND CO to fit into my specific processes.
Affordable
Yes, business expenses are deductible, but that is still money you don't have to pay your mortgage or put into your retirement account. Even with the paid plan, AND CO costs about the same as a nice lunch out. And that amount more than
pays for itself with time and mistake savings,
and
especially
if you cancel other subscriptions, such as task management software.
All Documents Work Together
When you use the traditional method of Word docs and Excel files, everything is a separate file and lives on an island. This usually means repeating information and extra errors.
But with AND CO, everything flows into each other.
You start with a proposal, turn it into a contract, and eventually an invoice. There's far less chance that you'll get a rate wrong or spell someone's name incorrectly.
Awesome Customer Service
I checked with my virtual assistant, and she's had the same great experience with AND CO's customer service that I have. Representatives are nice, knowledgeable, and will actually help you solve your problem – which is pretty much all that you want when you chat, email, or call for support.
One Place for Everything
In my opinion, this is one of the biggest benefits. I used to constantly be looking for things – the invoice I sent to the client, the spreadsheet where I track payments, a contract that I wrote last year.
But now, I just open AND CO and I can magically find all files related to my business.
So instead of feeling frustrated and stressed, I feel like a rockstar for being such an awesome business manager.
Templates Galore
When I started my business, I had plenty of experience writing. But had never actually
managed
a business. I gained confidence and knowledge by using AND CO's social media management contract, hourly invoice template, marketing contract template, service proposal template, and retainer agreement template – just to name a few. I no longer had to spend hours looking for a template online and then wondering if I had found something reputable that could help me run my business.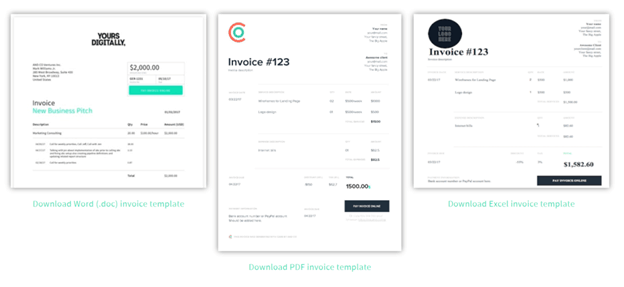 Freedom to Customize
While the templates have been a lifesaver, you are not stuck with them. I can look at an example invoice and then create my own custom invoices. For me, this is the perfect blend of guidance and freedom.
Owned by Fiverr
I'm just going to address this issue head-on: There are some people who associate
Fiverr
with low-paying gigs, making Fiverr's recent acquisition of AND CO a concern for high-earning freelancers. But I've checked with other writers and entrepreneurs, and we honestly can't find anything that has changed. Over the years, Fiverr has become one of the most reliable freelance platforms out there. I like knowing that AND CO has a big name like that behind it.
What I Don't Like About AND CO
This section was harder to write, because my overall experience has been so positive. But in the spirit of being fair and balanced, I had to include some drawbacks.
New Features Are Sometimes Buggy
The good news is that AND CO always seems to be adding new features to make my life easier. The downside is that sometimes they aren't quite ready for general use when they come out. And you have to work through the bugs. But this is where the fabulous customer service comes into play.
Unable to Schedule Invoices
Sometimes I can't sleep, so I start working at 4 a.m. Or I get a burst of productivity and want to prepare my invoices a week before they're due to go out. Sure, I can save drafts in AND CO. But then I have to remember to actually send them. Customer Support has told me that the ability to schedule is coming – and if you ask me, it can't get here soon enough.
How Does AND CO Compare to Other Tools?
So you can focus on client deliverables and running your own business, I took the time to compare AND CO to three popular business management and invoicing tools. These are the ones I most commonly hear other freelancers talk about.
FreshBooks: Easy-to-Use Dashboard
Ask ten freelancers about invoicing, and
FreshBooks
is bound to come up a least a few times. I actually used FreshBooks myself before moving to AND CO because it was the program that I'd heard recommended most often. The biggest differences are:
FreshBooks' Dashboard: Maybe it's just me, but I love seeing how much money I've made to date every time I log in to FreshBooks (along with how much is outstanding). My business success – or lack thereof – is so obvious that I can't ignore it. AND CO doesn't share the totals in such an in-your-face way.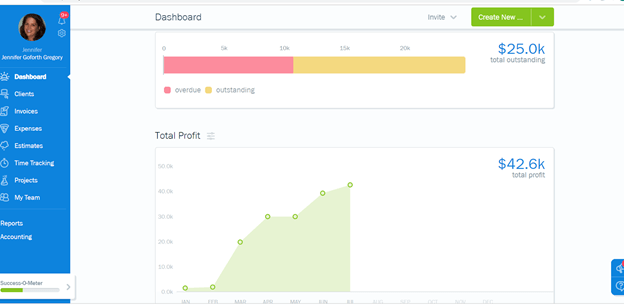 Contracts and Proposals: FreshBooks offers most of the features that AND CO does – expenses, project management, invoicing, and freelance time tracking. It doesn't, however, offer contracts or proposals. And honestly, that's a pretty big downside.
Price: Because FreshBooks plans are based on price, only the five-client plan is cheaper – and it's just a tad cheaper than AND CO. The plan that works for most freelancers (50 clients) is more than AND CO and comes with less features.
Wave: Great for Starting Your Business
The question of which invoicing program to use was recently asked on the Facebook group I manage for freelance writers, and
Wave
was by far the most suggested program. Compared to AND CO, the biggest differences are:
Price: The bottom line is Wave is free. AND CO is not. Wave makes its money off the exchange rate with foreign customers. So you won't pay for invoicing or sending money. Many freelancers start with Wave when they are launching their business and are particularly price-conscious.
Just Invoicing: Wave is just for sending money. So there are no features for contracts, proposals, time tracking, project expense tracking, or project management. When you're first starting out, you might not need a whole lot of functionality. But when you have more clients, you'll probably want to move to a more full-service program like AND CO.
Bonsai: Full-Fledged Business Management 
Bonsai
is the closest in functionality to AND CO. Both are full business management systems that feel complete. Whereas FreshBooks feels like an invoice system with other features added – which is exactly what it is – Bonsai and AND CO both tightly integrate the proposals and contracts into the invoice. The biggest differences are:
Ability to Pay Contractors: This is the biggest difference I found. While AND CO lets you include subcontractors as an expense, Bonsai specifically has a feature to manage those relationships. But yes, this feature is only in the Premium plan, which costs more than AND CO.
Price: For a comparable plan, Bonsai costs a touch less a month (enough to buy an extra soda), which includes unlimited projects, reporting, and customizable branding. So the difference is pretty much a wash, especially since AND CO has a more powerful project management system and a more realistic contract template.
Multiple Users: Other similar programs don't allow for multiple users, meaning that you have to pay for an entire separate account or give someone your login information. But Bonsai's paid plan lets you add another user for the cost of a fast food combo meal, which can save both money and frustration.
Should You Upgrade Your AND CO Account?
The short answer is yes. However, if you can't afford to pay for an invoicing or business management program, AND CO is probably not the best choice for you right now. If that's the case, consider Wave, which is free. AND CO was designed for you to upgrade.
For most freelancers, the free version won't be enough, since it only accommodates a single client.
And honestly, if you only have one client, you don't really need a program like this. Also, with the free version, all of the invoices, contracts, and proposals come with relatively noticeable AND CO branding. Personally, I found this to be a bit unprofessional – and I think my clients would agree. However, you should definitely take advantage of AND CO's free trial before clicking the
Buy
button.
This will give you a chance to do a test drive and make sure that the features and interface work with your process.
That said,
the paid version is very affordable, considering all the functions it automates and the types of programs it eliminates.
To save you time scouring the AND CO website, here are the benefits you get from upgrading:
Unlimited Clients
This is the biggest benefit since, with the free version, a one-time project can take up your only client spot. This is annoying, to say the least. Whereas other programs charge you per client, a Pro AND CO account lets you work with an unlimited number. Not having a cap saves you from deleting old clients so you don't go over your limit. This lets you focus on landing interesting projects and earning money.
Your Own Logo
Shhh, don't tell anyone, but it's just me sitting at my kitchen table on a laptop – with a dog or four sitting at my feet. But by putting my own custom-designed logo on my invoices, contracts, and proposals, I look more professional than I feel most days. I treat my business as a business – and that image is projected to my clients.
Customizable Contracts
With AND CO's free version, you can only use the standard contract from their website. But I have specific terms I like to include in my contracts, including payment and reviews. With the paid version, you can customize each contract for the particular project it covers, which adds that professional image mentioned earlier and makes the contract more helpful in terms of protecting your interests.
More Bank Accounts
With the free plan, you can only connect two bank accounts, which can be limiting. The paid version lets you add as many as six different accounts.
24/7 Support
It's already been mentioned, but the customer support is great – and a real reason to use AND CO. Having support, even at 2 a.m., is almost worth the upgrade all by itself.
Getting Your Business Organized
Yes, a business management system will help you run your business more efficiently and effectively – but you have to actually use the tools the system provides. And, more importantly, you have to
get your business organized
to get started. Here are three things to do before purchasing AND CO:
Make a Client List: Determine which clients are active and need to be entered into the program. Input their contact information as well as payment history and any other important files.
Determine Contract Terms: Look at contracts you have signed and currently use. Collect a list of terms that you want to make sure are included in your contracts moving forward.
Create an Onboarding Process: You will land new clients – at least that's the plan. Take the time now to create a process for everything you need to do when onboarding a new client, such as creating a standard contract and gathering invoice and contact information. Then, while you are celebrating your win, you can just go through the checklist. 
AND CO is just a tool. And it's only as good as the effort you put into it
. Many freelancers make the mistake of focusing solely on what they love (photography, design, writing, etc.) and neglecting the business part of their business. While AND CO can definitely help,
becoming a successful freelancer
starts with having a business-owner mindset and running your business like a business.