To help you keep abreast of the latest news and stories, here are the latest comings and goings in the world of web hosting that occurred in the last three months.
The Website Planet team have been in touch with our contacts at the top 10 players in the web hosting scene to find out exactly what new features and updates have been implemented. Read on to see what is changed and who is leading the way with new features.
iPage News:
Spring Promotion on Web Hosting
iPage got a good start by running a new promotion offering their lowest ever prices on their web hosting packages. With prices starting from as a low as $1.99 per month there are sure to lots of takers on this great spring offer.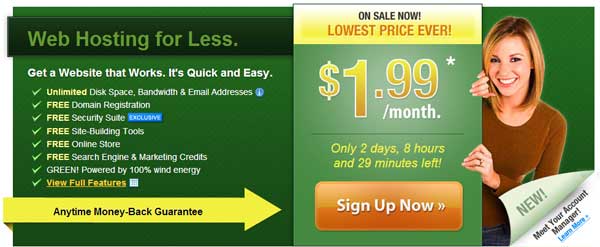 Read more about iPages in our iPage web hosting review.
Go Daddy News:
Go Daddy Announce New Chief Exec


At the start of this year, Go Daddy was pleased to announce that ex-Microsoft executive Blake Irving is the company's new chief executive. Since his appointment he has gone on a hiring spree with 50 more staff acquisitions planned for the rest of the year and a planned new office to open Seattle, this should hopefully translate into an even better service for customers.
To find out more about GoDaddy read our GoDaddy review.
InMotion Hosting News:
InMotion Unveil Redesigned Website
InMotion Hosting are ranked third on our list of web hosts and this year has gotten off to a good start for them. In April the company announced the launch of their new website which involved a team of over 20 staff working across two offices in the US. The new site was built using HTML5 and boasts faster loading times for its customers and an easier to use interface.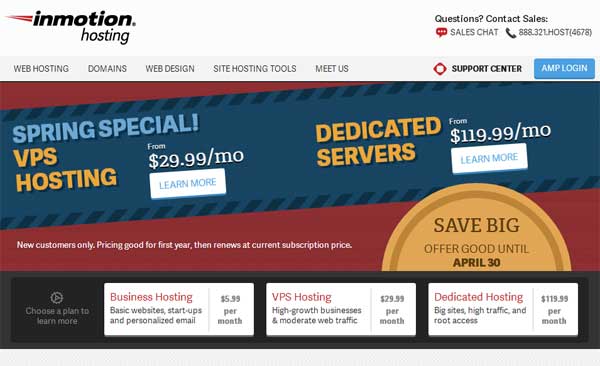 Major Data Center and Network Upgrades
Further developments from InMotion include the completion of major data center and network upgrades. This work has been in progress for around a year and now completed means faster loading websites for their customers, improved bandwidth capacity and the ability to provide 99.99% uptime or better.
For more information on InMotion Hosting visit our in-depth InMotion Hosting review.
HostGator News:
Ex-Employee Poses Security Risk
HostGator were in the press for all the wrong reasons in April when one of their former administrators was arrested on charges that claimed he had loaded backdoors onto more than 2,700 of the reptilian web hosting company's servers. HostGator has assured worried customers that all the potential security breaches have been cleaned up and no fraudulent activity took place stating that they "caught it well before he any chance to do any of that."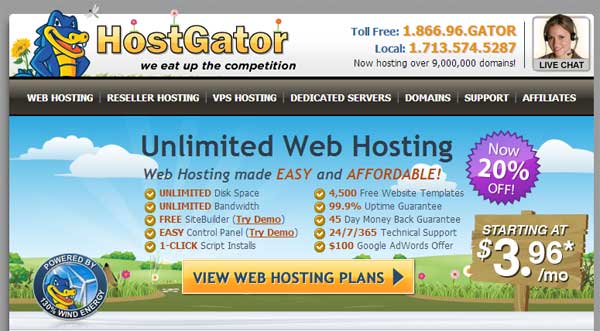 For the full details on HostGator view the HostGator review.
HostPapa News:
HostPapa Embrace YouTube
Green web host HostPapa have recently announced they are launching their YouTube channel which contains videos made to showcase their services from web hosting and domains to web design and digital marketing. When it comes to their web hosting deals, HostPapa are currently offering a new special price including a free domain name with their hosting package.
http://www.youtube.com/watch?feature=player_embedded&v=eSrzbHL7Qgg
Read more on HostPapa at the HostPapa review page.
DreamHost News:
Free Website Protection and Acceleration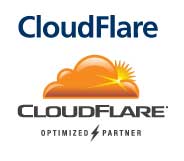 DreamHost recently announced that they were partnering with CloudFlare in order to offer their web hosting customers the latest advances in website protection and security from malicious traffic. The service also benefits users as it improves the speed of sites by caching site content in their servers, providing acceleration of loading times. What's more, the basic package from CloudFlare is free to DreamHost users!
Read more information on Dreamhost at the Dreamhost review page.
JustHost News:
JustHost Revised Better Value Package
Proving that they are a great value alternative to some of the bigger names in the web hosting industry, JustHost have revised their options on their popular web hosting package. The new offer includes unlimited hosting space and data transfer as well as unlimited email accounts. All this and more is now available at a very competitive monthly price.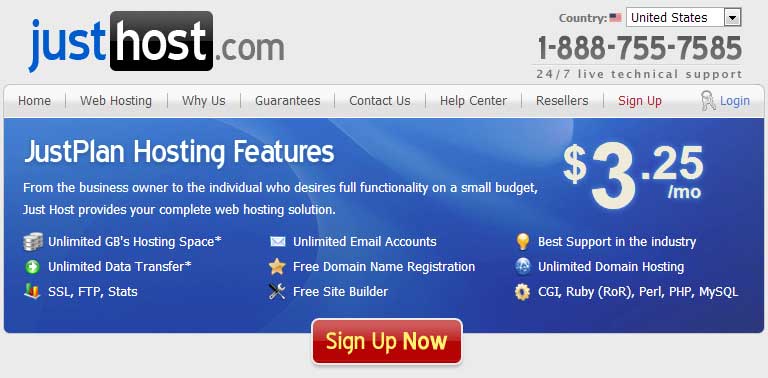 Get the full details on JustHost in our JustHost review.
HostMonster News:
Limited Price Reduction for Web Hosting
For a limited time only, the web hosting package at HostMonster has been slashed to just $4.95 a month and includes a $100 Google Adwords voucher to get your paid advertising campaign off to a flying start. With a 100% US-based support team located in Utah, those who could use a bit of help when it comes to getting up and running should find this offer appealing.
For more about HostMonster go to the HostMonster review.
Bluehost News:
New Dedicated Hosting Service
In March this year, Bluehost announced that they are now offering an all-new dedicated web hosting service. It is currently in BETA but those keen to give it a try are welcome to sign up for 30-day trial for just $1.

Problems with Data Center
The month before that, in February, Bluehost reported a disturbance in service at their data center which affecting some of their clients, although they have vowed to learn from this experience and work to prevent it reoccurring.
To find out about Bluehost view our detailed Bluehost review.
Network Solutions News:
Attack on WordPress Sites Causes Problems for Customers


The global attack on WordPress sites that took place in April this year also affected a number of sites hosted with Network Solutions. While this isn't the best news for customers, the positive side to this news item is that the disruption wasn't prolonged and that the customer services staff learned from the experience, which should hopefully lead to better service in the future.
For the full story on Network Solutions visit the Network Solutions review page.
Report Recap:
While a few hosts such as Network Solutions and HostGator reported problems with security, for many of the other top 10 web hosting service providers on our list it was business as usual with great price promotions from the likes of HostMonster, JustHost and iPage.
During the past few months, DreamHost branched out into the cloud in partnership with CloudFlare offering greater flexibility for their customers.