As well as receiving recognition from Instagram itself, it builds your social proof with users worldwide.
For brands and companies in particular,
it shows your audience that you have authority in your field
, which ultimately builds trust and long-lasting relationships. With 71% of businesses using Instagram, according to CNBC, it also helps you to stand out from the crowd. Sounds great! So how does one achieve Instagram verification? Well, it's not exactly easy. However, there are some techniques that you can implement to boost your chances of obtaining the all-important blue checkmark.
Who Gets Verified?
First things first: you should know up front that
not everybody can get verified on Instagram.
According to Instagram HQ, the company initially introduced the verification badge to help users find the celebrities, brands, and public figures that they want to follow. If an account has a blue tick mark that appears next to their name in their search results and via their profile, it essentially equates to the authentic identity of the celebrity, company, or public figure that it represents. If you don't fall into any of these categories and aren't considered a "well-known, highly searched for person, brand or entity," (Instagram's words, not mine) then, needless to say, you might struggle with getting your application approved. However, don't give up.
Why Do You Want to Be Verified?
Achieving Instagram verification means that the network's users can easily identify you from a range of accounts who share your name or might try to impersonate you. There are other benefits too:
It shows your authenticity and differentiates you from the crowd
It makes it more straightforward for you to reach other verified users and people who you look up to in your industry
It means that you can use the "Swipe Up" feature in Instagram Stories, which allows you to add links to your blog posts, product listings, or other landing pages
It can also improve your popularity on social media, which, if you're a business, can generate more leads, clicks, and conversions
The Verification Process
Simply go through the following steps to get verified on Instagram:
#1: Prepare Your Account
Before you even think about finding the verification form, you need to make sure that your account is ready for review. Work on the following elements:
Your profile: Your profile should be complete with a bio, profile photo, and at least one post. If you have any links to other social networks in your bio, then be sure to delete them as per Instagram's requirements
Your "public" settings: If you're currently a private account, you need to change your settings to "public" so that other users will be able to search for you
Your conduct: It goes without saying that you must be following Instagram's Terms of Service and Community Guidelines, otherwise your application will be rejected immediately
#2: Fill Out the Verification Form
When it comes to requesting verification, the process is pretty quick and easy. First, log in to your account, go to your profile, and
tap "Settings" and then "Request Verification."
Enter your full name, what you are known as, and what category or industry you fall under (e.g., entertainment, fashion, news/media, etc.) and upload a required form of identification (e.g., government-issued photo ID)—and then merely click "Submit."
#3: Wait for the Verdict
Once Instagram has reviewed your request, they will notify you of their decision within due course. Not accepted the first time? Not to worry—you can submit a new request after 30 days.
Increase Your Chances
If you're constantly getting rejected and struggling to attain verification, then there are some things that you can do in order to improve your chances.
#1: Boost Your Popularity
This might sound obvious, but the most common way of achieving Instagram verification is to
demonstrate just how popular you are
.
If you're constantly attracting new followers, then that's a surefire way of wowing Instagram managers into approving your verification request.
How do I get more followers, I hear you ask?
Be consistent with your message: Make sure that you have a clear theme, voice, and personality coming through each post; it's fine to experiment with different options in the early stages to find out what works, but try to be as consistent as you can in the long run
Improve your photography skills: Instagram is all about the visuals, so make sure that you're uploading high-quality photos that have been carefully edited to look even more aesthetically pleasing. For instance, check out makeup brand Iconic London's feed; the photos are all in metallic tones, stylistically cohesive, and undeniably beautiful
Use the right hashtags: Expand your reach by including popular hashtags in your niche in your posts; the term "quality, not quantity" reigns supreme here
Engage with your followers: Open dialogue with your followers, reply to comments, and like their pictures just as much as they like yours; it takes two people to have a social conversation offline—and this rule doesn't change in the online world
Regularly review your performance: Use an analytical tool like Sprout Social's Instagram Analytics to continuously assess your account. They provide detailed insights into the demographics of your audience, hashtag usage, trends, and other engagement metrics, which allows you to work out what's going right or wrong with your content and amend your strategy accordingly
#2: Be Active
Instagram wants you to use their platform. It's a
social
network, after all.
If you show them that you're constantly engaging with their users and adding value to multiple communities, then you might just achieve the little blue badge.
It also helps if you post frequently. Live a busy life? That's okay! The
best social management tools
allow you to schedule posts in advance to keep your Instagram profile alive. On
Hootsuite
, for example, you can also measure your posts' performance and manage multiple accounts from the same dashboard.
#3: Jazz Up Your Profile
Another way of increasing your chances of achieving the blue verification badge is by revamping your profile in the following ways.
Add your website link: This validates your authenticity as a public figure, celebrity, or brand
Write a compelling bio: State who you are, what you do, and include relevant keywords for your niche to help more people find you
Show off your connections: Add verified accounts to your bio to show that you're already a part of this community. Take leisurewear company Fabletics, for example, they tag their co-founder actress Kate Hudson in their profile to successfully boost their credibility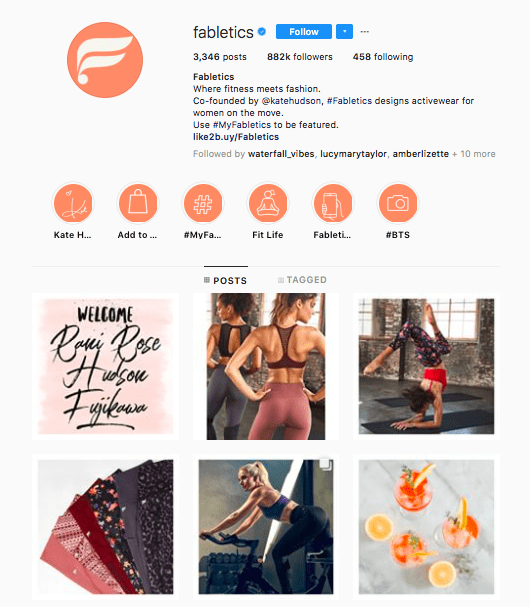 Pick a good profile photo: If you're a brand, your profile picture should be your logo. Make sure it also falls into the recommended dimensions of 320 x 320 pixels so that it looks appealing within Instagram's circular format
#4: Work on Your Digital Presence
Finally, if you're determined to get verified on Instagram and all else fails, continue to work on your digital presence. Instagram claims that they review accounts for verification based on features in multiple news sources, so
make sure that you get your name out there
! Whether you work with a PR agency or go at it alone, Forbes claims that it's a good idea to work with influencers, media outlets, and other verified users as it shows that you're rubbing shoulders with
all
the right people. Are you already verified on Facebook? Awesome!
According to BoostLikes, it's easier to first obtain verification with Facebook, which then boosts your chances of then being verified on Instagram, considering that these the two networks are so closely linked.
Furthermore, until you can obtain the blue badge, you can shout about your Instagram profile on your website and other social profiles to demonstrate your legitimacy.
Blue Ticks For All
Obtaining Instagram verification stands as a significant achievement in the online realm, carrying substantial social value. This verification not only enhances user discoverability but also amplifies your follower tally, thereby elevating the chances of garnering clicks and achieving conversions. If you find yourself facing challenges in acquiring the coveted blue verification badge, remember that persistence in your endeavors remains key. The eventual outcomes will undoubtedly justify the exerted endeavor.
---
Sources
Instagram says it now has 800 million users, up 100 million since April: https://www.cnbc.com/2017/09/25/how-many-users-does-instagram-have-now-800-million.html Instagram Verified Badges: https://help.instagram.com/854227311295302 Iconic.London Instagram: http://www.instagram.com/iconic.london/ Fabletics Instagram – http://www.instagram.com/fabletics/ How To Get Verified On Instagram: https://www.forbes.com/sites/tomward/2018/04/16/how-to-get-verified-on-instagram/#e71ab1d6b2bb 5 Steps to Getting a Verified Badge on Your Instagram Profile: https://boostlikes.com/blog/2015/10/5-steps-getting-verified-badge-instagram-profile