The Malta-based cloud hosting platform Cloudways has grown rapidly since its founding in 2011, and for good reason. They've focused all their attention on providing one primary service, and they do it exceptionally well – which explains why they've been able to make their mark on a rather saturated market. They now have over 25 server locations around the world, including Europe and Asia-Pacific, and boast a clientele base of almost 100,000.
Features & Ease of Use
Cloudways stands out with its high-performance managed cloud hosting service, in which multiple copies of your website's data will be replicated across your selected data center. Should the main server go down, your website data will be loaded from the next available server, guaranteeing excellent uptimes for your users.
E-commerce business and high-traffic website owners will also be happy to know that websites hosted onCloudways typically load 40-50% faster, thanks to their proprietary VMAN site optimization technology. This, of course, affects user experience and how well you're ranked in search engines.
Cloudways also offers free SSL certificates – a must-have if you're selling products online – and the app library includes many well-known tools, including the popular Prestashop and Magento e-commerce platforms.
Building a website is simple and quick: setup is completed in a matter of minutes. Once you've chosen a cloud provider and preferred content management system, you can set your server specifications and location directly from the user-friendly control panel.
It should be noted that Cloudways isn't the most beginner-friendly. There's a bit of a learning curve involved, and a basic knowledge of web servers and hosting platforms is required to take full advantage of the Cloudways interface. That said, if you do have the prerequisite knowledge, the Cloudways interface is amongst one of the most user-friendly I've seen.
Pricing & Support
Cloudways has focused on managed cloud hosting and done away with the typical shared, VPS, and dedicated server options entirely. Users can choose from either their monthly hosting plans or their hourly pay-as-you-go packages, the latter being particularly useful for startups. There isn't a free plan available, but they do offer a free trial with no credit card details required.
Switching or canceling hosting plans is simple enough; you can handle everything through your server management panel. One great thing about Cloudways'pay-as-you-go system is that if you're expecting a burst of traffic for a limited period, you can choose to scale up for that period only – and you won't be stuck with unnecessary server resources later on.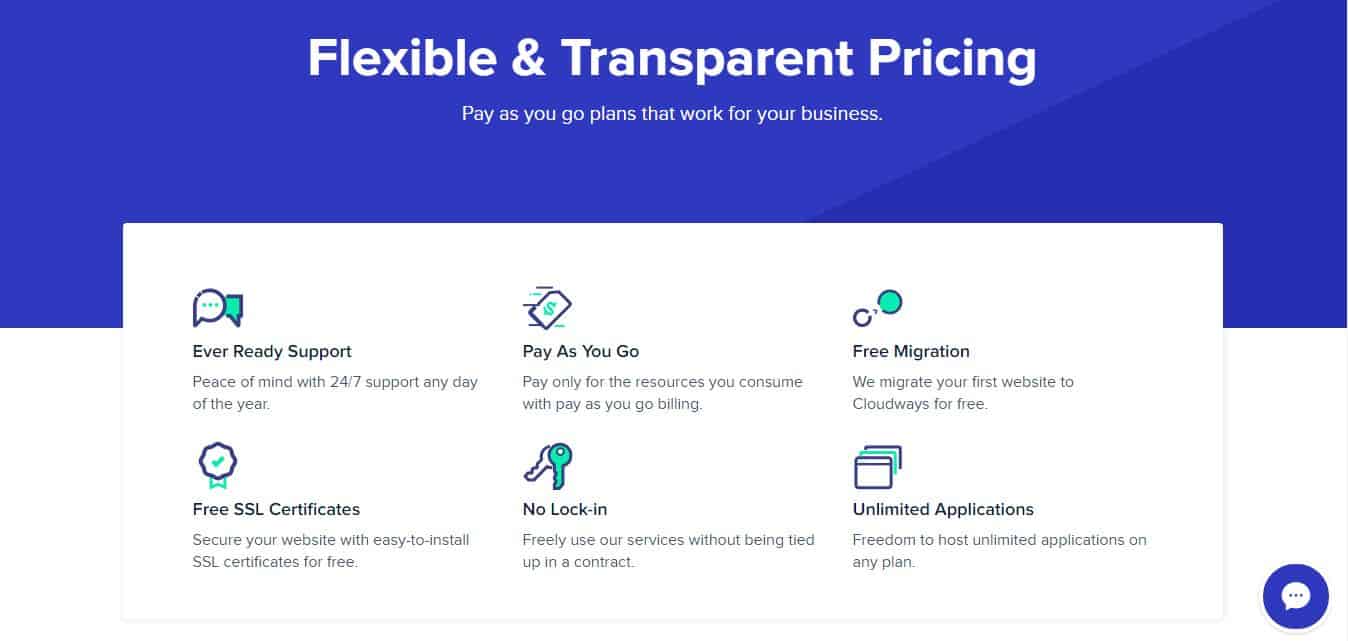 Support is readily available through the Cloudways live chat – I got a response within seconds. If you're looking to get someone on the phone, though, it may take a fair bit longer.
That said, if you're content with just a live chat, the support team is professional and knowledgeable: they were able to answer technical questions in detail, and they were proactive about lending a helping hand without trying to upsell me additional features.
Summary
If you know what you want in a web host and you're comfortable with a bit of a learning curve, Cloudways may be just what you need. With their no-contract packages, easy scalability, ultra-responsive chat support, and fast loading speeds, Cloudways is an attractive option for startups and SMB's.
Pros:
Stellar uptime and fast loading speeds
Responsive and knowledgeable live chat support
Pay-as-you-go packages offer flexibility and scalability
User-friendly interface to control server and plan specifications
Cons:
No included email accounts or domain registration
User-friendliness does come at a slight markup