Established in 2003, and headquartered in Philadelphia, Linode provides hosting via high-performance Linux servers with native SSDs. The company also offers several extras such as infrastructure management, "NodeBalancers" load-balancers, and a DNS manager. Furthermore, it provides professional services such as site migrations, software deployments, and performance tuning.
Linode's website is in English.
Features and Ease of Use
Linode offers ten standard plans, six dedicated CPU Plans, and five high memory plans. With the standard plans, you get:
1 GB to 192 GB RAM
1-core to 32-core CPU
25 GB to 3840 GB SSD storage
1 TB to 20 TB data transfer
This provider has a superfast 40 Gbps network and uses top-of-the-line hardware like Intel E5 Processors and industry-leading native SSDs to ensure optimal performance. The user-friendly Linode Manager lets you boot, deploy, clone, or resize your server with just a few clicks.
IPv6 is supported natively, and you get a 99.9% network and hardware guarantee, which is actually a little low by industry standards, but it pays out pro rata for any downtime.
Linode provides one-click managed cloud backups, and it has a backup strategy for any situation; three backup slots that are rotated and executed automatically, and a fourth backup slot available for on-demand backups.
Developers' lives are made easier thanks to a powerful API (a programmatic interface into the Linode Manager's features), deployment StackScripts (for customizing the distribution templates), and CLI (a command line interface to help manage your account). Linode also supports a wide range of Linux distributions for deployment, and you can install and configure a custom distribution on your KVM/XEN Linode.
Pricing and Support
Linode's hosting plans are affordable, and you can pay for them in USD via credit/debit cards, money orders, checks, or PayPal. All services are billed automatically at the end of the month, either pro rata (for the hours you use) or at a capped amount.
There is a seven-day trial period, which I think is too short a time to make an informed decision. Refunds after this time are subject to a small service charge, and the company issues pro-rated refunds to customers who specifically request service cancelation via the cancellation form.
Linode's 24/7 customer support team can be contacted by telephone, ticket system (for existing customers), or email. My exploratory email was answered after 24 hours, which doesn't bode well for a company claiming to offer 24/7 support, but I'm not actually a current customer, and the response was satisfactory: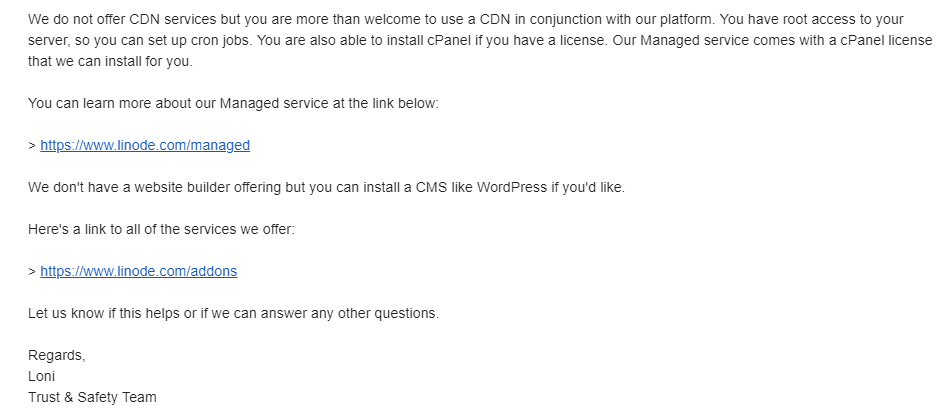 Linode offers lots of self-support resources, including a speed test, a system status page, Linode chat, and the Linode community (with FAQs, guides and tutorials).