you're probably not getting the most out of WooCommerce
. An e-commerce store is more resource-hungry than a regular WordPress website. The bigger your business grows, the bigger the demands on your server – and regular hosting plans may start to let you down. To get the most out of your
WooCommerce
 store, you need a solution that's tailored for the popular plugin, including help with configuration, reports and specialized support for WooCommerce-related problems. One option would be to look for a dedicated server, but that can be expensive. VPS, managed WordPress hosting and cloud hosting are possible alternatives – but they're not optimized for WooCommerce. This is where WooCommerce hosting emerges as
an affordable and specially-optimized alternative
. But what exactly is WooCommerce hosting — and do you really need it for your website?
What Is WooCommerce Hosting?
Managed WooCommerce hosting is relatively new to the market. Unlike managed WordPress hosting, it gives you
features and server-level optimizations specific to WooCommerce websites
. For instance, specialized WooCommerce hosts will often give you reporting plugins that can increase your ROI through customer segmentation. A select few hosts, such as
Liquid Web
, will also give you premium abandoned cart technology so you can reach out to your lost leads.
WooCommerce hosting takes the hassle out of setting up and maintaining your online store
. You'll have WooCommerce pre-installed, so you can begin customizing your shop from the get-go. Additional plugins and features to handle the increased demands of WooCommerce are also pre-installed. Templates are streamlined to deliver the best possible performance – for example, by minifying CSS stylesheets to increase page loading speeds and optimizing category and product pages to reduce the load on your server. Your host will also perform rigorous testing to make sure none of your plugins conflict with each other. Of course, you'll also have all the essentials, such as SSL certificates and the ability to handle increased traffic during peak shopping periods.
Why Do I Need WooCommerce Hosting?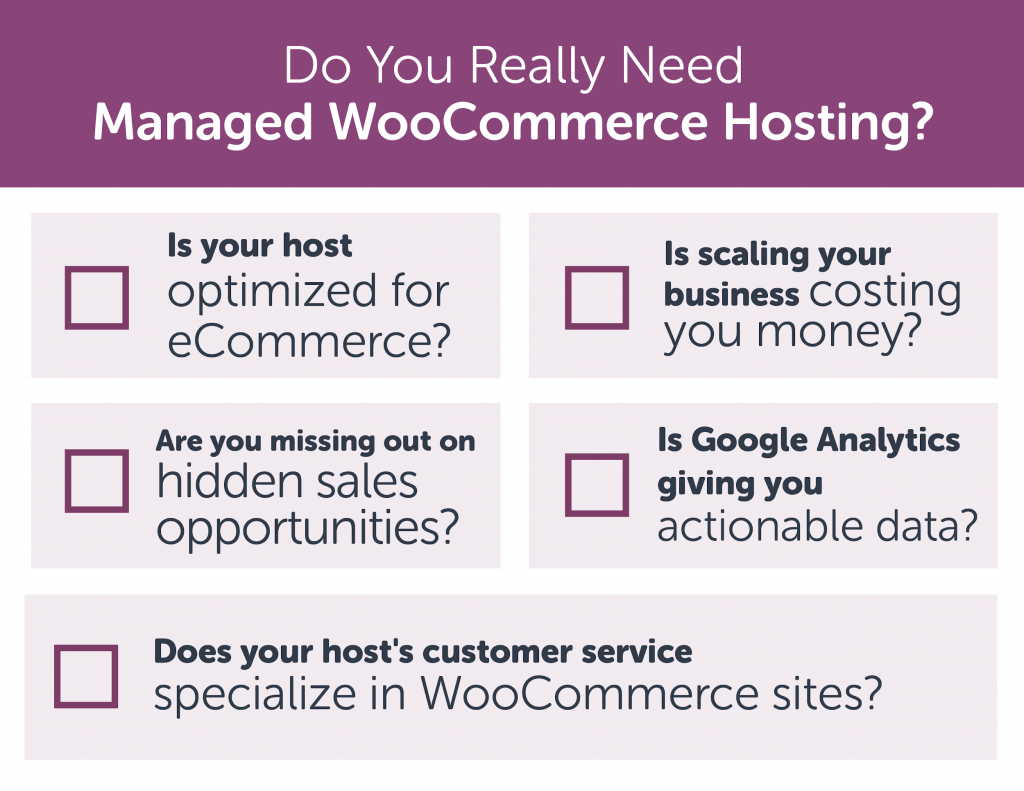 When you're running an online store, you're probably mostly focused on the front-end: how it looks to your customers, how easy it is to find products, and how visually appealing your product images are. These are all important considerations that have a big impact on your profits.
But managed WooCommerce hosting will give your website an edge in a few key areas:
E-Commerce Optimization
Scalability
Sales-Focused Tools
Data-Driven Platform
Expert Support
E-Commerce Optimization
You can, of course, install WooCommerce on a shared server (and many people do). However, if you want your online store to get off to the best possible start,
having WooCommerce hosting from the beginning will increase your chances of success
. For example, imagine that you're running a promotion to drive more traffic to your online store. The campaign is a success, and you now have 100+ people browsing your store simultaneously. These visitors are looking through your product pages, adding stuff to the cart, and perhaps checking out — actions that greatly increase the demand on your servers. A regular server will buckle, and visitors will soon find that each action is a painfully slow ordeal that takes seconds to complete — if it goes through at all. Sooner or later, your customers will abandon their carts and look elsewhere.
A managed WooCommerce hosting service anticipates these operational problems and can cope with them easily
. Quite simply, WooCommerce hosting makes your online store easier to run and creates a smoother experience for your customers. Shared hosting is okay if you have only a few items to sell, but if your shop is bigger, it's going to struggle to cope. Here's why:
Caching and Database Calls – How WooCommerce is Different
Caching meaning storing copies of website pages that are static (not updated frequently) so that they don't have to be requested each time someone visits the page. Most hosting companies use caching so they can squeeze as many websites as they possibly can onto one server. With regular WordPress websites, that's not usually a problem. But with WooCommerce, this standard caching approach will create certain challenges. For example, when someone adds an item to the shopping cart, you don't want the cart icon to stay cached: your customers will begin to think there's a problem with your webstore if they add or remove items from their cart and the cart status doesn't change. You still need caching for efficiency's sake, but
it's far better to have caching designed for the intricacies of WooCommerce
. Likewise, e-commerce websites have lots of product categories and even more product variations. This increases the number of database calls (or queries). Shared hosting simply isn't equipped to deal with all those calls, and your website — and customers — will suffer as a result. Connecting to payment gateways or shipping partners also results in external calls, placing an even greater load on your server.
Managed WooCommerce hosting takes all of these things into consideration — and is configured to handle them efficiently
.
Scalability
Managed WooCommerce hosting is
much more flexible than shared hosting
, so you won't have to worry about having to migrate to a better platform when your business grows. You also won't have to risk having your website go down if you happen to exceed your bandwidth caps, since your host will proactively monitor your website and add more bandwidth and processing power as needed. While cloud hosting also offers exceptional scalability, it doesn't offer the specific WooCommerce features that make running an e-commerce website more effective. Nor do you have access to WooCommerce-specific support when you opt for cloud hosting.
Sales-Focused Tools
Managed WooCommerce hosting gives you the tools to
drive more sales and re-engage lost leads
, such as abandoned cart technology and customer retargeting emails. What's more, the tools are pre-screened and configured to avoid conflicts with each other, saving you the time and hassle of searching for the right plugins.
Data-Driven Platform
Google Analytics is good for many things, but it's not particularly optimized for e-commerce. Managed WooCommerce hosting, however, gives you data-reporting features that focus on growing your sales. For example, your customers' locations and purchase histories can be used to create customer segments for email marketing.
This alone can increase your email open rate by over 14% and your click rate by 100%
. You
could
purchase another plugin to do this, of course. But with WooCommerce hosting, you'll have these plugins automatically included — not to mention rigorously tested to ensure that they won't slow down your website.
Expert Support
A regular hosting service isn't equipped to offer the technical support that you need to handle WooCommerce-related problems. If you don't want to have to hire someone to handle the technical aspects, managed WooCommerce hosting connects you to experts who
really
understand WooCommerce. This way, you won't need to have all those frustrating back-and-forth conversations just to find a customer support agent who actually understands your issues. Since for an e-commerce website, downtime means lost revenue, you want to be able to get any issue solved as soon as possible.
WooCommerce Hosting Has a Few Disadvantages
It'd be unfair to talk about the advantages of WooCommerce hosting without taking a look at some of the potential disadvantages, too:
Cost. WooCommerce hosting tends to be more expensive than shared hosting and regular WordPress hosting. However, when you consider the lost revenue and hit to your brand reputation if regular hosting lets you down, WooCommerce hosting may not seem so pricey after all.
Important features aren't always included. While most managed WooCommerce plans include updates and backups, some don't. Be sure to check exactly what you're getting before you commit to a long-term plan.
Software Bloat. Managed WooCommerce hosting usually comes with all the necessary software pre-installed, which in most cases wouldn't be a problem. However, if you're more experienced, you may prefer to handle the installation yourself and avoid having design settings and extensions you don't actually need.
Our Recommendation for the Best WooCommerce Hosting – Liquid Web
Now that you know what WooCommerce hosting is and why you need it for your e-commerce website, you're probably wondering who the best WooCommerce hosting provider is. We've evaluated the top companies that offer WooCommerce hosting, and there's one host that stands out:
Liquid Web
. Let's look at the reasons for this conclusion — and why the other hosts pale in comparison.
Click here to read more on why you should choose Liquid Web WooCommerce web hosting.
Performance
Even with hosts offering WooCommerce hosting, there are still big variations in actual performance.
Our performance tests revealed that Liquid Web simply blazes ahead of the competition, with an almost-perfect grade of 99
. The closest competitor was
WP Engine
, with a performance grade of 94. This ranking held true even when the website was bombarded with 100+ users simultaneously.
Why Liquid Web's Performance Surpasses the Rest
There are two key reasons for Liquid Web's first-rate performance results. First, it uses a different way of storing your customers' order data — putting less pressure on the server through reduced query loads.
This boosts server performance by 75%+
. Second, Liquid Web gives you access to
performance testing tools
(over 20, in fact) that enable you to fine-tune your store setup and achieve the best possible performance.
Abandoned Cart Technology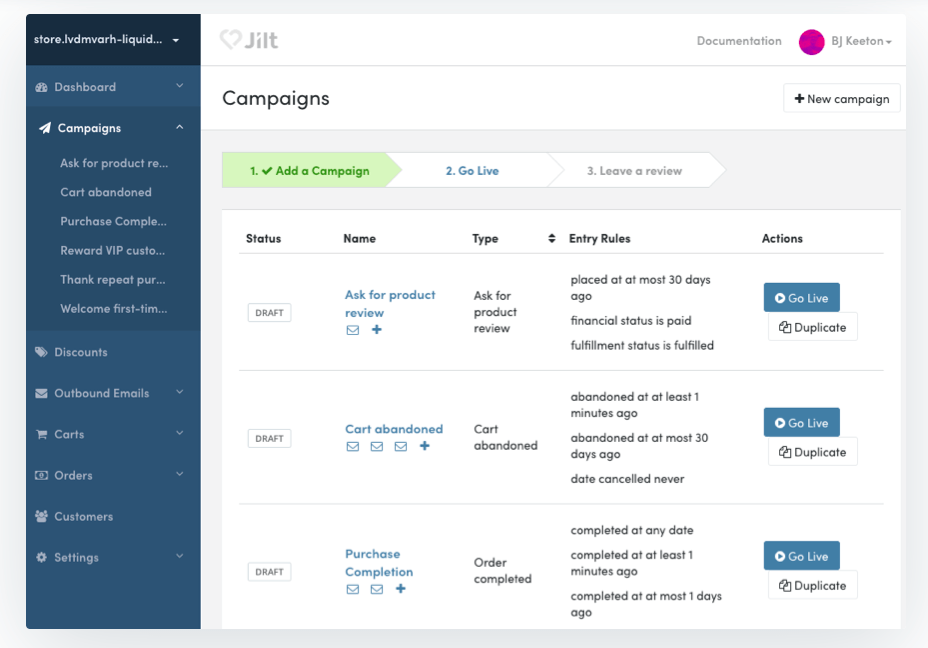 Liquid Web also stands out because of the value-added features that it offers. The most important of these is its abandoned cart technology.
Liquid Web integrates Jilt — the industry leader in abandoned cart technology — into WooCommerce
, which you won't find with many other WooCommerce hosts. If you haven't heard of Jilt, it's basically an email marketing program that allows you to contact customers who have exited your website with products left in their carts. Jilt helps you send out automatic "recovery emails" to remind customers of the products they haven't finished purchasing. Jilt's abandoned cart technology means that your website's performance won't be slowed down by the large amounts of data generated by abandoned carts. It also makes it simple for your customers to return and complete their purchases.
Since none of the other hosts offer abandoned cart technology with their plans, Liquid Web is a clear winner
.
Designed With Different Store Types in Mind
While all of the
WooCommerce
 hosts we examined offer different plans at different price points, only Liquid Web tailors its plans for different store types. Liquid Web has even charted out how many monthly transactions each plan can accommodate, making it easy for you to select the best plan for your first online store. Alternatively, if you already have an existing store but want a host with better performance, Liquid Web has plans suited to whichever level you may be at.
Liquid Web Offers So Much More
This short video from Liquid Web explains
why managed WooCommerce hosting works
and what the company can offer you.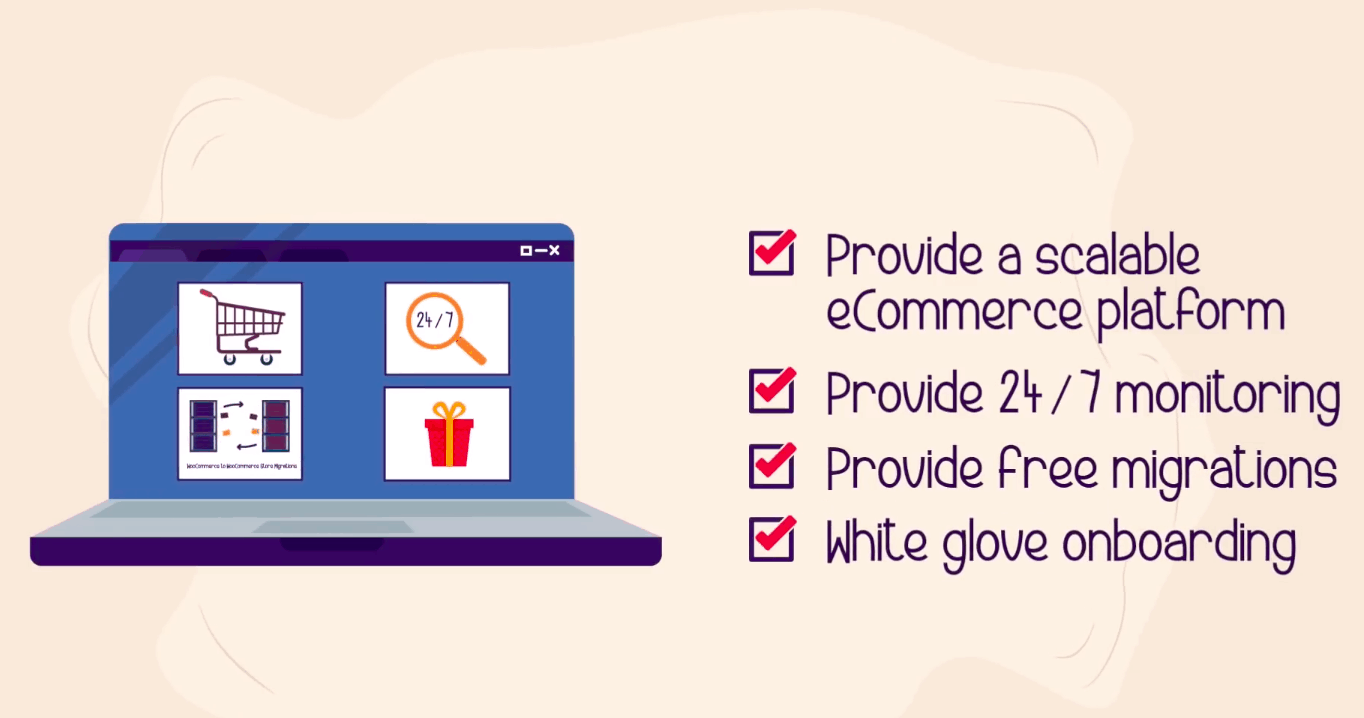 Also, this comparison table highlights what Liquid Web offers compared to its competitors:
| | | | | | |
| --- | --- | --- | --- | --- | --- |
| Host | Free SSL | Performance Grade | Abandoned Cart Technology Included | Plans Configured By Store Type | Free Migration Service |
| Liquid Web | Yes | 99 | Yes | Yes | Yes, conducted by professionals |
| WP Engine | Yes | 94 | No | No | No, but it offers an Automated Migration plugin |
| SiteGround | Yes | 88 | No | No | Yes, but only with the GrowBig plan or higher |
| Bluehost | Yes | 86 | No | No | No |