Kinsta is currently one of the stars of the managed WordPress industry. If you're like me, you were probably attracted to their promise of super fast, geo-independent hosting.
CDN via KeyCDN and DNS via Amazon Route 53 are just two of the most eye-catching features you'll definitely want to take advantage of.
I've set up WordPress hosting with premium hosts enough times before to know the process always straightforward. In fact, it can be a real pain, especially when having to work with third-party services. I recently set up my own WordPress hosting on Kinsta, and you're in luck – I documented the whole experience so that you can see what you're in for. While this setup is a really important element of your hosting, there is a lot else to consider before you sign up for Kinsta.
Click here to read my in-depth review
.
Installing WordPress with Kinsta
Kinsta is all about making hosting straightforward. If you haven't created a site yet, you'll have this 'Add Your First Site Now' button in your dashboard, which you can click to get started: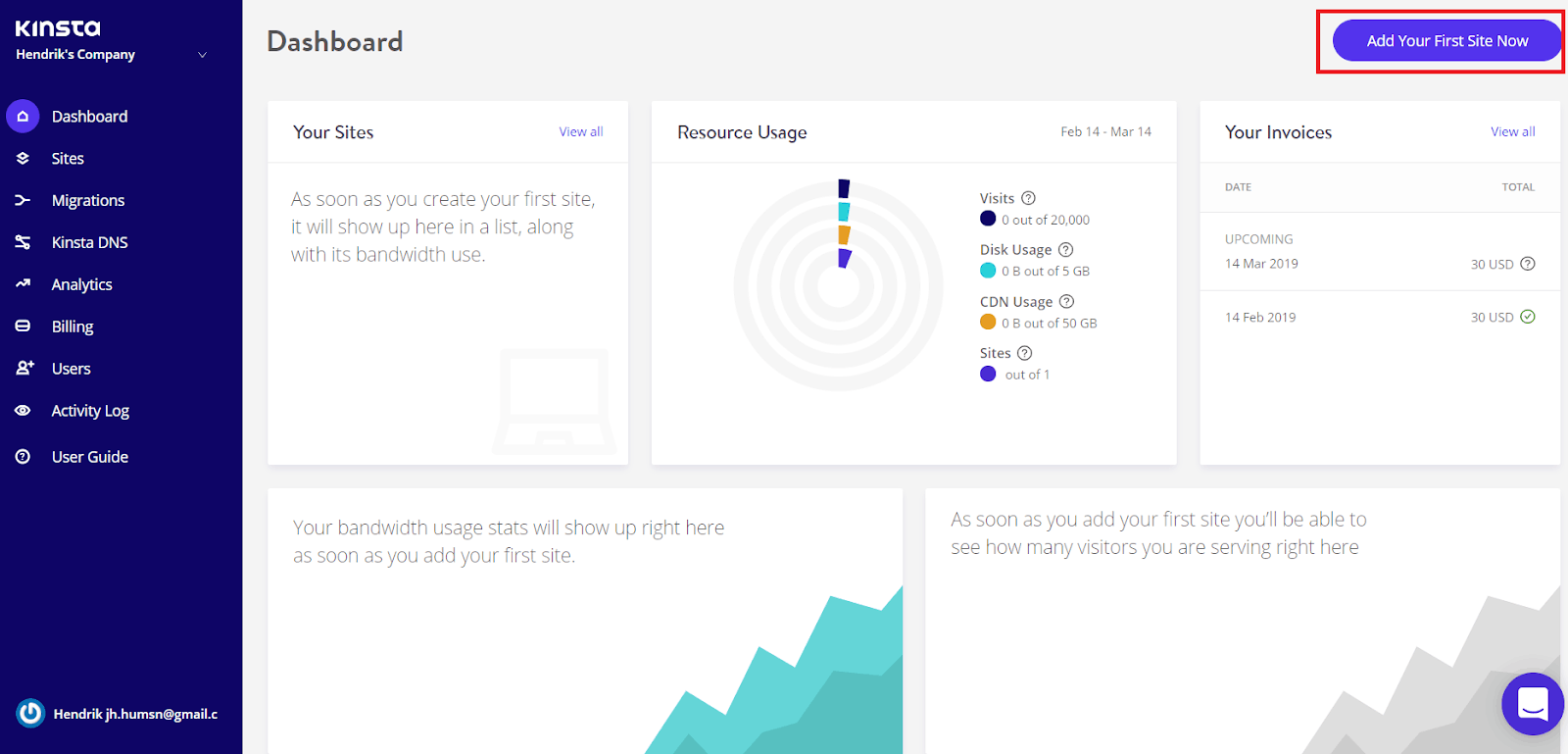 If you want to install additional websites later on, you can go to 'Sites' in the left-hand menu and install them from there: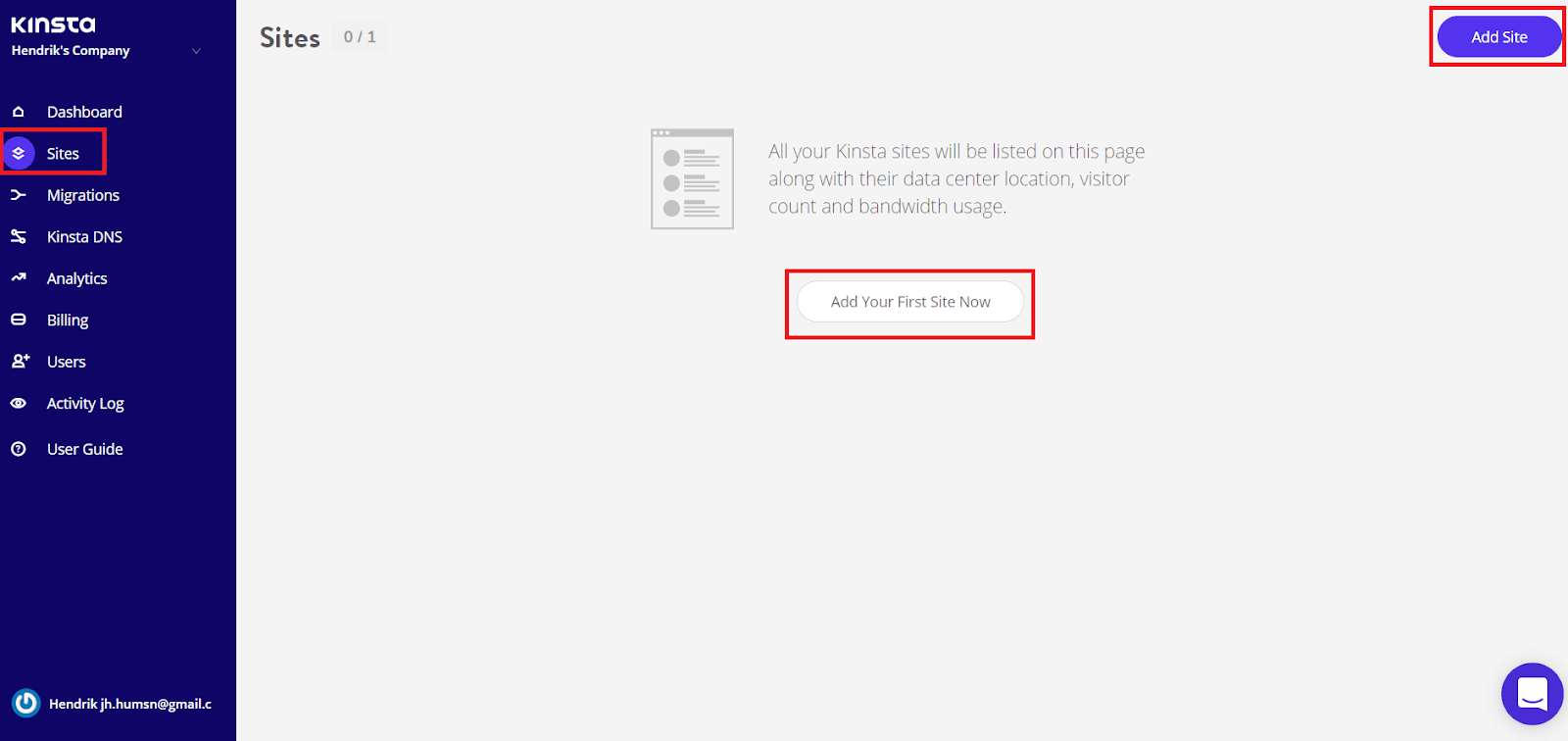 When you click one of the buttons, you'll get a popup box. Here, you can choose a server nearest to you from the first drop-down, provide a name for your website, and add a custom domain. Note that
Kinsta doesn't provide domain registration,
so for now, the only option is to provide your own. At the bottom of this popup, you can choose to install a new WordPress website, not to install WordPress, or to clone any WordPress websites you've already built: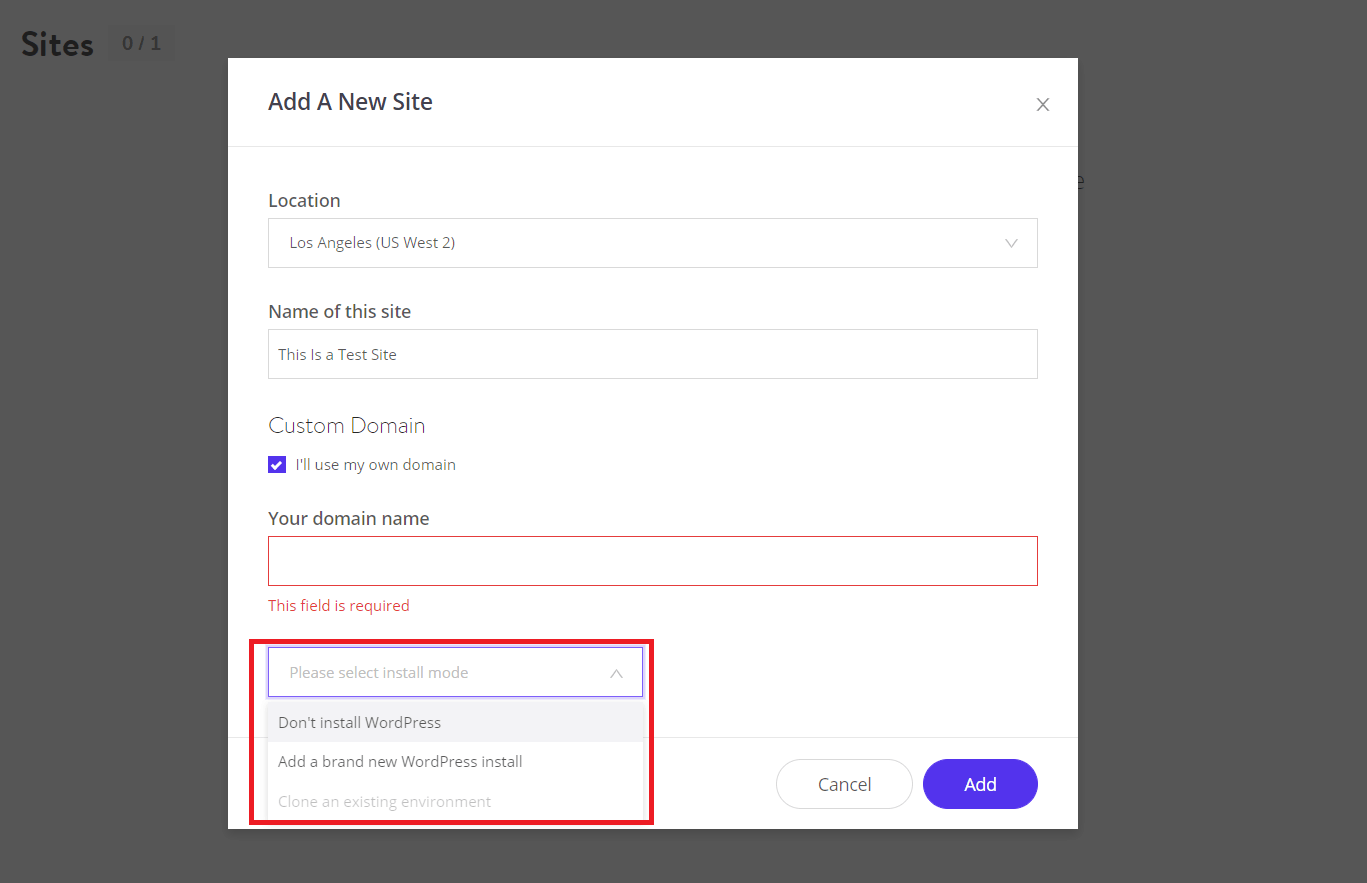 If you want to install a new WordPress website for this domain, you'll have some extra fields to fill in. These are standard things your WordPress site needs, like a site title, admin account credentials, and your preferred language. Kinsta can recommend a secure password for you which you can copy for later use or replace with your own. Finally, you can also check the WooCommerce or Yoast boxes so that they are automatically installed for you: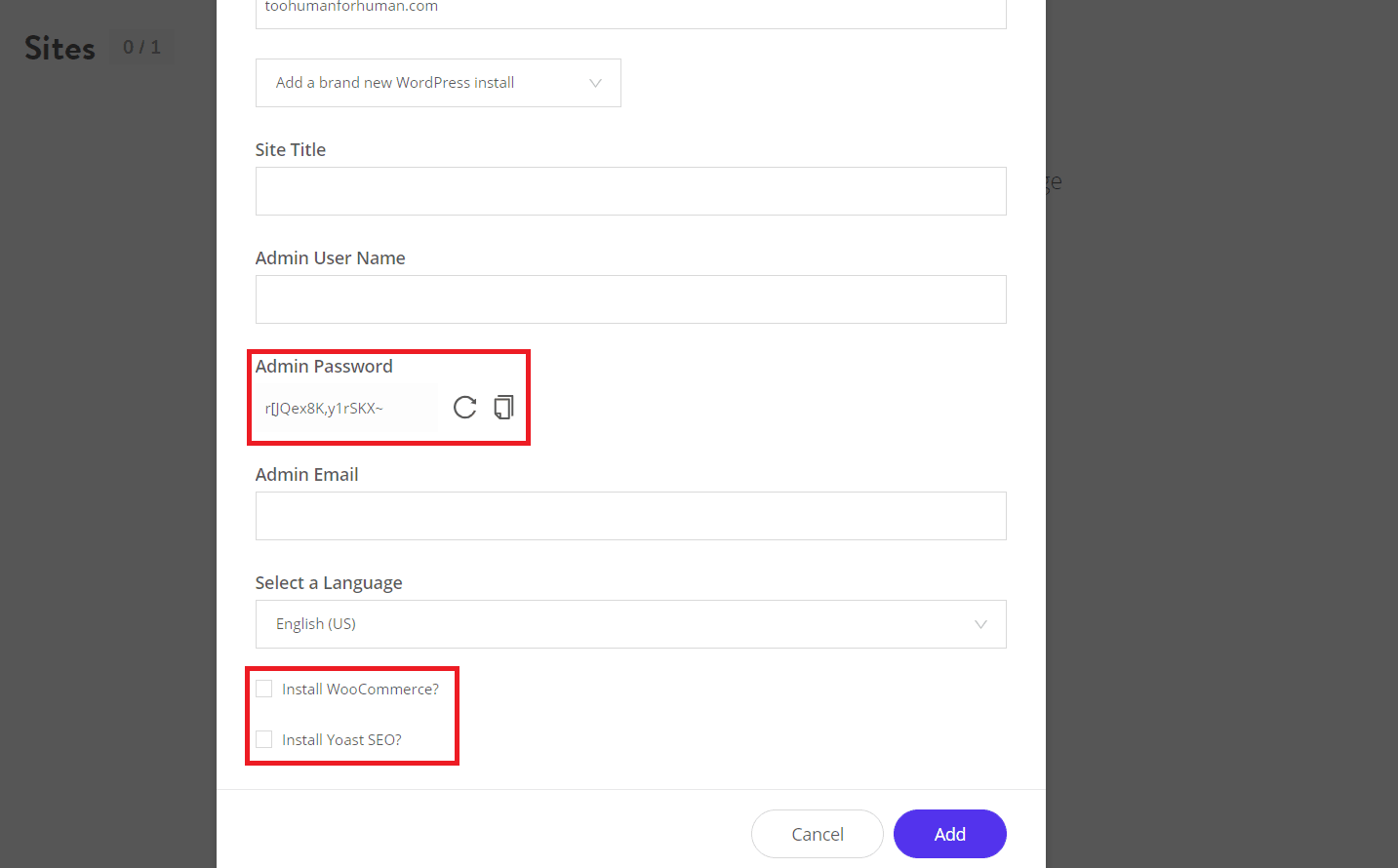 That will start installing your WordPress website. So far, so good, right? This could take a few minutes – mine took just longer than four minutes. When it's done, you'll see your brand new WordPress website in the 'Sites' panel: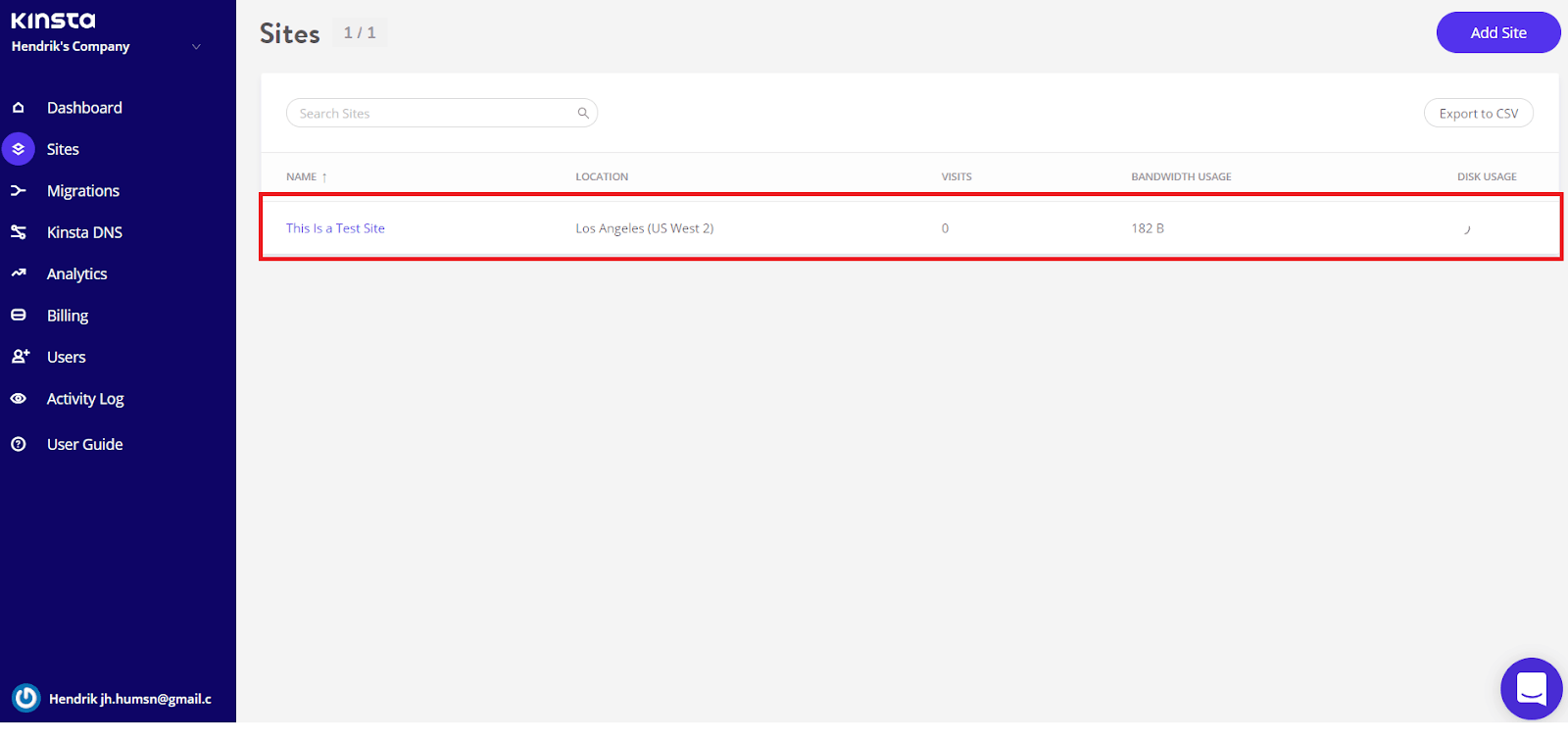 Connecting a Domain
Connecting a domain is one of the first things you'll want to do when you set up a website. Unfortunately, Kinsta doesn't provide any links to documentation regarding this in their onboarding messages or make it obvious where to do this in the dashboard.
Since Kinsta doesn't provide domain registration, you'll have to purchase a domain elsewhere and point your DNS records to Kinsta.
To connect your own domain to your Kinsta site, you'll need to choose the site from the list in the 'Sites' tab above. That will open this page: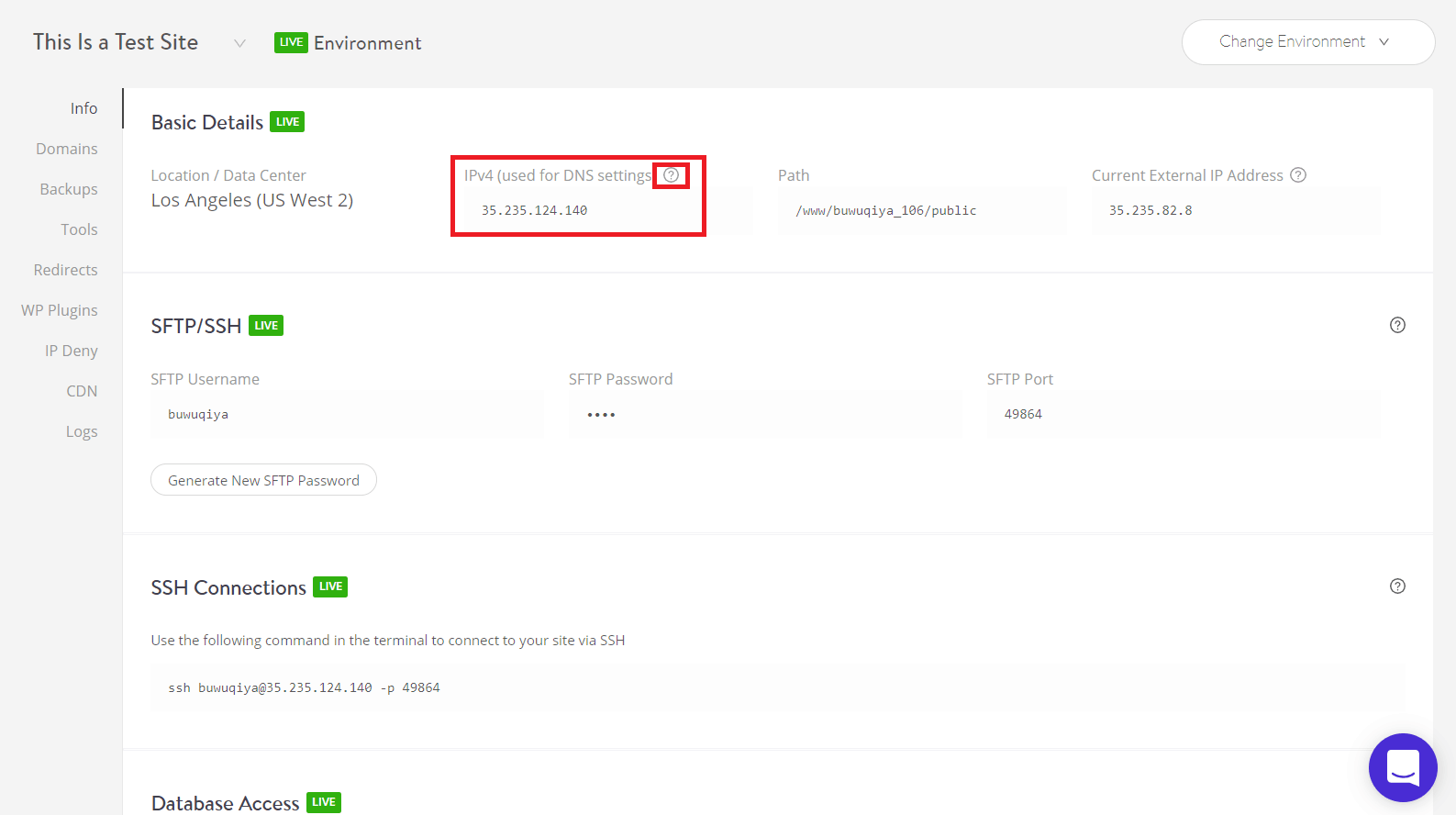 You'll see the IP you need to use to point your domains DNS records to Kinsta in the IPv4 field. If you're experienced at hosting, you'll know that this is what you need, and Kinsta does provide a tooltip if you need some clarification. Still, I think this should have been highlighted in some way. You'll need to copy this IP address to use it at your registrar to point your domain's DNS records to Kinsta. For example, my domains are registered with GoDaddy, so this is where I manage my DNS records.
The good news is that one you've done this, you're good to go! You won't have to do anything else to connect your domain.
If you're using a popular registrar like
GoDaddy
,
Namecheap
,
Bluehost
, or
Google Domains
, the good news is that Kinsta has a step-by-step guide for pointing your DNS records for each one of these. Under 'Domains', you'll also find this simple, yet useful, domain management panel. Here, you can add subdomains under your primary domain and follow the link to your WordPress website: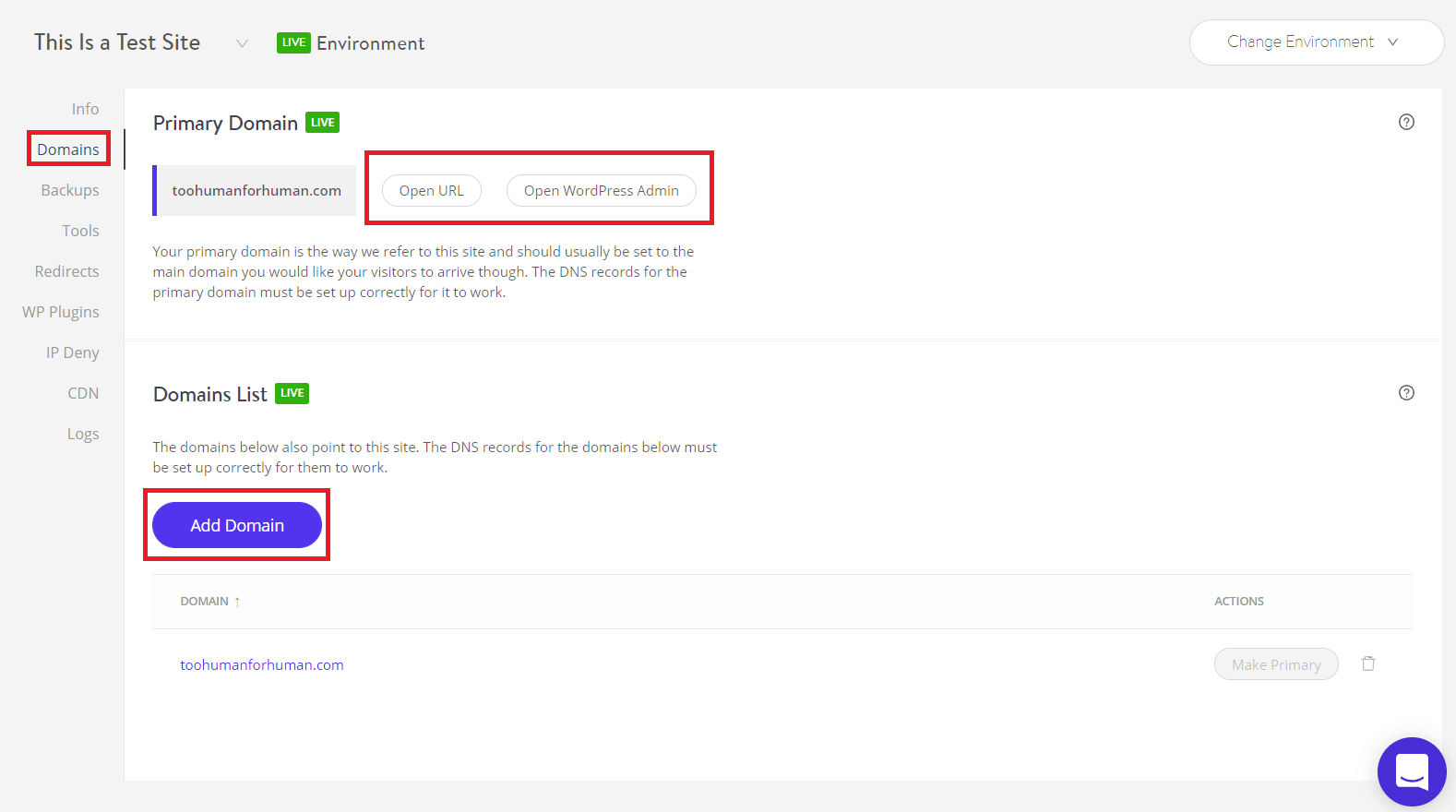 If you're not scared of a little extra work, Kinsta offers a fantastic feature:
They've partnered with Amazon's Route 53
(a global Anycast network) and integrated its DNS management tools right into the MyKinsta dashboard. This is a premium feature that you'd usually pay extra for, but
it's included for free in all Kinsta's hosting plans.
It adds a DNS failover as well as geolocation routing to make sure your DNS is always routed via the nearest points with the least latency. Once you've set it up, you'll also be able to conveniently manage your DNS from within the Kinsta dashboard. Setting this up is not rocket science, but it will take you another 30 to 40 minutes as you'll need to mess around with a bunch of DNS records.
Kinsta provides step-by-step documentation on how to do this in their knowledgebase.
Setting up a DNS
Of course, you'll also want to take full advantage of the premium KeyCDN included in your plan – I know I did!
Unlike connecting your domain, Kinsta actually does provide links on how to do this in the onboarding messages you get, so it shouldn't be too hard to figure out. You'll set up the CDN on a site-to-site basis. If you're still in the same site's settings panel, you'll just move to the 'CDN tab in the menu:
There's a lot of information, mostly disclaimers, about using KeyCDN here. The most important thing to note is that
you only get a certain amount of free CDN bandwidth with each hosting plan.
If you go over this limit, Kinsta will keep your site live and automatically charge you overages for the extra bandwidth used. If you agree, then click the 'add zone' button to set up KeyCDN. Simply click 'OK' on the confirmation popup: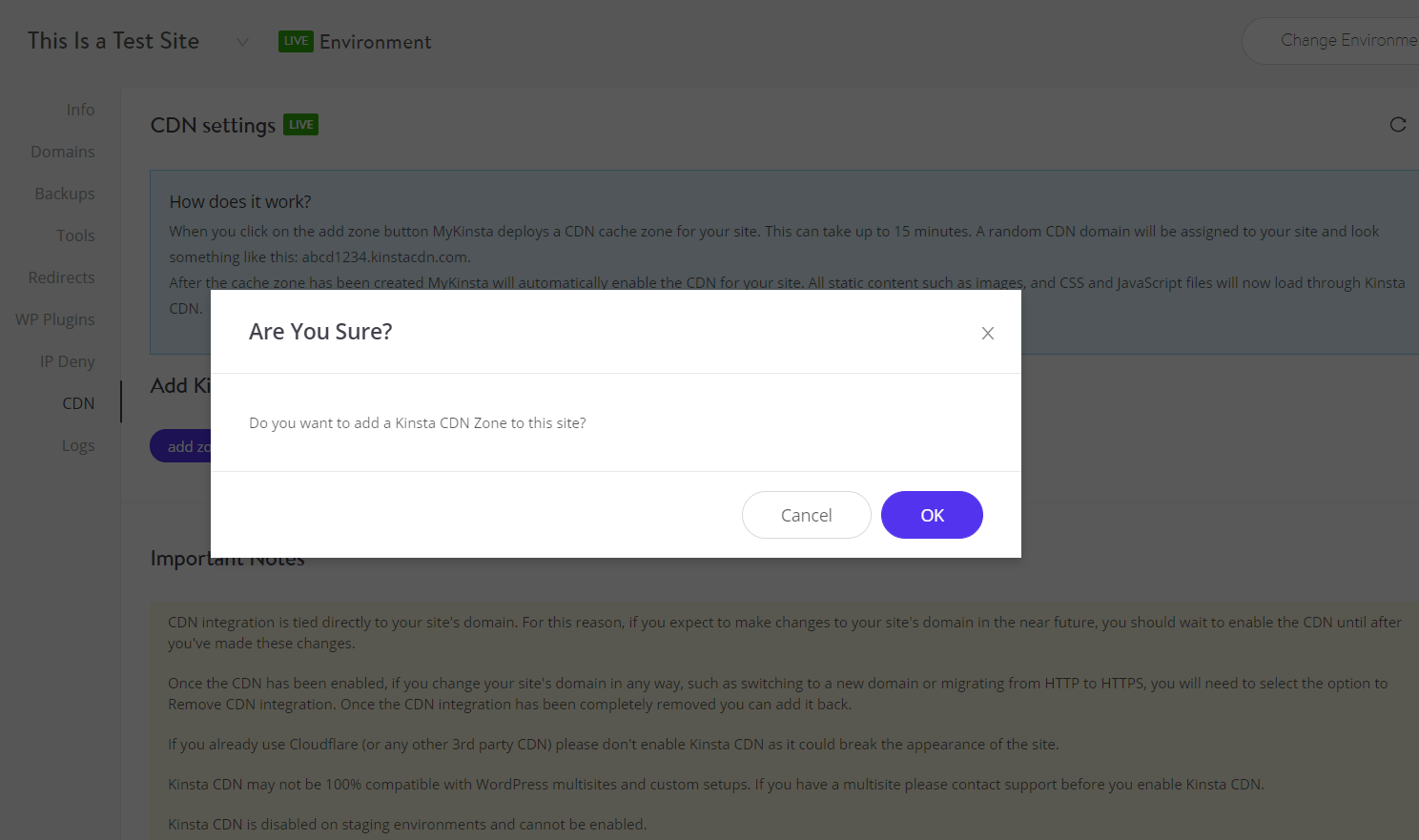 KeyCDN will be set up on your site. It always takes a while for a CDN to propagate, and you're usually never sure when exactly it's done. Kinsta spares you the guessing game, showing you at which stage your CDN is and when it's 100% up and running: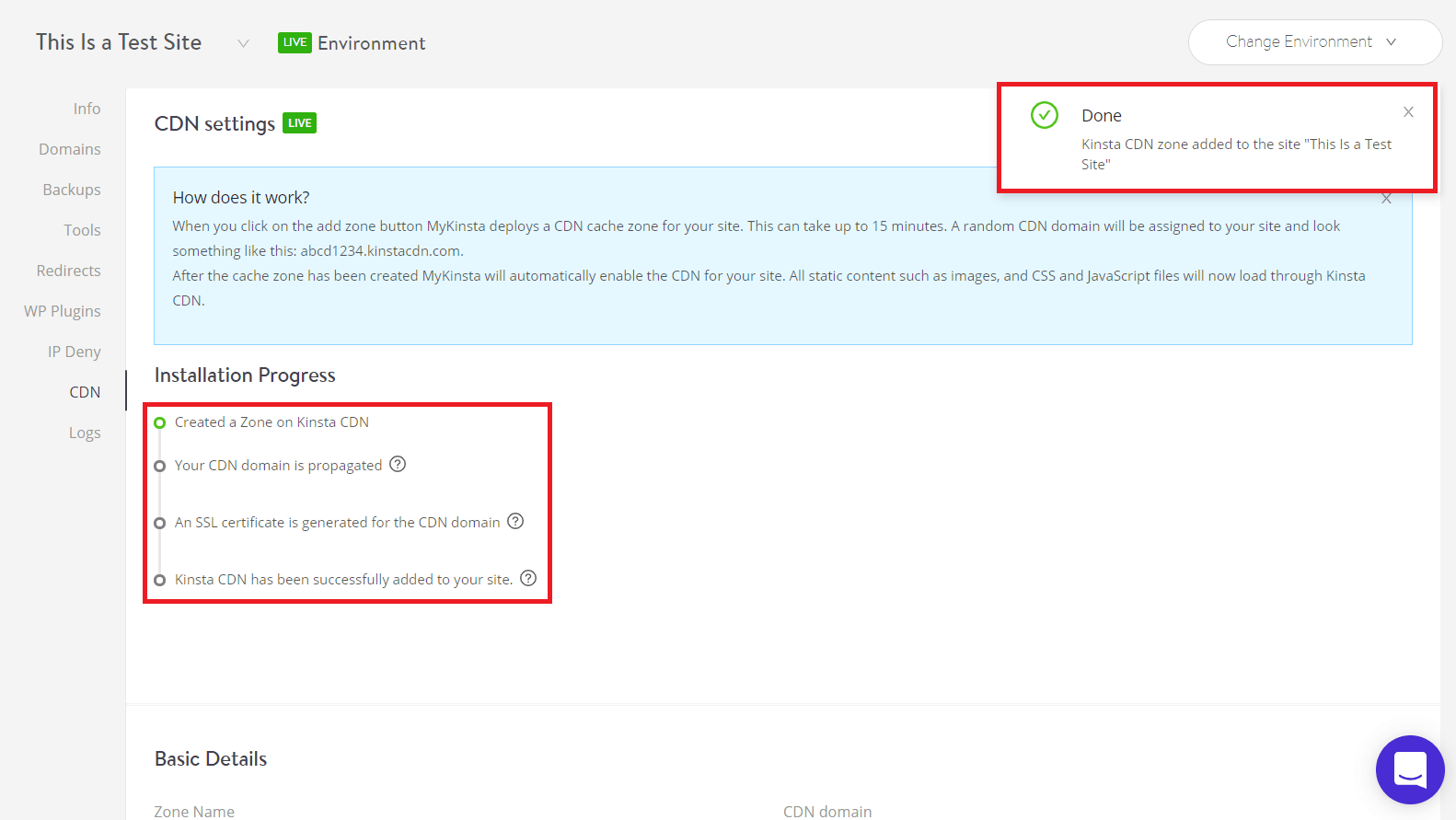 Kinsta says that each step takes about five to ten minutes to complete, but my setup only took about ten minutes total. You'll know it's done when the panel looks like this and you see the options to disable the CDN, clear the cache, or remove it: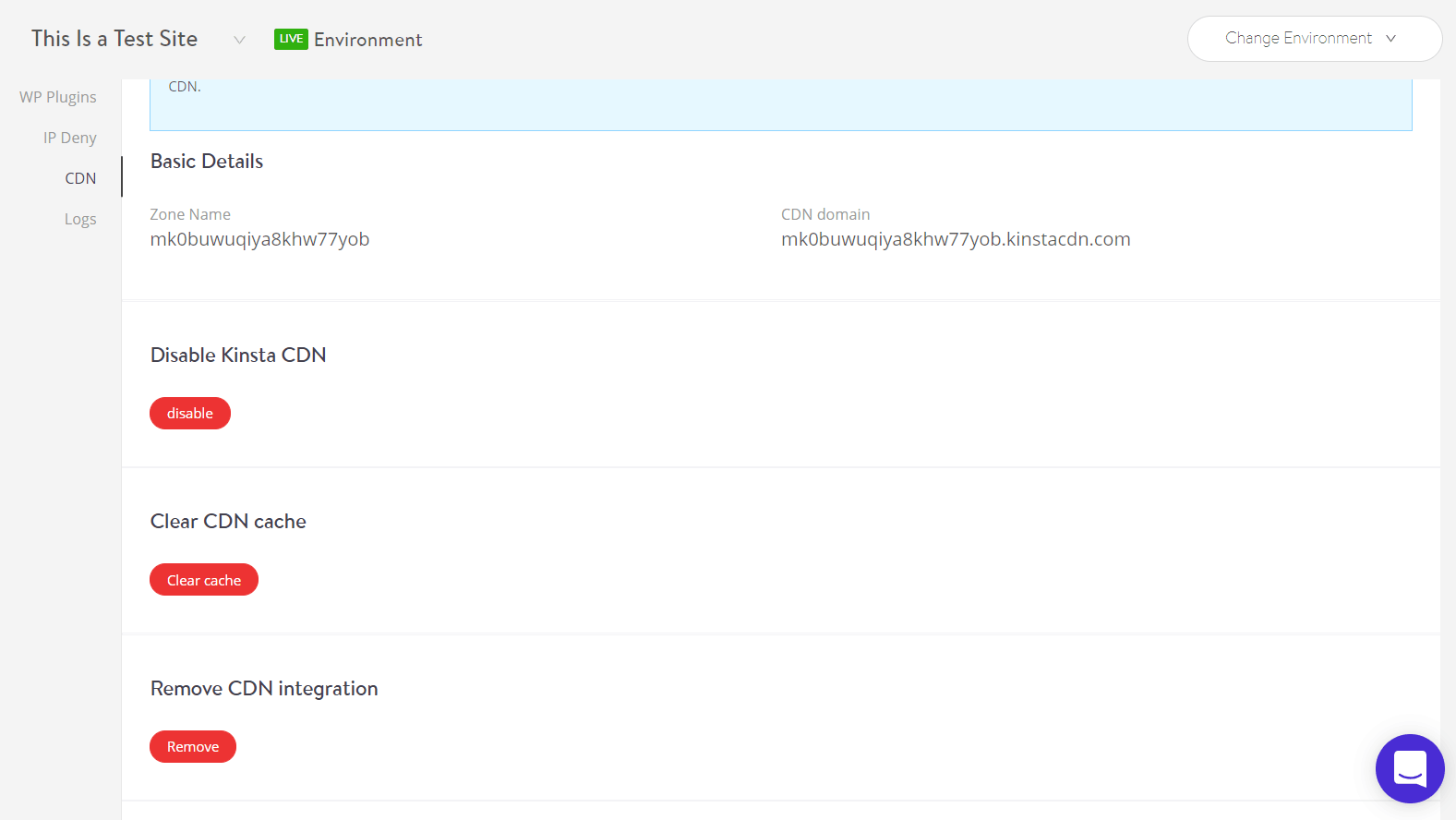 Surprised? So was I! Who thought installing a premium, third-party CDN could be this easy?
Premium Hosting That's Surprisingly Easy to Set Up
Sure, Kinsta doesn't exactly hold your hand through the setup process. To be fair, The company's customer base is probably made up of people who have set up hosting before. If you have some experience doing this, you should feel right at home with the excellent dashboard. I felt like the dashboard really stood out from most others I've used so far. It's very user-friendly but still has a professional look-and-feel with very neatly organized navigation. Not only that, but there are helpful tooltips and help links everywhere. To my surprise,
I was able to install a WordPress website, connect a domain, and activate the CDN in just under twenty minutes.
Even better, for most of this time, I was just waiting for stuff to finish installing. I also loved that the dashboard shows how far your CDN is from being set up. Most hosts just say something vague like "it will take up to 24 hours", so you're never actually sure exactly when it's done. If you still think Kinsta looks a bit too technical or too advanced, then you might be better off with an entry-level, beginner-friendly hosting option like
GoDaddy
. If you're the kind of user who prefers cPanel,
Inmotion Hosting
is a superb option. To find out if Kinsta performed equally well across the board, read my
full Kinsta review
.