We put Kinsta's refund policy to the test. We're happy to report we received our refund in full, even though we signed up for the cheapest plan.
Kinsta is a top-shelf premium managed WordPress host. However, despite its merits, it's not the most affordable or beginner-friendly option compared to other managed WordPress hosting services.
If you felt like managing your Kinsta hosting was out of your comfort zone, or you just felt like it wasn't worth the price tag, then don't worry! The good news is that you have a 30-day money-back guarantee to fall back on.
Even if you're past the first 30 days, Kinsta lets you cancel your account at any time for a prorated refund.
So, if you've made up your mind, then read on as I'll show you Kinsta's refund policy and cancellation process in action.
If you're looking for more affordable, more beginner-friendly hosting, then you might be better off with Flywheel. While Flywheel offers great performance, still has plenty of features professional website builders will love, but in an even simpler and more intuitive custom dashboard.
Cancel Your Account and Get a Refund Step-By-Step
Unfortunately, Kinsta doesn't let you automatically cancel your account and apply for a refund. Instead, you'll have to contact customer support via the live chat: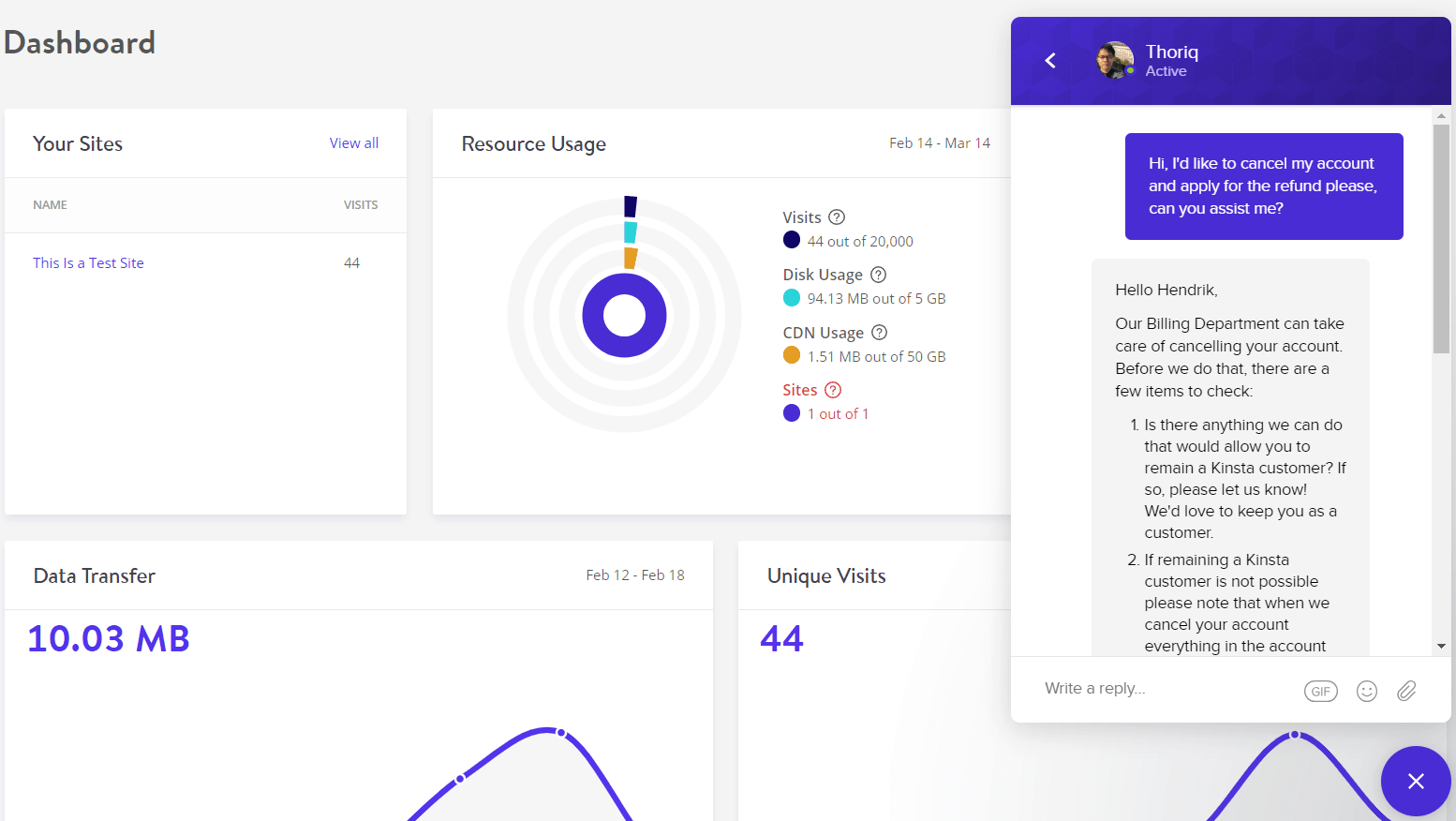 Kinsta's live chat support is almost always instantly available, so you shouldn't have to wait long for a response.
The rep will ask you a few standard questions, such as whether they can do anything to keep you as a customer and whether you acknowledge that you'll lose access to your account and anything in it. As you can see, the message was slightly long-winded, but at least they don't try to coerce you in any way.
Once you agree, your case will be handed over to the billing department: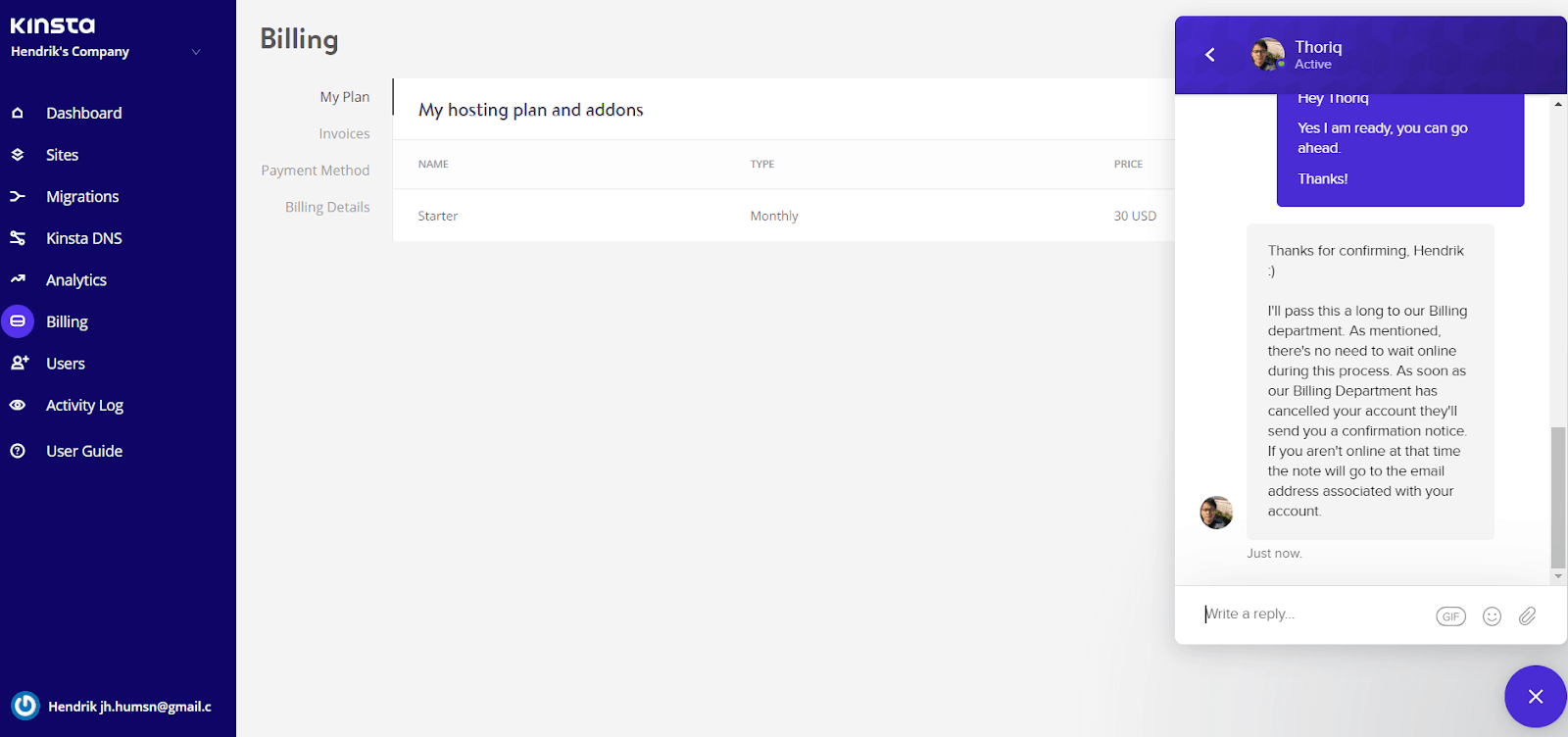 As soon as the billing department approves your case, they'll send you another message through live chat. You'll also lose access to most of the pages in the MyKinsta dashboard, but you'll still be able to log in. They don't make any promises as to how long this process will take, but in my case, it took about two hours: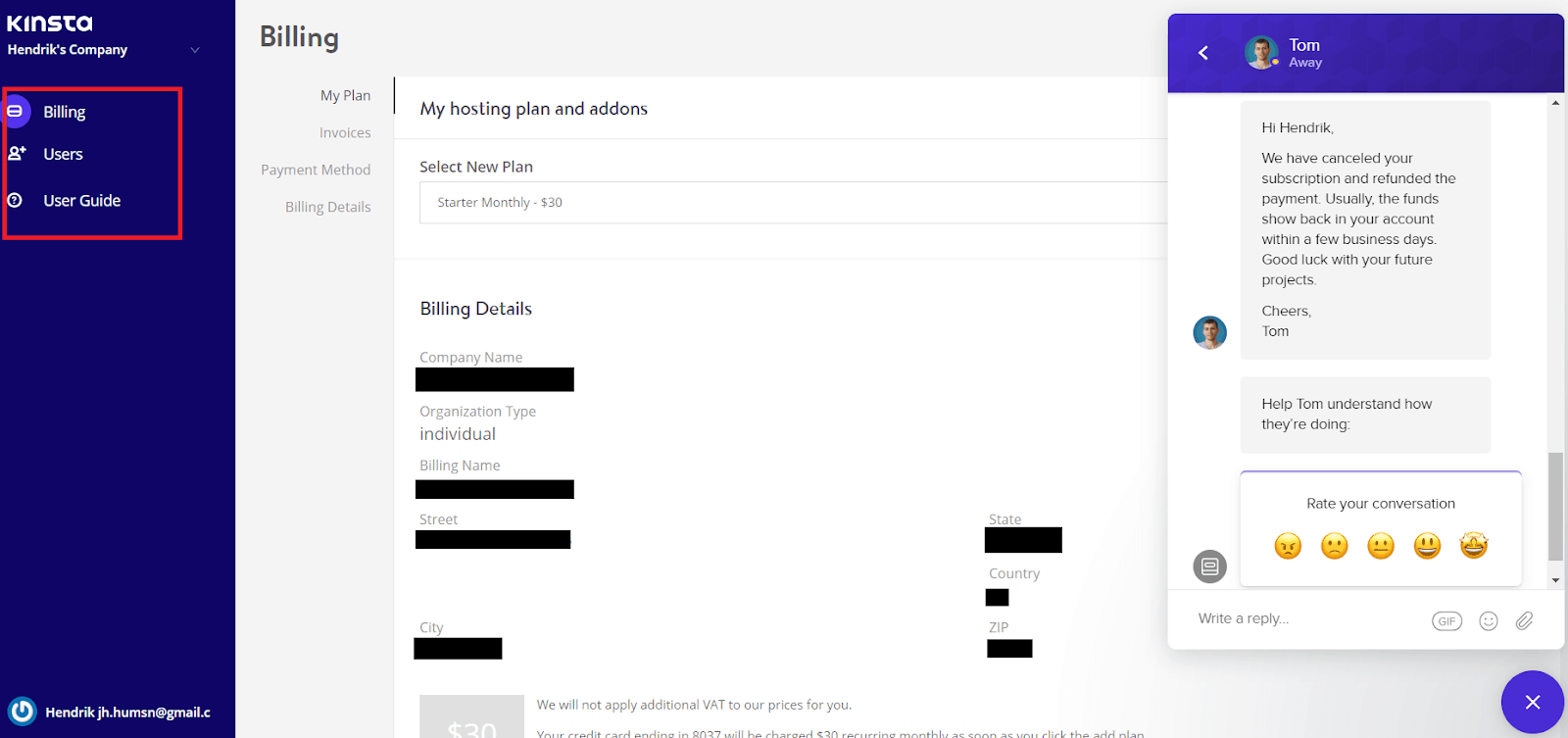 One of the pages you'll still have access to is the billing page. If you're still considering coming back to Kinsta, you can quickly and easily buy a new hosting package from there.
Kinsta will also send you the chat transcript in an email.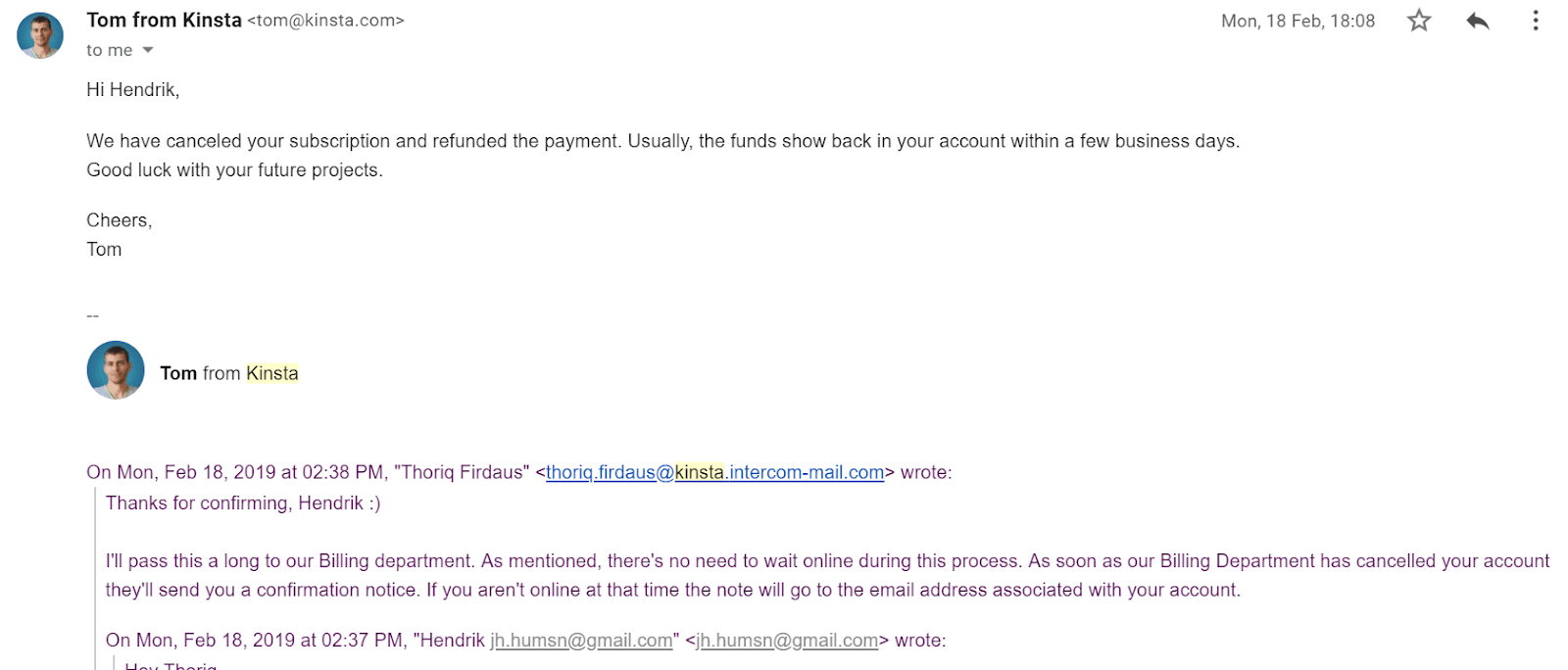 I got this message from the billing department five hours after I made the request. They said they had already processed the refund, meaning they complied with my request in less than five hours. That's pretty good.
Like most hosts, they can't guarantee when you'll actually receive the refund, because it mostly depends on your bank's processing times. I made my request on a Monday, so I wasn't expecting to wait too long.
Sometime Tuesday night, the funds were already back in my account! That's actually less than two business days! That's impressive, since most hosts set a minimum of two business days, and it usually takes a few days longer than that. It also means Kinsta must have processed the refund very soon after my request, just like it said in the email.
The amount I got refunded didn't exactly match what I paid, so I contacted them to find out what the reason could be. From experience, I know that this is most likely because my bank account is not in U.S. dollars. I mostly wanted to check if their response times are just as fast when you're no longer a paying customer: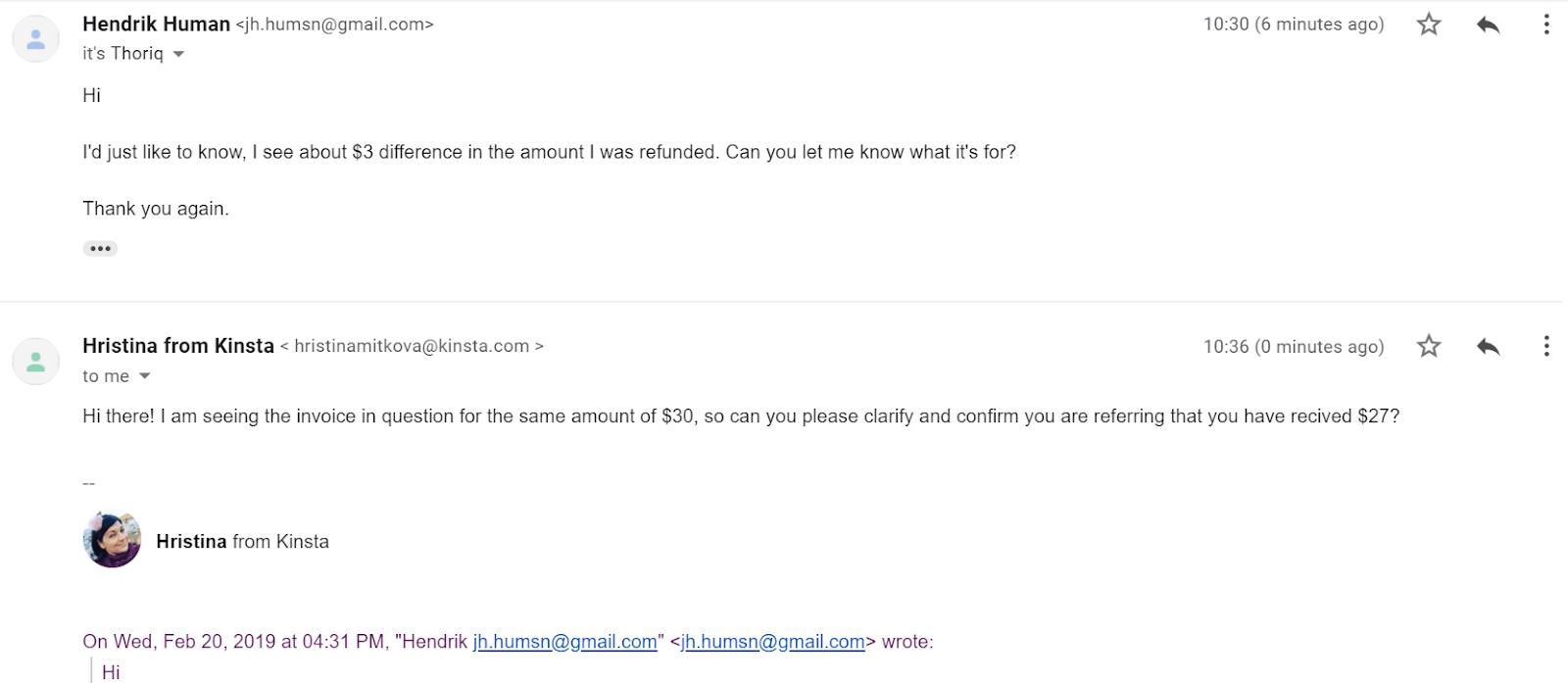 As you can see, I still got an email within 6 minutes. The rep didn't know what the issue could be, but at least I got a response within a short amount of time.
I also noticed that by now, I no longer had the chat function in my dashboard. This would've been great for any follow-up questions, but I feel like they already went out of their way to accommodate me by leaving it up for a few hours afterward.
Kinsta's Cancellation Process is Quick and Painless
Although you can't automatically cancel your account through the dashboard, Kinsta still manages to pull off one of the quickest and easiest cancellation and refund processes.
There were no hidden clauses, and they didn't try to get me to buy another plan.
I received the refund within 36 hours of first making the request, which is the quickest I've been refunded yet.
If you're looking for a new host, I can recommend Flywheel. It's another superb host with transparent pricing and a quick and easy refund process. If you change your mind again, you can automatically cancel your account without having to contact support first.
If you're still undecided, you might want to have a look at my in-depth Kinsta review to see if you missed anything that might win you over and make you stay, or whether you're really better off parting ways.