I put Kinsta's refund policy to the test to see if it's really as easy as Kinsta claims. I'm happy to report I received my refund in full, even though I signed up for the
cheapest plan
. What's more, the cancellation process was one of the easiest (and fastest) I've encountered!
Kinsta is a top-shelf premium managed WordPress host that's made it onto our list of the
top 10 web hosting providers in 2023.
However, despite its merits, it's not the most affordable or beginner-friendly option compared to other managed WordPress hosting services. If you felt like managing your Kinsta hosting was out of your comfort zone, or you just felt like it wasn't worth the price tag, then don't worry!
The good news is that you have a 30-day money-back guarantee
to fall back on. That makes it a 100%-risk free option if you're not sure whether Kinsta is right for you! Even if you're past the first 30 days,
Kinsta lets you cancel your account at any time for a prorated refund.
So, if you've made up your mind, then read on as I'll show you Kinsta's refund policy and cancellation process in action. If you're looking for more affordable, more beginner-friendly hosting, then you might be better off with
Nexcess
. While Nexcess offers great performance, still has plenty of features professional website builders will love, but at a lower price than Kinsta! You can read more about our
experience with Nexcess in our expert review!
Cancel Your Kinsta Account and Get a Refund in 4 Easy Steps
Canceling your Kinsta plan is a simple process that takes less than five minutes to complete. Kinsta has taken extra precautions to make sure you can't cancel your plan by mistake.
Unlike with some hosts, when you cancel with Kinsta, your website data is deleted immediately – so only cancel when you have full backups of all your data.
It absolutely cannot be retrieved once you've completed the final step of the cancelation process.
1. Log in to MyKinsta
The login button can be found in the top right of the main Kinsta website, or you can visit my.kinsta.com directly.
2. Navigate to your hosting plan page
You'll find your hosting plan in the
Company
section of the Kinsta dashboard (even if you signed up for an 
Individual
plan).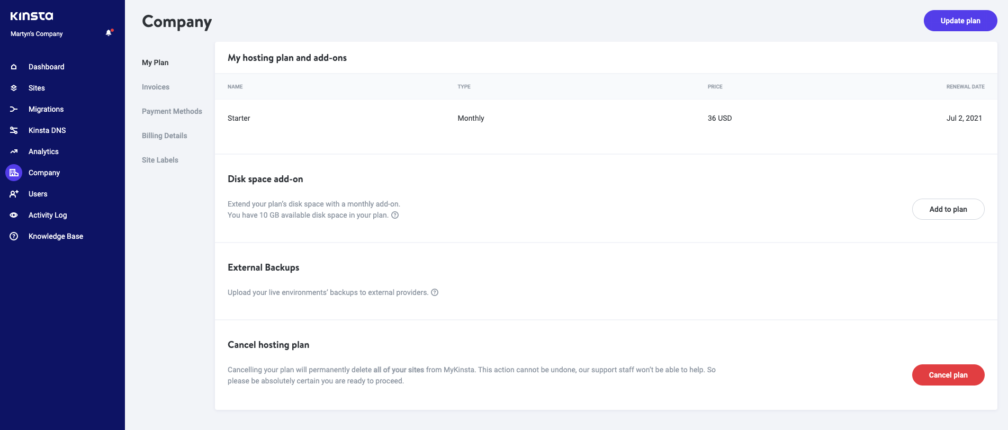 3. Click the Cancel button to begin the process
Once you click the 
Cancel
button in the bottom right of the screen, you'll be taken through the cancellation process via a series of pop-up windows. In the first window, you'll see an explanation of the cancellation process and be asked to check two boxes to confirm that you understand that all your data will be permanently deleted.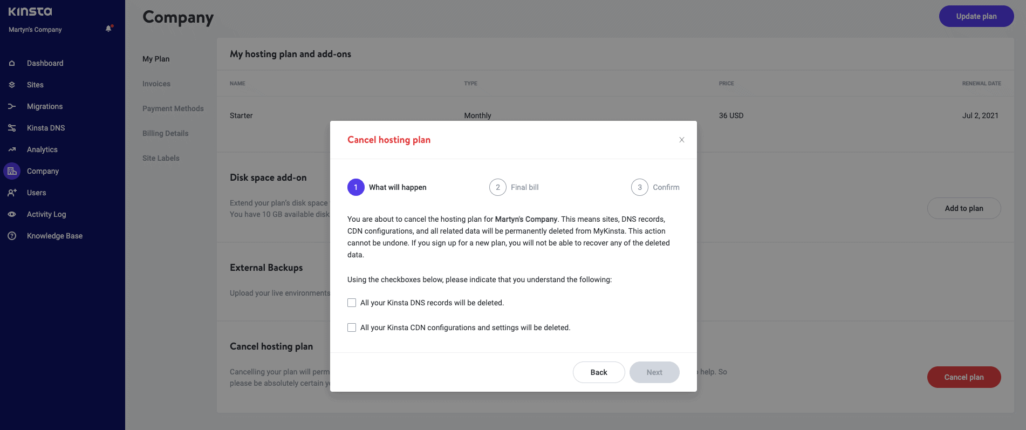 Once you click 
Next
, the second popup will give you details of your final bill. If you're canceling within the first 30 days of your plan, you'll receive the full amount back that you paid when you signed up. If you're canceling after the 30-day money-back guarantee has expired, then this popup window will show you the pro-rated refund that you'll receive for any unused time on your plan.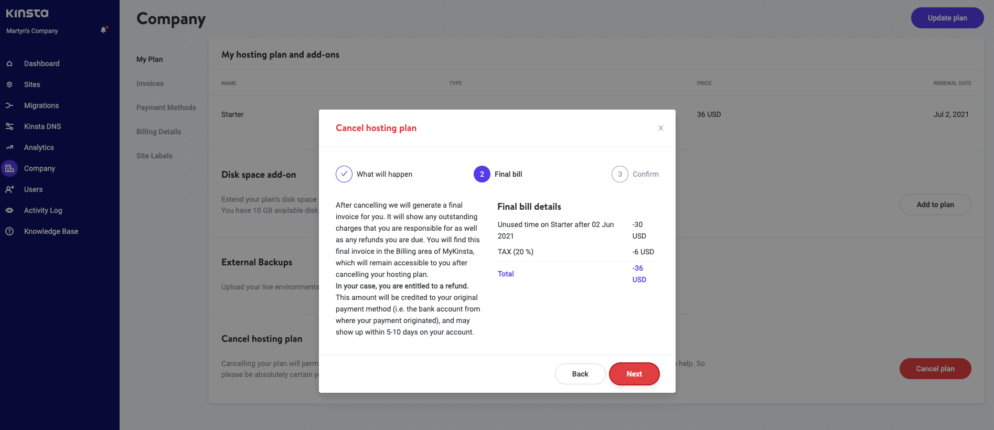 The third and final pop-up window contains a final warning that once you click on the
Cancel plan
button, there's no going back,
and even the support team won't be able to retrieve your data.
You must make sure you've taken backups of your data before you click this button as it really is as final as it sounds! When I went through the cancelation process for this tutorial, my data was instantly deleted. As an extra security measure, you'll also have to enter your MyKinsta password in order to complete the cancelation process.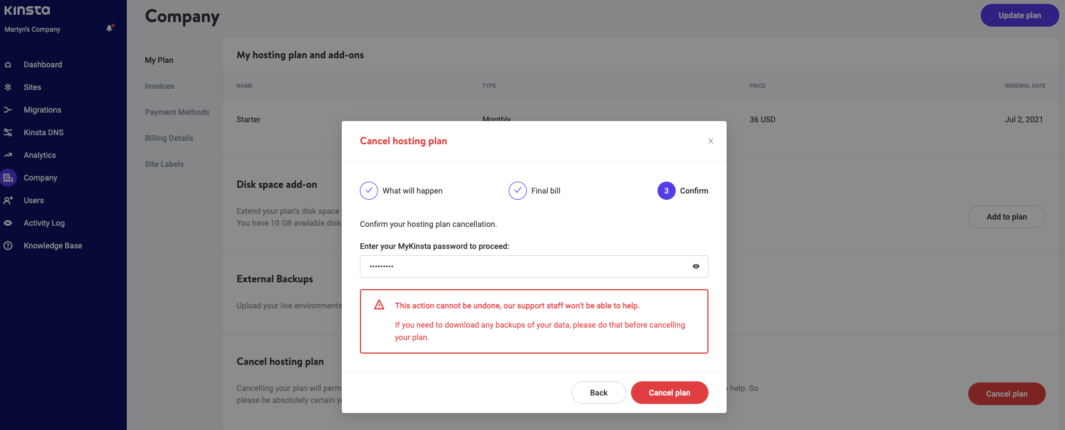 4. Receive your refund
Once you've canceled your Kinsta plan, it takes up to 5-7, working days to receive your refund. I had my money back in my account after just 36 hours – which is pretty impressive!!
Kinsta's Cancellation Process is Quick and Painless
Thanks to its super-simple cancelation wizard, Kinsta manages to pull off one of the quickest and easiest cancellation and refund processes. There were no hidden clauses, and they didn't try to get me to buy another plan. I didn't even have to state why I was canceling (although there was an optional survey at the end).
I received the refund within 36 hours of first making the request,
which is the quickest I've been refunded yet. If you're looking for a new host, I can recommend
Nexcess
or
A2 Hosting
. Both are superb hosts with transparent pricing and quick and easy refund processes. If you're still undecided, you might want to have a look at my
in-depth Kinsta review
to see if you missed anything that might win you over and make you stay, or whether you're really better off parting ways.