GreenGeeks has ranked high on our web hosting lists for quite some time, and for good reason. Whether you want shared hosting, VPS hosting, or reseller hosting, you can find it here, for a fairly reasonable price.
The company's real claim to fame, of course, is its eco-friendly operations and data centers.
GreenGeeks uses completely renewable energy and puts more energy back into the grid than its data centers consume. If the not-inconsiderable impact of web hosting on the environment is something that matters to you, then GreenGeeks should catch your interest. But today, as you might have guessed by the title, we are reviewing something a little more specific than its general services:
We wanted to know more about GreenGeeks' WordPress plans. Are they any good?
 Are they that different from the regular shared hosting plans? How's the server performance? I went undercover as a "totally not a reviewer" sort of customer to find out. I set up a testing site and tested everything I could on the plan I got. Keep reading to learn what I found out.
Features
Most of GreenGeeks' Features Are under the Hood
Frankly, most of what GreenGeeks does is infrastructure.
There aren't that many flashy or fancy features to make headings out of. Just good, dependable server architecture. It's not something I can easily show you in a picture (though I certainly try down in the
Performance
section of this article).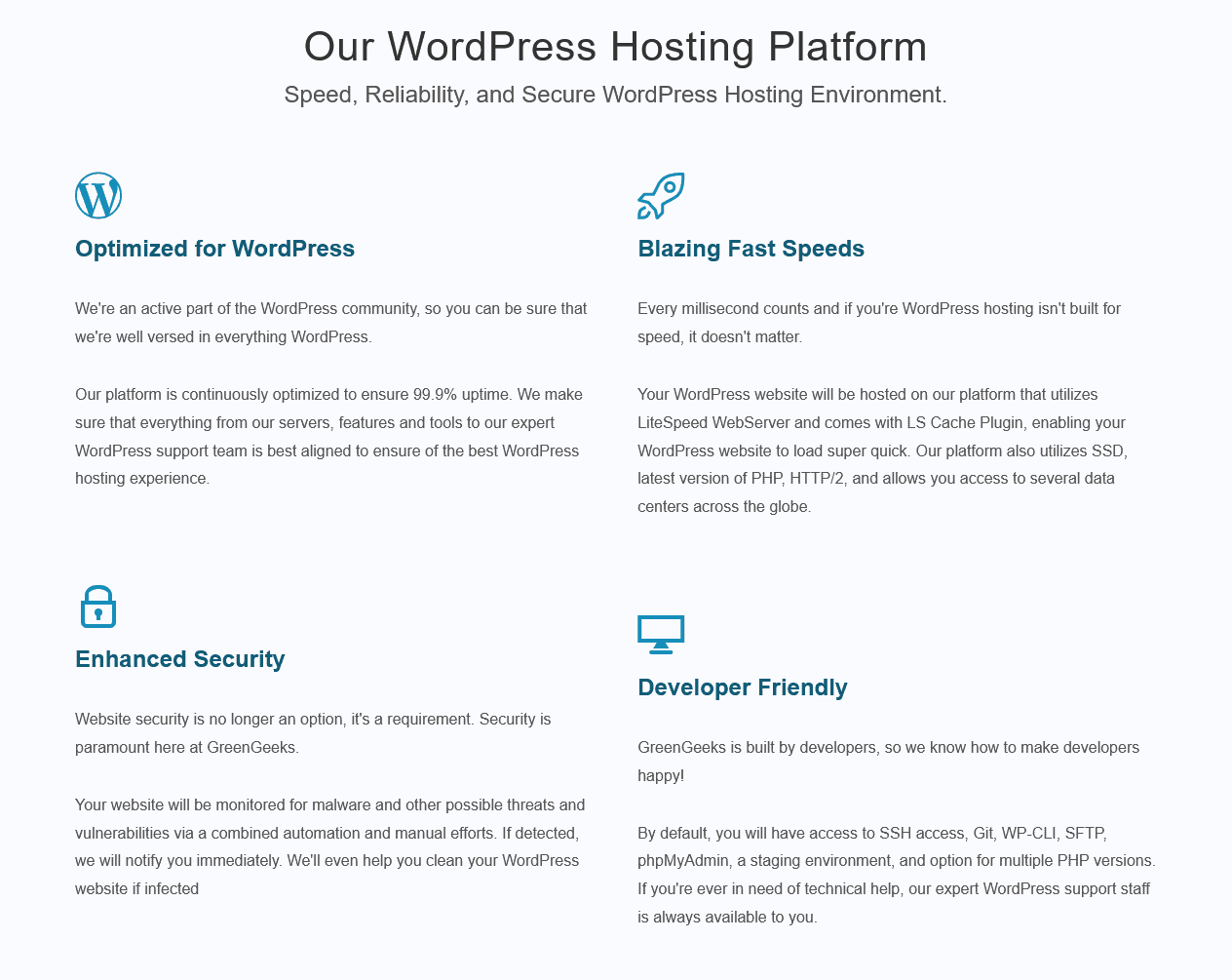 I started off with the Lite plan, which offers:
Support for one website. This means you can only attach one domain to your hosting account.
50GB of storage. The higher-tier plans have unlimited storage.
Unmetered bandwidth. Within reason.
Standard performance. *Sigh.* Whatever that means.
And then, pretty much all plans get:
Free SSL certificate. Nice to see that this is becoming the standard.
Free domain name for the first year
Unlimited email accounts
WordPress installer/updates
Unlimited databases
30-day money-back guarantee
Built-in CloudFlare CDN
Developers will be happy to know that you can get terminal access to even the shared hosting. Want to do things the nerdy way? GreenGeeks is for you.
I mean technically, Hostinger does most of this stuff cheaper, including a couple of the features below, but GreenGeeks has more going for it than just its feature list.
 That said, here are a few more things you will get with a WordPress plan:
WordPress Sites Are Powered by LiteSpeed & LSCache
Without going into too many of the technical details, let's just say that
GreenGeeks' hosting is designed from the ground up to be fast.
 The LiteSpeed server software largely lives up to its name, and the included LSCache plugin further enhances that speed. There are some other performance optimizations in play, such as lazy image loading. Look, I said this would be mostly background stuff, and I wasn't kidding.
The WPForms Plugin Is Included for Free
Well here's something you won't get with every host: the WPForms plugin.
 Like the name suggests, it's an easy way to add advanced forms to your WordPress site without having to know any code. It includes form validation, multipage forms (for signups, surveys, and the like), spam protection, file uploads, and more. This is something you'd normally have to pay for on a monthly basis, with increasingly steep prices if you want to put it on multiple sites. GreenGeeks' WordPress plans let you put it on all of your sites for free.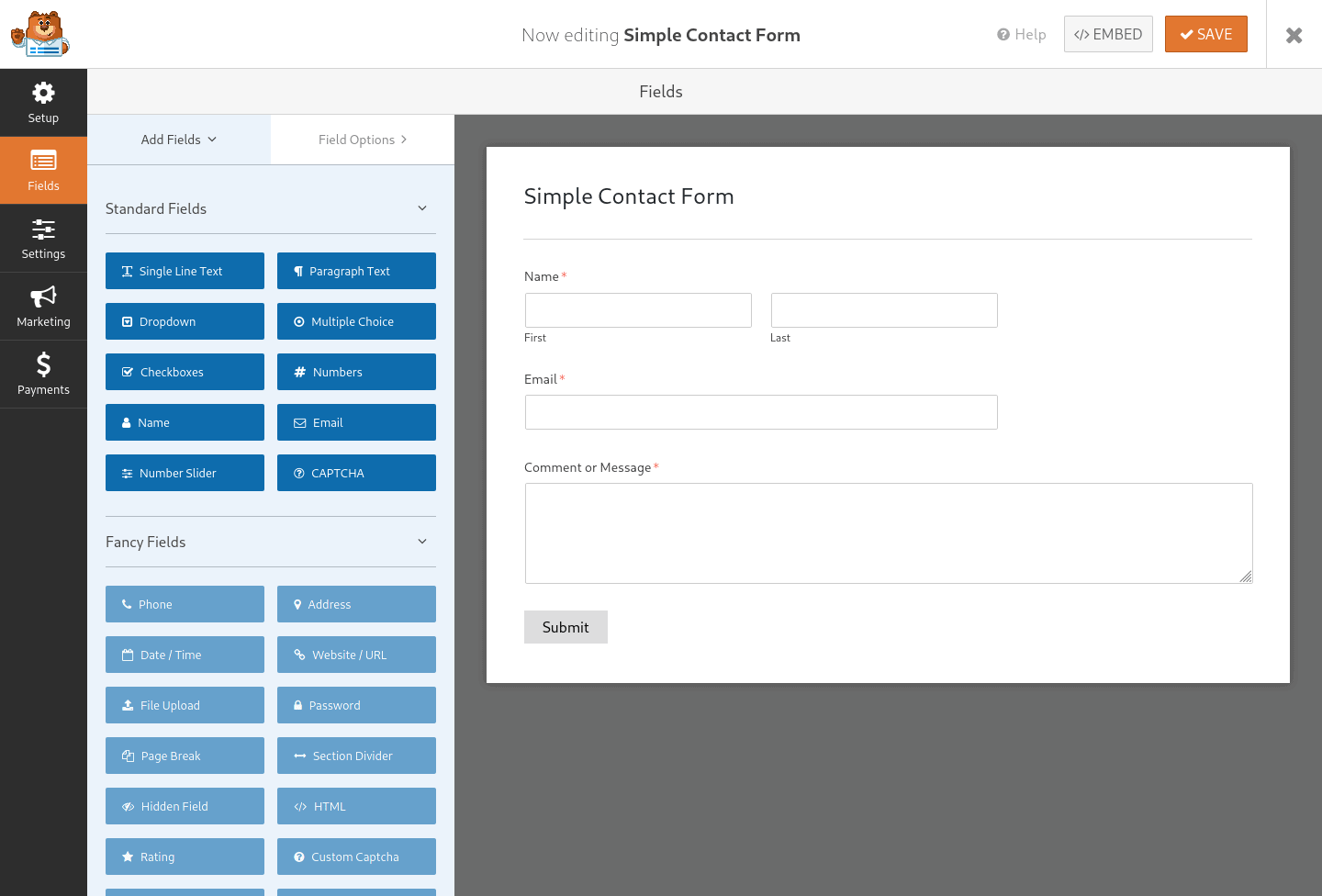 cPanel & Softaculous
Yep, the WordPress plans come with a full cPanel setup, so you can configure pretty much anything you want.
It also adds a touch of familiarity for most people who've ever hosted a website before. Also included is Softaculous, so you can install almost anything you want besides your WordPress site: an online store, CRM software, time tracking software, a small social network (not recommended on the Lite plan), or even another blog.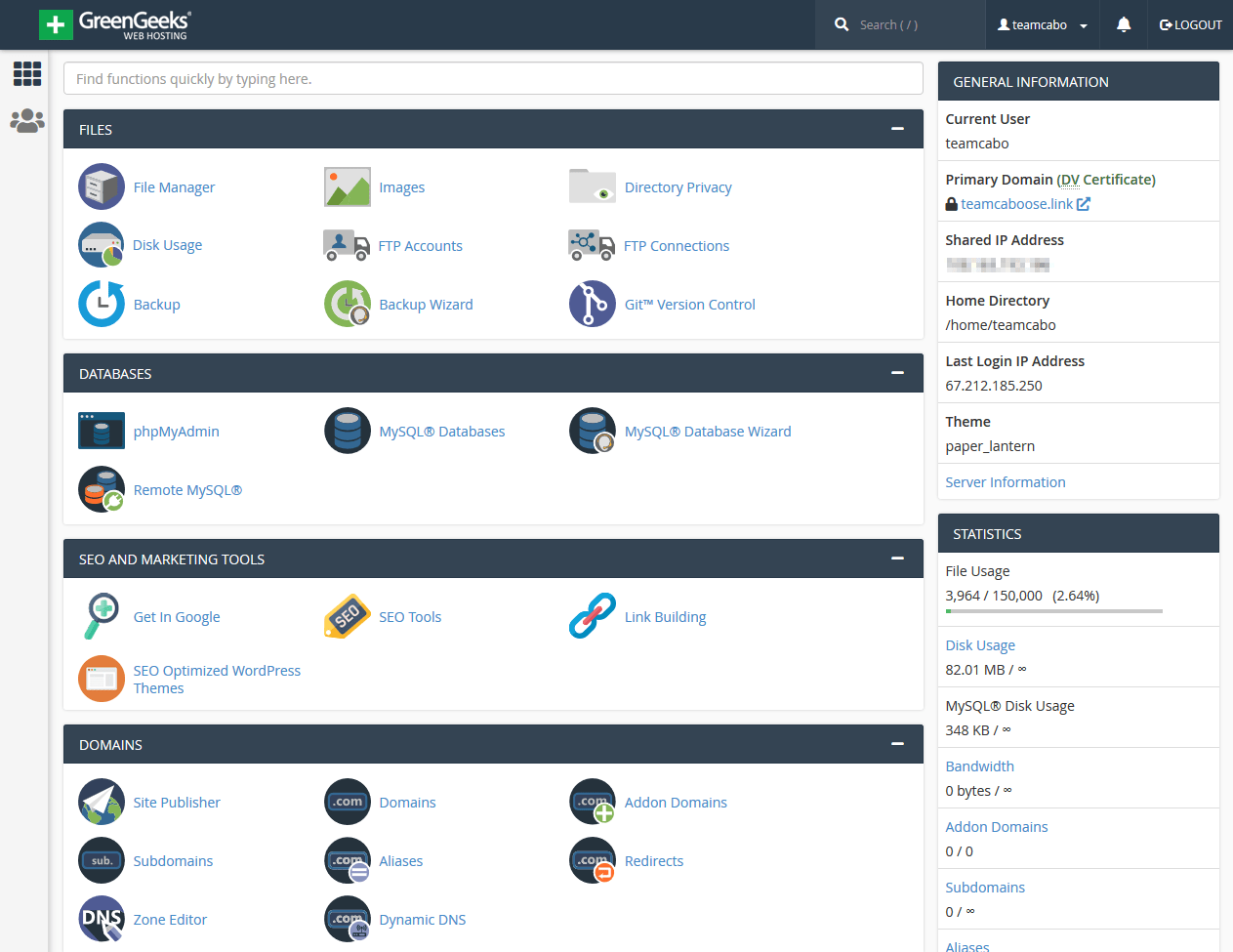 Free Nightly Backups
Oh hell to the YES! Lots of hosting services offer backups (though some will make you pay extra), and that's fine. But very
few include backups that happen every night. GreenGeeks does.
 Even if the very worst happens, you'll never lose more than a day's worth of content. Sure, for high-content sites, that's still a blow, but it's one you can recover from. Imagine trying to restore a week's worth of content on a news site? Wouldn't that be… fun?
FEATURES SCORE: 4.5 (out of 5)
Ease of Use
GreenGeeks Will Be Familiar to Most and Fairly Easy for Beginners
The basic hosting account management panel is simple. cPanel will be familiar to most,
Softaculous lives up to the pun in its name, and WordPress is the most common publishing platform on the planet (it hit 40% market share in early 2021). Even if you don't know how to use all of these things, there are thousands of guides all over the internet for cPanel and WordPress, in just about every language. Beginners shouldn't have too much trouble, especially with GreenGeeks' support team there to help. (More on that below). This is how easy it is to get started:
The Quick Launch Wizard Is Great for First-Timers
Sure, I know how to install a WordPress site. If you're reading this, chances are pretty good that you've done it before at least once or twice. But even I have to admit that having a simple, easy way to do it is better. It's faster. It's more time to sit back with the beverage of your choice. Coffee. My choice is usually coffee.
The whole process took about three minutes, including the time it took to get screenshots.
 Man, I do prefer hosting services that don't make me set up the database myself.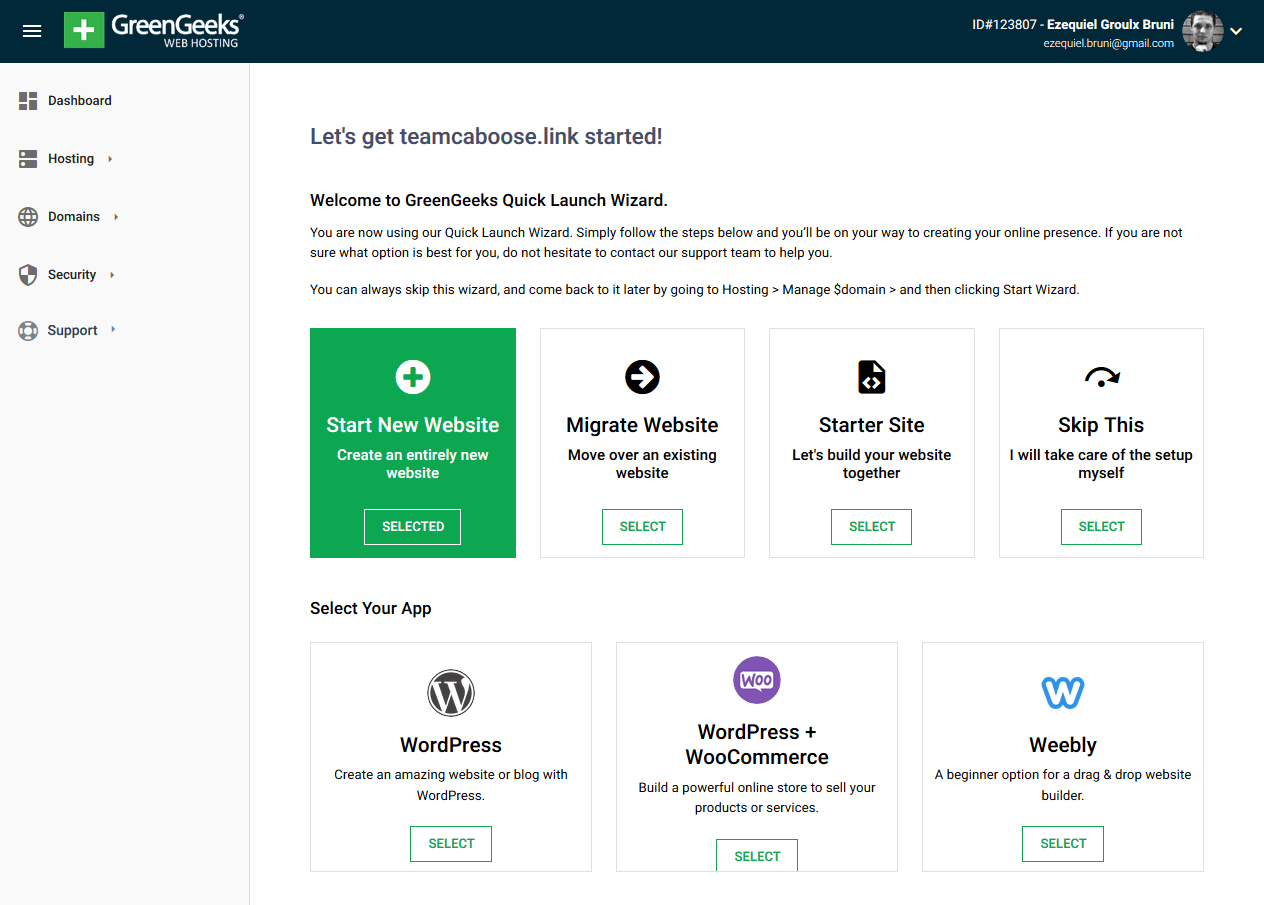 There's a Decent Knowledge Base
Having trouble getting your website started? Want to know a little more than the aforementioned site wizard will tell you? Well, wizards are notorious for keeping their secrets, so that's understandable.
You'll be happy to know there's a knowledge base that covers most of the basics.
 It won't guide you through every step of hosting or running a website, but it's a good thing to have.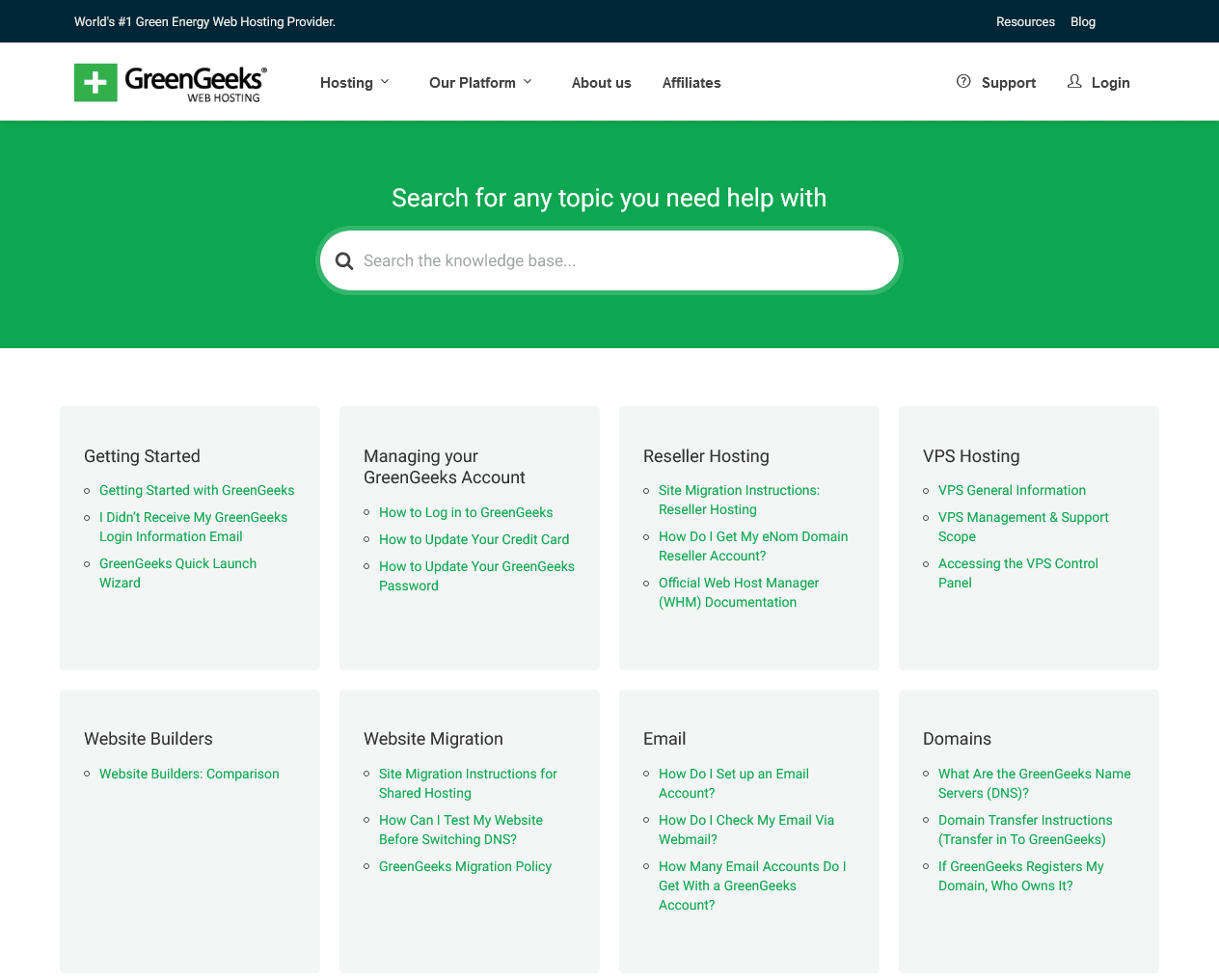 Free Website Transfers
GreenGeeks offers free website transfers if you have your site on another host.
You'd think this service would be standard for any host these days, but you'd be wrong. It's just one more thing to keep in mind if you want to move hosts but the thought of making your site work on a new service fills you with dread. Or at least a sense of impending boredom. It's not the first thing I look for in a host, but it's a nice touch.
EASE OF USE SCORE: 5 (out of 5)
Performance
Server Performance Is Nearly Rock-Solid
We've never had too many complaints about the performance of servers at GreenGeeks, but I can honestly say that this time,
the results were even better than they were in our last review, in terms of stability.
Mind you, those good results are easier to achieve if your site's users are in Canada (there's a server in Montreal), the US (and one in Chicago), or Westeros Western Europe (Amsterdam, baby!). I put up a test site with all the usual bells, whistles, and unreasonably fancy things, just because I could. Also, some large and not-very-well-optimized images, because I like to make the servers put in some work. That's, uh, computer servers. I'm nice to restaurant staff.
Always
 be nice to restaurant staff.
Anyway, here's how it went: The average complete page load time was 1.325 seconds, and the site kept an uptime of 100% during our testing period. For the rather heavy test site I used, that is some smooth sailing on stable servers.
I'm going to get into the numbers just a bit more here, but you can always
skip to the Support section
if you want to.
GTmetrix
GTmetrix is what we use to make sure pages will load fast enough that your customers won't run off. The ideal page load time is anything under two seconds.
My fastest load time was 1.2 seconds, and the slowest was 1.4s. That's a very low variance,
and low variance is something you want. A more optimized website will result in much lower page load times as well. Here's the fastest test result I got:

UptimeRobot
So yeah, UptimeRobot measures how well a server keeps your website going over time.
GreenGeeks got 100% uptime, but the ping was kinda… bad.
That said, I
have
 noticed long ping times even on other hosts that had excellent performance, so some of that bad ping might be related to UptimeRobot's servers.

PERFORMANCE SCORE: 4.8 (out of 5)
Support
GreenGeeks' Support Is Always Great
And I'm not just saying that to be nice to the poor people who have to work the phones all day. For us, in every review so far,
GreenGeeks' competent and generally rapid support is one of the major selling points.
Whether you're just getting started in the world of hosting or running an enterprise-level site off of multiple VPSs, having that support is essential. This time around, my experience was no different.
Responses were prompt, polite, and always helpful.
Tickets
As I was starting out with my test site, I had some trouble getting it to, you know, work. Thing is, I didn't know if this was a problem on the company's end or a problem with my ISP. (My ISP is sometimes
very
 slow to update its DNS servers.)
So I opened a ticket that amounted to, "My site isn't loading. What gives?" In about 11 minutes, a tech responded to me.
Turned out it
was
 loading on his end, so I decided to wait and see if my ISP would stop smoking candy cigarettes and get its life in order. It did, and the problem was sorted. Still, helpful service from the support tech.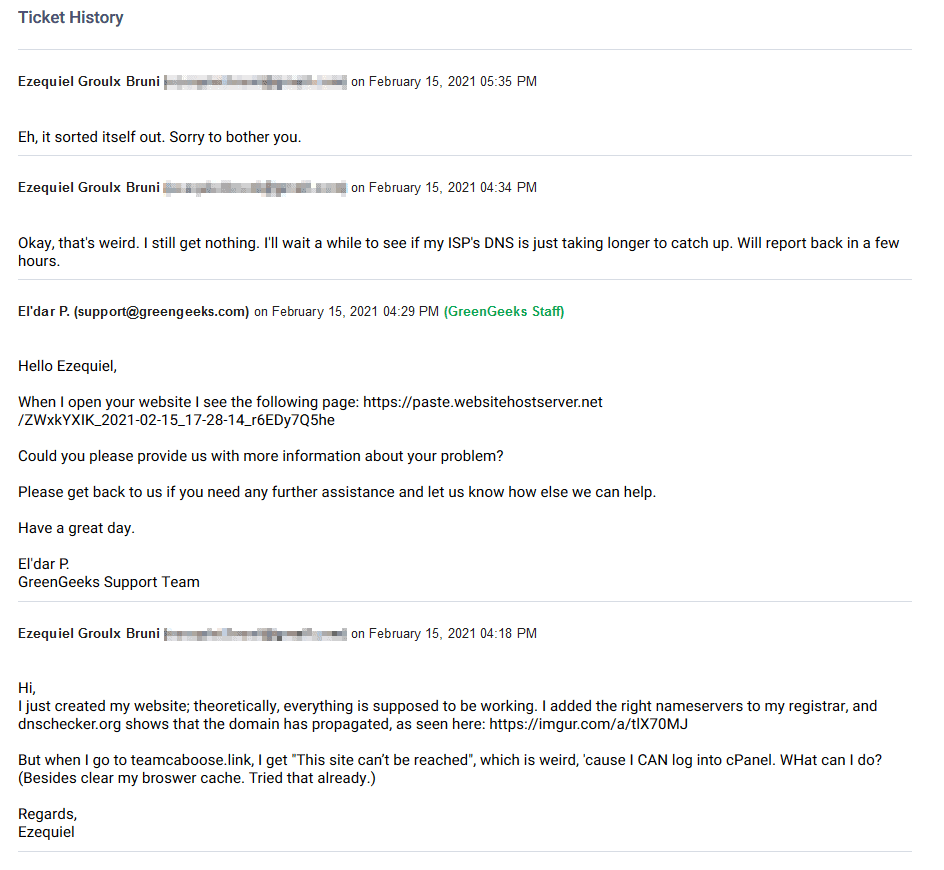 Live Chat
The live chat system took around 10 minutes to get me a response.
To be fair, I was the third person in the queue, so that could have gone on longer by far. Normally, I would include screenshots of my chat conversations, but I've run into a small problem: I forgot to screenshot this one entirely. And GreenGeeks doesn't have one of those chat systems where you can re-open old conversations. Oh well, #JustReviewerProblems. In short, I asked how many subdomains I'm allowed to have on the Lite plan, which (as you may recall) is only supposed to support one "website," which in this case means you can only attach one domain. Well, you can use up to three subdomains. So if you want a blog at a separate (but related) address like "blog.yoursite.com," you can do that.
Phone
This was as quick and easy as talking to another person with thousands of miles of wire between us could be.
I got to an actual person in about a minute (not bad!), and asked if it would be possible to move my site from one data center to another if I needed to. The short answer: Yes, you can do that. By the way, CentOS 7 powers the shared hosting servers. I've developed a habit of inquiring about operating systems, primarily driven by personal curiosity.
SUPPORT SCORE: 5 (out of 5)
Pricing
Good news for everyone here.
Prices at GreenGeeks are more than fair; they're downright cheap for the services and features provided.
 I mean, the Lite WordPress plan starts at
$
2.95
per month. That will go up after the first renewal period, but it's a great starting price for new website owners. And though GreenGeeks is not as cheap as competitors like
Hostinger
or
InterServer
, do keep in mind that you can't really put a price on customer service. Having a helpful team at your disposal is absolutely worth the few extra dollars per month. If you want that sweet customer service,
GreenGeeks accepts all major credit cards and debit cards: Visa, Mastercard, AMEX, and Discover.
PayPal is also accepted, but only for payments
after
 the first. I'm not entirely sure why.
Cancellations & Refunds
There's a simple and effective 30-day money-back guarantee
. You don't need to do anything special. You just need to cancel your hosting plan from the admin panel, and if you're within those first 30 days, then everything happens automatically. I love it when companies don't make me work to do very basic things.
PLANS & PRICING SCORE: 5 (out of 5)
The Bottom Line
GreenGeeks combines perfectly decent features, a beginner-friendly experience, and amazing customer support with fair prices
to create what is (almost) a perfect package, tailored to WordPress sites. And if you care about the environment, the promise of green data centers is not to be ignored. That said, there are cheaper options offering almost the same features, if not the same customer service. Moreover,
GreenGeeks' limited selection of data centers may mean it's not right for, say, people in Southeast Asia or South America.
But if you're in the right ZIP code, GreenGeeks is definitely worth your consideration.
OVERALL SCORE: 4.8 (out of 5)
FAQs
Does GreenGeeks include WordPress themes or plugins?
GreenGeeks' WordPress plans do not include extra themes for WordPress, but there are two plugins of note: LSCache helps WordPress run blazing fast, while WPForms allows you to create custom forms to suit just about any need. GreenGeeks' primary attraction is not a load of extra features, bells, or whistles. It's good customer service, web servers that do their job, and the promise that you're probably not killing the environment.
Which is the best web host for WordPress?
The one that works for you. Okay, okay. I'm done being obnoxious. Honestly? Kinsta is probably the best option in terms of features, customer support, and server stability. On the other hand, it can be prohibitively expensive to anyone on a budget. One of the best overall options for both price and features is InMotion Hosting, but as you may have read above, GreenGeeks is no slouch either. If you want even more options, be sure to check out our list of the best web hosts in 2023.
Do I need hosting especially for WordPress?
Generally speaking, it's not necessary, but it is useful. While any properly configured hosting server can run WordPress — and run it well at that — WordPress-specific hosting is usually tweaked to run WordPress even better. Add to this the inclusion of extra plugins, managed hosting and maintenance, and other quality-of-life features. All in all, WordPress-specific hosting can remove a lot of potential frustration from the process of running your site.
Which of GreenGeeks' WordPress plans is the best value for money?
For a simple site? The Lite plan (AKA the cheapest one) is almost overkill, and could even work fine for a small team, so long as you only need to make the one website. It's the best bang for your buck if you're just starting out. However, once you have a team in place, and perhaps want to run a few websites, the Pro plan is more than fair. And hardly anyone will need the extras provided in the Premium plan. If you want to keep your costs down in general, though, have a look at our coupons for hosting discounts.