Please note that currently, the Free Website Monitor App is not available in the Google Play Store. You can check back here to see when it will be available again. Thank you.
Website monitoring is essential in today's instant access world. For businesses, a website that's down means missed sales and lost revenue. For everyone, website monitoring is no longer a luxury but a necessity, which is why an app like the Free Website Monitor app is so useful. Here is an in-depth guide to using the Free Website Monitor app, along with step by step instructions and answers to the most commonly asked questions.
Downloading the Free Website Monitor App
To get started with the Free Website Monitor app, you can install the app on any device that has the Android  (6.0 and higher) operating system by following these steps:
Go to the Google PlayStore.
Search for the Free Website Monitor App.
Select the app, and tap the green Install button.
Once the application is installed on your device, you can get started monitoring right away by opening the app and creating an account.
Enter your name, email address, and password (8 character minimum) to create an account.
Activate the account by checking your email and clicking on the confirmation link that the Free Website Monitor app sends you.
Now, you're ready to start monitoring websites and servers from your mobile device!
Types of Monitors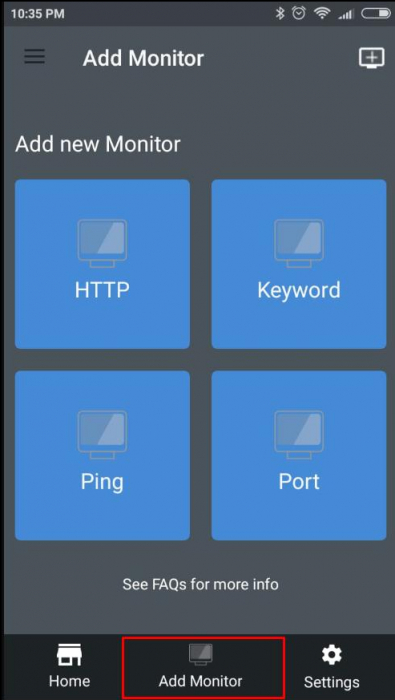 To add a new monitor, tap on "Add Monitor" at the bottom of the screen and then tap on one of the four monitor options that you would like to add. You can set up as many monitors as you'd like of each type. The four options include:
HTTP monitoring
Server Ping monitoring
Server Port monitoring
Keyword monitoring
Again, you can set up multiple monitors of each type as the need arises.
HTTP Monitor
Click on the HTTP icon to set up a website you want to monitor. You can create an HTTP/HTTPS monitor for any website by following these steps:
Choose whether the website is HTTP or HTTPS.
Enter the URL of the website that you'd like to monitor.
Enter a friendly name you will use to recognize the site. The friendly name is used so that you can quickly reference whatever you're monitoring instead of looking for a complicated string of numbers, long URL, or an unfamiliar web address.
Decide how often you want the Free Website Monitor app to run a check. Your options include 288 times a day (approximately every 5 minutes), 48 times a day (approximately every 30 minutes), or 24 times a day (approximately 1-2 times per hour).
Tap the blue Start Monitoring button to begin monitoring the website.
Once you add a monitor, the selection will appear automatically on your dashboard. Tap the Home icon to see the list of monitors that you have set up.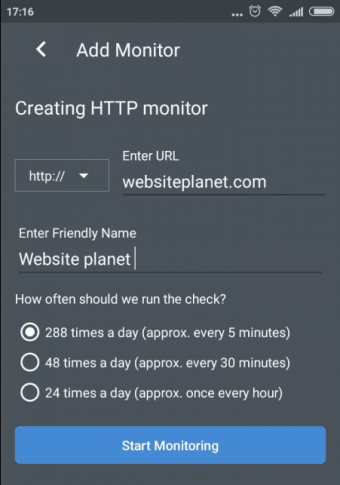 Server Port Monitor
To set up a port monitor, you'll follow the first three steps from above including selecting the type of URL, entering a URL, and attaching a friendly name to the monitor. Next, you'll enter the port number and select the number of times per day you want the Free Website Monitor app to test that port. Click on the blue Start Monitoring button to complete the task.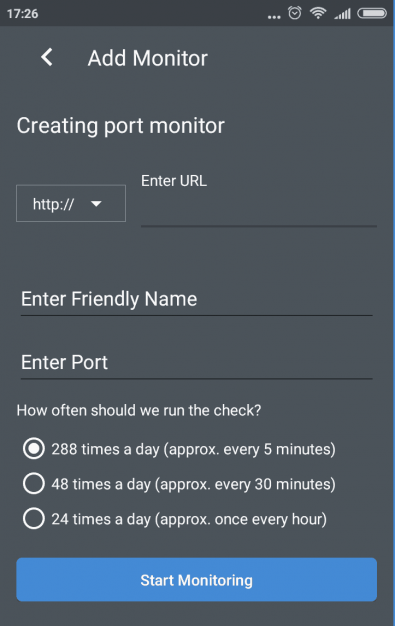 Server Ping Monitor
Setting up a ping monitor is very similar to the steps above. All you need to do is:
Enter a friendly name, so you recognize the ping monitor you're creating.
Next, enter the IP address that you want to monitor in the second line provided for you.
Choose how many times a day you want the Free Website Monitor app to test your server.
Tap the blue Start Monitoring button, and you're done.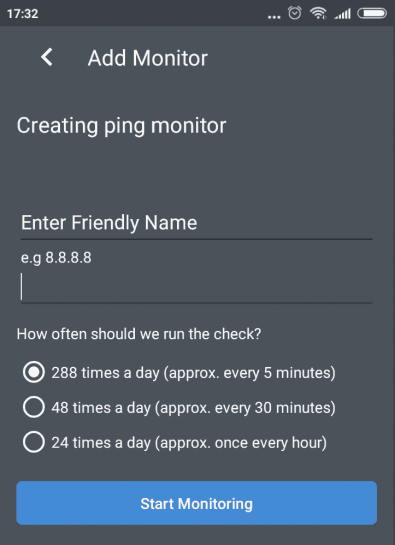 Keyword Monitor
Keyword monitoring works in pretty much the same way as the other monitors you've already set up. The idea is that the keywords or phrases you input will be flagged when they appear or when they disappear, from the specified URL. You will receive a notification for every time this change occurs. Keyword monitoring is useful if you want to check for updates on specific pages on your website. It is also very useful for checking for updates or changes on other sites!  For example, you may want to monitor activity on a competitor's site. You may also want to see if your company name or brand appears on industry news sites or other significant places around the web. As before you start by selecting the type of URL, entering a URL, and attaching a friendly name to the monitor. You then enter the keywords or phrases you want to monitor for. If you want to monitor for more than a single word/phrase on the given URL, enter each one on a separate line in the Enter Keywords section (tap on your device's enter/return button).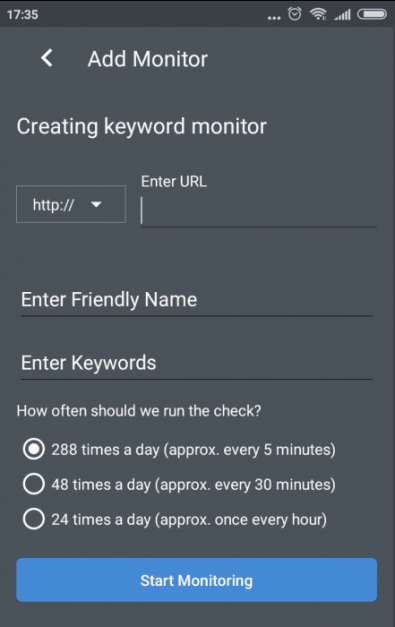 Viewing Your Monitors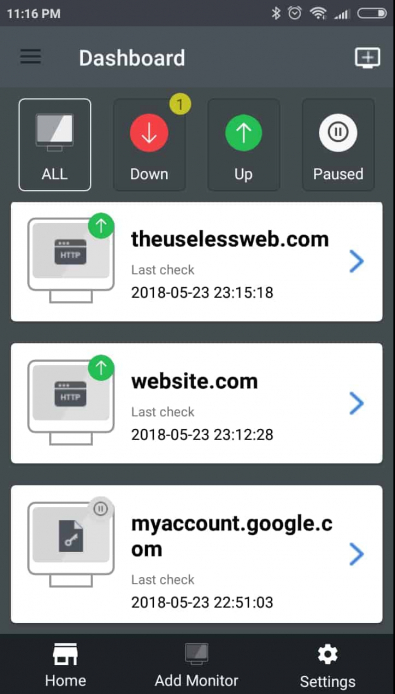 Each time you create a new monitor, it is immediately added to your dashboard. This can be viewed at any time by going to your dashboard. Click on the Home button on the bottom left corner of your screen to get there. Once you arrive at your dashboard, by default, you'll see your entire list of monitors that you've set up. If you wish to view only a specific type of monitor, simply select one of the options given.
To view monitors that are currently flagged as down, click on the red circle with the Down  arrow
To view monitors that are currently flagged as up, click on the green circle with the Up arrow
To view monitors that you have currently paused, click on the white circle with the Pause symbol
In order to view a monitor's detailed information, simply tap on the monitor of your choice from your dashboard/home screen. Here, you'll find all the information that the Free Website Monitor app has about that monitor including:
What type of monitor it is
Frequency of check
Check points
Monitor health bar graph
Latest events
Once the Free Website Monitor app has collected enough data, you can begin to see historical graphs and patterns within the data. You can view individual checkpoints along the way and notice when your sites are down with greater accuracy and consistency. You can also use the graph view to get a bird's eye view of the status and performance of each item.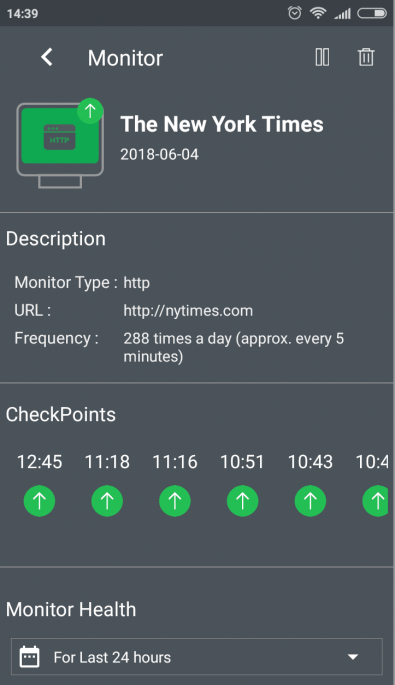 To get a closer glance at a specific time period, you can switch between the times drop-down menu above the bar graph. Here, you can choose to see health results for 1, 2, 6, 12, and 24 hours prior.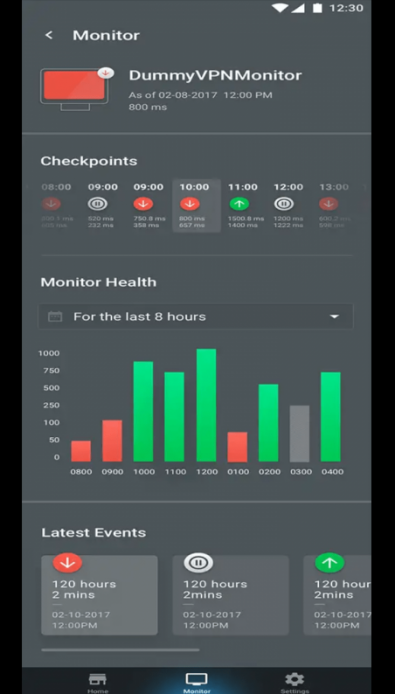 Alerts
Once you have set up your monitors, you will automatically start receiving app notifications about each of those items being monitored. The best part is that the alerts are automatic, so there's no need to sign up for notifications. The app will send you these notifications directly if a change in status occurs. It is important to understand the way monitoring alerts and notifications work.  Every time the current status of a specified monitor is tested, it compares it to its previous status. If the status has changed – meaning that the defined monitor goes from being up to being down or goes from being down to being up – an alert is generated and the user is notified. If, however, the status has not changed, the current time and value are saved (and displayed as described previously)  – but no alert notification is generated. If a website you are monitoring experiences an outage, the Free Website Monitor app will promptly notify you once about the downtime and subsequently alert you again upon its recovery. This approach prevents you from receiving repetitive notifications regarding the ongoing downtime of the site.
Frequently Asked Questions
Here are some common questions asked about the Free Website Monitor app along with their answers:
Q: Can I get alerts even when my device is not on?
A: In order to receive the valuable alerts that the Free Website Monitor app sends you, you'll need your device to be turned on. For this reason, it's highly recommended that you always keep the device where you installed the Free Website Monitor app always charged and available. The last thing you want is to miss out on an important notification because your phone was dead or not near you.
Q: I'm being told my site is down, but I know that it's up. What's going on?
A: There are numerous reasons why you might receive a down notification for a site that you see is fully up and running. Some of them include:
The Internet is dynamic. One moment a website can be down, and the next second it can be up. The Free Website Monitor app catches downtime immediately and notifies you of the error so that you can rectify any issues that might be causing the problem. If it's only a  glitch causing the downtime, your site may already be back to full functionality by the time you check it.
A power outage will trigger a downtime alert. If your power source is reconnected fast enough, your website will be up and running before you need to attend to it.
Sometimes, your website or your server is loading so slowly that it causes a timeout error. This will cause a downtime alert, and in the interim, while you go check things out, the site will succeed in loading.
The website may have flagged an HTTP Error 403. This means that your device is forbidden from visiting the website you are trying to access.
The website, device, or server may have encountered another error like HTTP Error 500, HTTP Error 502, or HTTP Error 503. Any of these indicate that there is something wrong with the server that needs attending to.