Contabo's website looks straight out of the 1990s, and its customer service leaves a lot to be desired, but it's not all bad. It offers
decent service if you're looking for a reasonably priced European hosting provider
. If you're just getting started with Contabo and you'd like a little help, this guide takes you through the entire process.
It's neither the best nor the worst experience
, and it's easy enough for new website owners.
Step One: Select Your Plan
First, choose the plan you'd like to purchase. You can pick one of four shared hosting plans, ranging from 50 GB to 500 GB disk space. If you
want to benefit from the WordPress one-click installer, you need to purchase Package L or above—you can't pick the base plan
.

Step Two: Customize and Order
The next page involves a long and overwhelming page full of optional add-ons, for instance, additional subdomains, email accounts, and MySQL databases. None are selected by default, which is great, so you can choose what you need. But the page isn't very user friendly and the terminology is complicated. I recommend skipping the page, leaving everything blank, and selecting
Order now
at the bottom.

Step Three: Enter Personal Information
Another page, another long form. First, you need to select your domain (use your own or choose the free domain offer), then enter your personal information. Contabo tends to complicate its forms—you are required to enter your "salutation" (or title), and your date of birth.

Step Four: Enter Your Payment Information
Just when you thought it might get a little simpler, Contabo again provides a confusing set of options. Unlike most hosts, you cannot pay by credit card. Instead, you need a PayPal or Skrill (formerly Moneybookers) account, or you can send a bank transfer. I opted for PayPal, thinking it would be the easiest option.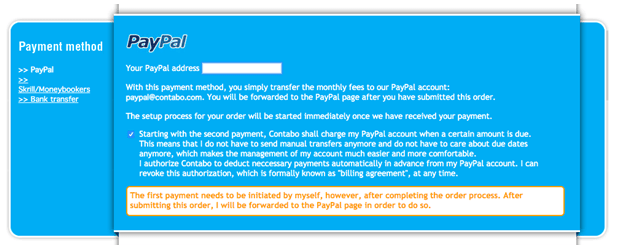 Step Five: Confirm Your Order
If you've completed everything correctly on the form (don't be surprised if it takes a few attempts), and checked the required boxes, select
Review and submit order
.

Step Six: Review Order (Again)
Once you've submitted the order, you need to confirm the order again. Although it's an additional step, it's helpful because it includes details of the cancellation policy (you get 14 days to cancel and get your money back in full).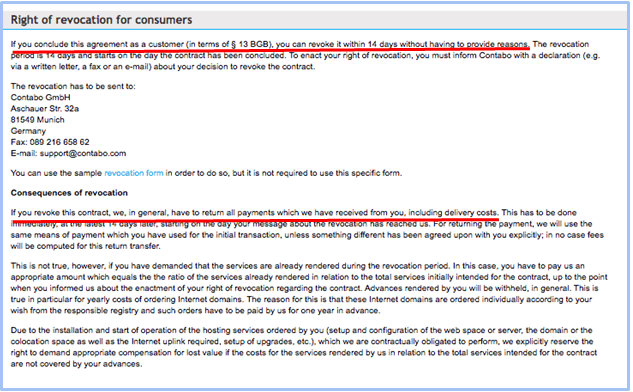 Step Seven: Pay for Hosting
After you've confirmed your order, you are directed to PayPal to complete the payment. Just follow PayPal's simple instructions (which are refreshing after the complicated Contabo signup pages).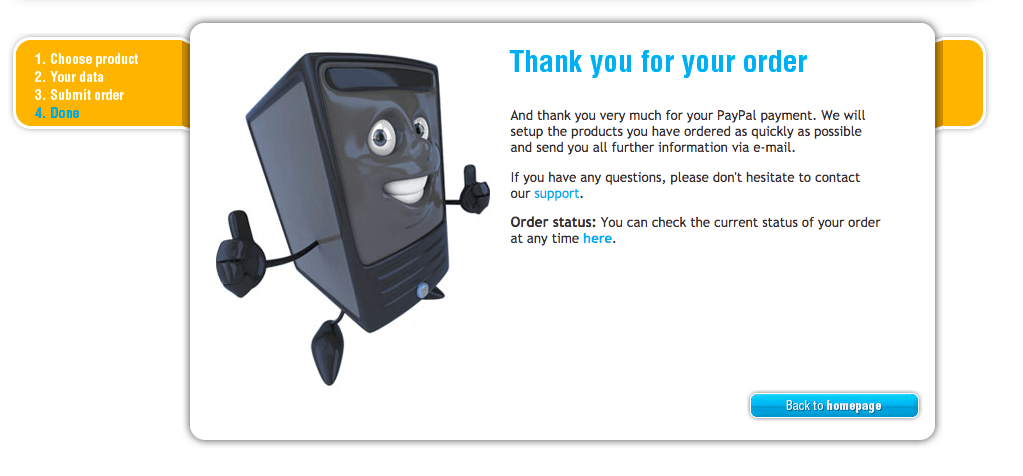 Step Eight: Wait, but Not for Long
After making your payment, we recommend being prepared for a processing time of up to 24 hours for your order. Nevertheless, the processing proved much faster, and I received my welcome email containing login instructions within just three minutes.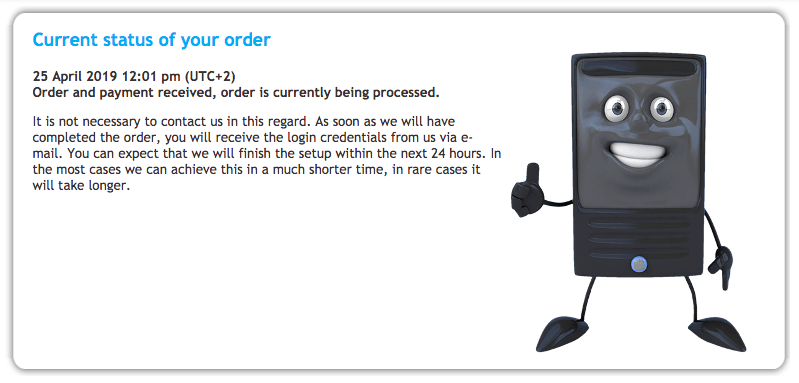 I've Had Better Signup Experiences
All-in-all,
this isn't the best signup experience I've ever had
. It's not that it was overly long or tedious, it's just somehow Contabo made it feel overly complex due to its use of technical language. Nevertheless,
it could be handled by a beginner, and it was all done in about five minutes
. If you're looking for a vendor that is easier to sign up for, try
FastComet
. If you need more advanced features and you don't mind a longer signup process, read about
Heficed
. Or if you want to learn more, you can
read my in-depth review on Contabo here
.