Bluehost is definitely not a service for everybody
. It focuses on slick designs and ease of use, but not all hosting aspects get the same amount of love. Is it the service for you? Well, my
full review
has the answers to that question. In this post, I'll give you step-by-step instructions on how to connect your domain and install WordPress. I did some digging to save you precious time, and you'll find detailed screenshots and explanations for each of the steps. Let's start.
Connecting Your Domain
First on our to-do list is connecting the hosting with the domain name.
If you purchased your domain name from Bluehost during your signup process, congratulations! They've already been connected
. Feel free to
jump down to WordPress installation
. If you're like me, you got your domain name from somewhere else. In my case, it was Namecheap, so the screenshots are from there. The options might be a bit different if you use a different vendor, but the principles remain the same. After logging into my Namecheap account, my main dashboard appears. You might have to look for something like
My Domains
or
Domain List
with your vendor. I click the
Manage
button.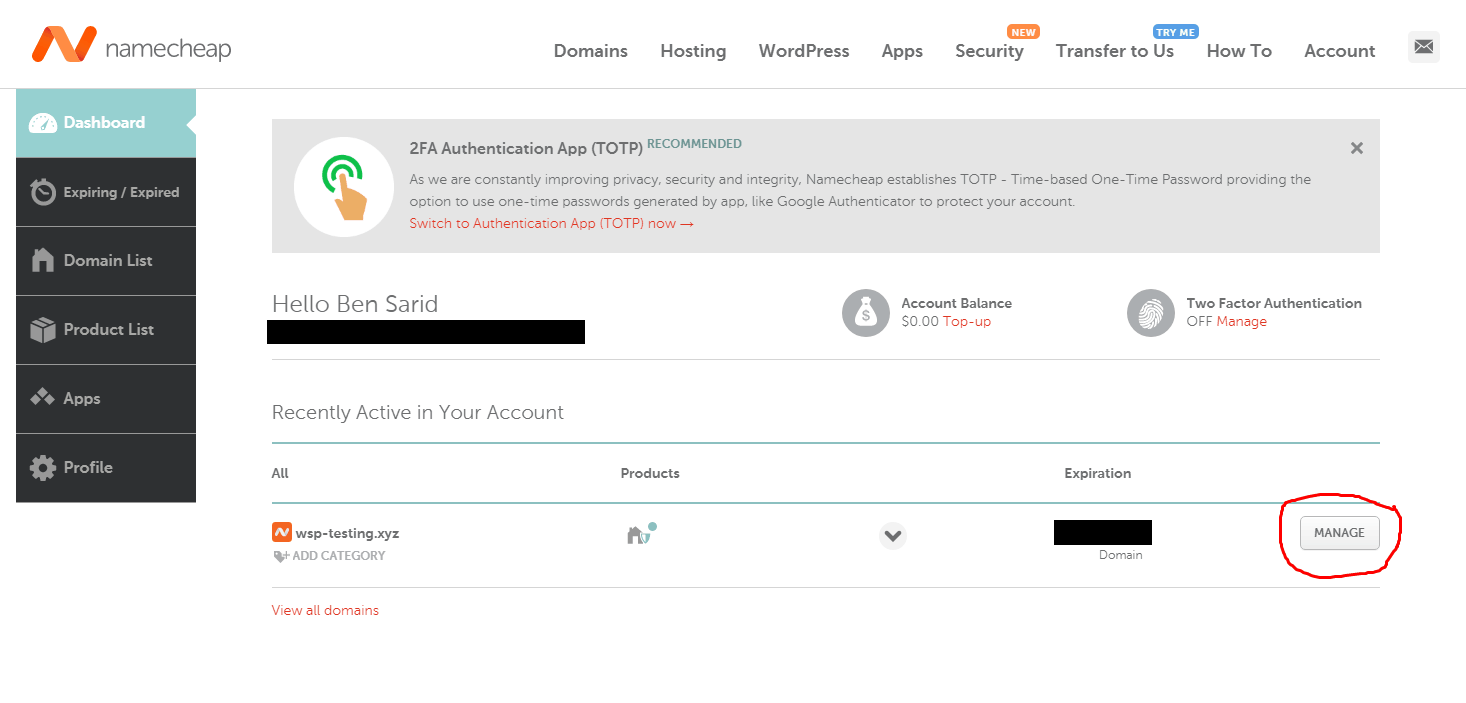 The settings page for my domain open. This will probably look different for you, but you're always looking for the same thing: Nameservers. First, we need to change the nameserver option to
Custom DNS
. Next, enter the Bluehost nameservers. You can find them yourself in the company knowledge base or by asking support. You know what's much faster? Me giving you the nameservers, right here:
ns1.bluehost.com
ns2.bluehost.com
After entering them in the two fields, I confirm using the green check icon.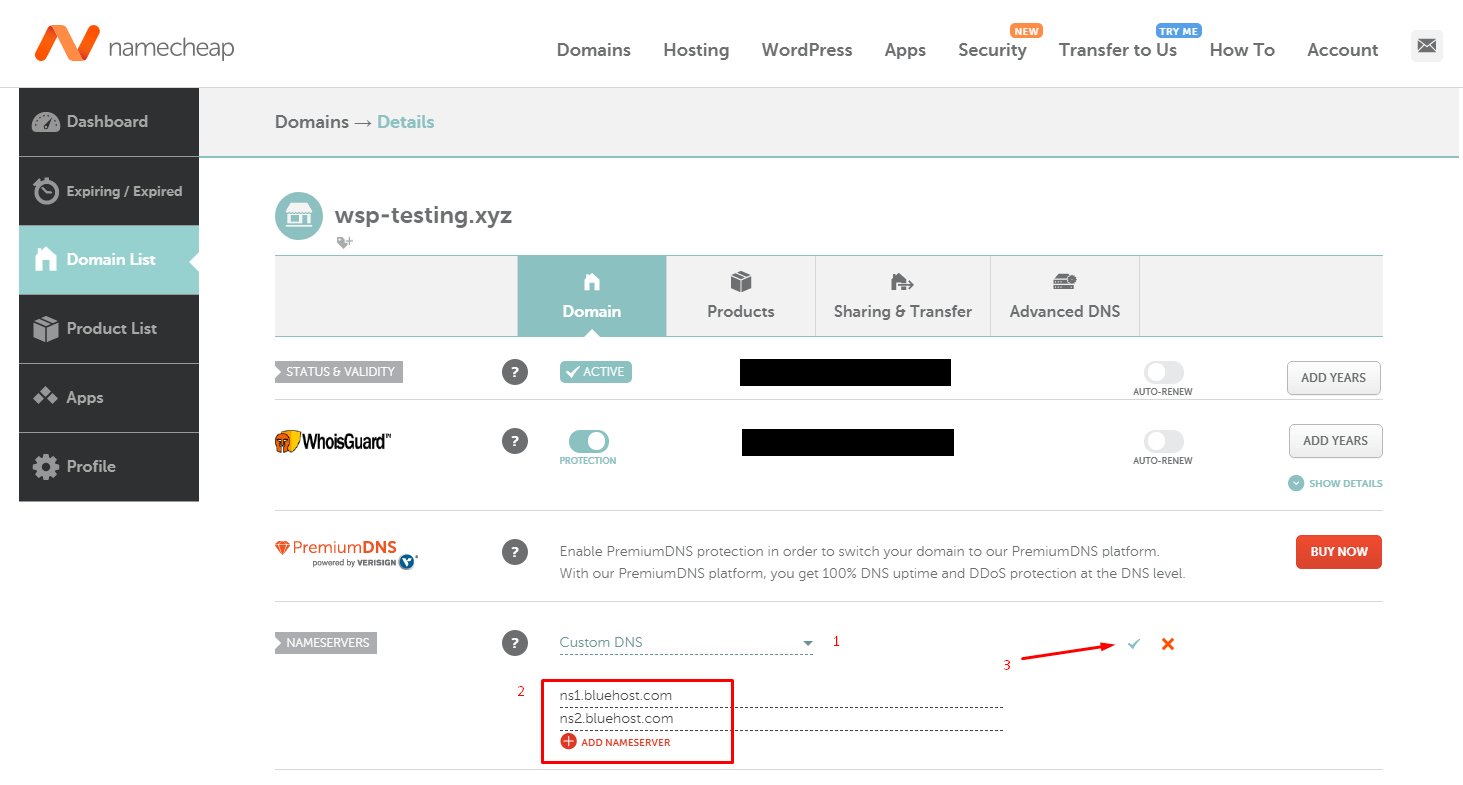 And that's it! The domain is connected. Took me…two minutes. Nice. The changes you make will need to propagate throughout the internet. That can take anywhere from ten minutes to a day or two. Feel free to go to the beach.
Installing WordPress
I picked the WordPress hosting option when signing up to Bluehost. It's basically the same as the regular shared hosting, only WordPress comes pre-installed
. That means you don't need Softaculous or any one-click installer. Instead, you just follow the Bluehost wizard that will start the moment you log into your new Bluehost account. The first step is to choose your website name. I went with "The Joy of Burritos," because burritos provide me unbridled joy. And because tacos are for kids. I didn't check the blog or online store option, as I only want a page dedicated to burritos. Feel free to check whatever's appropriate in your case.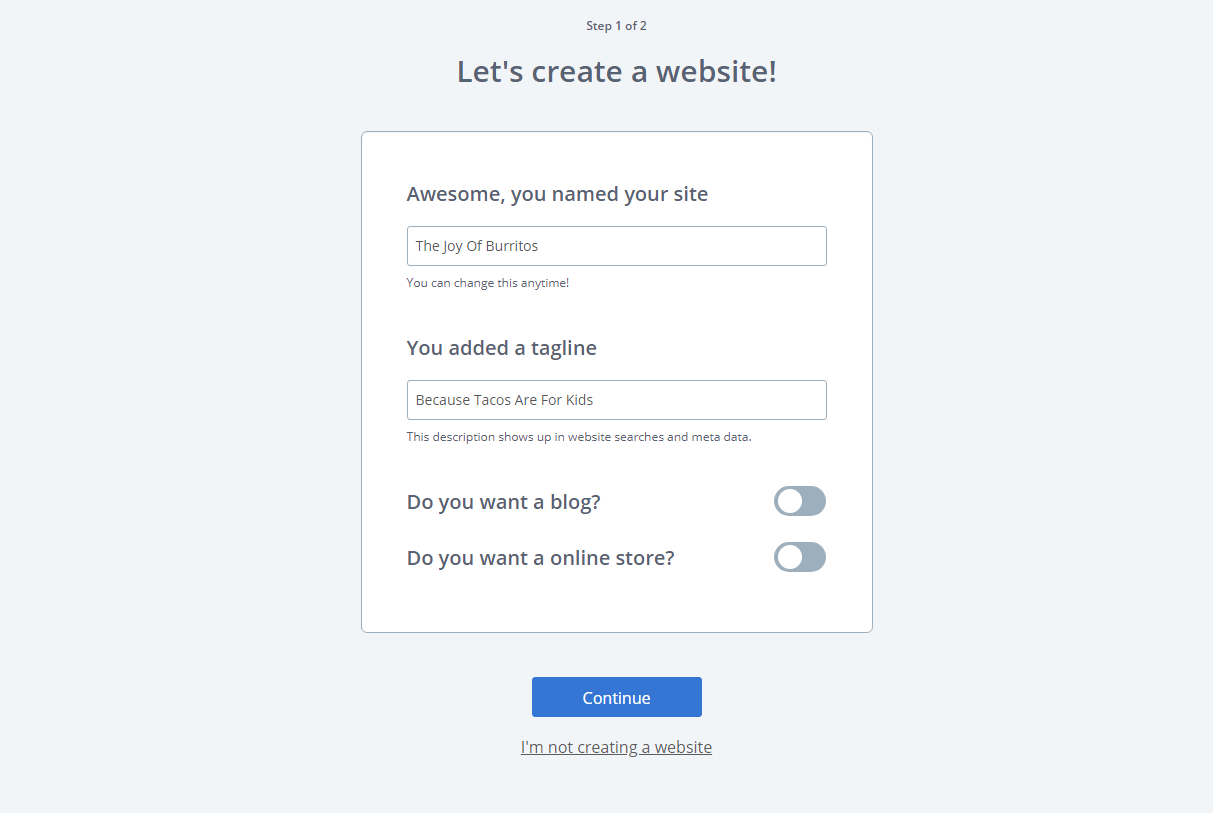 In the second step, you'll choose more options. These will mostly affect the plugins you're going to get and the tips that will pop up. It really doesn't make that much of a difference.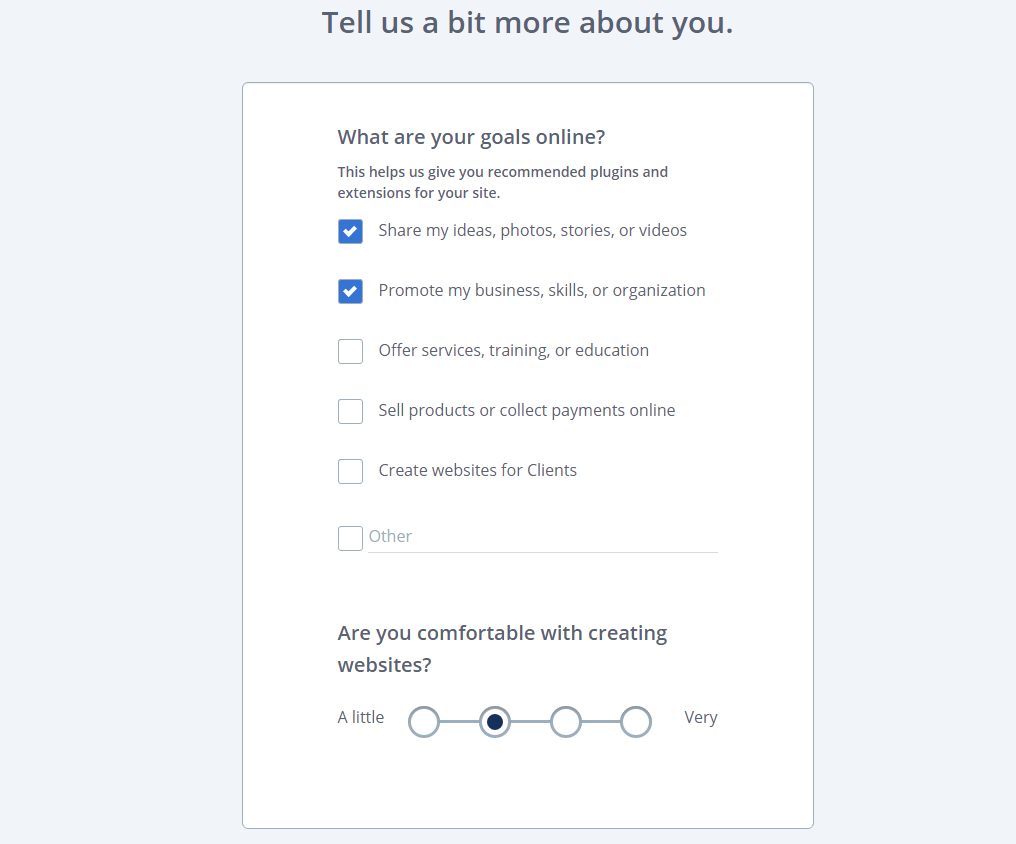 Next, you can pick a theme for your website. WordPress themes enable you to use a ready-made, professional-looking design so you can just plug in your content and features.
There are many great free themes, so definitely don't buy one at this point
. I chose to skip this step and stayed with my default theme.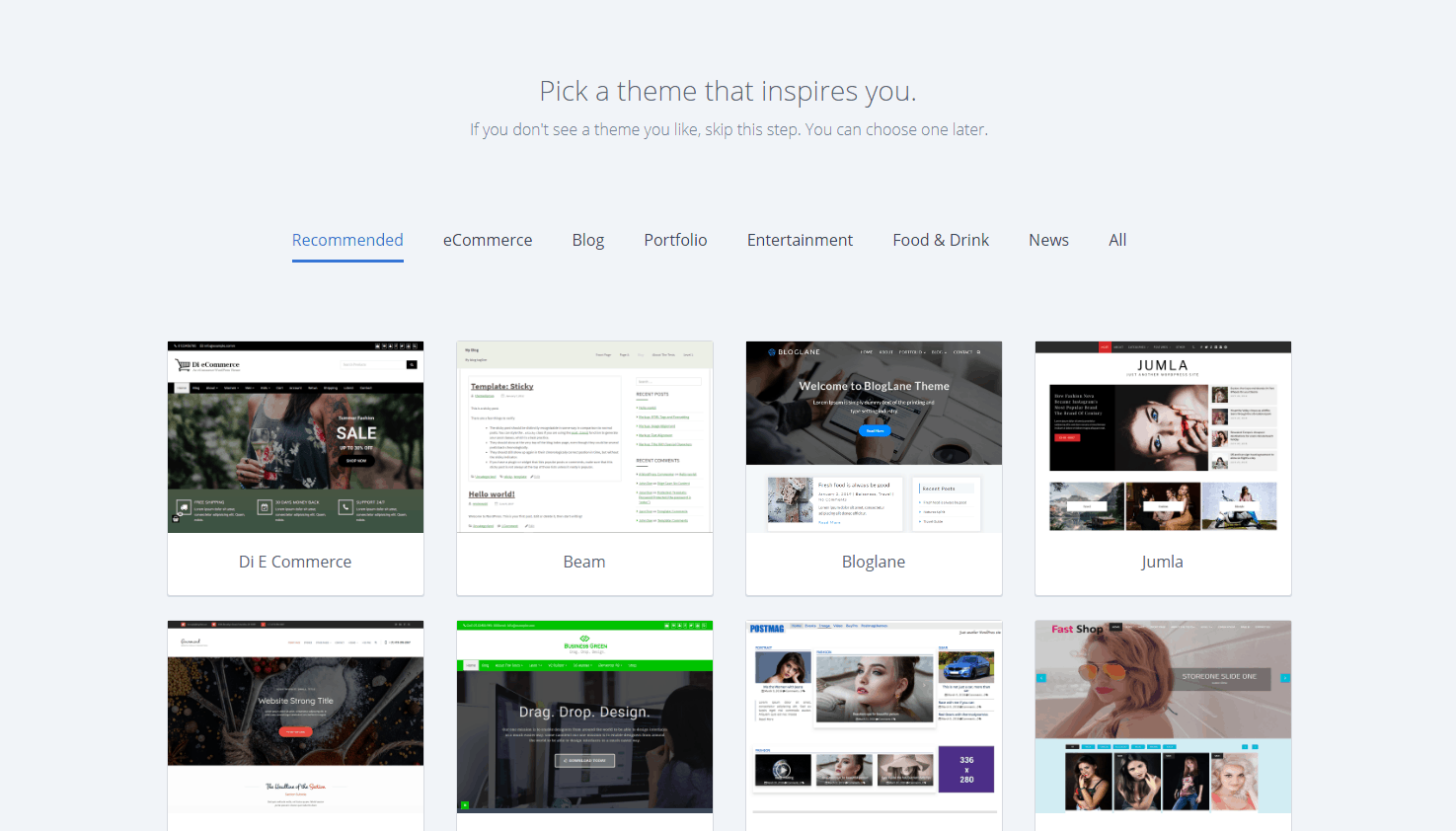 And that's it! WordPress is installed. You'll be transferred to your account dashboard, where you can enter the WordPress admin through the blue button on the right. Bluehost lets you edit the site before it's published, so just click
Launch My Site
when you're ready to go!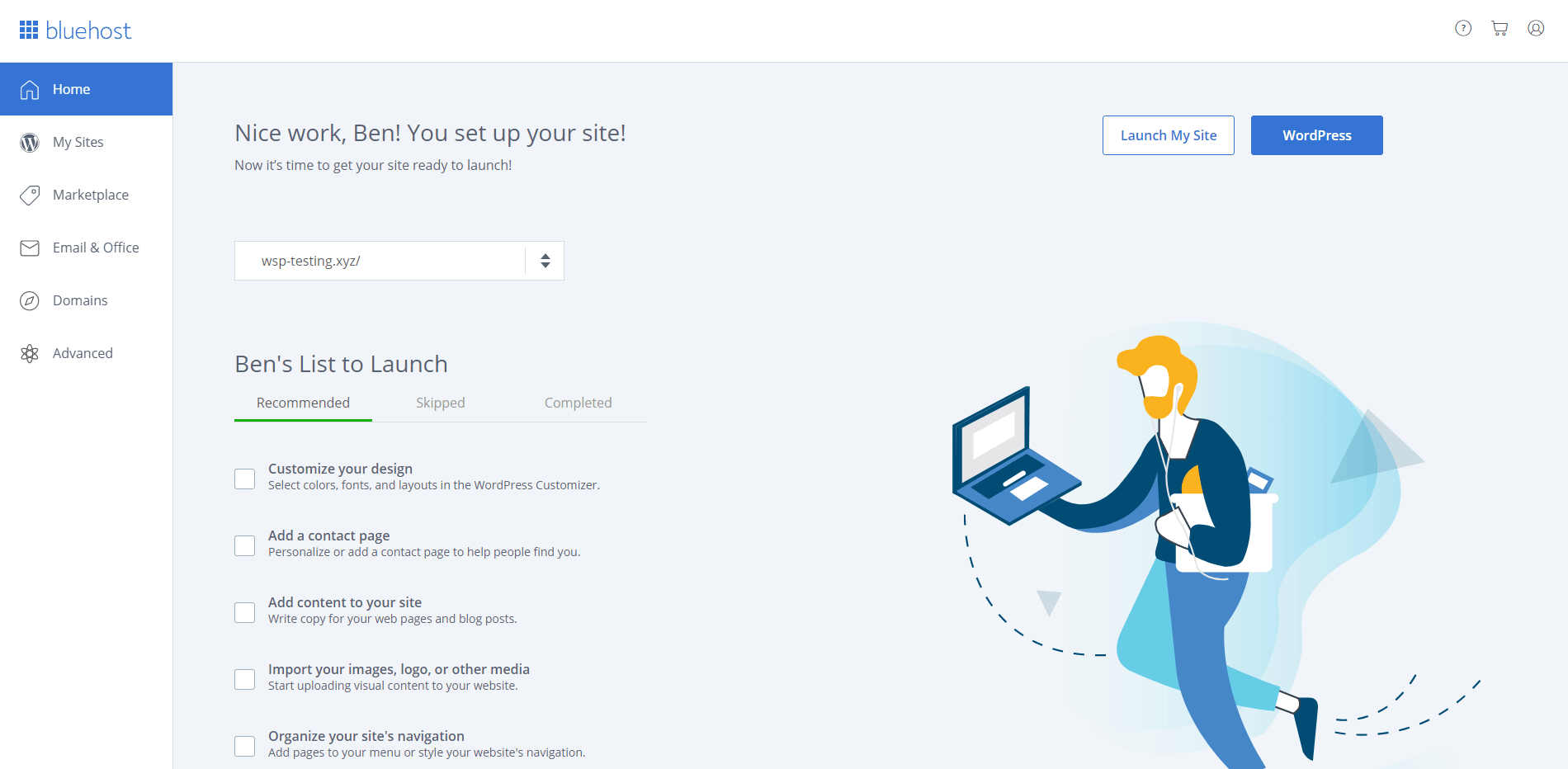 There's one last step, and it's an annoying one. For reasons unknown,
Bluehost sets a WordPress password for you but then makes you go into the WordPress user list and change it to a password of your choice
. Make sure you do it now, because later you'll need some help from support. All right! "Installing" WordPress, start to finish, took three minutes. For the love of burritos!
It's All Quick and Easy If You Come Prepared
If you were to count on Bluehost for telling you how to connect your domain name, things might not have been so easy.
Support is slow, oh so slow
, and getting an answer from them requires a whole new guide.
The nameservers I provided are all you need—just enter them in your domain management console
, and you'll be all right. Regarding WordPress installation, it's simple—except for that password part. I wish the company implemented a better way of doing things. Installing WordPress doesn't mark the conclusion of your website hosting journey. Numerous other website hosts offer a multitude of benefits and unique features. I strongly advise you to explore alternatives such as Hostinger and WPEngine before you finalize your decision!