We put YesUpHost's refund policy to the test. We're happy to report we received our refund in full, even though we signed up for the cheapest plan.
Have you decided to cancel your YesUpHost account? Maybe you'd prefer more customer service during setup, or perhaps you find the interface to be a little outdated. Whatever the reason, this guide will take you through the process to cancel and get a refund. But, be warned, you need to be quick. There is a
seven-day money-back guarantee
, and it's only available for first-time customers. If you're looking for a new, user-friendly host, check out
FastComet
or one of our other
recommended alternatives
.
To cancel your YesUpHost account, just follow these easy steps:
Log into your YesUpHost dashboard.
Navigate to My Servers on the left-hand side.
Select the applicable server and click Details.
Select the green Cancel My Server button.
On the next page, confirm the cancellation by clicking Cancel Now.
My Cancellation Experience
It was easy to cancel my account with YesUpHost. Luckily, I didn't need to contact support because, you guessed it, live chat was offline throughout the process. I logged into my dashboard and selected
Cancel My Server
.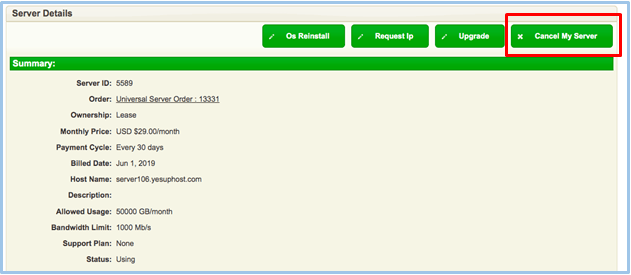 I wasn't asked to provide any feedback during the cancellation process, and it only took about five clicks. As is often the case, at no point was I notified that my refund would be automatically processed, so I submitted a ticket to the billing department. I received an email confirmation a few hours later that vaguely stated, "We'll apply for the refund soon."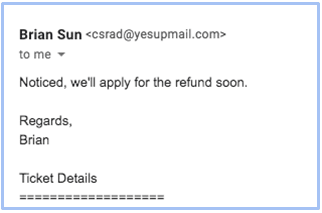 I was pleased and a little surprised to see the refund returned to my card in full within three business days.
Best YesUpHost Alternatives:
Canceling was easy, but now you're left looking for a new website host. Here are our top YesUpHost alternatives:
Are you still looking for the same advanced-level host, but with better customer service? If so, I'd recommend reading about Vultr. It has an excellent balance of functionality and ease of use.
If you need a more affordable host and you're okay with sacrificing a feature or two, Hostinger offers excellent introductory prices and you get good value for your money.
Are you a new website owner? Head over to FastComet, where you'll find a lot of easy-to-use tools to get you started.
Surprisingly Easy to Cancel
I'm always surprised by hosts that make it a million times easier to cancel than to create an account. But YesUpHost is firmly in that category. While a beginner might have a very difficult time
creating an account
or setting up a
WordPress website
, they could quickly and easily cancel their plan.