We put HostPapa's refund policy to the test. We're happy to report we received our refund in full, even though we signed up for the cheapest plan.
HostPapa, a Canadian host, has over 200,000 customers. While the pricing (and the cancellation policy) feels misleading, the plans are feature-packed and easy to use. However, this may not be the right host for everyone. If you're looking for a host who can offer more advanced features, check out
Liquid Web
or one of our other
recommended alternatives
. If you've signed up with HostPapa and decided it's not quite right for your needs, this article shows you exactly how easy it is to cancel and get your money back. All of HostPapa's plans come with a
30-day money-back guarantee
, which is helpful as you can only purchase its plans on one, two, or three-year terms. If you're past the 30-day period, you can cancel, but you
won't get your money back
.

Quick Guide: How to Cancel Your Account with HostPapa and Get a Refund
To cancel your HostPapa account, just follow these easy steps:
Log in to your HostPapa Dashboard.
Click on My Support.
Select Open New Ticket from the upper menu.
Fill out your name and email address, if they are not already pre-filled.
Complete the Subject field with a suitable title, for instance, Cancellation Request.
Select Billing from the Department dropdown menu.
In the Ticket Details field, provide as much information as possible about the cancelation and refund request.
Click Submit to complete the request.
My Cancelation Experience
You know me. Of course, I'm going to test the process and see if it's as simple as all that. While it is simple, there are a few things to watch out for along the way. Sit tight, here's my experience in full. I logged into the admin and created a support ticket. I received a reply quite quickly – within about seven hours. Unfortunately, the response was just asking what my issues were and not committing to the refund.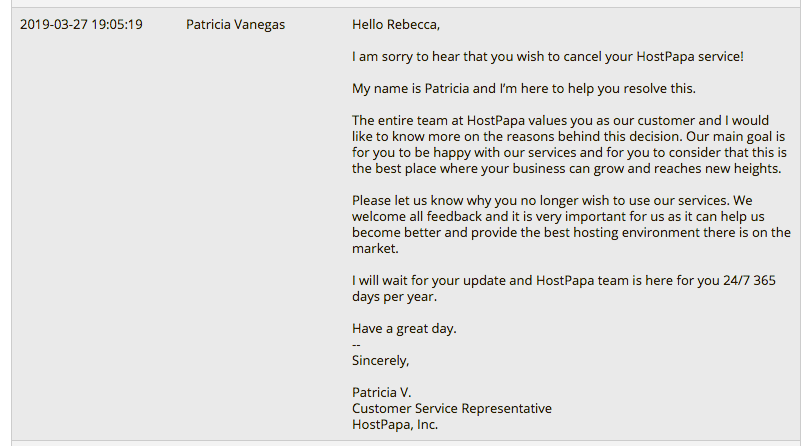 I responded straight away and asked them to cancel the account.
As I didn't hear back in 12 hours
, I followed up again via ticket.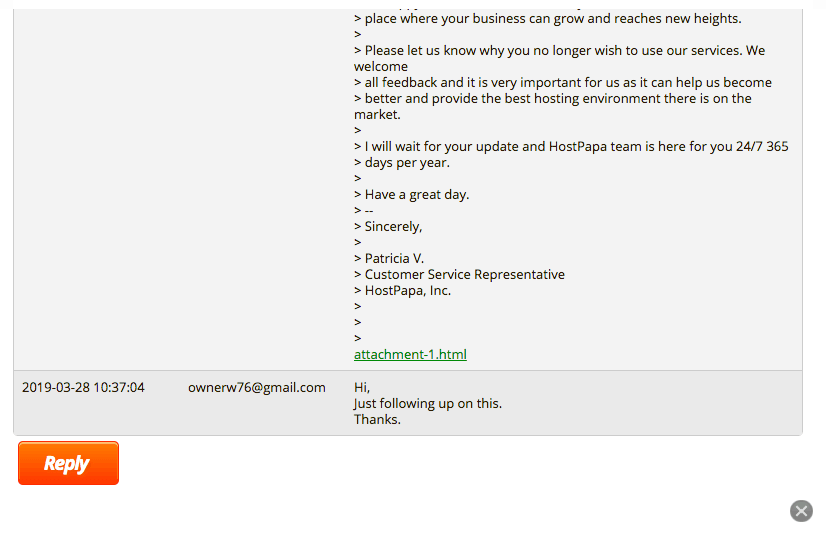 The next day, I still hadn't received a reply, so I jumped on live chat. The operator picked up straight away as usual.
I was politely advised my issue had been escalated
and I should receive a reply shortly.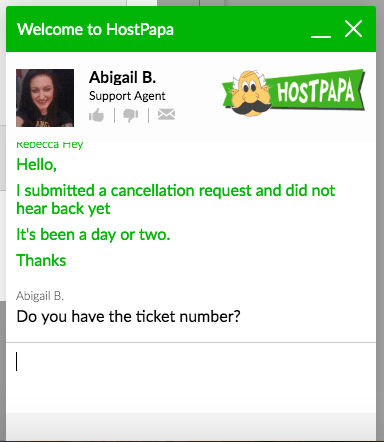 After a few hours, I finally received an email confirming my refund had been applied. However, as it took me a few minutes to work out,
the refund was for less than half of the amount I had paid a couple of days earlier
.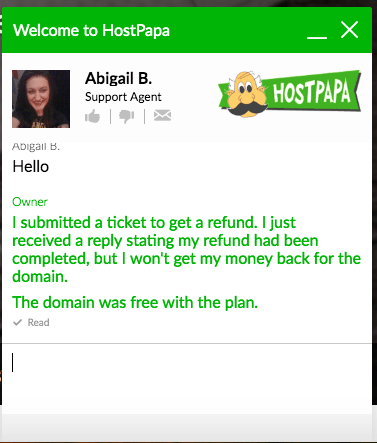 After reading through the email again, it became apparent that the cost of the domain (which was free with the plan) had not been refunded. Clearly, I was frustrated for a couple of reasons.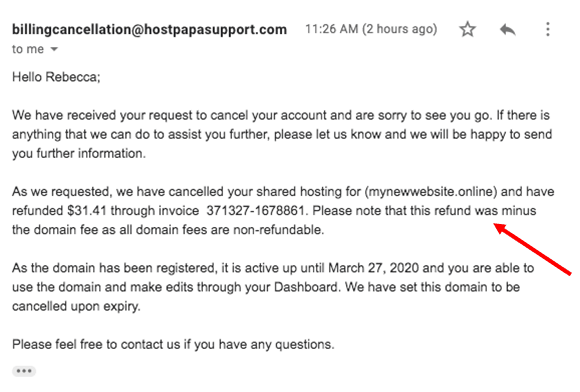 First, I bought the plan because it stated the domain was free – I had no idea the domain had cost any money. Second, the amount HostPapa was claiming for the domain (and therefore not refunding) was around four times as much as I'd expect to pay for a domain elsewhere.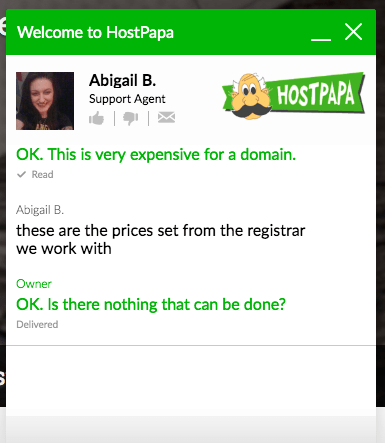 Again, I jumped straight onto live chat. The agent, as always, picked up right away. Of course, polite and helpful, but
absolutely unwilling to budge
. I was not going to get refunded the amount for the domain, the "free" domain.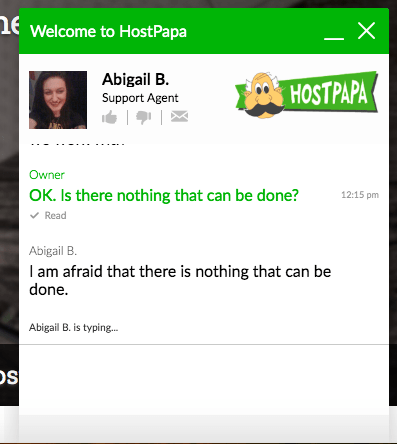 It was a little odd, because a day later, I received an email advising I'd received a further refund for my domain. Although I'd been told on live chat it wasn't possible to pay less for the domain, somehow someone had taken pity on me and reduced the price more in line with what you'd expect to pay for a domain. Strange, but true.
Best HostPapa Alternatives
Are you considering a new web host? Check our recommended HostPapa alternatives:
Are you a developer looking for more advanced features? If so, read about the powerful features provided by Vultr.
Looking for a cheaper option? Hostinger offers excellent, affordable plans.
If you'd prefer a managed solution with automatic updates and server configuration, check out Liquid Web.
Think Twice Before You Buy
I did ask the live chat agent to show me the terms and conditions which explained I would be charged for the domain and she was right, it was clearly in the terms. However, given the length of time, it took to get a refund and the high price for the domain, I was left with a sour taste. It's a shame, because the rest of my
experience with HostPapa
was great.