We noticed that ever since Hostinger reduced their prices, many users are closing their accounts with InMotion Hosting.
If you've read my in-depth
InMotion Hosting review
, you know that this huge provider offers excellent performance, support, and features. Sadly, InMotion's rather technical-looking Account Management Panel (AMP) doesn't offer a fantastic user experience. If you're not familiar with cPanel or you're just not a fan, it might not be the right host for you. Fortunately, there are plenty of other options out there.
GoDaddy
 is one I'd recommend if you're looking for a fun and beginner-friendly dashboard. Before you switch hosts, you'll need to cancel your InMotion Hosting account and cash in on the
money-back guarantee
. In this article, I'll run you through the process.
How to Cancel Your Account and Get a Refund
Depending on your plan, you'll qualify for either a 30-day or 90-day money-back guarantee. If you signed up for managed WordPress hosting, you have the full 90 days. If you're past the guarantee period, the best you can do is to deactivate automatic renewal in your billing tab. You won't find a button you can click to cancel your account automatically; instead, you'll have to contact a support agent.
When I initiated the cancellation via live chat, I got an almost immediate response
. I can't help shake the feeling that this is intentional, because their live chat usually takes much longer to respond. So, to get the same level of service, make sure that you
select the Account -> Billing option
when initiating live chat support. Many hosts will try and convince you to buy a different package or to solve your problem so you stay with them. I was happy to see that without questioning my decision, trying to sell me something else, or trying to keep me on board, the support agent informed me that she'd canceled my account and that I'd receive an email to confirm the cancellation and refund within 48 hours: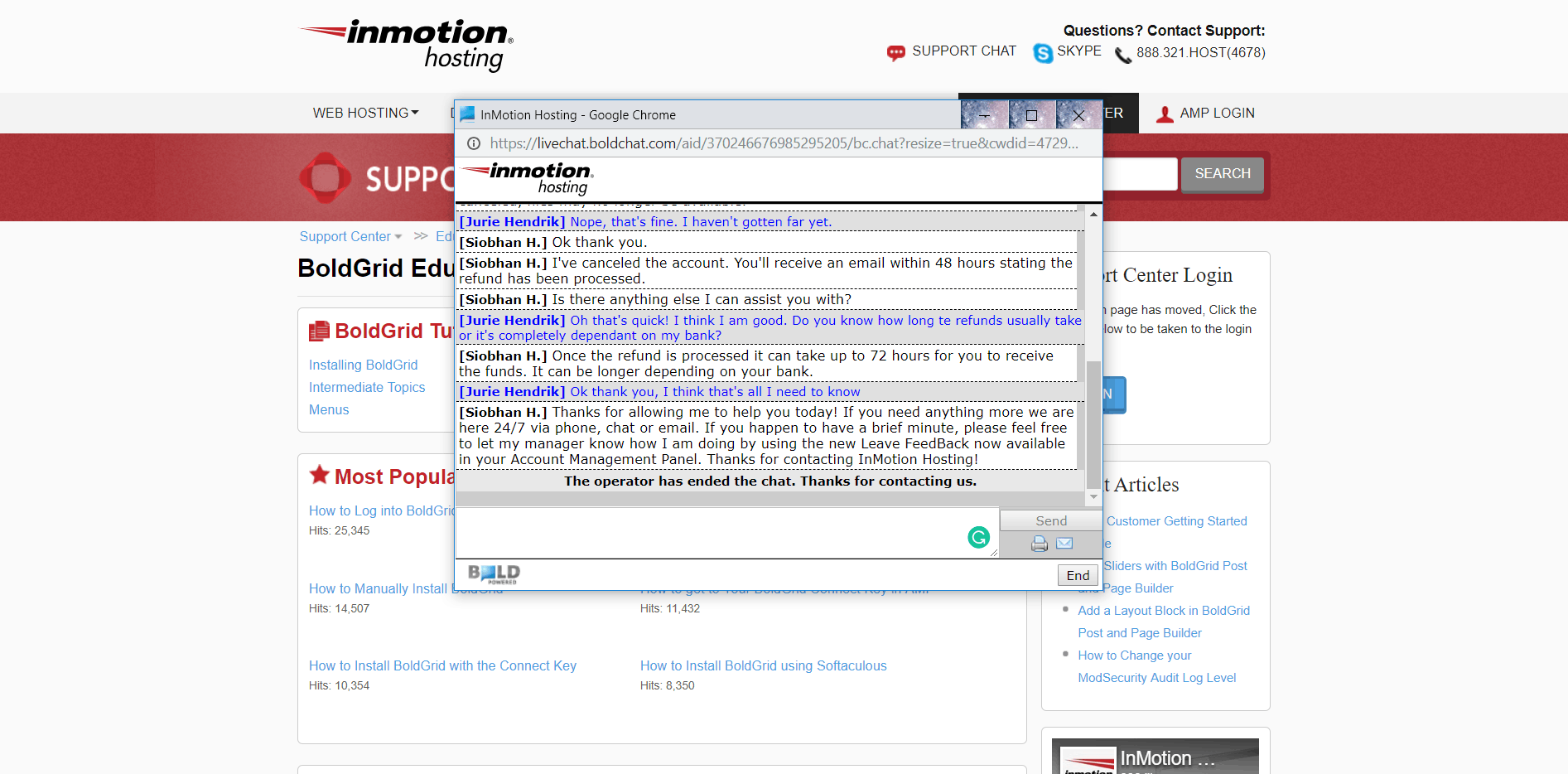 One thing I wasn't aware of was that I'd immediately lose access to my account after this chat
. It didn't really make a difference to me, but it would've been nice to know. That being said, she did ask me whether I needed time to settle anything else before she went ahead with the cancellation. All in all, it didn't even take five minutes or any additional verification to cancel my account. There's a chance that they might ask for a few extra details to verify your identity, but this wasn't necessary in my case. The next day, I received the following email confirming that the refund had been processed, and that I would be receiving it within 48-72 hours.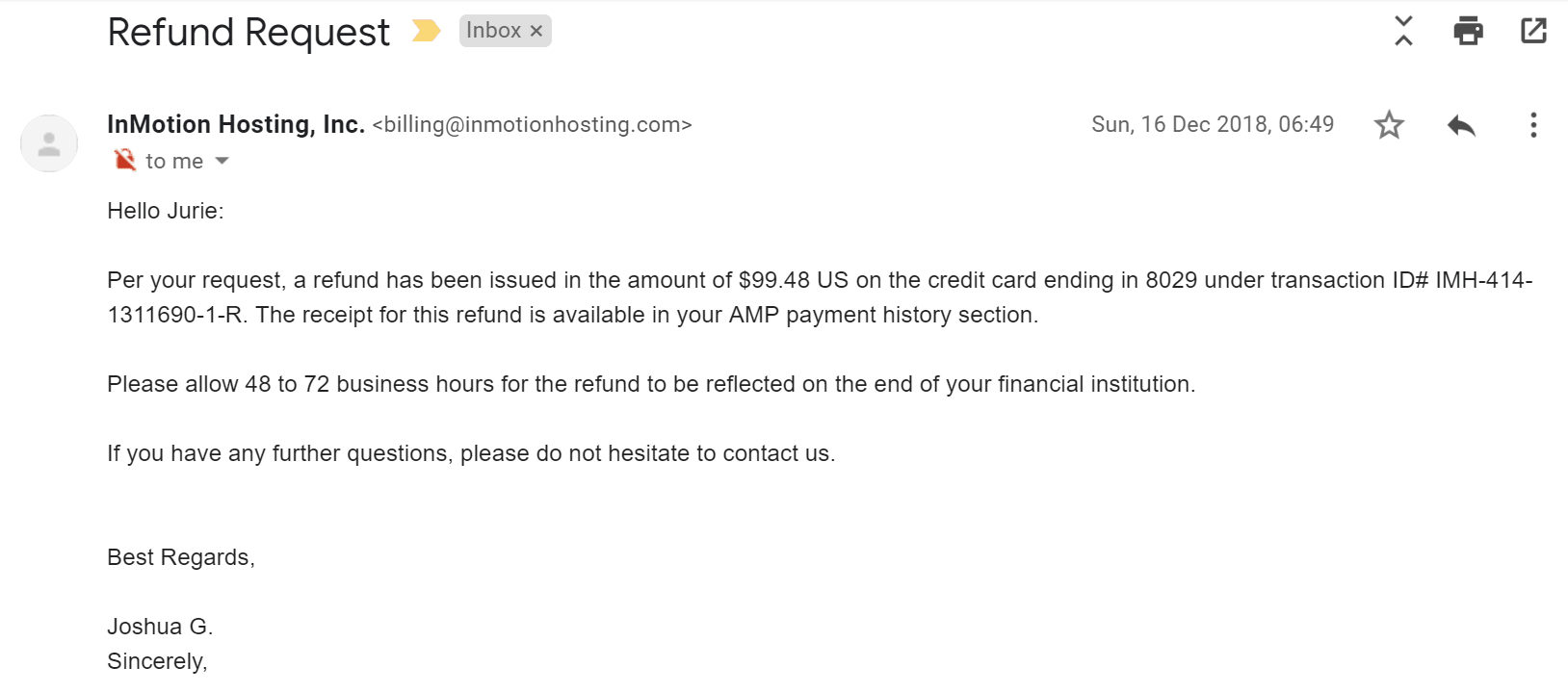 A couple of days later, the funds were back in my account. Sometimes, web hosts won't bother to reply to your emails once they've given you a refund. I'm happy to report that with InMotion, this wasn't the case. I noticed a slight discrepancy in the amount I paid versus the refund I got. I reached out to support about this, and they replied within ten hours, apologizing for the inconvenience and explaining that it was because of the foreign exchange rate.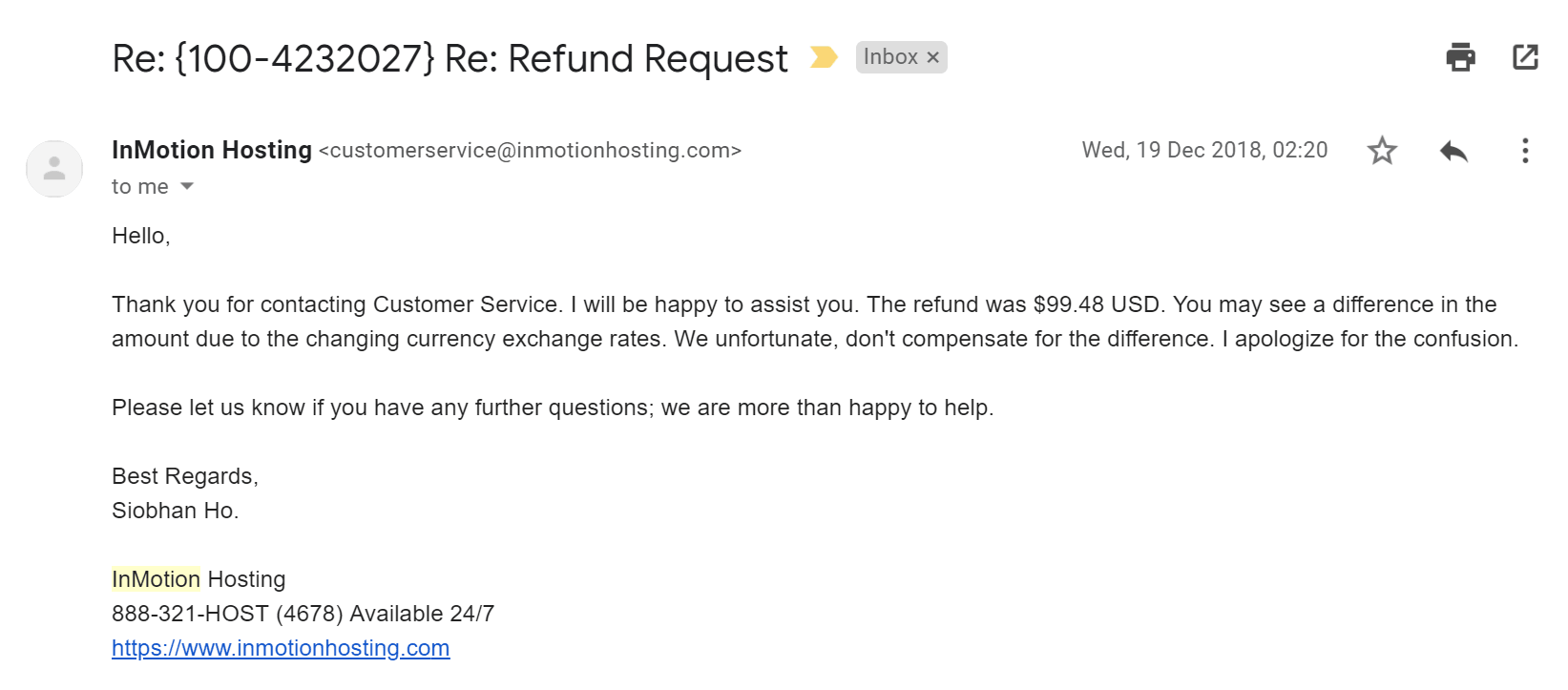 You Can Trust InMotion Hosting's Refund Policy
If you read my
full InMotion Hosting review
, you'll know I generally had very positive interactions with their support. It was nice to see how the high level of service was maintained even when I was no longer a customer. I would have liked to be able to cancel my account through the dashboard without having to contact support, but other than that, I can't really complain. If you've decided to cancel your InMotion Hosting account because you found cPanel to be a bit of challenge, then
Flywheel
 is a great alternative. It provides a very intuitive, beginner-friendly custom management interface. Flywheel also actually allows you to cancel your account without contacting support.