Bluehost and GoDaddy are more expensive than alternative hosts that offer better features and faster page loading speeds
. To make matters worse, many well-known providers suffer from issues with uptime and support. When you (and your customers) are depending on your website to function perfectly, this just won't cut it.
I thoroughly tested dozens of web hosts to pull back the curtain and reveal the truth behind the marketing
. I managed to cut it down to the top six, and I'm confident that at least one of these will be the right web host for your business.
Short on Time? These Are the Best Web Hosts for Small Businesses in 2023
Hostinger – Low prices, great performance: perfect for startups on a tight budget
Nexcess – Offers fully-managed WordPress hosting to save you time
InterServer – Room for your business to grow, with unlimited sites and resources
What We Look For in the Best Web Hosts for Small Businesses
While performing my tests, I was on the lookout for the following features. These are imperative for a small business site, and can mean the difference between success and failure.
Value for money. Many hosts like to lure you in with a good deal, just to catch you off-guard with hidden fees and high prices on renewal. The hosts below offer reasonable prices without any funny business.
Fast speeds. Your customers aren't going to sit around and wait for your site to load – they'll just go elsewhere. I've only picked hosts that offer great page loading speed, so your site can serve visitors quickly.
Reliability. If your site is constantly going down, you're actively paying for hosting you're not getting. Every minute of downtime equals countless lost customers. I thoroughly tested each of the hosts on my list for reliability.
Robust security. When your site represents your business, you can't afford any security compromises, especially if you store sensitive customer data for online purchases. All the providers below take security very seriously.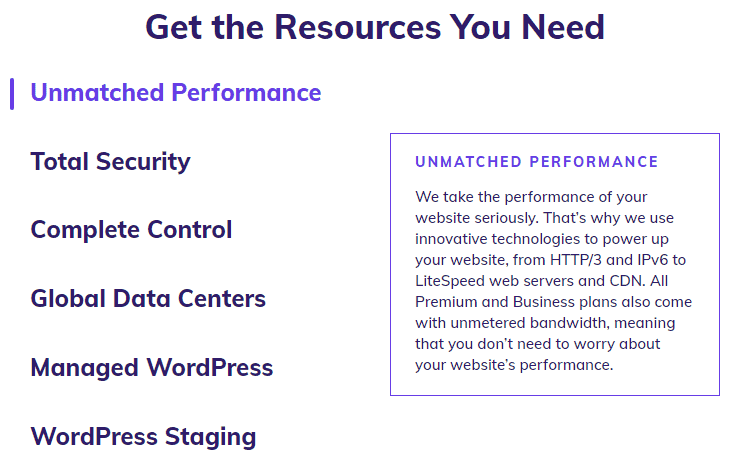 Hostinger is one of the cheapest and fastest budget hosts we've ever tested
. With the entry-level shared hosting plan starting at just
$
1.99
per month, Hostinger is cheaper than every other host on this list. This makes it the perfect option for a small business looking to keep costs low without compromising on performance.
Despite the low prices, Hostinger doesn't cut corners – every plan benefits from the fast LiteSpeed web server software
. This offers a nice performance boost of its own, but Hostinger doesn't stop there. You'll also get the LiteSpeed plugin, which configures your WordPress site for maximum compatibility with the web server without any effort on your end. While there's a lot to like about Hostinger, it does have some slight problems. Support isn't as fast to respond as it once was, and it has a frustrating habit of trying to upsell with frequent pop-ups in the control panel.
A free domain name is included with some hosting plans from Hostinger
Features
Easy-to-use control panel. Hostinger uses a proprietary control panel called hPanel. It's easy to navigate and allows you to manage all aspects of your hosting in one place. There's also a one-click installer that lets you install WordPress and other useful apps in minutes.
WordPress site-building wizard. This useful tool is included with all plans and gives you a head start on developing a new site for your business. WP Starter helps you choose an appropriate theme (design template) and install any necessary plugins tailored to your specific needs.
Free hands-on site migration. If you'd like to transfer an existing site, Hostinger support will take care of it for you. This service can handle both basic and complex business sites.
Extensive knowledge base. Hostinger's knowledge base contains many detailed guides and tutorials to the basics of web hosting. With these, you should have no trouble getting your business online.
Read our expert Hostinger review for more details
.
Money-Back Guarantee
30 days
Uptime Guarantee
99.9%
Data Center Locations
1 in the US, 3 in Europe, 2 in Asia, 1 in South America
Starting Price

$

1.99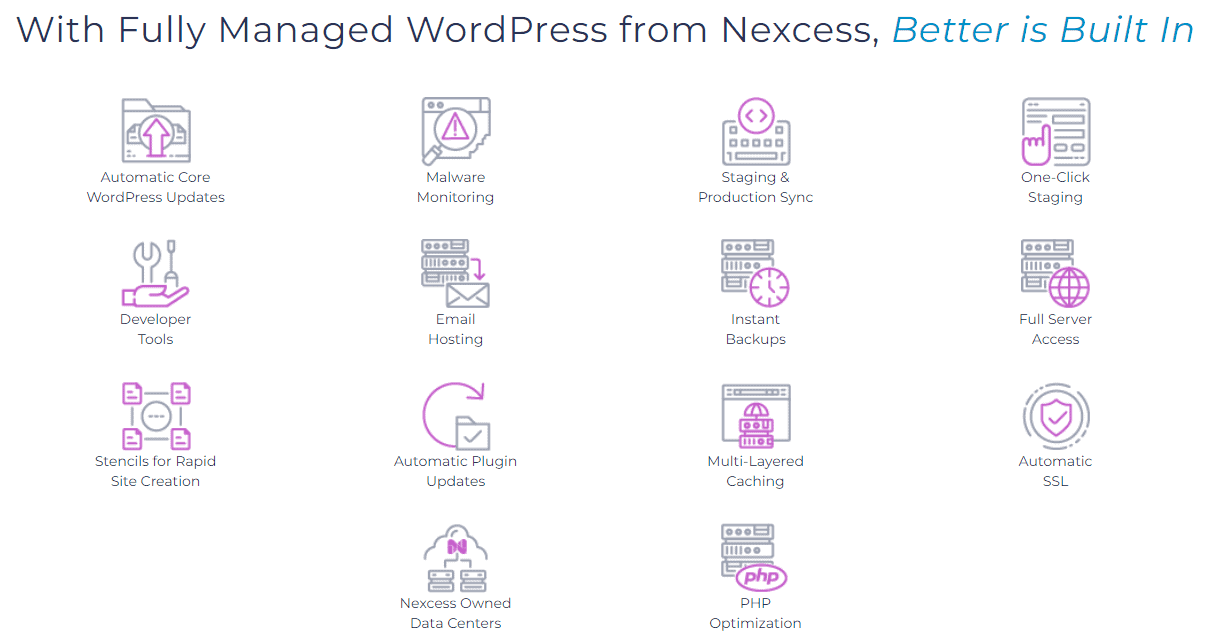 Nexcess specializes in managed WordPress plans that make the day-to-day management of your site easier
. You'll spend less time fiddling with control panels and WordPress settings, and more time growing your business. For example,
all plans offer 24 hours of free auto-scaling per month
. This means that if you get a traffic surge that exceeds the amount of resources allocated to your current hosting plan, your site's traffic capacity will automatically be scaled up to meet demand. Your visitors won't be faced with a slow-loading site due to congestion.
Nexcess also offers other premium features that are critical to online business,
including daily automatic backups and a guarantee of 100% uptime. This doesn't come cheap – Nexcess is several times more expensive than most budget hosts – but its managed cloud infrastructure is a bargain compared to that of many other managed or cloud-based hosting providers.
Nexcess WordPress Hosting
Features
14-day free trial. Nexcess is the only host on the list to offer a 14-day free trial without requiring a credit card.
Smart plugin updates. Most hosts that offer "automatic plugin updates" do not offer anything above the default WordPress plugin updater. Nexcess tests all new updates with AI before application, so you don't need to worry about your website going down due to an incompatible update.
Great WooCommerce support. If your business offers an online store, Nexcess offers optimizations for the WooCommerce e-commerce plugin. This includes StoreBuilder, a visual editor for online shop creation. There's also a free sales performance monitor and other useful analytic software.
One-click site staging. Nexcess allows you to create a clone of your site where you can safely test new layouts, features, plugins, and so on. Once you're ready, you can seamlessly push the changes to your live site.
Check out our detailed Nexcess review to learn more
.
Money-Back Guarantee
30 days
Uptime Guarantee
100%
Data Center Locations
4 in the US, 3 in Europe, 1 in Australia
Starting Price

$

49.00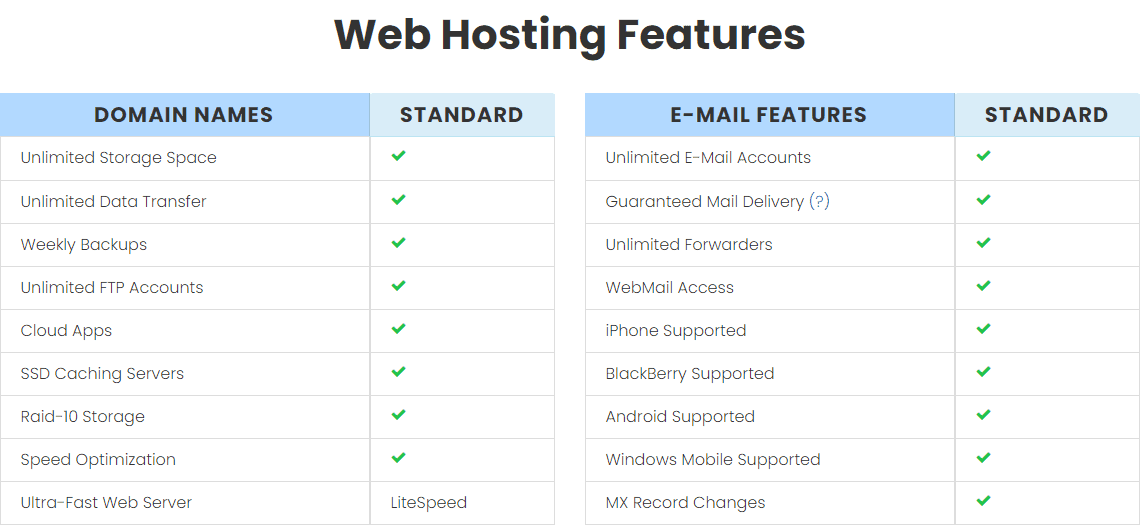 If you're worried about hitting resource limits, InterServer is likely your best deal.
InterServer's Standard shared hosting plan offers unlimited SSD storage and data transfer with no cap on the number of websites.
You'll also get unlimited email accounts at no extra cost – every member of your team can have a personal email address connected to your domain.
This flexibility works well if your online business branches into multiple categories, or requires several different landing pages.
If your business requires just a single resource-heavy site, such as an online shop with a lot of products, you can also make good use of InterServer's limitless hosting.
InterServer is very affordable if you're on a budget
, especially when considering the value of unlimited resources. But keep in mind that this is still just shared hosting, so you'll be sharing your space with other customers on the same server. Performance may fluctuate as a result.
Features
Free repair services. A compromised website is dangerous to both you and your customers. If your site is ever hacked or infected with malware, InterServer will clean it for free and bring you back online.
Highly reliable SSD storage. InterServer uses a RAID-10 array of SSD drives to keep your data safe. This means that your data is copied between multiple drives, and if one fails, your data will be safe on another. This layer of redundancy is critical as major data loss can significantly impact your business.
Proprietary caching system. InterServer delivers good performance with in-house hardware optimizations, LiteSpeed's web server and plugin for WordPress, and access to Cloudflare's content delivery network (CDN) to speed up image loading for your visitors.
Softaculous app installer. All customers get access to an app installer that allows you to install various applications (such as WordPress) with just a few clicks.
Take a look at our comprehensive InterServer review for more info
.
Money-Back Guarantee
30 days
Uptime Guarantee
99.9%
Data Center Locations
2 in the US
Starting Price

$

2.50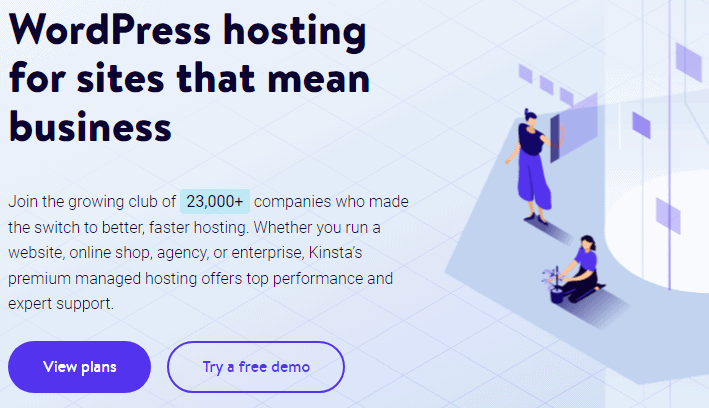 When it comes to sheer WordPress performance, Kinsta is one of the top hosts out there.
Our tests revealed loading speeds faster than nearly anything I've previously tested, along with perfect 100% uptime over a period of four months.
This is further bolstered by a network of 25 data centers across the globe
, allowing you to target an audience in almost any geographic location. Coupled with Kinsta's superior infrastructure, your website will deliver consistently great performance.
Kinsta's managed WordPress makes a good choice for businesses where every millisecond of loading time counts
, such as an online store. You'll pay a premium, and the cheaper plans are resource-limited, but if you're in a competitive industry where performance counts for everything, it's worth it.
Features
Proactive uptime monitoring. Kinsta performs automatic site checks every two minutes. If a problem is detected, measures will be taken to fix it without any need for intervention on your side.
Managed security. Kinsta runs on the highly secure Google Cloud Platform, which is further protected by Cloudflare DDoS mitigation, firewalls, encrypted connections, and account isolation.
Free premium CDN. Kinsta also ensures your site performs well globally through the use of a premium CDN. Your site's content will be cached in data centers in 200+ cities, meaning visitors can access your site's content from a server nearer to them.
Responsive and helpful WordPress support. If you have questions about WordPress, Kinsta's support is quick to help through 24/7 live chat. Agents are experts on all things WordPress, always courteous, and quick to respond.
Check out our Kinsta review for more details
.
Money-Back Guarantee
30 days
Uptime Guarantee
99.9%
Data Center Locations
7 in the US, 2 in Canada, 7 in Europe, 2 in Australia, 9 in Asia, 2 in South America
Starting Price

$

35.00

If your business' website hosts multimedia files and high-quality images, you'll need your storage solution to be fast and reliable.
InMotion Hosting offers the latest in SSD technology in the form of NVMe drives
that can access data much faster than older models. In fact, InMotion Hosting is one of the few hosting providers to offer NVMe SSD at budget prices.
The cheapest option is InMotion Hosting's WP Core plan
, which is just
$
4.99
and comes with a generous 100GB of NVMe storage. This plan also offers the usual benefits of WordPress hosting – automatic software updates, speed optimizations, and more.
All InMotion Hosting plans are protected by a 90-day money-back guarantee.
That said, InMotion Hosting lacks an uptime guarantee for most of its plans. While my reliability tests revealed no major problems, you won't receive any compensation if your site goes down for a period of time unless you choose the more expensive Business Pro plan.
InMotion Hosting Web Hosting
Features
Unlimited NVMe storage available. The Launch shared hosting plan offers unlimited websites and NVMe storage for only a slight increase in price over WP Core. You also have the option of WP Launch, which is more expensive but comes with plenty of WordPress optimizations.
Professionally designed QuickStarter site. Creating a site for your business from scratch can be time-consuming. For a one-time fee, InMotion Hosting can create a single-page WordPress site for you that's tailored to your specifications.
$150 in advertising credits. Besides the basic shared hosting plan, every plan comes with free advertising credits. This can be a boon to initial outreach for a new online business.
Free domain. The WP Core and Launch plans both offer a free domain credit for a year. This can save you a significant amount of money – in fact, InMotion Hosting is among the cheapest options on this list for the first year of hosting.
To learn more, check out our InMotion Hosting review
.
Money-Back Guarantee
90 days
Uptime Guarantee
None for Core, Launch, or Power plans. Pro offers a 99.99% guarantee.
Data Center Locations
2 in the US
Starting Price

$

3.29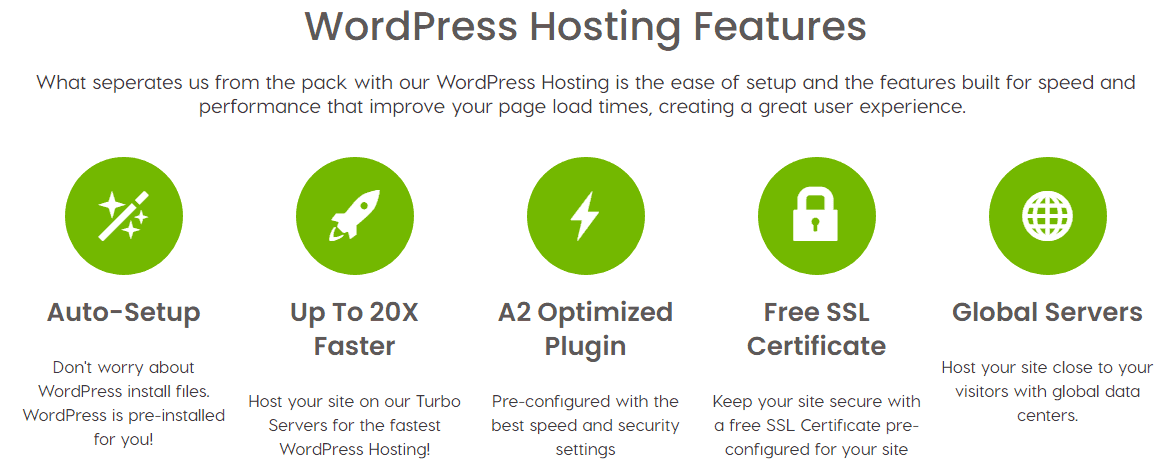 A2 Hosting offers budget hosting with plenty of resources and features
. The cheapest plan offers 100GB of SSD storage and unlimited transfers, and provides comparable performance to Hostinger. However, A2 Hosting's Turbo Servers are what make it stand out. These are only available with premium plans, and they offer all the best speed-boosting technology combined into a single package.
You'll be getting NVMe SSD storage, LiteSpeed web server software, impressive AMD EPYC processors, and a variety of other speed optimizations.
As you'd expect, these plans aren't cheap – they're more affordable than most premium hosts – but this isn't managed hosting, and you might have to wait up to an hour to hear back from A2 Hosting's support team.
If you're looking for top performance, but Kinsta is out of your budget, A2 Hosting is definitely worth considering.
Features
Anytime refund policy. You can cancel your account after the 30-day money-back guarantee expires and still receive a refund for the unused remainder of your hosting. You'll always have the flexibility to cancel a plan at any time.
Extensive security. A2 Hosting offers a robust security solution for free. It includes a dual firewall, DDoS and brute force attack protection, and an automated malware scanning tool that will also fix any vulnerabilities it finds. This makes A2 Hosting a good choice for ecommerce-based sites that need to store customer data.
Optimized for CMSs. All plans come with the A2 Optimized plugin. This offers a significant performance boost for all common content management systems (CMSs), such as WordPress, Drupal, OpenCart, and PrestaShop.
100% carbon neutral. A2 Hosting has dedicated itself to carbon neutrality since 2007, and takes care to reduce trash and recycle old servers. If your business is related to the environment, A2 Hosting may help reinforce your brand.
For more detail, check out our A2 Hosting review
.
Money–Back Guarantee
30 days
Uptime Guarantee
99.9%
Data Center Locations
2 in the US, 1 in Europe, 1 in Asia
Starting Price

$

11.99
Which Is the Best Web Host for My Business?
All of the hosts on my list can offer your business what it needs to compete online. However, you'll probably find that some of these hosts are a better fit for you than others. Here are my tailored recommendations if you're struggling to decide.
If you're on a tight budget, Hostinger is both cheap and fast
. You'll be able to save money while outperforming the majority of the competition.
Looking for an easy-but-powerful WordPress platform? I'd recommend Nexcess
. Its premium features, such as free auto-scaling and smart plugin updates, can reduce the stress of running an online business.
Need to host multiple resource-heavy sites? InterServer will give you the best deal
. With unlimited resources, you can freely launch multiple sites with high-quality images or other storage-consuming media, and you won't have to worry about running out of space.
For a quick recap, check out my comparison table below.
Standout Feature
SSD Storage
Data Transfer
Starting Price
Hostinger
Very affordable with impressive performance
30GB – 200GB
100GB – unlimited

$

1.99

Nexcess
Free auto-scaling and smart plugin updates for WordPress
15GB – 800GB
2TB – 10TB

$

49.00

InterServer
Unlimited hosted sites and resources for low prices
Unlimited
Unlimited

$

2.50

Kinsta
One of the fastest hosts available today backed by an extensive cloud network
10GB – 250GB
25,000 to 3,000,000 unique monthly visits.

$

35.00

InMotion Hosting
Best SSD tech available for budget hosting plans
100GB NVMe – unlimited
Unlimited

$

3.29

A2 Hosting
Impressive Turbo servers deliver great loading speed, cheaper than other premium hosts
100GB – unlimited NVMe
Unlimited

$

11.99
FAQ
Which hosting is best for a startup?
I'd recommend Hostinger. It's one of the cheapest and fastest budget hosts we've ever tested, allowing your business to save money without sacrificing site speed. To learn more about why Hostinger is best for a startup company, take a look at my Hostinger overview.
How do I host a business website?
To host your site, you'll need to register a domain name and choose a quality web host. For everything you need to know, check out our complete guide to building a site and getting it online in 2023.
Is GoDaddy a good host?
GoDaddy wouldn't be among my top picks. It has performance issues that may impact your business, and it's more expensive than most budget hosts. My top picks for small businesses offer a far better deal. Alternatively, check out our list of the top web hosting services in 2023 for more options.
What is the cost of hosting a website?
It depends. Some hosts offer free plans, but these tend to come with restrictive usage limits and poor performance that would hinder your growing small business website. Most budget hosting plans only cost a couple of dollars per month – and among these, Hostinger and InterServer are two of the cheapest and most reliable.