One service is aimed towards the intermediate to expert user, and the other is designed for beginners in mind. So get yourself comfy and put 10 minutes aside as we look at which website builder you should be using.
Usability and Flexibility
Our first port of call see's us arrive at the usability section, so let's take a look at what WordPress currently offers its users and just how flexible the system is.
To start with, WordPress is one of the most popular content management systems out there, it has everything you need in one place and a plugin store that is home to some 32,000 plugins. What I really like about the plugins is that if you ever face a stumbling block when creating a post or building your site, you will normally find the answer comes in the form of a plugin.
From social integration to creating sitemaps, a plugin store is a useful tool in your armor.

What you also have with WordPress is simple and effect toolbox down the left-hand-side of the dashboard that will allow you to create pages, posts, and tweak the general look of the site you are building. Better still, WordPress offers complete flexibility in allowing you to edit the live code so you have every aspect of website editing at your fingertips. Because of this unrestricted feature, advanced users should be the only ones that benefit from WordPress in this manner.
If I have scared you off website building now, then this is where Squarespace can jump in and save the day. Squarespace has been designed for all the beginners out there that really want to have complete access to their own website (from hosting to editing).
What you will find with Squarespace is that they offer a simple drag-and-drop feature where you can literally…yes…you got it! Drag and drop images, music, videos and all sorts into the design of your site.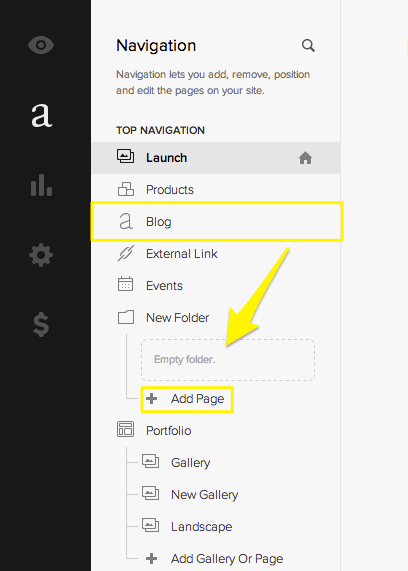 Again, Squarespace offers hosting and the connecting of a domain to your package so everything is handled in one place and you can literally hit the floor running.
Maintenance & Performance
WordPress definitely struggles in this category. With WordPress, you are literally on your own (apart from the support forum on the WordPress site). You will have to upload WordPress to your FTP host, establish a database connection, set up the config file and then manually update any plugins or latest WordPress versions that are pushed your way. It can be time consuming and confusing more users who aren't familiar with hands-on stuff like this.
Squarespace isn't open source, which means that everything from the plugins to testing and maintenance is all done by their developers. This means they will update anything for you, test and put the website live for you while you get on with the more important things in life.
Pricing
WordPress is free if you are looking to download the software for your own domain, however, bear-in-mind that you will need to go out and get your own hosting, domain name, and spend a little money getting a theme.
Squarespace offers three packages: Personal ($10 month-to-month), Professional ($20 month-to-month) and Business ($30 month-to-month). Squarespace, as usual, includes everything you need to get going on each of the below options.

If you take into account that WordPress will need hosting (around $50 per year), and a decent theme as they only give one free basic theme that's no good ($50-$60), then you are looking at little difference in price between the two.
Summary
WordPress and Squarespace both have one end goal that is the same, they just offer it to a different skill level. If you want hands-on control over everything from hosting to coding then WordPress is the ideal solution. If you don't have time for all that, or just don't know where to start with building a site then I would advise you take the Squarespace option and get yourself the personal package which has everything included that you should need.