TemplateMonster
is one of the biggest marketplaces around.
But is it the right one for you
? Is it easy to find a good theme? Are they high quality? Are they reasonably priced? You definitely want to know the answers to these questions before you invest your time and money in TemplateMonster's themes. I've built dozens of
WordPress
sites over the years and have bought themes from multiple marketplaces, including
TemplateMonster
. Here, I'll show you what TemplateMonster has to offer, and how it compares with other options. If you go ahead with TemplateMonster, you'll likely spend many years as a customer, so read this review carefully to make sure it's truly the right fit for you.
How Easy Is It to Find a Theme You Like?
TemplateMonster has over 2,100 WordPress themes
. Fortunately, you won't have to spend hours looking for the template you like, because TemplateMonster has pretty good search options and filters. To start with, all themes are divided into categories (e.g., animals, design, fashion, medical, etc.).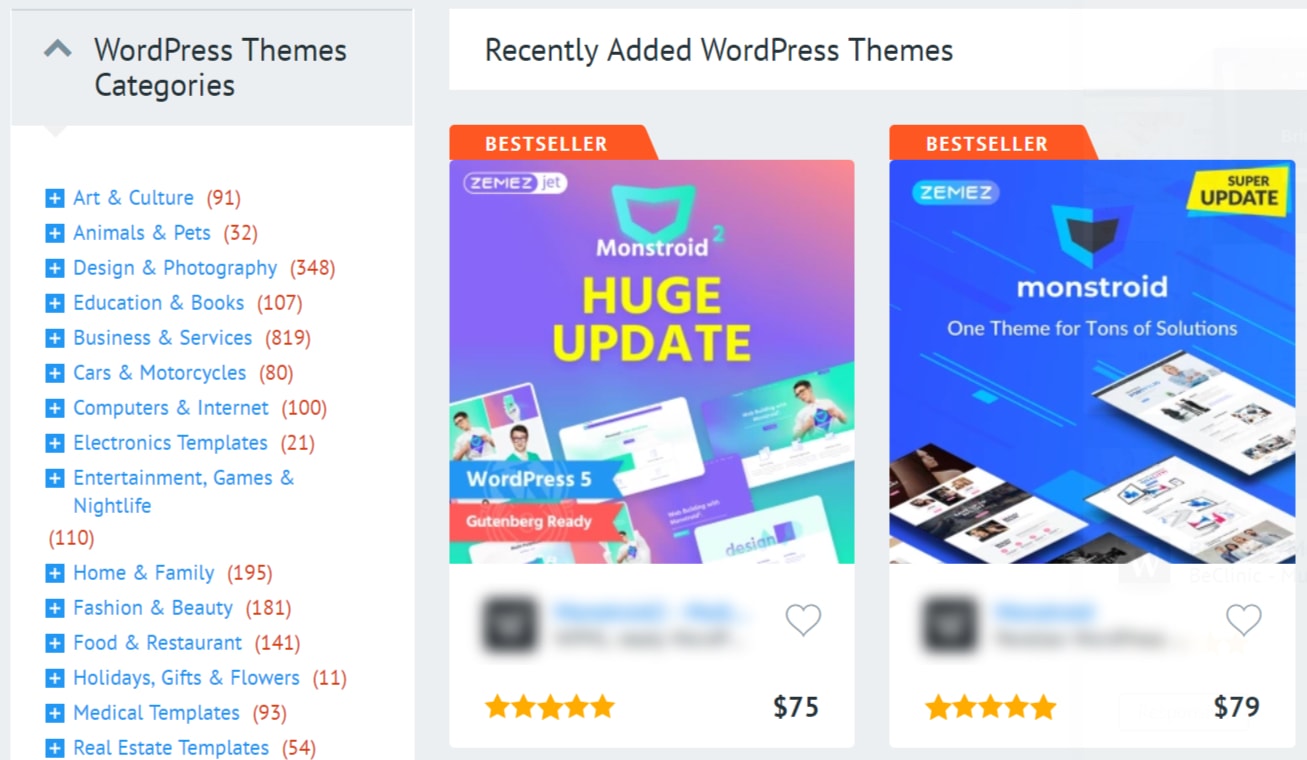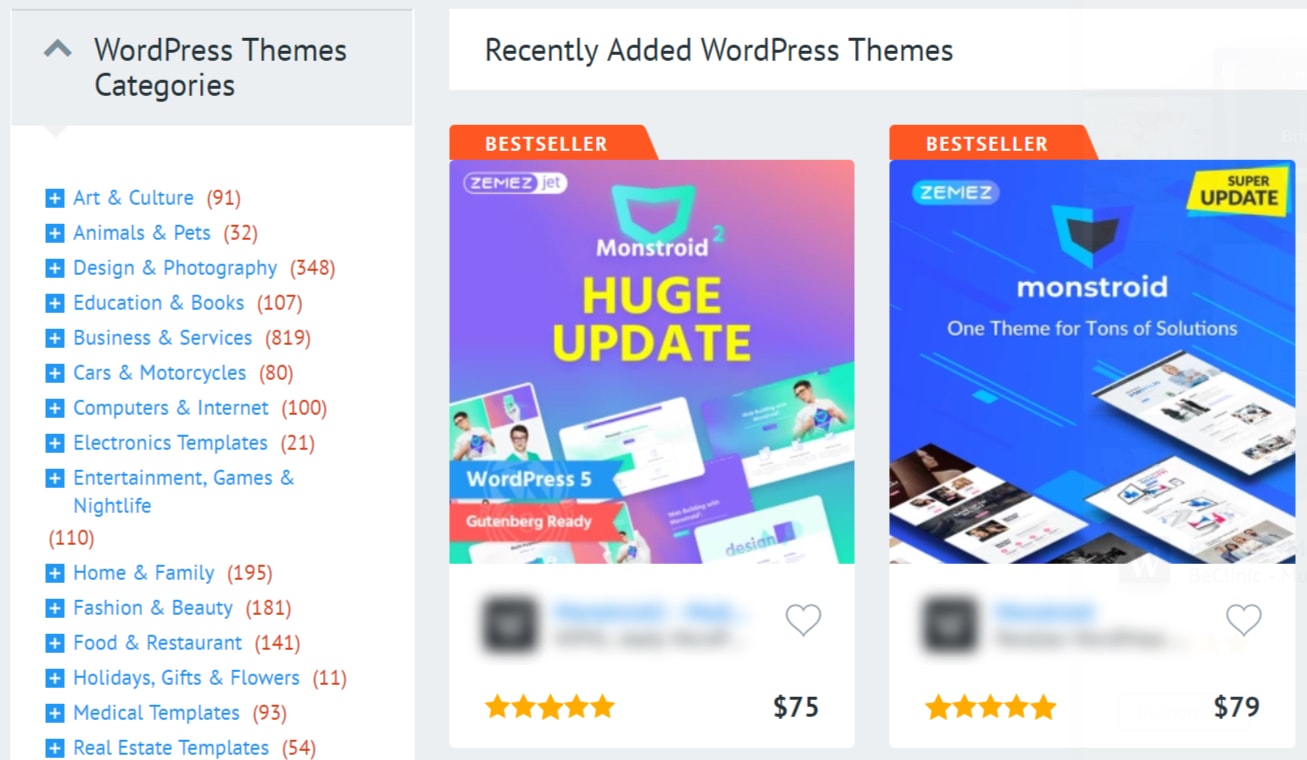 If you're looking for a template designed for a specific industry, this will narrow down your options to around 100. But not the "Business & Services" category. That's the most popular one, with over 800 themes. This is a good thing, but you'll need to filter the results down further (you can pick a sub-category as well). Aside from filtering by category, you can also filter by:
Features (e.g., blog, mobile-responsive, portfolio, parallax)
Popularity
WordPress version
Styles (e.g., corporate, minimalist, flat)
Date range (of when a theme was published)
Color
While you can browse only one category at a time, you can stack as many filters as you like: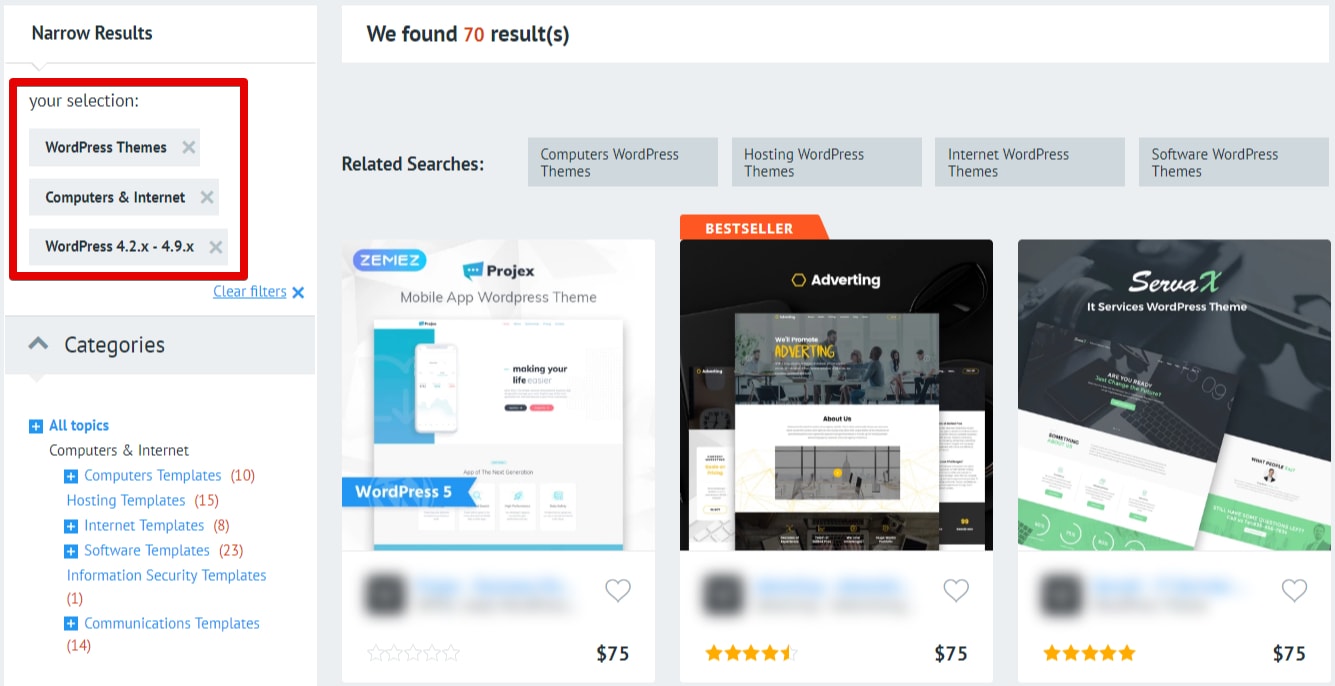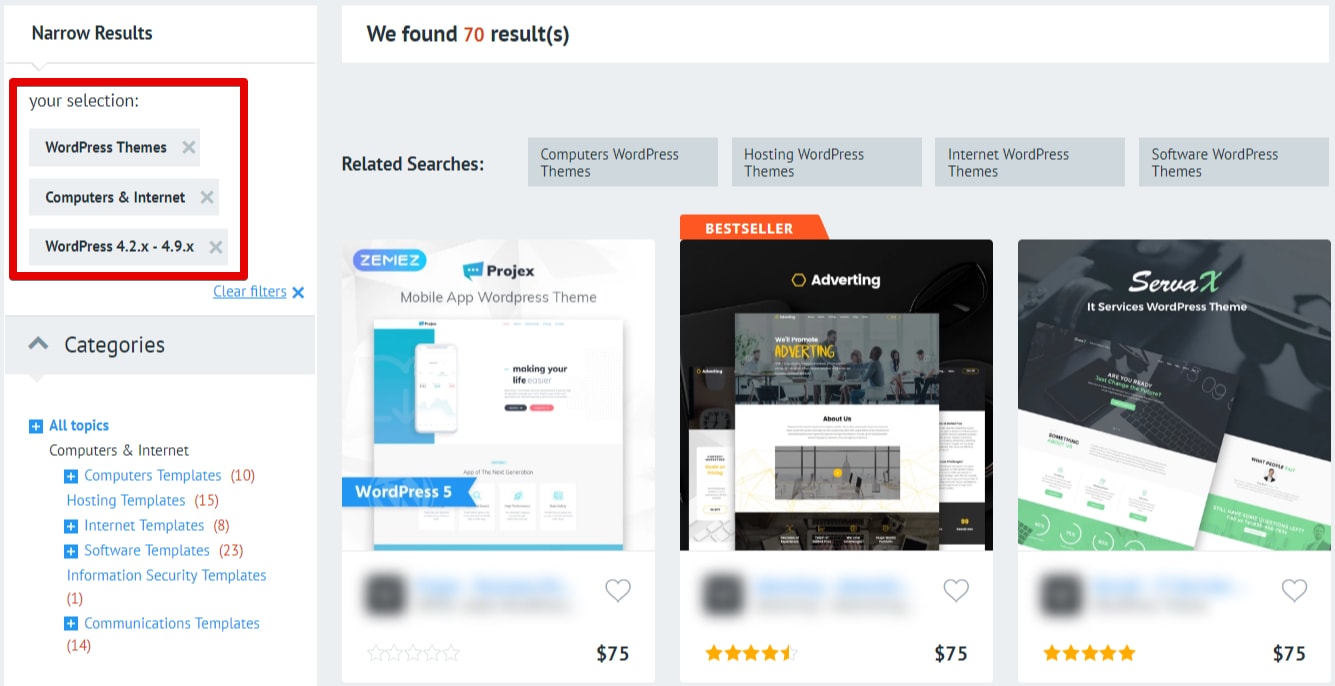 Finally, you can filter down results even more by using the search bar at the top of the page.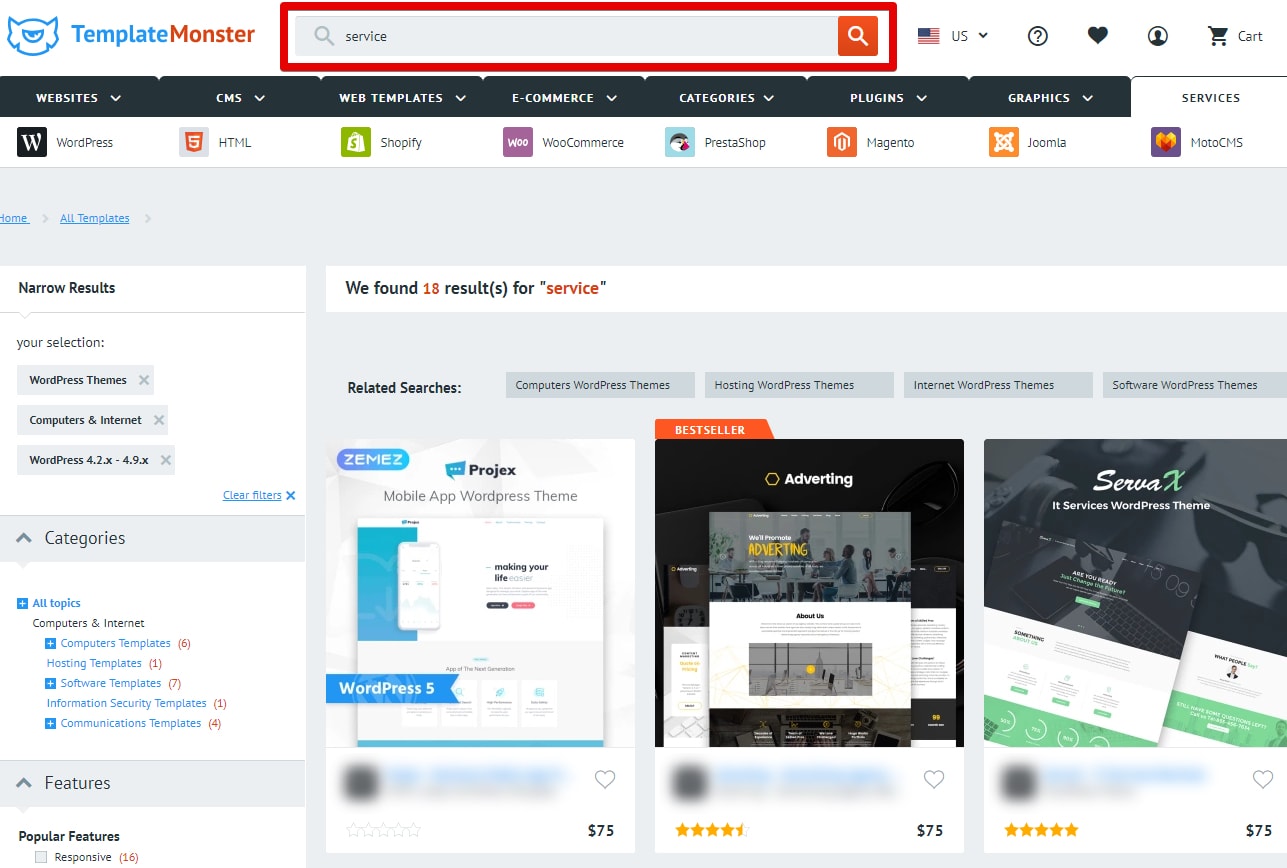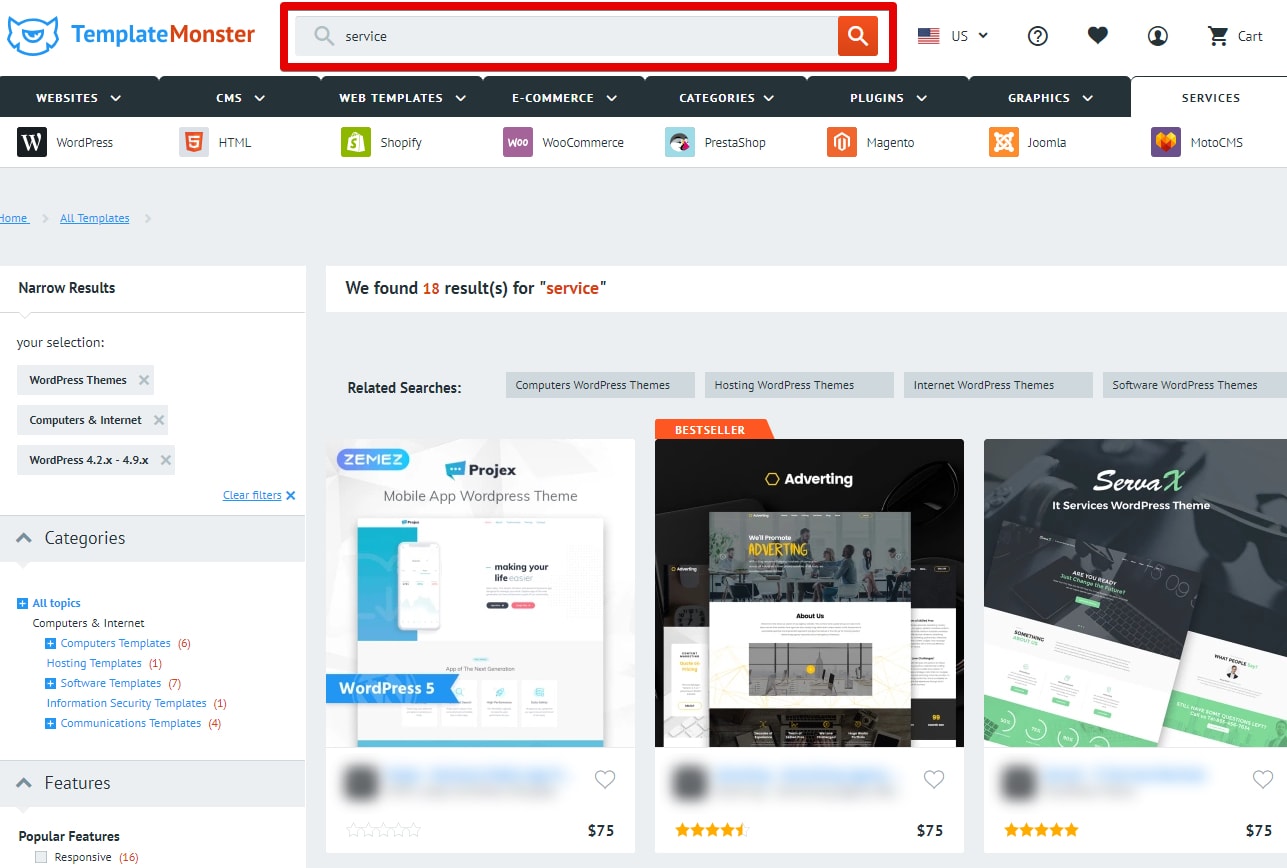 While it seems like a way to search the entire website, it actually searches your filtered results for a keyword (e.g., blog, freelancer, service). Although the filtering feature is powerful, it's not perfect.
It would be nice to be able to filter or sort by price and average review rating
, which you can do with another theme marketplace like ThemeForest. However, if you use a combination of all these filtering methods, you should be able to narrow down the results to no more than 30 themes. This number is small enough that you can find your best theme relatively fast. Once you have a bunch of themes to pick from, you can hover over any of them and pick either "live demo," or "view details."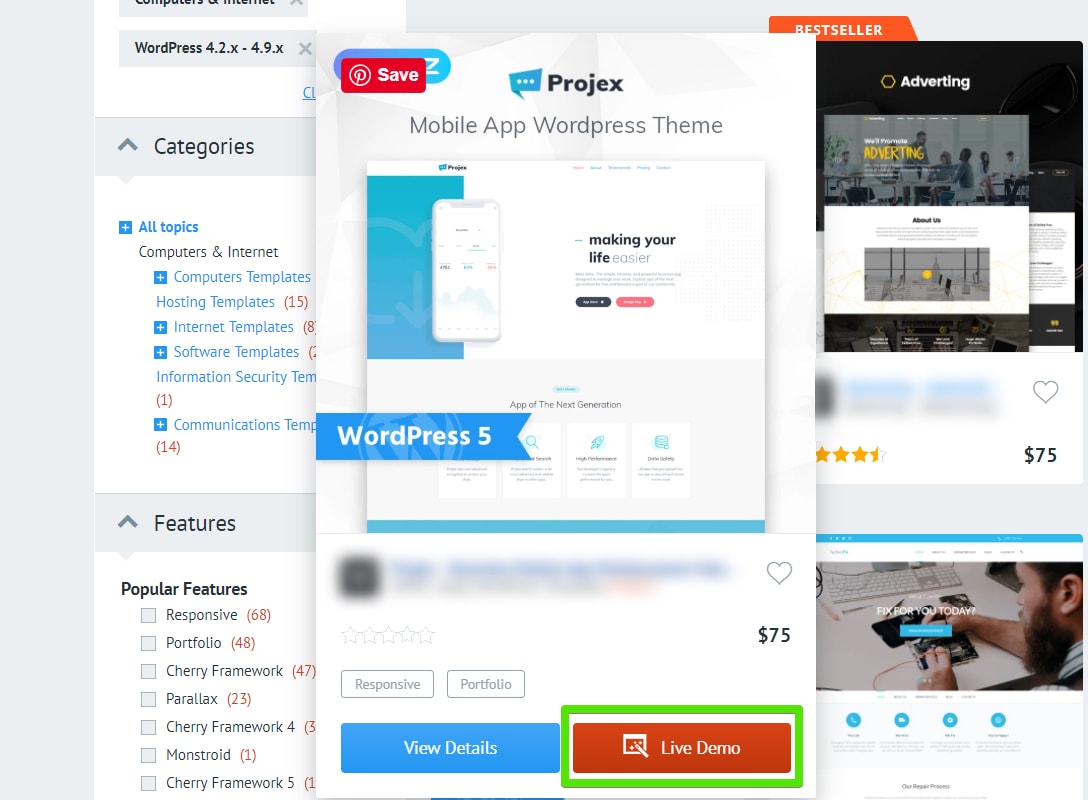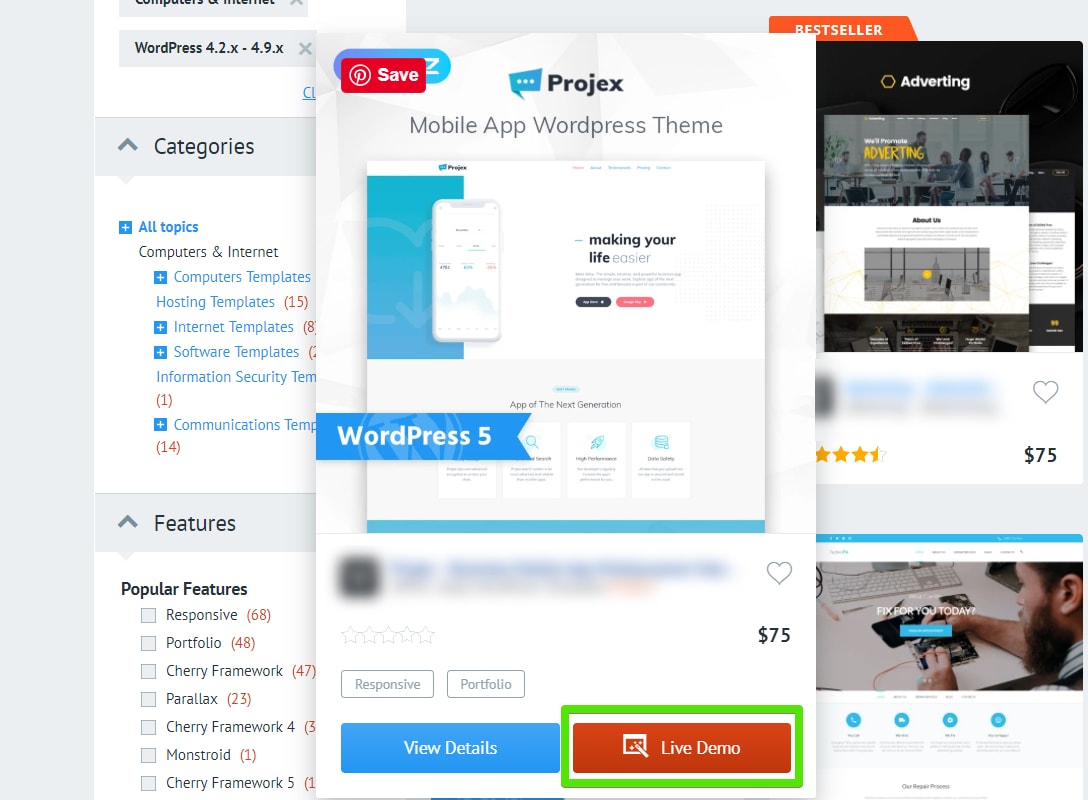 The live demo opens up a demo site using the theme that's fully functional (you can click around to see different pages). The top bar on the preview page lets you see what it looks like on mobile and tablet, and also lets you add the theme to your cart if you like it.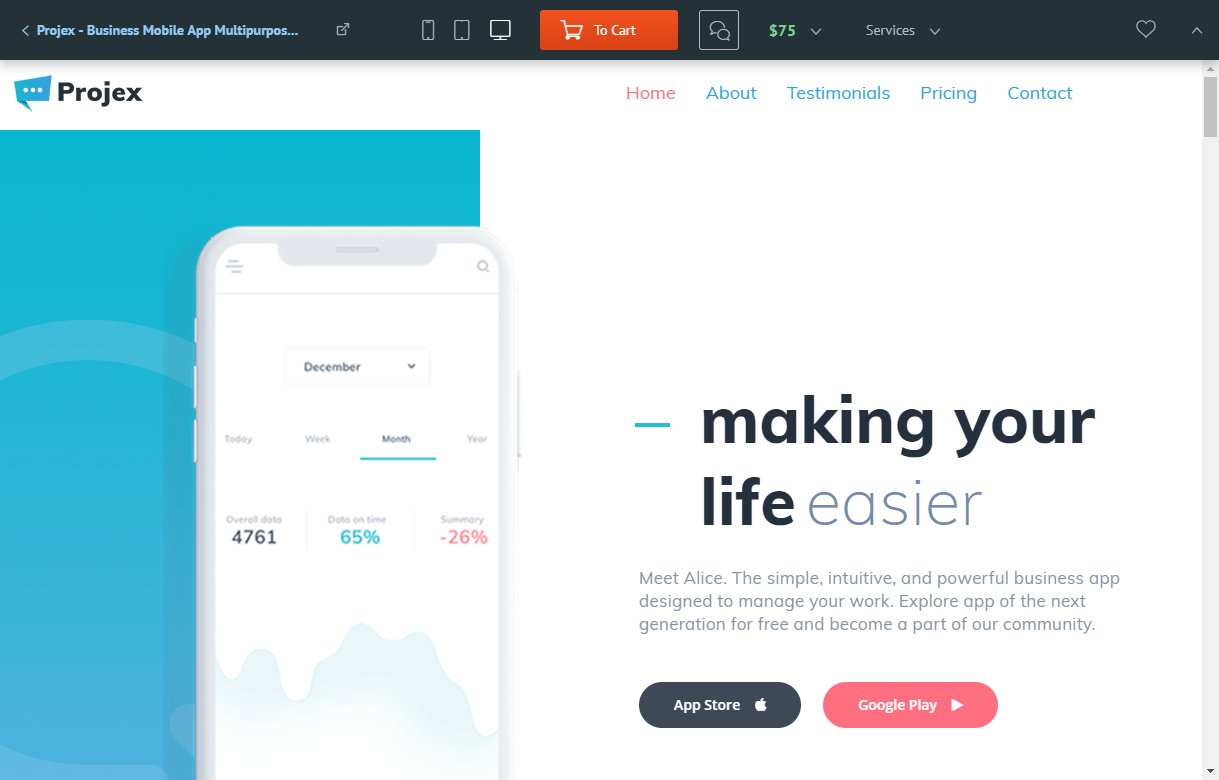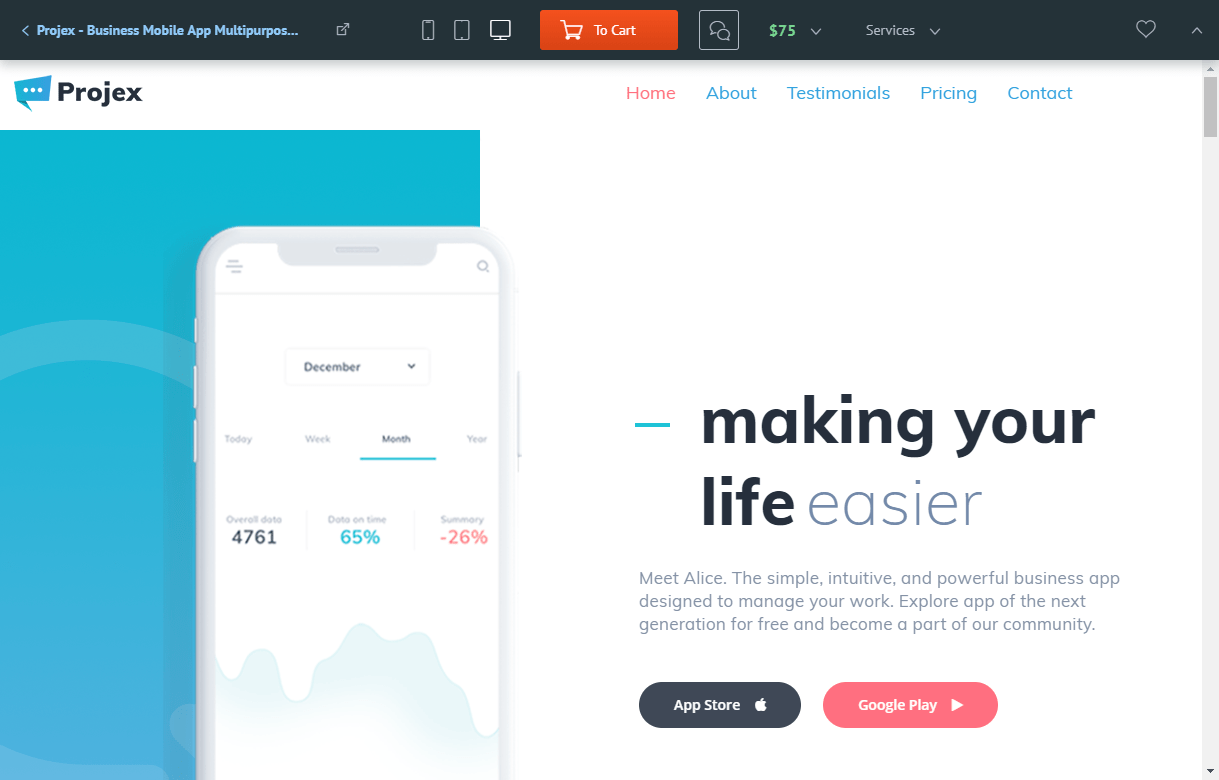 If you go to the theme details page, you'll be able to see:
Theme info (e.g., who made it, what it's coded in, what language it supports, etc.)
Features
Comments
Customer reviews
Overall, I think you'll find it fairly easy to find a theme you like.
Are TemplateMonster Themes High Quality?
If the themes are ugly, poorly optimized, or not mobile-friendly, all that filtering and searching will be for nothing. Most – if not all – themes on TemplateMonster are published by third-party vendors, so it's not TemplateMonster designers creating the themes themselves. TemplateMonster just provides the platform to search and buy them. Because of that, the themes vary in quality, as in any theme marketplace. Overall,
TemplateMonster themes are high quality
, featuring contemporary, mobile-responsive (over 93%) designs. In my experience using TemplateMonster, the challenge was never finding a beautiful, well-built theme; the challenge was finding the right one. Again, the filters were helpful.
What Should You Expect to Pay for a WordPress Theme?
For WordPress, you'll find themes ranging from $10 to $150. I recommend staying away from themes at the lower end of that range. Most popular themes cost about $75. Expect to pay around that much for a high-quality theme.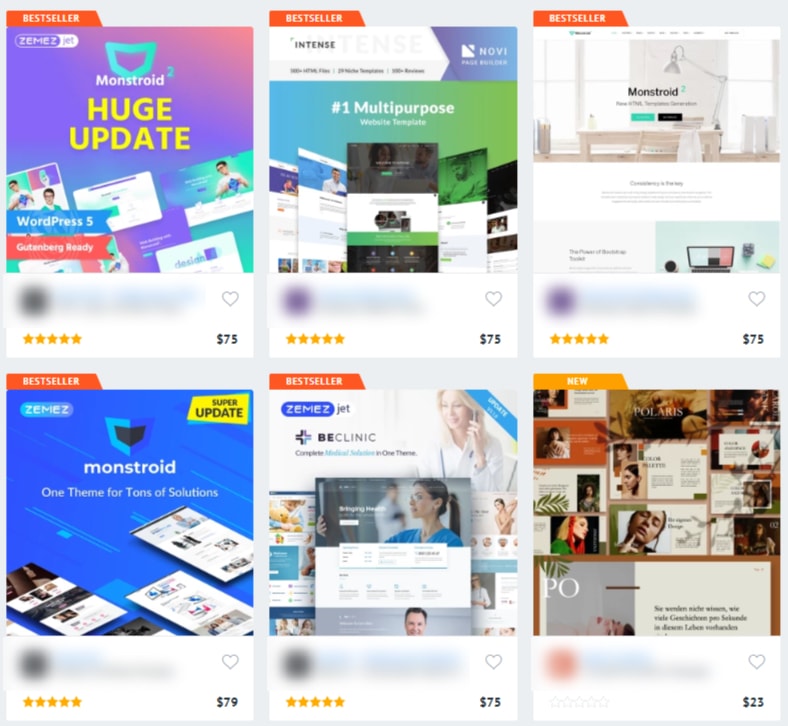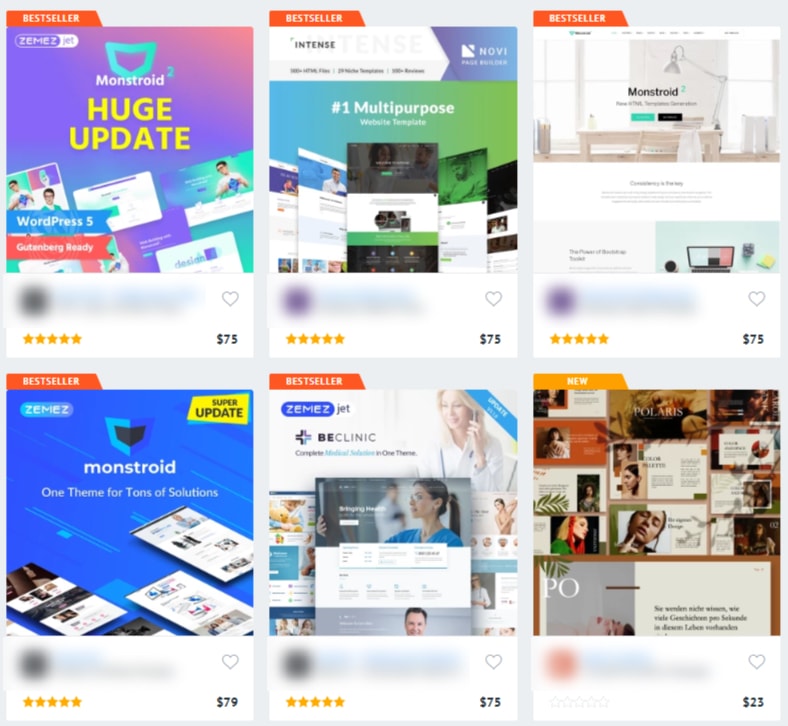 However, TemplateMonster often offers various ways to save money, including coupon codes.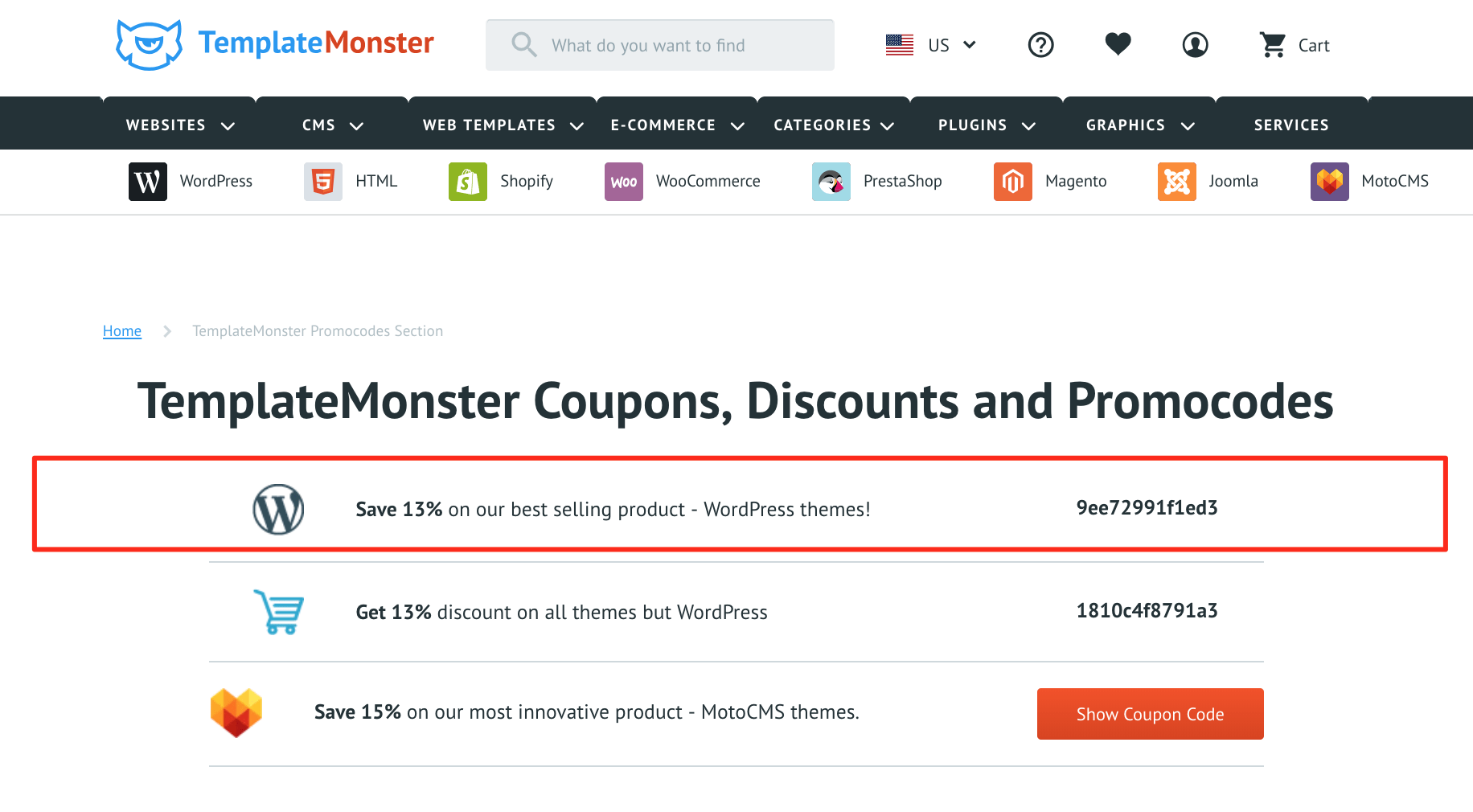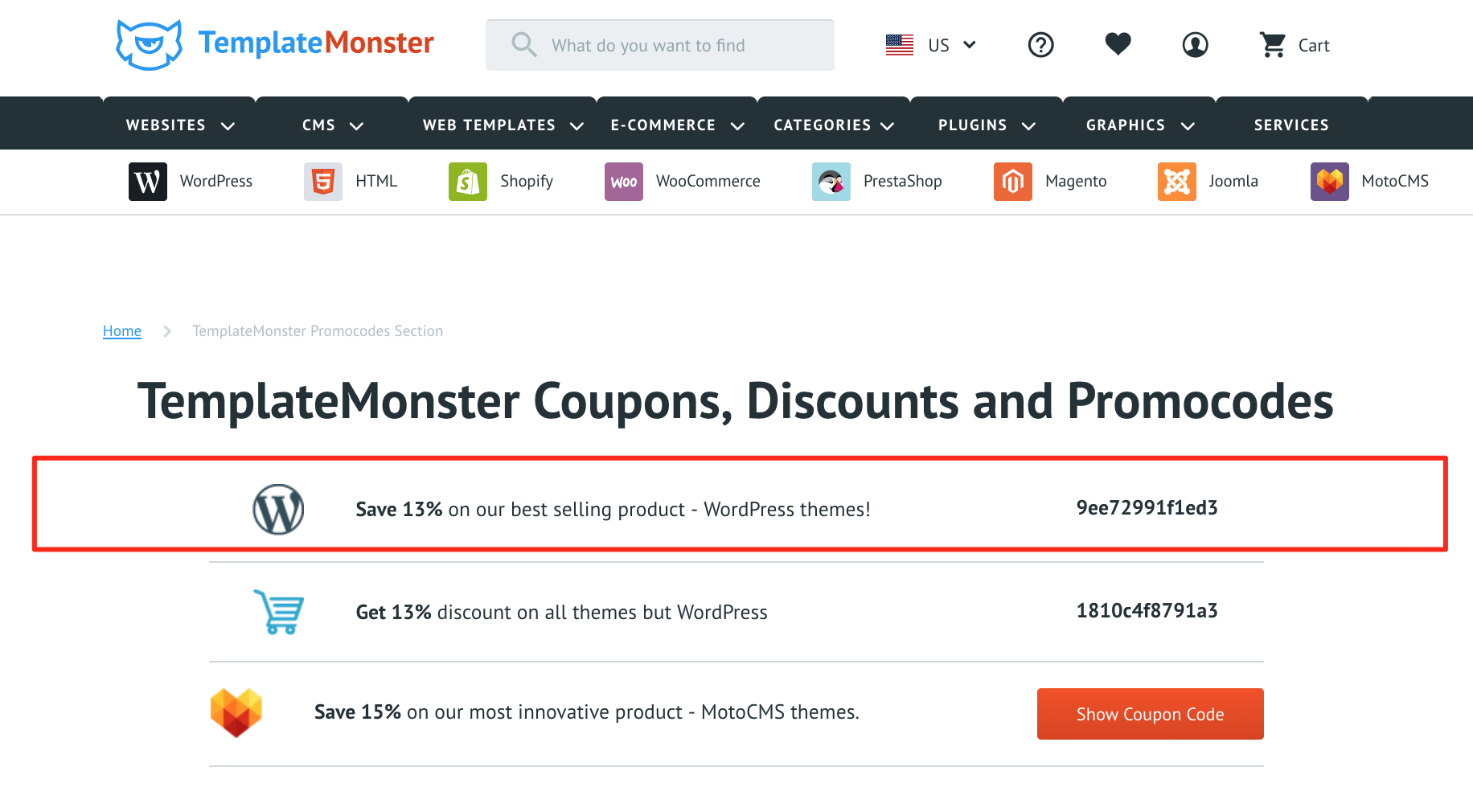 It might be easy to miss, but you can access these savings by scrolling to the bottom of any page, and then clicking on
Promocodes/Coupons
.


Aside from the theme itself,
you can buy addons for an additional fee
.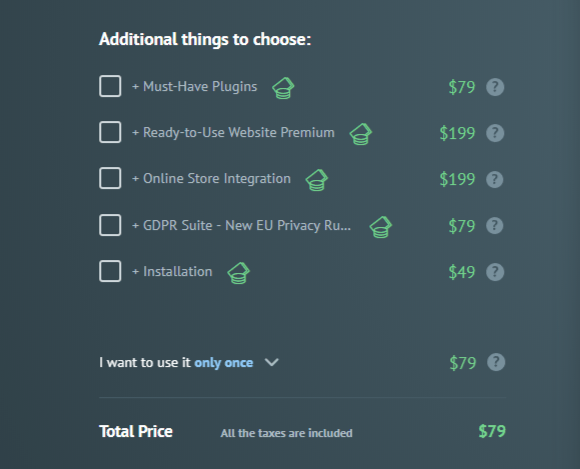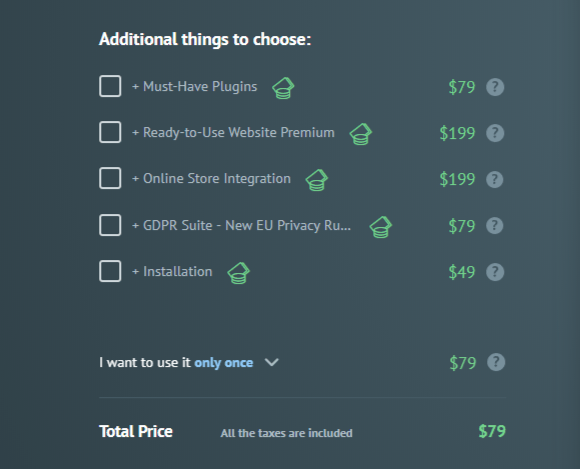 The most common addons are:
Installation done for you
Multiple licenses (so you can use the theme for multiple websites)
Online store integration
Extra premium WordPress plugins
A final thing to be aware of is
TemplateMonster's refund policy
. For the most part, you can get a refund only if you aren't delivered a product, or if the product isn't as described, or if there's a major defect. So,
while refunds are possible, they're not a sure thing
. Pick carefully before buying.
How Easy Is It to Download and Use a Template?
If you figured out how to install WordPress,
you'll find it very easy to install any theme you buy from TemplateMonster
. The process should take no longer than five minutes:
Buy the theme.
Download it in a Zip file from your TemplateMonster account page.
Go to "Appearance > Themes" in WordPress.
Click "add theme" and upload the theme Zip file to the page.
Installing it is no different than installing any other WordPress theme.


Can You Customize WordPress Themes You Buy?
Once you install your theme, you're free to customize it like any other WordPress theme.
Note that if you directly modify the code of a theme you buy, and then install an update, you'll lose any changes you made.
However, most themes from TemplateMonster include an extensive settings panel where you can change the layout, typography, colors, and more. These changes will stay even if you update the theme. One final note is that TemplateMonster offers some customization services (that cost extra), but nothing too extensive. For instance, you can have TemplateMonster make and install a logo for your website, or change its color scheme.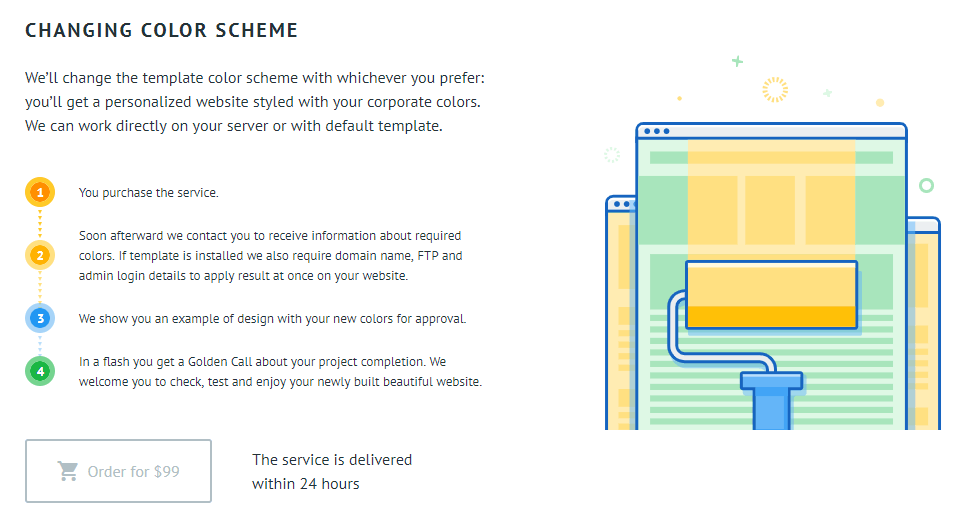 For these services, you'll have to grant access to edit your website. TemplateMonster designers will give you a few logos or color schemes to choose from, and then they'll modify your website with the winner.
What Themes (Besides WordPress) Does TemplateMonster Offer?
While WordPress is the most popular content management system (CMS) that TemplateMonster sells themes for, it's not the only one. TemplateMonster also offers a wide range of themes for Joomla, MotoCMS,
Elementor
, and Drupal.


The process for filtering and buying themes for any of these other CMSs is identical to the process for filtering and buying a WordPress theme. Additionally, TemplateMonster supports ten popular e-commerce platforms, including
Shopify
,
WooCommerce
, PrestaShop, and Magento.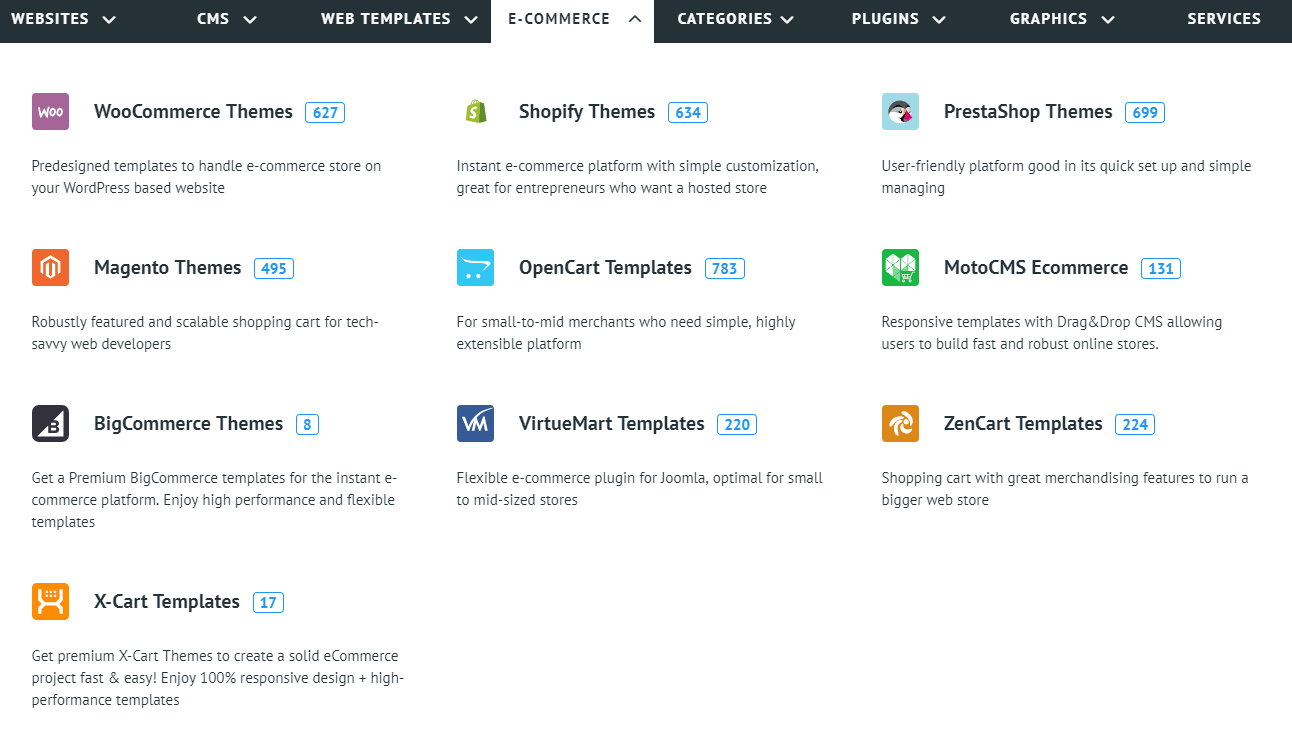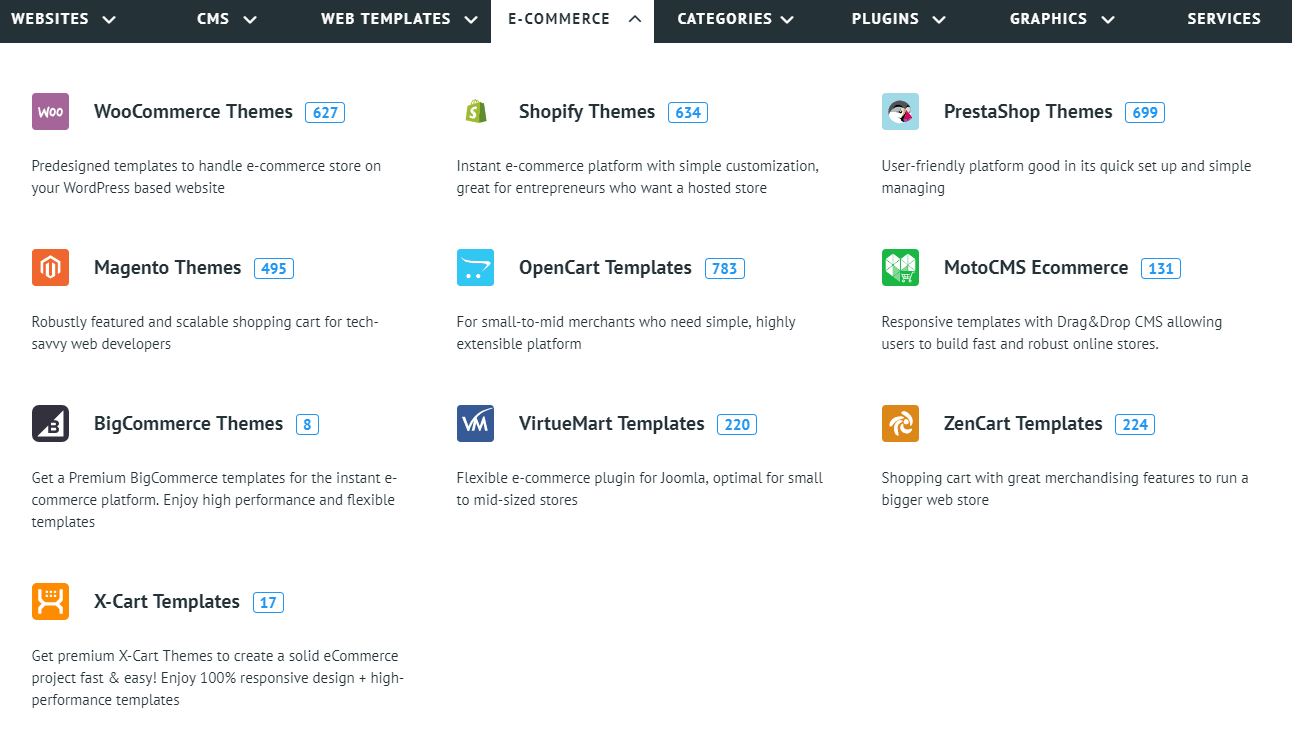 Note that most e-commerce themes are at least $100, so you'll need to up your budget.
Do Templates Come With Support?
TemplateMonster offers
24/7 live chat and phone support
, but only for buying, downloading, and installing themes. In addition, there's a basic knowledge base with articles on using TemplateMonster (e.g., buying templates, billing questions, etc.), where you can also submit tickets. Its support team also has "consultants" who are happy to recommend themes if you tell them what you're looking for. This is great if you're overwhelmed by the number of options. But once your theme is installed on your website, the technical support is passed off to the third-party vendor who created the theme.
The quality of support will depend on that vendor
. When you're deciding which theme to buy, you can click on the "support" section of any theme detail page to figure out how reputable a seller is. This will give you a summary of the support options (e.g., ticket, chat, phone), and how long it will take to get an answer for each.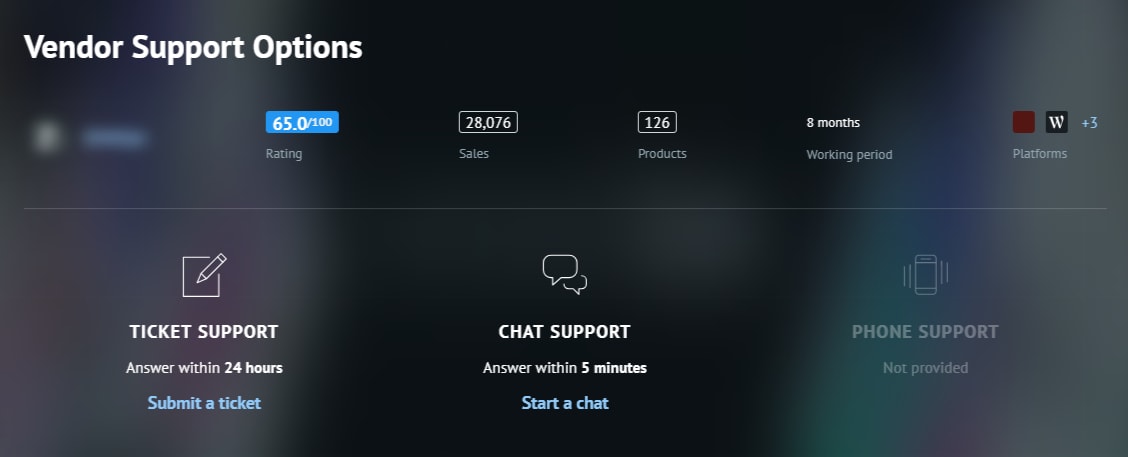 You can also see an overall rating that accounts for sales, reviews, and other (undisclosed) factors. If you take a look at this information, plus the customer reviews on the page, you should be able to pick a seller that offers a decent level of support.
Weighing the Good and Bad of TemplateMonster
Overall, I'm a big fan of
TemplateMonster
. It's not perfect, but it gets a lot of things right. Here are the biggest pros:
Huge selection of templates
Not many outdated or ugly themes
Support included with all themes, at no extra cost
The themes are easy to preview
Lots of seller information available, so you can buy with confidence
And here are a few cons where TemplateMonster could improve:
There are a few filtering options missing. Sorting by price or average review would be helpful.
The cost of popular themes is a bit higher than on other theme marketplaces, although you could argue that the quality is a bit higher as well.
How Does TemplateMonster Stack Up with ThemeForest?
When it comes to buying WordPress templates, you can buy either straight from a theme developer (like Elegant Themes), or from a theme marketplace.
The biggest marketplace by far is ThemeForest
, so let's see how TemplateMonster compares:
| | | |
| --- | --- | --- |
| | TemplateMonster | ThemeForest |
| Number of WordPress Themes | 2,100+ | 11,700+ |
| Typical cost of popular theme | $75 | $60 |
| Quality of Themes | High | Fairly high (varies due to high amount of sellers) |
| Support | 24/7 live chat and phone, plus basic ticket support | Basic ticket support |
| Theme Support | Included in the purchase price | 6 months free, then added cost for each 6-12 months |
| Filter options | Basic filters | Extensive filters |
| | | |
Once you get past a certain number of themes, having more isn't necessarily better. While it can be good that ThemeForest has almost six times as many themes if you're looking for something very specific, the number of options can also be overwhelming. The prices are comparable, especially if you add in the paid theme support on ThemeForest. I do think that
ThemeForest's filtering capability is better
, as it lets you filter by price, and gives you the ability to sort results (by price and rating).
But where TemplateMonster has a big upper hand is its support
. TemplateMonster offers round-the-clock chat and phone support for any issue you have with finding a good theme or getting it installed. By contrast, ThemeForest offers only basic ticket support, with no specified guaranteed response time. Both theme marketplaces transfer the responsibility of supporting individual themes to the sellers. Nevertheless, TemplateMonster includes this support in all their themes without any additional charges, whereas a significant fee needs to be paid every six-to-twelve months for the same on ThemeForest.
Is TemplateMonster the Best Place to Find WordPress Themes?
Even without looking at any other theme marketplace, it's safe to say that TemplateMonster is a good place to find a WordPress theme.
But is it the best?
If you're looking for a very specific type of theme,
ThemeForest is probably the better choice due to the sheer quantity of themes
. Otherwise,
TemplateMonster is the better choice
. The quality of themes is a bit higher, and you won't be overwhelmed with too many choices (saving you time). In addition, TemplateMonster has a great support team, and its themes come with cheaper support over time.