WordPress
and
Squarespace
is that neither one requires coding to build your website, and it's pretty easy to make it look professional. There are pros and cons with both platforms, of course, so it's important to be clear on
what you really want from your website builder
. And don't forget to consider your long-term needs. Will Squarespace or WordPress give you everything you need one or two years from now?
You don't want to have to start again from scratch
. Having a website builder that allows your website to grow is essential. To save you hours of research, I've done the hard work for you. Let's compare Squarespace and WordPress on the following:
Ease of use. No matter your level of expertise, you want a platform that you can learn quickly… because who wants to spend hours figuring stuff out?!
Design and templates. Of course, you want a professional-looking website that also does a good job of reflecting your business.
Price and value for money. You need to know how much WordPress and Squarespace really cost, and whether you're going to get real value out of the platform you choose.
Features. You'll also want to know how much you can customize your website, and what advanced functionality you can add.
Apps and plugins. Will you be able to enhance your site with extended functionality?
E-commerce. Need an online store? You must consider whether your platform is powerful enough to support one, and whether there will be additional costs to think about.
Support and maintenance. Critical things can go wrong, and fast support is a must. You also want timely support for less urgent issues, like upgrades and backups.
Squarespace vs. WordPress: Platform Overview
Let's get a little technical, just for a quick moment.
Squarespace is an "all-in-one" platform that gives you all the tools you need to build and manage your website
. You pay to use it, but there's a lot included in the monthly fee: your hosting, the content management system you use to build your website, e-commerce features, security, and customer support.
Click here to read what real users think of Squarespace
. WordPress,
always popular among users and reviewers
, powers around a third of all websites on the internet. It comes in two forms: "hosted" WordPress.com, and "self-hosted" WordPress.org (which you have to install on your own webspace).
There's a steeper learning curve with WordPress, which makes it less beginner-friendly than Squarespace
. In this comparison, we'll focus on the hosted WordPress.com version.
Round 1: Do You Need Technical Skills?
Hands down,
Squarespace is easier to use than WordPress
, and you don't need any technical skills to build your website. The platform is intuitive, every setting you need is easy to find, and when you make changes to your pages, you instantly see how they'll look. Squarespace's drag-and-drop editor makes it easy to move content around on your pages. You get all the tools you need to build a great website, and you won't be overwhelmed with features you might never use. WordPress is very different from Squarespace. Although you won't need to be a tech wizard to make a gorgeous website,
WordPress isn't the most beginner-friendly platform
. For example, it doesn't have a native visual editor like Squarespace does, so you have to edit your pages, then preview them, and then go back and make changes if something doesn't look right. You can install a plugin such as
Elementor
or WPBakery if you want a drag-and-drop editor that resembles the Squarespace editor.
But if you're on one of the lower-priced WordPress.com plans, then you can't use plugins,
and you'll have to make do with the WordPress editor. The WordPress dashboard is also quite cluttered, and it's not always obvious where to find the settings you need. You also have to learn WordPress terminology. For example, instead of calling the URL format "URL settings," WordPress uses the term "permalinks." If you have a website that's page-focused rather than blog-focused, you'll need to change your permalinks, and it's not always clear how to do that.
And the Winner Is…
Squarespace
, because you don't need technical skills, and it's much more intuitive than WordPress. If you use word processing software such as Microsoft Word, then Squarespace will seem pretty familiar. WordPress is a great choice if you have a technical background, but be prepared to spend more time getting to know all the platform's quirks.
Round 2: What Design Options Are Available?
Squarespace themes are some of the most beautiful and professional-looking around
. In my opinion, they're superior to those offered by other website builders, like
Wix
. There are around 100 free templates to choose from, but you can also purchase premium themes from third parties. To install premium themes, you have to add some code to your Squarespace website. Squarespace makes it easy for you to change your template at any time. You have the option to preview your new template before you set it as the live template, too.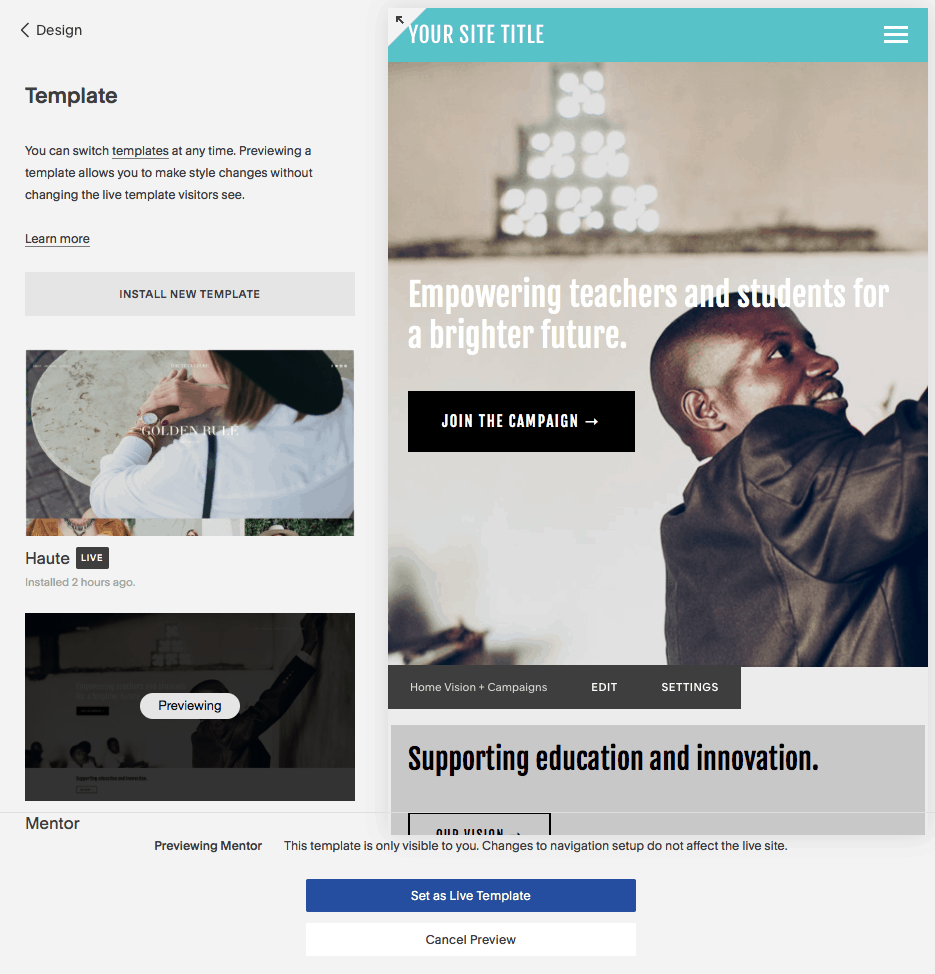 Squarespace's templates are all mobile-responsive, so you can be sure that no matter what device your visitors are using to access your website, it will still look great and function perfectly.
It's easy to customize your templates on Squarespace, too, so you can make your website match your
branding
and color scheme. Template customization is done in the Squarespace editor, which offers a really intuitive experience.
When it comes to designs, WordPress is difficult to rival
. With WordPress.com, you have access to a huge range of themes. Whatever plan you're on, there are both free and premium themes to choose from, and most are mobile-responsive. If you choose one of the higher-priced plans, such as Business or eCommerce, you get an even bigger choice of themes. If you can't find anything you like in the WordPress theme repository, you can always check out marketplaces like
TemplateMonster
and
ThemeForest
, which are a couple of the
best places to buy WordPress themes
.
Just be sure to do your research and purchase only from reputable sources
. There's a risk of themes containing malicious code that can make your website vulnerable to being hacked. Themes in WordPress are also easy to customize; you can quickly change colors, fonts, and styles. If you have the Premium plan or above, you can also edit the CSS of your theme, giving you complete control over how your website looks.
And the Winner Is…
WordPress
. There are significantly more themes to choose from. Squarespace does have a lot of great-looking templates, but the variety is much smaller, and it's more complicated to install third-party themes.
Round 3: What About Long-Term Value for Money?
So,
how much does Squarespace cost
? Squarespace offers four pricing plans: two for general websites, and two for e-commerce websites.
If you pay annually, you can save 20-30% than if you pay monthly
. Squarespace includes everything you need to get your website online (including a domain name). The platform isn't as flexible as WordPress, but it does give you unlimited storage and bandwidth. So, you're not restricted in the same way you would be on WordPress' lower-tier plans, which have strict limits on storage space. The plans available on Squarespace cater to a wide range of needs. If you want an online store, Squarespace might be a cheaper option for you than WordPress. Most Squarespace plans have e-commerce features, though the Business plan requires a transaction fee. Squarespace offers a
14-day free trial
, which lets you try out the features without having to enter credit card details. This is a risk-free way of seeing whether Squarespace will work for you. Of course, you can also sign up for a
free WordPress.com account
if you'd like to do a more hands-on comparison. With WordPress, you can use the free account for as long as you like. However, you won't have access to premium features. By contrast, you can try all of Squarespace's features during its free 14-day trial. WordPress.com offers five pricing plans, so there's a plan for pretty much everyone.
The lowest-priced plan costs less per month than a cup of fancy cappuccino, but you can subscribe only to an annual or biennial pricing scheme
. All plans come with a free custom domain for the first year. The three lower-tier plans remove ads and give you access to customer support. To get the most out of WordPress.com, however, you need to be on either the Business plan or the eCommerce plan (which also give you 24/7 live chat support). These are similar in price to Squarespace's e-commerce plans. This means that overall, WordPress is more expensive than Squarespace, based on a direct comparison of the features in each plan.
And the Winner Is…
Squarespace. The unlimited storage and bandwidth put the platform ahead of WordPress in this category
. Plus, if you chose the Business plan, you get $100 of Google Adwords credit, to help you promote your website. WordPress does offer some really inexpensive plans (e.g., the Blogger plan), but these are very limited in features. If you just want to start a blog, however, WordPress is a good option for you.
Round 4: Are All the Features You Need Available?
When choosing between
Squarespace
or
WordPress
, you need to consider not just the features you need now, but also the features you might need in the future. One of Squarespace's standout features is its "summary blocks." These allow you to add thumbnail images and extracts from blog posts, and you can drop these into any page on your website. It also works with images that have been tagged and makes it easy to create a "magazine" style website.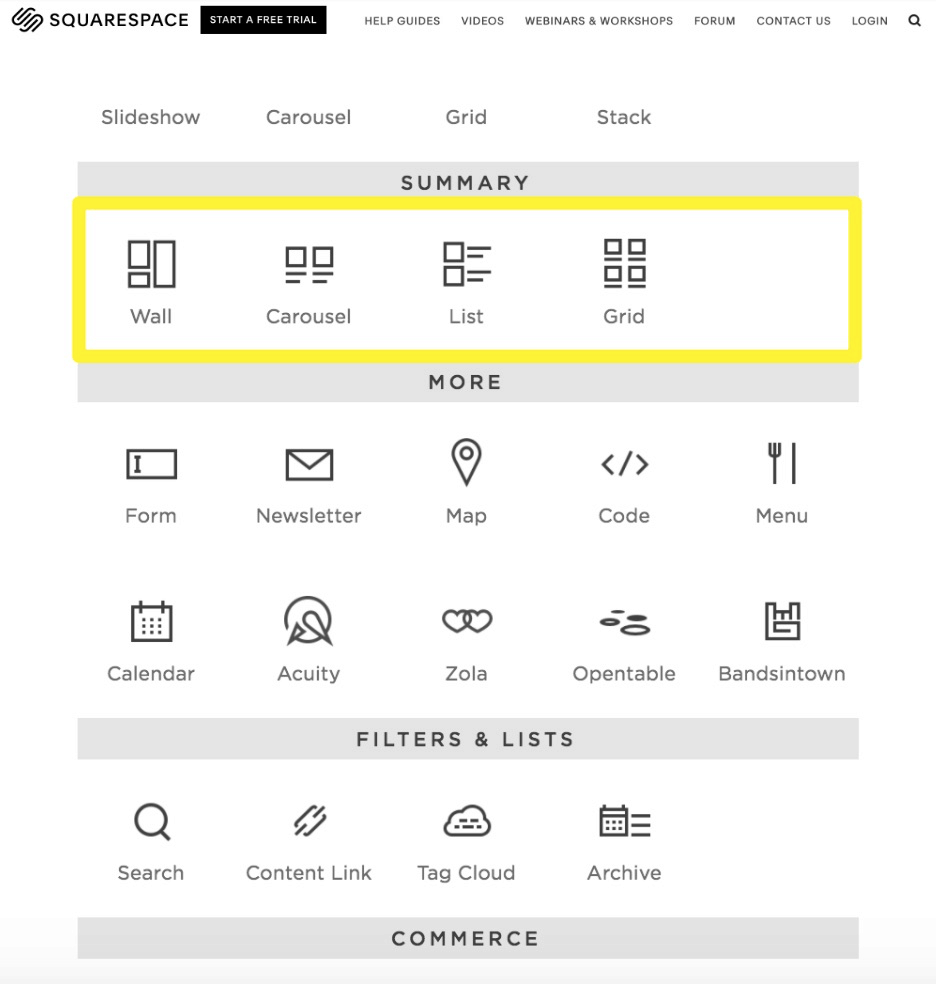 Other interesting Squarespace features include:
Google fonts
Adobe image editor
Option to install multiple templates
Dropbox file synchronization
Blogging
Email campaigns
Ability to sell digital and physical products and/or services
One of Squarespace's limitations is that there's no autosave function, much less the option to roll your content back to a previous version. This is quite a significant omission since it means that you have to remember to manually save your pages as you're editing. WordPress offers content versioning for both pages and posts, which means that each time you edit a page or post, WordPress saves the previous versions so that if you change your mind, or make changes in error, it's easy to roll back to a previous version.
With WordPress, it's really easy to manage your website content using categories and tags
. This gives you more options for displaying your content, as you can add categories to your navigation menu, or allow your visitors to filter content by categories and/or tags. This is a really useful feature if your website has many reviews of different kinds of products. By allowing your visitors to filter the reviews by type (such as website builders, web hosting companies, SEO products, etc.), they won't have to scroll through content they're not interested in.
WordPress also offers:
Schedule posts tool
Media library
Image editing
Customization options
Password protection for pages and posts
Multiple contributors
Comment management
Multilingual support for over 70 languages
If you're looking at the long-term needs of your website, it's important to consider the features you might want to use in the future, and whether the platform you're looking at is going to give you those features. For example, if you don't have a lot of images now, and you aren't too worried about not being able to manage your media library in Squarespace, you need to imagine how you're going to feel in two or three years' time when you have a lot more media on your website.
And the Winner Is…
WordPress
. WordPress offers critical features that Squarespace doesn't, such as content versioning and autosaving your changes. Being able to manage your media library is also a really important feature that Squarespace lacks. Squarespace has the features you need to create a great website, but there's really no excuse for the inability to autosave!
Round 5: What About More Advanced Features?
Squarespace doesn't have a separate marketplace for apps
. Instead, there's a range of official integrations that are already built into the platform. On the one hand, this makes these third-party features easy to use since you don't have to install or activate anything. On the other hand, however, you can't add other features. You can select from several different categories, including:
Blocks (e.g., appointment scheduling block, Instagram block, Twitter block, and a video block for embedding content from YouTube)
Blogging (e.g., Apple News, and Disqus)
Domains (e.g., GoDaddy integration, G Suite, Namecheap)
Forms (by using Zapier, you have access to tons of different integrations)
Images (e.g., Dropbox, Unsplash)
Marketing (e.g., Amazon affiliate tracking, Google Ads, Google Analytics, share buttons)
The only apps that Squarespace offers (if you're on the Advanced plan) are e-commerce related: Printful, TaxJar, and ShipBob.
In the WordPress repository alone, there are over 55,000 plugins available
. And thousands more are available on marketplaces like CodeCanyon. The downside with WordPress, however, is that you can install plugins on your website only if you're on the Business plan or above. That means that if you're subscribed to one of the three lowest tiers, you can't use third-party features on your website.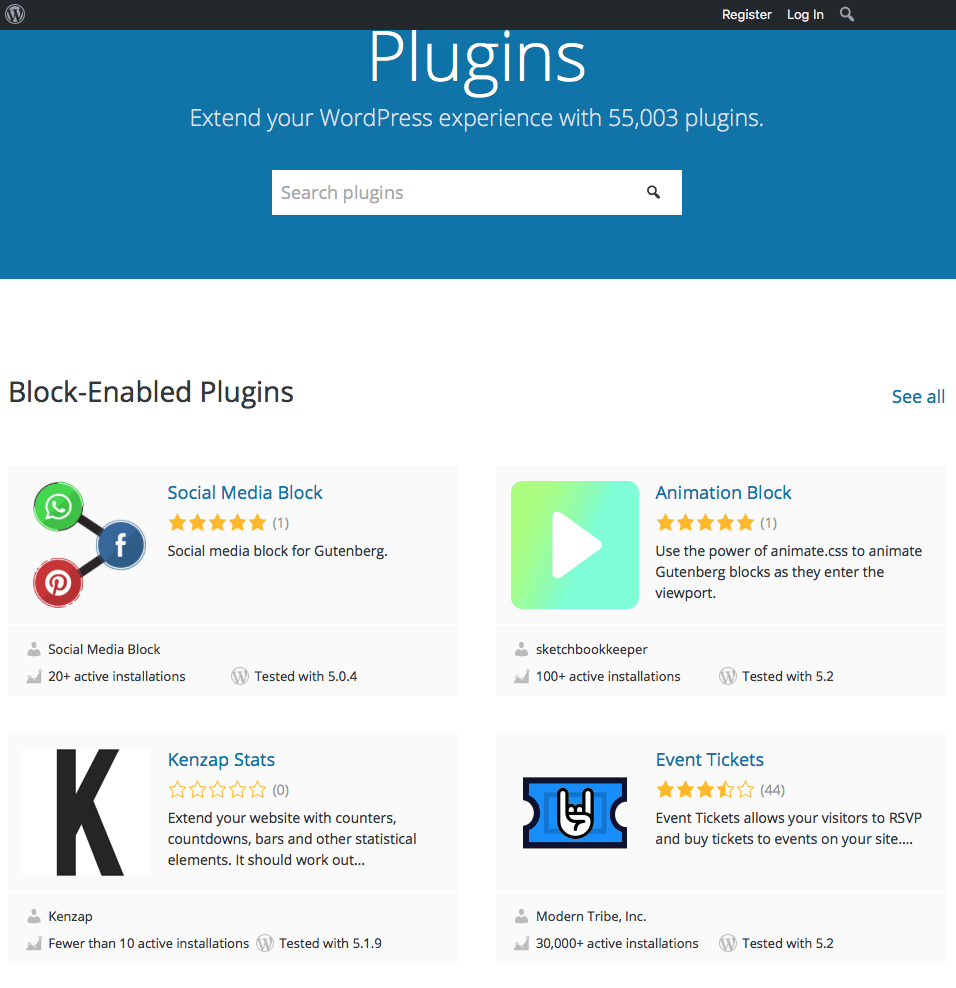 There are plugins for:
SEO, such as Yoast
Membership websites, such as Paid Memberships Pro
Security, such as Wordfence
Page Builders (which offer a visual editor), such as Elementor
Analytics, such as Google Analytics Dashboard Plugin
Backups, such as UpdraftPlus WordPress Backup Plugin
Contact forms, such as WPForms
Caching (to boost page loading speeds), such as WP Super Cache
Pop-ups, such as Popups by OptinMonster
Email subscriptions, such as GetResponse Forms by Optin Cat
Chatbots, such as WP-Chatbot for Facebook Messenger Customer Chat
If (by some small chance) you need a plugin that's not available, you can
hire a WordPress developer
on freelance websites like
Upwork
to create a unique plugin for you.
And the Winner Is…
Squarespace
. Although Squarespace doesn't have an app market, and you're limited to the integrations that it offers natively, you still have access to a lot of third-party integrations no matter what plan you're on. There's nothing to install, so these integrations are easy to use. WordPress does have a ton of plugins, but you have to be on one of the two highest pricing tiers to be able to use them, which means a hefty investment up front if you want to explore the huge WordPress plugin repository.
Round 6: What E-Commerce Features Are Offered?
Squarespace makes it easy to add product pages, manage your inventory, and accept payments via Stripe and/or PayPal and Apple Pay.
You're limited to these three payment processing options, however
. One of Squarespace's e-commerce strengths is that it includes abandoned cart technology. If someone browses your online store, signs up for an account, puts items in their cart, but doesn't check out, you can set up Squarespace to email that person a reminder that they left an item in their cart. Keep in mind that Squarespace's e-commerce features require you to have one of the more expensive e-commerce plans. If you're not on an e-commerce plan, you'll have to pay a transaction fee of 3% on top of any fees charged by your payment gateway. Squarespace is an all-in-one solution, so there's no need to install anything in order to sell online.
This makes it easier to get started on Squarespace than on WordPress
.
To use WordPress as an e-commerce platform, you have to use a plugin like WooCommerce
. That means you can have an online store with WordPress.com only if you're on the Business plan or higher — a hefty investment. There's a large number of payment gateways you can use with WooCommerce, such as PayPal, PayPal Pro, Stripe, Square, and Amazon Pay. Some of these are free, and you won't pay additional transaction fees other than the fees charged by your payment gateway.
And the Winner Is…
Squarespace
. You can use e-commerce features on the Business plan and above, which makes it a cheaper option (overall) than WordPress, despite the transaction fees on the Business plan. There's nothing to install, and it's really easy to set up your online store with Squarespace. WordPress is a more flexible way of running an online store using WooCommerce, but to get the most out of WordPress for e-commerce, you do need to be on the eCommerce plan, which is more expensive than any of Squarespace's plans.
Round 7: How Good Is the Support?
Squarespace provides an excellent level of customer support, not to mention a huge range of support articles and workshop videos.
You can get customer support through live chat (4am – 8pm U.S. Eastern Time, Monday-Friday) and email support on paid Squarespace plans. Squarespace aims to respond to questions within an hour. You can also use the community forum to learn from other Squarespace users. If you're on a WordPress.com paid plan (Personal or higher), you can access support via email and live chat (24 hours, Monday-Friday). There's also a community forum where you can ask questions and/or search through the forum to see if someone has already answered your question. In terms of maintenance, the Squarespace platform is maintained and updated automatically, but there's no option to back up your entire website. This is a pretty big weakness, since you want to know that you can recover your content if something goes wrong. WordPress.com has maintenance functions included, and the servers are regularly backed up. So, if disaster strikes, your content isn't lost forever. You can also manually back up your website using the Export function in the Settings menu.
And the Winner Is…
WordPress
. The platform stands out because you get access to 24-hour support Monday to Friday (or 24/7 on the Business plan and higher), and you also have the ability to manually back up your website via the export feature. All the basic maintenance and updating tasks are taken care of, too. While Squarespace delivers great customer support, you can't back up your website — a serious flaw.
Squarespace vs. WordPress: Who's the Winner?
Squarespace might offer greater beginner-friendliness compared to WordPress, but in all other aspects, WordPress takes a significant lead. As you make your choice between Squarespace and WordPress, take into account the factors that hold the most importance for you. Are you looking for the easiest platform to use, or the one that gives you the most flexibility? Is value for money your primary concern, or is it more important to have customer support and backup options? If ease of use is your priority, then Squarespace is your best choice. If you want to make a small- or medium-sized website, most of Squarespace's limitations shouldn't hold you back. You may want to stick a note somewhere to remind you to keep saving your changes as you work –- you don't want to lose your hard work in a power failure! Read our
Squarespace expert review
to learn more about the platform. If you want flexibility, themes, plugins, and a website that will always adapt to your needs, go with WordPress. It's worth the steeper learning curve.
Ease of use
Although not the easiest to use of all website builders, Squarespace is intuitive and simple to grasp — no technical skills needed.
There's much more of a learning curve with WordPress, and you'll need some technical skills to get the most out of the platform
Design and templates
Squarespace has professionally designed templates, but there are only around 100 of them, and third-party templates are more complicated to install.
There are tons of free and premium themes available. If you're wondering where to buy WordPress themes,
TemplateMonster
and
ThemeForest
are good marketplaces to browse.
Price and value
Squarespace has four plans to choose from, and you get a 14-day free trial. With the Business plan, you also get $100 AdWords credit.
WordPress.com's plans are similar in price to Squarespace's, but you have to choose one of the pricier plans to get the most benefit — and you have to pay up front.
Features
One of Squarespace's weaknesses is the lack of an autosave function, which is a big issue.
WordPress has all the features you need, including the ability to roll back to a previous version of your content.
Apps and plugins
There's no app market for Squarespace, and third-party integrations are built into the platform, so you can't add new ones and they're pretty limited.
WordPress has over 55,000 plugins in the repository, so you can probably find a plugin you need. But if something's missing, you can have a plugin built for you.
E-commerce
You can easily create an online store with Squarespace. But if you're on the Business plan, you'll have to pay a 3% transaction fee on top of payment processing fees.
By using WooCommerce or another e-commerce plugin, you can create an impressive online store. You can also add extra features to
WooCommerce
.
Support and maintenance
Live chat and email support are available, and updates are taken care of for you, but there's no way to back up your website.
WordPress.com paid users get live chat and email support, and you have backup facilities in your dashboard.