When trying to decide between Wix and Squarespace, the right choice seems obvious – Wix lets you build a fully functional site for free, while Squarespace only gives you a 14-day free trial. And why would you want to pay for something you can get for free?
Well, I'm here to tell you why.
Wix wouldn't be offering a free plan unless it had something to gain.
If you need a serious website for your business, you will soon find that the free plan doesn't give you what you need.
After putting all the time and work into building your free site, it's going to seem like the next natural step is to upgrade to a paid Wix plan. But then, you will find out that a Wix site with everything you need is going to end up
costing way more than you initially thought
.
While Squarespace doesn't offer its services for free, you know exactly what you're going to get (see the available plans here). So the real question is – which builder is actually better?
Taking advantage of my 15+ years as a web designer, I tested these two builders for myself
, to find out which one gives you the best value for your money.
1. Ease of Use
They're Both Easy to Use, Just in Different Ways
Wix and Squarespace both have drag-and-drop editors. You choose the kind of content you want on your page from a menu (text, images, headers, tables, galleries, and more), and then decide where on the page you want it to go. But there's a big difference. Wix lets you do pretty much everything, good or bad.
It lets you drag and drop things absolutely anywhere you want within the page.
Just, actually… anywhere. You get near-total creative freedom. I'm usually a big fan of this sort of flexibility, because in theory, it makes it easy to build the unique site you want.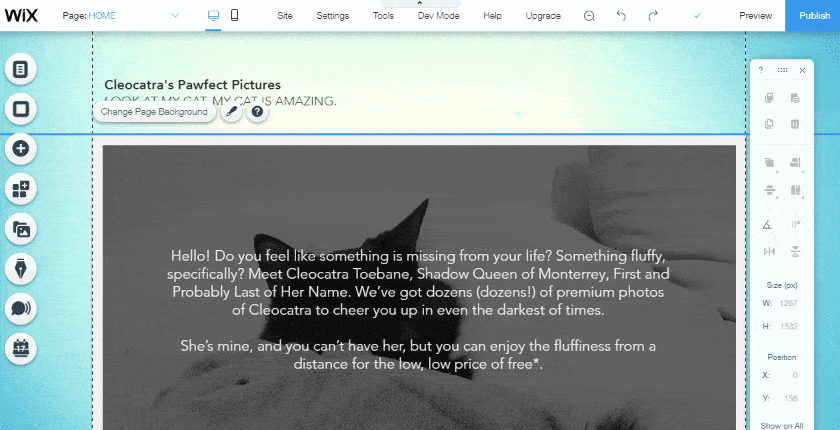 The downside with Wix is that nearly total freedom can also mean nearly totally messing up your page layout.
Now, if you can tell that you've made a mistake, no worries: the
Undo
button is your best friend. But what if you make an awful choice without realizing it? Web design can be complex; effective layouts are based on tons of mind-numbing data about how a user's eyes track around a page.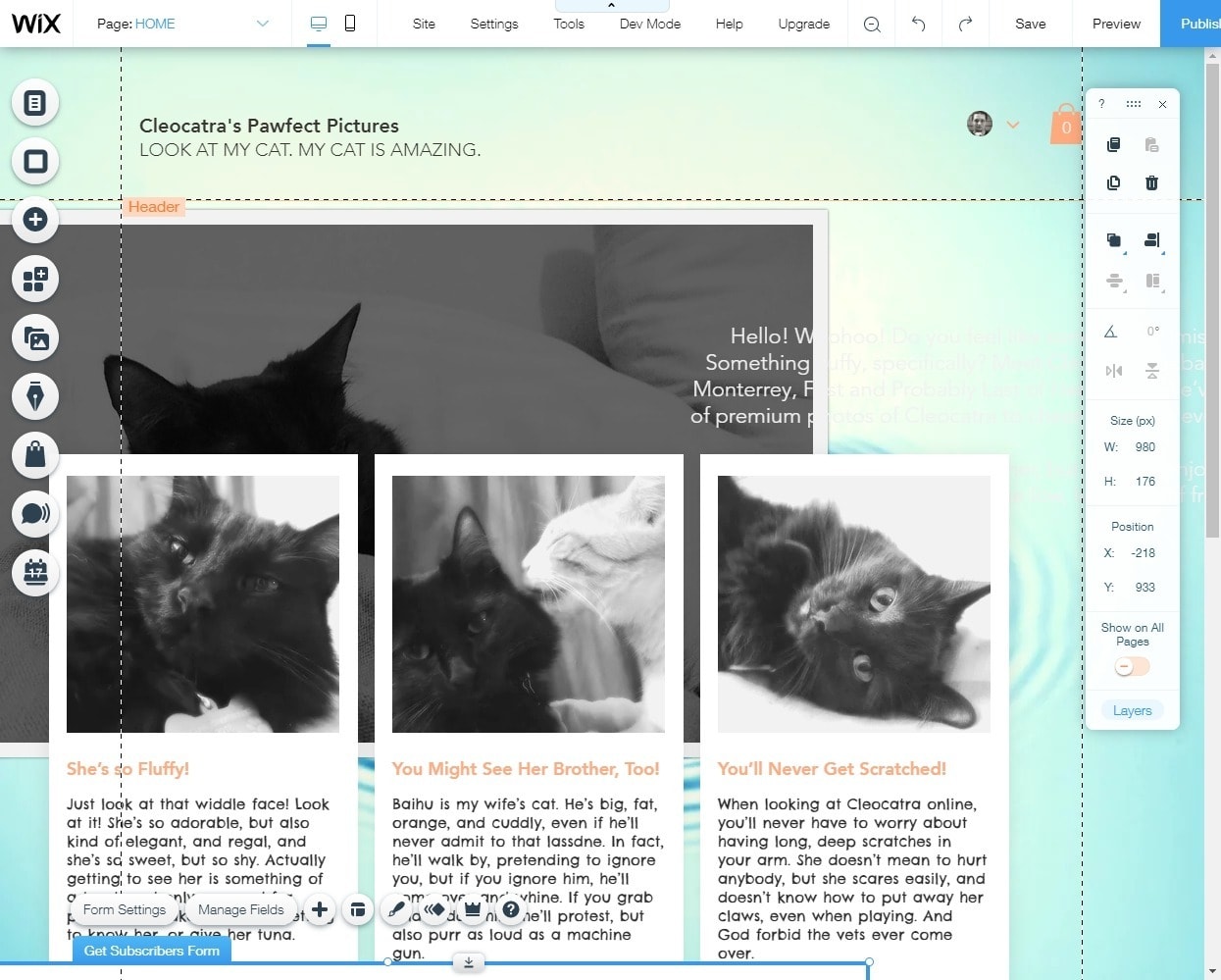 Now, Wix does offer a way to play things safer.
Introduced a few years ago, Wix ADI (Artificial Design Intelligence) makes major layout decisions for you.
Basically, it asks you a few questions about your business, and then generates a fully functional site for you based on your answers. You'll still have to fill the site with your own content, but you can use the template ADI creates as your guide. Squarespace, by contrast, uses predefined regions on the page.
You can add content of any kind to almost any region, but you can't change the alignment of the regions.
This setup still gives you considerable control over the page layout (what goes where), the styling of it all, the colors and fonts you use, and so on. And you still have an
Undo
button if you change your mind.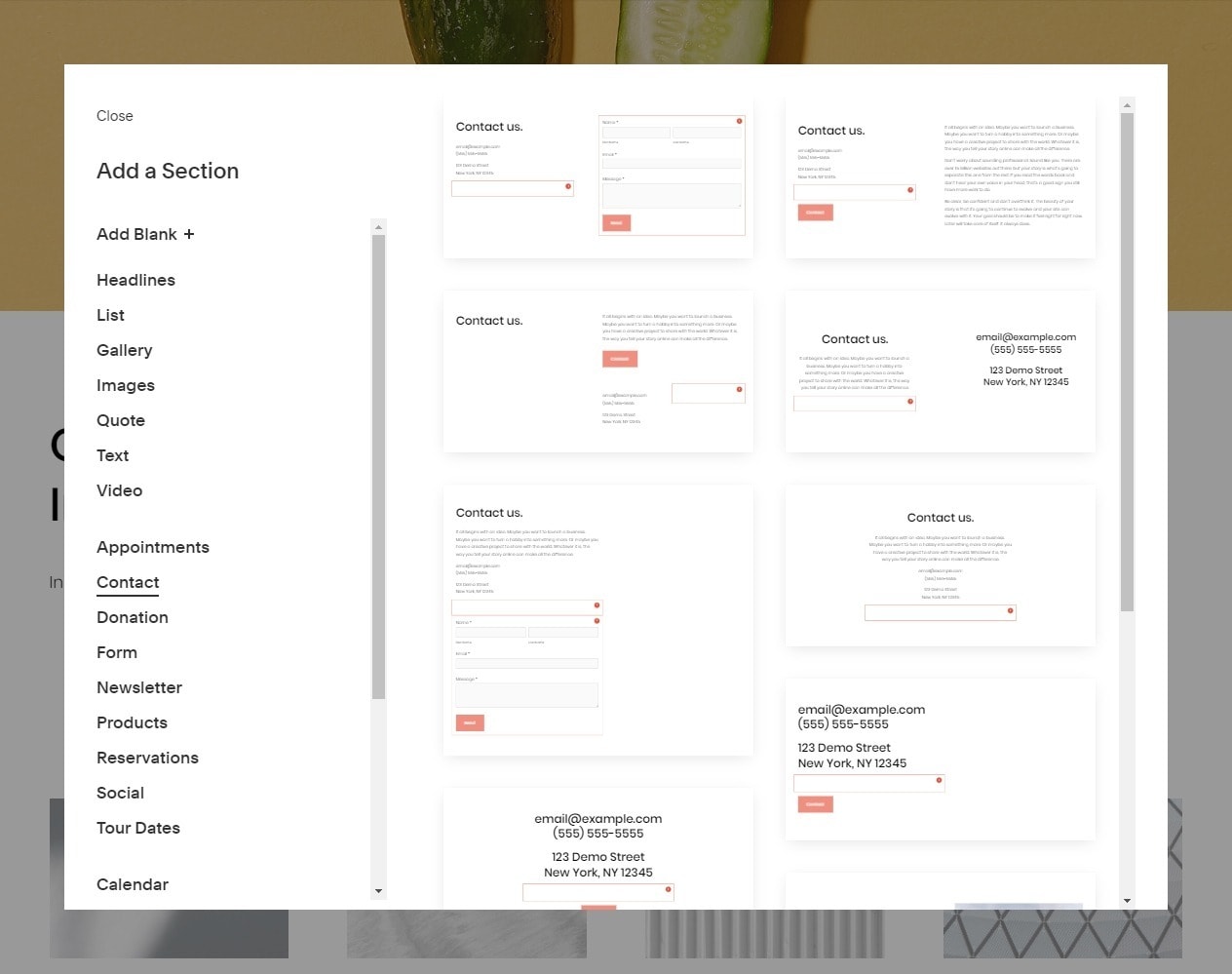 The downside with Squarespace? Less raw flexibility. The upside? It's harder to accidentally mess up your website.
If you're trying to force content into a spot where the template won't let you, that's a sign that you might not be making a great choice.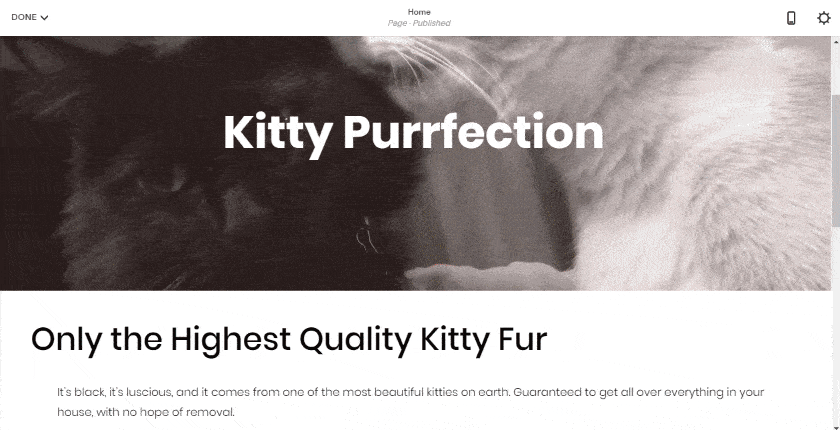 Squarespace doesn't have fancy AI (artificial intelligence) to build a site for you, but it does have a lot of common-sense preset layouts.
More importantly, Squarespace offers what I feel is a more intuitive way to design your site and lay out your content quickly.
For ease of use, I'm going with Squarespace.
Although it's not as flexible as Wix overall, I find the interface much easier to learn. And it generally just stays out of your way while you work. You can't put a price on software that stays out of your way.
2. Templates
Wix Has Loads of Templates. Squarespace Offers a Different Kind of Freedom
Wix has over 900 website templates to get you started
, divided into 17 main categories. The categories and subcategories cover a
very
wide variety of business types and personal uses. If it's your dream to blog about goldfish, Wix has something for you. (Okay, there's not actually a goldfish-specific template, but animal-themed blogging is very much a thing.) Since the editor is a freeform version of drag and drop,
all of Wix's templates can be customized extensively.
The templates are not mobile-responsive (meaning they don't adjust themselves automatically to fit any screen shape and size), but
you do get a mobile version that you can tweak in a separate editor
to make sure your site looks great on smartphones. (Unfortunately, there's no way to preview how it will look on a tablet.) There's only one other downside here, but it's a big one: Once you pick your template, you're stuck with it. If you want to switch templates, you'll have to build your site all over again from scratch. So choose wisely.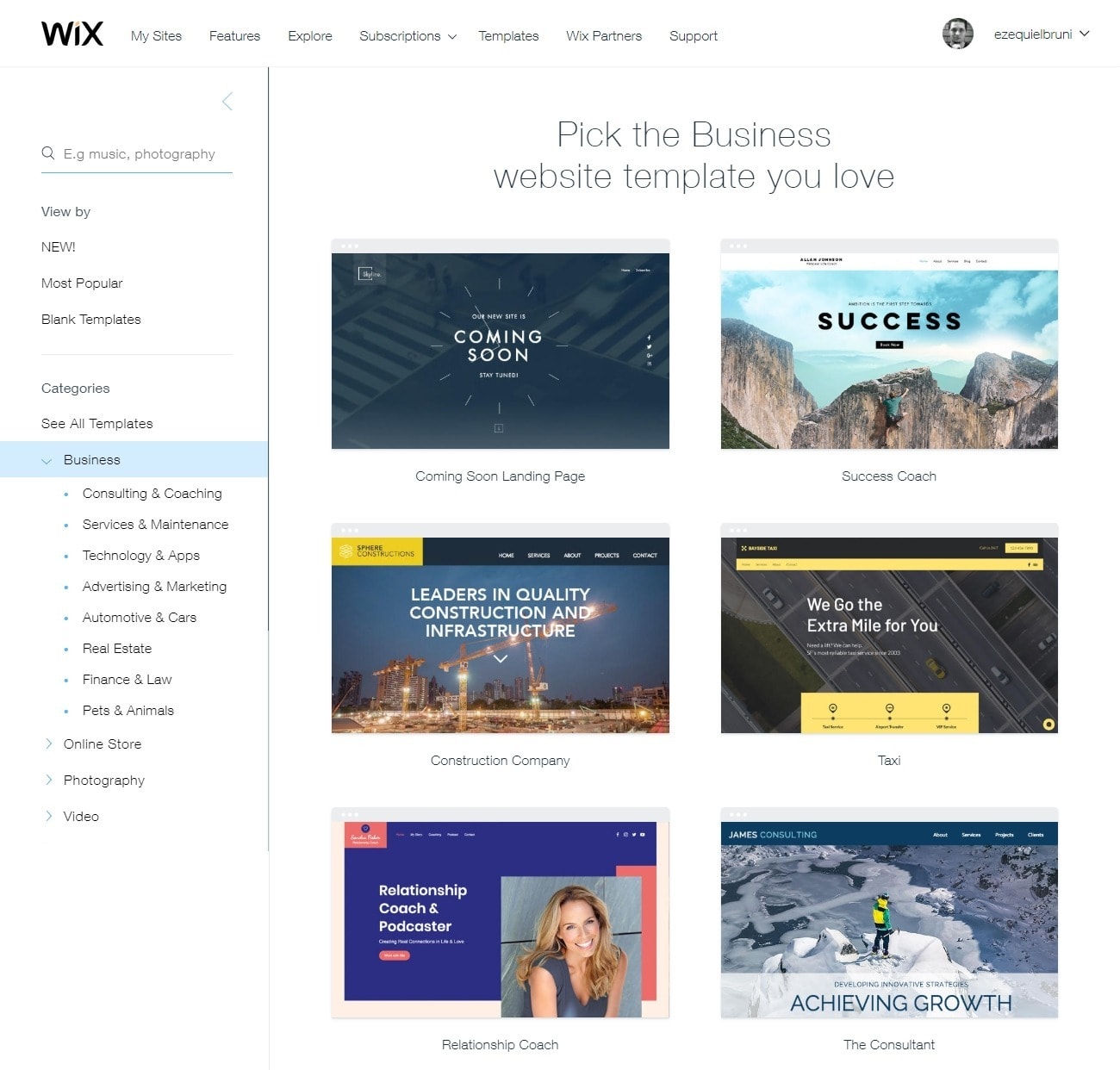 Okay, so I
wanted
to compare a template from Wix with a similar template from Squarespace, and give an outline of the differences in how the templates work. That is going to be next to impossible, because Squarespace doesn't have true templates anymore. It used to have quite a few, but then, everything changed. As of version 7.1, when you choose a "template" while creating your site, you're really just choosing a variation of the same template. What this means is that all templates have the same type of functionality, and you can easily customize each of them to your evolving needs without having to switch to a different template.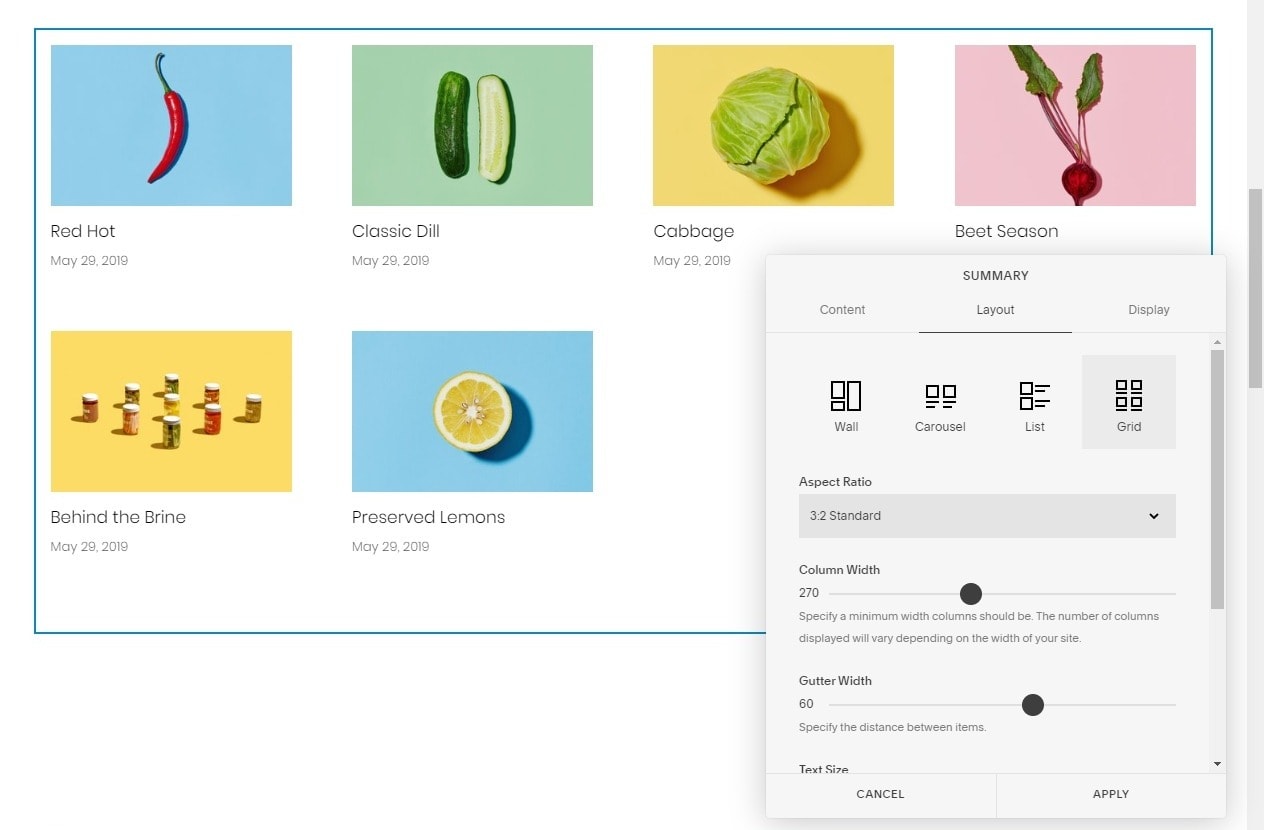 You have loads of options for layout, content styling, fonts, colors, and more. Squarespace lets you alter specific things on your site you want to change until it basically is a new design. If appropriate, the rest of your site will automatically change to match your choices on a particular page. So rather than offering the traditional choose-a-template-then-customize approach, today's Squarespace takes a modular approach to web design, which is efficient in its own way.
While I love the idea of Wix's design freedom, I personally prefer this framework-style method.
It actually gives you more freedom to experiment and radically alter the "feel" of your site, since you can make big changes in a very simple way.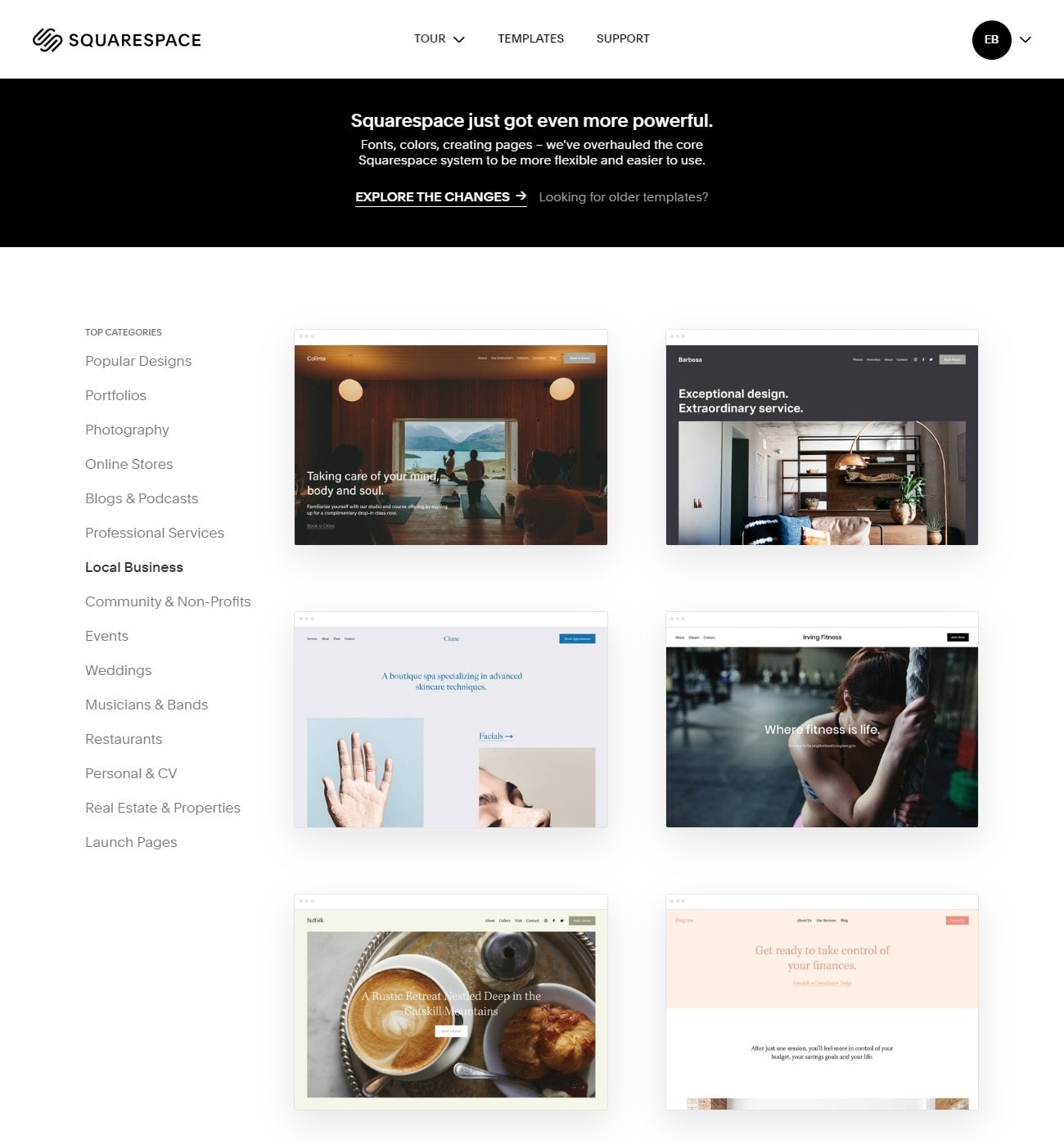 Squarespace wins this category as well, by a small margin.
There's something to be said for the classic, hundreds-of-templates approach that Wix uses. But as a web designer, I am also a huge fan of modular design systems and frameworks. With Wix, changing the entire look of your site takes time and effort. With Squarespace, you can change your site's overall style at any time, with only a few clicks. Squarespace wins for that alone.
3. Apps and Add-Ons
Squarespace Integrates Services, Wix Has an App for That
Look, I'm sorry. I'd say that I'll never do it again, but bad jokes are in my blood. Blame my dad. And my mom. And all six of my surviving siblings. They were a terrible influence. But the difference in wording here actually matters quite a bit.
Squarespace integrates a whole bunch of different services by default – no matter what plan you're on
– including:
Video and audio embedding from a variety of services
Instagram galleries
Map blocks
Google AMP
Disqus comments
Some of these integrations, like Google AMP, Apple News (your site updates get published there), and social media integration of all kinds (for cross-platform promotion and publishing), basically run in the background, as they should. Once you set them up, you can forget about their existence while they do their thing. Others offer you more design options, like Google Fonts and Adobe Fonts. The rest look like just another part of your website. For example, this is what adding a YouTube video to your Squarespace site looks like: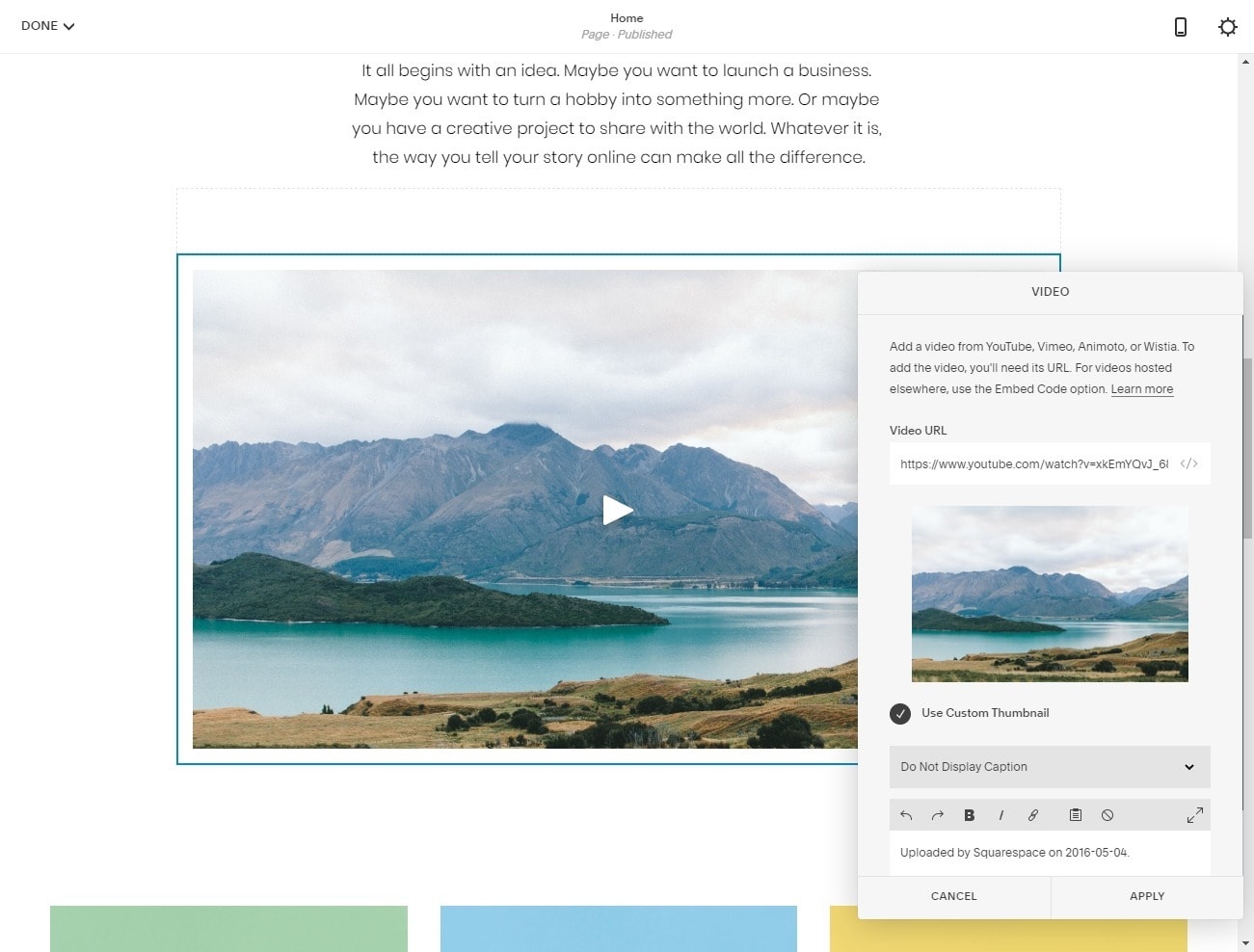 The integration is smooth, almost seamless.
Even when you use a third-party service, it still feels like you're using Squarespace,
and not jumping over to a totally different site. As a designer, I truly appreciate that. It's a user-friendly system that won't take you long to get used to at all. And importantly, all official integrations include full support from the Squarespace team. I particularly like the way Squarespace handles integration with social services like Tumblr and Instagram: you can easily pull in content to display on your site (with some caveats – see below). You can also publish content from your site to the social services to advertise yourself. Now, a downside:
a few of these integrations are only available from Squarespace's Business plan on up
. These include OpenTable, which allows you to accept restaurant reservations online, ChowNow, which lets you accept food orders, and Instagram tagging that lets you show your products in your Instagram stories and feed, and get more clients to your store. Basically, marketing and e-commerce services. There are also third-party integrations, plugins, and add-ons for Squarespace, but once again, they're only available starting at the Business plan level. There's no central repository for these third-party plugins, either; you'll have to hunt for them on Google.
Wix does things a little bit differently: it has a marketplace that showcases all available Wix Apps,
which range from simple add-ons to integration with loads of third-party services. Since a lot of these apps evidently weren't developed by Wix, they might not fit your website's aesthetic style. That's not to say these apps aren't useful, or that they don't work well. They are, and they do. And
there are definitely more Wix apps than Squarespace integrations
, by a good margin. Many are free, and work just fine with Wix's free plan. However, quite a few require upgrading your plan, or subscribing to a third-party service.
One of the apps I like most is a free, Wix-developed app called "Paid Plans,"
which lets you set up just that: paid plans for your customers and/or users of your site. You can accept monthly or yearly payments for your services right on your site, with minimal setup or fuss.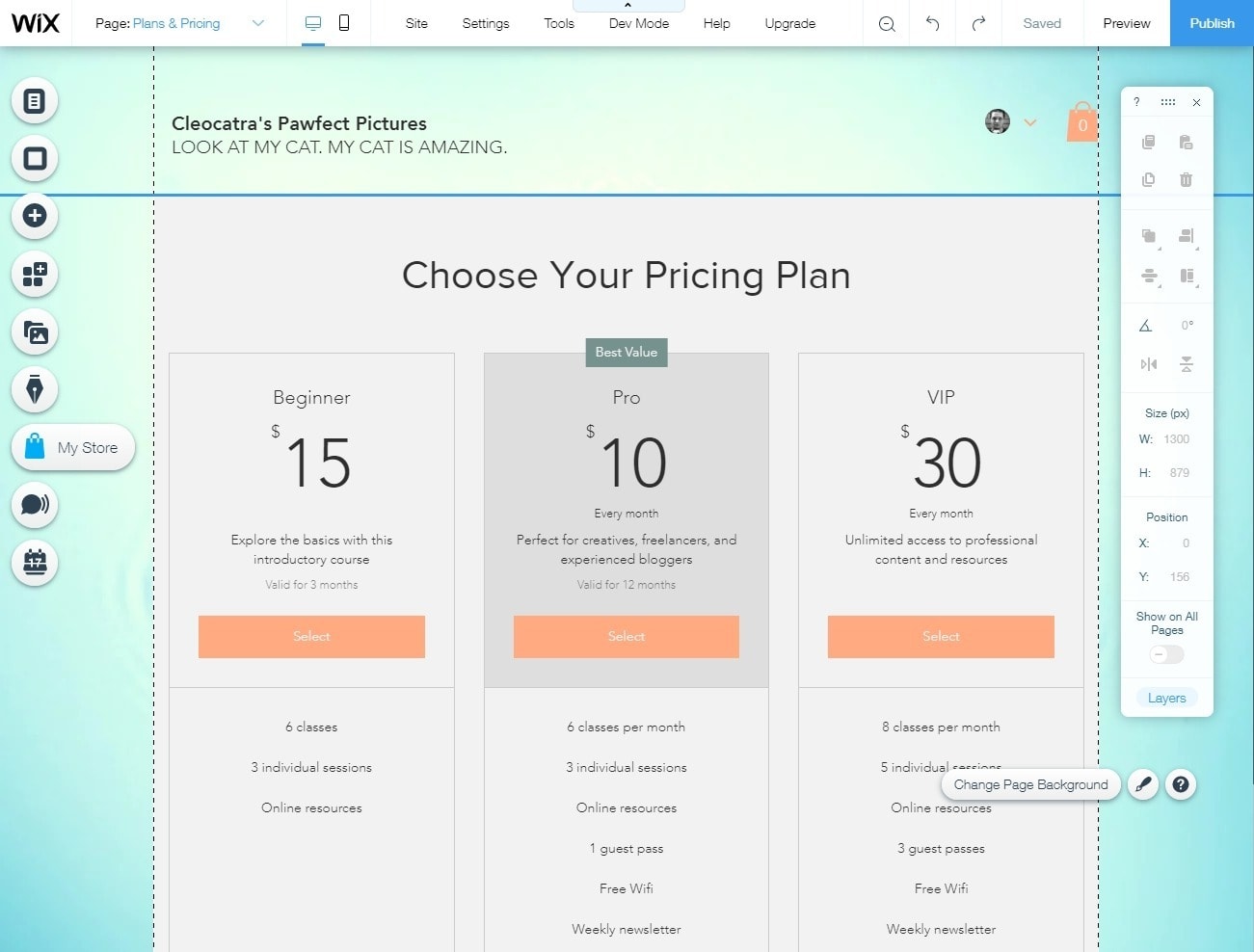 While Wix has a lot more apps and available third-party integrations,
I prefer the Squarespace quality-over-quantity approach.
With Squarespace, it doesn't feel like you're using third-party services to make your site fancier, even when you are. That sort of integration takes skill. And the third-party services won't ever look out of place within your site's design.
4. E-Commerce
They Both Have Robust E-Commerce Options
This one is pretty much a tie, so if you're the "just tell me who won!" type, go ahead and
skip to the next section
. Wix and Squarespace both offer these e-commerce features:
Accepting payments
Automatic tax calculation
Digital products
Import catalog
Mailing lists
Physical products
Appointment scheduling
Subscriptions
Selling via social media
As you can see, the basic e-commerce features are all there on both platforms.
They work in very similar ways, since both services have separate interfaces for managing your store, your products, and so on. Naturally, you don't get as many layout options when designing your store pages, but both Squarespace and Wix have a variety of layouts that you can try.
With either service, your store's aesthetics will change to match your overall site theme.
And since e-commerce integration is built into both services from the beginning, it all looks and runs smoothly.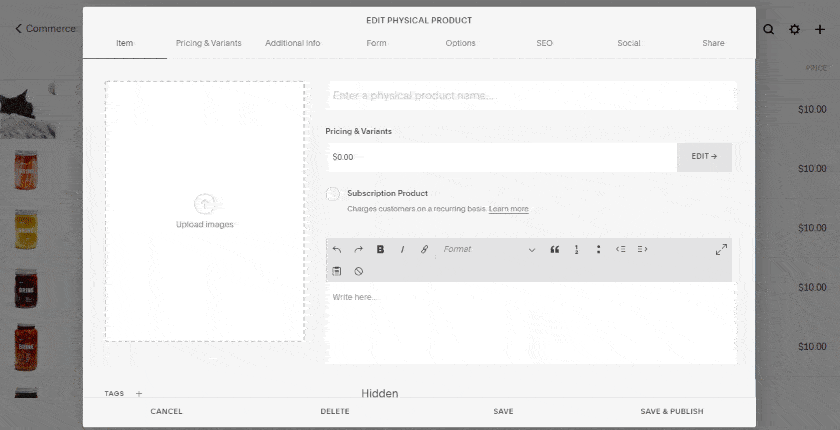 When you make a store on either service, you'll be asked where you want to operate, which currencies you want displayed, how you want to get paid, and other basic store setup things. It's intuitive and easy to start selling. It's not quite so easy on your wallet, though:
You'll have to upgrade to the Business plan on Squarespace, or any of the three business-level plans on Wix
. If you're not sure which plan is right for you, read our
Wix pricing guide
.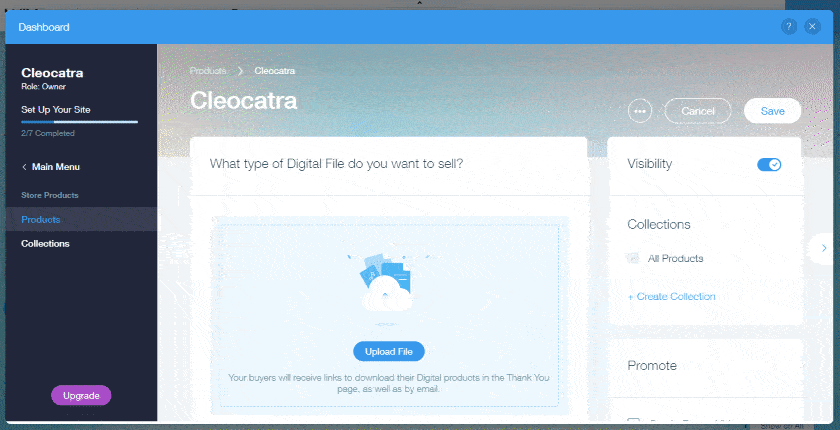 Maintaining your store is easy enough, as both services have features designed to help you manage your inventory, create coupons, offer sales and discounts, and more.
It's a genuine tie this time.
Though there are small ways that the e-commerce services on these two platforms differ, each can provide you with a perfectly functional, good-looking store. Personal opinion: I am partial to Squarespace's overall aesthetic, both for store management and in the way the store looks to your users. But I am definitely biased in favor of minimalism.
5. Blogging
Squarespace Has the Better Writing Experience for Bloggers
The blog systems on Squarespace and Wix are very similar… but not quite as similar as the e-commerce features. With either service, you'll have a fully functioning blog, with options to save drafts, schedule your posts for publishing, add categories, and generally just… manage a blog.
One big difference is that Wix's blog post editor is a separate interface from the rest of your site.
It's not a bad post editor at all, but while you're writing, you can't really get a clear idea of how your content will look to your users. I mean, Wix is a site builder, so you should be able to do that, right? Meanwhile, you write blog posts on Squarespace in a way that feels a lot like designing a page in the drag-and-drop editor. You don't get the same design and layout freedom, but you do get a very good look at how your post will appear to your readers.
Squarespace wins again. And not just because of the writing experience.
On the back end, where you manage all of your posts, Squarespace has a search bar to help you find older posts faster. Wix doesn't have that. If you blog for long enough, believe me, you'll want a search bar! If you need a more sophisticated blogging platform – in fact, a content management system (CMS) that was originally built for bloggers – read my
full WordPress review
.
6. Marketing
Wix Has More Marketing Tools, But…
Both website builders offer all the basic marketing tools you need:
Built-in analytics
Email marketing
Facebook Ads
Google Ads
Google Analytics
Logo maker
Mailchimp integration
Social posting
Social sharing buttons
You can observe that both platforms have equivalent built-in tools, and they seamlessly integrate with prominent third-party marketing tools such as Mailchimp. Whether you require advertisements, emails, or social media functionalities, all of these are readily available. However, it's worth noting that services like MailChimp on Squarespace do come with a slight additional cost.
Wix has a lot of apps and tools for marketing, and you can install as many as you like on your site,
if that's how you roll. Again, they won't always look like they fit your site's design, but the sheer number of available options makes Wix's marketing setup… tempting. Especially when you consider that a lot of these tools are free, or at least have free plans.
The email marketing features offered by Squarespace and Wix are rather similar, too. Both let you visually design your emails based on templates. You can easily collect email addresses via a form on your site and get started. Since these companies make their money by making these things easy for you,
you get decent email marketing functionality with either platform
.
Wix wins this time, but admittedly not by much.
Wix has a lot more options for third-party integration, and that's enough to take the win here. However, I prefer many of Squarespace's marketing tools because of
how
they work, and how they're integrated so seamlessly.
7. SEO
Squarespace Does SEO, but Wix Does It in a Big Way
Wix embraces SEO like a bear hugging you in the woods, providing a number of tools to help you rank higher on search engines. (Disclaimer: Website Planet does not recommend attempting to hug bears in the woods, or anywhere else.) There's all the basic stuff, of course: meta tags (which can be automatically generated with a fair degree of accuracy), Google sitemaps, and page descriptions.
Then Wix takes it further with SEO patterns that let you adjust tags and URLs for large portions of your site
, along with SEO-friendly page redirects to ensure that your rankings don't suffer if you change your site's structure. There are also options for integration with third-party SEO apps like Crazy Egg.
If you want a way to start optimizing your site quickly, Wix has you covered there, too, with an AI-driven tool called Wix SEO Wiz.
Much like ADI, the SEO Wiz interface just asks you a few questions, then starts working on the SEO for your whole site based on your answers.
Squarespace's approach to SEO is a bit more basic, which means you'll need to be more hands-on. You get basic features like Google sitemaps, clean URLs, SEO-friendly redirects, and the ability to customize how every page is previewed on social media (which Wix also offers). But you'll have to add tags and page descriptions manually. Overall,
Squarespace has stuck to the basics of SEO
, prioritizing the other forms of site marketing mentioned above.
Wix takes this category
because it's gone all out on SEO tools, with AI and everything.
8. Import/Export Your Site
Squarespace Lets You Import Sites from Other Services, Wix (Mostly) Does Not
For this one, most of the information you need is right there in the subheading: Squarespace lets you import stuff, and Wix… ehhh, not really. There is a major catch, however:
While Squarespace sites on version 7.0 can import and export content, sites on version 7.1 can't, at least not yet.
If you build, or have already built, your site on Squarespace 7.0, then you can import content from WordPress, Tumblr, and Blogger. And if you have an existing online store on, for example, Shopify, you can import your products in a .CSV file. Everything else, however, you'll have to copy and paste the old-fashioned way. (Well, the
computer
old-fashioned way. Do not attempt to use actual glue on your screen.) As for Wix, while it doesn't let you import blog posts or site content, it
does
let you import products to your store in a .CSV file.
The import/export situation is not ideal with either service.
Squarespace wins by being the only service that has any import/export functionality at all.
9. Pricing
So, How Much Do You Like "Free"?
Wix Website Plans
| | | | | |
| --- | --- | --- | --- | --- |
| | Combo | Unlimited | Pro | VIP |
| Free Domain (1yr) | Yes | Yes | Yes | Yes |
| Bandwidth | 2GB | Unlimited | Unlimited | Unlimited |
| Storage | 3GB | 10GB | 20GB | 20GB |
| Remove Wix Ads | Yes | Yes | Yes | Yes |
| Total Video Storage | 30 Minutes | 1 hour | 2 hours | 2 hours |
| SEO App | No | Yes | Yes | Yes |
| Analytics App | No | Yes | Yes | Yes |
| Priority Support | No | No | No | Yes |
| Logo from Wix Logo Maker | No | No | Yes | Yes |
| Google Ads Vouchers | None | 300 USD | 300 USD | 300 USD |
Wix Business & E-Commerce Plans
These plans allow you to accept online payments and set up a store:
| | | | |
| --- | --- | --- | --- |
| | Business Basic | Business Unlimited | Business VIP |
| Free Domain (1yr) | Yes | Yes | Yes |
| Bandwidth | Unlimited | Unlimited | Unlimited |
| Storage | 20GB | 35GB | 50GB |
| Total Video Storage | 5 hours | 10 hours | Unlimited |
| SEO App | Yes | Yes | Yes |
| Analytics App | Yes | Yes | Yes |
| Priority Support | No | No | Yes |
| Logo from Wix Logo Maker | Yes | Yes | Yes |
| Google Ads Vouchers | 300 USD | 300 USD | 300 USD |
| Google Analytics | Yes | Yes | Yes |
Squarespace Plans
Prices are based on paying annually (see my notes below).
| | | | | |
| --- | --- | --- | --- | --- |
| | Personal | Business | Basic Commerce | Advanced Commerce |
| Free Domain (1yr) | Yes | Yes | Yes | Yes |
| Bandwidth & Storage | Unlimited | Unlimited | Unlimited | Unlimited |
| Contributors | 2 | Unlimited | Unlimited | Unlimited |
| Basic Website Metrics | Yes | Yes | Yes | Yes |
| 24/7 Support | Yes | Yes | Yes | Yes |
| GSuite and Pro Gmail | No | Yes | Yes | Yes |
| Premium Integrations/Blocks | No | Yes | Yes | Yes |
| JS and CSS Customization | No | Yes | Yes | Yes |
| Advanced Analytics | No | Yes | Yes | Yes |
| Google Ads Vouchers | No | 100 USD | 100 USD | 100 USD |
| Accept Donations | No | Yes | Yes | Yes |
| E-Commerce Features | No | Yes | Yes | Yes |
| Customer Accounts | No | No | Yes | Yes |
| Products on Instagram | No | No | Yes | Yes |
| Label Printing | No | No | Yes | Yes |
Let's get one thing out of the way:
Wix has a free plan. Squarespace has a free trial, but that expires quickly enough, while Wix's free plan will last as long as you want it.
However, the Wix free plan is very limited, and you can't use your own domain name (i.e., yourwebsite.com). If you want to get serious about making money off your website, whether through e-commerce, subscriber fees, or any other scheme, you'll need to pay up on either platform.
So let's talk paid plans. If you just want a website, with no store, Squarespace's Personal plan is your cheapest option on the platform. You get access to all template layouts, free domain registration for one year, credentials for up to two people to contribute to the site, and 24/7 customer support. Plus, you get basic website metrics, along with unlimited data storage and bandwidth, which is kind of a big deal.
The closest comparable plan on Wix is the Wix Unlimited plan, which is not as cheap as Squarespace Personal, but still pretty cheap.
You get unlimited bandwidth, 10GB of storage, free domain registration for a year, and the option to upload up to one hour of video (as in, the total length of videos uploaded cannot exceed one hour). Videos that you embed from, say, YouTube, are not counted, and are always unlimited. You also get access to the Site Booster and Analytics apps. If you want to create a store, or even just accept payments via your website, you'll need to pay more.
Squarespace's cheapest e-commerce plan is the Squarespace Business plan.
In addition to everything else offered on lower-level plans, you get premium content blocks and third-party integrations, one free year of Professional Gmail and G Suite, more advanced customization with CSS and JavaScript, advanced analytics, and the ability to sell unlimited products. Plus, you get little extras like 100 USD in Adwords credits.
Wix's closest comparable plan is called Wix Business Unlimited,
and it provides Google Analytics, 35GB of data storage, and a professional logo (presumably one you have to make with
Wix Logo Maker
), in addition to everything else offered on lower plans. You get up to ten total hours of video storage as well, and unlimited product sales.
Note: Estimating your total cost can be tricky because…
Some third-party apps on Wix require paying extra, regardless of the plan you're on. To get the whole story, check out our detailed guide to Wix's pricing plans.
Wix is a lot cheaper in Mexico. I actually had to rewrite this section once I used a VPN to check US prices.
Both builders get more expensive if you pay month-to-month. The "monthly" price goes down if you pay for the whole year in advance.
Squarespace offers better deals, at least in the U.S.
If you're on a small budget, Squarespace has you covered with a simpler pricing structure and cheaper plans overall.
10. Customer Support
Squarespace's Support Got Back to Me Faster
To get an idea of how the customer support for both services works, I sent in essentially the same question to both. I wanted to ask, "Can I import content from WordPress onto your service?" Now, since I'd already learned that Squarespace does indeed support importing content from WordPress (sort of – see above) I had to change the question to: "Can I import content from Joomla onto your service?" (Joomla is another popular CMS.) The answer (basically "No") came within about half an hour.
Incidentally, the Squarespace support agent who responded said they'd submit a feature request for importing content from Joomla.
There's no guarantee that anyone will act on that request, but if they do… I'll be embarrassed, because I
never
touch Joomla if I can help it. The agent also provided links to let me know which services Squarespace does support.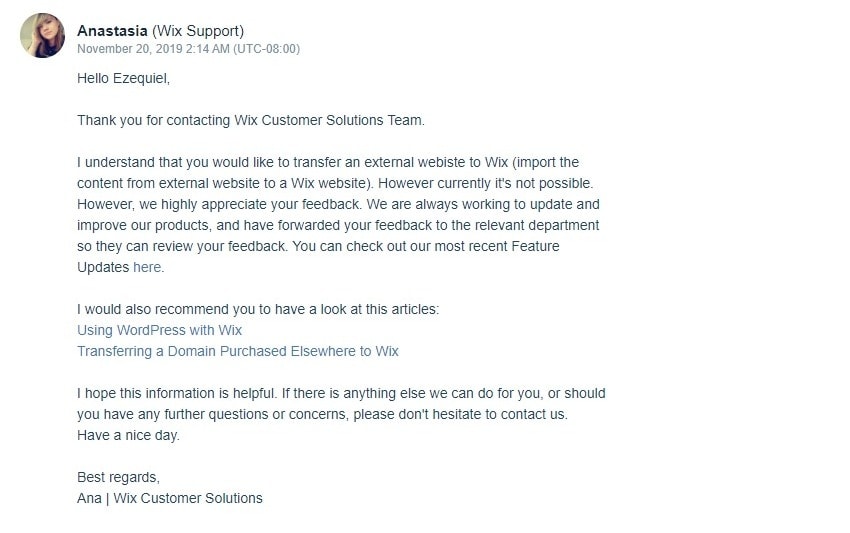 Wix's support team contacted me some eight hours after I sent in my question
, and again, basically told me, "No." However, they also apparently forwarded my inquiry to the feedback department, so if WordPress importing is ever added to Wix… you're welcome. As with Squarespace, the response also had links to Wix's documentation, but as they have no content importation features for anything other than store products, it wasn't exactly helpful.
Once again, Squarespace wins.
I found the information I received to be generally more helpful and faster. I'm not sure if Squarespace's developers have an active feature request for a "content importer for Joomla," but if they do, I have more influence than I thought.
Squarespace Takes This Particular Crown
Summing it all up, I have to say that Squarespace is better for the following reasons:
Its modular design approach, while limiting your layout options a little, is more intuitive and less likely to break your site design if you click and drag something to the wrong spot on a page.
It generally has better tools for growing your site in terms of both functionality and content, and makes it easier to manage large blog archives. It's a tool for publishers as much as for designers.
The third-party service integrations will always look like they're just another part of your website, rather than something grafted on like the limbs of Frankenstein's monster.
While Wix focuses a lot of its resources on building new features,
Squarespace is focused on creating a smooth and cohesive experience for you.
 Think of Wix vs. Squarespace as similar to Windows vs. MacOS. (Well, before Apple started making devices with "touch bars" and "a complete lack of headphone jacks." Geniuses? I think not.) Just to clarify, Windows holds a much bigger ecosystem for sure, but MacOS (during its prime) boasted a much more thoughtfully crafted interface that made the system easy to understand and enjoyable to use. Unlike Apple, Squarespace has managed to keep these values going. I sincerely enjoy using it every time. But don't take my word for it.
Squarespace has a 14-day free trial, so you can check it out for yourself right now.
 (Spoiler alert: you'll see that I was right.)
However, You Should Use Wix Anyway If…
Of course, there are exceptions to any declaration of victory. For example, Wix might be a better option if:
You're on an ultra-tight budget and need to use a free plan for a good while.
You need some third-party integration that only Wix has, like ChatBot to embed live chat capabilities or VideoAsk to allow your visitors to leave you comments via video and audio.
FAQ
Which is cheaper, Wix or Squarespace?
Wix has a free plan, so if you're looking for a straight-up head-to-head comparison, then Wix is cheaper. But if you require any additional features or extra storage then you will have to upgrade to a paid plan. On the other hand, while Squarespace only offers a 14-day free trial, when the paid plan kicks in, you'll find they offer many more features at a much better price point than the Wix paid plans.
Is Wix or Squarespace easier for someone who has never built a website?
Wix – it's so simple to use and so easy to customize. There is even a really great feature called Wix ADI. It gets to know you and then takes care of all your layout decisions – which is really nice for people lacking any flair for design, or for those who struggle with decision making! If you do decide to build the website yourself, then the drag-and-drop tool will let you drop literally anywhere, giving you so much freedom and flexibility on your design and branding.
Wix or Squarespace for blogging – which is better?
Squarespace as their templates are exceptionally beautiful and can make amateur bloggers look like experienced professionals! They are sleek, with a heavy focus on imagery, and are designed to be mobile responsive (unlike Wix templates). The ability to schedule posts and a great comment section for your followers are just some of the features that make this platform good for bloggers. You can also add a podcast straight to your blog if this is an additional medium you are using to connect with your audience. We've tested all the templates and these are the six we thought came out on top for a personal blog.
Wix or Squarespace for photographers – which is the best choice?
Squarespace is a much better choice because they have a dedicated template category for photography and all the templates have built-in image editing tools, as well as the capability to display your images in their best light. They offer great photography gallery features with bulk image uploading capabilities (so important!), and full-screen displays. The pricing plans are relatively inexpensive with a free 14-day trial and the cheapest plan starts at

$

16.00

. If you are looking for a free website builder then there are some great alternative options.