Wix and Squarespace both invest millions of dollars in advertising each year, but we all know you can't always believe what they say on TV. Or on YouTube, for that matter.
That's why I decided to take a deep dive and test both Wix and Squarespace to find out which of these mega brands is actually telling the truth. Which one offers the best building experience for personal websites? How about small business websites? Online stores?
While Wix is marketed as a beginner-friendly builder, Squarespace is known as a premium service for creatives. But is Wix really that easy to use? And does Squarespace really offer all the creative freedom for artists and designers to truly shine?
In order to make the right decision for your site, you need to know what each one of these builders is really like. Read on to find out how the two compare in each of these eight categories:
---
---
Ease of Use
Drag-and-drop editors always have the potential to be a bit clunky, but the Wix editor is a joy to use. You can design every page of your website the way you want by simply clicking and dragging dozens of different elements into place. And not just the basics, either; in addition to text, images, video, buttons, and social media icons, you can also add more advanced features to your website with just one click, like member logins, event registration, and live chat.
Moving elements around is smooth and seamless, and I like how Wix provides automatic alignment lines to help you position everything exactly where you want it.
It's all very intuitive, even for complete beginners who have never built a website before. If you're nervous about experimenting on your own, there's a step-by-step guide that you can follow to make sure you don't miss anything.
Plus, if you want it even easier still, you can let Wix build your website for you with its Artificial Design Intelligence (ADI) feature. Just enter a few details about your website, choose your favorite theme and homepage design, add on the extra features you want (online store, blog, live chat, booking system, forum, etc.,), and watch it all come together.
Squarespace isn't necessarily harder to use than Wix, but there's definitely more of a learning curve. You'll need to spend some time getting used to the platform because it's not immediately obvious where everything is, and it takes more clicks than necessary to find what you need.
For example, to access the editor, you need to hover over the page content that you want to customize and then click on the Edit option that appears. And then to access the drag-and-drop elements (which Squarespace calls "content blocks"), you have to click the Add Block button for them to appear. But from there, moving elements into place is nice and easy.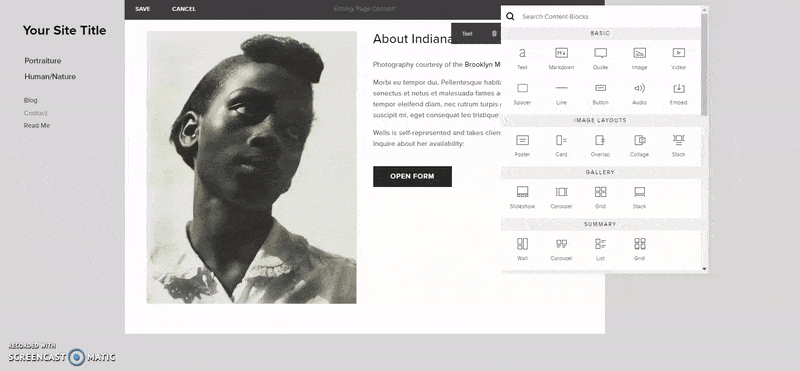 Squarespace offers a few cool built-in options for your website, like restaurant menus, Amazon integration, charts, and more gallery layouts. Wix lets you add features like these with apps rather than building them into the editor, which helps to keep it simple and streamlined.
The Winner
This one has to go to Wix. With its simple and intuitive interface, guided setup, and the option to totally automate your website building with Wix ADI, Wix makes creating and customizing your website a breeze. While Squarespace isn't hard to learn, you will need to spend time to learn it, and it's worth it if you want a more technically-complex website. But Wix has everything a standard business or personal website would need and is incredibly easy to use, making it the ideal choice for beginners.
Design and Flexibility
Wix Has Quantity, Squarespace Has Quality
There's more than 500 beautifully-designed templates to browse here, and that number alone can be quite overwhelming. Wix has organized them extremely well into categories and sub-categories, so it's easy to find templates for a specific industry or niche. For example, the Business category is broken down into eight different sub-categories from Real Estate to Technology, each with around 15-20 templates.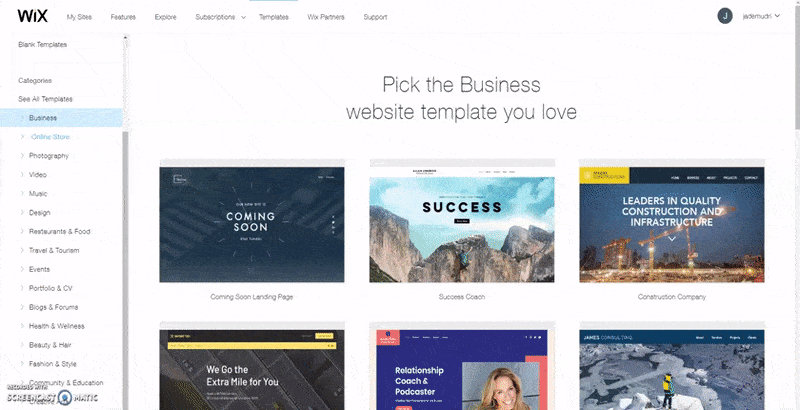 But you're not obligated to choose a template from a specific category. You can choose any template you like and customize it for your specific needs. And it's important to choose carefully because it's not easy to switch templates once you've made your choice. Unlike many other website builders, Wix won't automatically transfer your content and customizations to a new template, so you'll have to rebuild your site from scratch every time.
At least you can't really go wrong with any of the templates. The designs are all clean and modern, and you get a lot of flexibility with the drag-and-drop editor once you've made your selection. You can redesign page layouts and structures, change colors and fonts, and move elements wherever you want.
Plus, Wix supports more than 90 different languages. The Wix Multilingual feature lets you create new versions of your website in multiple languages, so you can truly reach a global audience.
Squarespace has just over 100 templates on offer, but what it lacks in numbers, it makes up for in quality. All the templates are designed by professional designers, and it shows; they're pristine and polished, with well-balanced layouts and dynamic effects. Check out our guide to Squarespace templates for a full breakdown of all their features.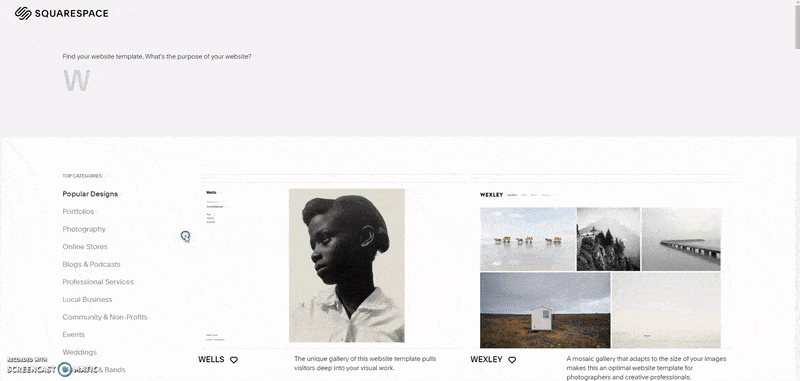 You can switch templates anytime you want, so you're not locked into your first choice. Squarespace also lets you edit and preview multiple templates at once, so you can see how the different options will look. It will even transfer all your existing website content to the new template you choose.
But there are some limitations to Squarespace, too. The only languages currently supported are English, French, German, Italian, Spanish, and Portuguese. And while the drag-and-drop editor gives you a decent amount of flexibility to customize your template, you can't move and place elements anywhere you want. Instead of the total design freedom that you get with Wix, Squarespace only lets you position elements within a set grid layout.
The Winner
This one goes to Squarespace. But only just! While Wix has the upper hand in design flexibility, the fact that you can't easily change templates is a huge hassle. Squarespace has fewer designs to choose from, but the freedom to switch template designs without losing your content means you'll have a more adaptable website with room to grow.
E-commerce
Wix and Squarespace Are Both Secure and Reliable for Online Selling, But Which Is More Powerful?
Wix stores are super-simple to set up and manage. From your dashboard, you can add all your business info, set your currency and store language, create special offers for customers, track orders, and withdraw your earnings.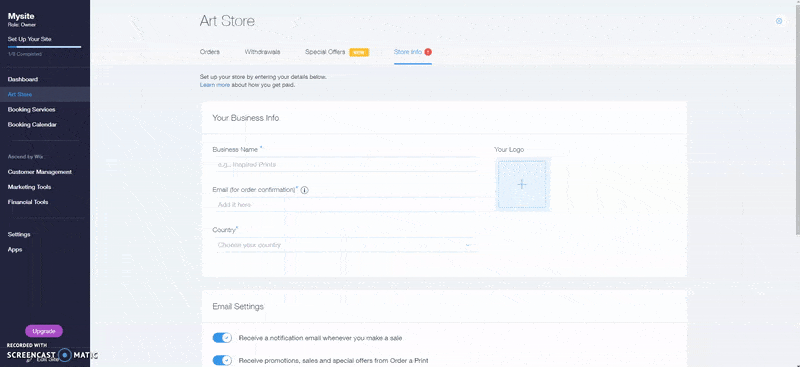 You can sell both physical and digital products in your Wix store. But if you're selling services, you'll need to install a separate app for managing bookings. You can also create customized quotes and invoices, and add a range of payment methods including major credit cards, PayPal, AliPay, offline payments like cash and check, and Point of Sale (for physical products).
The platform has everything you need to run a basic store. The best part about it is that Wix doesn't charge any transaction fees, so everything you earn is yours to keep (minus payment processors' fees). The downside is that you can't do anything too fancy, such as track individual customer information or create accounts for them on your site for faster checkout. But for small to medium stores that don't want to learn a complicated e-commerce system, Wix is a cost-efficient way to build an online customer base.
The Squarespace store, just like its editor, is more complex than Wix but essentially allows you to do more. You can sell services as well as physical and digital goods, and there are more payment options available for your customers, including Venmo and Apple Pay. Plus, thanks to the world-class template designers, the store layouts are visually striking and really put your products on show.
From your Commerce dashboard, you can manage everything about your online store, including inventory, orders, and customer information. You can also create and schedule discounts, add multiple shipping options, and manage taxes and accounting.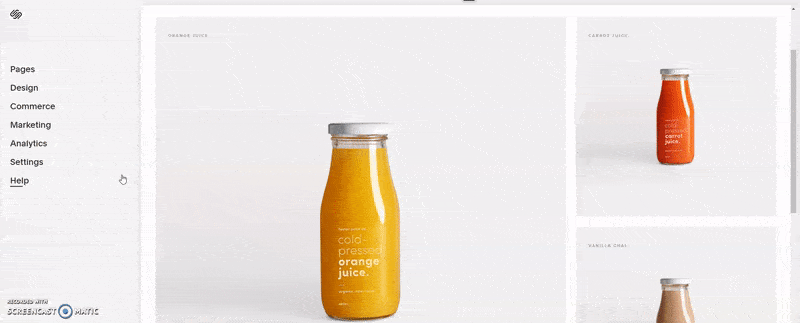 Squarespace is not just about selling a few products online, but actually running a full-scale e-commerce business. It's a great platform for larger stores with a lot of inventory to manage, who want to be able to offer their customers that little bit more flexibility. You won't pay any transaction fees if you're on one of Squarespace's e-commerce plans, but if you're on a business plan, Squarespace charges 3% in transaction fees for every sale you make.
The Winner
Wix wins this one, by a hair. You can build a more advanced store with Squarespace and manage a full-scale e-commerce business, but unless you're selling thousands of products, simplicity and user-friendliness are probably more important. With Wix, you can have a fully-functioning e-commerce store set up in minutes. Plus, it's tough to beat no transaction fees ever!
Blogging
Wix Makes It Easy to Set Up and Manage a Blog, But Does It Give You Enough Features?
Wix is nice and straightforward. Just add your blog from the editor menu, and Wix will populate the page layout and sample text for you, ready to replace with your own content. From here, you can create new blog posts, manage posts and comments, add multiple authors, as well as customize the design of your blog, and add extra elements like custom feeds and RSS buttons.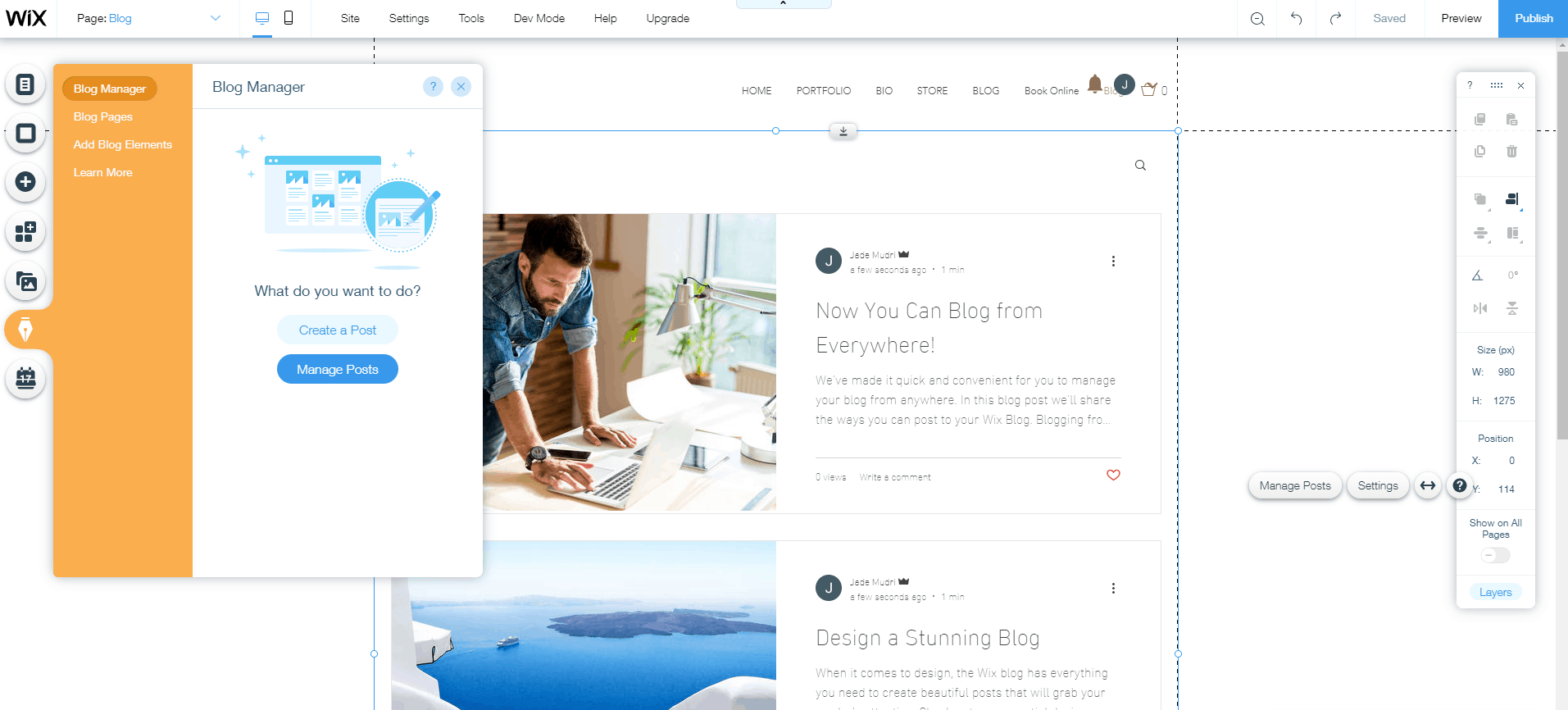 The post editor itself is easy to use but quite basic in its functionality. Text formatting options are limited, and you can backdate posts but can't schedule them in advance. But I do like how Wix shows you the read time of your post as you're writing, which can be a lot more useful than word or character count.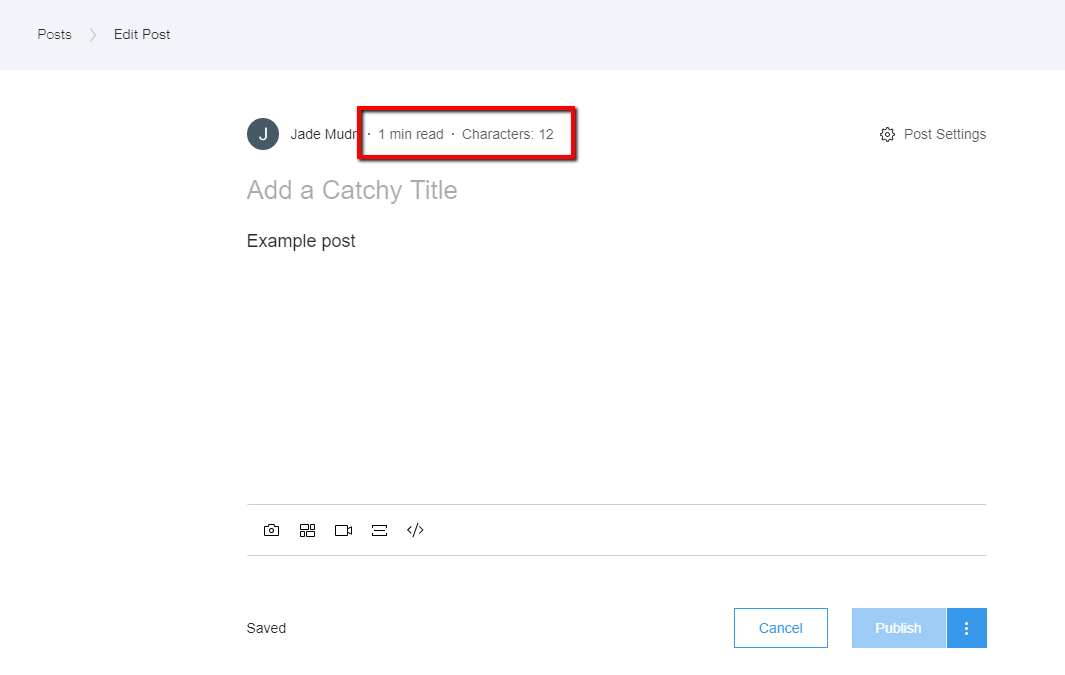 Squarespace gives WordPress a run for its money when it comes to blogging capabilities. Serious bloggers will find everything they need here to manage a full content load including the ability to schedule posts, set posts for review by another author, and automatically update your social media accounts when you publish a new post.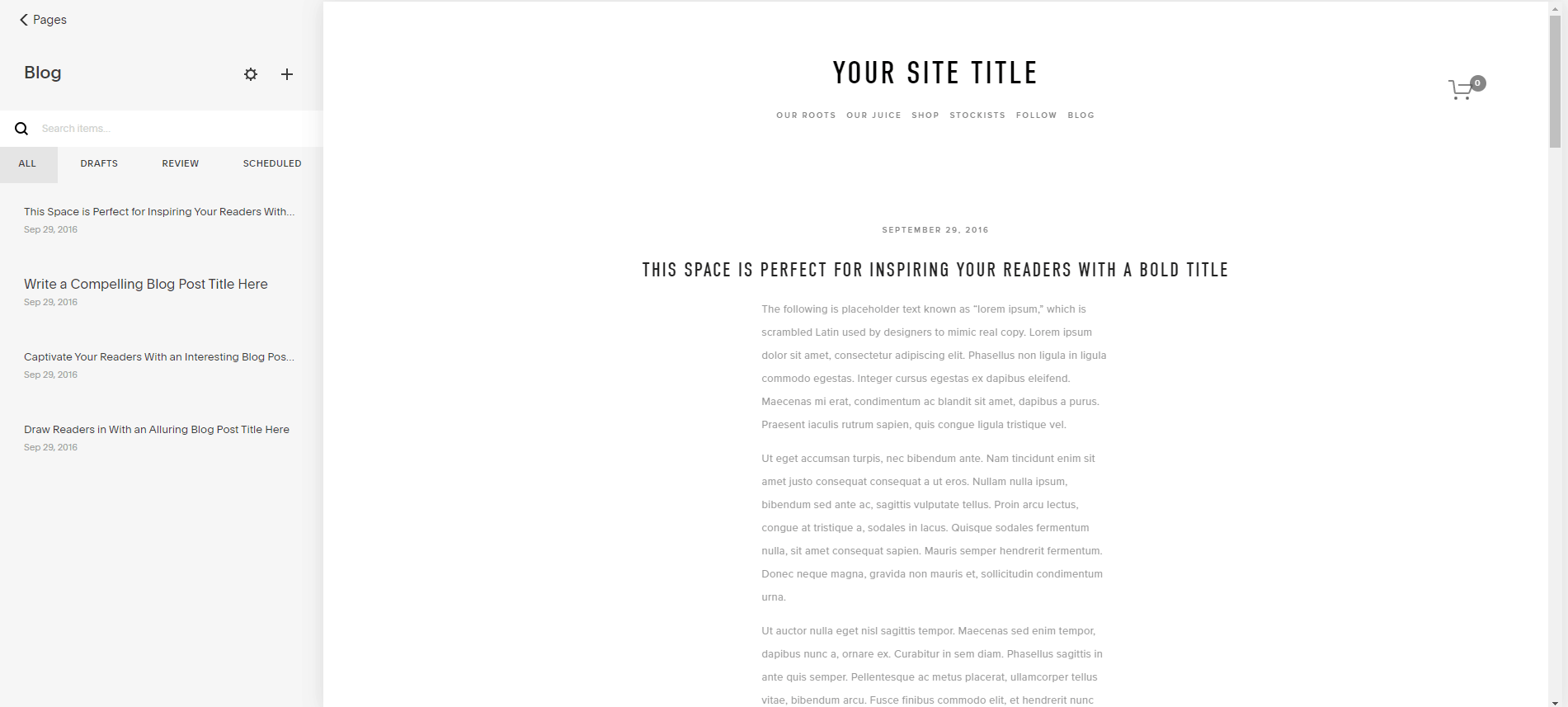 You can do a lot more with your post content, too. The Squarespace post editor has more than 50 content blocks that you can add to the page to customize the layout and enhance your writing. As well as all the basics, like images, videos, buttons, quotes, etc., You can also add galleries and charts, forms, calendars, and product displays to your posts to create the ultimate user experience.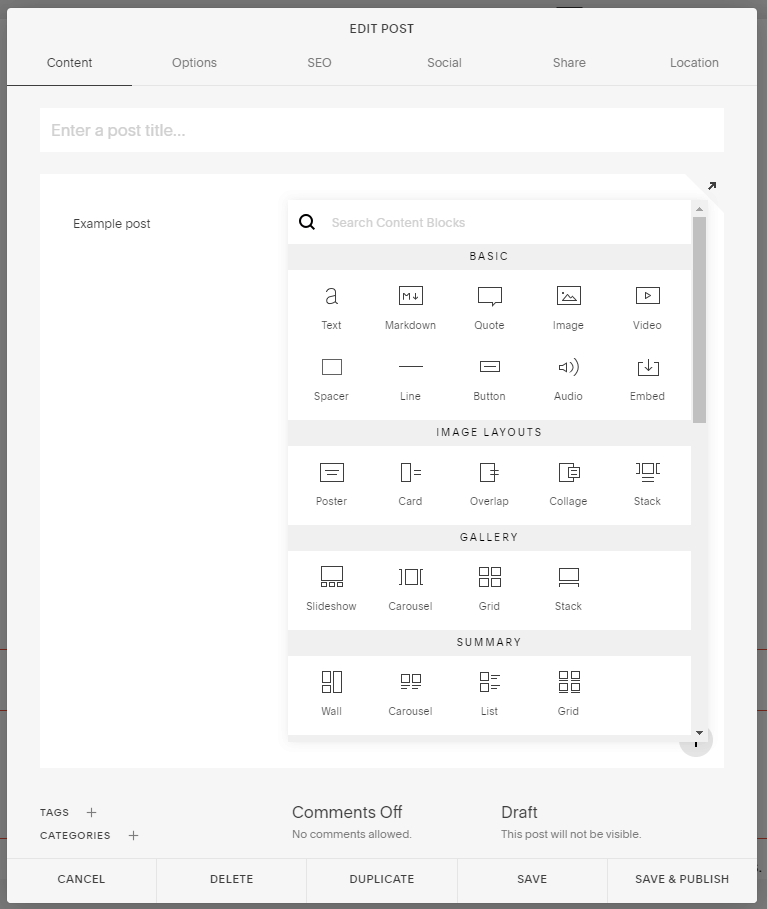 The Winner
This one has to go to Squarespace. While Wix has everything you need to run a successful blog, Squarespace has a lot of extra features that can simplify large-scale content management. If you're working with upwards of hundreds of posts, or if you use your blog as an income stream, you'll love the extra functionality to organize and enhance your content.
Apps and Features
How Does the Wix App Market Compare to Squarespace's Built-in Toolset?
The Wix App Market has over 300 add-ons that you can integrate with your website to boost its functionality. Apps are all one click to install, with both free and paid options from selected third-party developers as well as from Wix itself. If you can't find a feature you want in the Wix editor, it's probably available from the App Market.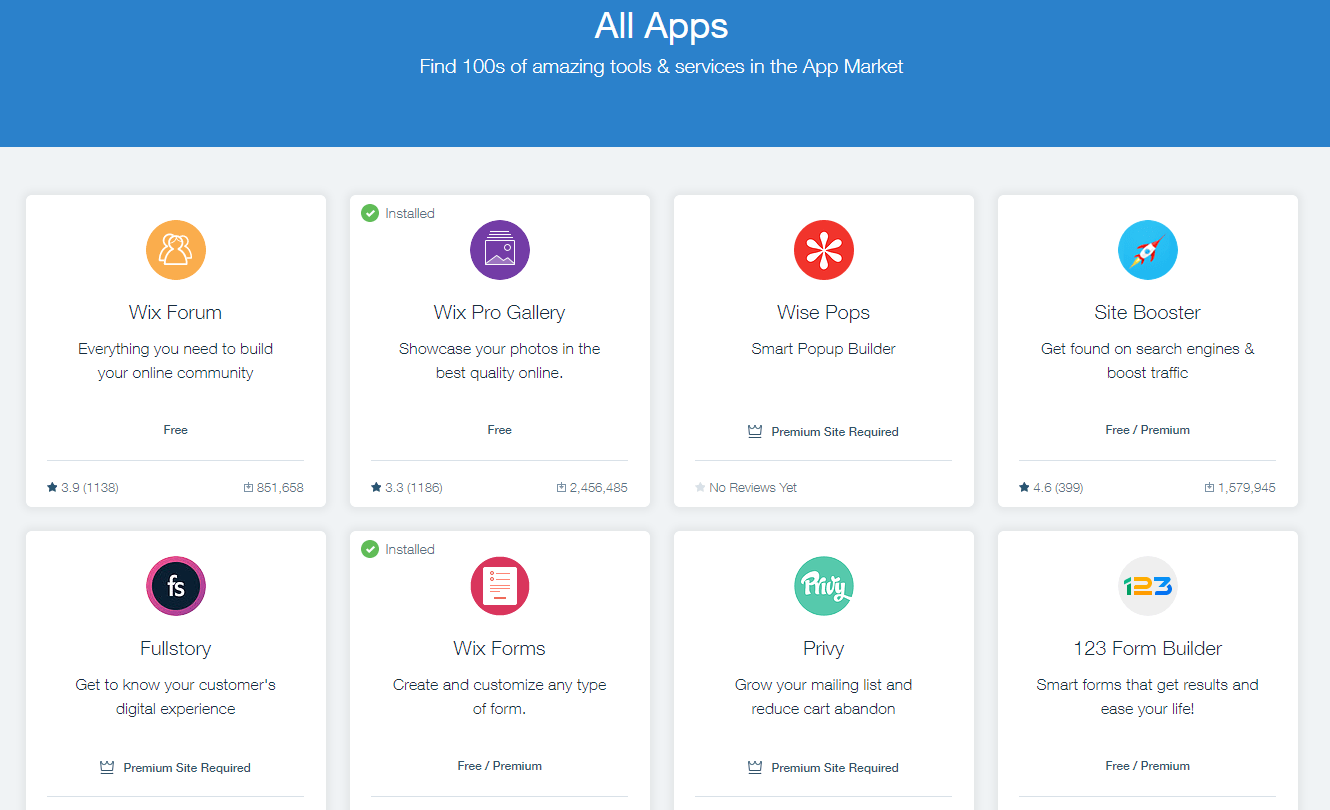 You can find an app for literally anything you can think of. Take reservations and appointments, raise funds, display Yelp ratings and reviews, live chat with your customers, add a Spotify soundtrack, and heaps more. You can even install advanced analytics and accounting apps to put all your website data in one place, which is invaluable if you're running an online business.
Plus, if you know how to code, you can use Wix Corvid to add your own tools and integrations using JavaScript. It even offers coding examples that you can copy and paste to create custom forms, dropdown menus, widgets, and heaps more.
Squarespace doesn't have any extra apps or tools that you can add to your website; all the available features are built into the editor. There's a lot of functionality here, but it can be hard to find what you're looking for because you can't search for specific tools or functions. Instead, you'll need to click through the editor categories to find tools for design, e-commerce, marketing, and analytics.

If you have the coding knowledge, you can, of course, dive into the backend and add custom integrations that way. Squarespace's Developer Mode gives you total flexibility with the template code, but it's not the best solution if you're trying to keep things simple.
The Winner
Wix wins this one, for its unparalleled App Market and easy integrations. Squarespace has well-designed, high-quality tools, but the lack of a centralized app store makes it hard to know what's available. It's great for advanced users who don't need to search because they can add any features they want with code, but if you want to make it as easy as possible for yourself, you can't look past Wix's vast, browsable app library and one-click installation.
SEO
Both Wix and Squarespace Are SEO-Friendly, But How Much Can You Actually Optimize Your Website?
Like with everything Wix does, SEO (Search Engine Optimization) is made as simple as possible for you, but that's not to say it's not effective. With Wix SEO Wiz, you get a tailored SEO plan for your website to make sure you take all the essential steps to get ranked. It includes helping you pick your keywords, optimize your content, and set up internal links.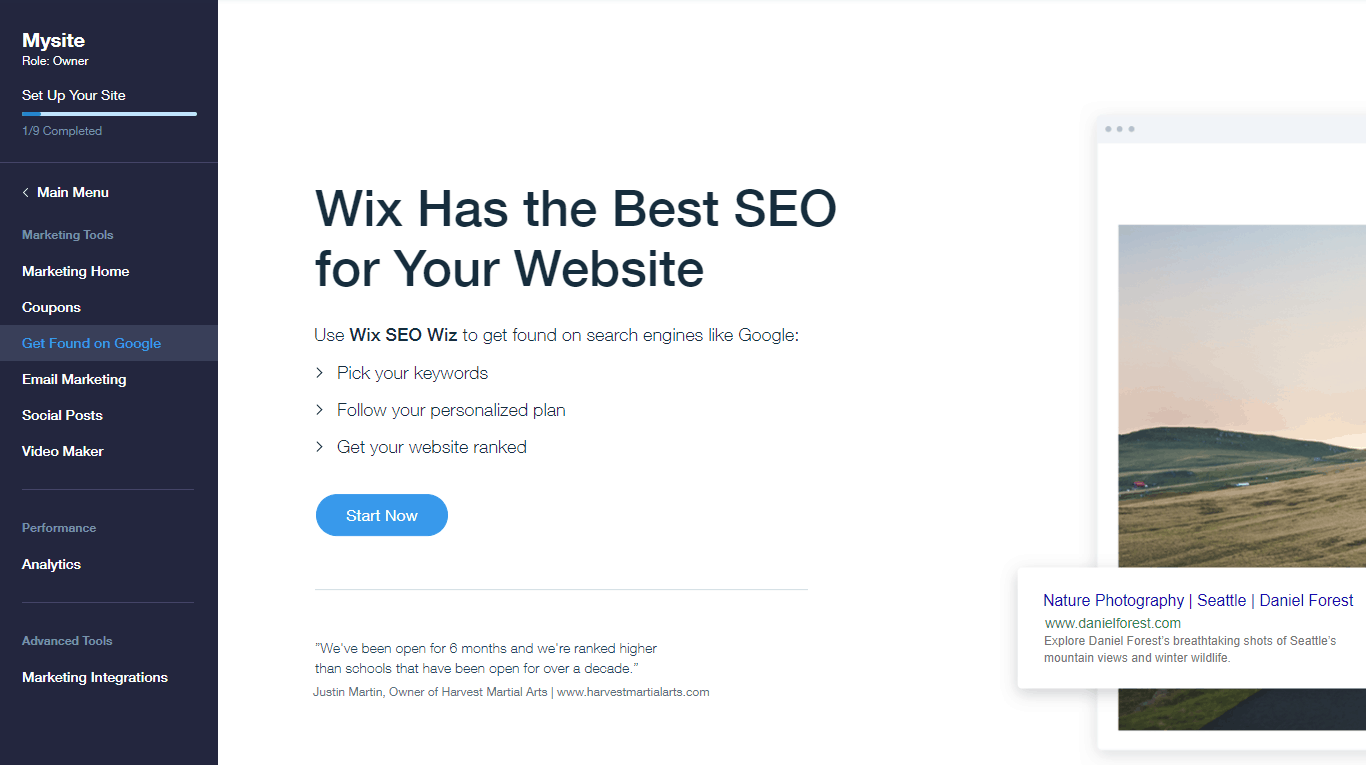 My only issue with Wix is that the website templates aren't automatically mobile-responsive, which can impact your SEO performance. Wix templates are mobile-friendly, so they can be optimized for mobile devices, but you have to do it yourself using the built-in mobile editor, which lets you view and edit a mobile version of your website. It's doable, but it's a hassle, especially when most website builders these days offer responsive templates straight out of the box.
Squarespace doesn't hold your hand as much. There's no personalized step-by-step guide (though you can access a general SEO checklist in the knowledge base), and not as much explanation about what each SEO feature is for. This isn't an issue if you know what you're doing, but if you're new to SEO, you'll probably find yourself looking for guidance from other sources.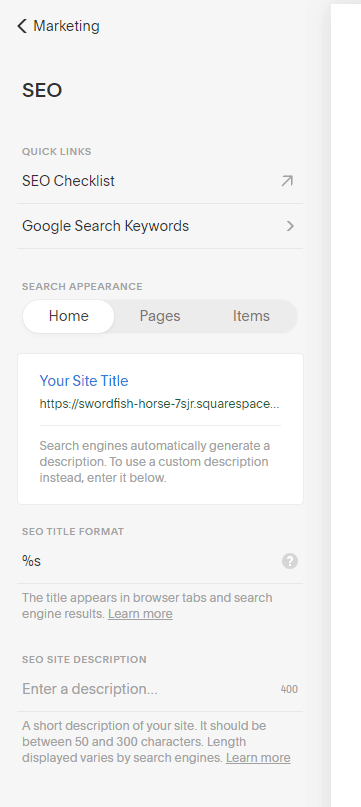 Unlike Wix, Squarespace templates are all mobile-responsive, so your website will load beautifully across devices without you having to make any adjustments. And, integration with Google Analytics and Search Console is built-in, so you can track valuable SEO metrics from your Squarespace dashboard such as traffic-driving keywords and most popular content.
The Winner
It's a tie. This was a tough one because both Wix and Squarespace give you pretty equal SEO control over your content, meta titles and descriptions, image alt tags, and page URLs. But with Wix's comprehensive and personalized guidance, and Squarespace's automatically responsive templates, both platforms will save you time in some areas while costing you in others.
Pricing
Is Wix or Squarespace Better Value for Money?
Wix has 7 paid plans; 4 for straight-up websites, and 3 for businesses and e-commerce stores that need to accept payments. This gives you a lot of flexibility, but it can also be pretty confusing. Make sure to check out our guide to Wix pricing plans for a more detailed breakdown. The cheapest plan limits your bandwidth (2GB) and storage (3GB), while the more expensive plans come with unlimited bandwidth and a lot more storage.
There's also a 100% free plan. It means you'll have a Wix.com domain and Wix ads on your website, up to 500MB of both bandwidth and storage, and you can't use any e-commerce features. But it truly is free forever, so it's a great option for the budget-conscious.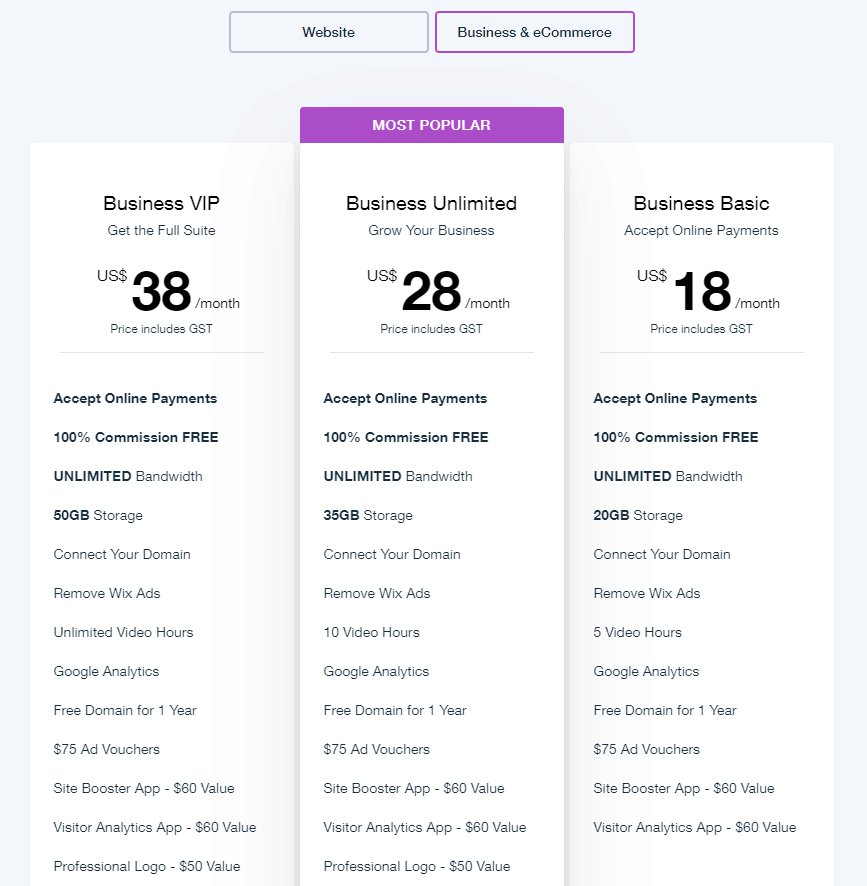 Squarespace is more straightforward with its plan options. There are only four, but they all come with unlimited bandwidth and storage. The cheapest plan is aimed at personal users, and as you pay more, you get access to more marketing and e-commerce features like promotional pop-ups, integrated analytics, and the ability to accept payments and donations on your website.
What's disappointing is that Squarespace has no free plan option. You can try Squarespace for 14 days free, but after that, you'll need to upgrade to keep your website live.
The Winner
Wix takes this one. It not only has more plans to choose from, but it also has a forever-free plan with all the functionality you need to run a basic website. For beginners who don't yet have the budget to get locked into an ongoing plan, you can use Wix to start building an online presence without paying a cent.
Customer Support
Wix and Squarespace Both Offer a Variety of Support Channels, But Just How Helpful Are They?
Wix customer support feels almost purposely hard to find. You have to navigate through the help center to find an article way down the bottom called "Contacting Wix Support," and only in that article can you find a button to contact the support team. You then have two options: Request a callback (during US business hours only) or submit a ticket for an email reply (24/7). Reviewers have also had success using social media, but the support agents seem to have quite limited technical knowledge.

Support is easier to find on Squarespace but more limited in its availability. You can send an email anytime or live chat with a support agent during US business hours Monday to Friday. There's also a support assistant chatbot that's available 24/7, but you won't get any new information from it than what's in the help center. If you need a personalized response, you'll just be directed to contact a live agent.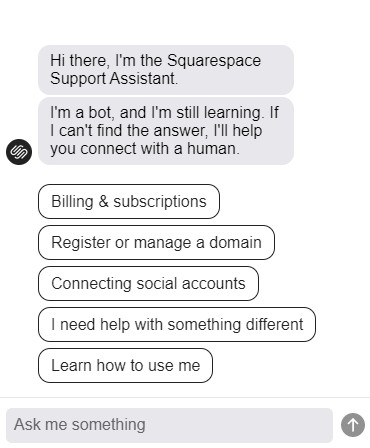 The Winner
The final round goes to Squarespace! This was a close one. Both platforms have a comprehensive knowledge base and responsive support agents, but Squarespace's live chat option is a lot more convenient than requesting a callback with Wix. As long as you're available during US business hours, of course.
Wix vs. Squarespace Final Verdict: Who Takes the Crown?
Wix is the winner for most uses. It strikes the perfect balance between simplicity and flexibility, giving you practically unlimited design and customization options in an incredibly user-friendly platform.
With Wix, it couldn't be easier, or quicker, to build a high-quality, feature-packed business or personal website. I found the Wix editor to be much more straightforward and fun to use, and support is readily on hand when you need it. The range of affordable plans is easier on your wallet, too!
We recommend Wix if:
You don't have much website building experience. You'll get your head around the drag-and-drop editor in the first minute, and there's always Wix ADI if you want to automate the process even more.
You run a small to medium e-commerce store. Wix's e-commerce plans are more affordable than Squarespace, and they all come with no transaction fees and free analytics.
You have a specific vision for your website. The unstructured editor and huge range of templates give you total design freedom over the look and feel of your website. Great for creatives and brands with a distinctive image.
To learn more about Wix, check out our Wix expert review or click the button below.
When Squarespace Is the Better Option
Of course, Squarespace is still an excellent platform for certain types of websites. You might want to go with Squarespace if:
You run a large e-commerce business. You'll get more value from Squarespace's higher-priced e-commerce plans, which are the only ones to come with no transaction fees. You can also sell unlimited products and recover abandoned shopping carts.
You want more dev control over your website. The drag-and-drop editor can be restrictive, but Squarespace lets you modify your template code and customize your website that way. Something you can't do with Wix.
Or find out more in our Squarespace expert review.
| | | |
| --- | --- | --- |
| | Wix | Squarespace |
| Templates | 500+ | 100+ |
| Editor | Drag and drop, simple to use | Drag and drop, more complex |
| Apps and Integrations | 300+ in the Wix App Market | Only built-in functions |
| Free Plan? | Yes | No |