If you're looking for a website builder, Wix and Squarespace are probably the first two tools that come to mind. They both offer all the features you need to take the internet by storm. So, how do you choose the best one for you?
Which one gives you the most freedom to customize your website? Which one is the most beginner-friendly? Will either allow you to run a successful online business?
These are questions we've all wondered about at some point. I've used my fair share of website builders in my time, Wix and Squarespace included. Now, I'm going to put my experience to work. We'll take a look at the most important differences between these two.
I can tell you right now that these are both excellent website builders. But after reading this article, you'll be able to compare their strengths and weaknesses to make the best choice for your website building needs.
Wix vs Squarespace Template Libraries – Quantity or Quality?
First of all, let's talk templates. You want a builder that not only offers a lot of style options, but also covers your niche.
I can tell you that Squarespace and Wix offer superb template libraries that are better than most other builders. However, each one is good for different reasons.
With an industry-leading 500+ templates, Wix seems to be the clear winner. Its library spans 15 broad industries, such as Business, Restaurants & Food, Creative Arts, and more. If you need something a little more niche-specific, you might find what you're looking for in the subcategories. For example, in Health & Wellness you can find Health, Wellness, and Sports & Recreation subcategories: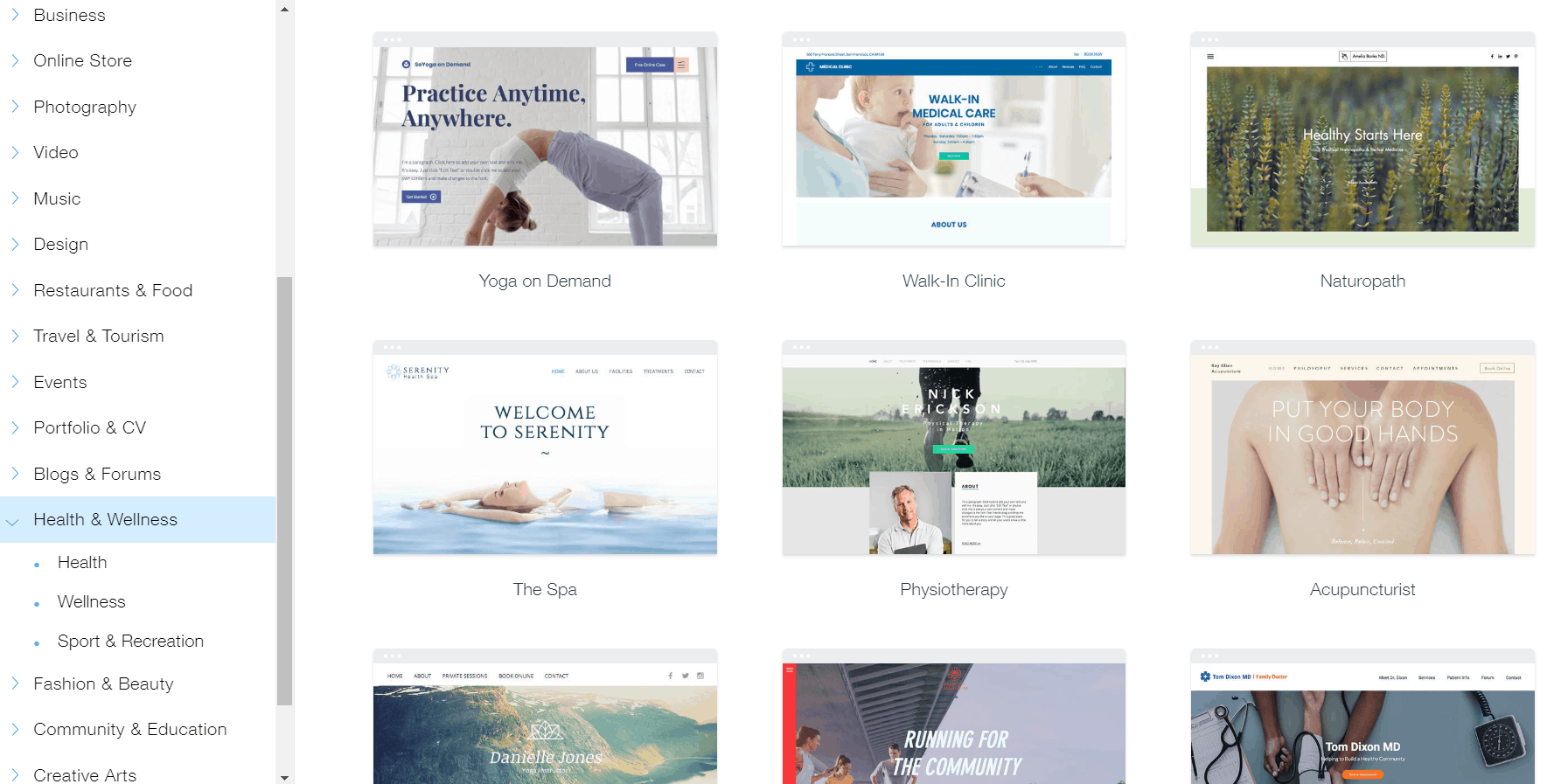 Most categories feature at least 50 templates, giving you more than enough options to choose from, no matter what your niche is.
With such a massive library, you can expect a huge variety of styles. Playful, artsy, businessy, minimalist — Wix has it all. Despite the number of templates, the quality is surprisingly good. Most of them look professionally made with up-to-date designs. However, it would be nice if Wix did some housekeeping to get rid of some of the older ones.
While most of Wix's templates are definitely crowd-pleasers, you won't find that many templates aimed specifically at working professionals.
To really understand what I mean, you have to look at the super sleek and ultra-stylish templates Squarespace offers. Squarespace itself does have an Apple-esque and minimalist vibe, and this has clearly spilled over into its templates.
Looking through the Squarespace library, you'll definitely notice a similar "feel" to the designs: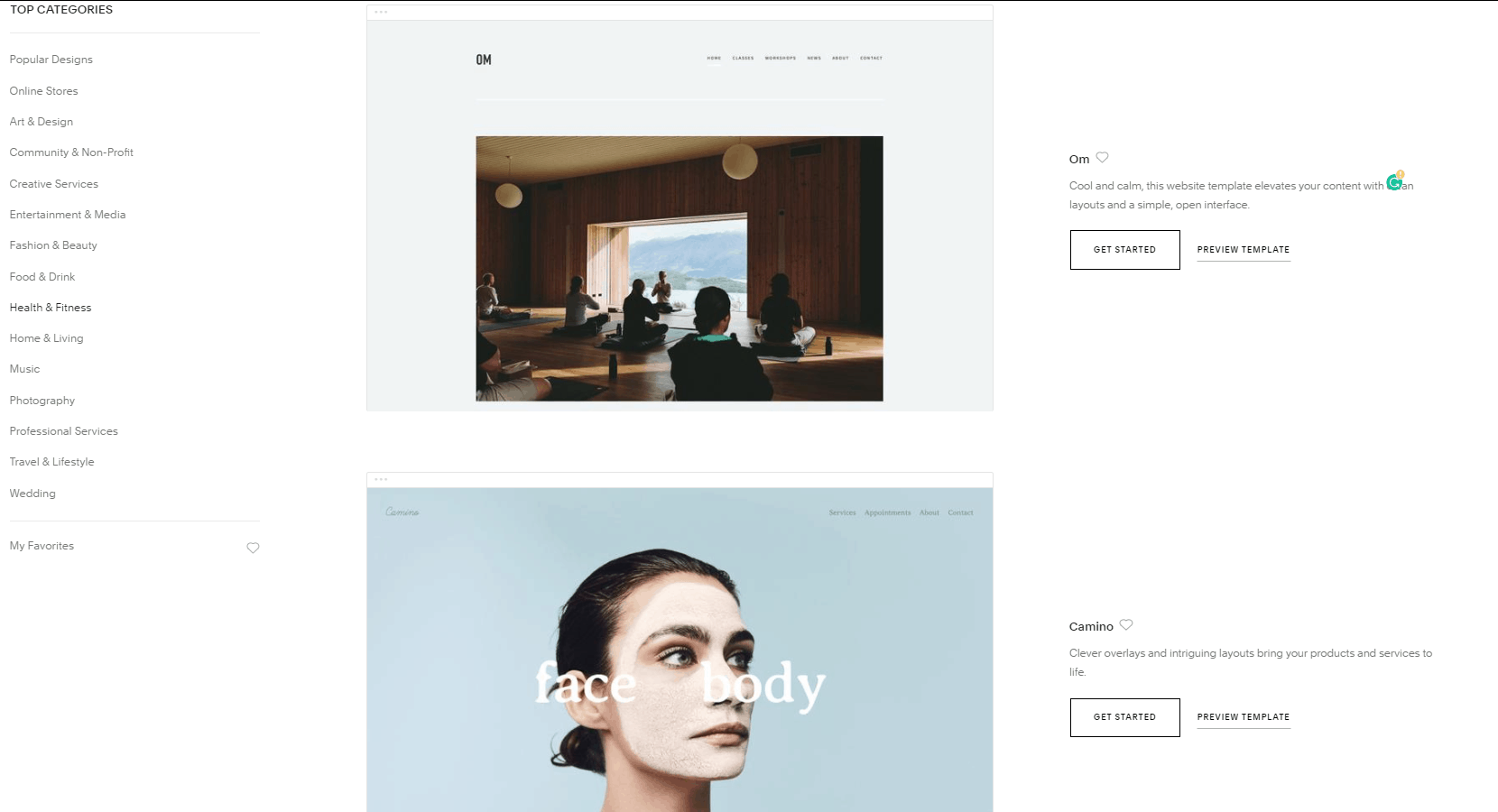 As you can see, these designs tend to be less colorful and more minimalist when compared with Wix.
With around 90 templates, Squarespace's template library is much smaller than Wix's. Squarespace's templates cover 14 categories, but there are only about ten templates in each, with no subcategories. As you might suspect looking at their ultra-professional designs, the "Professional Services" category is by far the largest, with 20+ templates.
The focus on working professionals who want to portray themselves as authorities or experts in their industry probably stems from Squarespace's roots as a blogging-oriented platform.
And the Winner Is…
Wix! No offense to Squarespace, but few website builders can challenge Wix when it comes to the variety of templates.
However, if you see yourself as a professional who falls into Squarespace's target market, you'll probably find more suitable templates there. In terms of quality, there's not much difference between the two platforms, except that Wix has the occasional bad apple.
Pick and Choose Your Features with Wix, or Be Content with Squarespace's All-in-One Platform?
Probably the most gaping difference between the two builders is that Wix offers an App Market. It's no ordinary app market, either — with over 250 apps, it's one of the most extensive app markets around.
No matter what you have in mind for your website, there's sure to be an app that will help you turn it into a reality. Wix also provides the most important types of apps for free, so you don't need to pay to add an online store, forum, blog, or contact form to your site. Some templates come with these apps built-in, and for others, you can easily add them yourself.
There are also many specialized plugins (most of which are third-party), like Site Booster for SEO, Web-Stat for website statistics, Chatbot and live chat, Fyrebox Quizzes for interactive quizzes, and many more: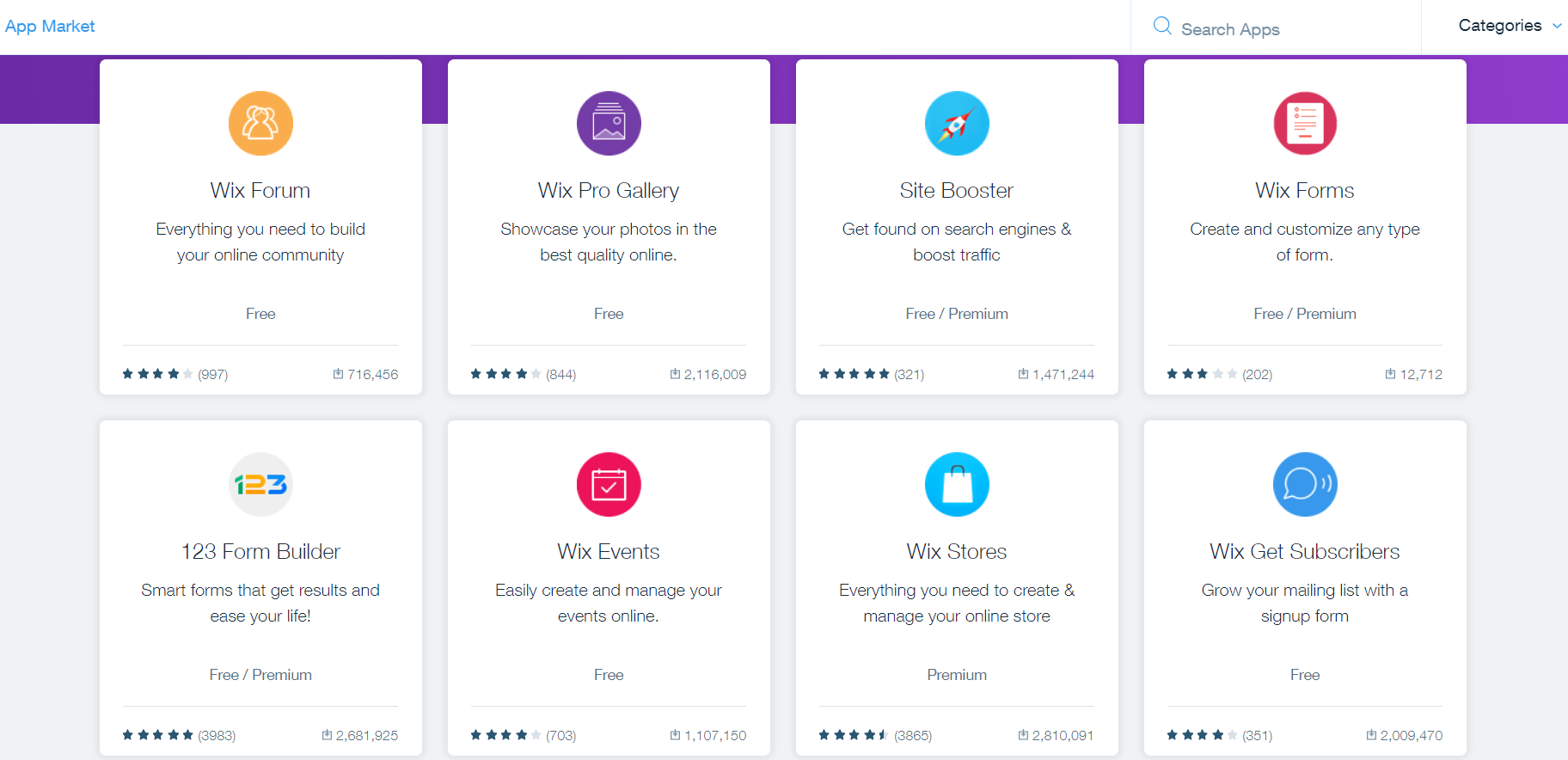 Luckily, most plugins are either free or have a freemium pricing model so you can try them out. You'll find that even the paid ones are pretty inexpensive.
The App Market opens up many new doors for you and your site. Is there a feature not built into the Wix Editor? You might be able to find a plugin for it in the market. Is a built-in Wix feature or plugin too limiting or not nice to use? There might be a third-party app that suits you more or provides better features.
For example, Wix already has basic SEO functionality, but the Site Booster app gives you a different interface and more extensive features, such as search engine list tracking, keyword recommendations, and the ability to submit your website to directories.
The most important thing is that Wix provides all the basics for free, and that you can pick and choose the extras you want.
The problem you'll face is that not all plugins have the same quality. You'll have to check user reviews and do a bit of research to be sure you can trust a plugin before buying or installing it.
If you look through the App Market, you'll a few one- or two-star rated apps. Most of the complaints are about usability or small bugs. Wix does seem to do its due diligence by at least making sure apps don't mess with your security or bring your whole site down.
You might be disappointed to learn that Squarespace doesn't have any third-party app market. It also only allows you to integrate with a few trusted services, like Google Analytics and Typekit. This is because the folks at Squarespace firmly believe they can offer a superior user experience. You'll also be protected from any bugs or bad usability that sometimes come with third-party apps.
Like Wix, Squarespace gives you all the basics for free. The option to add a blog, forum, contact form, or store is built into any website.
If you can code, then both Squarespace and Wix allow you to use your skills to add features or integrate with other services.
Wix does a better job of helping you as a developer with support, documentation, and powerful APIs through Wix Corvid. If you use custom code on your Squarespace website, you'll be on your own, as it's not covered by the company's support.
And the Winner Is…
It's a tie! It's easy to assume that Squarespace can't contend with Wix because it has no app market. However, being a standalone, all-in-one platform does have its benefits. While Wix does give you the freedom to extend your site to your heart's content, the bad quality of some of the apps can come back to bite you.
By doing it all in-house, Squarespace does deliver a consistently good user experience. However, you might find yourself wishing every now and then that you could get a specific feature by simply installing an app.
Wix Editor's Pixel-Perfect Control or Squarespace's Streamlined Design?
Both Wix and Squarespace offer a drag-and-drop webpage editor to customize your website's pages and edit your content. However, these two editors provide two very different user experiences.
Wix often boasts about its editor's "pixel-perfect" drag-and-drop capabilities. True enough, it's an exceptionally powerful tool that gives you total freedom over the positioning or resizing of your elements.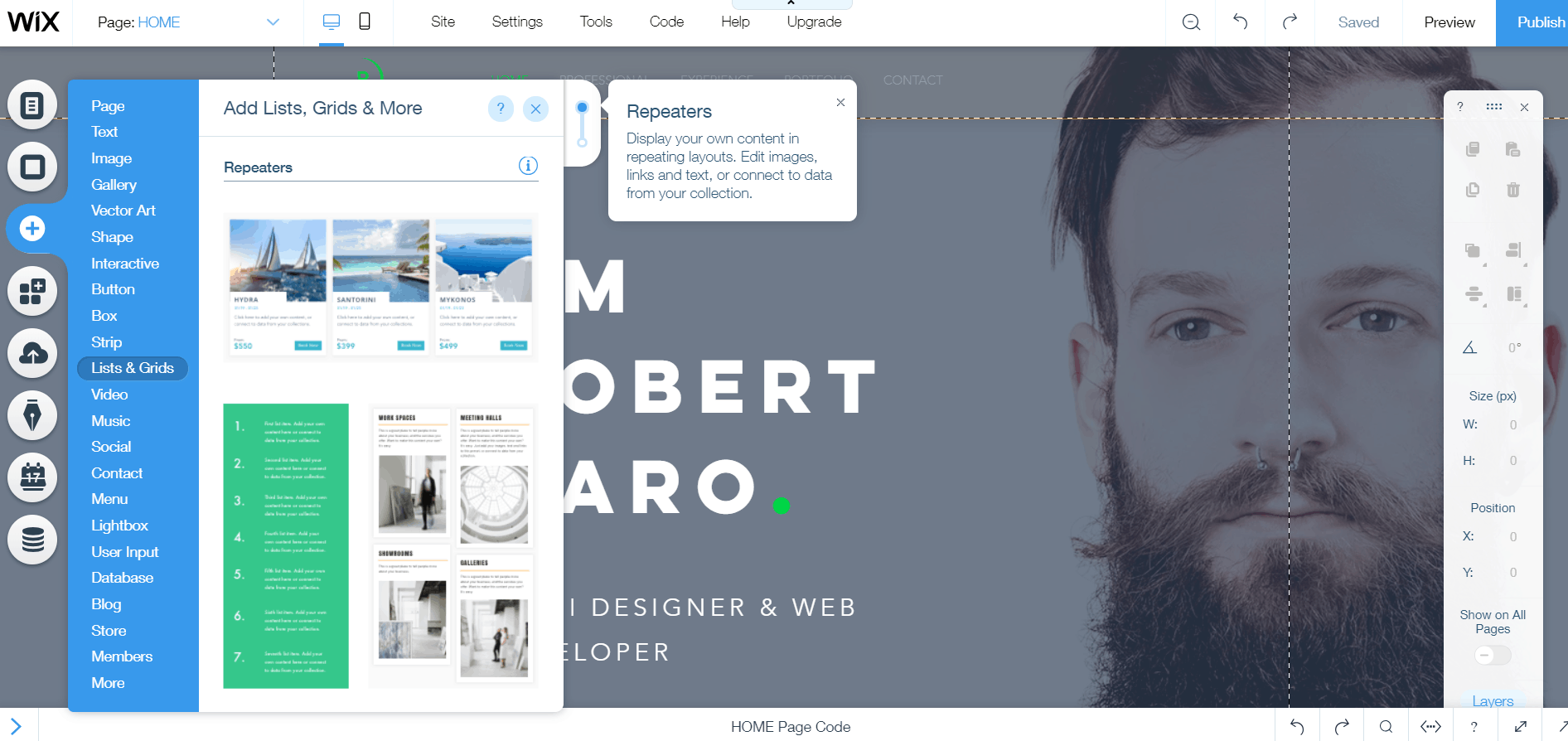 However, the editor is so powerful that you need to take care when using it. Yes, you can arrange the elements on your pages any way you like — even in a completely illogical way. So just make sure you know what you're doing.
If you're a newbie, your first encounter with the Wix editor might leave you feeling overwhelmed. Don't panic — it can take a little bit of time to get used to it, but you'll soon become a website building machine. What makes this builder so intuitive is that you can edit any element right on the page where it's positioned. Super helpful tutorials and "Smart Tips" that pop up as you work with new tools will help you ease into things.
Squarespace's builder is very different. It relies heavily on the concept of "sections" that form a grid layout for your page. Think of it as rows in a table, each with its own purpose or message.
When you work with Squarespace's builder, it's almost as if you're working with three different interfaces:
The main customizer where you can edit the content of elements, change colors, etc.
The section management interface, where you can move sections around in relation to each other, or add or remove them
A separate interface where you add elements inside of a section and position them, or remove them
As you can imagine, Squarespace's builder is much less intuitive for beginners. It will also take you longer to do certain things because you need to constantly move between these interfaces. Even within sections, Squarespace uses "spacers," which limits you in terms of where exactly you can position elements.
The same goes for Squarespace's left-hand menu, that uses multiple levels of navigation to get to specific settings.
This is very different from Wix's "do-anything-you-like in a single interface" approach.
Once you do get used to Squarespace's builder, it does kind of make sense. You can get into a flow where you systematically design your pages section by section. You won't be as easily sidetracked as you might be with the Wix Editor, which throws everything in your lap at the same time.
I'll leave it up to you to decide whether this is a good thing, but Squarespace can also protect you from yourself by making it much harder to make bad design decisions.
If you're using Wix and you have second thoughts about your template after customizing your site for a while — too bad! Wix doesn't allow you to change templates once you've started building your site. This is a big blow when it comes to flexibility, and probably one of the Wix Editor's biggest shortcomings. On the other hand, Squarespace allows you to change your template whenever and as many times as you like. Advantage Squarespace.
And the Winner Is…
Wix! The Wix Editor is probably the best website builder out there. It's intuitive and beginner-friendly, but still allows you complete freedom to do whatever you like with your pages, short of changing your whole template.
However, that doesn't mean Squarespace's builder is shabby. It's a good builder if you prefer to use its system to streamline your design process.
Extensive Self-Help Resources, or Highly Available Chat Support?
Get ready, because this is a rough-and-tumble round with clear differences between these two builders. Let's start off by looking at what kind of one-on-one support each offers:
Wix offers phone support via callback (Monday to Friday from 8am-8pm U.S. Eastern Time) and email ticket support
Squarespace offers live chat (Monday to Friday from 4am-8pm U.S. Eastern Time) and email support
Both also provide great documentation that covers basic information on the platform as well as step-by-step guides. Wix has a more complete range of topics and it's easier to look up specific information. However, Squarespace has great video tutorials to boost its articles.
When it comes to one-on-one support, I was slightly disappointed that neither builder offers all three channels of support: live chat, email, and phone. Both platforms' instant support channels also have their limitations:
Squarespace live chat is limited to extended office hours, while Wix phone support depends on callbacks (which means you'll have to wait for a support agent to get back to you). Wix claims to usually respond to a callback request within five minutes. Still, this is also limited to extended office hours.
It looks like this round depends on email/ticket support, since this is the one channel where both platforms operate 24/7.
Wix really makes it difficult to just send out an email. Sure, most online services today suggest articles before letting you submit a ticket — but Wix has taken it to the extreme, as there is no way to submit a ticket without first reading an article. If that doesn't help, you'll have to look for the link at the bottom of the article to finally submit a ticket: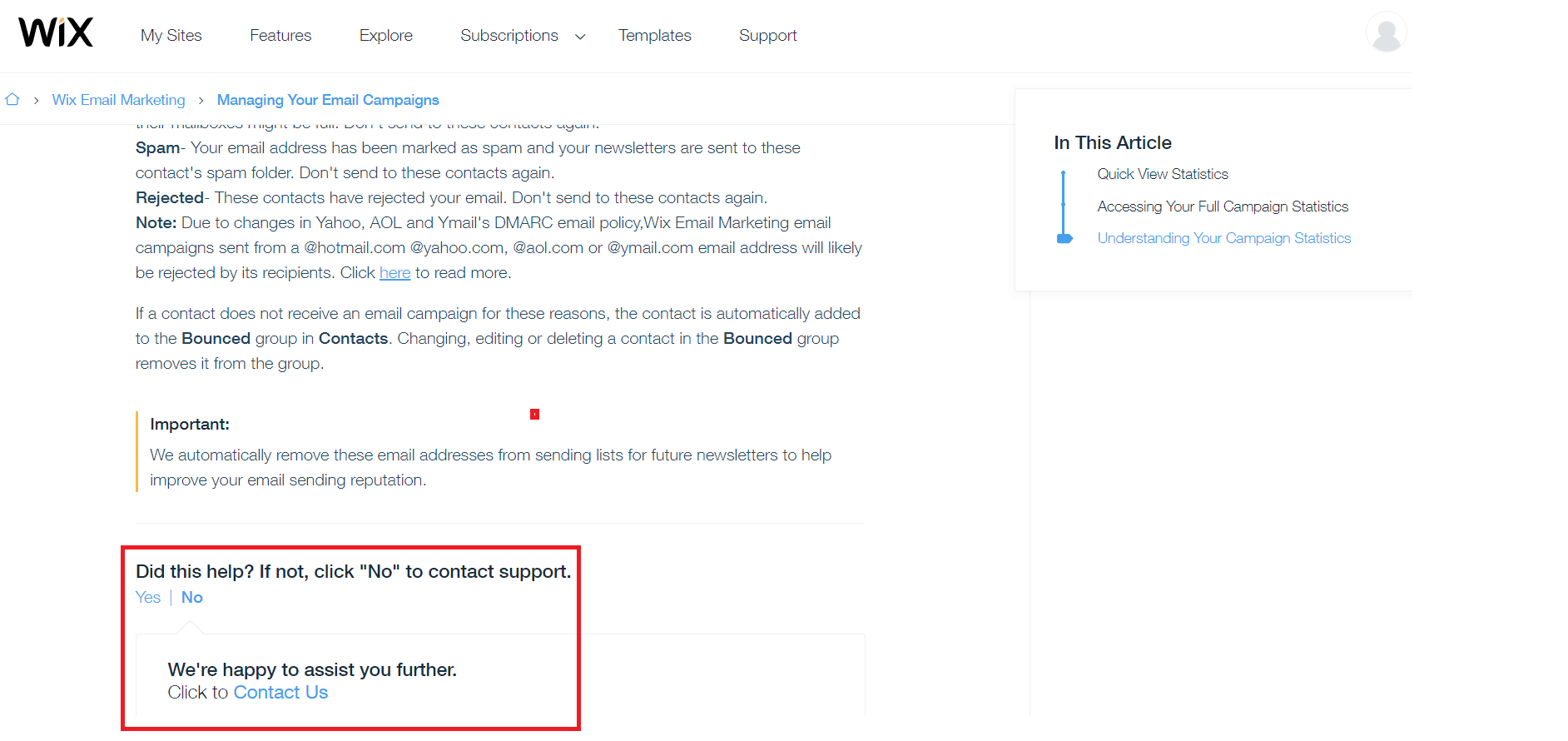 In my experience, the one-on-one support can also be pretty mediocre, and many times I've had to wait two or more days for them to respond.
Squarespace doesn't go to that extreme. You'll still have to narrow down your topic through one or two drop-down menus, but you can click the buttons for email or live chat support without having to read an article first: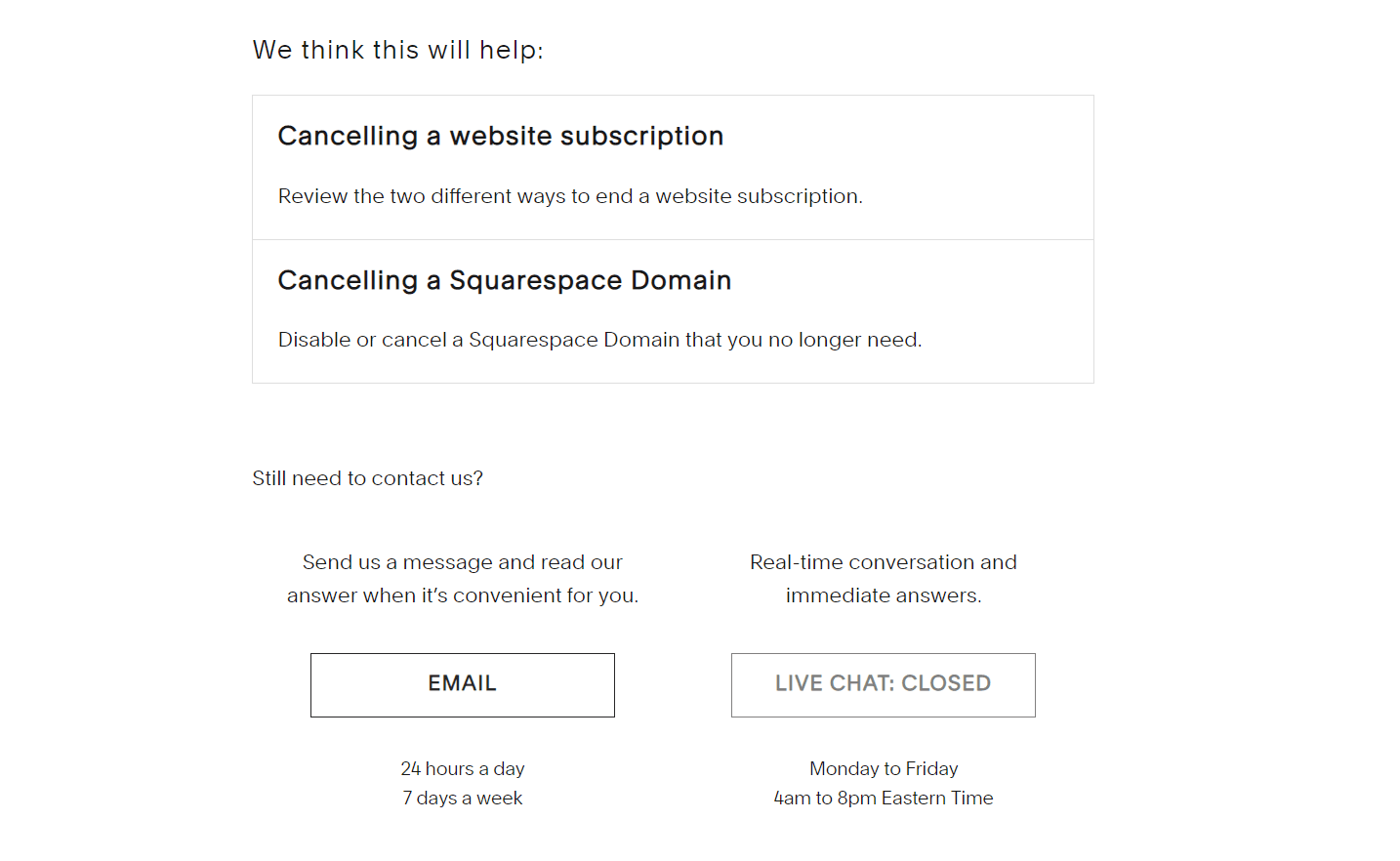 I've also found Squarespace's email response times to be better than Wix's. It usually takes a few hours to receive a response, which still isn't that great, but only rarely do you have to wait longer than a day.
And the winner is…
Squarespace! This was a close one, with both competitors showing a few strengths and weaknesses. However, Squarespace's comprehensive video tutorials, live chat, and slightly better ticket response times give it the win.
Wix Lets You Customize Your Mobile Website to the Max; Squarespace, Not So Much
Probably one of the best features about Wix is how much freedom you have to customize your mobile websites using the Wix Editor.
All of Wix's 500+ templates are mobile responsive to some degree. However, it's important to note that only some elements, such as strips and columns, slideshows, galleries, horizontal menus and lines, and Wix apps are full-width and responsive by default. If some of your elements, especially text, don't look quite right on mobile, then setting them to full-width should make them mobile responsive.
If that's not the case, you'll need to tinker around with the content or styling options in the mobile editor (or through custom code) to get them to look just right. Wix has been making a gradual move towards fully responsive themes, and it's currently an active feature request by the community.
Wix will automatically generate a mobile view for your website, which you can then customize independently of your desktop display. Short of adding elements to your mobile-only site or changing the contents of elements, you'll have quite a lot of room to maneuver when customizing your mobile site.
You can hide elements from your desktop site, drag them around, change the colors or fonts, add some mobile-specific options, and add animations — all independently of your desktop site.
With great power comes great responsibility, and once again, it means you need to be careful —  otherwise, you can completely mess up your mobile website. If you do get stuck, Wix does have a 'Page Layout Optimizer' that will try to fix any obvious problems.
Wix has made it quick and easy to switch between the desktop and mobile editor, mobile displays automatically enabled. The only thing Wix is missing is a tablet preview or editor, as you can currently only view your website on a single mobile screen size.
Squarespace doesn't give you this kind of freedom to customize your mobile website. However, all Squarespace's templates are already mobile-responsive out-of-the-box. Squarespace also automatically generates a mobile website for you, and its high standards mean that the mobile displays usually look great.
With Squarespace, you'll actually be able to see how your site would look on desktop, phone, and tablet devices. However, it still falls a bit short of Wix in terms of how much you can customize your mobile site.
First of all, you can't make independent changes to either your desktop or mobile displays. Making changes to one will apply to all. Of course, this also has the benefit of providing you with "foolproof" mobile views, but it's still a limitation.
While Wix allows you to move elements around on mobile, you can only move around entire sections in Squarespace. With Wix, you can at least change the colors, font size, or animations for some elements on your mobile site, but Squarespace doesn't allow any of that.
On the other hand, Squarespace allows you to stay in the mobile view while editing text — you can't do that on Wix.
However, Wix provides more mobile-specific options. For example, you can choose different styling options for your menus and other elements on mobile.
And the winner is…
Wix! Once again, the greater amount of power and control that Wix puts in your hands allows it to edge out Squarespace. If you want a streamlined building experience with zero worries about optimizing your site for mobile, then Squarespace caters to you.
Who's Best for E-commerce??
Both these website builders come with pretty attractive e-commerce features, but which one offers the best tools to help you run a successful online business?
Let's start with what they have in common:
No transaction fees (except for Squarespace's Business plan)
No limit on the number of products you can sell
Products can be physical or digital
Tracking for your conversion rates and other e-commerce metrics
Shipping and tax calculators
Coupons and discounts
Customer accounts
A mobile app to manage your store
Now, for the differences. Unlike Wix, Squarespace supports abandoned cart recovery, which I consider to be a must-have tool. Squarespace also has built-in tools for selling services or subscriptions, but you need to add other plugins for this functionality with Wix.
So far, Squarespace seems to have the upper hand, but Wix does have a few big things going for it, too. For instance, Wix's eCommerce plan is much cheaper than both of Squarespace's online store plans. Wix also supports a much wider range of payment methods.
Although Wix Stores is the official e-commerce app, there are also the Wix Art Store and Online Store apps if you want to sell digital or physical art, or if you're looking for  a different user experience.
As you can guess, all e-commerce features are built into your Squarespace website by default.
And the winner is…
Squarespace! This was a very difficult decision to make, because it largely depends on your individual e-commerce needs.
Squarespace's all-in-one platform just makes it so much more convenient to set up and run your store. Although Squarespace lacks some payment methods (such as Square, Moolah, and offline payments), it has the most important ones covered (like Stripe and PayPal). The fact that Wix Stores doesn't offer abandoned cart recovery is the last strike against it.
Who Is the People's Website Building Champion?
Before I give my verdict, I think it's important to tell you that if you choose either one of these two builders, you'll be in in good hands. They may do things a little differently, but both offer attractive templates, great drag-and-drop editors, decent features, and the ability to create mobile-responsive websites.
But if I had to choose one, I'd recommend Wix.
Its massive template library will make you feel like your birthday came early this year. And the powerful Wix Editor and the customization freedom it offers is the gift that just keeps on giving.
No matter who you are or what kind of website you want, Wix can help you get there in one way or another.
Don't get me wrong: Squarespace is a very polished and professional builder, with a surprising depth of features (despite the lack of an app market). However, you might have a harder time finding a template that's really "you." Besides, the editor doesn't give you the same amount of freedom to express yourself creatively.
If you're looking for a beginner-friendly website builder with room for creative expression, then go with Wix. To learn more about Wix, check out our Wix expert review or click on the button below.
If you're an expert in your field and you want to present yourself or your business in the most professional way, then go with Squarespace for its sleek designs and streamlined platform. If you're interested in exploring it a little more, read our Squarespace expert review, or check out the website.
Wix
Squarespace
Templates

500+ templates
Superb variety of styles, niches, and designs
Some templates are mediocre

90+ templates
Professional, minimalist look and feel
Flawless design

Features and Plugins

App Market with a large number of plugins developed by Wix and 3rd parties
Some apps cost money

No app market
All Squarespace features included in pricing

Support

Email/ticket and callback support
Comprehensive,easy-to-use knowledge base

Email/ticket and live chat support
Extensive knowledge base with video tutorials

Editor and Customization

Powerful drag-and-drop editor with complete freedom
Intuitive and beginner-friendly
Can't swap templates for a website

Builder will take more time to get used to
Limited drag-and-drop freedom
Provides streamlined workflow for experienced users

Mobile Responsiveness

Templates aren't fully mobile-responsive, but mobile websites are automatically generated
Mobile website can be edited independently from the desktop website
Only desktop and phone previews available

All templates are mobile-responsive, and mobile websites are automatically generated
Cannot customize mobile website independently of desktop website
Mobile, tablet, and desktop previews are available

E-commerce

No transaction fees
Sell unlimited products
19 payment processors (even more through other store apps)
No abandoned cart recovery

No transaction fees
Credit/debit cards and Apple Pay via Stripe as well as PayPal
Abandoned cart recovery