choosing your WordPress theme is kind of a big deal
. You want to get something that fits your vision, that will help your site attract traffic, and most importantly, you really want it to actually work. ThemeForest bills itself as the answer to all of those concerns, but is it? To find out, we have to answer several important questions: How easy is it to find the right theme? How much would it cost? What kind of support can you get? Will these themes slow down my site? What are the drawbacks to the service? And most importantly,
does it have the right theme for you
? We've been investigating the best
WordPress
theme marketplaces in the business for a while now here at Website Planet (check out our
comparison of the top five
), and in this article, we're diving into ThemeForest.
But Why ThemeForest in the First Place?
#1. Massive theme variety you won't find anywhere else
ThemeForest boasts over
11,000 premium WordPress themes
— literally the largest library we know of. It's very likely that you'll find one or more themes you'll love. If you're looking for a site with a smaller number of focused and specialized themes, don't look here.
Look at ThemeShift
. Otherwise… yeah… 11,000 WordPress themes. Oh, and ThemeForest has themes for many other CMSs as well (like Joomla, Drupal, Concrete5, and ModX), and it even has themes for site builders like
Webflow
and
Weebly
.
#2. Impressive community features
For every theme, you can find
ratings, user reviews, and handy stats
. You can also check out the theme creators' profiles, portfolios, overall reputation, and more. Social proof plays a big factor in ThemeForest.
#3. Very affordable themes
Most themes, anyway. There's more specific pricing info further down in the article. For now, let's just say that most ThemeForest templates
are priced for individuals and small-business owners who want to get a pretty website up and running, fast
.
How Easy (or Hard) Is It to Find Your Perfect Theme?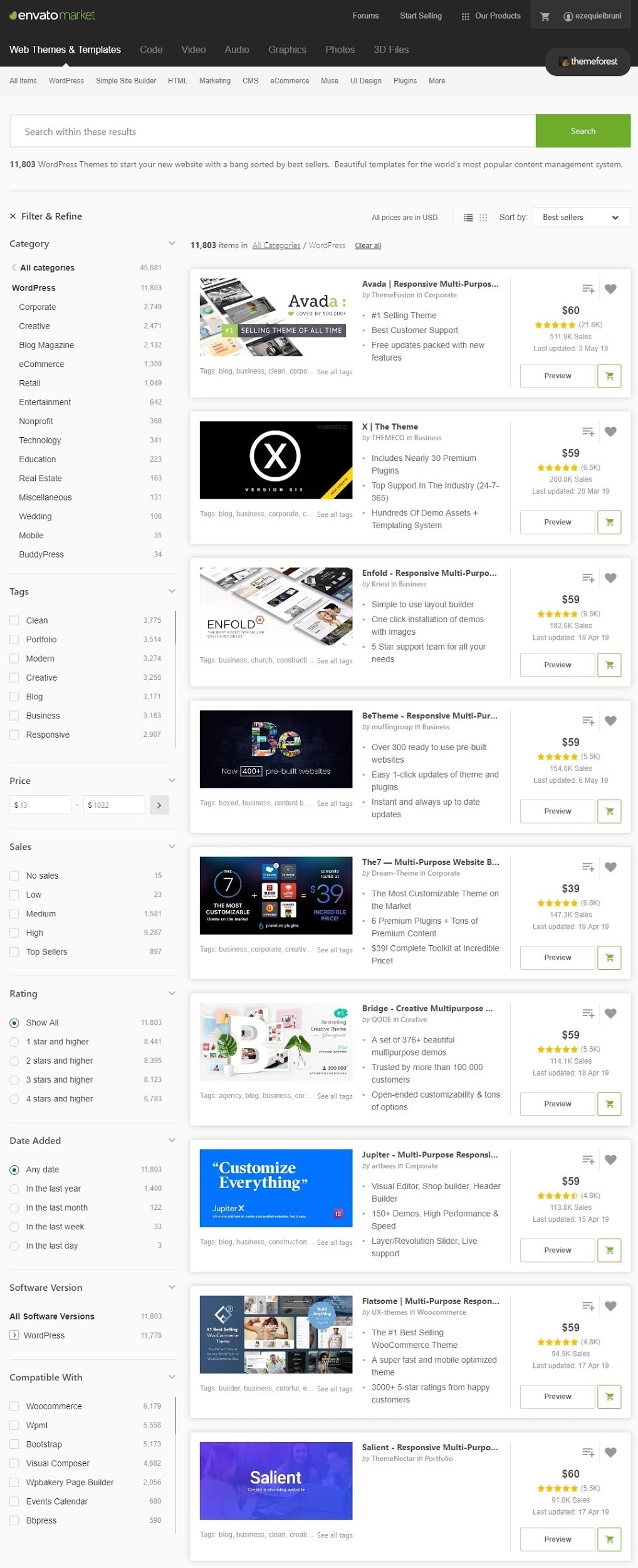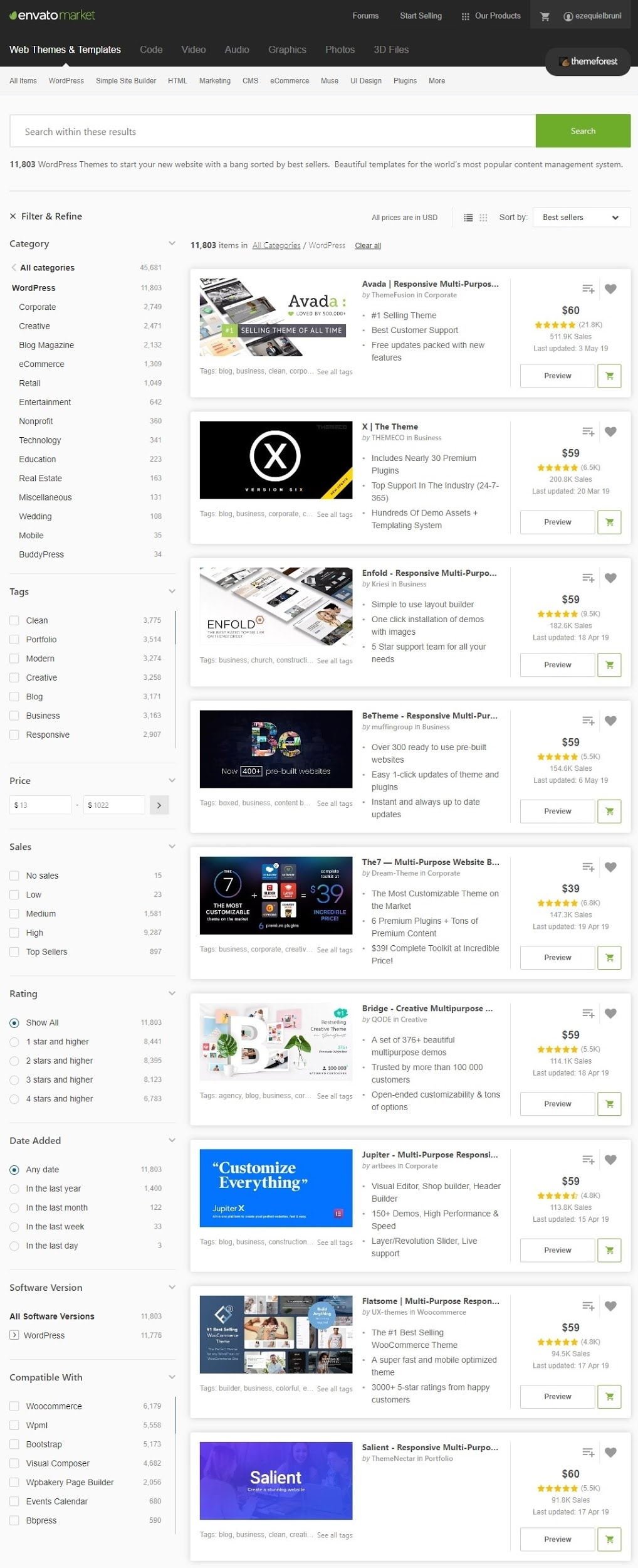 Well, that's a lot of filters. Most of these filtering options are common to other theme marketplaces,
but one stand-out feature on ThemeForest is the ability to sort themes by their compatibility with certain popular plugins and frameworks
. If the filters aren't enough for you, there's the good-old search bar. Keep in mind, it's a little finicky: there's no autocorrect, and you need to know exactly what you're looking for. Even then, keywords can turn up some results that have nothing to do with the search. Common searches like "agency" or "portfolio" will turn up thousands of results.
If you're looking for something hyper-specific, like a theme for stamp collectors, it's going to be harder — your options will be limited
. And there's actually nothing for stamp collectors (yes, I checked). I'm weirdly disappointed by that, and I don't even collect stamps. All in all, finding exactly what you want can potentially take a bit of work. This isn't exactly a flaw in the service, but a byproduct of the huge library of themes ThemeForest has available. Finding something that will probably work for you is fairly easy, but finding the "perfect" theme for you is a different story, depending on how particular you are.
And How Easy (Or Hard) Is It to Use the Theme You Buy?
That depends entirely on the theme. I mean, the basic installation is generally the same for any theme:
download it to your computer, upload it to your WordPress site, and then activate it
. Some of the more complex themes might require that you follow additional setup steps. ThemeForest doesn't require theme creators to provide installation or customization services with their support, but as long as you know the basics of how to install a WordPress theme, you're golden.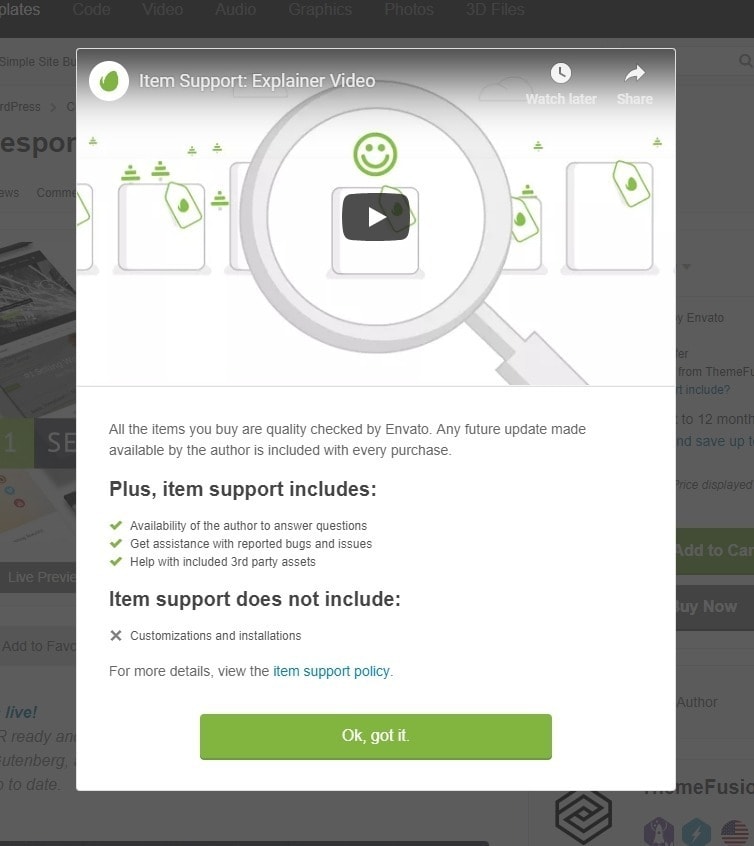 All the themes that have support pretty much say this
For other CMS options, of course, the process is different. For some, you might need to upload the theme files via an FTP client, or in your hosting site's control panel. Ease of use will depend on which CMS you're using.
How much you can customize a theme is also highly theme-dependent
. Most themes will let you change certain basic elements (like colors and typefaces), and most will probably offer a couple of page layout options as well. A few themes are practically website builders or content management systems unto themselves. All I can say is that you should read the feature lists carefully.
Nothing's Perfect — What's the Catch?
Not every theme works
More specifically, not every theme has been updated to be compatible with WordPress' changes, and not all of them have working demos anymore. Sometimes web developers go out of business, and sometimes they just move on.
Check the ratings, and check the dates on any theme you consider buying
.
Not every theme has support, either
Support can make a theme more expensive, sure, but it's always nice to have someone around to answer questions and help you fix any issues you run into.
Your site will probably look quite similar to others
This is a flaw with most marketplaces, especially when you buy one of the more popular themes. TemplateMonster, for example, gets around this by letting you see themes that have been bought the least, and paying a high fee to be the last person to ever buy that theme.
Click here to read our in-depth TemplateMonster review.
ThemeForest has no way to guarantee that others won't buy the same theme, and make a site that looks a lot like yours… not unless you customize it a lot.
Some themes run real slow
This is mostly because they're loaded with more extra options and features than anyone rightly knows what to do with. This excess code can make it take longer to make changes to your site and worse, make it take longer to load for the user. This isn't every theme, of course, but "code bloat" is a definite problem with some themes.
You can get around some of these problems with plugins that provide speed optimizations
such as file caching (storing some of your site's files on every user's computer),
Gzip compression
(making site files smaller), and automatic
code minimization
(taking unnecessary spaces out of the code). These options have limits, however, and are far more effective when used with code that's written well. This is another problem that is not unique to ThemeForest, but it's there.
Click here for more info on how to speed up your WordPress website.
Complex themes have a learning curve
Again, not unique to ThemeForest, but here we are: The more complex and "multi-purpose" a theme is, the more you will have to customize and set up yourself. The most complex ones use lots of "shortcodes", and, if you're lucky, have documentation that rivals that of WordPress itself. Since ThemeForest does not offer customization services, that's a lot of learning to do.
How Much Will You Have to Pay?
Well now, that's an interesting topic. Most of the WordPress themes (8,000+) are in the range of $40 USD to $60 USD. The most expensive I've found at the time of this writing is $10,000 USD (the most expensive WordPress theme is $1,022 USD), and the cheapest themes are 5 $USD (the cheapest WordPress themes are $13 USD).


It's safe to say that there's something for pretty much every budget, but it's mostly pretty affordable. And then… uhhh… if you count pure PSD files? There's one for $10,000,001 USD, which has been sold eight times, apparently. Did that really happen? I'd assume that the buyers either got a massive discount code of some sort, or the numbers aren't always entirely reliable.


How to Find Free Themes on ThemeForest
A search for "ThemeForest free theme" will lead you to, well… free ThemeForest themes.
You can also check ThemeForest's website itself for free themes
. The free themes are very easy to miss if you don't know where to look, but they're there! First, go to any of the pages boxed in red in the screenshot below: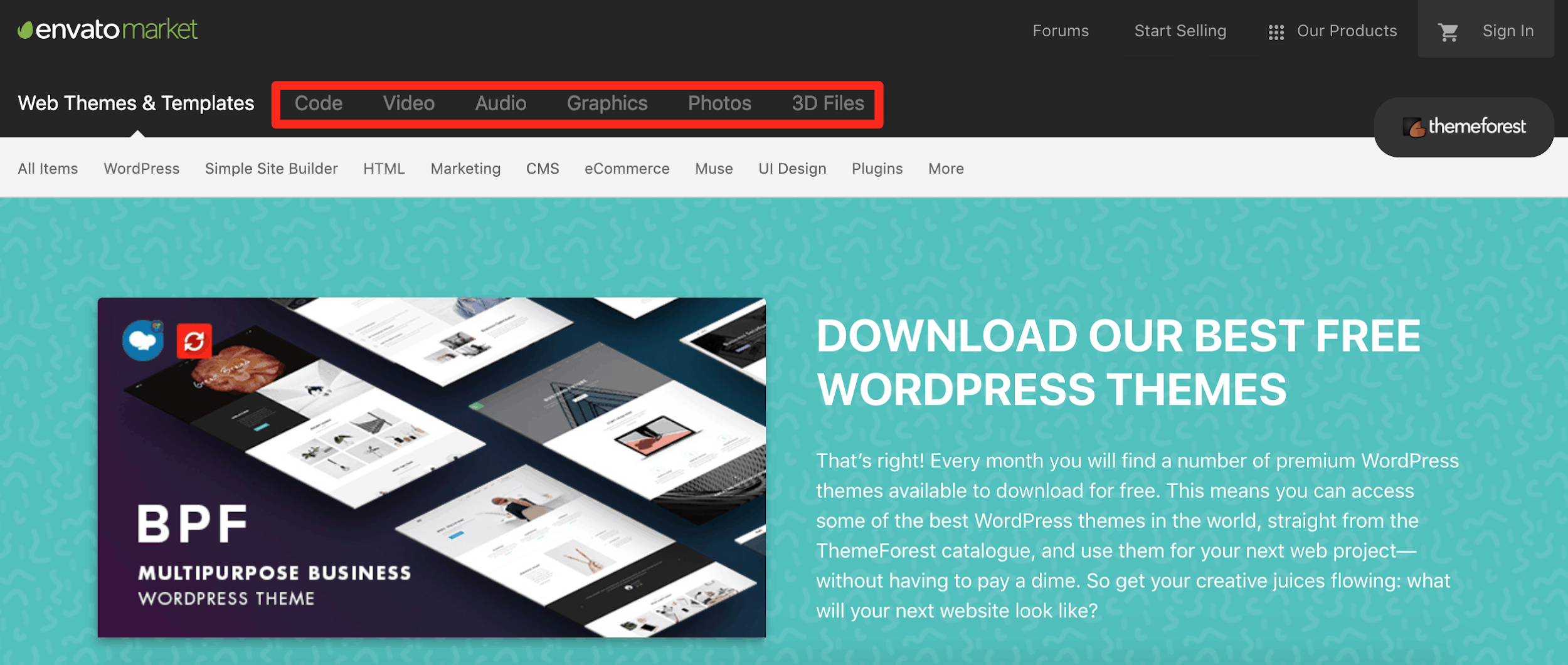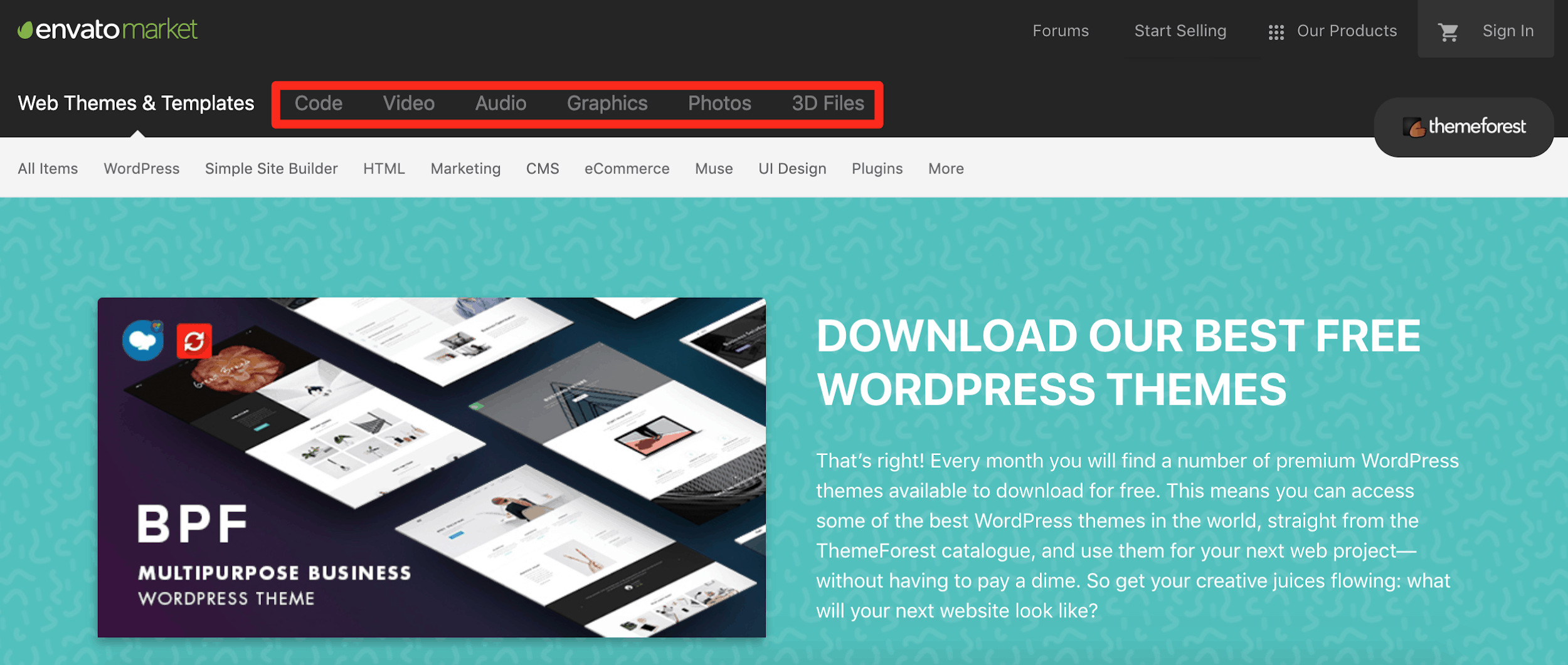 You'd probably think to go to the "Web Themes & Templates" page, but you actually won't find any free themes there. Then, scroll down to the footer of any of those pages. You'll see a link to "Free WordPress Themes":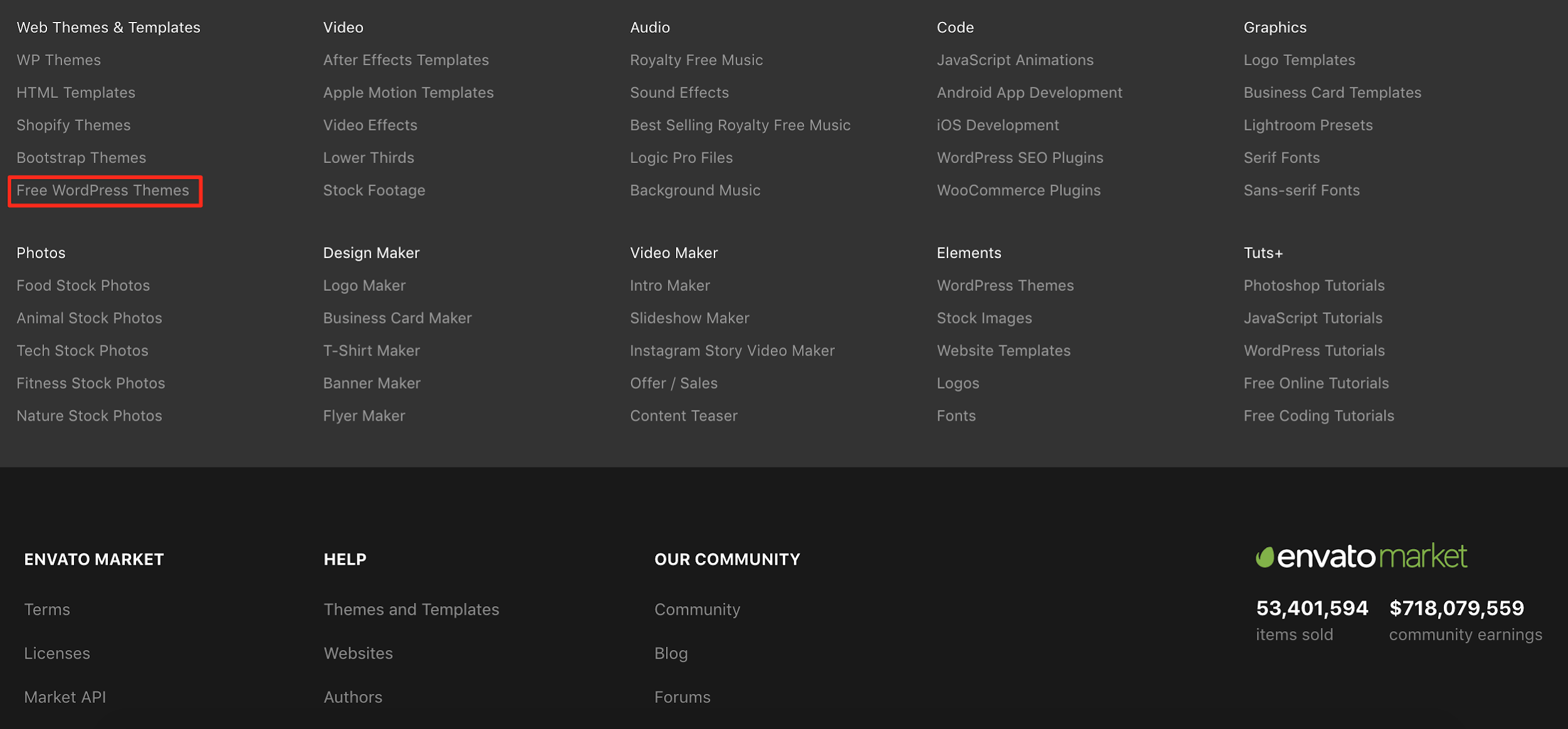 Which themes are free is something that seems to change every so often, so check back once a month or so. You can also follow @EnvatoMarket on Twitter to keep up with its current sales, discounts, and so on. Last, when talking about the cost, there's the ThemeForest refund policy to consider. The good news is that there is one! And it's pretty decent, covering things like
false advertising, security flaws in the product, not getting the support you were promised, and more
. Keep in mind that changing your mind after you've downloaded a theme is not covered.
What About Other Theme Marketplaces?
How do ThemeForest WordPress themes compare with offerings from other marketplaces, such as TemplateMonster? Well,
TemplateMonster
sells big (and kind of complex) themes for businesses, and usually at a price that reflects its intended customer base. Where TemplateMonster excels is in its ongoing support and add-on services.
Pay a little extra, and you won't have to lift a finger to install or customize anything
. It's pricey but could be well worth it to save time. Here's a quick comparison chart between
ThemeForest
,
TemplateMonster
, and
ThemeShift
(for the sake of completeness):
| | | | | |
| --- | --- | --- | --- | --- |
| | Focuses on | Price Range | Library Size | |
| ThemeForest | Quantity and variety | $5-$10,000 USD; but most are in the $40-$60 USD range | Over 11,700 | |
| TemplateMonster | Ongoing support | $10-$150 USD | Over 2,100 | |
| ThemeShift | Very specific use-cases | $39 USD | 4 | |
Should You Shop at ThemeForest?
Or rather, is it right
for you
? It very well could be.
I'd recommend ThemeForest if you need a relatively cheap but decent theme and if you're comfortable with installing WordPress themes yourself
. I'd recommend it if you have the time to put into researching your purchase, configuring it, and more or less setting up a lot of your own website. Overall, a certain level of proficiency with web design is assumed when you shop here. If you're fine with that, know what you're doing, or have the time and energy to learn, then go for it! Make sure to go through the reviews, examine the seller's history, and certainly take a look at the live demo before you decide to make a purchase. Utilize ThemeForest's community to your benefit, as it stands as one of the platform's most robust advantages. Happy theme-hunting!