For many people, website builders like Squarespace always end up costing more than what they expected. Sometimes they miss the hidden costs, or they pick the wrong plan, or they forget about fees that will pop up.
But that won't happen to you, right? You're determined not to get caught off guard. Let me help!
To make sure you know exactly how much Squarespace will cost you, I've made this straightforward guide to walk you through everything that will affect your bill.
So before you sign up, read on to make sure you get the best deal possible.
Which Squarespace Plan Meets Your Needs?
Squarespace offers four plans.
Two are for general websites and two are for online stores. There's no free plan, but there is a 14-day free trial that doesn't require a credit card.
Before we look at the plans in detail, be aware that prices on Squarespace are for annual plans. If you don't catch it, you might feel a little deceived.
The pricing page shows the four plans, all with a price per month.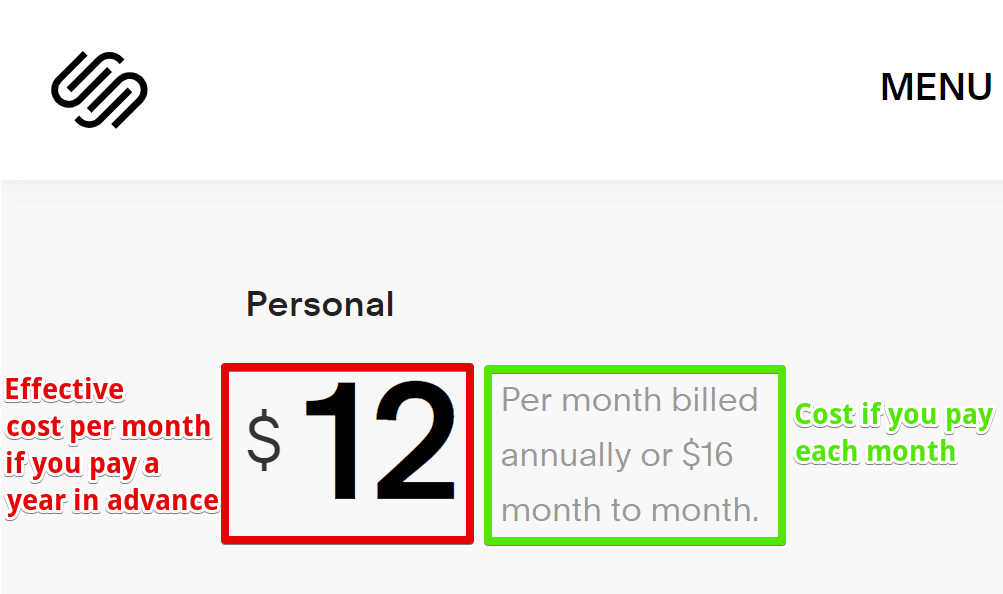 But beside that price is a harder-to-see statement showing that the actual price is higher if you pay month to month. Squarespace, like most other website builders, offers discounts if you pay for a year up front.
So, if you check out and see a higher price than you expect, this may be why.
With that out of the way, let's look at the most important differences between the plans:
| | | | | |
| --- | --- | --- | --- | --- |
|   | Personal | Business | Basic | Advanced |
| For… | Hobby sites | Small-business sites | Small online stores | Growing online stores |
| Cost per month (monthly plan) | $16 | $26 | $30 | $46 |
| Cost per month (annual plan) | $12 | $18 | $26 | $40 |
| Bandwidth and storage | Unlimited | Unlimited | Unlimited | Unlimited |
| Sell products? | ✘ | ✔ | ✔ | ✔ |
| Transaction fee on sales | – | 3% | 0% | 0% |
| Advanced e-commerce features | – | ✘ | ✘ | ✔ |
| Free domain for the first year (with annual plan) | ✔ | ✔ | ✔ | ✔ |
| Free email for the first year (with annual plan) | ✘ | ✔ | ✔ | ✔ |
If that doesn't make it clear which plan is for you, let's take a more detailed look at each plan.
If you don't need to sell products, this is the plan for you.
It gives you "unlimited" bandwidth and storage, which basically means that unless you're hosting thousands of pictures or videos on your site, you don't need to worry about resource consumption.
The Personal plan comes with all the basics you need to make a site with Squarespace:
Access to all templates
Drag-and-drop website builder
SSL security
24/7 customer support
This is great for hobby sites and general information sites, but if you run a business of any kind, you'll want to upgrade to one of the three other plans.
The next step up gives you everything you get on the Personal plan, but also the following:
Professional Gmail account
$100 Google Ad credit
E-commerce features (so you can list products and accept payments)
Premium integrations (e.g., OpenTable, ChowNow)
It's not ideal for online stores, because you'll have to pay a 3% transaction fee on every sale.
Instead, this plan is more suitable if you own a small business like a restaurant, or if you want to test the waters selling things like art and crafts online.
If you're actually making sales, it will usually cost you less overall to upgrade to the Basic plan because of the transaction fees.
This plan comes with a lot of extras over the Business plan.
Most importantly, it removes transaction fees.
Additionally, it offers:
Label-printing through ShipStation
Integrated accounting (in the U.S. only)
Secure checkout page
Customer accounts
Product tagging on Instagram
With a secure checkout page and customers being able to create accounts, your website will really feel like an online store.
But you may run into situations where you don't have all the functionality you need. If that happens to you, hopefully the Advanced online store plan will have what you need. Otherwise, you'll have to find an alternative to Squarespace.
This is the most expensive plan, and it's quite a jump in price from the Basic store plan.
It gives you a handful of extra features that an online store may need. You'll be able to:
Sell subscriptions
Send automated abandoned cart emails
Show real-time shipping calculations
Give flexible discounts
Sell gift cards
Most of these will either help you run a specific business model (e.g., subscriptions, loyalty plans through discounts) or help you optimize your sales.
You'll know if you need this plan; otherwise, just stick to the Basic online store plan.
Pricing Comparison: Squarespace vs. Wix vs. Weebly
It's hard to compare different website builders head-to-head because they all have a different number of plans, all with different features.
But that won't stop me from trying.
I've looked at the cost of four main types of websites for Squarespace, Wix, and Weebly, and tried to match up the features as best as possible.
The table below shows the monthly cost for each plan on an annual plan. (This is just so we have a fair basis to compare them on.)
| | | | | |
| --- | --- | --- | --- | --- |
| | Basic website plan (with no ads) | Basic business site plan | Basic online store | Advanced online store |
| Squarespace | $12 | $18 | $26 | $40 |
| Wix | $11 | $20 | $25 | $35 |
| Weebly | $5 | $12 | $25 | $38 |
In general, the prices are quite similar, especially when it comes to online stores.
However, if you're really trying to save money, Weebly's non-online-store plans are cheaper than both Wix's and Squarespace's. For more information, click here to read our in-depth Weebly review.
Squarespace is slightly more expensive than its two main competitors, but it's a very small difference.
A Close Look at Selling Fees for Online Stores
Online stores need to keep two types of fees in mind: processing fees and transaction fees.
Processing fees are the fees that the credit card payment provider charges on each sale. These are typically around 3% for providers like PayPal and Stripe. You'll have to pay these no matter what platform your store is built on, Squarespace included.
But transaction fees are optional fees that some website builders charge you on each sale. It's basically an extra cost where the software provider (Squarespace in this case) says, "Give us a small cut for providing all the features needed to accept payments."
Squarespace charges a 3% transaction fee on sales if you're on the Business plan, but it doesn't charge anything if you're on either of its online store plans.
Keep this in mind when you're choosing a plan.
To illustrate the importance, imagine you sold a product for $100 on the Business plan. You'd have to pay about 3% in processing fees, and another 3% in transaction fees, for 6% total. That would mean that for every sale, you'd keep only $94 of that $100.
Hidden Squarespace Costs You Might Miss
These are "hidden" in the sense that it's easy to forget about them, and Squarespace doesn't point them out until it's time to pay.
The two costs we're worried about here are for email and custom domains.
Custom Domain Cost on Squarespace
For most websites, you're going to want a custom domain that's easy to remember and that looks professional.
Squarespace offers a free custom domain for one year if you buy an annual plan. You have to buy this domain through Squarespace, and you'll have to pay to renew it after the first year.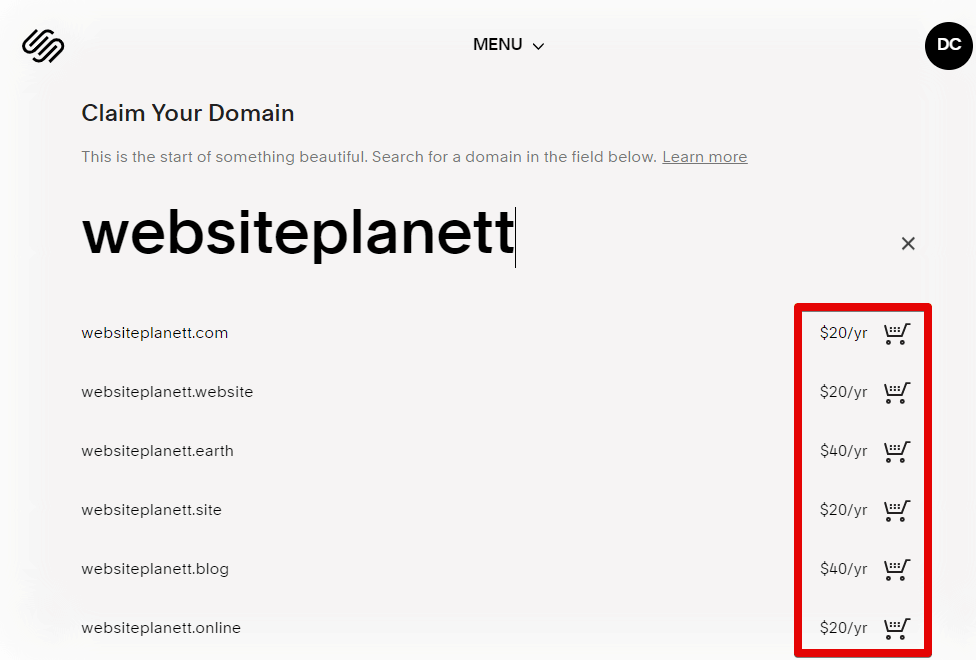 It's convenient to buy a domain through Squarespace since it will automatically be connected with your account.
However, the prices are higher than on third-party domain name registrars like NameCheap. You have the option to buy a domain elsewhere and point it to your Squarespace account, which can save you $5-$10 per year.
Email Cost on Squarespace
Just like custom domains, Squarespace also gives you a free email account for your domain (e.g., [email protected]) on all plans except for the Personal plan.
This email account is a basic G Suite (run by Google) account, which comes with the email account, plus access to other Google products like Drive and Calendar.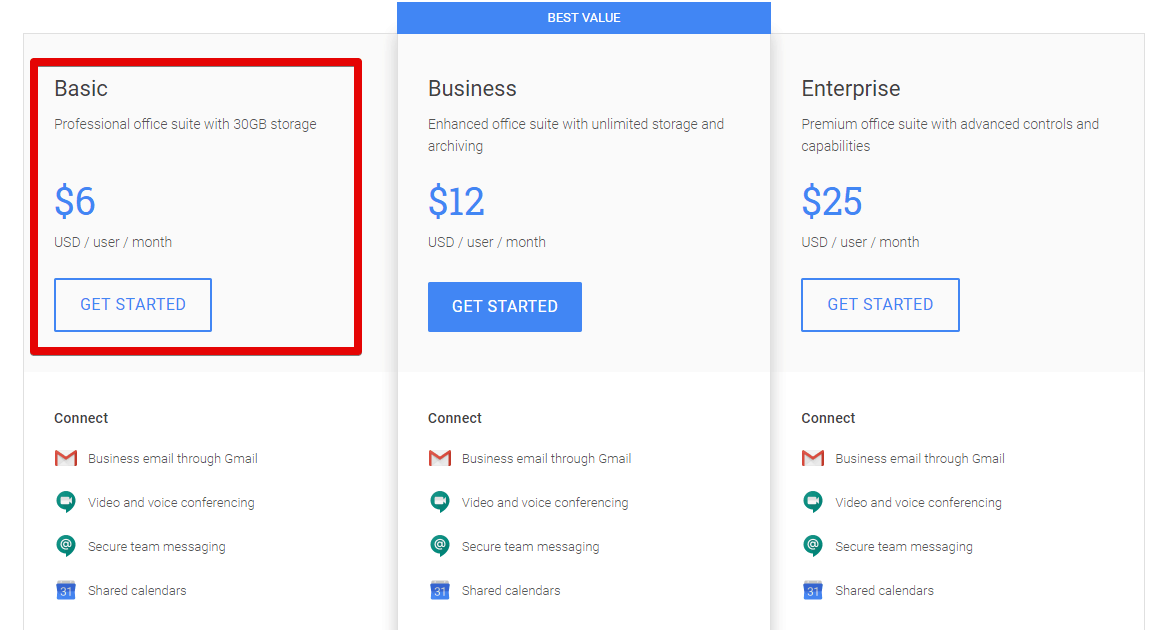 After the first year, you'll need to pay for the account if you wish to keep using it.
This costs $6 per user per month, which is a significant amount.
Squarespace Pricing FAQ
I'd like to quickly address some questions you might have about the cost of Squarespace.
Does Squarespace Offer Refunds?
The only time Squarespace gives you a refund is if you cancel an annual subscription within 14 days.
There are no refunds for monthly payments, or if you accidentally auto-renew a plan.
Is Support Free?
Yes, all users get access to the same support. You get 24/7 online support through email and Twitter. There's also live chat support on weekdays from 4am-8pm U.S. Eastern Time.
What Payment Options Are Accepted?
Squarespace doesn't accept PayPal. It accepts only the following credit or debit cards:
Visa
MasterCard
JCB
Diner's Club
American Express
Discover
Is there a Student Discount for Squarespace?
Yes, Squarespace offers a 50% discount for all plans if you sign up with an academic email address. However, this applies only to the first year. After that, you'll have to pay full price.
Is Squarespace Worth the Cost?
From everything we've looked at, there are three main costs on Squarespace:
Your plan
Custom domain (optional)
Email account (optional)
Most businesses will need all three. The main things you need to watch out for are the renewal fees on custom domains and email accounts if you got the first year for free.
You'll also have to pay processing fees on any sales, but that's not unique to SquareSpace.
So now you know how much Squarespace will cost you for the website you want to build. It's going to be a similar cost on any other popular website builder.
That cost gets you access to:
A large library of templates
A smooth drag-and-drop website builder
An image editor
Integrations
The ability to sell products (depending on your pricing plan)
And a ton more. Squarespace has quite the feature list.
What you need to answer now is this: Is Squarespace worth it to you?
Read our Squarespace expert review to find out more about this platform, or click the button below.