over 73% of WordPress installations are vulnerable to attack
. And the biggest culprit? According to ithemes.com, that would be WordPress plugins themselves. That's followed by the core WordPress installation, as
only about 40% of WordPress core installations are up to date
. Then you have to worry about themes, which also produce a high percentage of attacks. And finally, there are weak passwords, which result in about 8% of attacks. The good news is that
many security vulnerabilities can be easily detected and prevented by installing security plugins to your website
. Like everything else involving WordPress, there are numerous plugins out there, so finding the best one for your website is key to keeping it secure.
Keep Your Plugins Up to Date with Managed WordPress Hosting
One of the most effective ways to keep your site safe is to make sure all your plugins are always up to date. Of course, this can be a royal pain, especially if you have a lot of plugins. With a managed WordPress hosting plan, you don't have to worry about a thing. The host's team will update WordPress and your plugins for you, making sure there are never any plugin conflicts that could potentially mess up your site.
Liquid Web
is one of our top recommendations. In addition to managed WordPress updates, you'll get automatic daily backups, a staging site, and other exciting developer tools like SSH, Git, and WP-CLI.
The Best WordPress Plugins for Security
Wordfence
Wordfence is one of the most popular WordPress security plugins
in the world, with over two million active installations.
They offer a free and premium security plugin that includes a firewall, security scanner, and advanced security tools
. Here are some of the features you get with the free version:
Web application firewall
Endpoint website protection that does not break encryption
Malware blocker that also blocks malicious code and content
Brute-force attack protection
File and theme integrity checking
Live Traffic monitoring, which monitors visits and hack attempts
Block attackers via IP or by setting advanced rules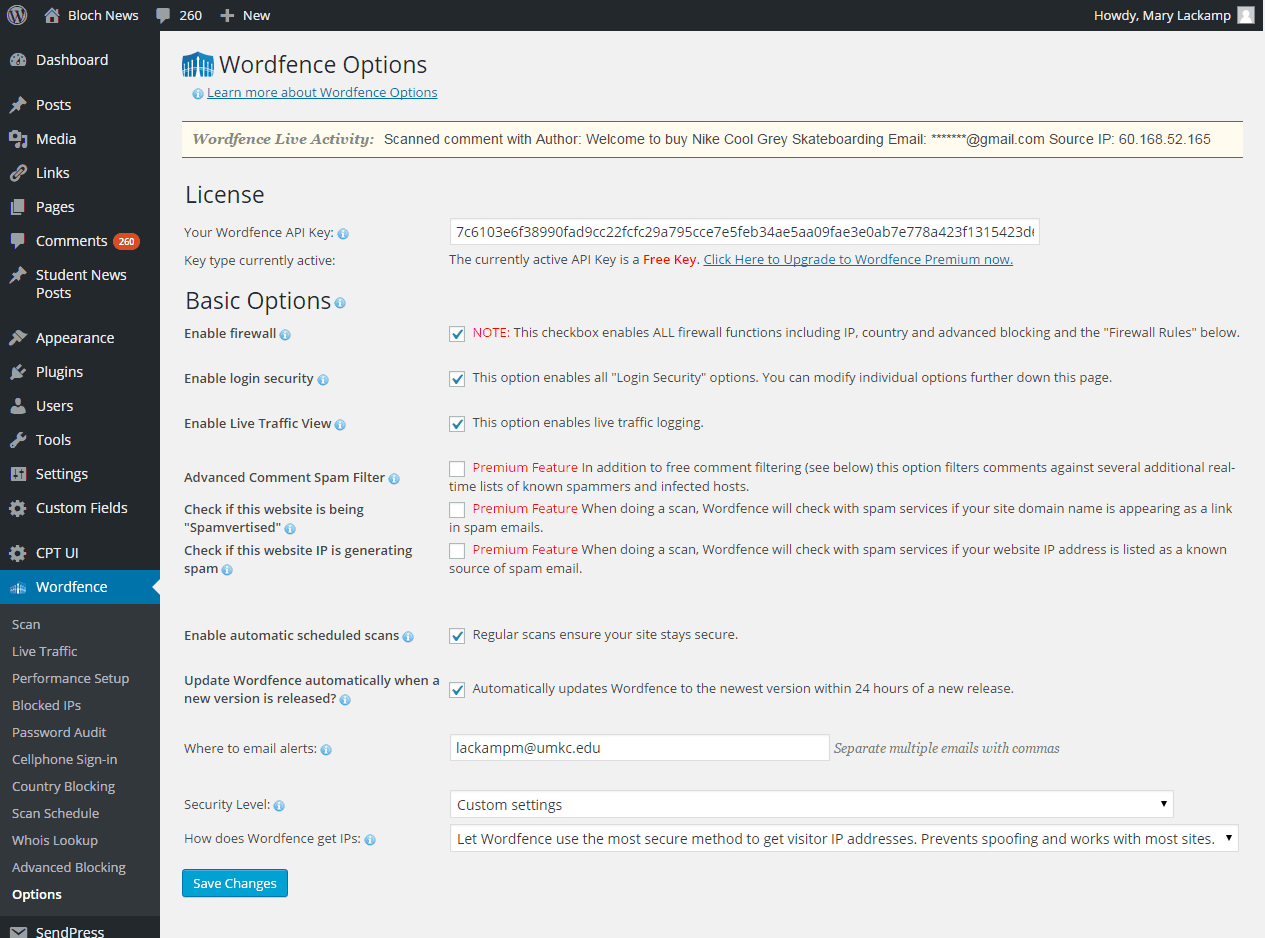 The Premium version of the plugin offers these additional features:
Real-time firewall rule and malware signature updates
Real-time IP blacklist blocking
The ability to monitor your website to see whether it's been blacklisted
Two-factor authentication (2FA) for all logins
Note that
Wordfence Premium incurs an annual licensing fee per each website needing protection
. This can get quite expensive for those needing to protect multiple websites.
Pros
Web application firewall
Protection from brute-force attacks
Malware blocker
File and theme integrity checker
Real-time protection and 2FA available (Premium)
Cons
Upgrade needed for real-time protection
Firewall rules and malware signatures in free version up to 30 days old
License fee required for every installation
This plugin is best for those looking for comprehensive tools from a trusted provider.
All in One WP Security & Firewall
If you're looking for a comprehensive set of security tools that don't require a license fee, then the All in One WP Security & Firewall plugin is one to check out.
The plugin provides tools for user account and login security, database and file system security, firewall protection and more
. Here are a few additional features of this plugin:
Ability to look up suspicious hosts or IP addresses that access your website
Security scanner that checks your database tables for suspicious strings or code injections
Content spam prevention tools, including captcha tools to help prevent spam
Front-end text copy protection
Ability to remove WordPress version and Generator meta information
Can be translated into multiple languages like German, Italian, Swedish, Chinese, and Persian
Brute-force login attack protection

Pros
No license fee
Brute-force login protection
Available in 11 languages
Content spam protection
Protection from code injections
Cons
Intermediate or advanced features may be incompatible with some plugins
Plugin may collect your IP information
Does not protect from malware
This plugin is best for those looking for a free comprehensive security tool.
Sucuri Security
Sucuri is one of the most trusted names in security and offers a
free WordPress security plugin that's meant to complement your current security setup
. It provides a variety of features that don't come with WordPress, such as
remote malware scanning
. The plugin also offers the following features:
Blacklist monitoring
File integrity monitoring
Security alerts to notify you when a problem arises
Effective security hardening
One additional feature this plugin provides that others don't is post-hack security
. Now, this sounds counterintuitive, but in the event your website is compromised in some way,
Sucuri will walk you through how to fix the most common areas that are compromised. There's a website firewall feature in this tool, but it requires a premium upgrade
.
Pros
No license fee
File integrity checking
Security notifications
Website blacklist monitoring
Post-hack recovery assistance
Cons
Website firewall is a premium product
Most monitoring is done remotely
Not as comprehensive as some other tools
This plugin is best for those who want monitoring tools from a trusted security provider
. Since their business is security, they know what to look for, and you don't get a bunch of unnecessary features. Sucuri offers a wide variety of security products. Check out our
article about Sucuri and its services
.
Security Ninja
So you think your website is secure? Why not find out for certain by conducting a series of
over 50 tests
using Security Ninja. Security Ninja performs the following tests:
Brute-force user account attacks
Installation parameter tests
Zero-day exploit testing
Auto-update and debug mode testing
Tests for Apache and PHP modules
And many more
Additional tests include tests on your MySQL database to see whether it has too many permissions and whether themes or your web server has a vulnerability. If it spots a problem, it will notify you and give you detailed instructions on how to fix it.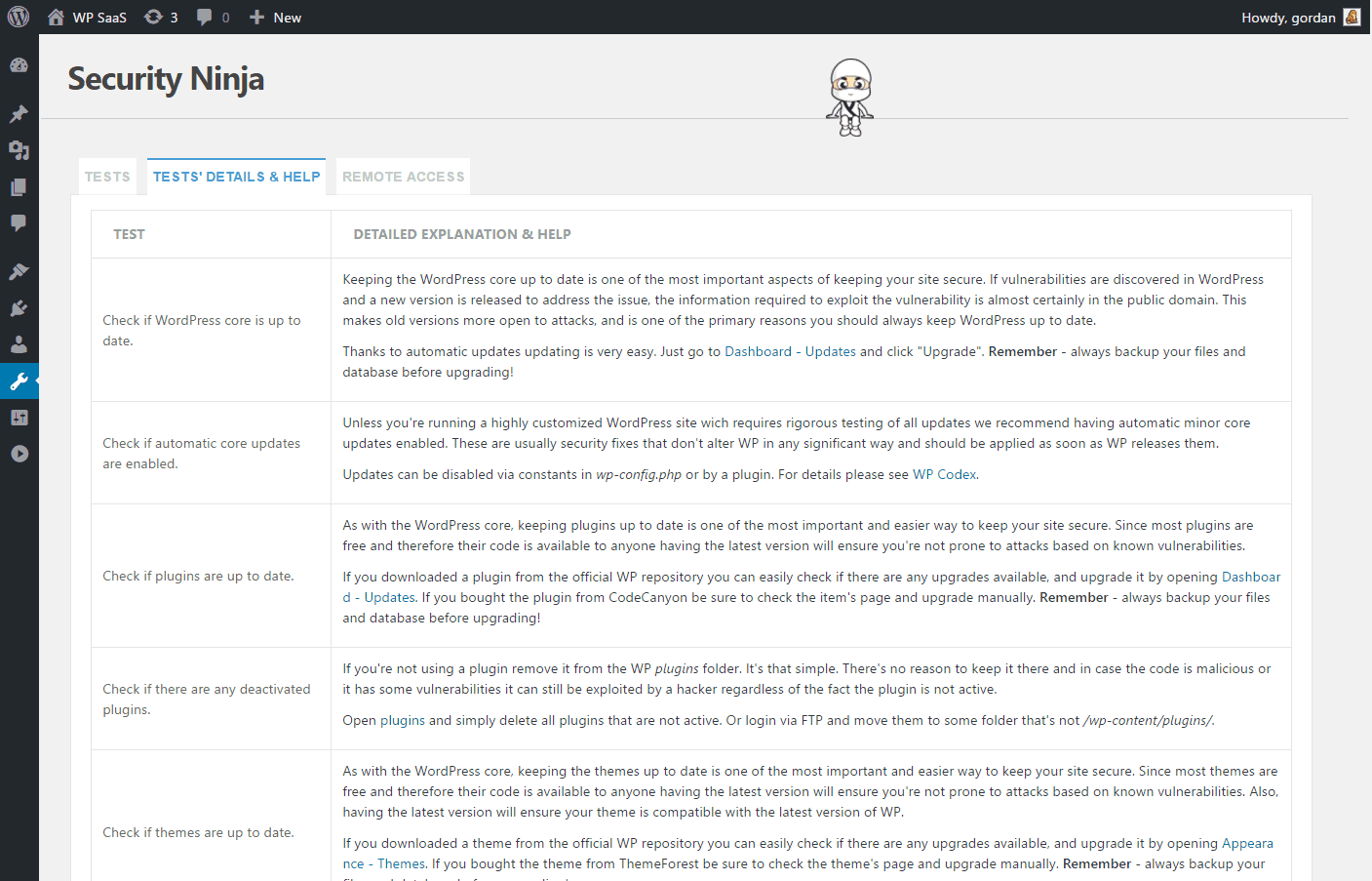 This plugin doesn't offer a free version, but the fee is flat rate and you can get a lifetime subscription
. You can buy a license for a single website, 99 websites, or unlimited websites. You get at least a year of updates and premium support with a purchase.
Pros
Conduct over 50 security tests from one plugin
Brute-force attack protection
Zero-day exploit testing
Additional tests added with each update
Helps to optimize and speed up databases
Cons
Testing tool only
No free version
Support included for only one year for most plans
This plugin is best for those wanting to regularly test their website for vulnerabilities. However, it's a testing module only
. You'll still need to take steps to fix the problem. This is a great tool to use along with other security plugins.
Google Authenticator by MiniOrange
Two-Factor Authentication (2FA) is an added layer of login protection that some of the world's largest websites now use to protect their website and user accounts from getting hacked.
This plugin allows you to set up 2FA for you login and the login of other users
. The free plan's limitations include providing 2FA for a single user exclusively. Nonetheless, if your website doesn't require user accounts, this option offers an excellent way to enhance your login security. The paid version has two plan options and incurs annual subscription fees based on the number of users. You can also add on SMS 2FA for an additional fee. The Standard paid plan includes the following:
Support for all authentication protocols except for hardware tokens
WooCommerce integration
Ability to force users to sign up using 2FA
Additional option for WordPress logins
Customizable security questions
If you upgrade to Premium, you get the following extra features:
Ability to enable 2FA for specific user roles and regions
Email verification during 2FA registration
App-specific passwords for mobile apps
Ability to customize authentication method for specific users
Support for all authentication protocols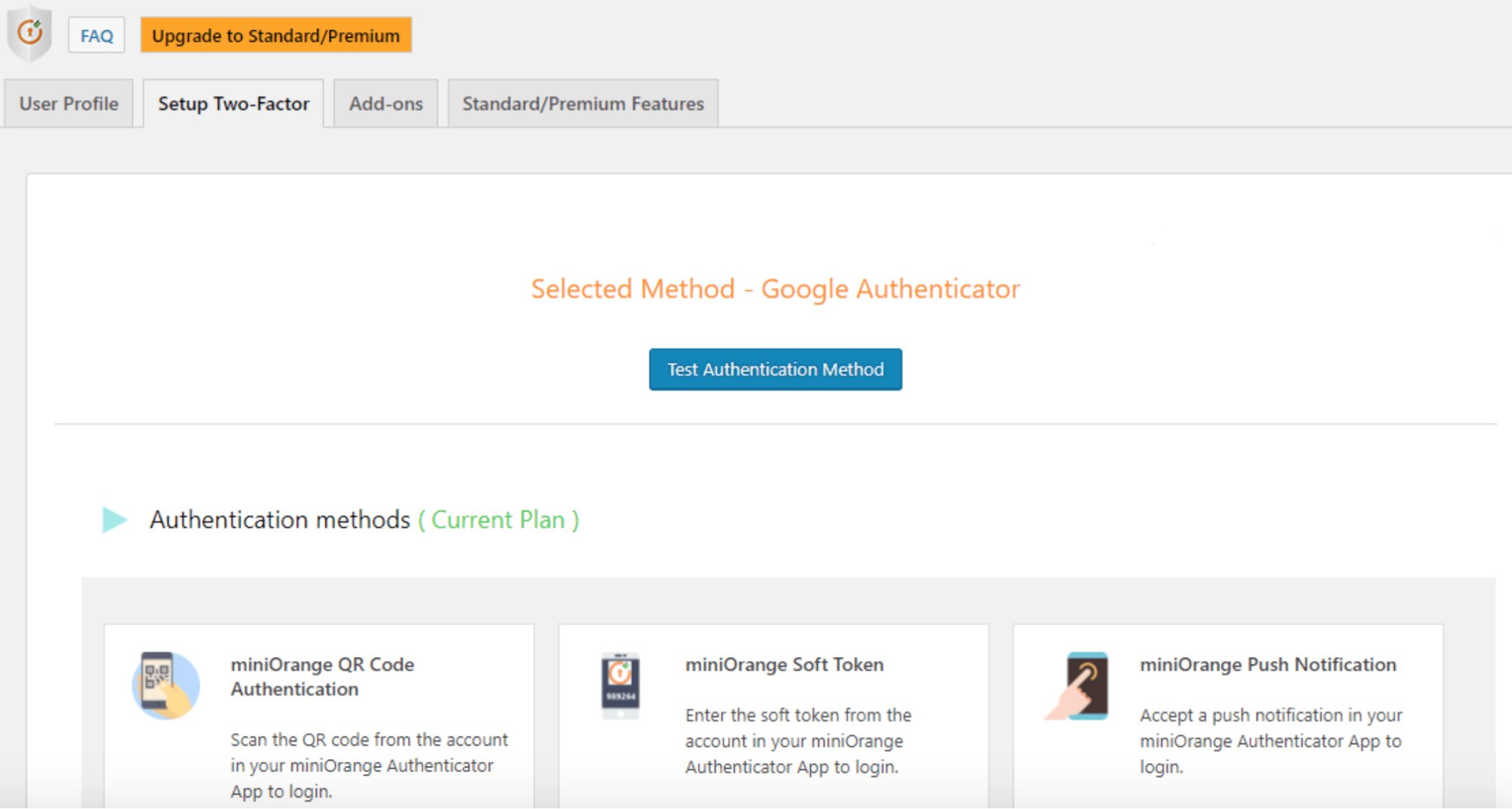 Pros
Free version available
Offer 2FA for logins
WooCommerce integration (Premium)
Ability to control which users go through 2FA (Premium)
Ability to add 2FA to registration and mobile app logins (Premium)
Cons
Free version for single-user only
Licensing fees for Premium based on the number of users
Provides only 2FA — no additional security features
This plugin is best for those who want 2FA for their website
. The tool can be used in conjunction with other plugins.
Secure Your Website Now to Avoid Massive Headaches Later
While most of us know that security is important, many still delay taking the necessary steps to secure their website.
Securing your website involves more than just installing a plugin or two. It also requires diligence in ensuring that your WordPress website, plugins, and themes are up to date and free of vulnerabilities
. To learn more about WordPress' features, check our
expert review
. Set a schedule to regularly check your website for vulnerabilities in addition to any automated tools you install on it. Run all necessary updates and change passwords frequently. Failing to do this may incur stiff consequences in the future. For starters, you risk your reputation among visitors, as a hack erodes trust. Next, you risk severe penalties to your website. If you fail to notice a hack fast enough, your website could be blacklisted by Google. Worse still, some website-hosting companies will completely erase your website and in some cases your backup data once a hack is discovered. There's nothing worse than having to rebuild your website because it got hacked. A large number of hacks can be avoided by taking simple security measures that include installing strong WordPress security plugins. A little prevention now can save hours or days of headaches in the future.
| | | | | | |
| --- | --- | --- | --- | --- | --- |
| | Wordfence | All in One WP Security and Firewall | Sucuri Security | Security Ninja | Google Authenticator |
| Free Version? | Yes | Yes | Yes | No | Yes |
| Brute-Force Attack Protection? | Yes | Yes | No | No | No |
| Firewall? | Yes | Yes | Yes (Premium) | No | No |
| Malware Protection? | Yes | No | No | No | No |
---
Sources
https ://www.wpwhitesecurity.com/statistics-70-percent-wordpress-installations-vulnerable/
https ://ithemes.com/2017/01/16/wordpress-security-issues/
https ://wpsmackdown.com/wordpress-hack-statistics-2013/