It's no surprise that you're considering using WordPress to build your website. There are over 75 million websites online right now using the platform, and that number grows every day. That's 25% of all global websites.
WordPress websites are popular due to the ever-growing number of templates and widgets available to help you create stunning websites. However, WordPress isn't always the easiest platform to use, especially for those who are new to web design.
Luckily, a tool came out a couple of years ago that has leveled the playing field and made WordPress websites remarkably easier to design. Elementor is one of the most powerful WordPress website builders on the market today, giving you the ability to create a WordPress site without having to write or modify a single line of code.
What's the Big Deal About Elementor?
While WordPress is a popular website builder, it's far from the easiest. While it's much simpler than hard-coding a website, it still requires you to either hard-code or customize a number of design elements. This drives away many beginners, and is why website builders like Wix and SimpleSite continue to have a strong following despite having significantly fewer design elements than WordPress.
Elementor changed all that. With Elementor, you can now modify a website and change advanced feature settings without coding. To say that Elementor is a point-and-click WordPress builder would belittle the product. Instead, Elementor is a robust WordPress designer that offers point-and-click functionality.
Here are some of the features that make Elementor stand out over standard WordPress or other website builders:
Drag-and-drop editor
Ability to import and export templates
Advanced text and webpage editing (text and box shadow, entrance animations, etc.)
Ability to add testimonials webpages
Google Maps integration
SoundCloud integration
Large free template library (including blank canvas templates)
Ability to undo/redo work
WooCommerce and e-commerce functionality
Amazingly, these are just the basic free features. For many websites, the free version of Elementor will be enough, but there is also a Pro plan available for more advanced users or those who need features that the free plan doesn't provide.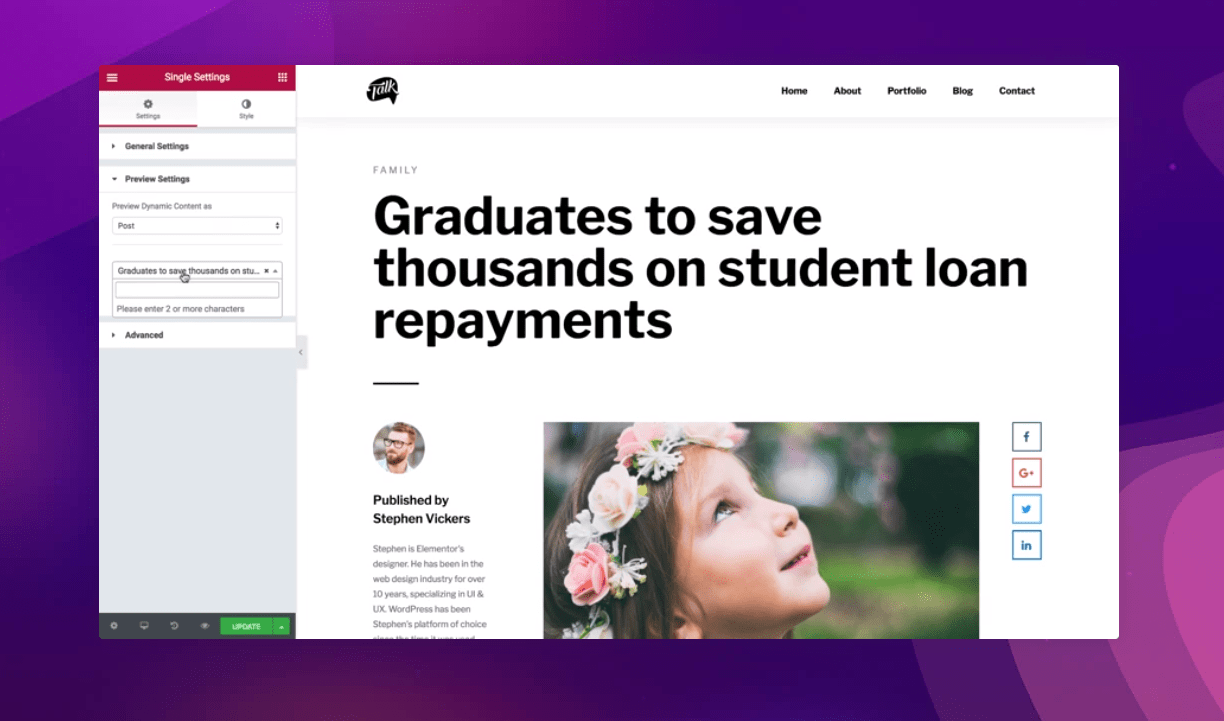 How Does Elementor Work?
One downside of using WordPress is that it's not as simple to use as basic website builders like Wix, SimpleSite, or even Weebly. Elementor helps to bridge that gap. Unlike standard WordPress themes, Elementor provides you with a drag-and-drop builder that's much more user-friendly than standard WordPress themes.
That said, the builder isn't quite as simplistic as some website builders, meaning there's a slight learning curve. However, the curve is much less than if you're using WordPress alone. Also, there are plenty of tutorials online and even a dedicated YouTube channel on how to use the product.
Elementor starts by allowing you to choose your template design from an extensive library of free templates. After selecting your design, you can modify it using the drag-and-drop website builder. Also, you can create and change a wide variety of design element through widgets. You can add video, images, text boxes, forms, video lightbox, social media integration, and more.
If you want to use WooCommerce or integrate other e-commerce capabilities, Elementor allows you to do so for free. Many websites builders require an upgrade for the ability to add e-commerce features on your website.
With the good, there are also a few drawbacks. For starters, if you stick with the free version, you're going to be confined to the pre-configured design elements of your templates. You will not be able to perform HTML or CSS customizations of your templates.
You will also be unable to use Pro templates, add global widgets, or even embed items onto your website anywhere but in pre-configured areas. Also, a large number of more advanced features for WooCommerce will be unavailable. Only the basic features will be available.
Should I Use Free or Go Pro?
The choice on whether to stick with the free version of Elementor or to go with one of its Pro plans depends entirely on the needs of your website. The great thing about the free plan is that you can create almost any form of website imaginable with it, but it does have a few shortfalls. That's where the Pro version comes in.
The Pro version gives you more advanced design elements than the free version. With the free version, you cannot customize your CSS, add customer widgets, or use Pro templates. All of those features and more are available in the Pro version.
If you plan on using WooCommerce for your web store and need anything beyond the basic features of the platform, you're going to need to upgrade to Pro. For anything but the simplest stores, you'll likely need to upgrade.
There are three levels of Pro service. The Personal plan is for a single website. The Business plan allows you to use Elementor on three websites. The Unlimited plan is best if you have large networks of websites, as it will enable you to use Elementor on unlimited websites.
For most websites, the Free plan is more than adequate, but if you have any of the following requirements, you will need to upgrade to a Pro plan:
Ability to perform deep customization on templates and CSS
Ability to add custom widgets and themes
Ability to use Pro Templates and Widgets
Advanced e-commerce tools for WooCommerce
Ability to use Elementor on multiple websites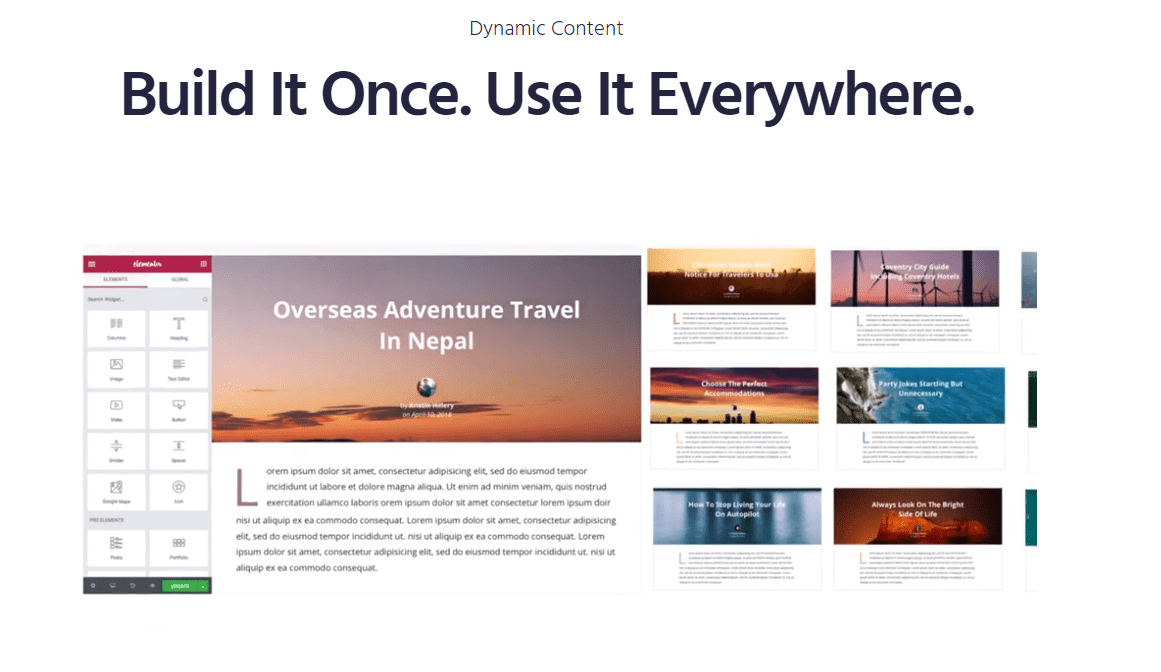 Elementor Makes Creating WordPress Websites Elementary
Seldom am I genuinely impressed with a basic website builder, but Elementor is one of the best website builder tools I've seen in years. It solves one of the biggest knocks against WordPress and allows anyone — and I mean anyone — to build a great WordPress website.
Elementor is perfect for all websites, whether it is a personal blog, a custom resume website, or a robust web store used to sell custom pocketbooks. The only real downside with the free plan is that your design elements are limited, and you really need to upgrade to take advantage of e-commerce and advanced design features. However, the upgrade to Pro is very affordable and worth it for the features added.
Regardless of whether you've never built a WordPress website before or whether you're an experienced pro, Elementor can help you create a better website. If you're building a WordPress website, or even thinking about building one, make sure to check out Elementor first.