the biggest, best, and in one case, most specialized WordPress theme marketplaces
, to help you decide where to buy what you need. I've been working with WordPress for a long time. Usually, I prefer to code my own themes from scratch, but sometimes I just don't have the time. When I'm looking for premade themes, these sites are my own personal favorites. I'm sure you'll be able to find what you need here.
What We Look For in the Best WordPress Theme Marketplaces
Lots of themes, obviously. Ideally, there should be plenty of variety, though specialist vendors do have their place.
Support and updates for themes. Why? Because WordPress is constantly changing, and theme makers need to keep up!
Customization services. You might also want more personalized services, such as having your theme or website set up for you, and perhaps customized to your liking.
Multiple licenses. If you have more than one website planned, you might be looking for the option to buy multiple licenses for a single theme.
You'll find all these features in the list below. Have a look, and see what's in store (get it?) for you.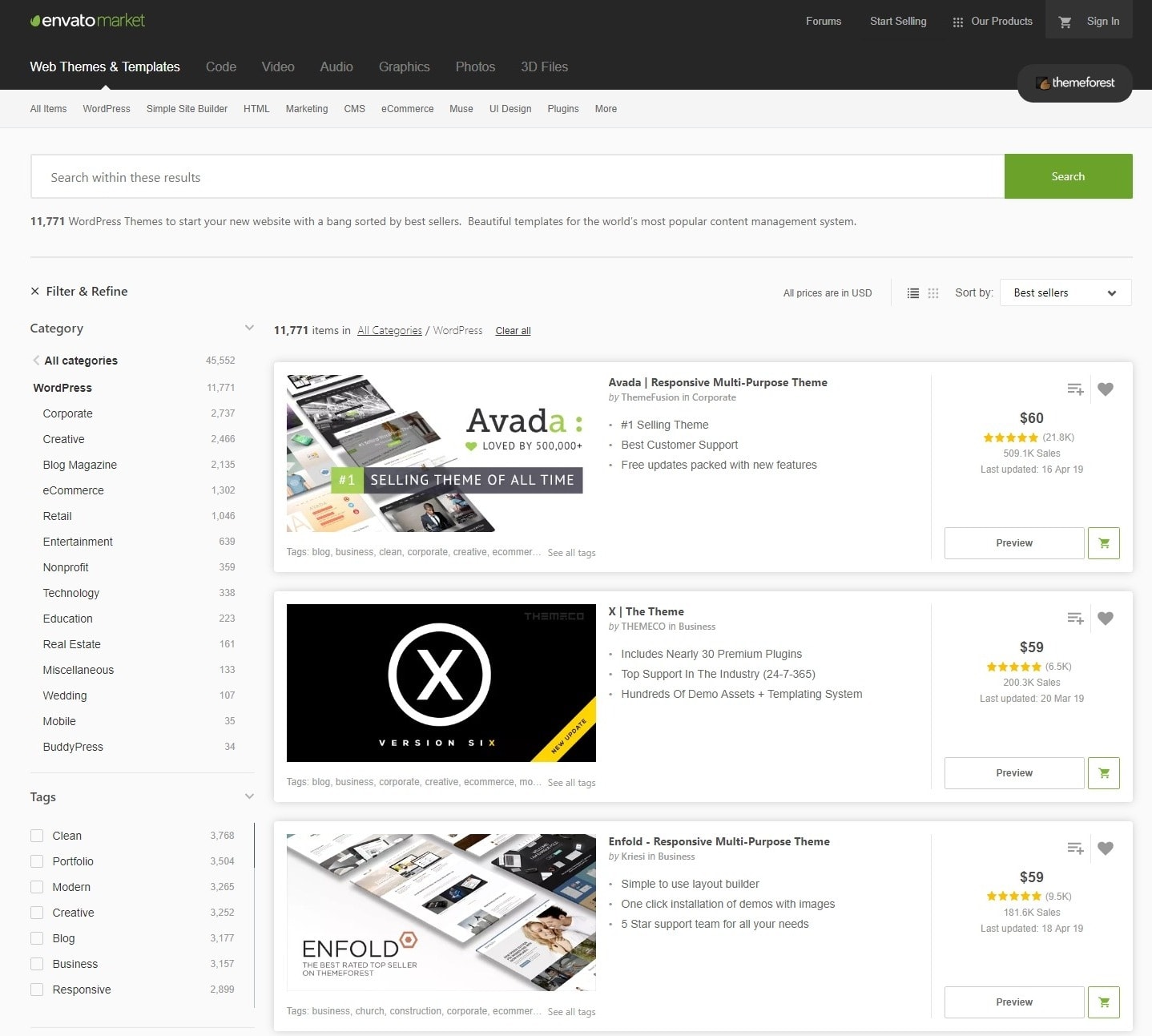 ThemeForest is by far one of the most popular marketplaces on this list
. It's a highly community-based site, and many of the themes were made by, and are supported by, a big old team of literally one person. These single-developer themes sit right next to themes created by agencies and teams that dedicate themselves to making WordPress themes full-time. Basically, it's a place where anyone who meets ThemeForest's minimum standards of quality can sell their work. This opens up a wide variety of possibilities. You can find themes for blogs, wikis, forums, and pretty much any other kind of website you can think of. Now for the two major downsides… First, although there's a quality assurance process for every theme, not every theme keeps getting updated.
Some older themes simply don't work anymore, and neither do their demos
. Second, support is entirely dependent on the vendor that made the theme. While some allow you to buy up to a year of theme support all at once, others don't support their themes at all.
Click here to read our in-depth ThemeForest review.
Features
A truly massive library. You can build almost any kind of site. ThemeForest has over 11,000 WordPress themes, so you can find a theme for almost every conceivable purpose.
Strong community features. Themes can be rated and commented on. Theme developers can also be rated, and you can follow your favorites. These features help offset the problems caused by occasional low-quality themes you might find.
Filtering. Thankfully, you can narrow down your options with a pretty robust set of filters. You can filter themes by their purpose and function, visual style, price, user rating, and even by which plugins they're compatible with.
| | |
| --- | --- |
| Average Price Range | $25 – $60 |
| Paid Support | Depends on theme vendor |
| Community Support | Community forum |
| Library Size | Over 11,000 themes |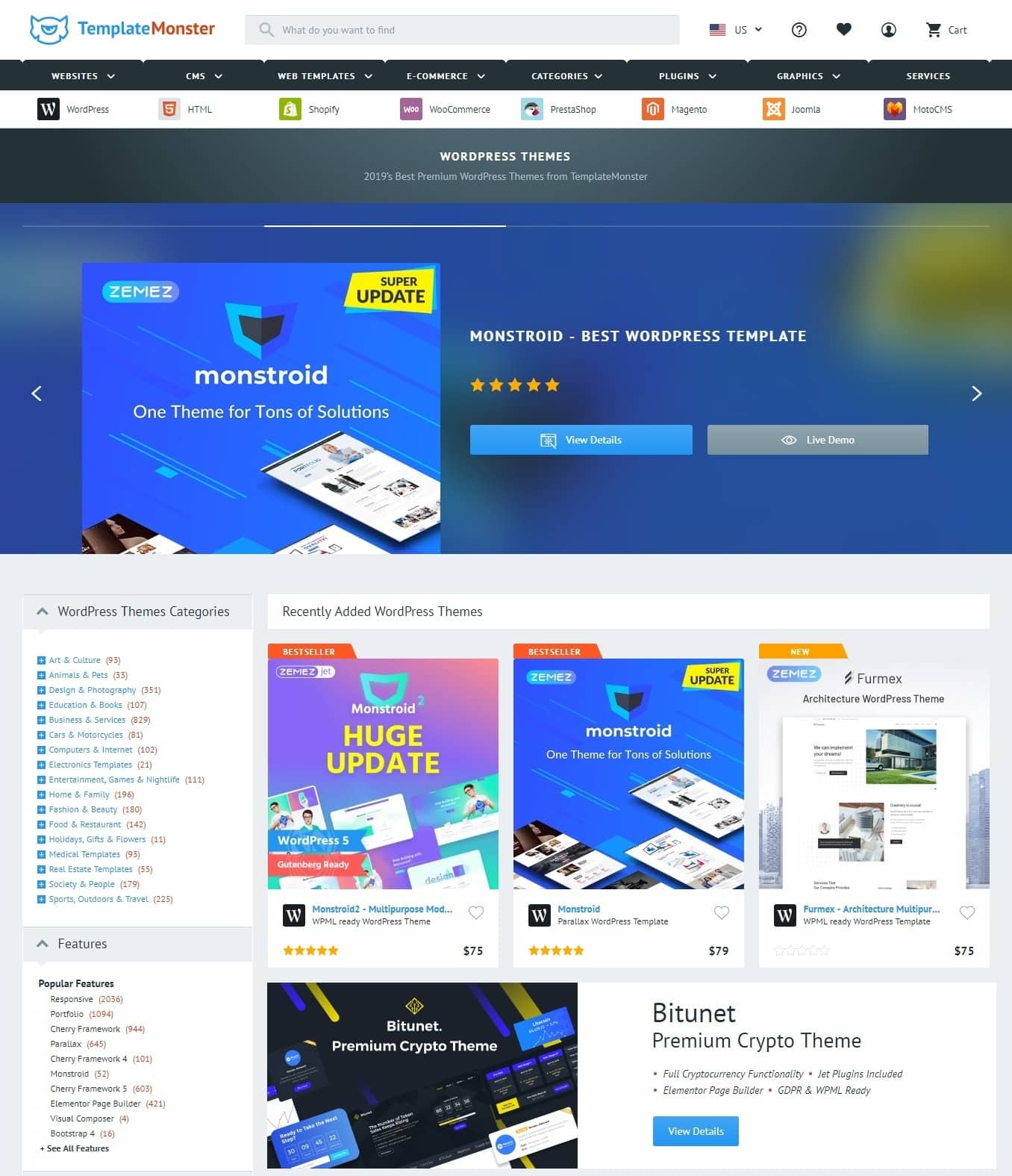 TemplateMonster is almost the exact opposite of ThemeForest in its approach. While there do seem to be third-party vendors, they're all expected to provide templates. As you can imagine,
this is a pro-level service
, with tons of support options, add-ons, and higher prices
. Considering the amount of extra work that goes into these themes, it's impressive that
TemplateMonster
has built and maintained over 2100 of them, each to a pretty high standard of quality. And they're all guaranteed to work. The only thing that might make you pause are the higher prices. This is a service best used when you have a departmental budget backing you up. It's not impossible for an individual who is low on cash to afford any one theme, but you'll really want to pick the right one on the first try. To learn more about TemplateMonster,
check out our expert review
.
Features
Add-ons galore. You can buy loads of add-ons (such as plugins and extra support) for every theme.
Pre-built websites. For a fee, TemplateMonster will set you up with a working website with the theme of your choice in five days.
Loyalty program. There's a loyalty program that gets you of the add-ons (and pre-built website services) included with every theme you buy.
Semi-exclusive licenses. If you're willing to pay a fair bit of money for a semi-exclusive license, you can be the last person to buy a particular WordPress theme, ever. (It's semi-exclusive because others may have bought the theme license before you.) Note that this license option is not available for every theme.
Filtering. You can filter by the template's purpose as usual, visual styles, date of release — and interestingly, by the primary colors. Also, you can filter by compatibility with specific version of WordPress.
| | |
| --- | --- |
| Average Price Range | $50 – $80 (before add-ons) |
| Paid Support | Yes |
| Community Support | None |
| Library Size | Over 2100 themes |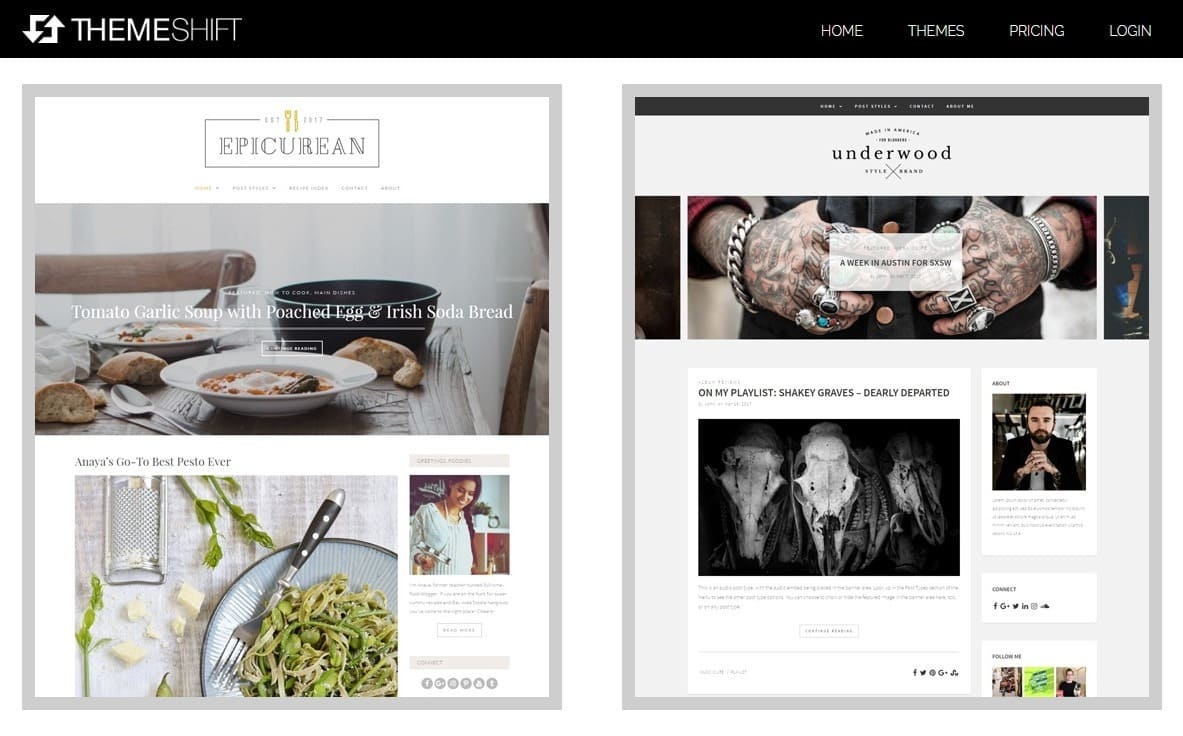 ThemeShift
is an interesting case in that it has an extremely small selection of themes. Its focus seems to be on perfecting and maintaining them. That said, they're pretty good themes. The themes are specifically geared toward non-profits and bloggers. Half of the themes are designed for blogs, and the other half are one-pagers. The aesthetics are generally minimalist and contemporary, with the exception of the "Epicurean" theme, which is dedicated to food blogging. In a way, ThemeShift's strength (its focus on just a few themes) is also its weakness. If you're not looking for one of the very specific things provided by the themes they have, you should look elsewhere. Check out our
detailed ThemeShift guide
 to learn more.
Features
Cheap ongoing support. You can get fairly cheap ongoing support for themes with the individual plan.
Full-access plan. You can get access to all current and future themes for a one-time payment (with slightly more expensive monthly payments for support).
Free themes. There are free versions for most of the themes to try out.
Plugin support. All themes are coded with support for some of the most popular WordPress plugins (e.g., W3 Total Cache, WP Supercache, and Yoast SEO, to name a few).
| | |
| --- | --- |
| Price Range | $39 – $99 |
| Paid Support | Yes |
| Community Support | None |
| Library Size | Themes can be counted on one hand |
Find Your Next Theme on ThemeShift
4. MOJO Marketplace – Unparallelled Support for the Price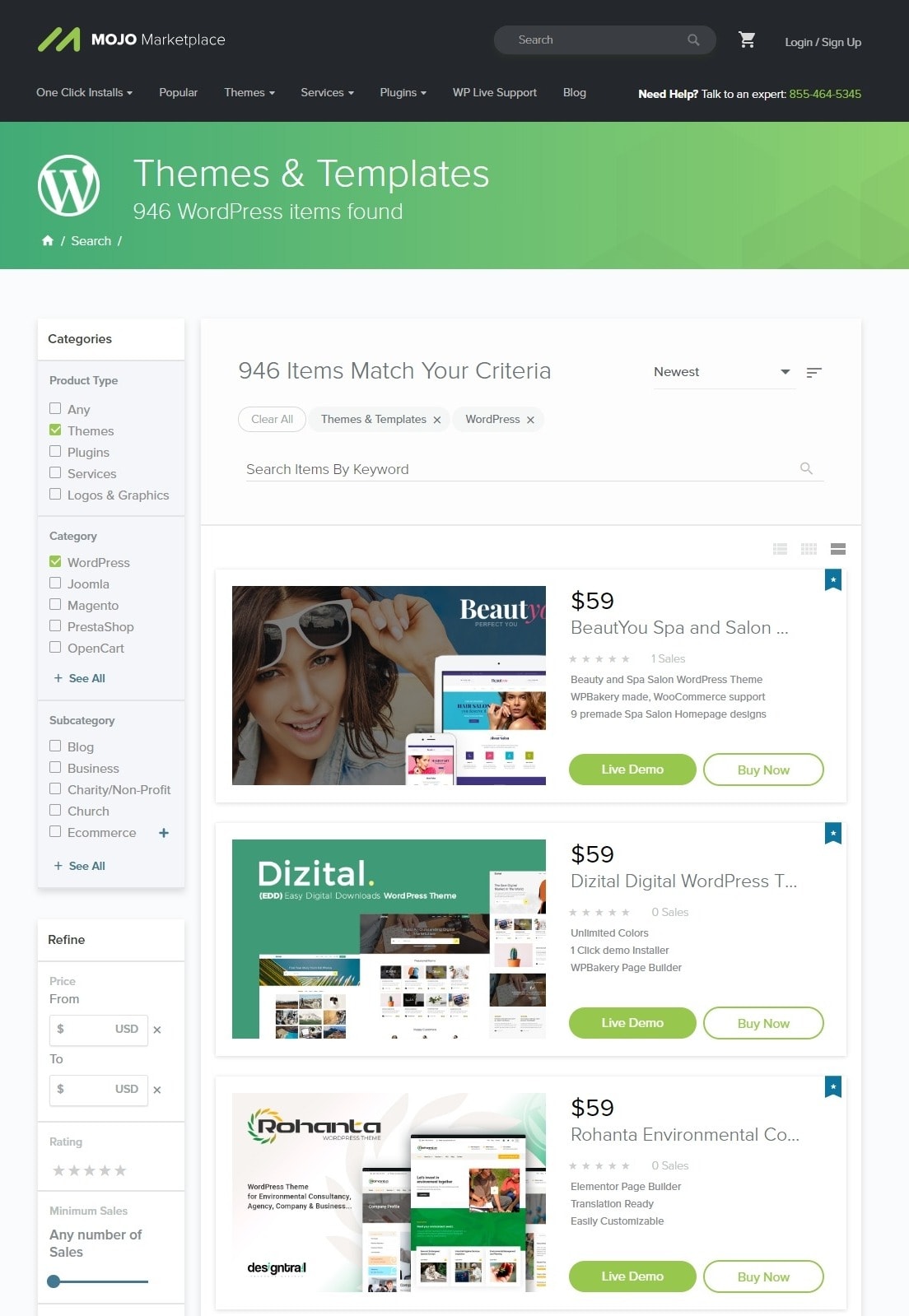 MOJO Marketplace is similar to ThemeForest in that it has multiple vendors, but it seems like most of them, if not all, are made by teams and agencies. What's more, the support and licensing options are more or less the same across the board, for every theme, though some cost more than others. The emphasis is on providing
consistent quality, and a consistent buying experience
. By and large, I'd say MOJO Marketplace has achieved this. There's a clear focus on its other services (like their "instant websites"), as well as its support options — and it truly shows. The only downside is that like ThemeForest, not all the old themes have been re-checked to see if they're still working, and some are just missing demos.
Be sure to click the "demo" button before you buy anything
.
Features
Theme set-up. MOJO Marketplace can set up the theme for you, and even make it look like the demo. They can also back up your old site for you, for an additional fee.
Unlimited licenses. You can buy developer licenses for unlimited copies of the theme.
Live WordPress support. This service provides WordPress support in general, not just support for the theme.
Free theme support: You get free support from all vendors, as they're all required to provide it.
Filtering. MOJO Marketplace's filtering is simpler than some of the other marketplaces' filtering capabilities. You can sort themes by their intended purpose or industry, price, the date they were added, user rating, and common tags.
| | |
| --- | --- |
| Average price range | $39 – $99 |
| Paid Support | Yes, with options for live support |
| Community Support | None |
| Library Size | Over 900 themes |
5. Theme Palace – The Best in Business Themes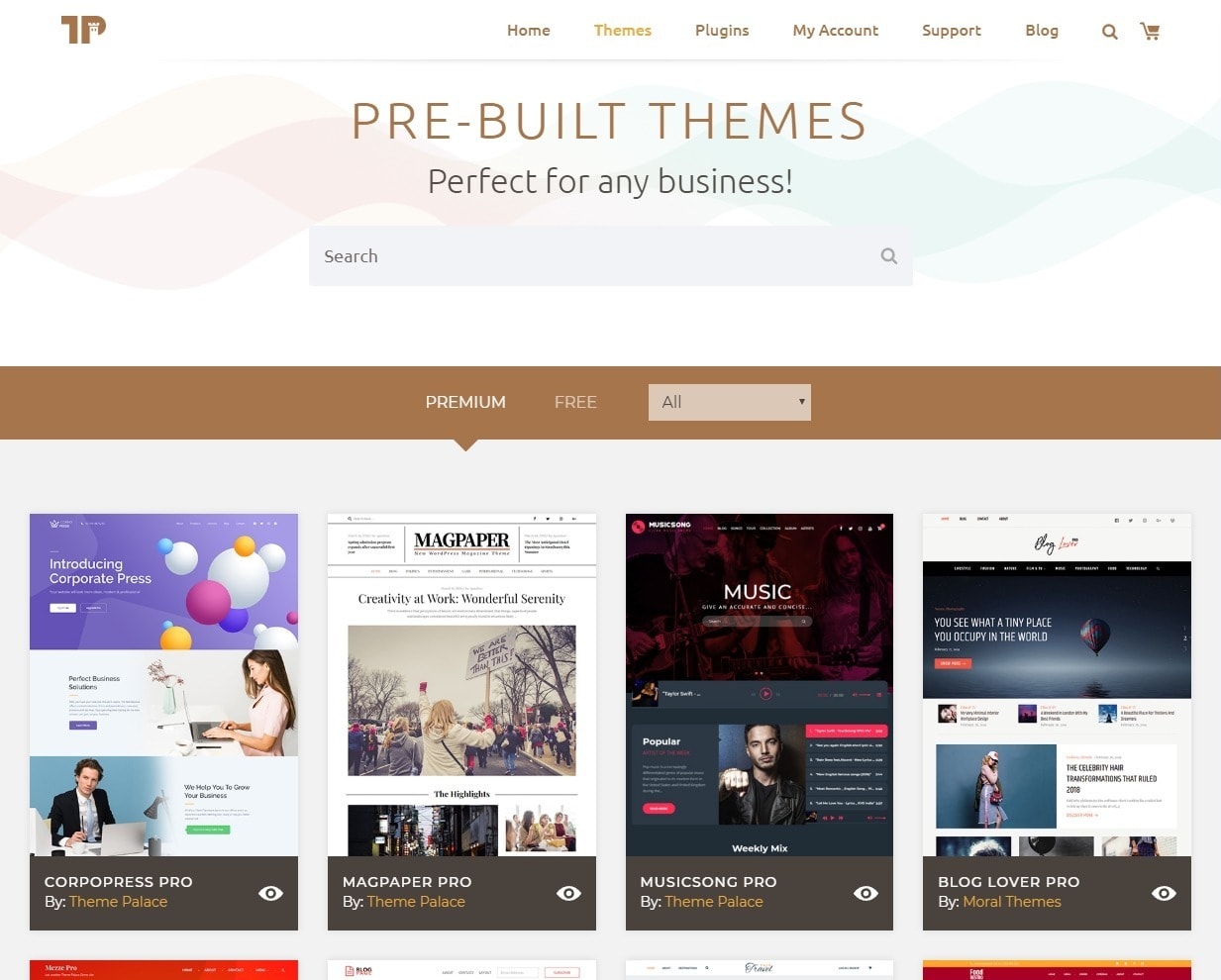 Theme Palace's tagline is "perfect for any business," and the theme selection lives up to the "business" part of that claim since
all themes are business-oriented
. Theme Palace's themes, similar to those of ThemeShift, embody a minimalist and modern aesthetic while boasting a larger selection. The team behind Theme Palace certainly possesses a clear understanding of their target market. As for downsides, well… I haven't found any missing demos. I did find one broken "support" link, but that was it, and that might have just been a server glitch.
Features
Theme customization. You can hire Theme Palace to customize your theme for you.
Community support. You can get help from both staff and fellow customers in the support forum.
Free themes. There are free versions of every theme, with detailed comparison tables to showcase the differences between the free and paid versions.
Theme instructions. It's easy to get started with customized setup instructions for each theme sold, for both the pro and free versions.
Filtering. Sadly, the filters here are limited to simple categories in a drop-down menu.
| | |
| --- | --- |
| Average price (really the only price) | $49 |
| Paid Support | Yes |
| Community Support | Support and community forum |
| Library Size | Over 90 |
So, Where's the Best Place to Buy WordPress Themes?
That depends.
ThemeForest is a good all-round economical option, with loads of variety
. If you need a theme for a less-conventional website, that's the place to start looking. If you want a high-end experience, however,
TemplateMonster has just that
… as long as you have the budget.
ThemeShift is for people who want a good blog or one-pager themes with affordable support
. MOJO Marketplace is where I'd look if I couldn't find what I wanted on ThemeForest, or if I just wanted good live support options. Theme Palace does good, affordable business themes, and leaves it at that. Here's a comparison table to help you decide which marketplace is the best one for you:
| | | | | |
| --- | --- | --- | --- | --- |
| | Main Feature | Priced for | Support provided by | Ready-made sites |
| ThemeForest | Massive library | Individuals and small businesses | Mostly the vendor, and the community | No |
| TemplateMonster | Advanced add-on services | Businesses | TemplateMonster | Yes |
| ThemeShift | Highly specialized themes | Individuals and small businesses | ThemeShift | No |
| Mojo Marketplace | Good, affordable support | Individuals and small- and medium-sized businesses | MOJO Marketplace and the theme vendors | Yes |
| Theme Palace | Specialization in business themes | Individuals and small businesses | Theme Palace and the community | No |
If you're an avid WordPress user, managed WordPress hosting can take all the hassle out of managing your sites. You get to focus on the creative side of things, while someone else takes care of server security, backups, updates, and more. Don't miss our list of
the absolute best managed WordPress hosting providers
.