There are plenty of free DIY logo makers out there, but not all of them produce good results.
You don't want to waste an hour designing your logo only to discover you can't download the file type you need, or find out the file you
can
download for free is so low quality it's useless. I've tested all the major logo makers to see which ones give you
a professional-looking logo and files you can actually use
on your website, your social media, or anywhere else you like.
All of these logo makers are free to use, but keep in mind that most of them charge for commercial use.
During my research, I also discovered that you can
hire a professional designer for a surprisingly cheap price
,
so if you do need a logo for commercial use and have a tight budget,
I have some great tips to share with you
. Alternatively, read on for my favorite logo makers that are
free to use to make your own custom designs
.
What We Look For in the Best Free Logo Makers
When evaluating these tools, I looked for good logo design features without too many irritating limitations or upsells.
Logo templates: Whether the logos are AI (Artificial Intelligence) generated or pulled from a template library, you should get plenty of variety. The logo makers on this list offer a wide selection of icons and layouts, so you can capture the essence of your business. For example, you can find camera icons for photography studios and muffins for bakeries.
Customization tools: You should be able to personalize your logo by changing colors, fonts, layouts, and so on.  The more options for customization, the more unique your logo will be. Using any one of the logo makers I picked out, you can make lots of designs with different styles
Ease of use: DIY logo design shouldn't be complicated, even if you have no creative background. The whole point of a logo maker is to create a professional logo without doing the art yourself. You should be provided with high-quality graphic design and simple-to-use tools that let you put something together quickly.
File types: Free is only useful if your online logo maker gives you the right high-quality files to use online or in print. Most free logo makers require you to pay for commercial use of logos, but these ones still let you use the maker for free, and some allow you to download your creation for samples or personal use.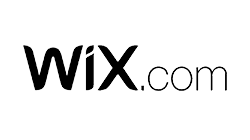 Get your first Wix Logo Maker logo for just $20.00!
Customize & download the perfect logo at a discount.
1487 users used this coupon!
4 Best Free Online Logo Makers
After spending a few weeks testing dozens of online logo makers, only four made my list. I made sure to choose the ones that
produce professional-looking results and give you lots of customization options
, so you can create a unique logo for your brand. Some of these platforms are 100% free to use, and will let you download your logo without paying a dime. Others are free to try – this means you can design as many logos as you like, and
you pay a small fee only if you want to use one of them.
If you do decide to pay for one of these services, be sure to check our frequently updated
logo design coupon page
so you can get the best deal.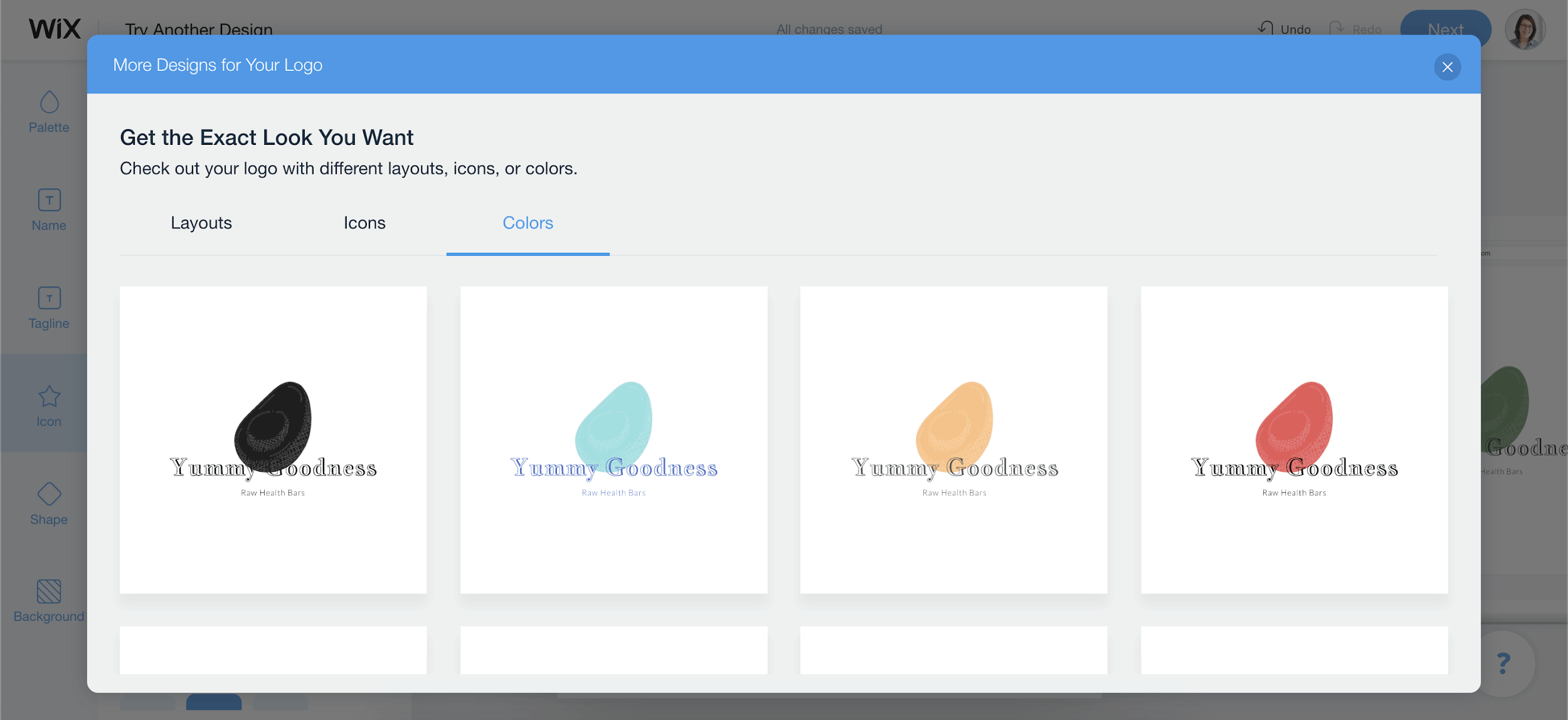 Wix Logo Maker is AI-powered
, which means that it learns from your preferences to generate unique logo templates for you. You'll start by entering details about your business, describing your brand, and teaching the AI which logos you like. You'll then choose a design to customize, which is where this tool stands out. It takes only a click or two to change colors/fonts, add background shapes, find a new icon, curve or rotate text, and more.
You can make unlimited edits for free, and you can start over with a new logo design at any time.
From the check-out page, you can also download a free sample (for non-commercial use). Since Wix Logo Maker saves your designs, you can always come back later to edit or buy.
The verdict: Wix Logo Maker has some of the best editing capabilities of any online logo maker. It gives you creative options to try on your own as well as easy, one-click edits to color palette, text layout, and more.
Logos Made with Wix Logo Maker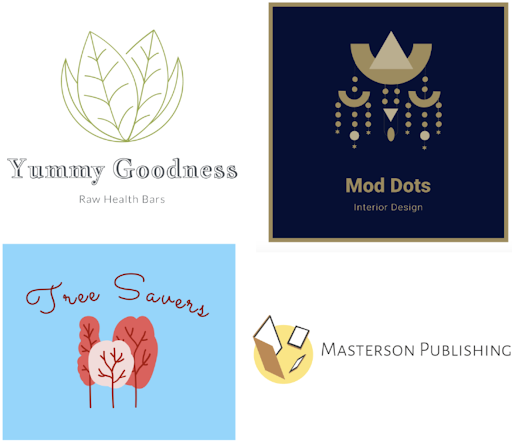 Read our
expert review
to learn more about
Wix Logo Maker
.
| | |
| --- | --- |
| Payment options? | One-time payment for logo only and optional subscription for additional services |
| Which file types will I get (with basic plan)? | PNG in color, black, and white (with transparency) |
| Can I get premade templates for social media, business cards, etc.? | Yes, pre-sized social media logos and business card printing are available for an additional fee |
| Can I edit my logo after buying? | Yes, but you must repurchase the logo after editing |
Also AI-powered,
Looka differs in that you can select up to five specific icons you like during the startup process
. This makes your AI-generated logo designs more relevant to you, and the terrific icon library may even spark some creativity. Within the editor,
Looka offers plenty of ready-to-go designs
. In just a click, you can apply suggested color palettes and gradients, change fonts, or try new text layouts (shown in the screenshot below). Looka will save your logo designs so you can always come back later, but
there is no free logo sample, even for non-commercial use
. The basic plan is also quite limited, giving you only one PNG file (with no transparency).
The verdict: Looka has attractive default options and makes it easy to try out new designs without thinking of them yourself. To me, this tool would be more of a home run if the basic plan weren't so…basic.
Logos Made with Looka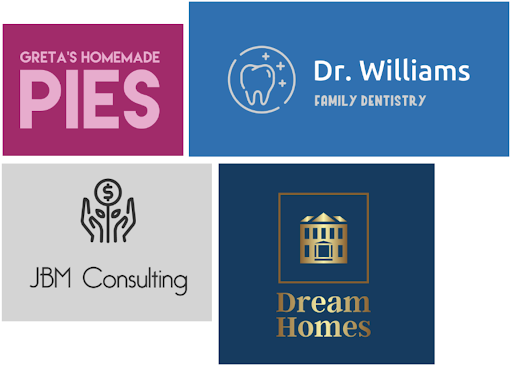 Learn more in our
expert review on Looka
.
| | |
| --- | --- |
| Payment options? | One-time payment |
| Which file types will I get (with basic plan)? | PNG (no transparency) |
| Can I get premade templates for social media, business cards, etc.? | Yes, business card designs and social media graphics available with premium plans. |
| Can I edit my logo after buying? | Yes, free edits within 72 hours of purchase. |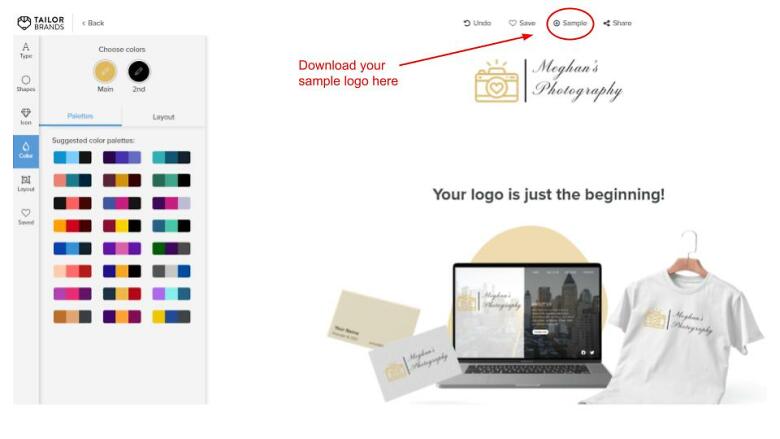 Tailor Brands also uses AI technology to power its helpful startup wizard. To train the AI, you'll be able to choose your preferred logo style and then select your favorite fonts. My personal favorite is icon-based, as the built-in icon library offers a great selection. You can opt for an AI-generated abstract icon or choose your own by searching.
The logo customization tools are easy to use
and offer creative, visually appealing preset options for font, color, and layout. You can also download a free (for non-commercial use) sample at any time by clicking the 
sample
button in the logo editor. Tailor Brands will save your designs, so you can return at a later time without having to start over. One downside, however, is that
logo purchase requires a subscription
; there are no one-time payment plans available.
The verdict: Tailor Brands has fewer customization options than other paid logo makers, but that's not necessarily a bad thing. The curated options make this tool a good choice if you want a quick logo maker.
Logos Made with Tailor Brands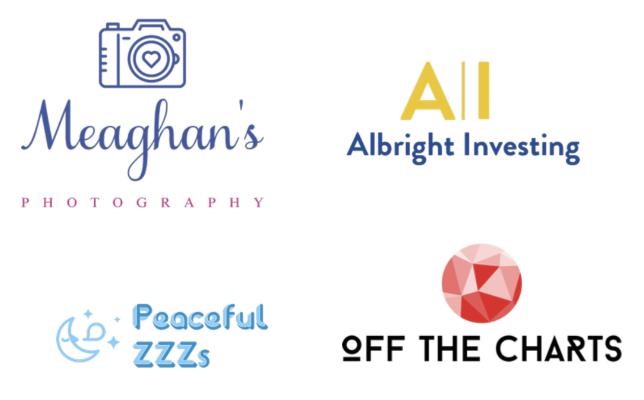 Want to know more? Check out our
Tailor Brands expert review
.
| | |
| --- | --- |
| Payment options? | Subscription only |
| Which file types will I get (with basic plan)? | JPEG, PNG (including transparent background) |
| Can I get premade templates for social media, business cards, etc.? | Yes, a logo resizing tool comes with the basic plan. Business card templates and presentation decks are available for an additional fee. |
| Can I edit my logo after buying? | Yes, you can change the color, layout, and tagline after purchase. |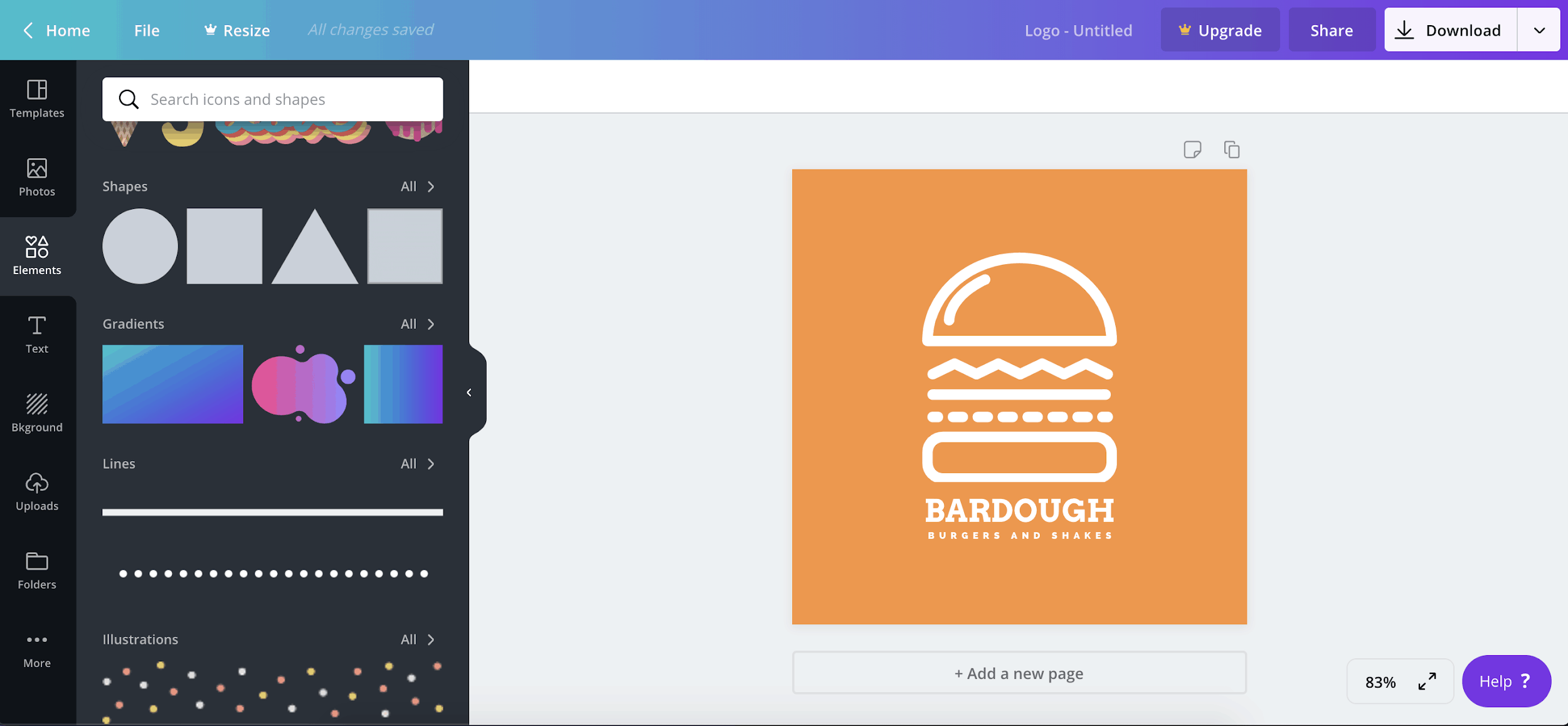 Canva offers
hundreds of logo templates, helpfully divided into industry categories
for you to browse. One huge bonus is that Canva is 100% free for commercial use! There are some limitations on the free plan, such as fewer icon options. But if you want a free logo maker for your business, Canva is a solid choice. Another feature that sets Canva apart is that
you can upload your own files, even on the free plan
. That makes it easy to incorporate any branding elements you already have. The
Elements
tab is also great, allowing you to choose modern logo design options like shapes, lines, and gradients. From this tab, you can even add animated elements like stars, arrows, or emojis. Just note that if you want to download a GIF of your animated logo, however, you'd need to have a premium plan. Whenever you're done, choose a file type for immediate download in the browser. The only disadvantage here is that
transparent files are only available with paid plans
.
The verdict: Canva Logo Maker is easy to use, with great template variety and diverse editing options. To get full access to its impressive library of icons and fonts, however, you'd benefit from a paid account. (Free 30-day trials are available.)
Logos Made with Canva Logo Maker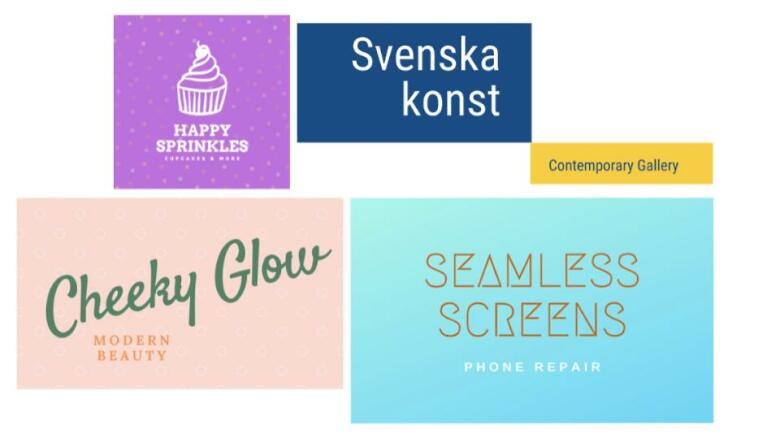 | | |
| --- | --- |
| Which file types will I get for free? | PNG (no transparency), JPG, PDF, or MP4 video (for animations) |
| Can I get premade templates for social media, business cards, etc.? | Yes, you can use the free editor to resize your logo for social media. For a fee, you can print on t-shirts, business cards, and more. |
| Can I edit my logo later? | Yes, all designs are saved to your account for free editing. |
Free Logo Makers That Didn't Make the List
In my search for the best free logo makers, there were other services that
did a pretty decent job, yet they didn't quite measure up to my quality standards
. It might surprise you which ones just missed out and why.
Shopify Logo Maker: Shopify is great for building an online store, but not so much for logos. The template editing options are extremely limited – in many cases, you can't even modify the colors, fonts, or icons. It also doesn't provide you with print-ready image files, which you'll definitely need at some point.
SMASHINGLOGO: Two big pluses: It's available in several languages, and it generates logo designs for you – no artistic skills required. Unfortunately, there are no helpful tutorials or a wizard to guide you through the design process, and the DIY options are limited. Also, purchasing a logo only grants you a license to use it; you can't file a copyright for the design.
Logaster: Easy to use, and it uses Artificial Intelligence to generate logo concepts you can tweak further (with unlimited edits). The main issue: the designs are very generic and uninspired, which means they won't set you apart from other businesses.
GraphicSprings: Another logo maker that supports several languages, which is great for international users. It also has a nice selection of editable vector-based artwork you can recolor to your liking. One big problem: You can't save your work-in-progress – you have to purchase your logo right away in order to download or use it. The commercial usage rights are a bit unclear as well.
Ucraft: Good for developing a basic logo concept for personal use. It's pretty easy to use with lots of options, including gradient swatches, high-quality fonts, and professionally-designed icons. If you want to trademark your logo for business purposes, though, the usage rights are difficult to understand, plus the Open Source artwork may not be 100% unique to your logo.
Want a Better Logo? How to Hire a Designer Almost for Free
If you've tried to design a logo for free online but haven't been wowed, don't worry.
You can also hire a designer on Fiverr for only $5 – which is practically free, right
?
This can be a good option if you want something more unique, or if you need your logo for commercial use.
One nice thing about hiring a logo designer is you can talk to them throughout the process. Working one-on-one with a pro can really get you something special, so it's worth paying for, in my opinion.
I'll show you how to set up a buyer account and start looking. First things first,
navigate to Fiverr's homepage and click Join in the top right screen
. You can sign up with your email, Google, Facebook, or Apple account.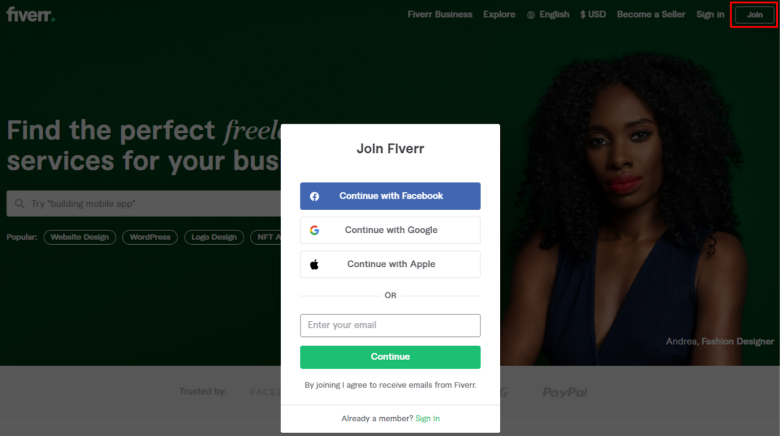 Creating a profile is all the setup required to hire someone. Navigate to the
logo design
category or search for logos in the search bar on Fiverr's main screen.
Use the advanced search filters to set your budget and narrow results
by the kind of logo you want, such as minimalist or vintage.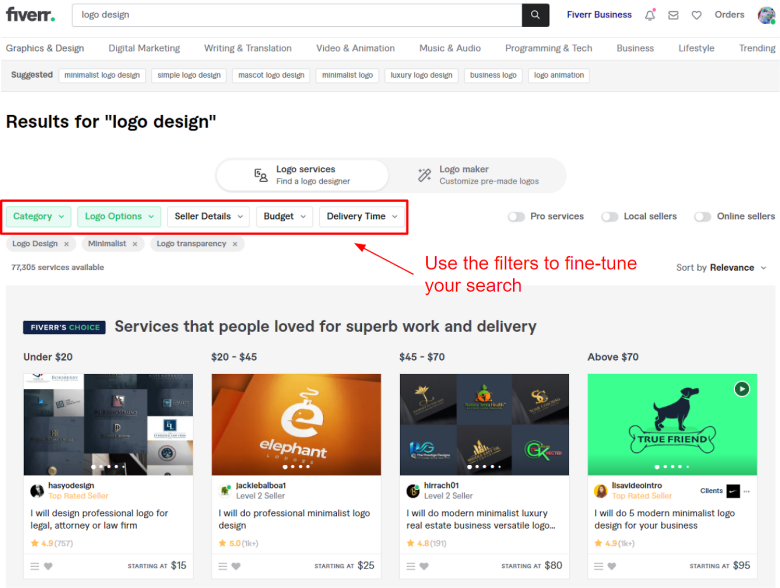 Before you settle on a freelance logo artist,
take some time to go through their profile first
. Make sure they have good customer reviews and their work portfolio matches your desired style for your brand. If you have any questions, you can also contact them first. 
Freelancers on Fiverr offer three packages:
Basic
,
Standard
, and
Premium
. Basic is the cheapest and may be enough to get a good logo, but
compare packages to make sure you're getting the best service for your needs
. 
Once you've found a logo designer and package you like, hit
Continue
to go to check out and launch your project. That's it!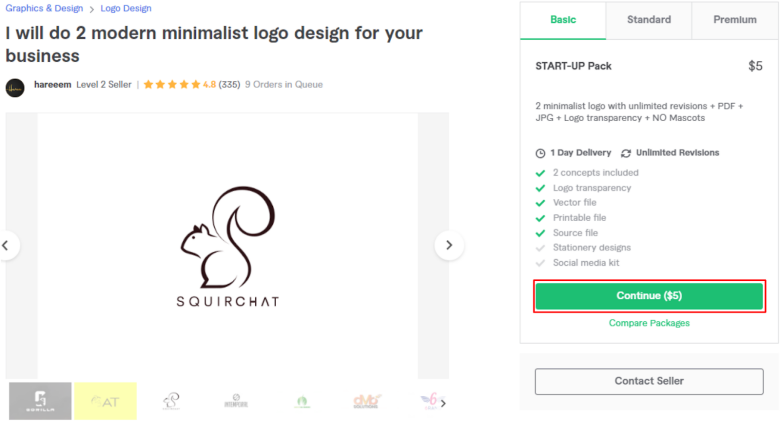 Compared to even the best logo maker online, a professionally designed logo will be far more unique and personalized to you. And like a paid logo maker,
you'll only pay when you're happy
, as Fiverr doesn't release funds until you've approved the work. It's no surprise that
we rated Fiverr so highly in our review
.
3 Best Logo Designers for Hire for $5
Fiverr has almost 200,000 logo designers available to hire
, so chances are you'll be able to find something you like. Granted, that's a lot of designs to look through! I went ahead and did the hard work for you, narrowing your options down to the best 3 logo designers – all at $5.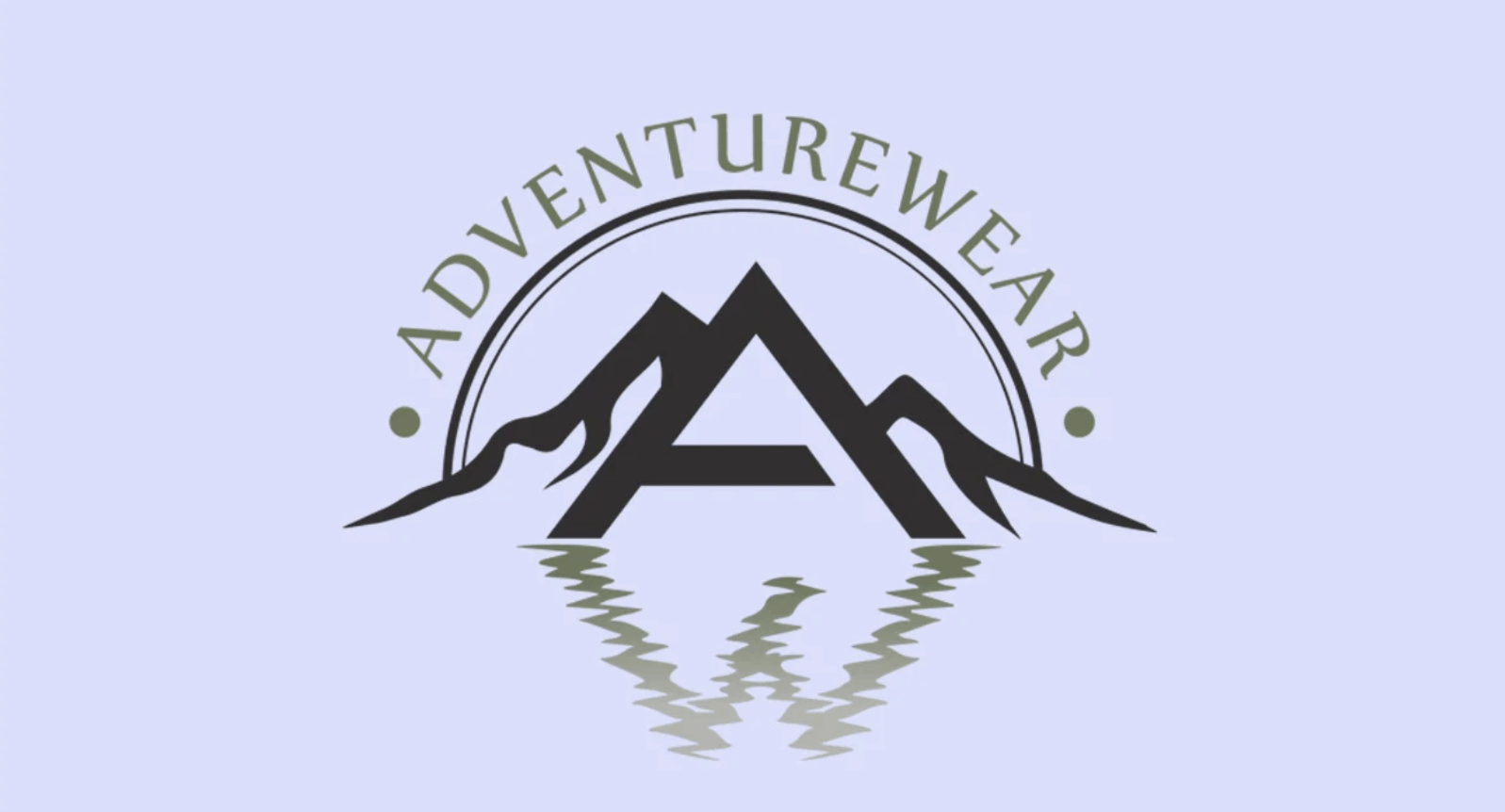 Usashi is a logo designer with 10+ years in the industry and an excellent track record for prompt communication and professionalism.
He has a wide variety of styles and can create pro minimalist logo designs for many different business types
, so he's a great choice if you're looking for a versatile freelancer.
For just $5 you also get 24-hour delivery and 3 revisions, which is very generous for the price.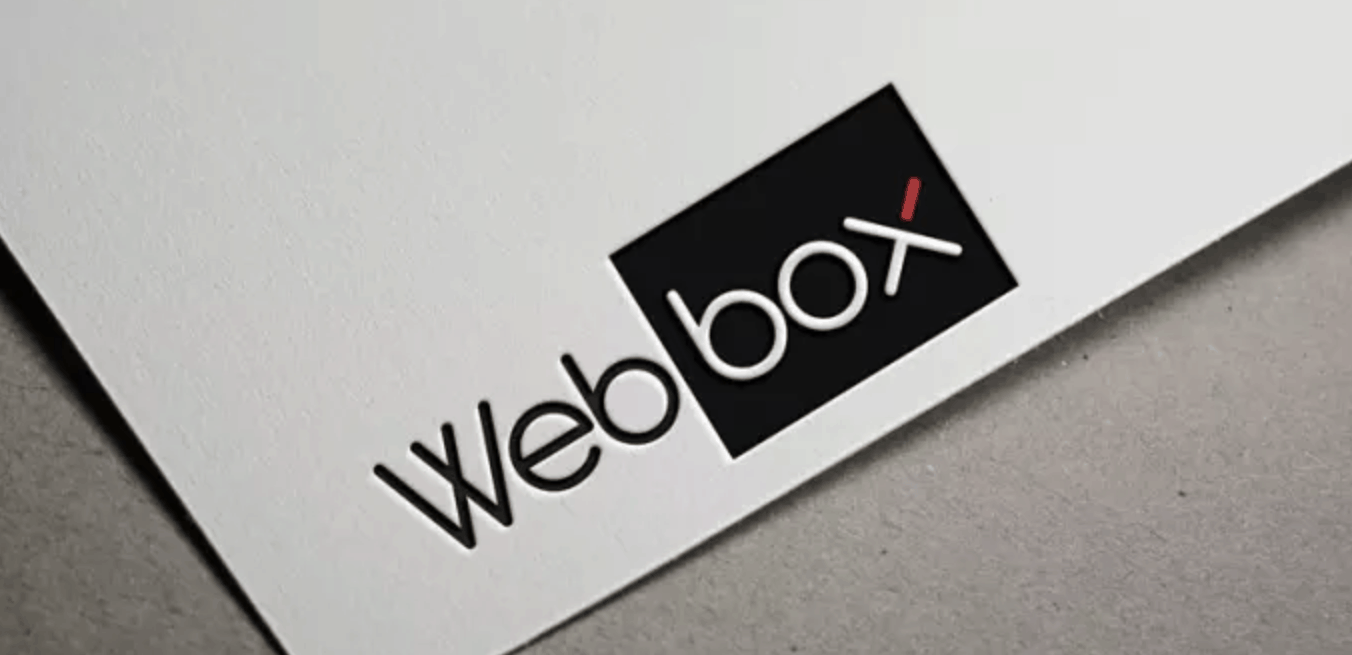 Bilal_khann makes professional logo designs that work great for modern and classy brands. He notably has many repeat buyers, which indicates he's a great long-term option if you want multiple designs by the same freelancer. 
One thing I really appreciate about Bilal's service is
you get unlimited revisions, which is rare for a $5 package
! He also works fast, delivering designs in 1-2 days.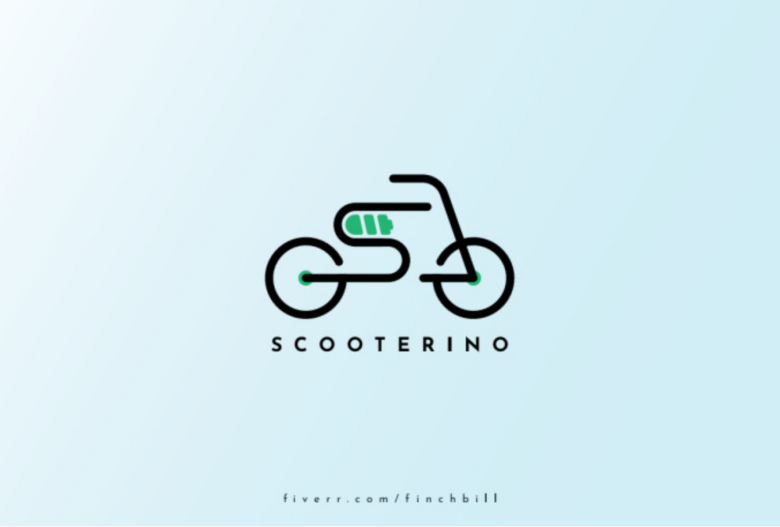 Aditi creates chic logo designs that would go great with businesses wanting a more hipster vibe. Her minimalist designs are very pleasant to look at and mesh well with current trends.
For $5 you get 2 transparent logos
, which I think is an incredible deal. 
She also provides 2-day delivery and up to 2 revisions if you're unhappy with the first draft. 
Which Logo Design Service Is the Best for YOU?
High-quality logos can be pricey, but don't let anyone convince you that you have to spend big bucks on design. Each of the tools discussed above can create a solid logo, but it all depends on what you're looking for.
If you're looking for a 100% free logo for commercial use, I'd go with Canva Logo Maker. The templates are attractive, the customizations are easy, and you can even upload your own icons.
If you want to design your own logo, then I particularly love the customization options of Wix Logo Maker

. You can make unlimited edits for free and I love that you can start over and create a new design at any time. The one-time payment is still affordable and gives you useful logo files, including transparency.

If you need a logo for your business or brand and it's important to you to have a custom design that really stands out, I recommend hiring a designer for $5 on Fiverr

. Sometimes you just need that extra professional touch.
As a quick refresher before you go, here's how these free logo makers stack up:
| | | | | |
| --- | --- | --- | --- | --- |
| | Free? | Stand-Out Feature | Biggest Limitation | |
| Wix Logo Maker | Free to try + free logo sample | Great drag-and-drop editor with creative customizations | AI-generated results can be irrelevant, so you may need to spend time customizing | |
| Looka | Free to try | Easy, one-click edits to try new colors, layouts, and shapes | You only get one PNG with the basic plan | |
| Tailor Brands | Free to try + free logo sample | Quick and simple editing process | Only subscription plans are available | |
| Canva Logo Maker | Free plan + paid plans available | Ability to upload your own files | You can only get transparent PNGs on the paid plans | |
| Fiverr Logo Design | No, but costs as little as $5 | You save time and headaches and get a custom logo that's truly unique | You might have to wait 24-48 hours to get your logo, depending on the seller | |
FAQ
Which is the best free logo maker?
Any of the logo makers listed here

will let you build a logo for free, and give you the tools to easily make something unique. My personal pick is Wix Logo Maker

. I loved the fact that the AI-powered logo maker made a unique logo just for me which I was able to customize into exactly what I wanted with just a few simple clicks. It was also a massive bonus that they offer unlimited edits for free.
Can I use a free logo on my website?
Yes, but bear in mind that when using a free tool, there will be others who have also used the same icons, images, and fonts. If you want to create something truly unique and special to you, then I recommend hiring a professional logo designer from Fiverr.
Where can I get a cheap logo?
Fiverr has over 150,000 logo designers. You can explain your vision to a professional designer and have them create a customized logo all for only $5 (which is probably less than you'd end up paying for a DIY logo designing tool). One of our experts tested three Fiverr professionals charging three very different rates, and you can see the outcome.
What are the best logo design services?
This depends on your needs – do you want a DIY tool or do you want to hire a professional? Do you have any budget constraints? We tried and tested all the logo making tools, so before you choose one, make sure you check out our list of the best logo design services.
Are paid logo makers worth it?
The biggest difference between a free logo maker and a paid logo maker comes down to three aspects: – Templates: The AI-powered logo makers don't really provide templates, but rather custom-generate logo designs, which will make your logo more unique than a free template. My favorite in this department is  Looka – check out the designs you can make with Looka here

.

– Customizations: You'll almost always get more customization options from a paid online logo maker. Wix Logo Maker especially stands out here with its diverse editing options for color, font, layout, and icons. – Usage Rights: All of the paid programs specify that you will own the rights to your logo once purchased. With the free tools, you may have to do some digging. If you have the budget, it's worthwhile to go with a paid DIY logo maker. You won't have to worry about usage rights, and you'll be able to make the finer customizations that set your logo apart. Logos fail when they're too generic, so the extra personalization can make a big difference.