Your logo is possibly the most essential element of your brand. Consumers can recognize a design after around six impressions, so it's the ideal tool for making your brand memorable. However, it takes only ten seconds for a potential customer to form an opinion of the logo, so you need it to be a good one!
Unfortunately, for small businesses, finding the money to pay for an expensive professional designer is tough. Design teams can cost upwards of four figures if you want to guarantee the quality your company deserves. The good news is that you don't have to form external contracts to ensure a top logo. In fact, even Google's newest branding was designed in-house!

Not only is it possible to design your own logo, but doing so also has some notable benefits.
Why Make Your Own Logo?
It saves a significant amount of money that can be used elsewhere. Invest in another advertising campaign, a premium website theme, dedicated web hosting, or even just more stock!
A comprehensive design collaboration takes a while. You have to go back and forth with feedback and revisions to ensure you reach a logo you're happy with. Making your own instead saves considerable time, as you can complete it in one sitting.
Your business is your vision. Handing over your branding to someone else can change the direction and perspective. Keep control of your brand personality by retaining all influence over the design elements.
The following logo makers take minutes to use and can create bespoke designs just for your company. They combine AI and editing platforms, offering helpful input while granting you total creative freedom. Plus, they're free to try — you don't have to pay until you're happy with the finished product!
1. Tailor Brands
Tailor Brands offers branding and marketing solutions for small businesses. Their free logo maker promises a unique brand identity in under five minutes. After asking several style questions, they use an intuitive AI bot to create the logo.
Pros:
Explains style choices, including color psychology
Thorough initial consultation and editing platform
Low-cost basic annual subscription
Con:
No initial color-board option
This logo maker excels in the AI element, offering many more choices than other DIY logo makers. On starting the process, I was asked for my company name and tagline, industry and any other details (although I'm unsure how they used the latter since no people see the answers).
Next, you're taken through a plethora of style choices, including the type of logo: icon, name, or initial. I opted for the first one, and was subsequently asked whether I wanted an abstract or pictorial icon, alongside several questions about font preferences. Surprisingly, there were questions about color, which is an important style element.
Once completed, the logo was automatically generated in a matter of seconds. Here's the finished product:
I was particularly impressed that the "abstract shape" seemed to be based on a planet — more points for their AI bot. I was also given an explanation of the choices made:
"Your logo has a trendy and stylish flare, which stands out from the crowd. We matched the design with cheerful orange for some physical comfort."
If you're unhappy with your design, you next have the option to customize any of the elements. You can change the fonts or the icon, although there aren't too many options. However, I was impressed by the color editing tool, which suggested palettes that would work with the design.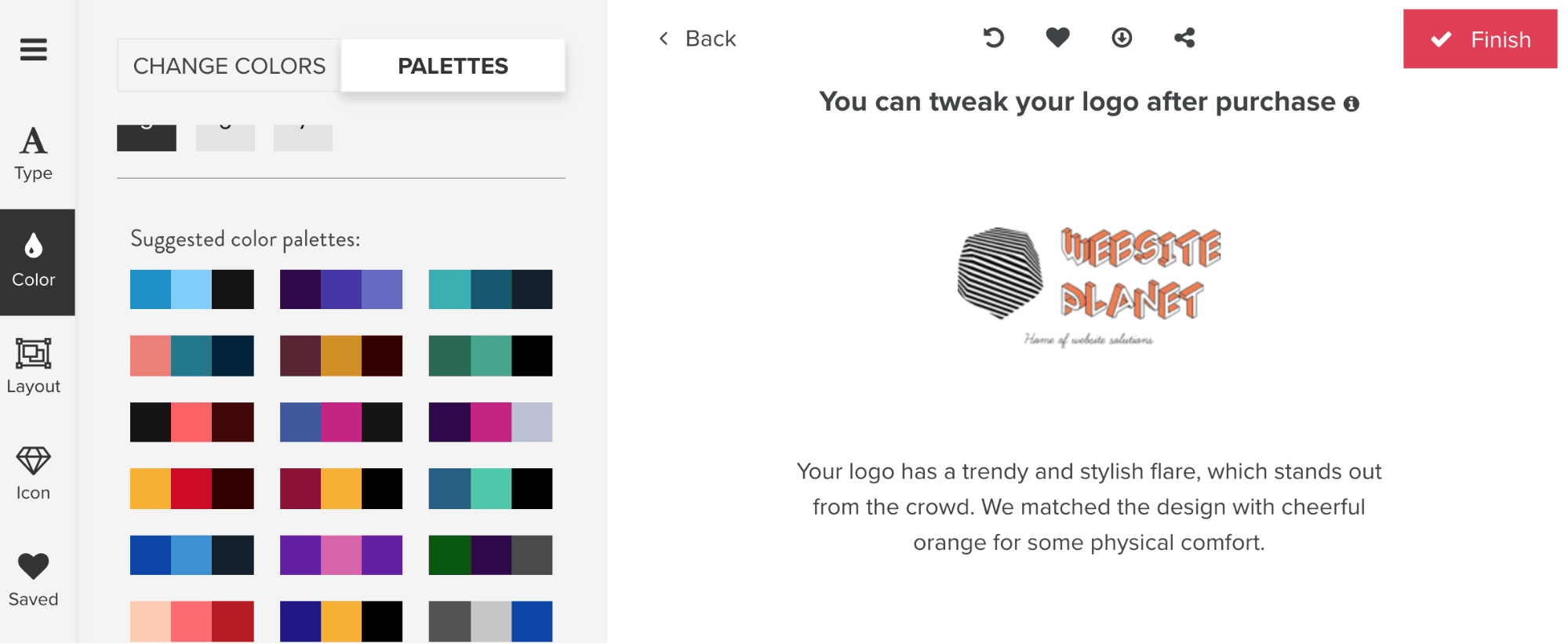 To purchase your logo, Tailor Brands requires an annual subscription. However, the cheapest option is very affordable, and you can cancel anytime and still retain the logo rights.
2. Logo Maker
Logo Maker claims to be the best logo company worldwide, trusted by over ten million businesses. They offer a simple template-based system, which requires only a few facts to begin the process. All their designs are highly customizable, and the editor is easy to use.
Pros:
Remembers your color palette for quick edits
Incredibly easy to use
Intuitive editing software
Con:
Of all the logo makers, this option is the easiest and quickest to use. It takes a matter of seconds to input your basic business info: industry, name, tagline, and purpose. Then you're transported to a catalog of hundreds of templates.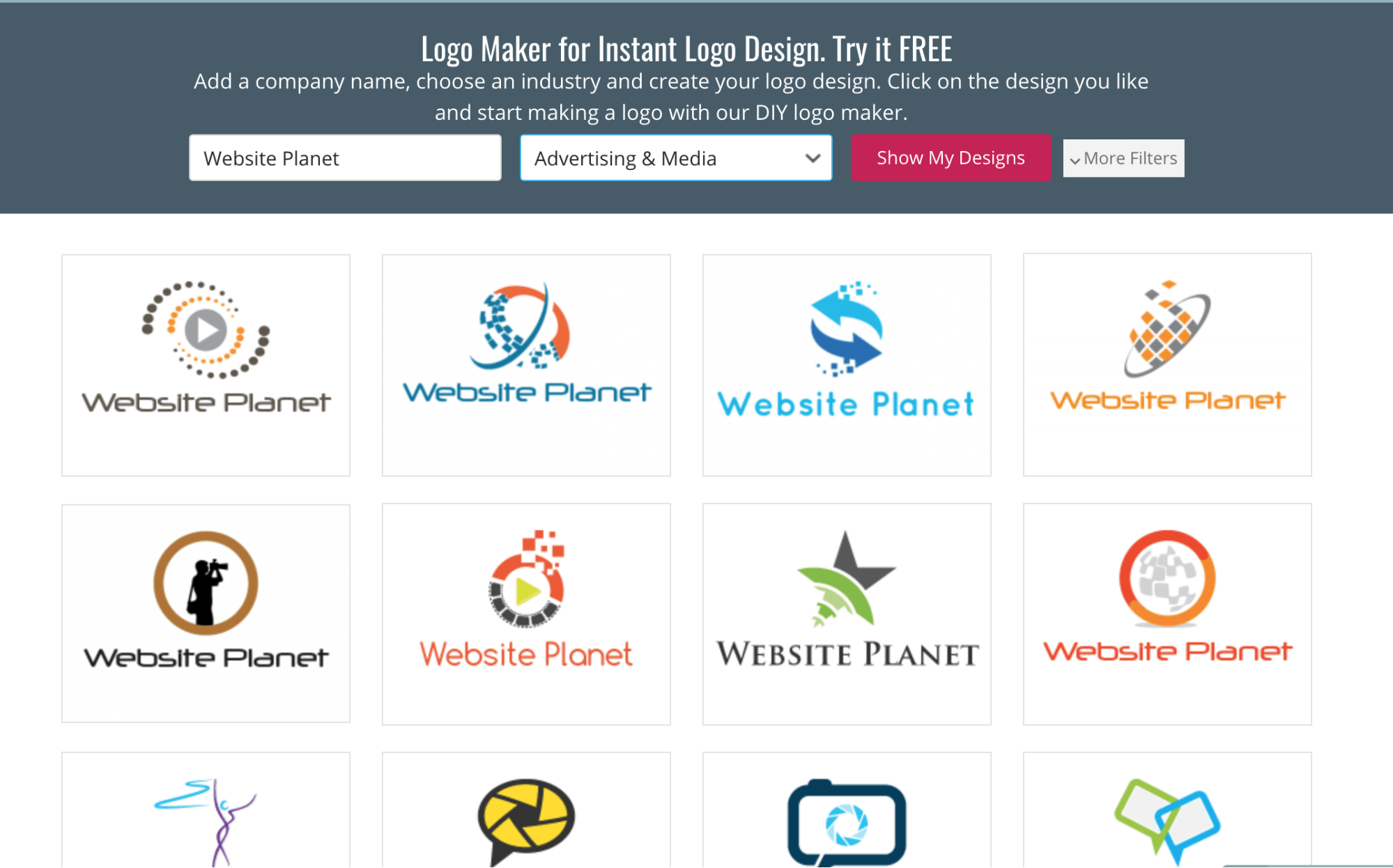 It was nice to have many options, but it became slightly overwhelming to have to scroll through the myriad webpages. Fortunately, you can use keywords to search the template directory if you have a particular icon or style in mind.
After deciding on an option, you're transferred to the editing platform. This step allows you to customize all elements of the design. It was easy to adjust the font, size, layout, and color. The editor keeps track of the colors you use so that you can experiment without having to worry about finding the exact shades again.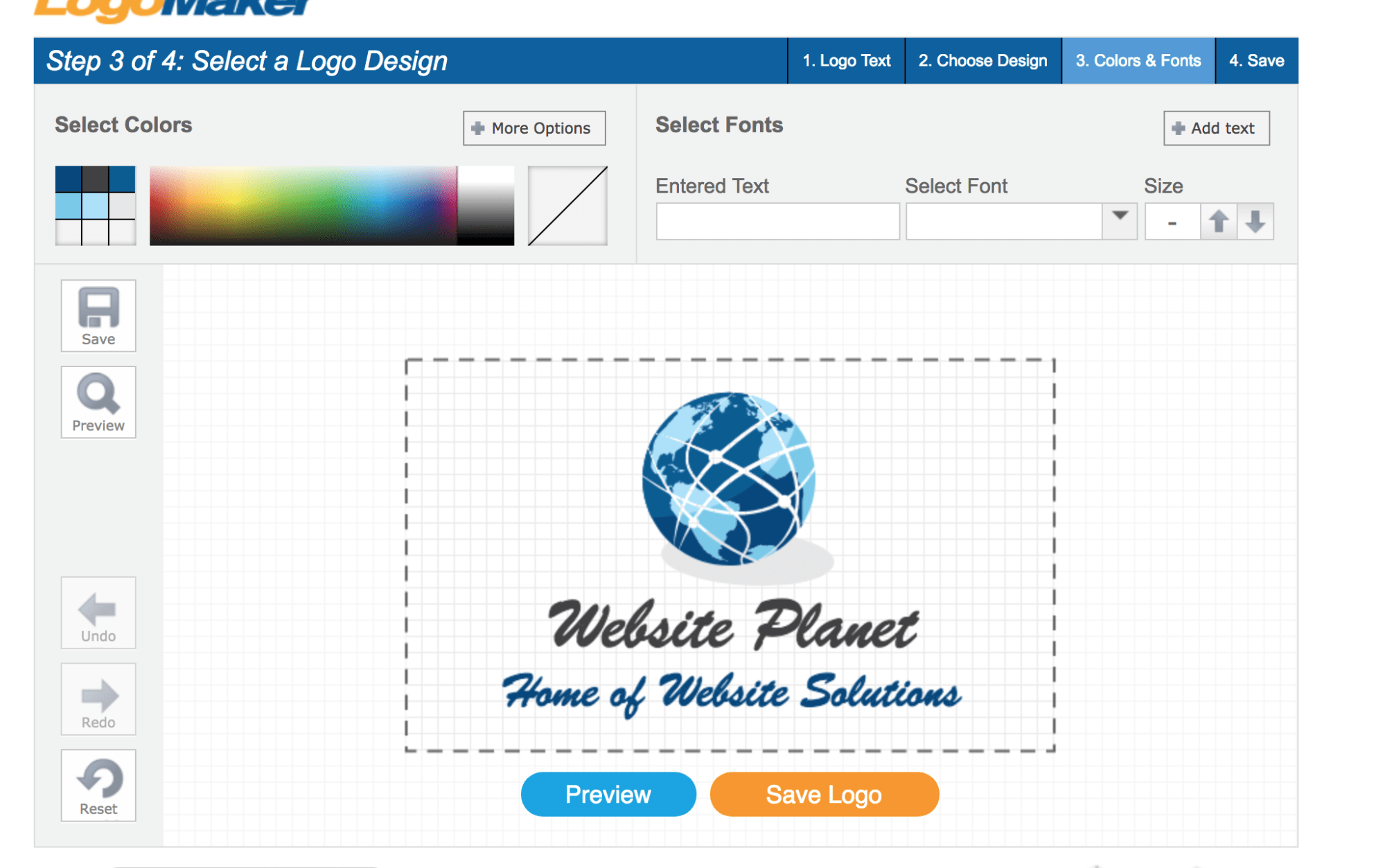 Once you're happy with your design, you can preview it without the editing guidelines before confirming the purchase. You're required to pay a one-off fee, which is reasonably priced compared with the cost of other vendors. With that payment, you receive high-quality copies in several image formats, vector files, and even a free website domain.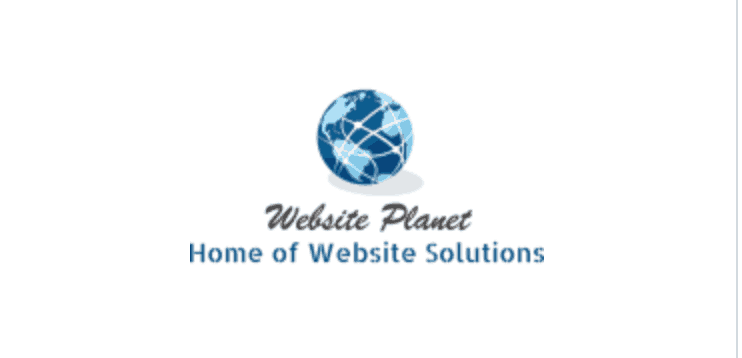 Overall, Logo Maker's platform is simple yet effective, and it gets the job done in minutes. The only downside was that the templates seemed quite generic, whereas other companies aim to target your specific brand personality.
3. Looka
Looka recently updated their services to offer a seamless logo maker based on AI and machine learning. It promises quick, intuitive results, with hundreds of options you can choose from. You also have the opportunity to customize the design once it's generated. 
Pros:
Quick consultation process
Offers insight into the impact of your choices
High level of user input
Con:
Didn't adhere to chosen preferences
Immediately, it's evident that Looka offers customers an integral role in the design process. After filling out the necessary information, which included my industry and company name, I was asked to pick five or more logos that I liked. The designs were all apparently created on the platform, and endless choices existed. The chosen options were used as the inspiration for my design.
Next, you choose three colors that you like. I really appreciated the fact that the choices came with insights into the color psychology. I chose blue (for stability and trust), purple (for wisdom and creativity), and yellow (for happiness and intellect). You're also required to select five icons from a vast, searchable database.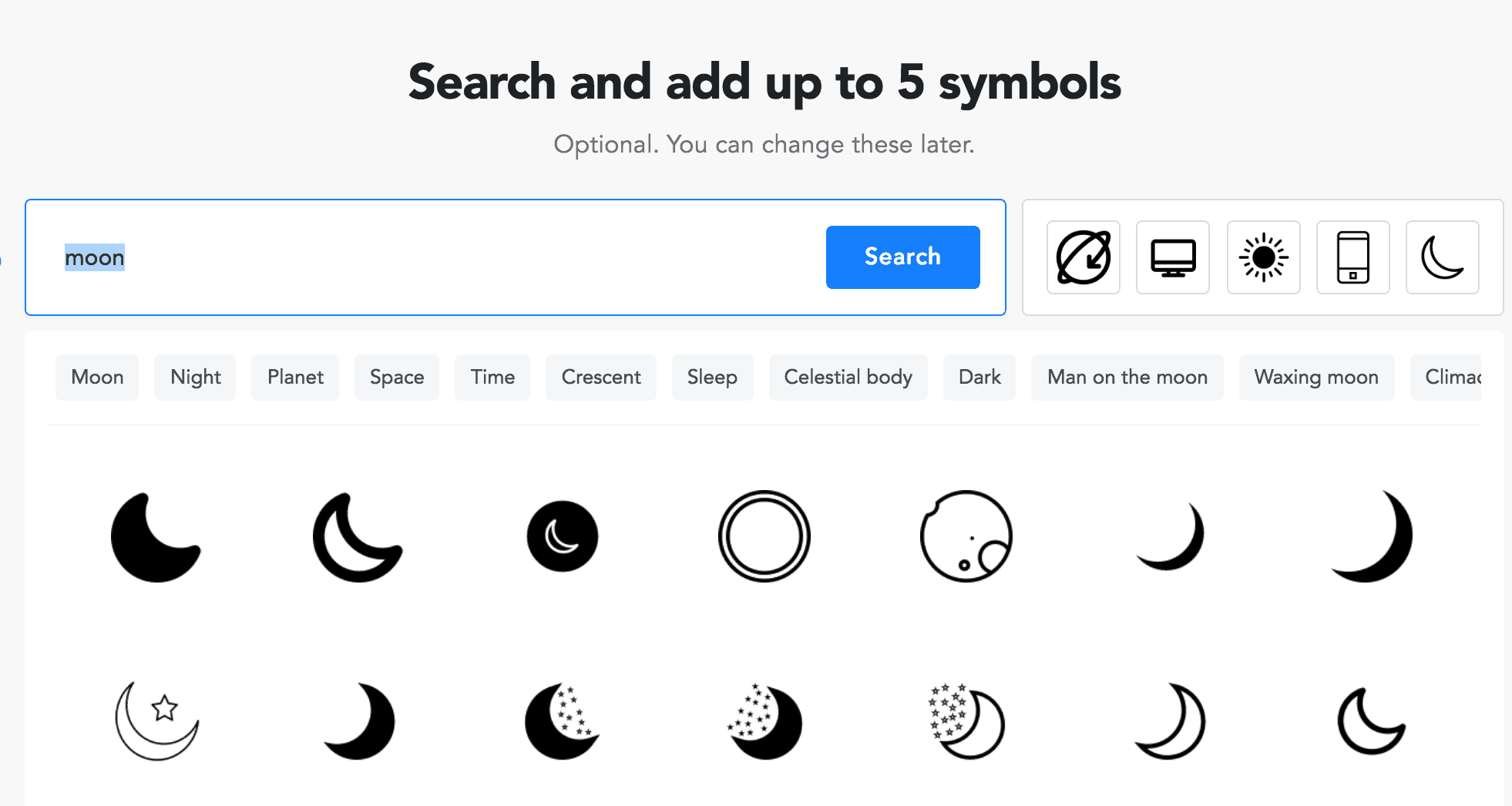 Once completed, the platform automatically generates numerous logo options. The results are quick and definitely more bespoke than those by other generators. However, my first impression was that my chosen color scheme was nowhere to be seen!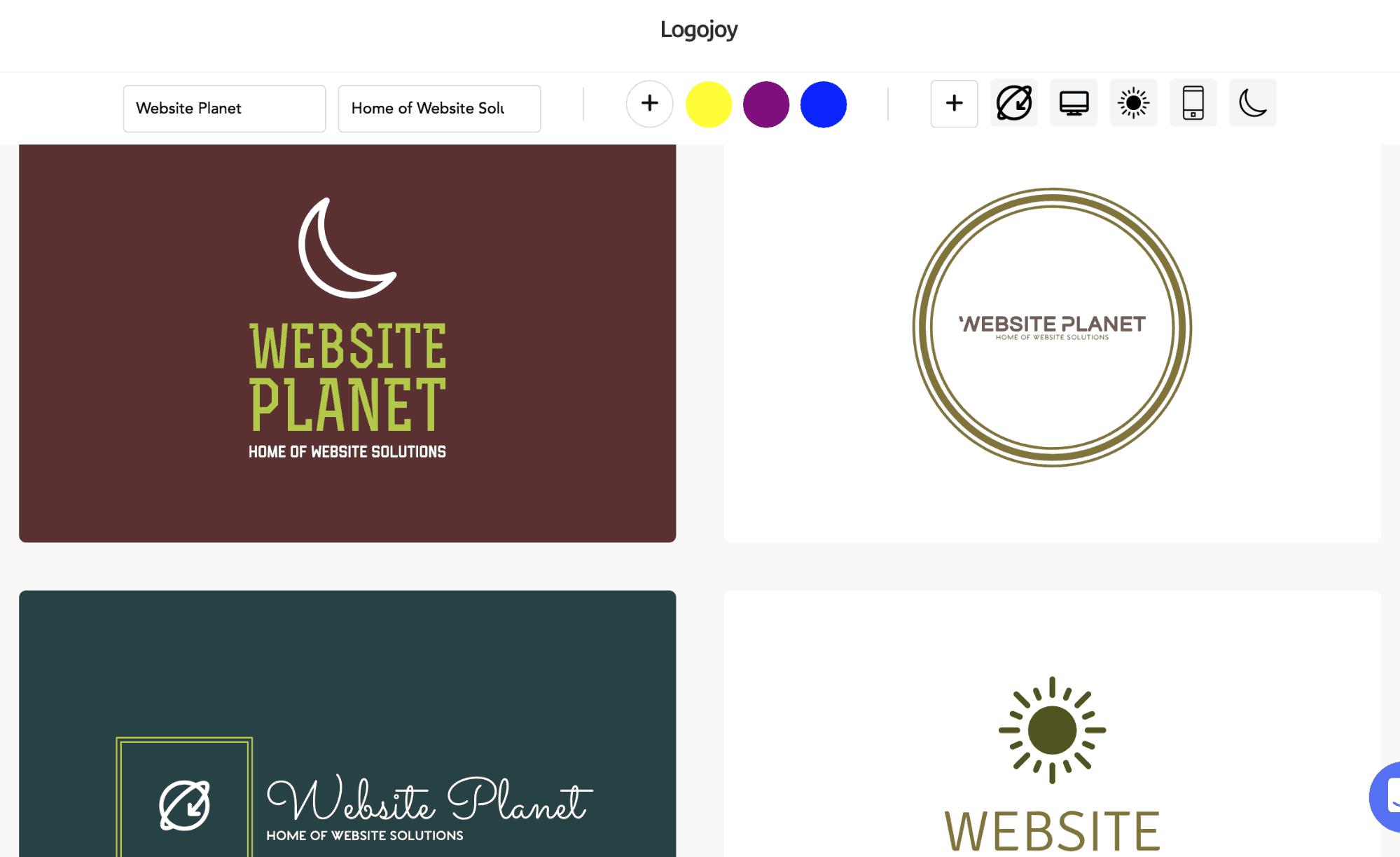 Fortunately, Looka also offers a comprehensive editor, where you can edit font, colors, background, and container options. It's straightforward to use and provides numerous extra design elements.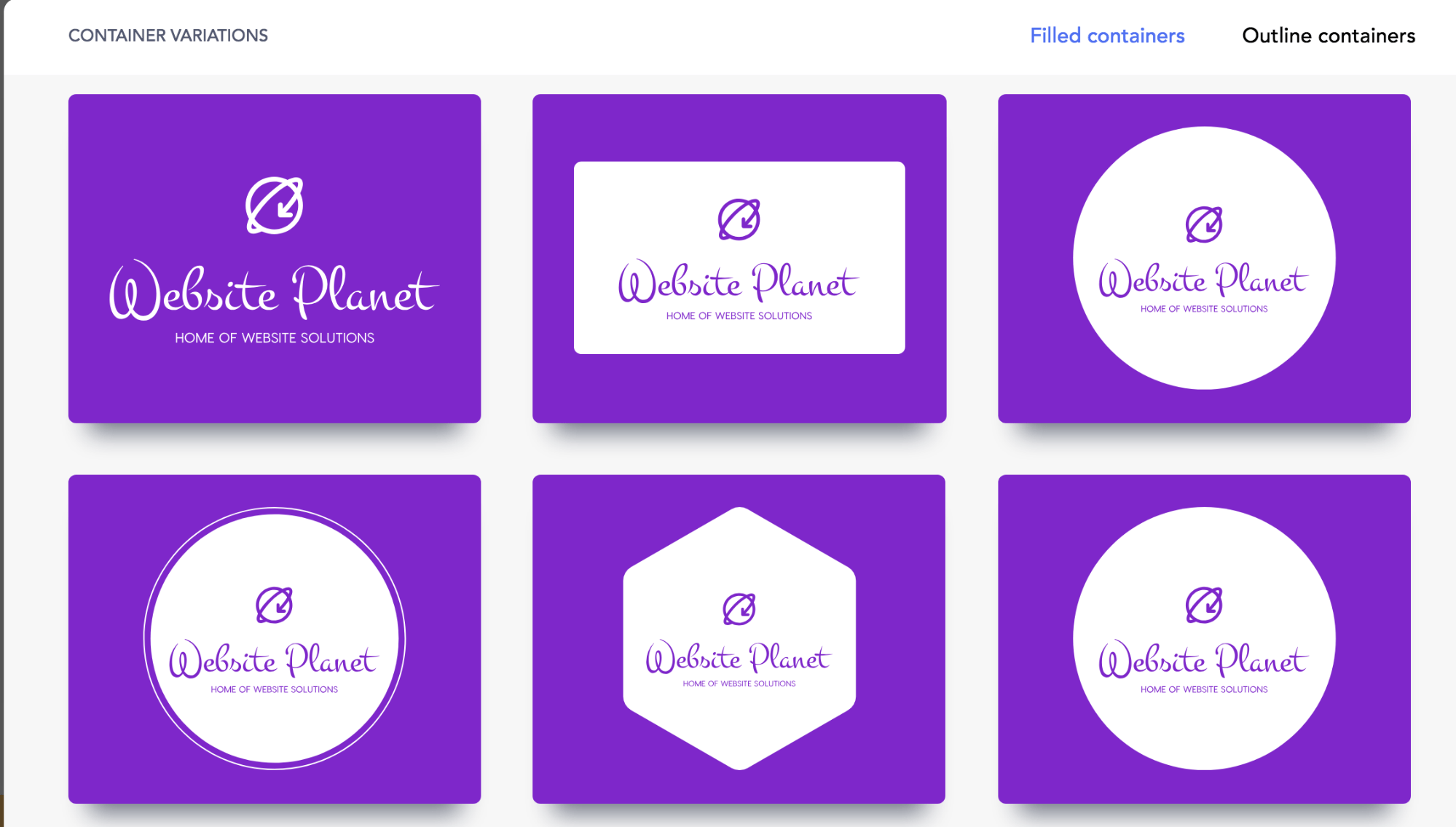 Looka requires a one-off final payment once you're happy with the result. The basic package is on the pricier side, especially considering that it provides only a single, non-transparent image file. However, you can upgrade to a premium plan if you want a full branding package with multiple formats, styles, and sizes.
4. DesignMantic
DesignMantic brand themselves as the "one stop graphic design shop." They offer comprehensive design services that provide quick and simple online solutions. Their logo maker is free to try and takes only seconds to use.
Pros:
Over 100 logo design options
Experienced design company
Fast and easy
Con:
Limited Personalization Options
Of all the options I tested, DesignMantic had the fastest results. Once you visit the logo maker, all you have to do is input your company name and the industry you work in. I was surprised to see that this platform included less digital industry options than others I'd tested. As soon as you fill in this information, hundreds of designs are automatically created for you.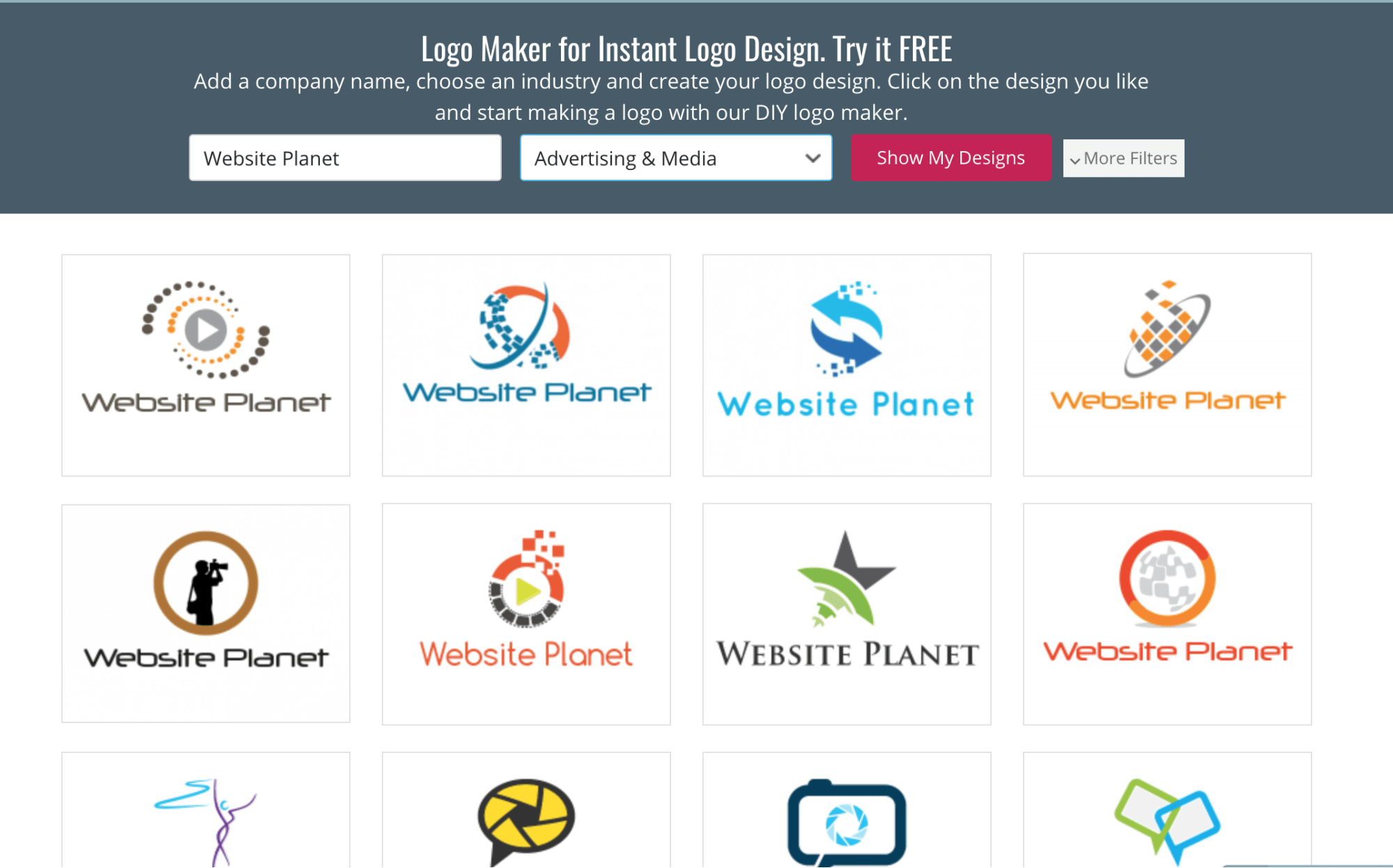 While I appreciated having so many options to choose from, it was notably obvious that the logo templates were generic. Several of the icons had nothing to do with the business I entered, and no opportunity existed to further specify certain elements. However, DesignMantic does offer an editing platform, so you can add a personal flare once you've picked your favorite.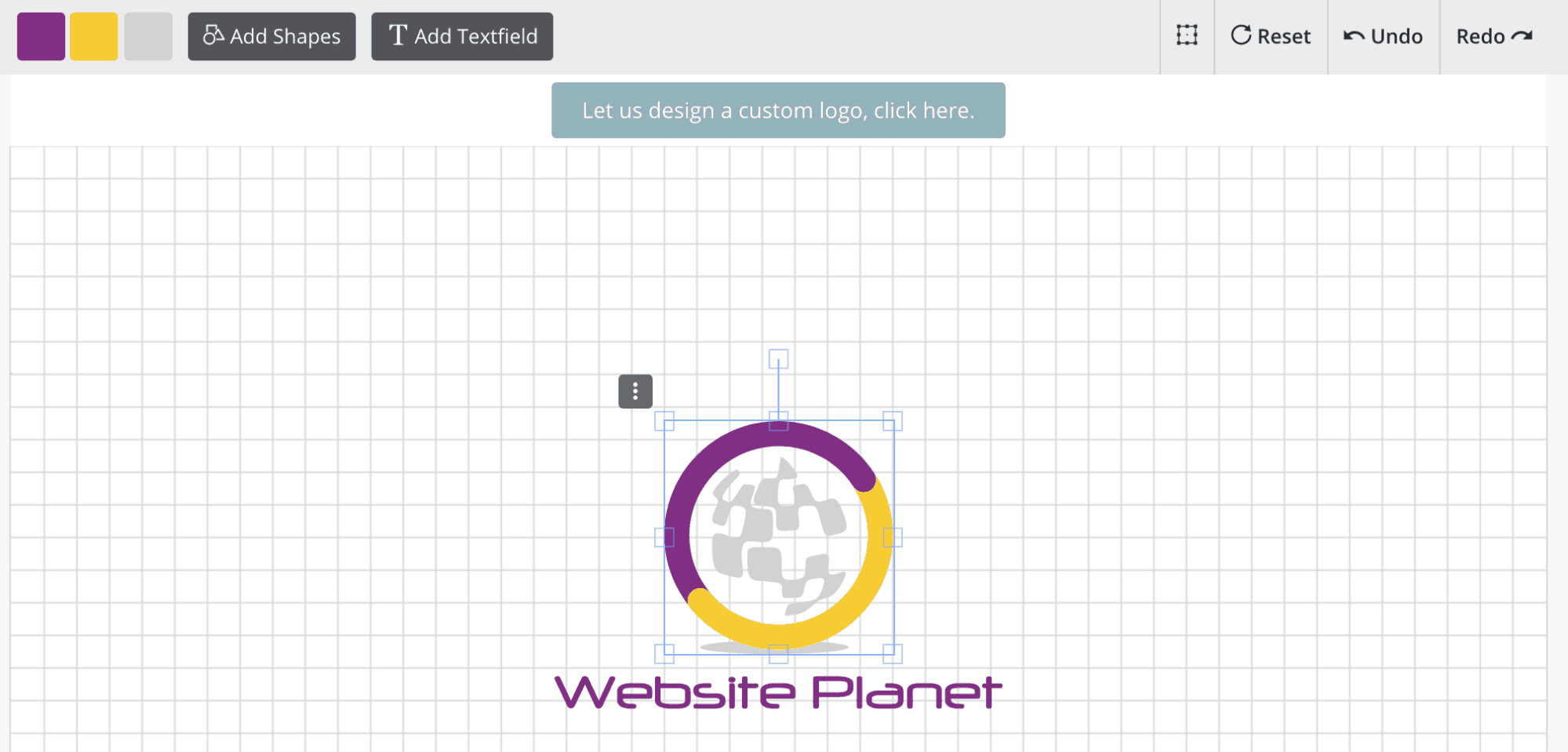 You adjust color, fonts, and layout. That's pretty standard, but the platform also lets you add more text and shape elements. Many free logo makers don't offer these additional features. The editor also suggests color palettes and saves your recently used colors so you can experiment with ease. It also provides a preview of your logo on different platforms.

DesignMantic's pricing is steep, considering how little input the platform actually has. You pay one base fee, then add additional charges for high-resolution images. If you want to add a website as well, it's free for the first month, but requires an ongoing fee after that.
5. GraphicSprings
GraphicSprings offers an easy design solution that boasts bespoke branding elements, made in minutes. They provide numerous services, all dedicated to creating a cohesive online persona for your company. Their logo maker is free to use and supports you throughout the design process.
Pros:
Helpful hints throughout the process
Choose your logo icon
High customizability
Con:
GraphicSprings is incredibly simple, but allows you to create a unique final product that communicates your brand identity. The platform asks for your company name, and then requires you to choose an image. You can browse through their numerous categories of royalty-free images, or search a specific keyword if you know the icon you want. I opted to find a planet pictorial to parallel the "planet" in the company name I inputted.
From these simple preferences, the generator creates a logo template for you to work from. A particular highlight was that GraphicSprings offer pop-up tutorials throughout the process, sharing their expertise on how to use the platform.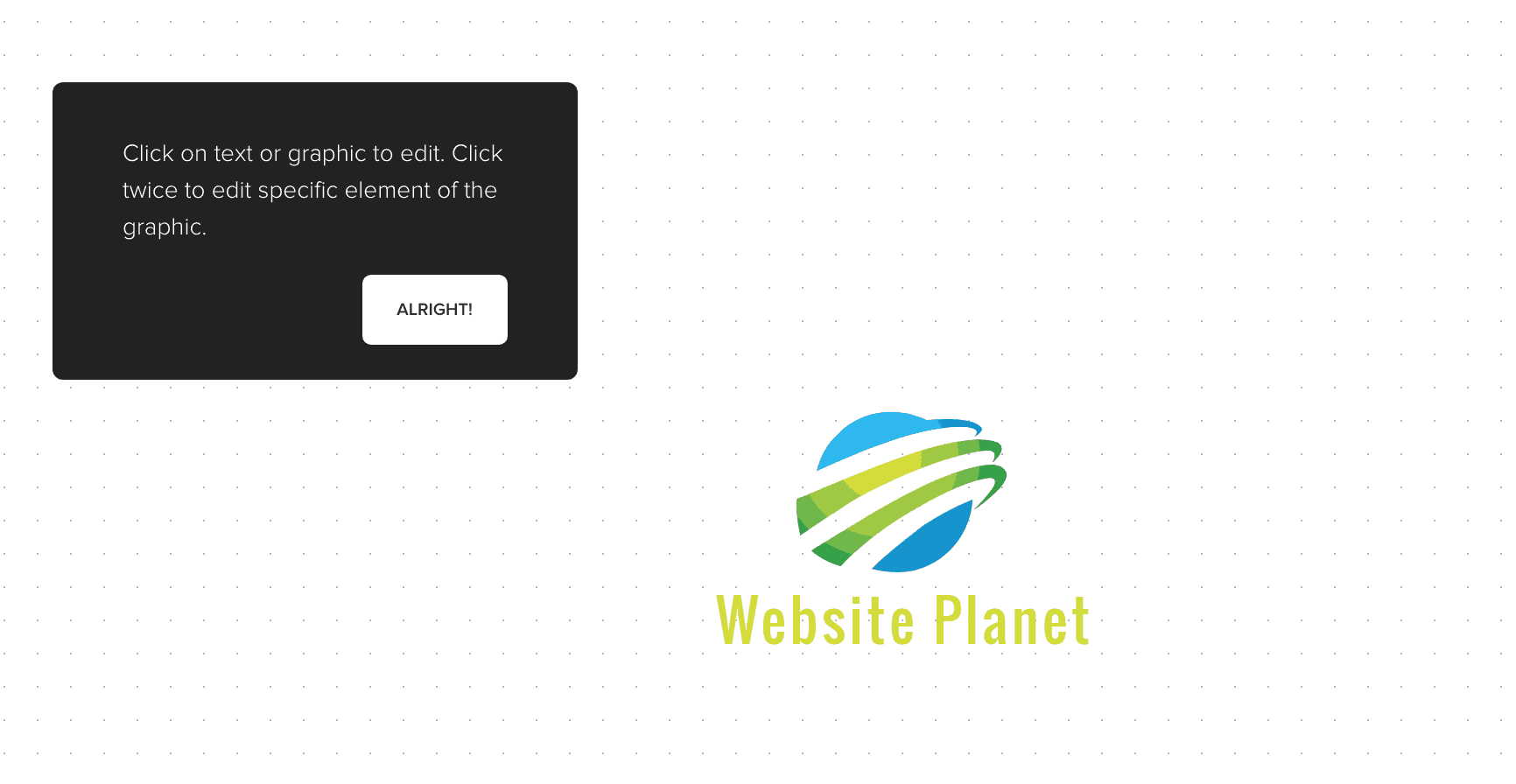 Once the logo is created, you have the option to edit all the elements. You can adjust the font, color, size, etc. However, it also offers more advanced features, including color gradients, and additional shapes and borders. Unfortunately, some of these tools just didn't seem to work. I attempted to put a gradient across the logo, but the editor always reverted to one single blocked color.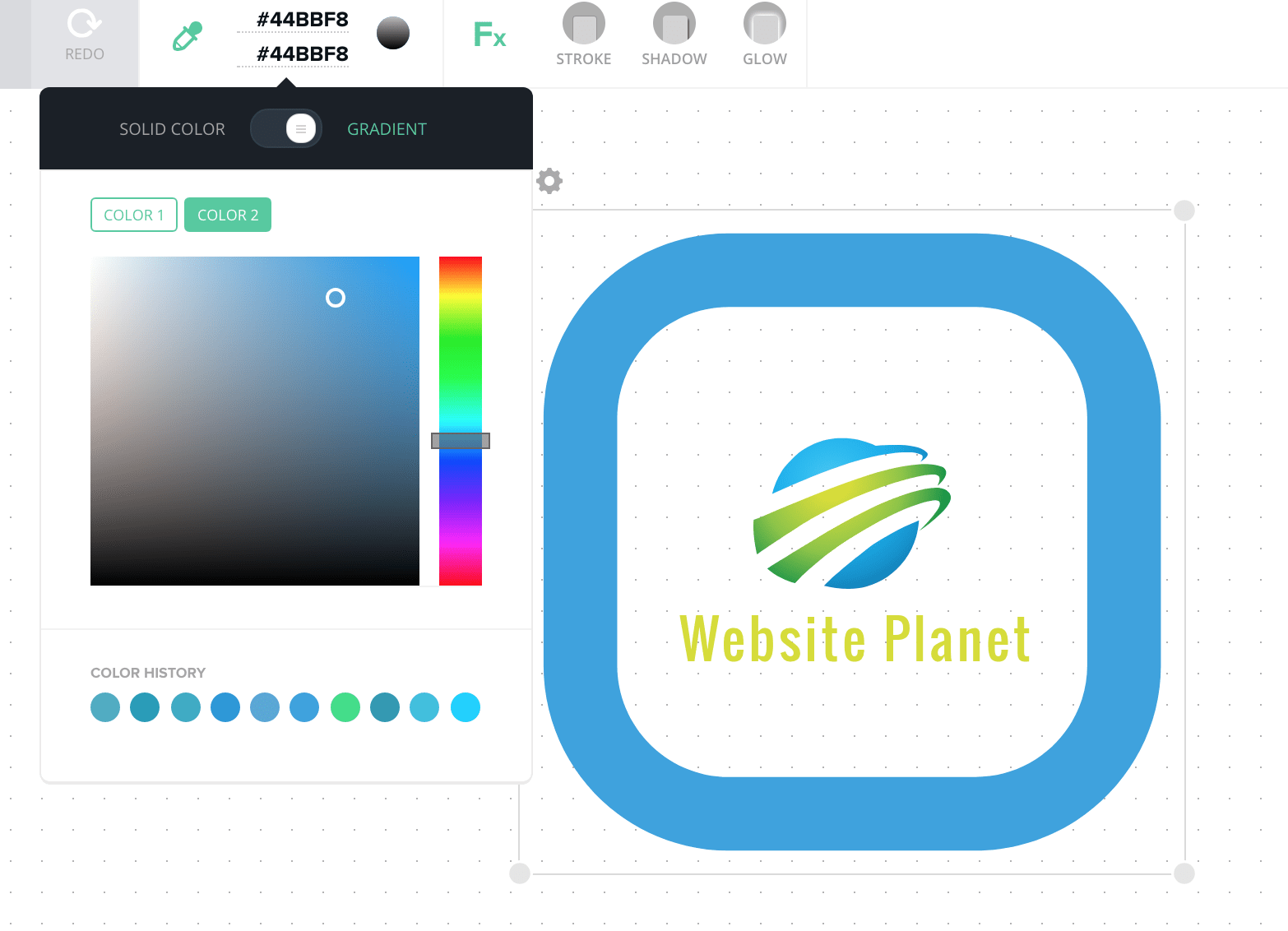 I did appreciate the fact that you could preview your logo on a number of platforms, including computer screens, T-shirts, stationary, etc. Once you're happy, the logo requires a one-off payment. You can opt for the budget plan, which offers one high-quality JPEG. Or, you can upgrade to a pricier plan for a wider variety of options, including a vector file.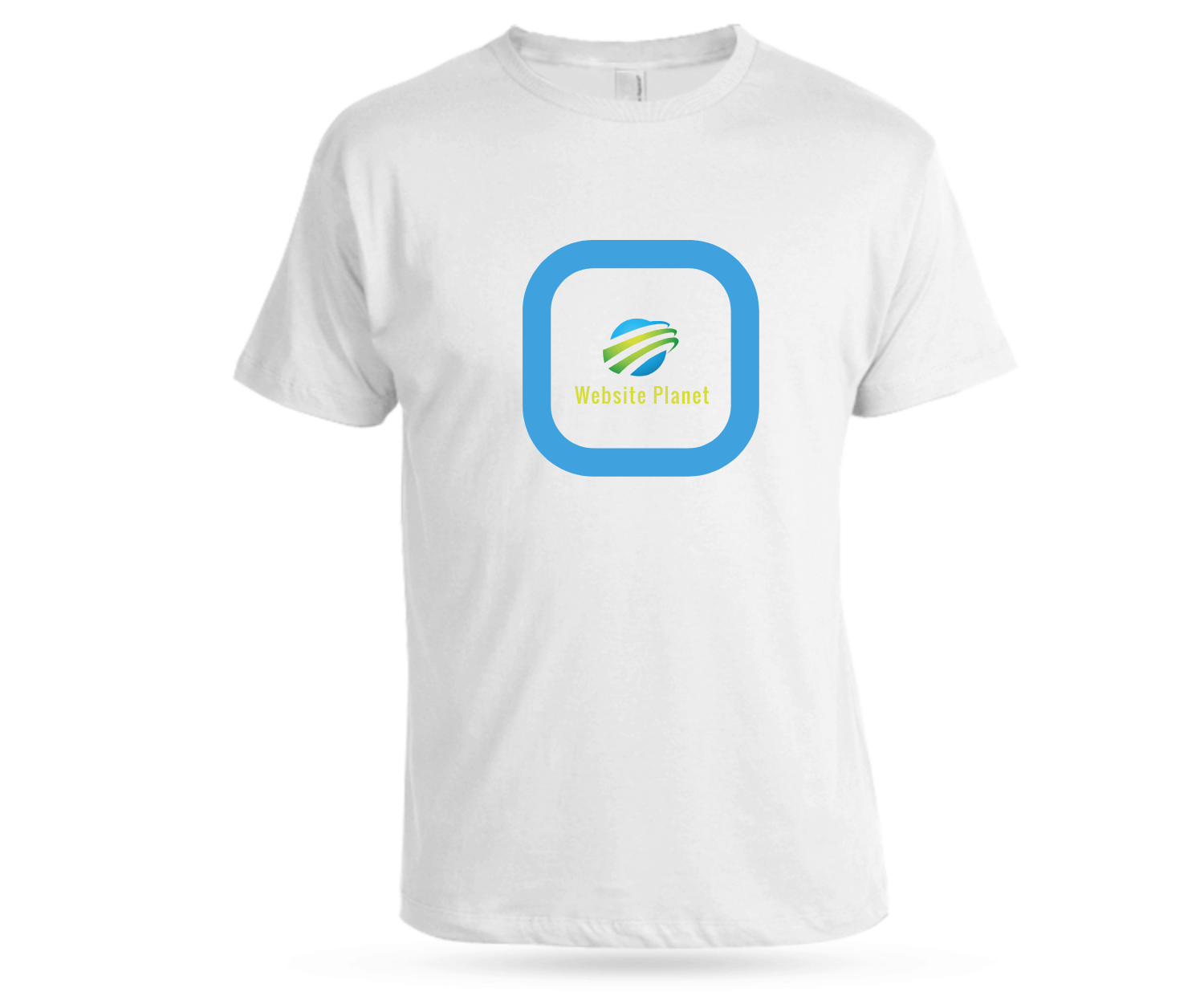 When I went to pay, I wasn't impressed by the scare tactics used. Apparently, three other users were looking at my graphic, so the website prompted me to act fast. Several hours later, nothing had changed, so I highly doubt the legitimacy of the claim!
High-Quality Logos Don't Have To Be Expensive
Small businesses have to be tighter than most when it comes to budget. Ensuring that you're investing your money in the most worthwhile places is the key to success. Although having a logo professionally designed is sometimes a necessary expense, often you can achieve equally good results from a DIY logo maker.

These five options are all low-cost and easy to use, and they promise to help you create a logo you can be proud of!
---
Logo-impression stats: https://www.crowdspring.com/blog/successful-branding-for-entrepreneurs-statistics/