Keep reading to find out where you can get a professional logo design for only $5.
---
9 Best Podcast Logos
One of my colleagues tested out the top logo design services, scoring each service based on performance. His results were pretty eye-opening! Head over to his
comprehensive logo design services review
 to find the detailed breakdown.
How to Get a Pro Design for $5
Hiring a professional logo designer for just $5 isn't a gimmick and there's no catch, even though it seems insanely cheap. You really can get your podcast logo created at this low price, or close to it. You may have enough loose change in your pockets right now to hire a professional designer! Until I discovered Fiverr, I wasn't convinced that anything created by a true professional could cost so little. But Fiverr has changed the market by providing a platform for freelance designers to sell their services from just $5. Design packages
can
 increase past this initial price point, but many experienced designers keep the costs of their basic package low to remain competitive. If you'd like to see what I'm talking about first-hand,
head to the Fiverr homepage
. Type "podcast logo" into the search bar to bring up relevant designers. Each designer that appears will have a package tailored to podcasters looking for a new logo. You can scroll through the results until you find a profile you're interested in.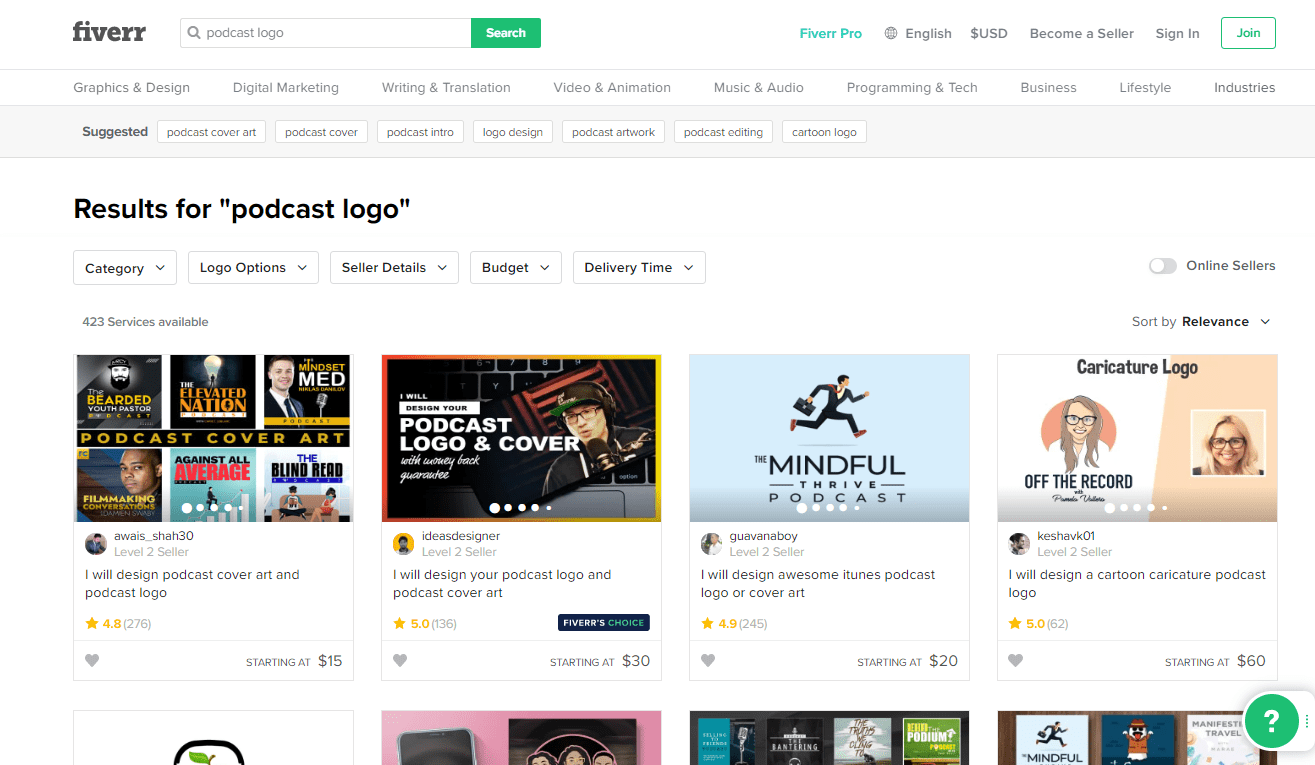 You can browse some of the designs on the results page, but once you've clicked on a profile, you'll be taken to its full view. The designer's portfolio will give you a good idea of their design style, and the customer reviews will help you determine how efficiently they work. When you're ready to hire the designer, click
Continue
 to move on.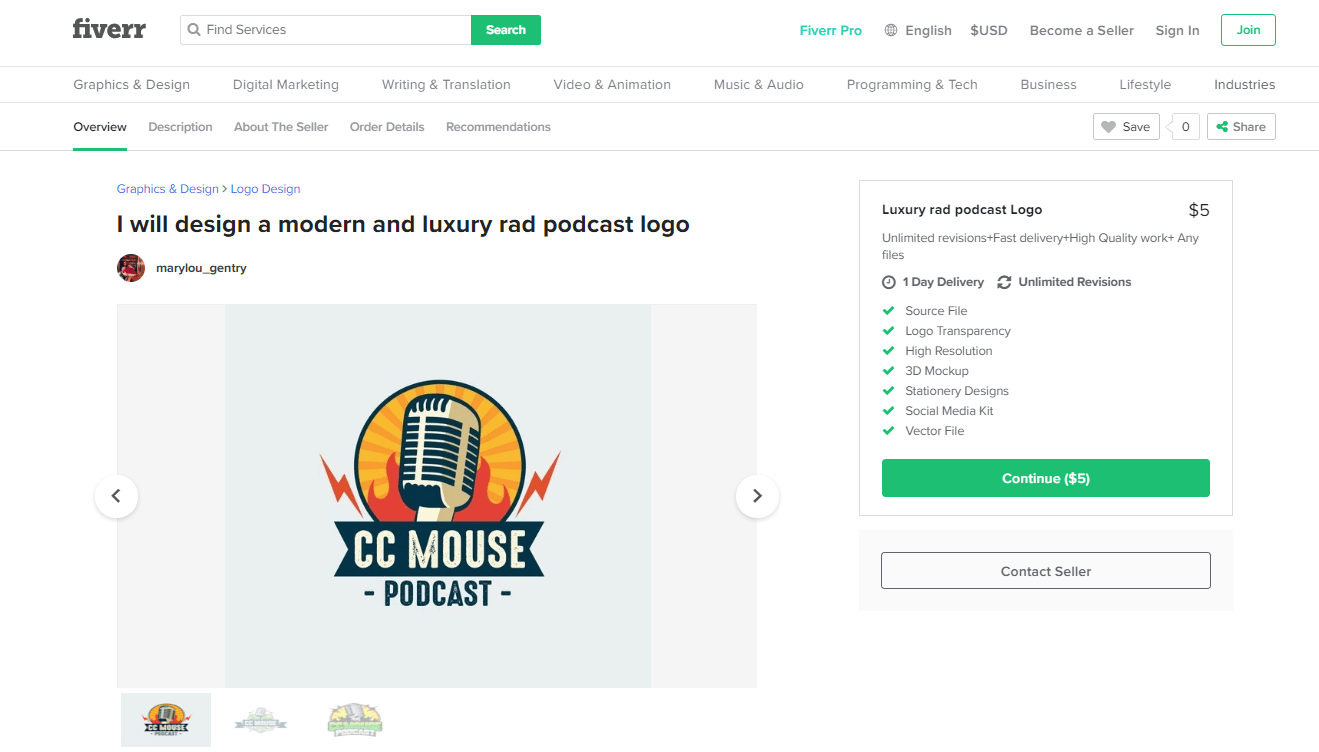 This will take you to the payment preview page where you'll find a clear overview of the services and costs. Review all the information to ensure you're satisfied, then click
Order Now
to make things official. Enter your payment information and submit your design instructions, and your designer will get started on your logo.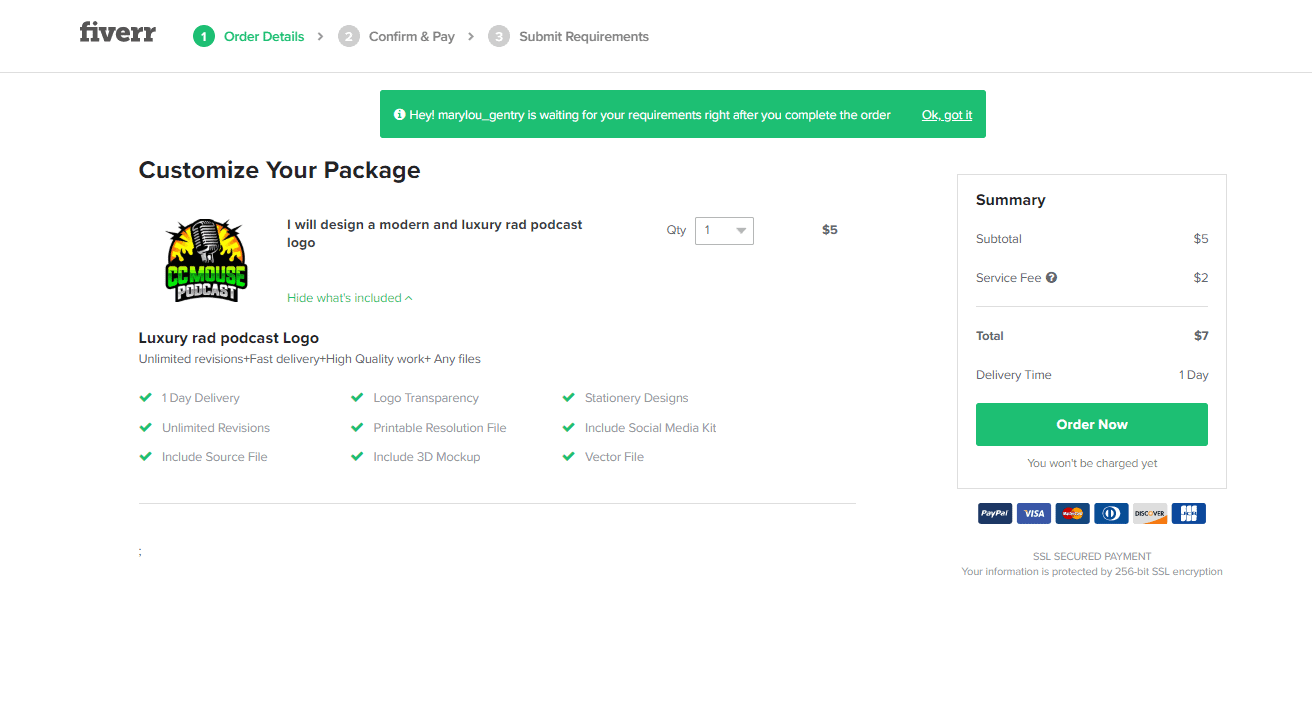 In just a few days, your new logo will be delivered to you! Here are a few more great Fiverr features:
Handy search filters – There are thousands of designers on Fiverr so sift through the results using filters like budget, logo style, delivery time, and file format.
Customizable design packages – Some designers offer add-ons to their design packages for a small fee. This is a great way to tailor individual packages, and you can add things like 3D mockups, stationery design, and business card design.
Seller levels – Each designer is placed into a level based on their customer reviews and the amount of work they've completed on-site. You can opt for a higher level seller to guarantee a more experienced designer.
No unexpected costs – Since your payment is made upfront, a designer can never overcharge you or add fees after they've been hired.
Interested in finding a freelancer? Check out our
full Fiverr review
for more tips on hiring designers.
How to Use a DIY Logo Maker to Create Your Logo
Plenty of creative types prefer to make their own logo, but be warned – you'll need some time and artistic talent. You don't want an amateurish final product that reflects badly on your podcast. That doesn't mean you need to pay big bucks for design software. Online logo makers are useful tools and they're free to use (you'll only pay for the downloads at the end). My logo maker recommendation is always Wix Logo Maker. Other logo makers have great elements, but this one combines them all, plus it's so easy to use. The secret to Wix Logo Maker is its impressive artificial intelligence (AI) technology that compiles logo suggestions tailored to your preferences. Want to check it out? You can
head to the Wix Logo Maker homepage
 to begin. In the first step, create a profile and enter your company details.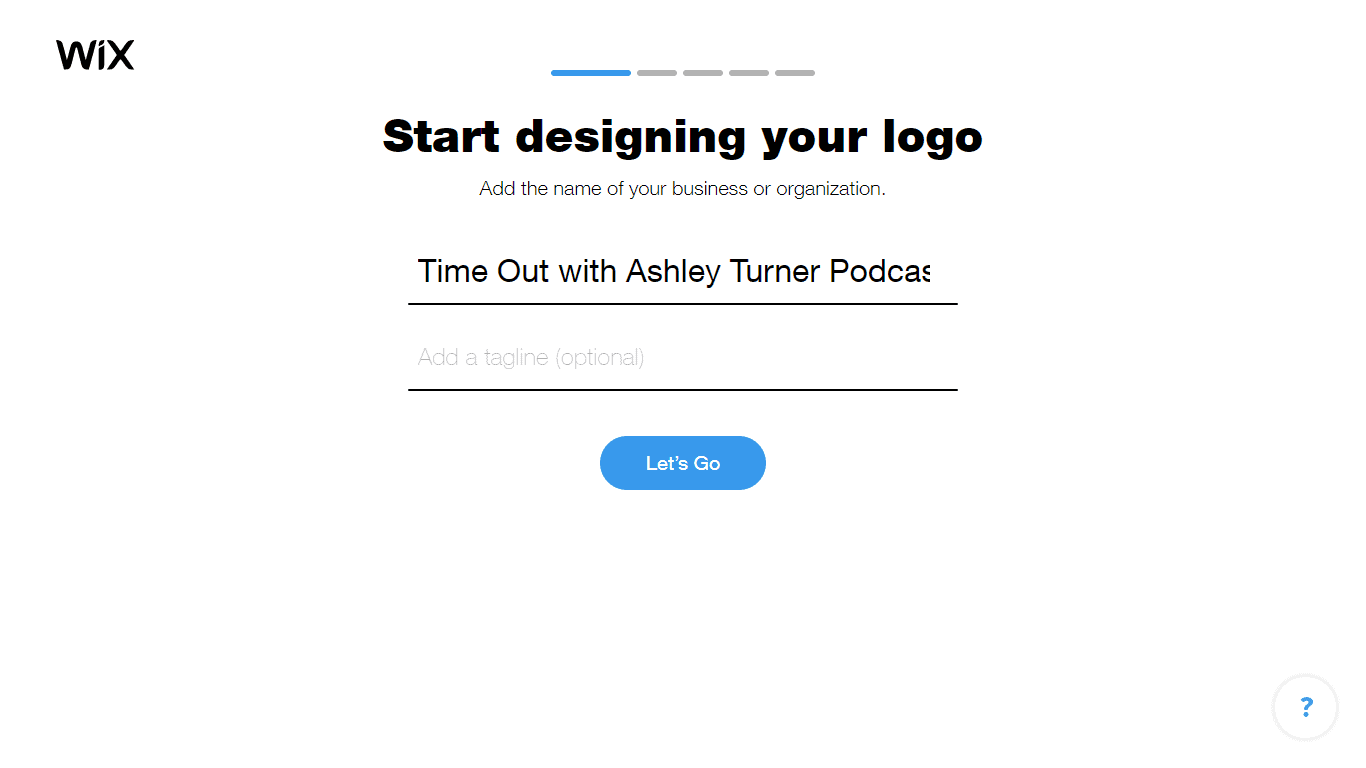 Next, search your industry and choose from the dropdown menu – there's an option for podcasts.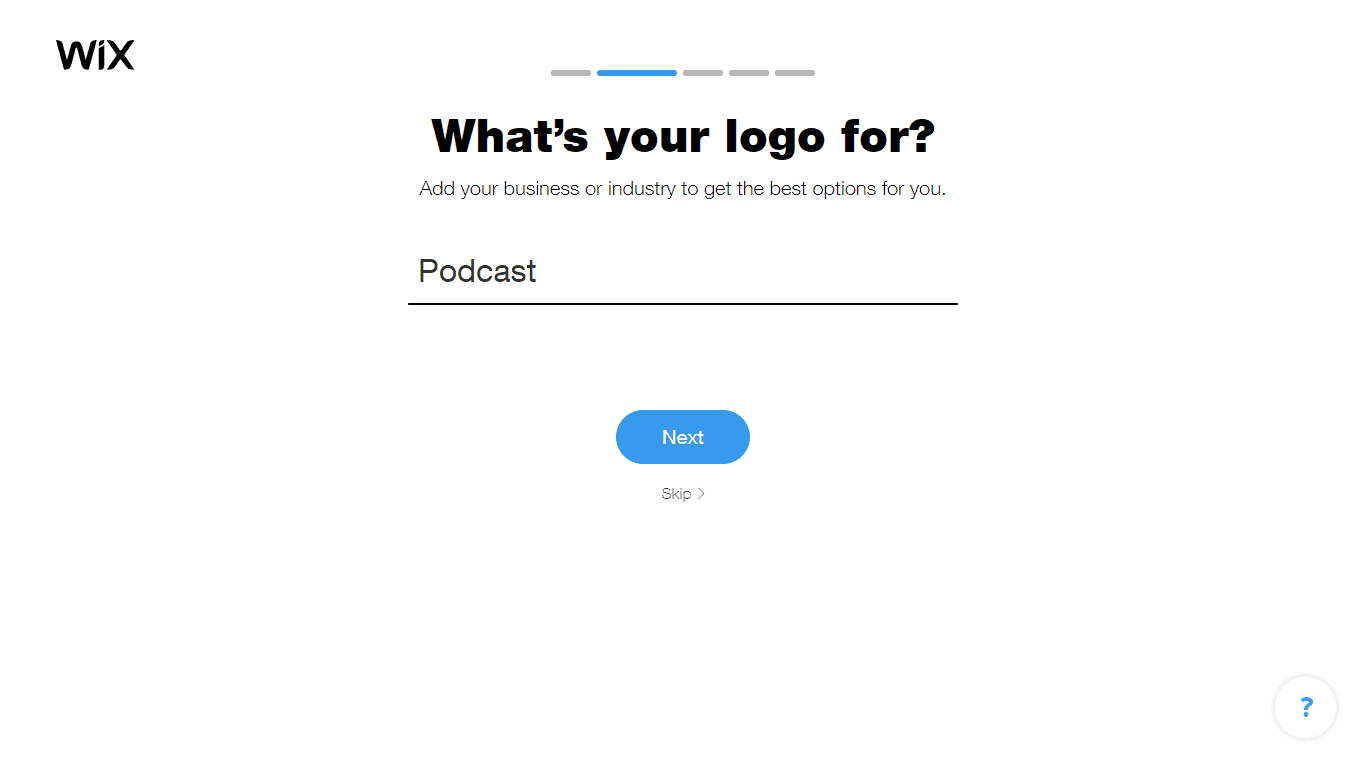 A group of adjectives will appear next. Select the words that describe the look and feel of your final logo design. This really depends on your creative vision, but a good tip is to think about how you'd describe your podcast and your audience.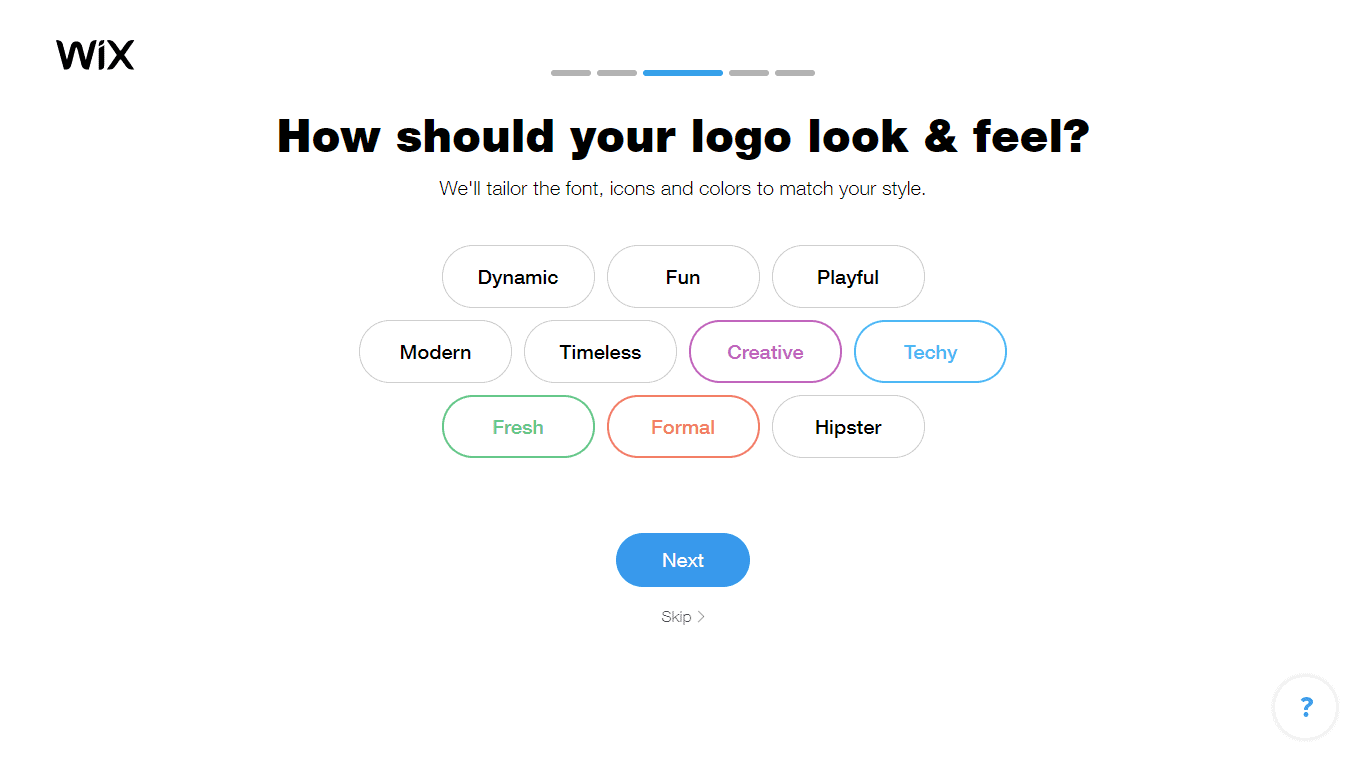 You'll be shown a sequence of logo pairs next. This helps the AI determine your style preferences. Select the logo in the pair that you like best or click
I don't like either of them
 to move on.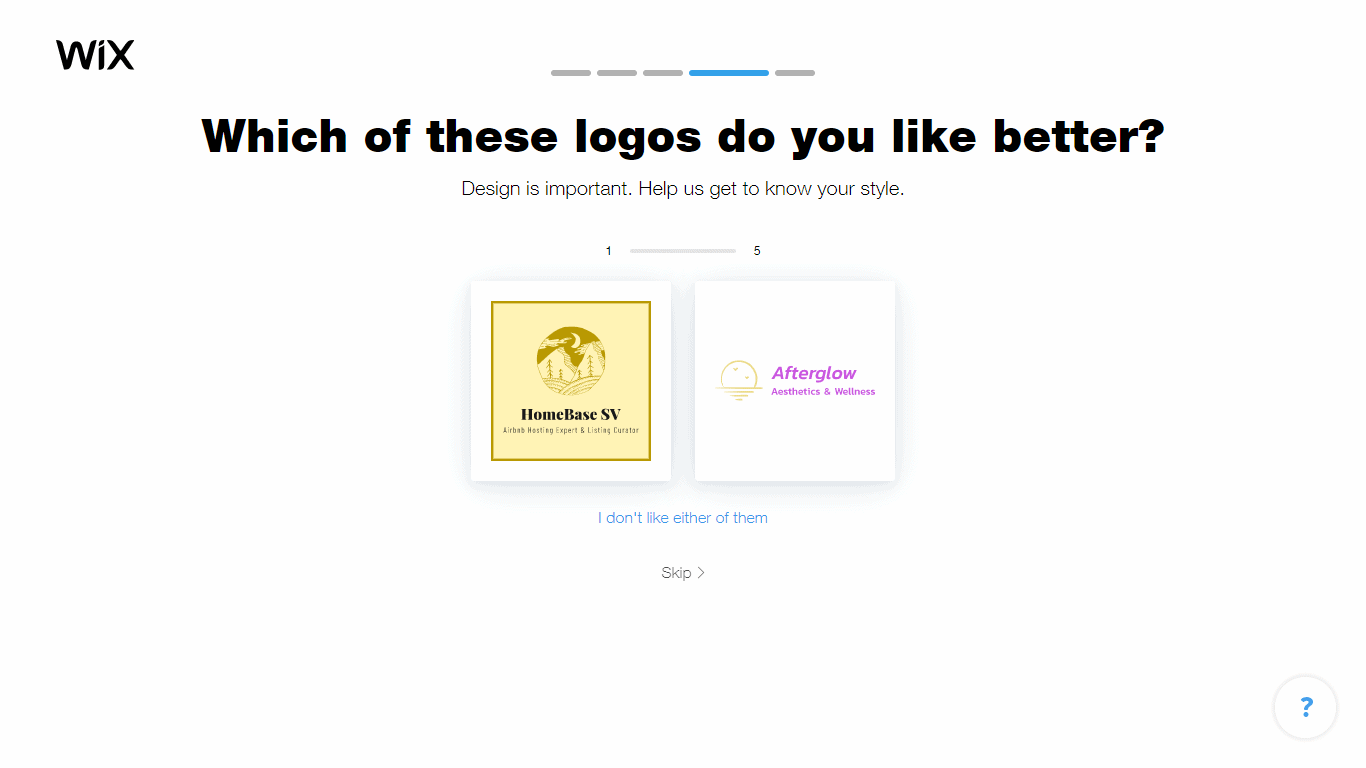 Lastly, tell Wix Logo Maker where you'll be using your logo. Select the options that apply or choose them all to cover your bases.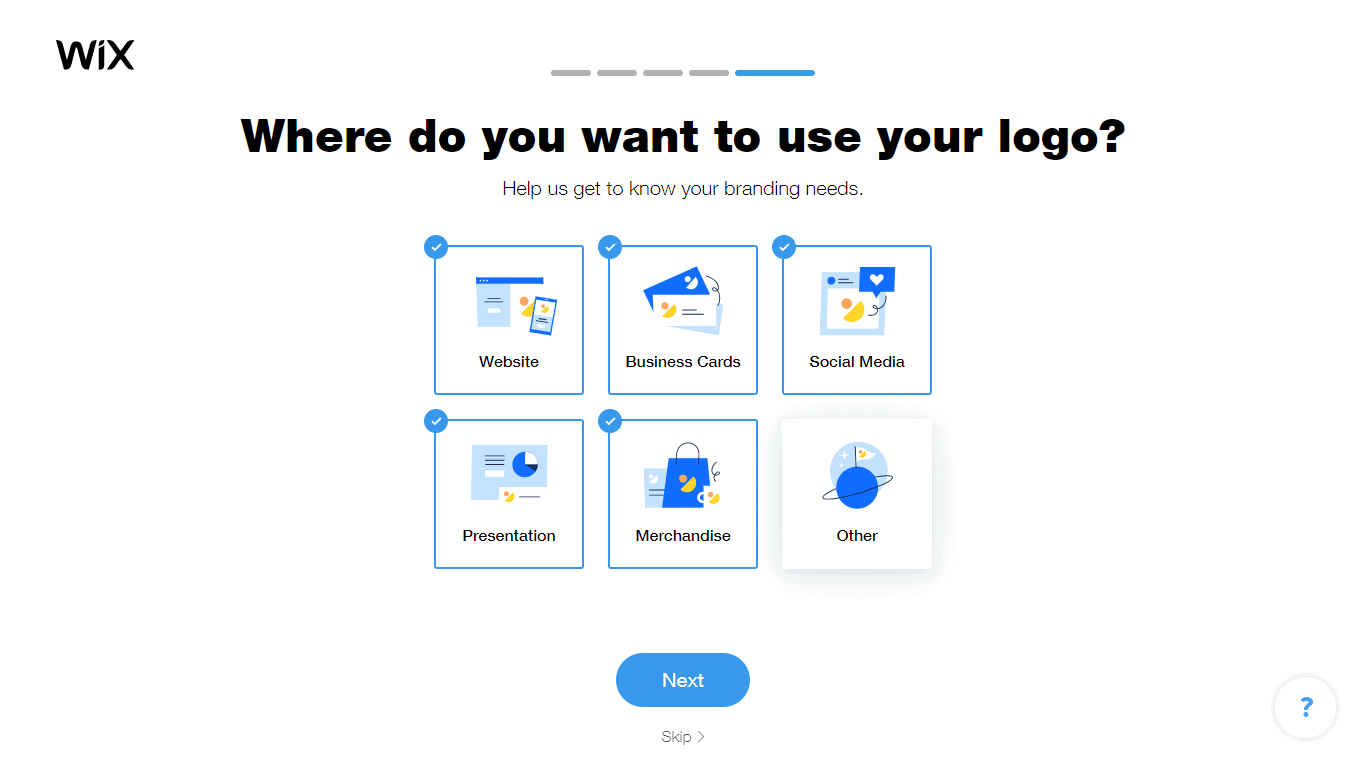 Now for the exciting bit. Your logo suggestions are ready! You'll have quite a few results to look through, so take your time reviewing them all. Click
Load More
to continue viewing results.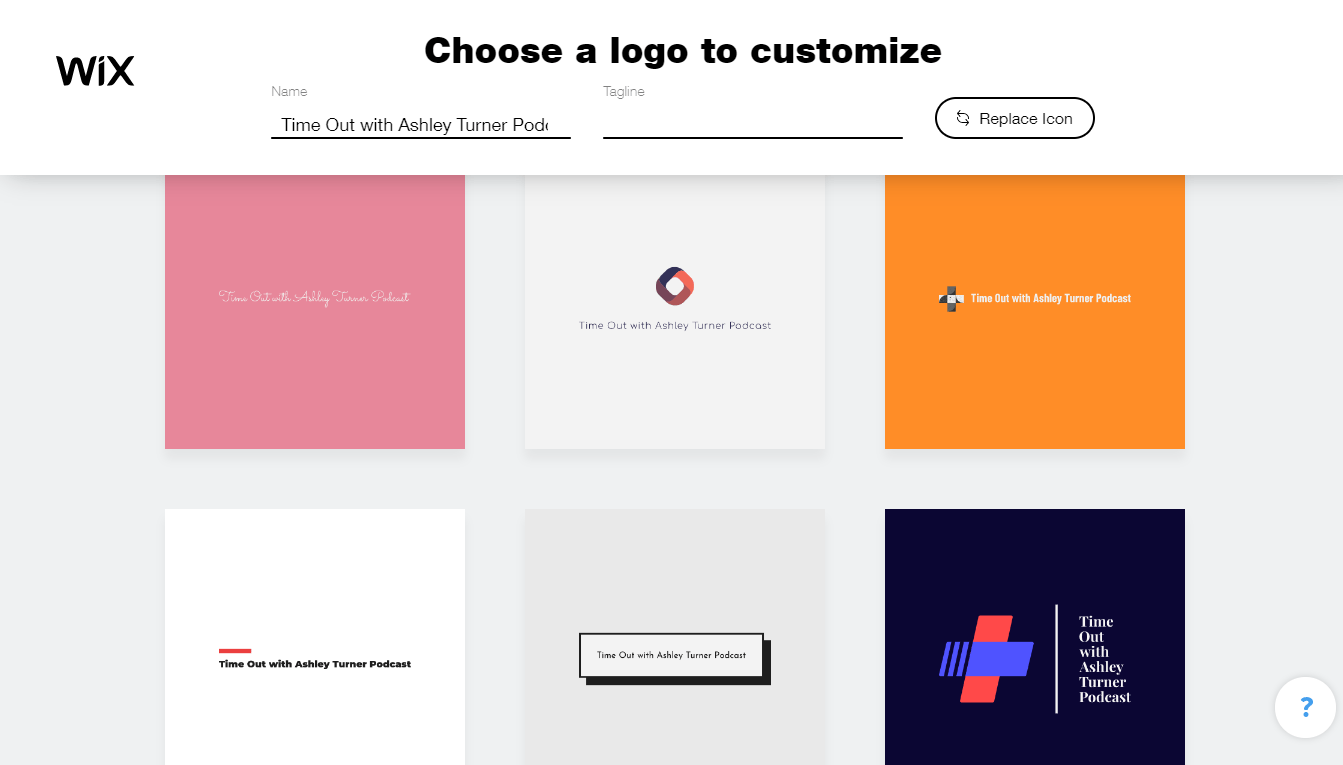 If you'd like to see more icons at this stage, click the
Replace Icon
button and search "podcast" (or a term relating to your subject matter) to bring up related icons. Choose the icon you like best and it will be added to each logo suggestion in the results.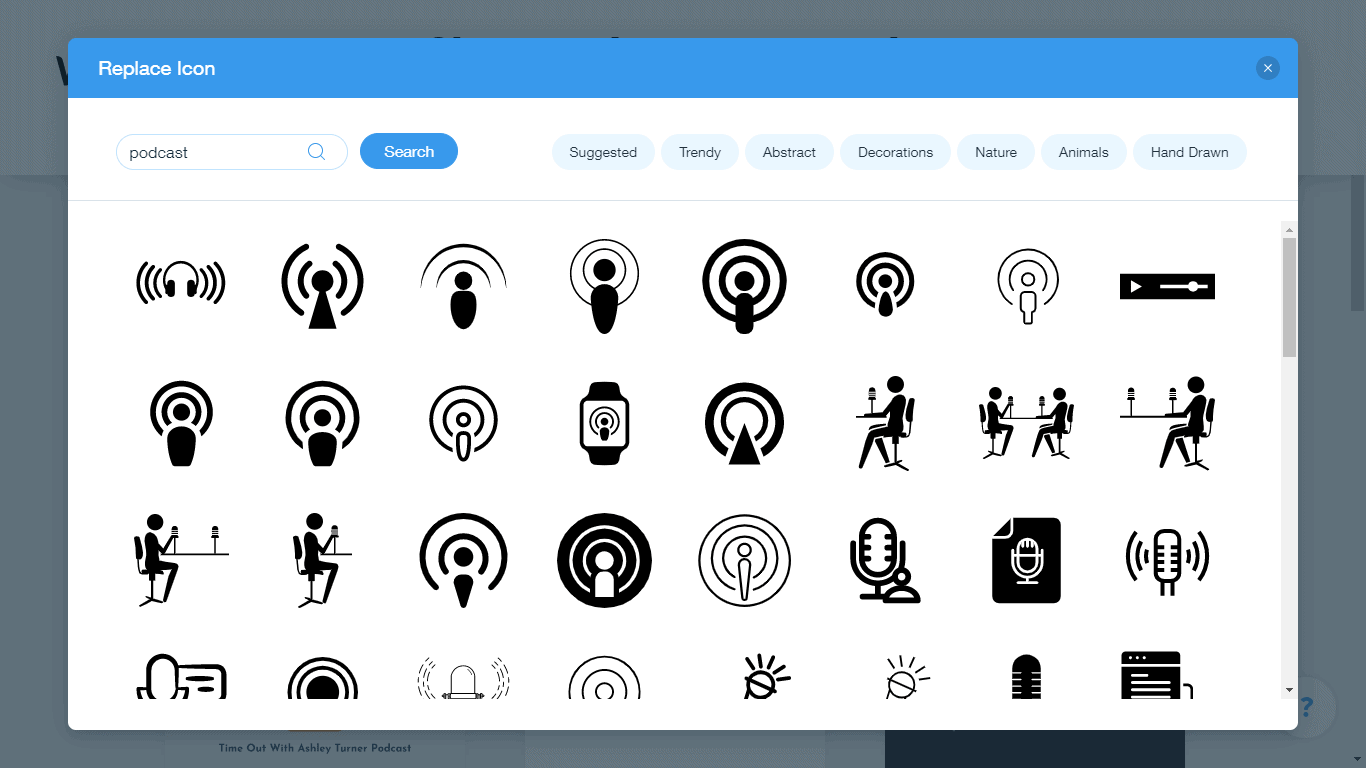 When you're ready to edit a logo, click
Customize
to head to the next stage. The logo editor has amazing customization features to make things unique. You can add multiple icons to your logo, mixing and matching options to create something totally original. Choose from a range of fonts and create a color scheme to match your podcast's branding.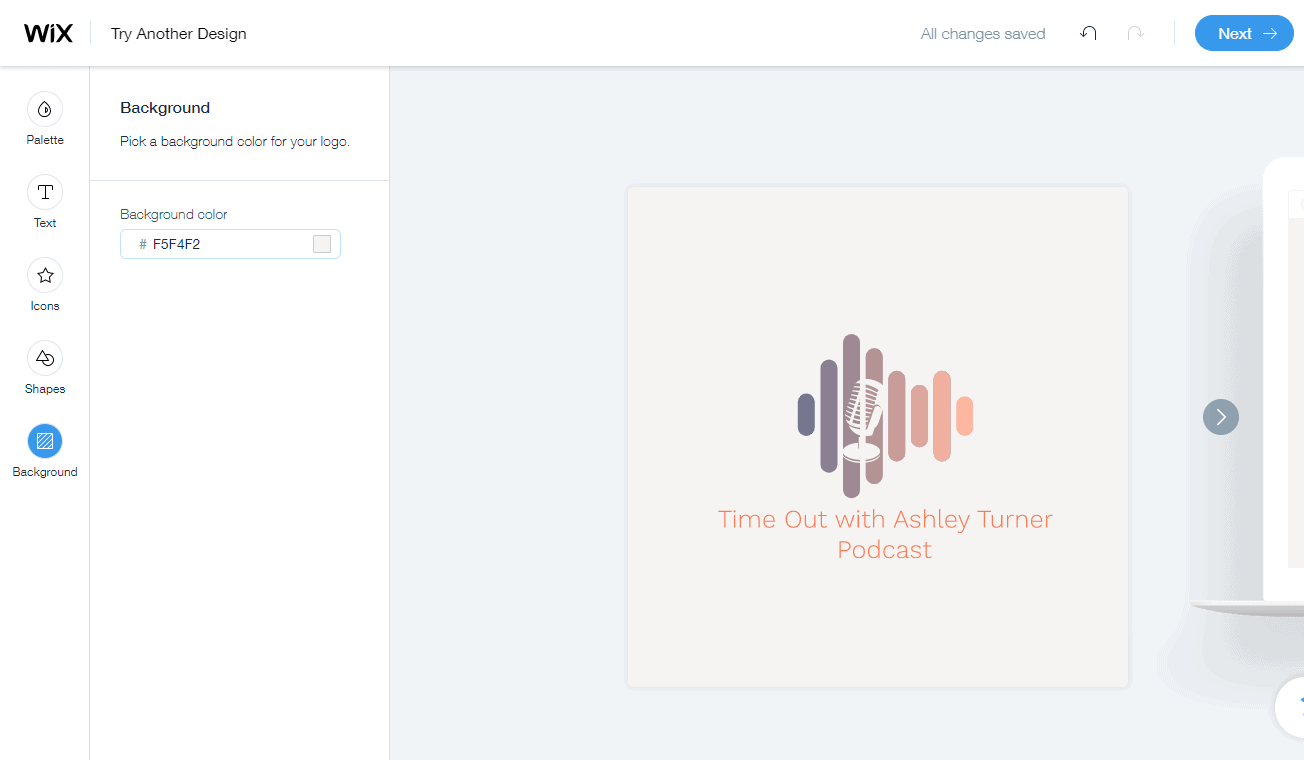 Once you're satisfied with your design, click
Next
to choose your package and make your payment. You can then download your logo in high resolution and begin showing off your new, DIY design to friends and listeners.
Wix Logo Maker Alternatives:
LogoMaker – If AI technology isn't something you prefer, give LogoMaker's rapid, four-step logo generation process a shot. You have the option to keep your design simple if that aligns with your preferred style, or you can choose to personalize it even more.
DesignEvo – DesignEvo gives you access to more than 10,000 great logo design templates. Search "podcast" or by your podcast's theme to bring up suitable templates.
Find out more about Wix Logo Maker, including more logo examples, in
our in-depth review
.
Final Thoughts
You might not have considered hiring a professional designer if you're on a budget – but
Fiverr makes it possible however small your budget
. Your podcast logo is the first thing potential listeners will see, so not only should it look professional, but it should represent the vibe of your show. A logo maker is the best way to DIY a logo, but don't be fooled. There are lots of them out there and not every tool is worth your time. In my experience,
Wix Logo Maker is the best option thanks to its easy-to-use interface
 and attractive design options. Not quite sure what option is right for your logo? Then the search continues! Head on over to my colleague's
full logo design service review
 to browse other options and see how they measure up compared to Fiverr and Wix Logo Maker.