A signature logo design is a great way to showcase how personal your business is to you. Whether you choose to use your handwriting or a beautiful calligraphy-style font, your logo is sure to be one of a kind. On the surface, it might seem like a signature logo is less complex than other logo styles, but you'll need to make sure the font is legible and not overpowered by the other logo elements. An experienced graphic designer will know how to create a signature logo that strikes the perfect balance between personalization and effectiveness. The good news is that hiring a professional doesn't have to be expensive. The days of paying thousands of dollars for a quality logo are over.
 In this article, I'll break down how you can get a logo designed for just $5
.
---
9 Best Signature Logos
My colleague tested the most popular logo design services out there. His testing was pretty thorough and he compiled his findings into a full review. Head over to his
comprehensive logo design services comparison
 to see which services he tried out and how they ranked.
How to Hire a Pro Designer for $5
A quality logo design for $5 sounds too good to be true. And trust me, before I discovered this trick, I'd have thought the same. But you really can get a professional design for that price with freelancing platform Fiverr, where designers have packages beginning at only $5. The designers at Fiverr are talented and experienced. Each freelancer sets their own pricing, but there are thousands of skilled designers with packages listed at this starting price point. The sheer number of designers also means you're guaranteed to find one that specializes in a signature style you like, and for the right budget, too. Ready to see what it's all about?
Head to the Fiverr homepage
 and type "signature logo" into the search bar. The profiles that appear are designers with relevant packages and services. Scroll through the results until you find a designer's profile you'd like to explore up close. Click on the result to open up the full view.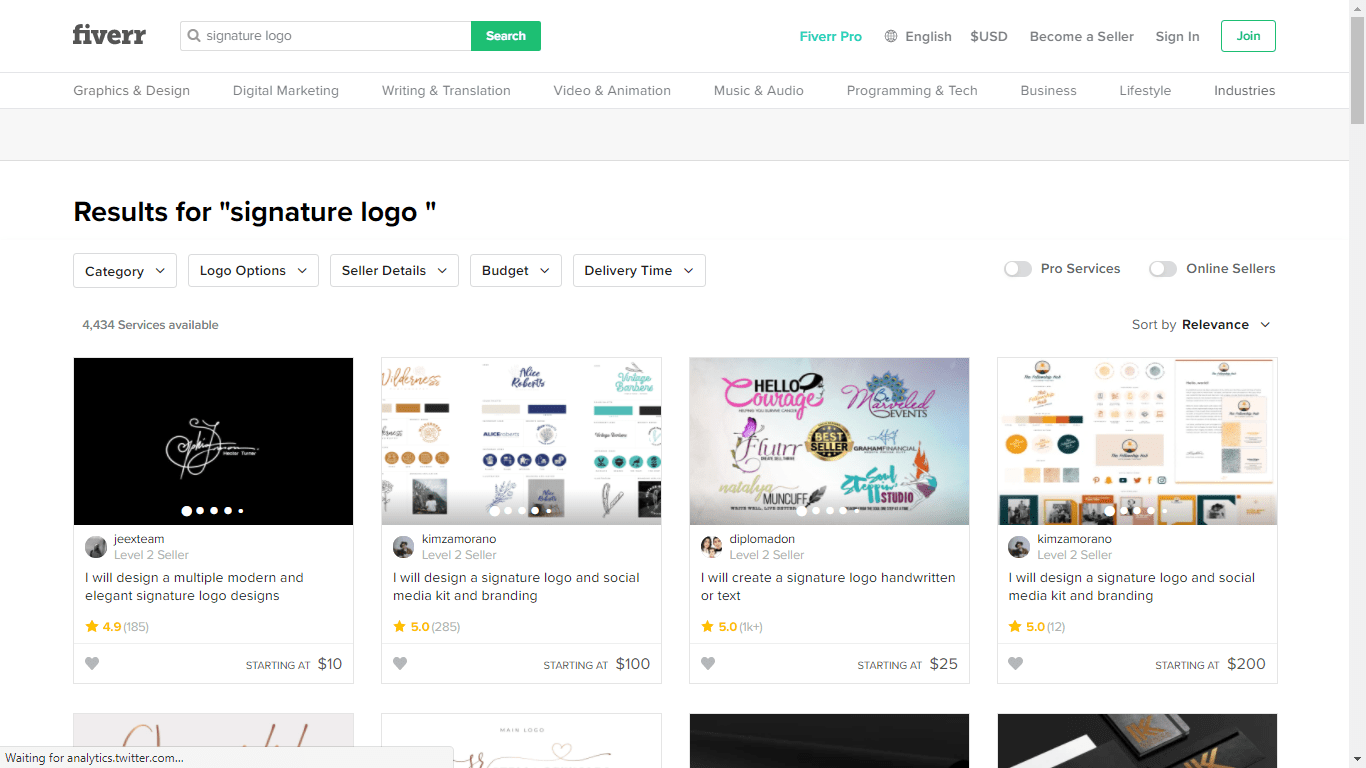 A designer's full profile contains their portfolio, "About This Gig" section, and reviews from previous customers. You'll also get more information about the services offered in each package. Not finding the information you need? Click
Contact Seller
to send any queries to the designer directly. When you're ready to move ahead, click
Continue
to move to the next page.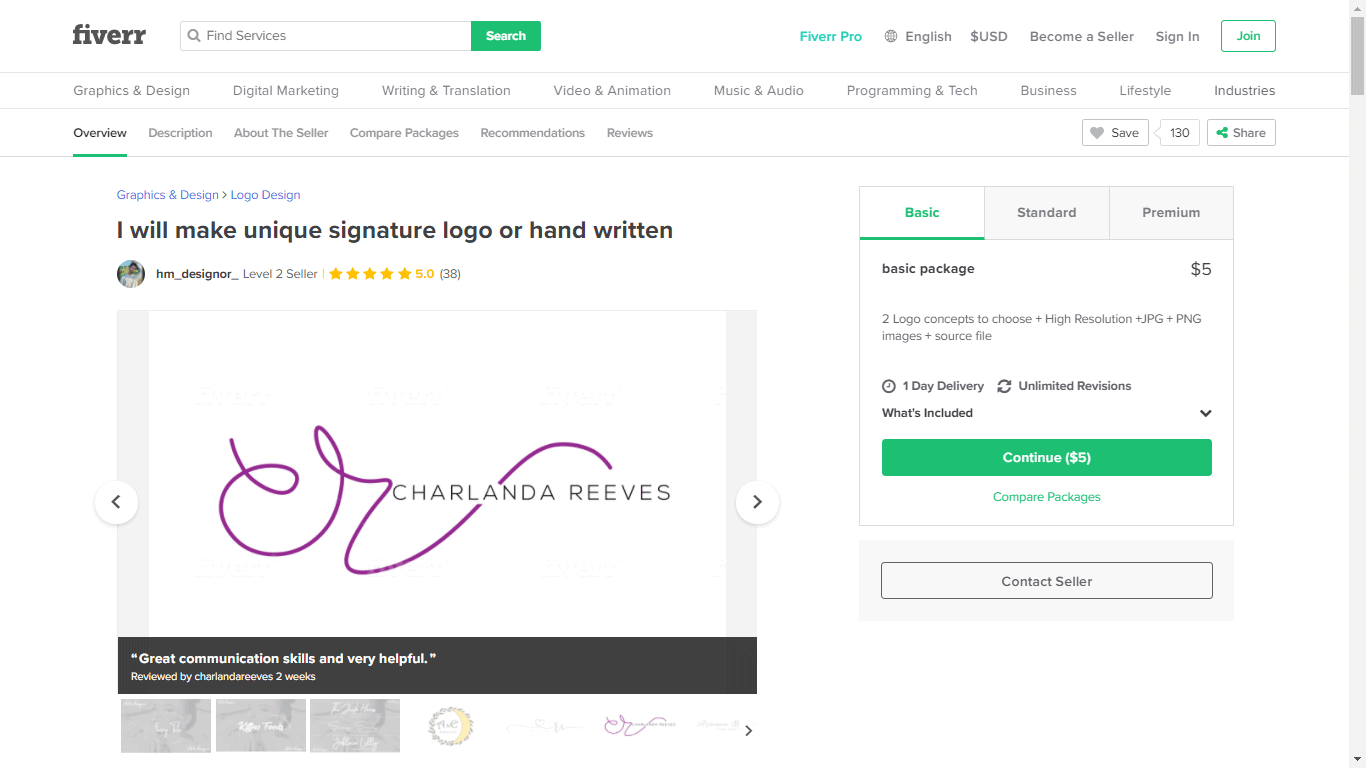 On the payment preview page, you'll see the total cost for your package. Pay attention to the list of services to ensure your chosen package covers everything you need. Once you're satisfied, click
Continue to Checkout
to enter your payment details.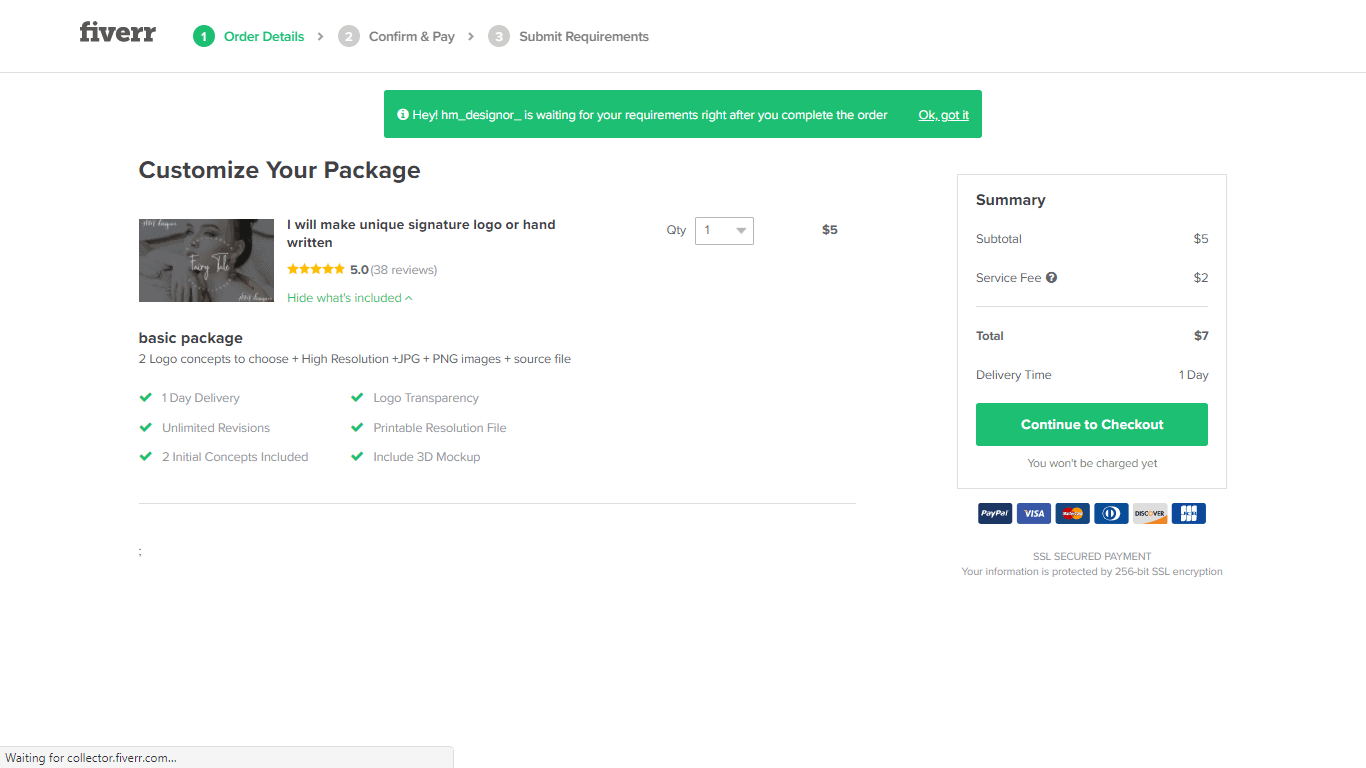 From there, you'll be able to fill out a quick questionnaire about your desired logo. If you want your designer to use your actual signature in the design, you can upload an image for reference. And, as easy as that, your new logo design is commissioned! Here are some other great Fiverr perks:
Customizable packages – Designers often offer package add-ons such as a 3D mockups, expedited delivery, and/or additional design concepts for a small extra cost.
Escrowed payments – Your payment is made upfront and held in escrow by Fiverr until you approve its release to your designer. This helps ensure you receive a logo design that you're happy with.
No surprise fees – A freelancer can't add unexpected fees after they've been hired. The price you paid to commission the designer is the only cost you'll pay towards your logo design.
Handy search filters – Need to find a designer meeting specific criteria? Use search filters like budget, logo style, delivery time, and seller level to narrow down your designer search results to the most relevant options.
Get more advice from our experts and
read our expert Fiverr review
to learn more.
How to Create Your Own Logo Design
If you're feeling inspired to make your own logo, using a logo maker is the best option. There's no need to download or purchase complicated design software, which is often difficult to navigate and has a sharp learning curve. By using the logo maker method, all you need is an internet browser and to find the right online logo maker for you. Whenever I'm asked, I tell people my number one tool is Wix Logo Maker. It uses artificial intelligence to create logo templates based on your preferences. All you have to do is answer a short series of questions and then,
voila!
 It generates logo suggestions tailored to you, your industry, and your needs. To begin the design process,
head to the Wix Logo Maker homepage
, and create a profile. Enter your company name (the name for your signature) into the space provided.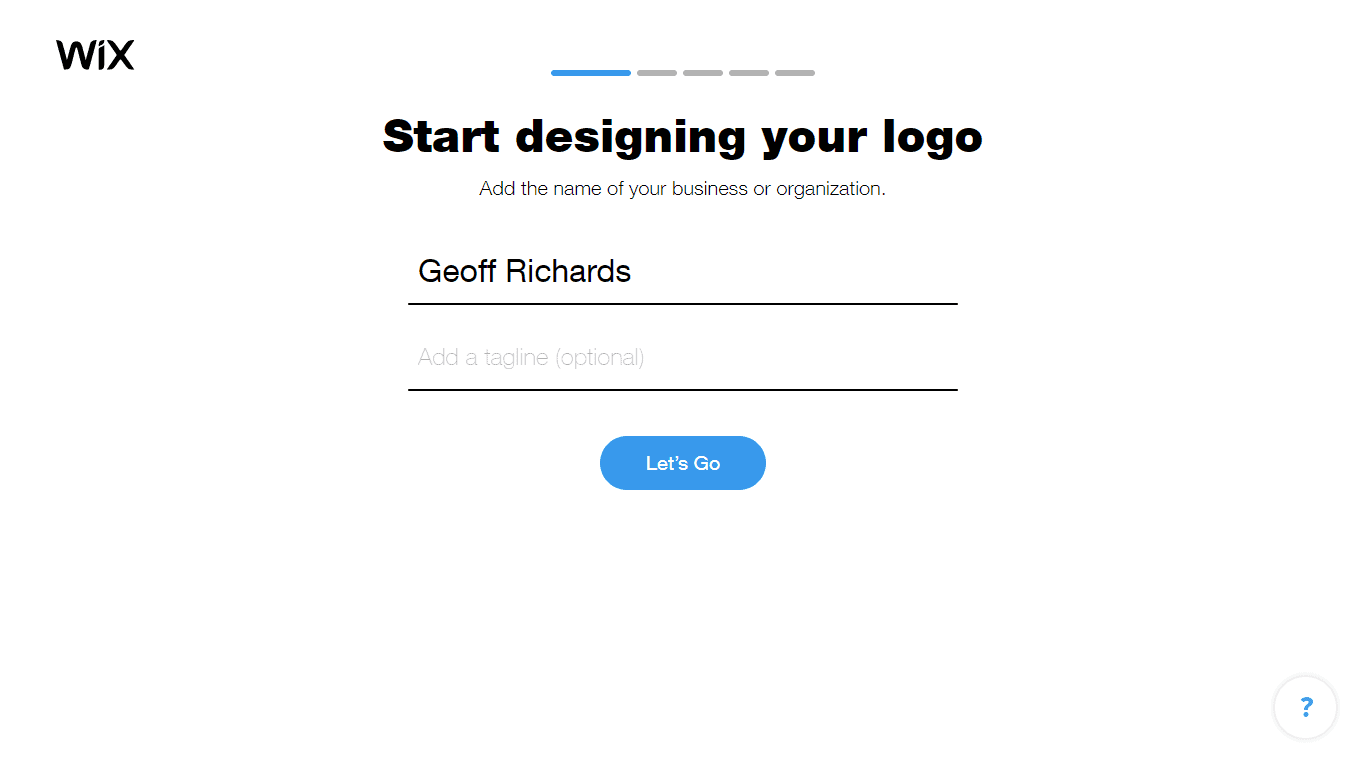 Start typing in the search bar to pull up your industry. Select the right option from the dropdown menu and click
Next
to continue.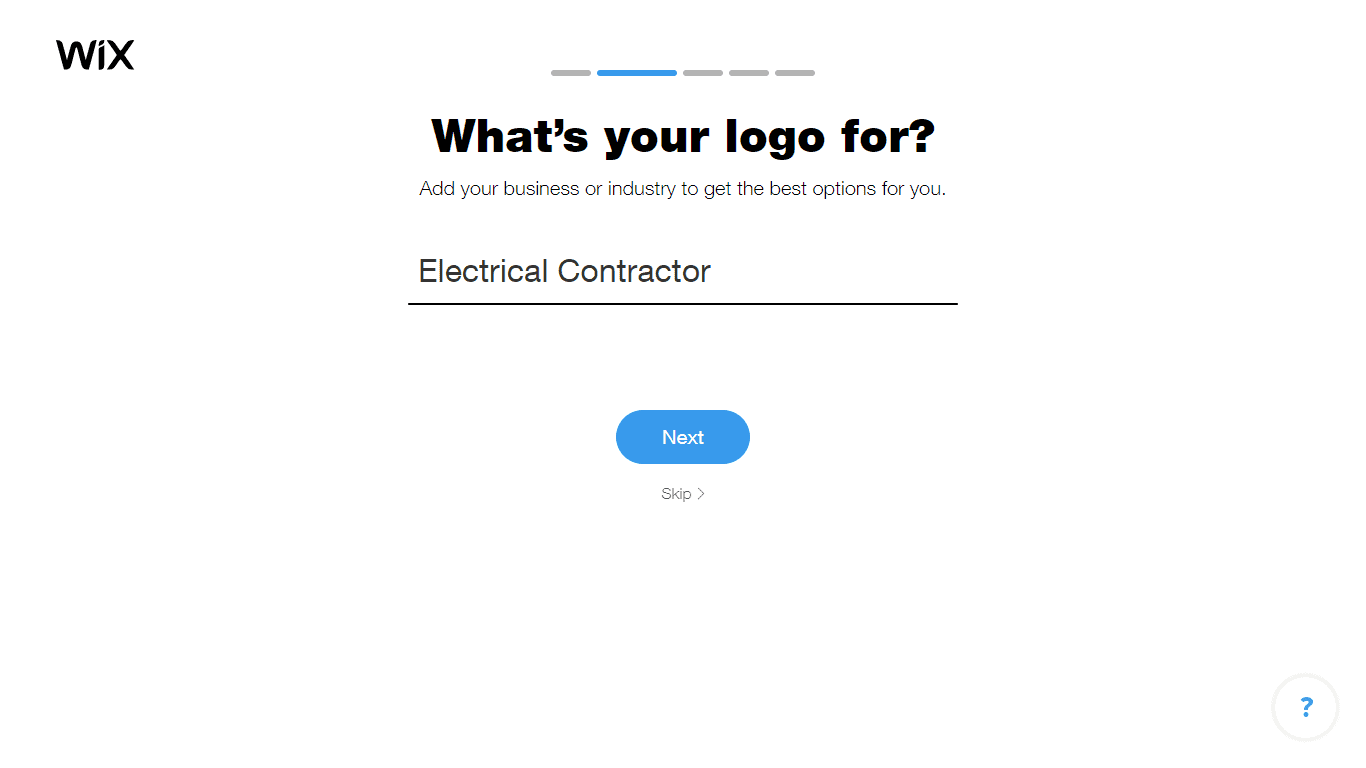 On this next page, you'll need to select all the adjectives in the group that you'd use to describe your final logo. Select as many or as few options as apply.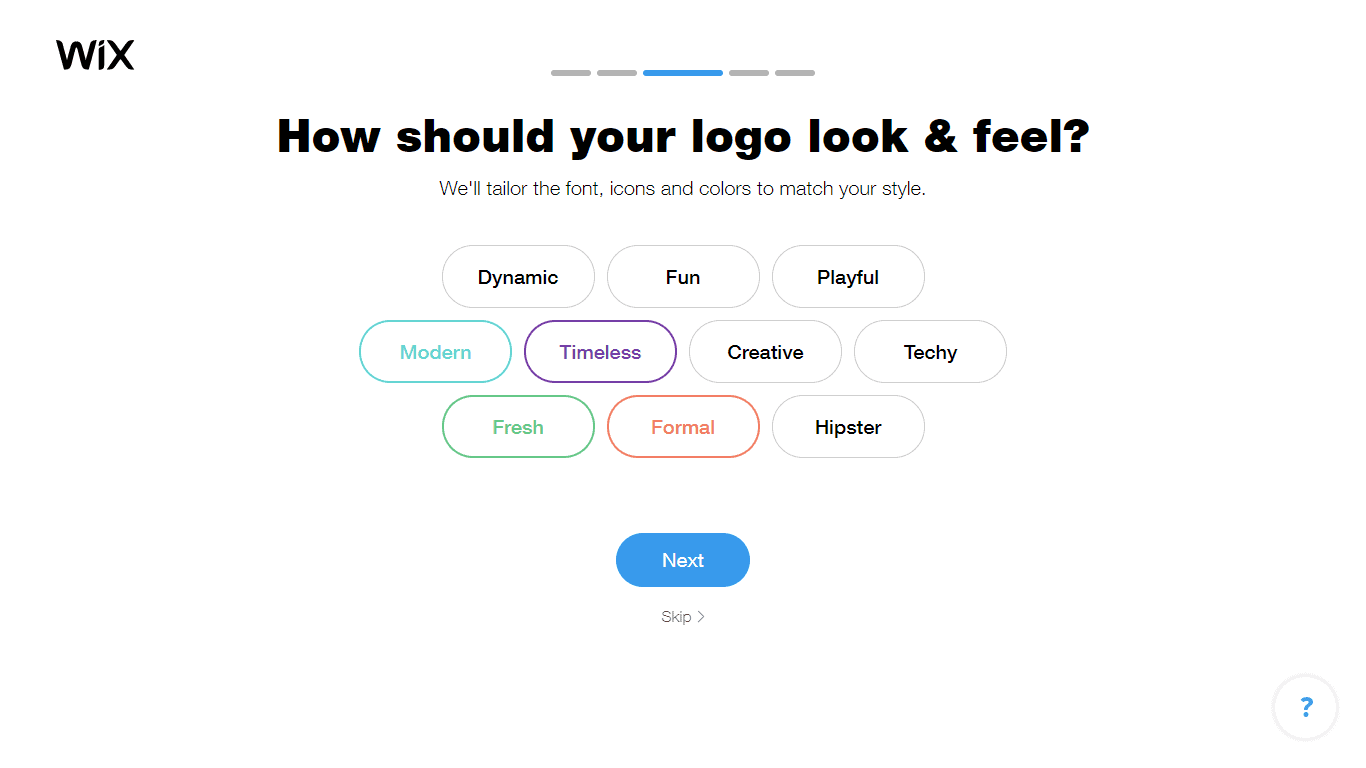 Up next are the logo pairs – five in total. Click on the logo in the pair that you prefer or select
I don't like either of them
to move ahead. This section is important to help the AI identify which design styles you like best.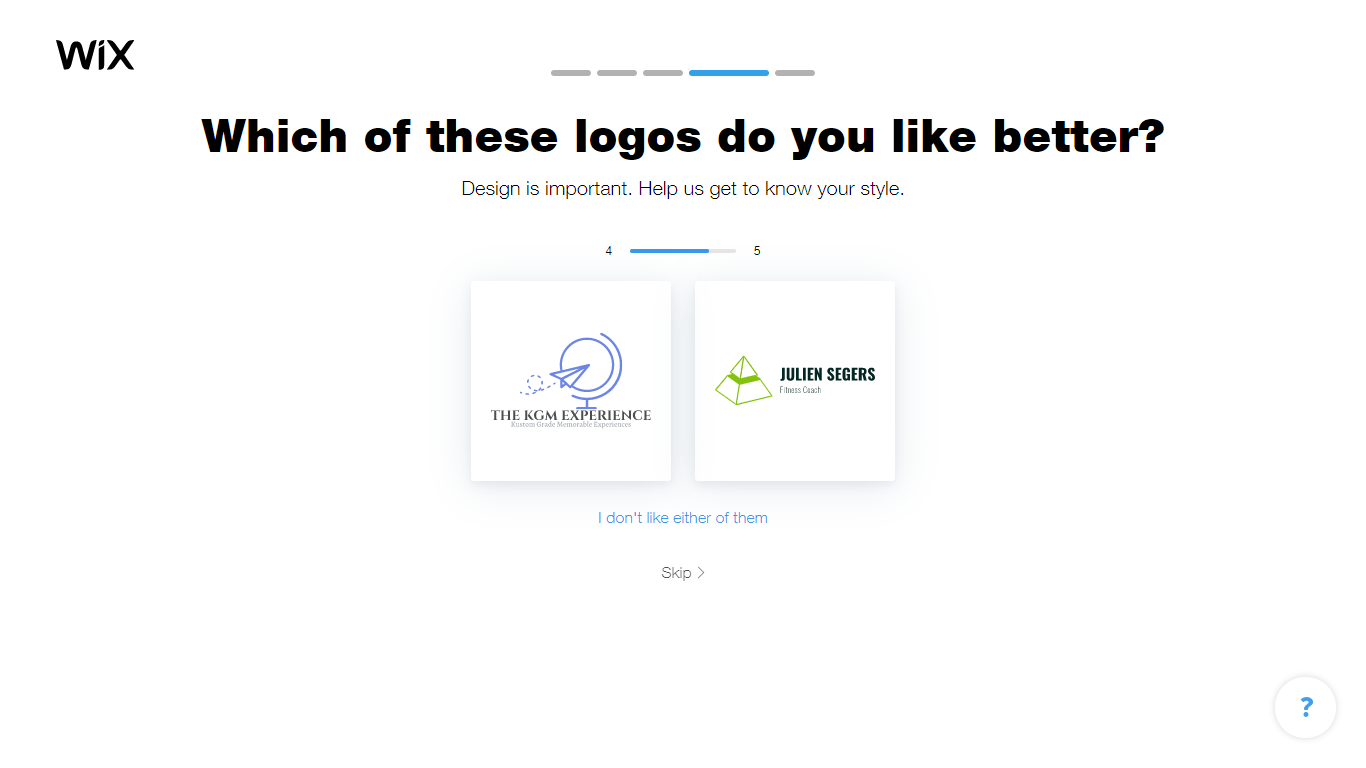 Finally, tell Wix Logo Maker where you intend to use your logo, like on merchandise, a website, or social media.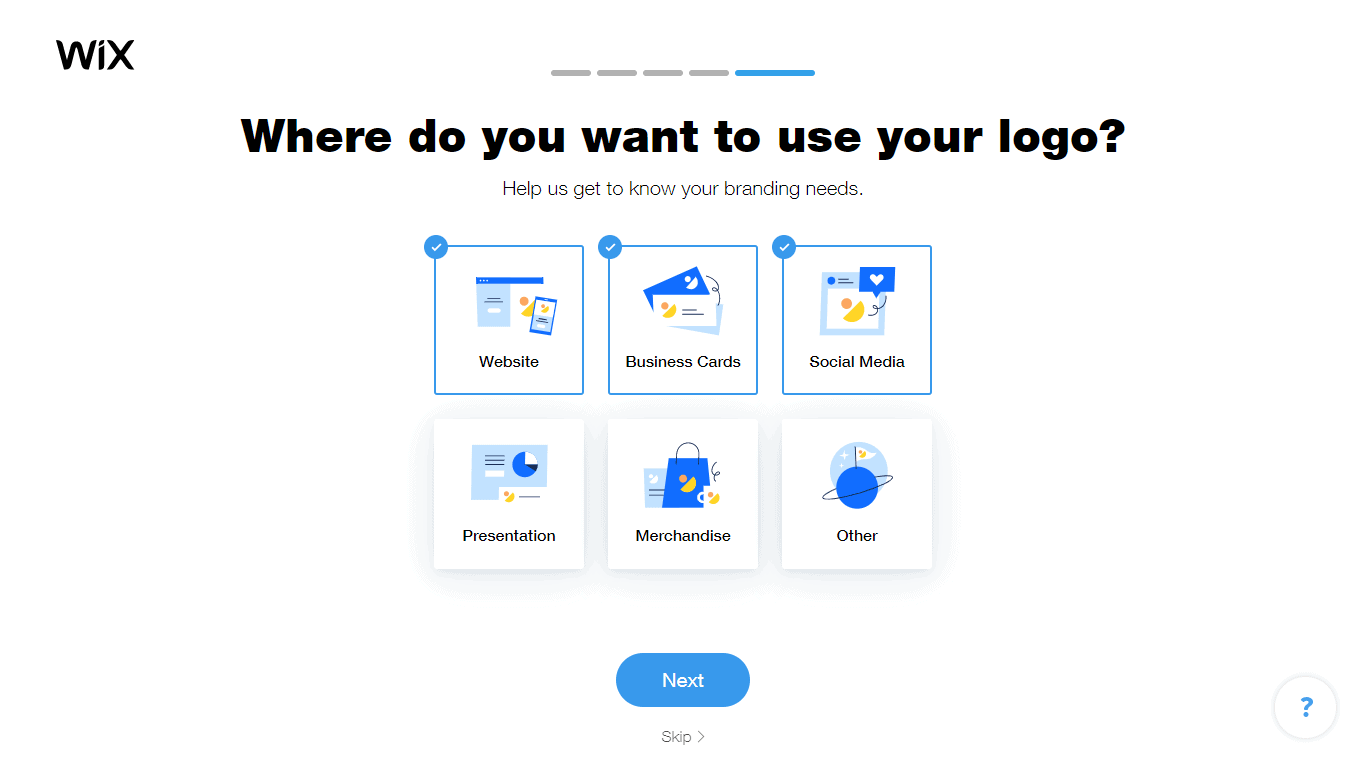 And now for your logo suggestions! The AI always generates lots of options, so take your time scrolling through and get a feel for which style of logo you'd like to edit. You're looking for the one with the most potential.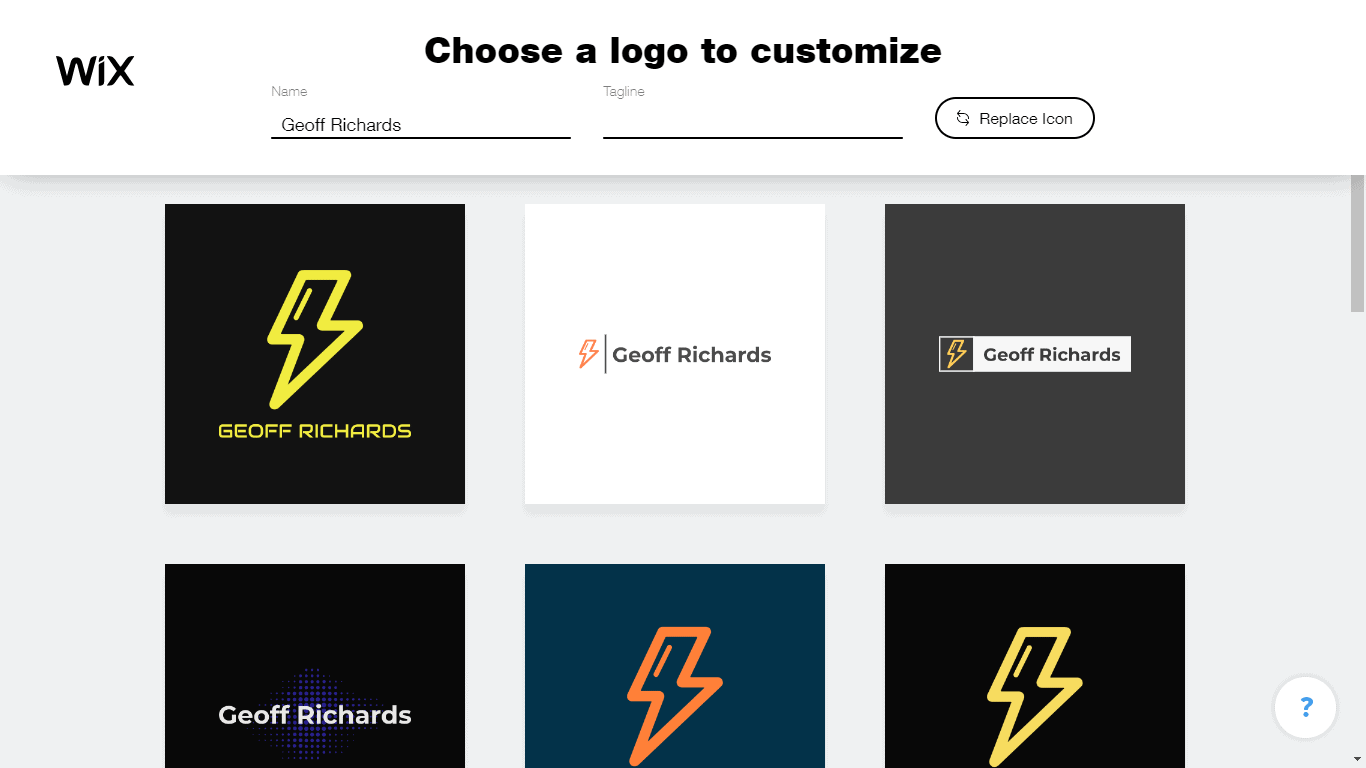 Before you do any editing, you may feel the need to change the icons in your logo suggestions. To do this, click
Replace Icon
and search for a term within your industry. I searched "electric" to match the company in my example. Once you find an icon you like, click on it to replace all the other icons in the logo suggestions. If you just want a text logo, you can ignore this step and focus on the text-only results.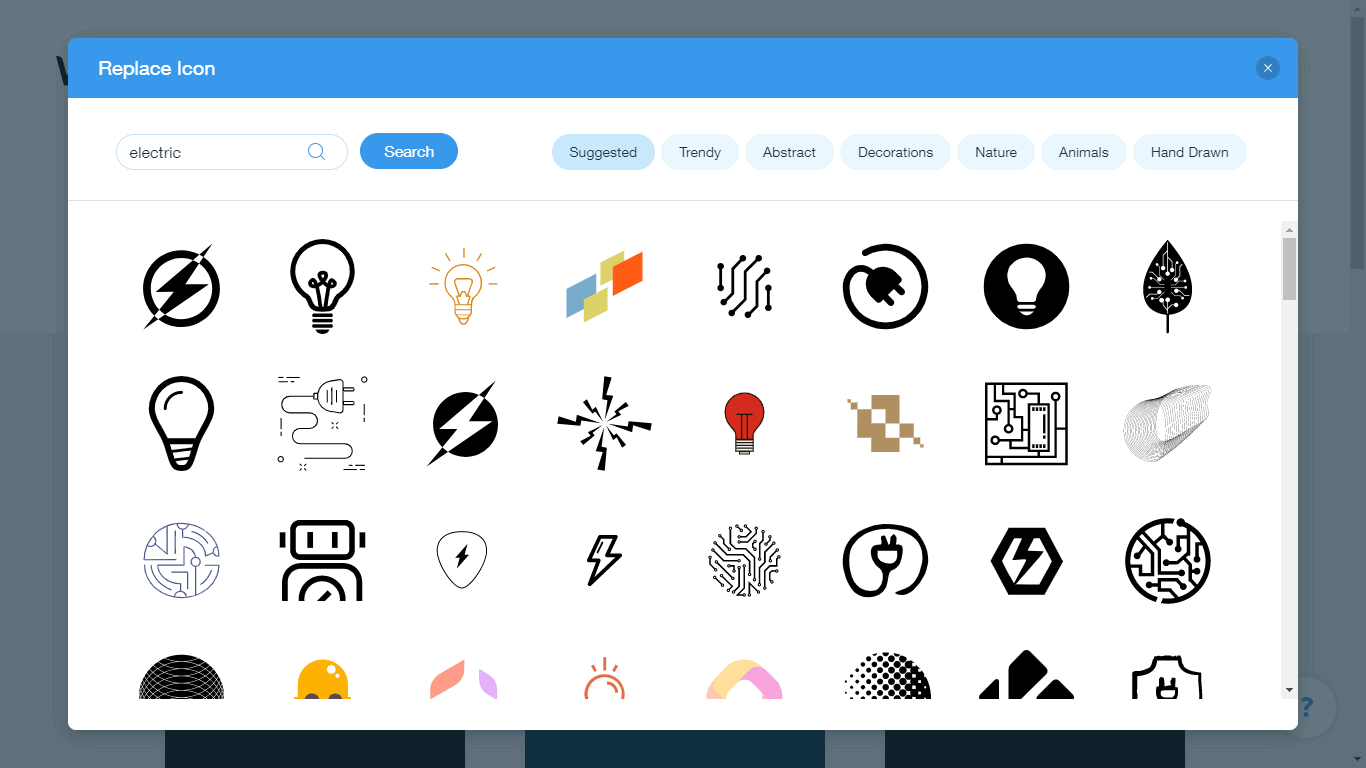 Found a template you want to edit? Click on it to move into the logo editor. Here's where the fun really begins! Wix Logo Maker has loads of tools to help you get creative. There are more than 70 preset color palettes to choose from or you can create your color scheme from scratch. To find the font for your signature, simply take a look through the 200+ font options available. From elegant calligraphy to simple lettering, there are multiple typefaces with different handwriting effects, so you can find one that best reflects your company.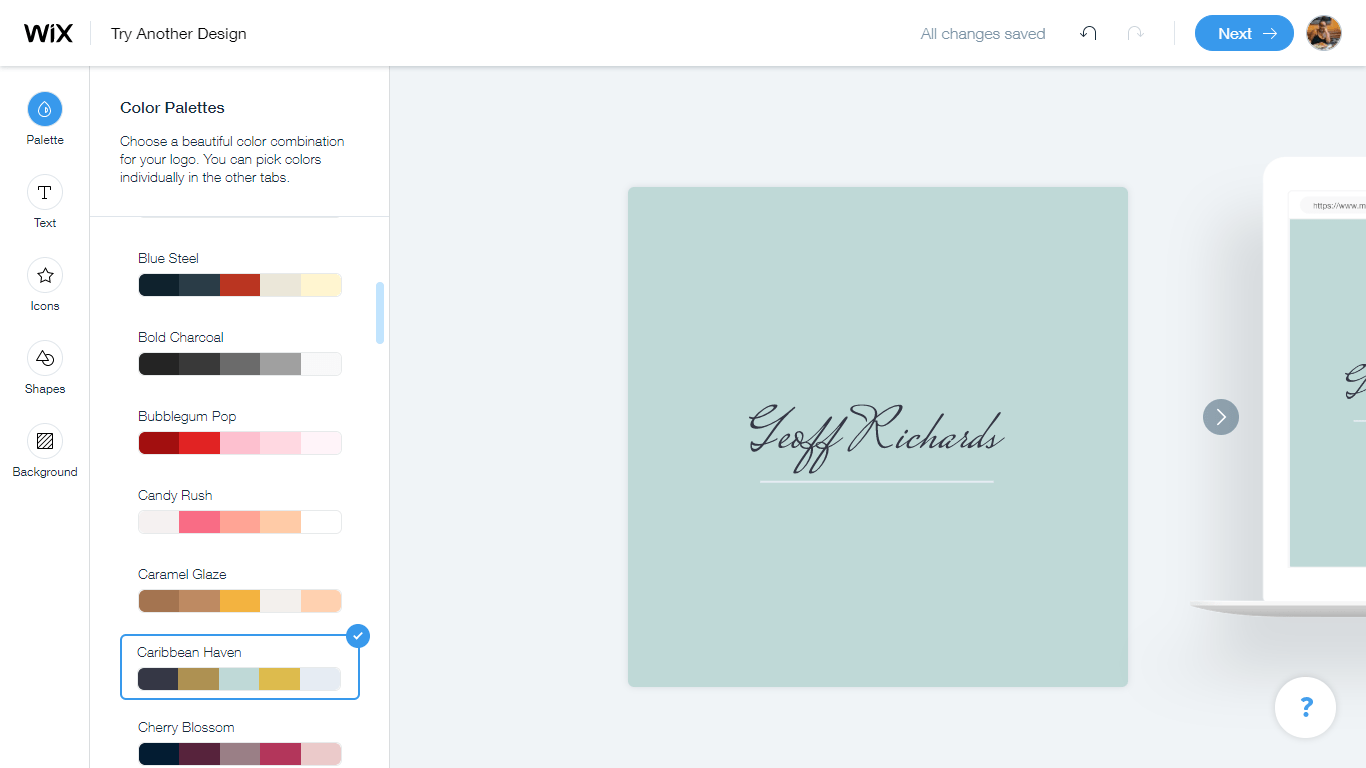 After you have added your favorite font to the logo design, click Next to proceed to the package selection page. On this page, you will have the option to choose the design package that suits you best and make a payment to download your new logo in a high-resolution format. Additionally, you can choose to download a free version of your logo in a smaller size for comparison purposes.
Wix Logo Maker Alternatives:
DesignEvo – There are more than 10,000 great templates at DesignEvo, so this tool is perfect for creating a logo when you're short on time. Search any of the 18 categories or use the search function to find a suitable template.
Looka – Need other branding materials along with your logo design? Looka offers companies and startups the opportunity to get a brand new logo, as well as stationery and a website featuring the new design.
Interested in Wix Logo Maker? Read our
in-depth review
 to find out more.
Final Thoughts
The perfect signature logo
does
exist and the key to the logo of your dreams is Fiverr.
Hire a talented logo designer through Fiverr for only $5
 and have your logo visions brought to life – even using your own handwriting as a guide. With such affordable pricing, there's nothing to lose! If the thought of hiring someone else to complete your logo doesn't feel right, a DIY logo project may be the answer. When it comes to signature styles, a logo maker doesn't allow you the same level of personalization as a designer, but
Wix Logo Maker is the next best thing
. It takes a lot of the hassle out of DIY thanks to its AI technology. If you're still not certain which design option will work best for you, don't be discouraged. Finding the perfect logo takes time.