With the right tools, you can learn about your competitors' keyword strategy, improve on their content, and find the best linking opportunities.
There's just one problem. A lot of these tools are pretty costly. If you're just building your business, you may not have the budget for the big-name tools. Plus, some of them can be very complex. If you're short on time, you need a tool you can use fast. Luckily, there are free tools that give you almost the same features completely free, meaning you can spy on your competition without blowing your budget. It won't take long to get the info you need to make sure you're winning the competitive game.
What We Look For in the Best Competitive Research Tools
We looked at a range of online competitive research tools to find the ones that offered the most functionality. Some of the key criteria were:
Free: We looked for tools that are available for free (or at least have a free version) so you can investigate your competition without having to pay a dime.
In-depth analysis: You'll want the ability to generate data on traffic, keywords, content, and more.
Ease of use: You must be able to get the information you need without having to go through a steep learning curve.
Brand monitoring and SEO data: The tool needs to help you understand what's working for your competitors.
#1 Google Alerts – Best for Tracking Competitor News
A good place to start spying on your competitors is figuring out when they're getting mentioned online. Google Alerts is the perfect tool for this.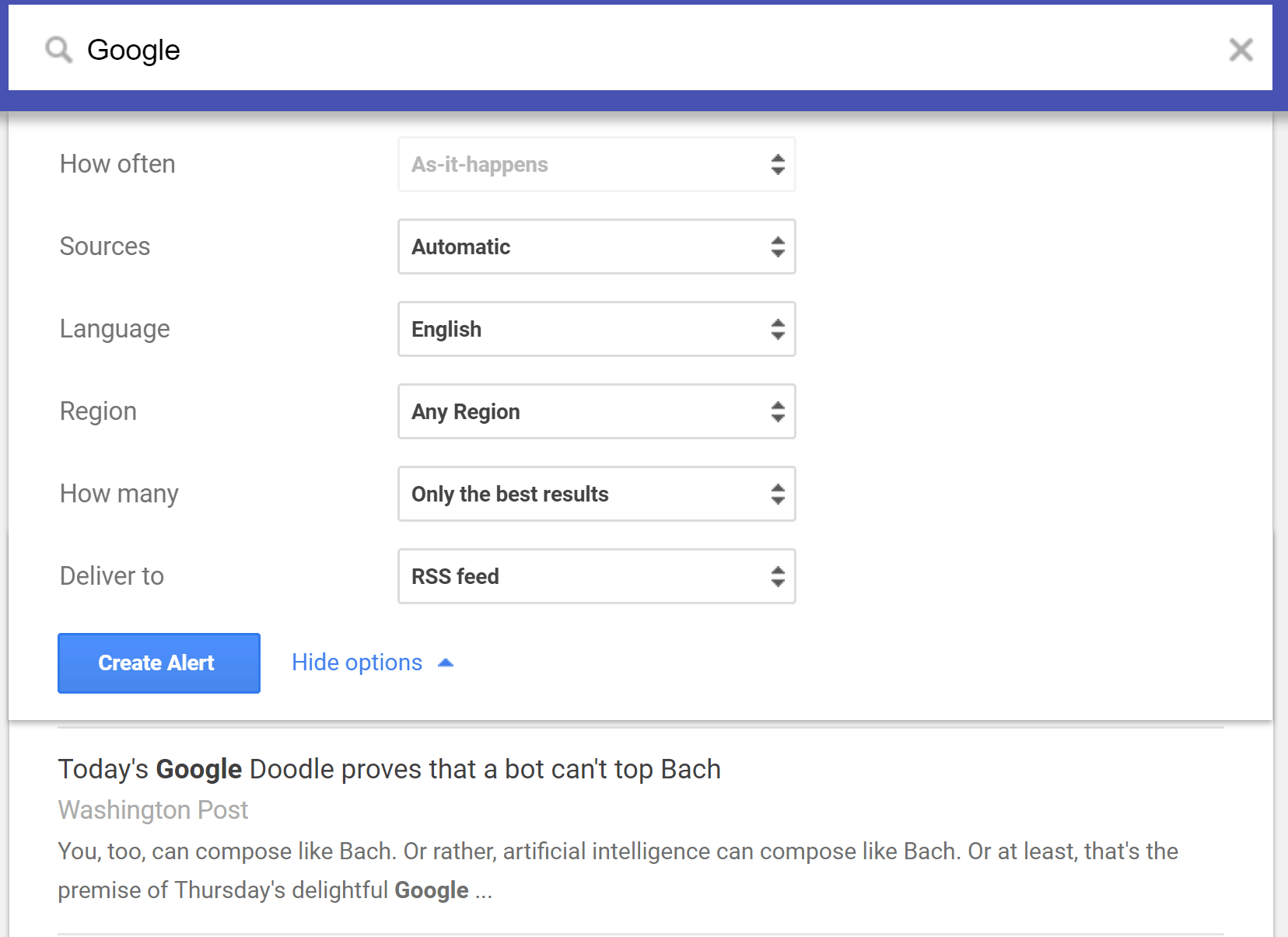 What You Get
Since this tool is from Google, masters of search, you can be pretty sure it'll find practically every instance where your competitors are mentioned. It's great for:
Monitoring competitors' brand names
Getting information on specific products or product categories
Tracking mentions of particular pieces of content, like competitors' cornerstone content
It's easy to use, with a single screen where you choose your options. You can specify how often you want to get alerts (instantly, daily, or weekly) and where you want to search for mentions (news, blogs, web, and more). Once you've created your alert, it runs automatically, so it's a timesaver, too. The only downside of Google Alerts? The information isn't particularly organized. It just comes as one big list. Still, it's simple and effective.
| | |
| --- | --- |
| Beginner Friendly | Yes |
| Brand Monitoring | Yes |
| SEO Data | No |
#2 Social Mention – Best for Searching Multiple Social Media Sites in Real Time
Still on the subject of tracking mentions, Social Mention is worth consideration. This simple tool offers real-time social media search across more than 100 social media platforms.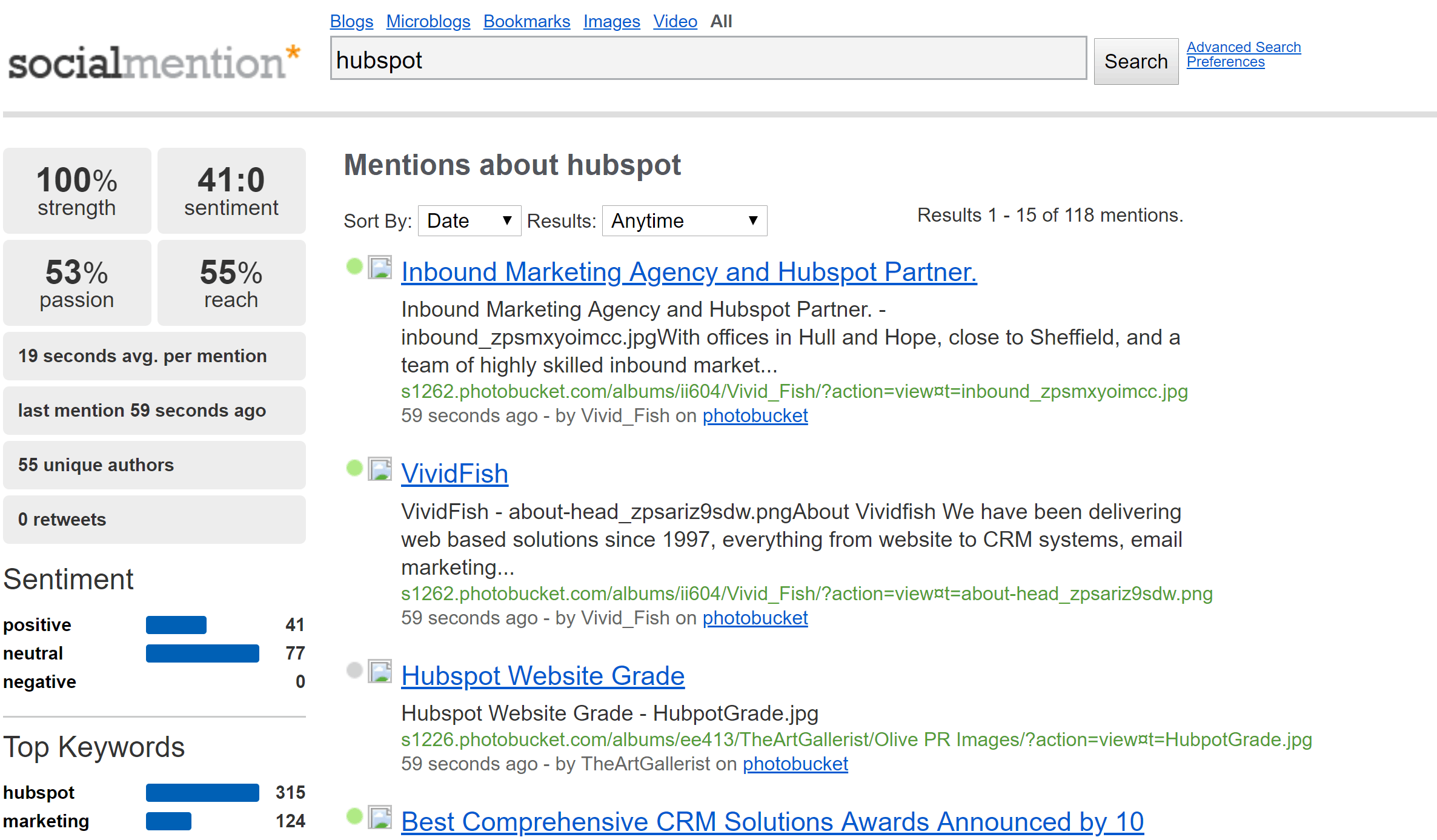 What You Get
With Social Mention, you can:
Type in a competitor's brand name, product name, or keyword and get a snapshot of real-time mentions
Search across blogs, bookmarks, images, and videos
Find the questions people are asking about your competitors
If you search for everything, it's easy to segment your findings. You can also sort results by date or source to find the most relevant results to inform your marketing approach. One of Social Mention's best features is sentiment analysis, scouring the mentions to show:
Whether the overall feeling is positive, negative, or neutral
How many individuals are mentioning the brand
Social Mention's interface can feel a bit dated. Having said that, it provides a useful overview of how people feel about your competitors, and about you.
| | |
| --- | --- |
| Beginner Friendly | Yes |
| Brand Monitoring | Yes |
| SEO Data | No |
#3 BuzzSumo – Best for Content Marketing Analysis
If your competitors are killing it with content, you want to know what's getting the most attention so you can replicate their success. That's where BuzzSumo comes in.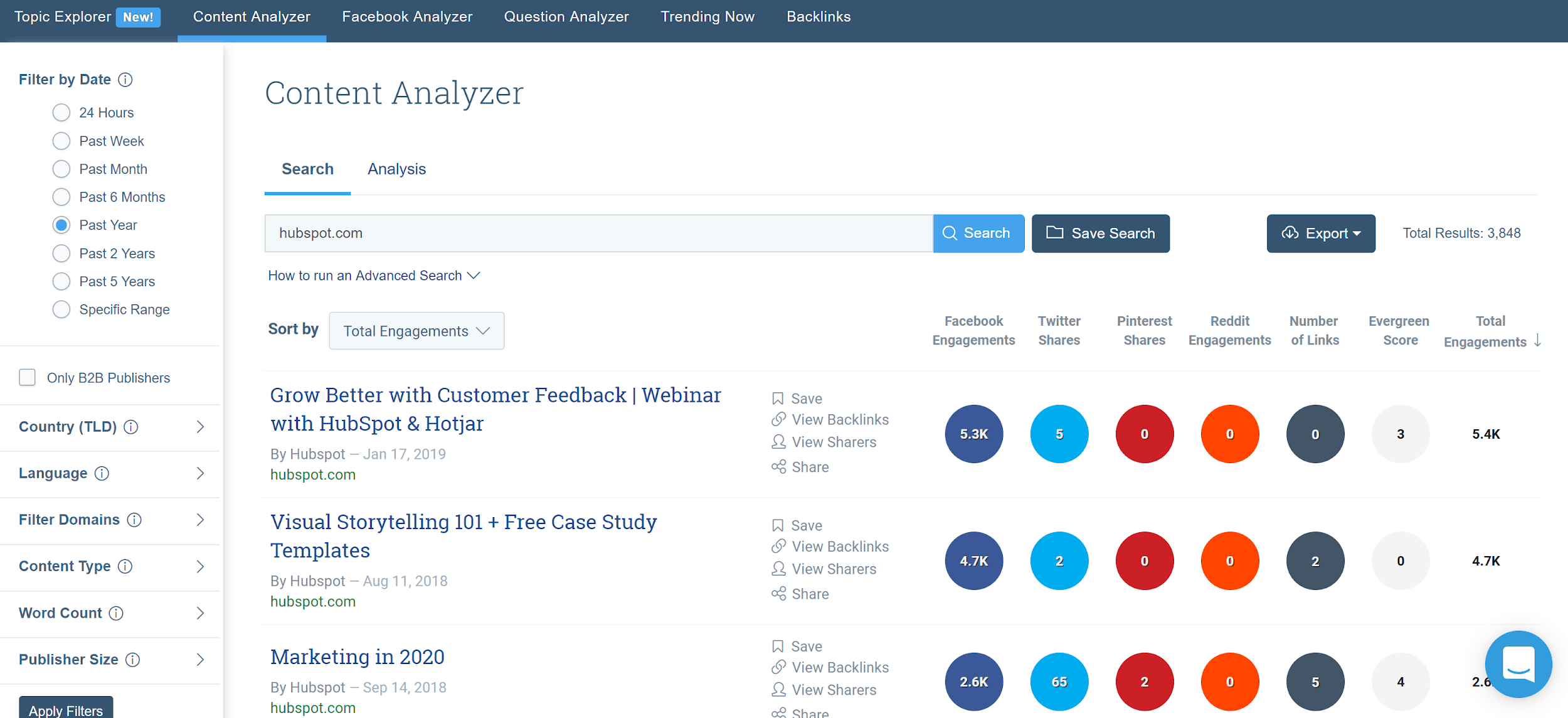 What You Get with the Free Version
This tool helps you:
Search for the best performing content on a particular domain in the past year
Find popular topics
Get sharing statistics for Twitter, Facebook, Pinterest, Reddit, and more
Get data on content length, content type, and more
Since all you have to do is type in a keyword or URL, BuzzSumo is ridiculously easy to use. This tool will help you identify what types of content are working for your competitors so you can publish even better content to attract your audience's attention. While you can use the tool for free, you'll have to create an account to do more than a certain number of searches. This also limits you to the top ten results.
What Do You Get If You Pay?
If you upgrade to BuzzSumo's Pro plan, you remove the limitation on the number of search results, and can get more information on backlinks. You can also see the influencers who are sharing content, and search over longer periods, from the last 24 hours to the past five years.
When Should You Upgrade?
A good time to upgrade to the Pro plan is when you're thinking of doing influencer marketing. Knowing who's linking to your competitors' content is a great starting point for building your own list of influencers.
| | |
| --- | --- |
| Beginner Friendly | Yes |
| Brand Monitoring | Yes, but need to upgrade for full results |
| SEO Data | No |
#4 OpenLinkProfiler – Best for Quick Backlink Analysis
One of the important things to know about your competitors is who's linking to them. There are a lot of tools offering backlink analysis, but these tend to be expensive. Open Link Profiler is a great free option from SEO Profiler, and it's simple to use, too.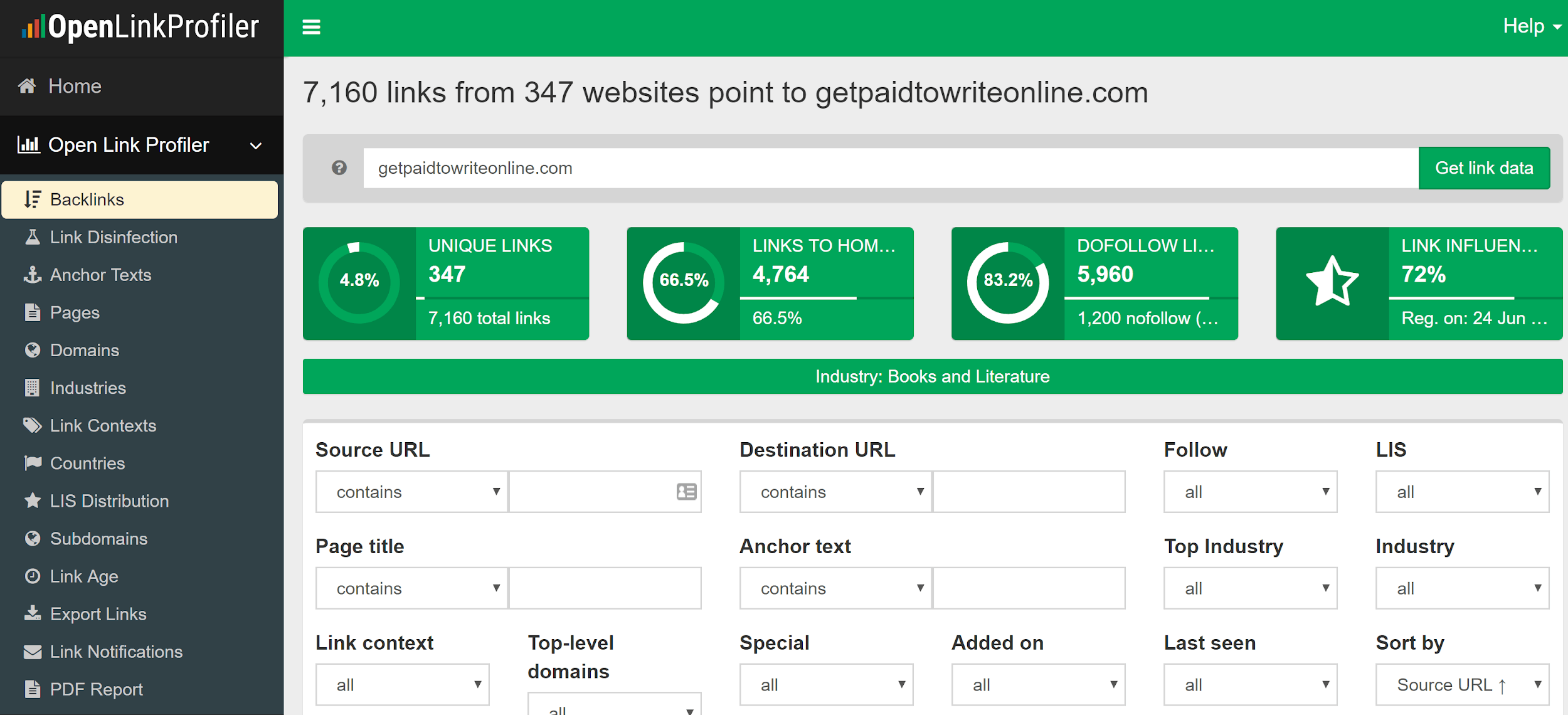 What You Get with the Free Version
In addition to tracking backlinks to your competitor's site, you can:
See which pages have the most unique links
See which industries are linking most often to your competitor
Identify the types of links (e.g., links from blogs, ebooks, interviews, and reviews)
View the top anchor text used by those inbound links
This free tool does have some limitations in the number of results available, and how you can view them. For example, to see all suspicious links or print a PDF report of your competitive analysis, you'll need to sign up for a free SEOProfiler account.
What Do You Get If You Pay?
If you upgrade to a paid SEOProfiler account, you'll be able to get data on 1,500 keywords daily. You'll also be able to run more projects and get access to brand monitoring, keyword spy, domain research, and other tools.
When Should You Upgrade?
With SEOProfiler, the time to upgrade is when you need more in-depth competitive research. The upgrade allows you to track data for up to ten websites, which means you can get a great snapshot of what's working across your niche.
| | |
| --- | --- |
| Beginner Friendly | Yes |
| Brand Monitoring | No |
| SEO Data | Yes |
#5 WordStream's Free Keyword Tool – Best For SEO and Paid Search Data
If you're marketing your business, you'll need to know where your competitors are achieving success with keywords for pay-per-click ads and improving search engine optimization (SEO). WordStream's free keyword tool helps with that.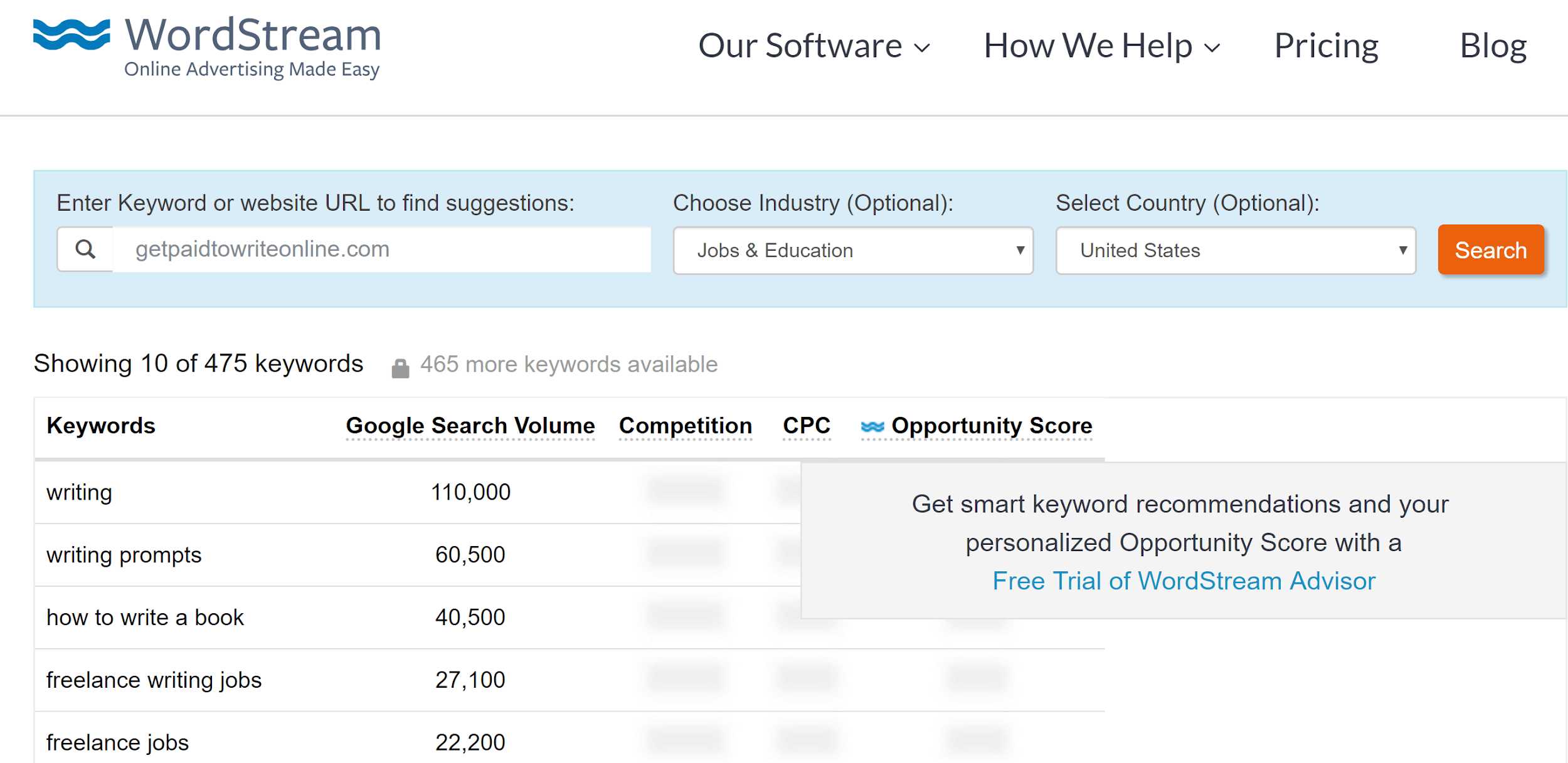 What You Get with the Free Version
It's easy to use. Just type in a URL, and you'll quickly get a report with:
The top ten keyword suggestions, including long-tail keywords
Google search volume for keywords
The ability to filter by industry or country
Enter your email, and you get even more information for free, including:
Keyword competition level
Estimated cost-per-click
A complete list of hundreds of keywords
You can link your Google Ads account to get even more data. WordStream also has some related tools you can also use for free, such as the Negative Keyword Tool and the Keyword Grouper. The Negative Keyword Tool tells you which keywords to exclude from Google Ads campaigns, so you don't waste money on unprofitable keywords. The Keyword Grouper tool clusters similar keywords, making it easy for you to use them in content marketing and search marketing. One limitation of the free tool is that you don't get recommendations to help you with social media advertising.
What Do You Get If You Pay?
The pro version of WordStream is pricey, even when you pay annually, so it's definitely an investment you'll want to think about. However, it gives you access to data for both Google and Bing, and to information helpful for social and display ads. Plus, WordStream offers a "20 minute work week" approach for working with your ads.
When Should You Upgrade?
The time to upgrade is when you're ready to get keyword data for social ad campaigns, and benefit from additional reporting on your competitive keyword campaigns. The upgraded version also includes a performance dashboard, keywords for Bing search advertising, and conversion tracking.
| | |
| --- | --- |
| Beginner Friendly | Yes |
| Brand Monitoring | No |
| SEO Data | Yes |
The Heavy Hitters of Competitive Research
Till now, we've focused on the tools you can use for free, but there are a few tools to consider if you're ready to pay for a premium service.
SEMrush
This all in one toolkit is extremely powerful. It offers:
Domain and keyword analytics
Traffic analytics
Search position tracking
Organic keyword research
Content audits
Backlink tracking
And much more
With SEMrush, you can do much more than keep tabs on your competitors. You'll also be able to improve your own site's performance, though it costs at least a hundred dollars a month. The big advantage of SEMrush is that you can handle everything to do with content marketing, search marketing, and SEO in one place. You also monitor and post to social media profiles from within the tool, and use an on-page SEO checker to improve your own content. You can try out SEMrush for free with a seven-day trial (although you will need to enter your billing information).
SimilarWeb
SimilarWeb is an enterprise competitive analysis and benchmarking tool. It helps you:
Peek into your competitors' online strategy by entering their URL
See traffic analytics and other metrics for competitors' sites
Find out industry trends in your niche
See what customers want and how they interact with sites before achieving their goals
SimilarWeb helps with competitive research, SEO and content strategies, lead generation, and identifying investors. There is a free version of the tool, which you can get as a Chrome extension. However, the number of results per metric are minimal, versus unlimited. You'll also only be able to access a few months of data, as opposed to years. If you're interested but aren't ready to pay a large monthly fee, you can request a live demo.
Ahrefs
Ahrefs is another multipurpose competitive research tool. With a focus on keywords, links, and content, the tool's best feature is the size of its database. Currently, it monitors 16 trillion inbound links, seven billion keyword phrases and one billion pieces of content. That's a heck of a lot, right? With Ahrefs, you can:
Research multiple domains and URLs
Track keywords
Identify content gaps, which give you the chance to outdo your competitors
Explore trends
Build keyword lists for ads and content
You'll need to pay thousands each year for this powerful tool. However, if you want to take a test drive—or just conduct a quick research project—you can do a seven-day trial for just a few bucks.
Which Competitive Research Tool Should You Choose?
With all these different features, it can be hard to decide which tool is best for your needs. The table below will help you compare:
| | | | | |
| --- | --- | --- | --- | --- |
| | Best For | Free to Use? | Outstanding Feature | Other Features |
| Google Alerts | Tracking competitor news | Yes | Easy mention reports | Tracking products, tracking brand names, specifying sources to check |
| Social Mention | Real-time social media search | Yes | Sentiment analysis | Tracking brand mentions, seeing how people perceive your brand, searching for videos and questions |
| BuzzSumo | Content marketing analysis | Yes, but with limitations | Cross-platform sharing statistics | Finding popular topics, getting content metrics, seeing who's sharing content |
| Open Link Profiler | Quick backlink analysis | Yes, but with limitations | Industry profiles for links | Identifying unique links, finding anchor text, seeing which sources links come from |
| WordStream's Keyword Tool | SEO and paid search data | Yes, but with limitations | Keyword opportunities | Finding keyword suggestions, seeing Google search volume, improving SEO and PPC performance |
In the end, it'll depend on which type of competitive data will improve your business RIGHT NOW. Here's our recommendations:
If you want a super simple brand monitoring tool, go with Google Alerts
If you're focusing on creating viral content, use Buzzsumo
And if you want keyword data for SEO and ads, use WordStream's free tool
No matter which tool you choose, you'll get valuable information to help you beat the competition online.