I'll break down exactly how you can get your new logo designed professionally, all for as little as $5
.
---
9 Arabic Logo Designs
Searching for the perfect logo design with no idea where to start? When my colleague was in the same position, he tested and ranked the most popular logo design services in a
comprehensive logo design service comparison
. See how each service performed and which one became our new logo on Website Planet!
How to Get a Logo Designed for $5
I'll be honest, a $5 bespoke logo design sounds like a scam. Before I found Fiverr, I had no idea that a professional logo could cost so little. But since getting my own logo through Fiverr's platform, I can say with full certainty – a high-quality, professional $5 logo is possible! Fiverr is a freelancing website where designers (and other types of creatives) offer their services in set packages, beginning at $5. If your budget is flexible, you'll have access to even more designers. However, if you want to stay at the entry-level pricing, there are thousands of talented designers at this super-low price point. You can get started with Fiverr easily.
Just head to the Fiverr homepage
 and type "Arabic logo" into the search bar. All of the designers matching your query will appear in the results. Search through the various logo examples until you find one that catches your eye.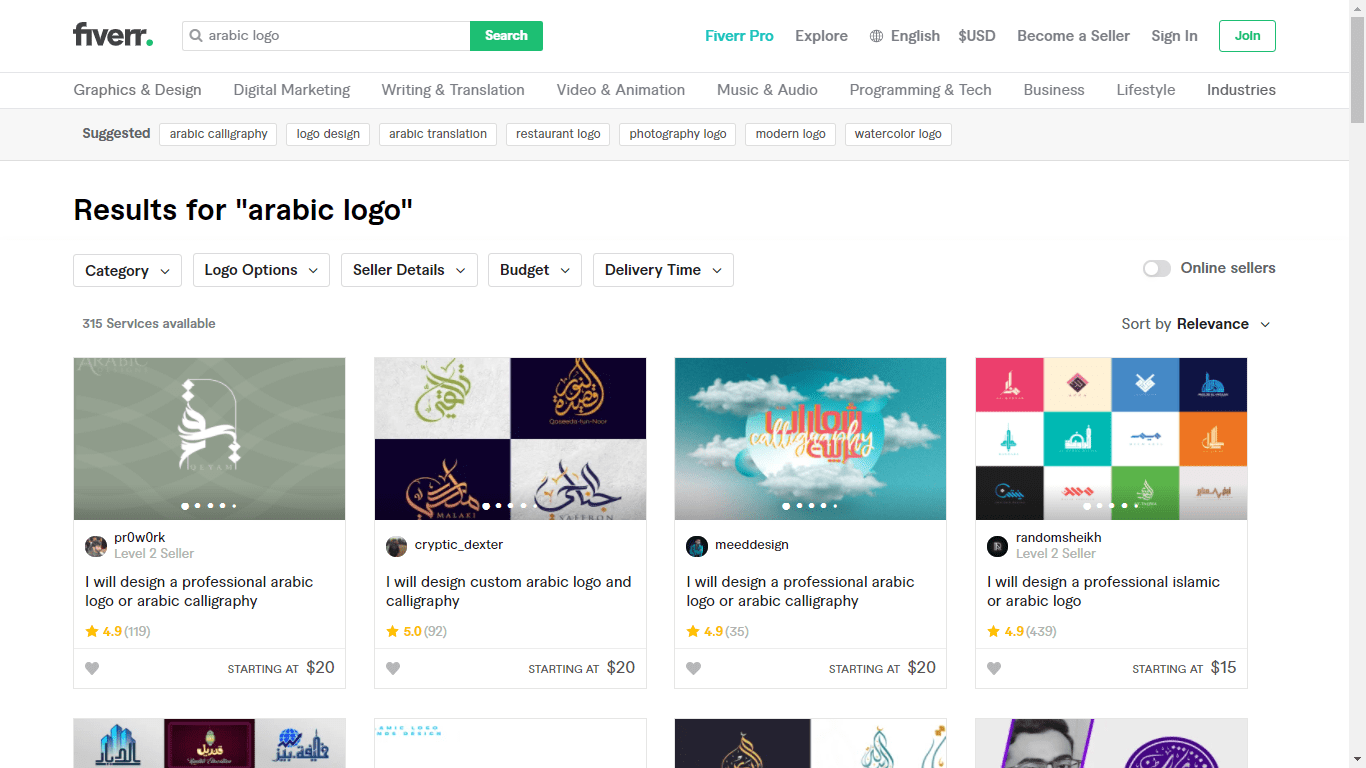 Clicking on a result opens up a designer's profile for that gig. Here, you'll find their portfolio, customer reviews, services, and pricing. Take your time looking through to decide if they're a good fit for you. If you don't see answers to a question you may have, you can reach out to the designer directly through the
Contact Seller
button
.
Select a package, then hit
Continue
when you're ready to move on.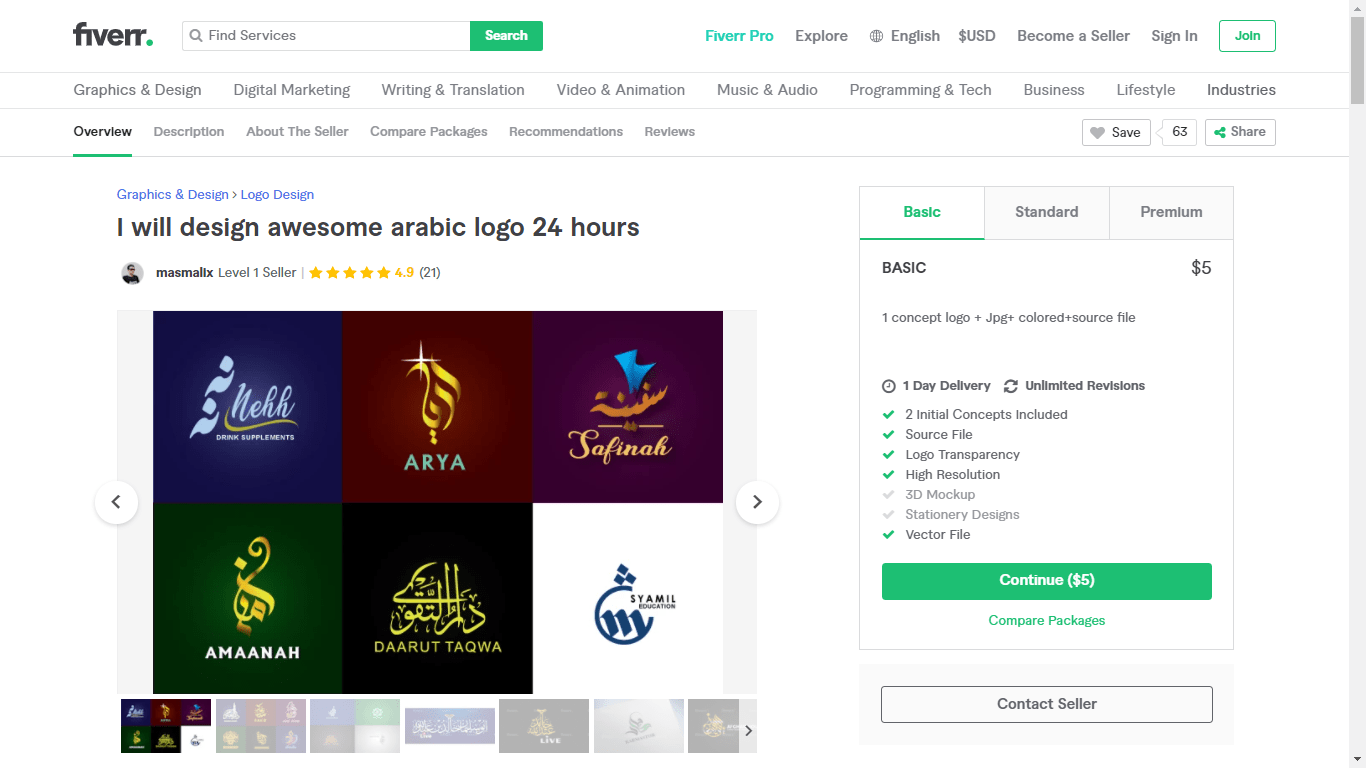 The payment preview page displays your final costs for the package and the services it includes. If you're happy with what you see, click
Continue to Checkout
to enter your payment details and complete the commissioning process.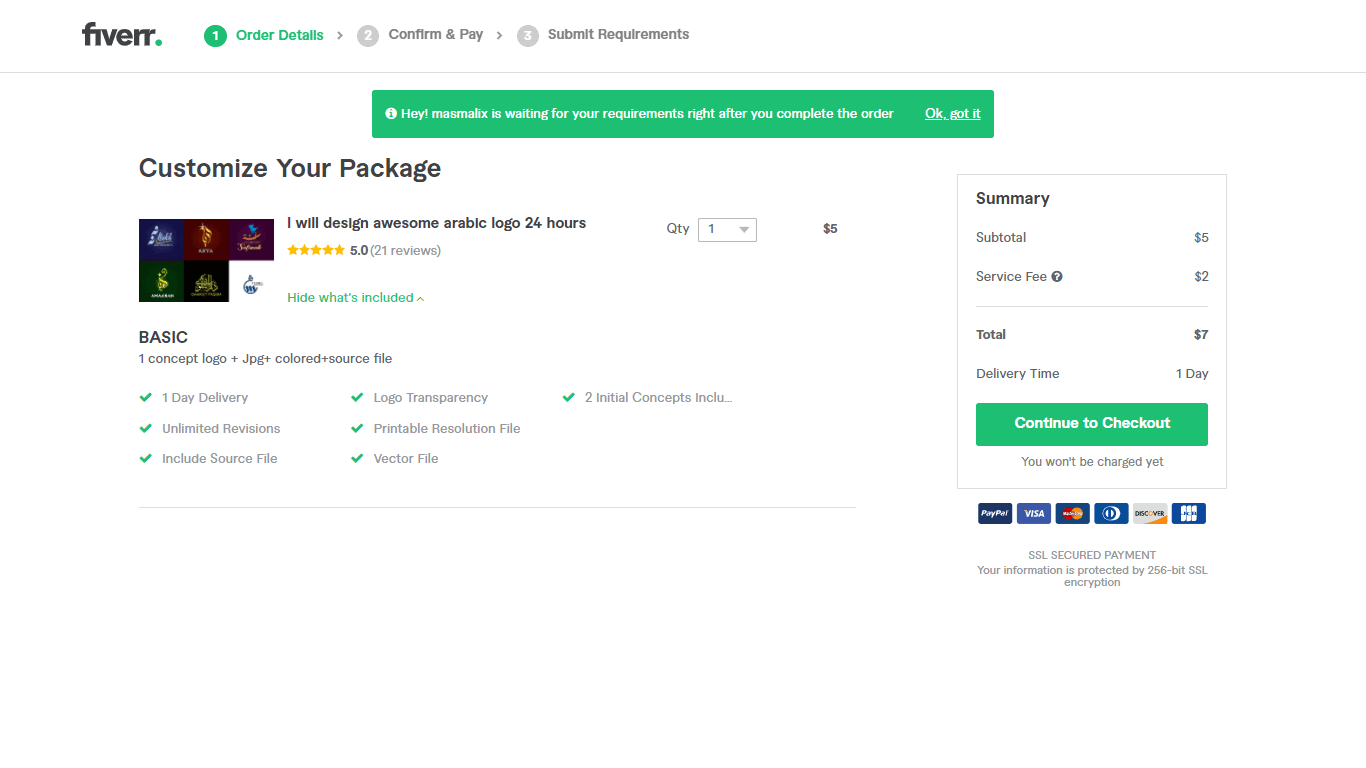 From here, you can give your designer your logo requirements, such as the direct translation of the logo's text in Arabic or an inspirational photo. Your designer will get started and in as little as a week, your new logo design will be delivered to you! Fiverr is quick and easy to use, but here are a few other notable features:
Useful search options – You can use filters like delivery time, budget, seller level, and online status to search for designers that meet your needs. You can even search by the seller's spoken languages, including Arabic.
No-nonsense seller levels – Designers are placed in seller levels based on their time on Fiverr and customer reviews. Choose a higher level designer to better guarantee quality work.
No extra fees – Once you submit your payment upfront, the cost of your package is locked in. You'll only ever pay additional fees if you decide to add services to your package after you've hired the designer.
Customizable design packages – Designers often offer package extras like printable resolution files or a 3D mockup. You can add these right before checkout to ensure the set packages suit your needs.
Want to know more?
Read our expert Fiverr Logo Design review
to see some logo samples.
How to Create a DIY Logo Design
If you're a relatively confident Arabic speaker with lots of creativity to spare, you might decide to make your own logo. Don't go out and buy expensive, complicated design software – you don't need it. The best way to DIY is with an online logo maker. While you'll have full creative control of your project, you aren't likely to save a ton of money. Most tools are free to use, but there's a catch. You'll need to pay to download your logo files in a usable, high-resolution format at the end. Having said all that, an online logo maker might still be the best option for you. My ultimate recommendation is Wix Logo Maker. This tool uses AI technology to suggest logo templates tailored to you. I like it because it's easy to use, reasonably priced, and it gives you loads of customization options to make your logo unique.
Head to the Wix Logo Maker homepage
and sign up for a profile to begin creating your logo. Enter your company name and tagline to get started.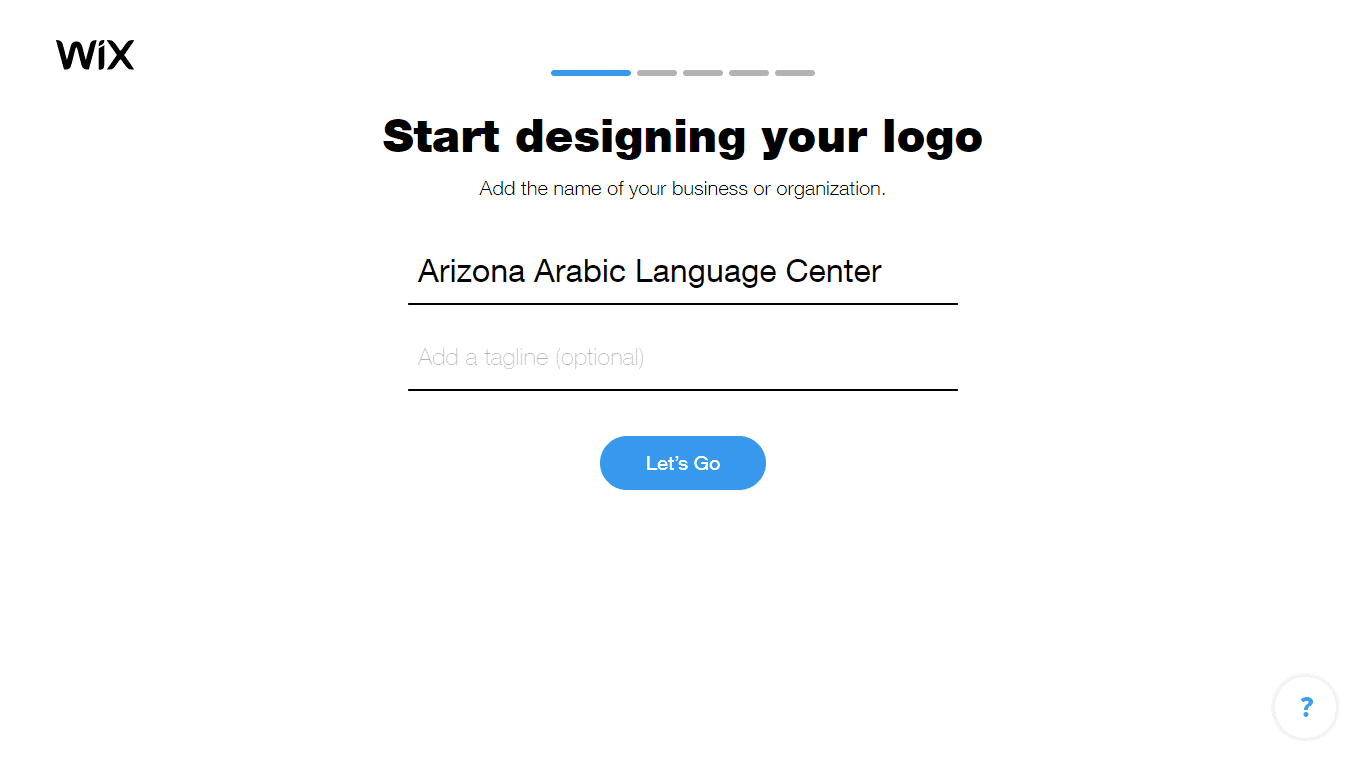 What industry are you in? Start typing into the search bar and select the closest match from the dropdown menu. I found multiple Arabic-related industries to choose from – so hopefully, you'll find a good fit.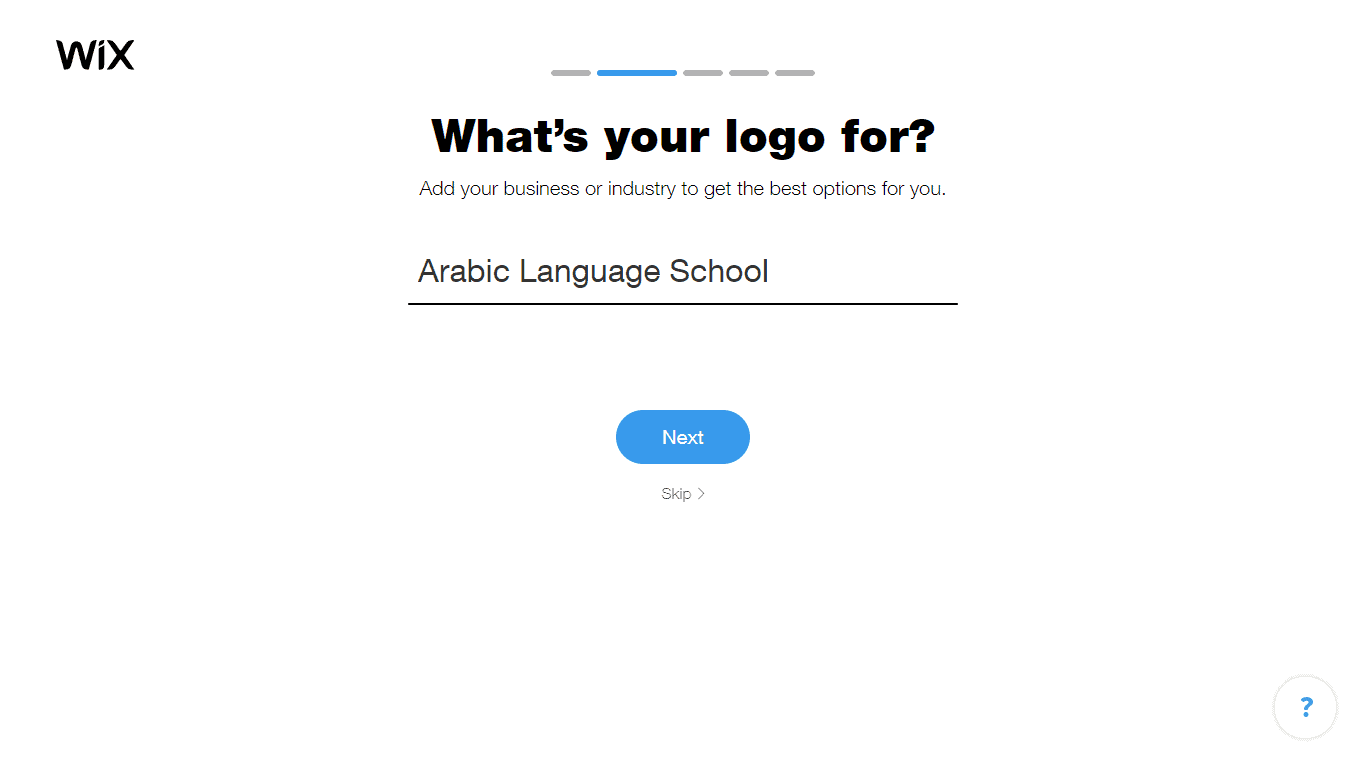 How do you want your finished logo to look? Use the adjectives in the group to describe your logo by highlighting all the words that apply.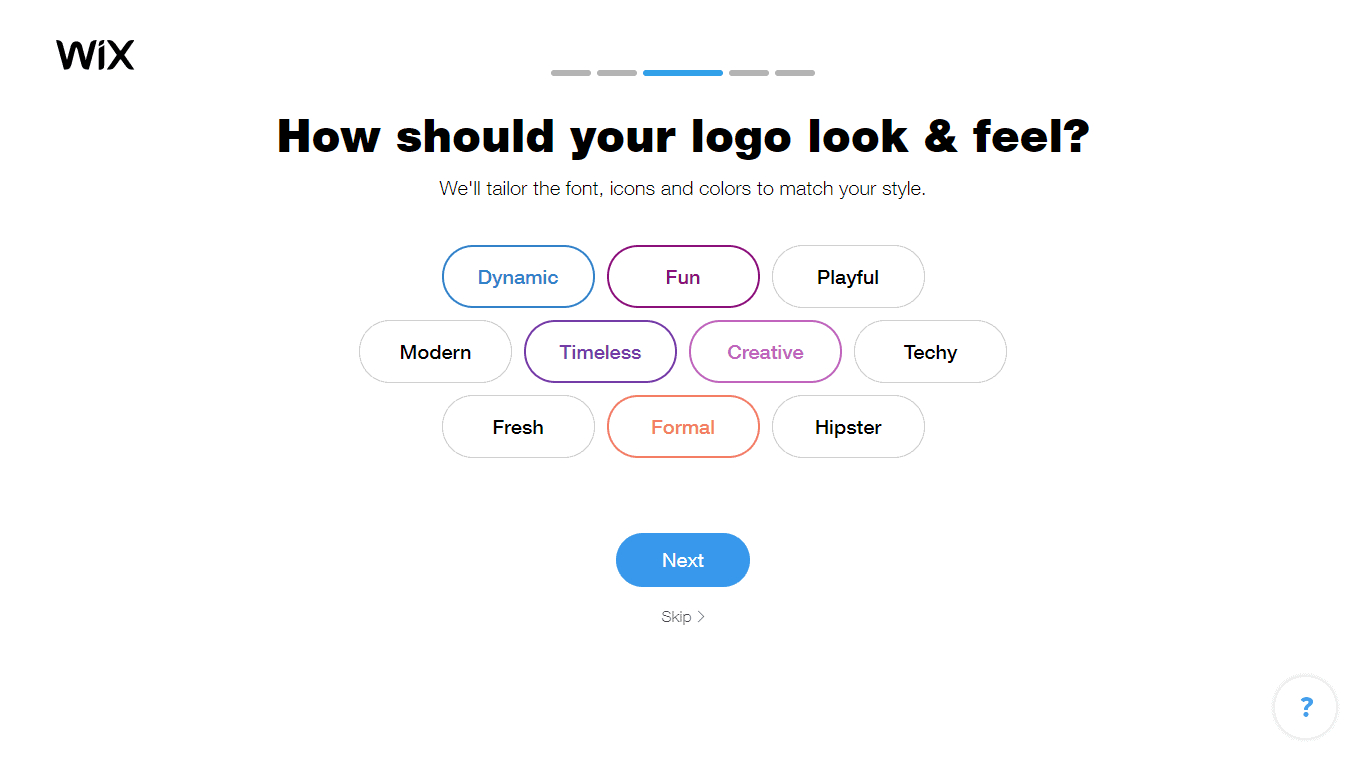 The sequence of logo pairs helps the AI determine what styles of logo you like. Click the design in each pair that you prefer. You can skip the pair by clicking
I don't like either of them
, but this stage is important for later down the line so try to go with your gut and only skip when you really can't choose.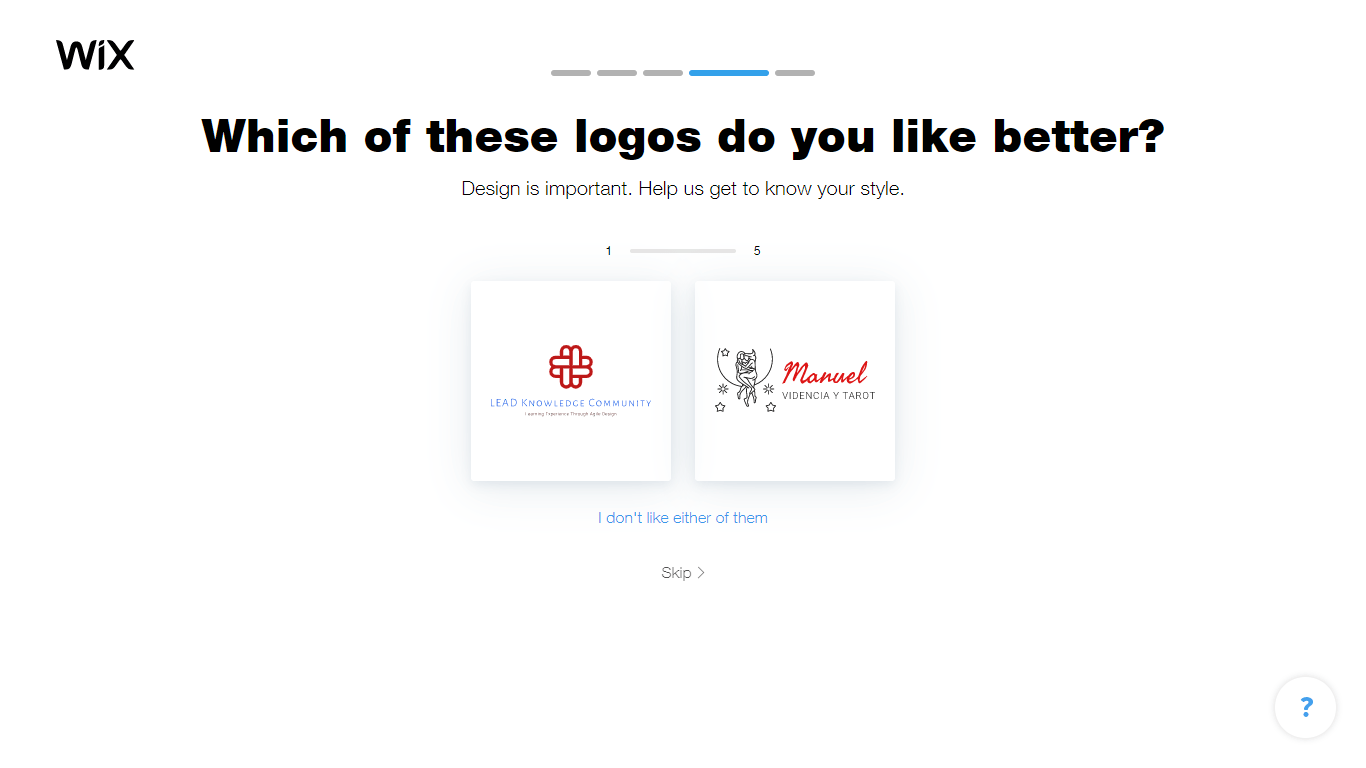 How will you be using your logo? On merchandise, a website, or in a presentation? Select the options that apply.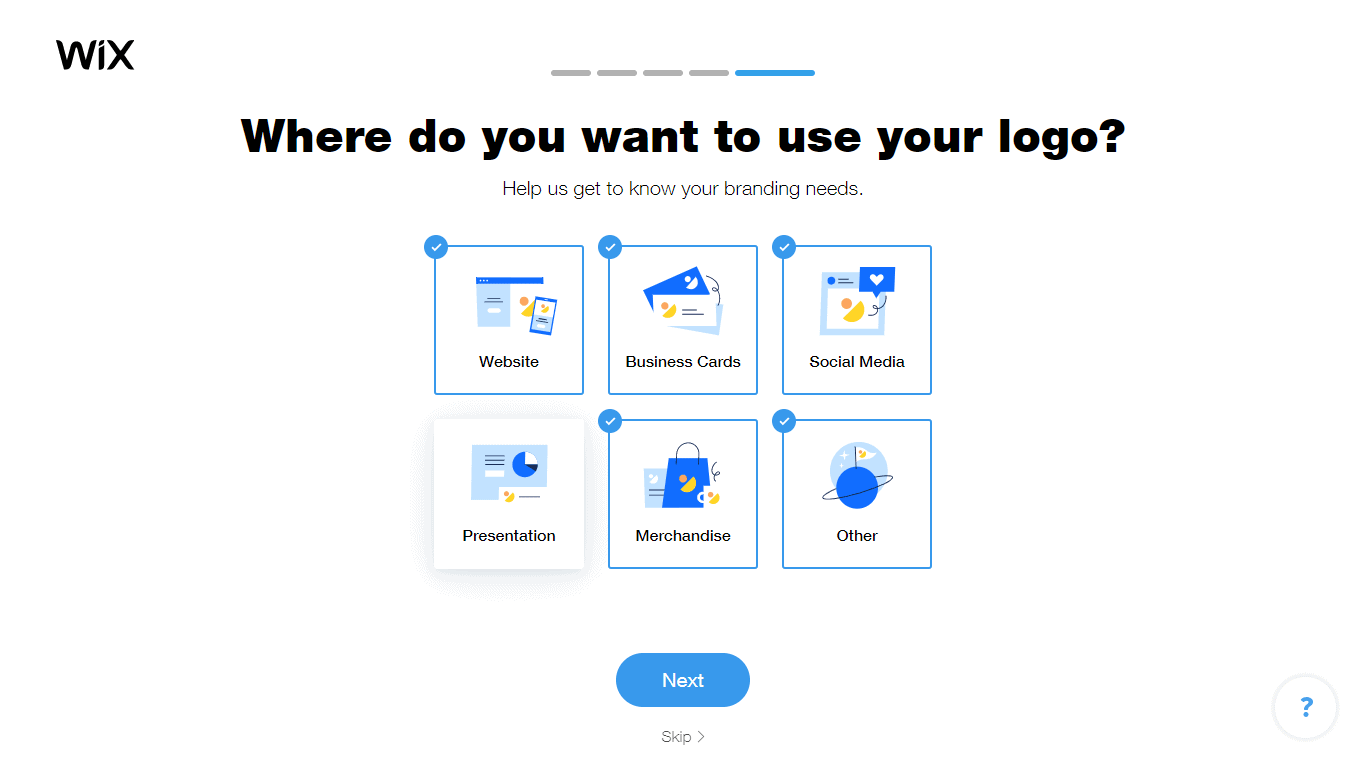 Your logo template suggestions are up next! The AI creates a huge variety of templates pre-populated with your company name.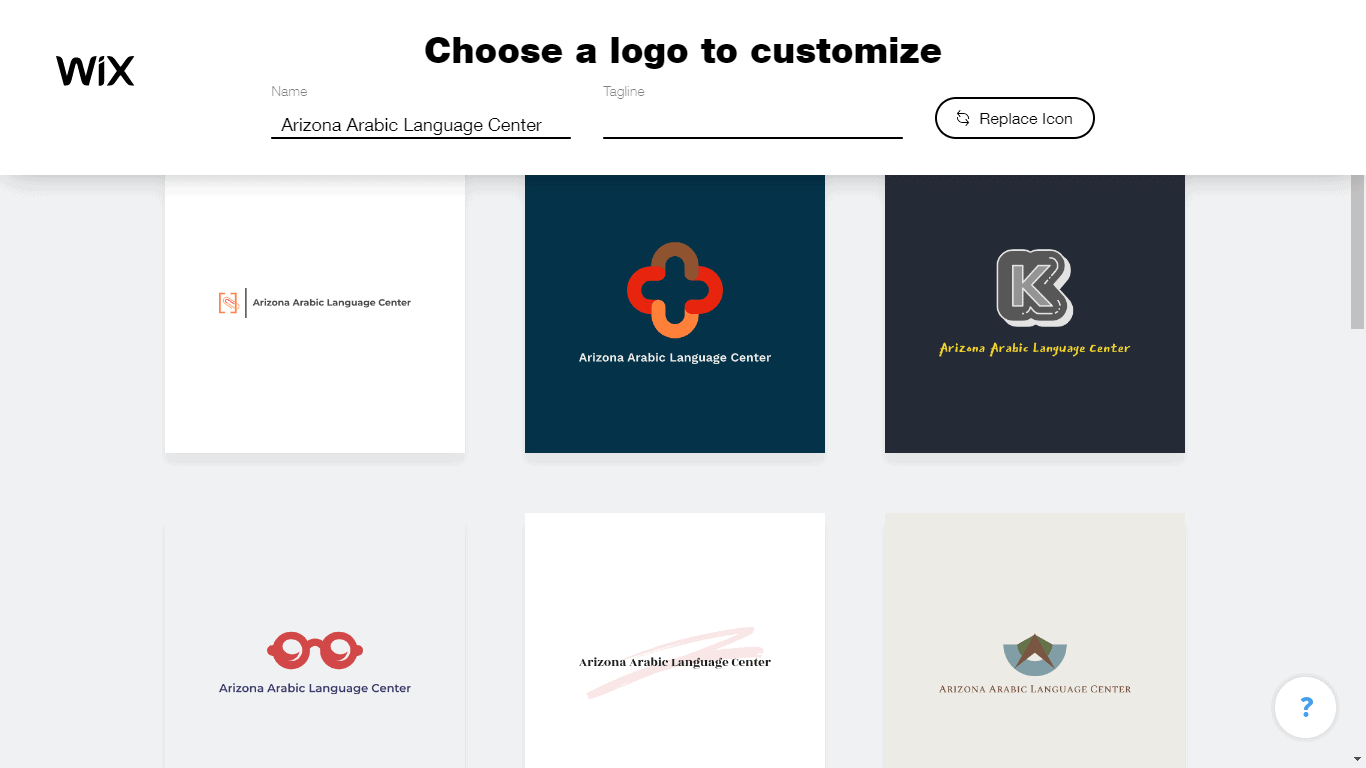 The icons in the logo templates may not be what you're looking for, but you can replace them with something new. Click
Replace Icon
and type in a relevant term to see what options you have. You can search "Arabic" if that fits, or simply choose a term that matches your industry.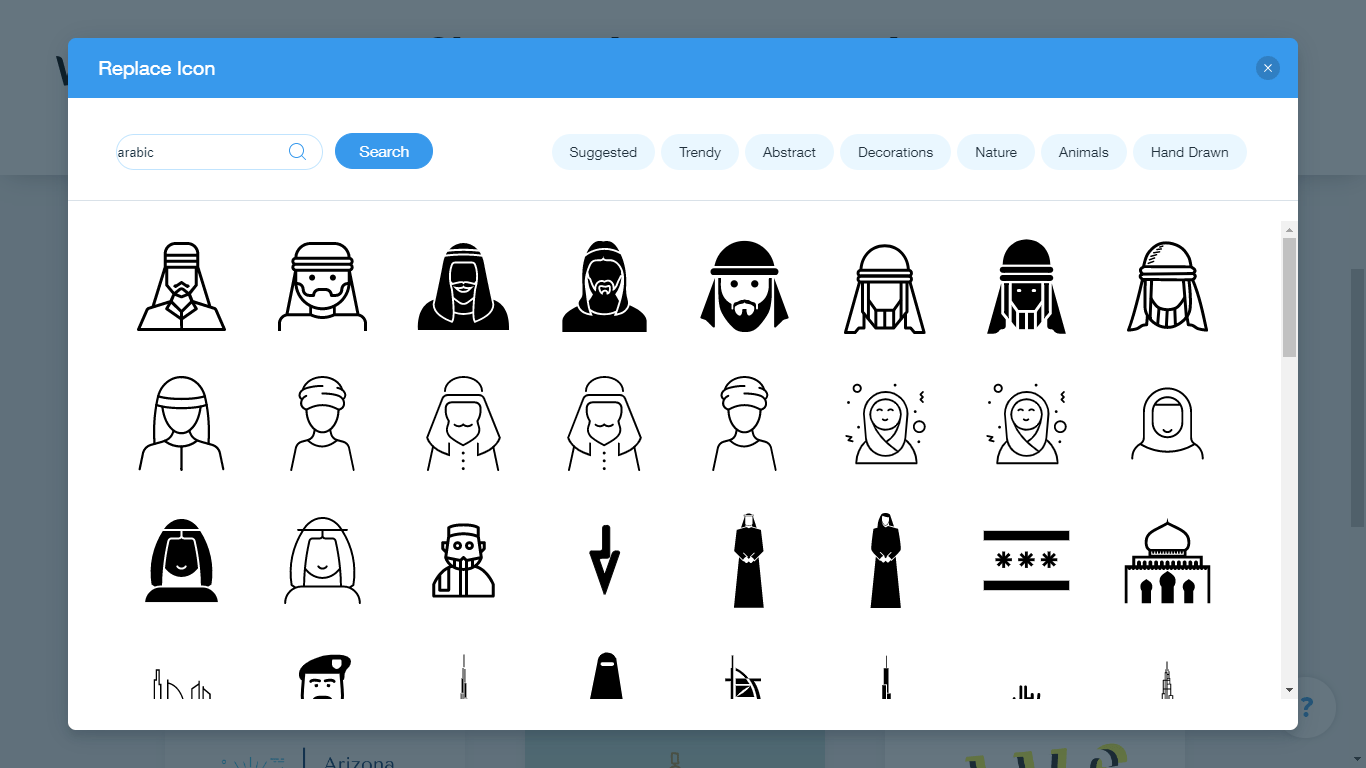 When you're ready to customize your favorite template, click to move on to the logo editor. Wix Logo Maker has thousands of great icons, more than 70 distinct color palettes, and a huge range of font styles. Copy and paste your Arabic text into a text box, then add it to your logo and search until you find the perfect font to match.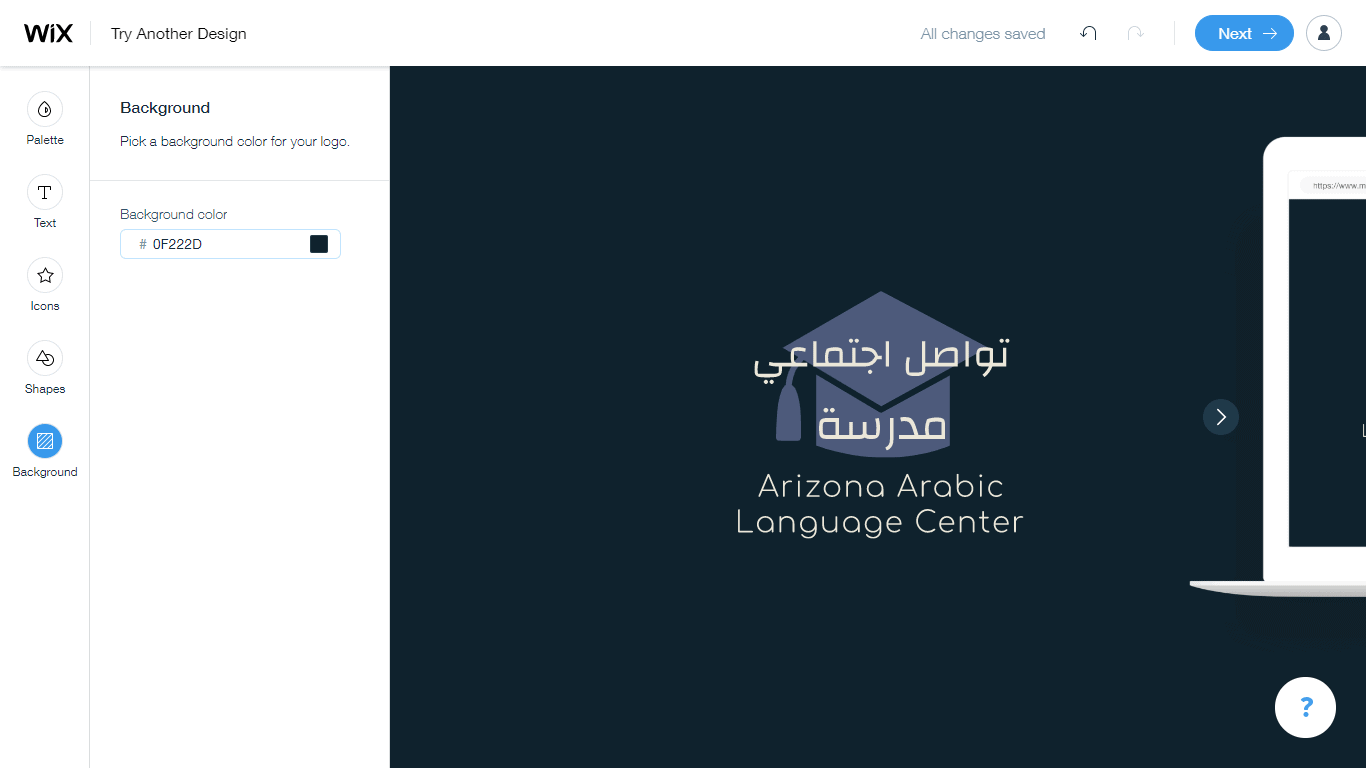 Are you prepared to seize control of your logo? Click the "Next" button to choose your desired package and advance with your payment. After completing this step, our team will create your new Arabic logo design in a professional, high-resolution format, ready for you to download.
Wix Logo Maker Alternatives:
DesignEvo – DesignEvo has 10,000+ high-quality logo templates in almost 20 searchable categories. Once you find a template you love, you can insert your text and make the logo your own.
LogoMaker – Do you need a basic logo design, without all the bells and whistles? Use Logo Maker and you can have your new logo in four quick and easy steps!
Interested in Wix Logo Maker? Read our
in-depth Wix Logo Maker review
to find out more.
Wrapping Up
You can find the perfect logo designer for just $5 with Fiverr
. It makes accessing affordable logo designers simple and user-friendly. So, sit back and hire an Arabic-speaking professional designer to create the logo of your dreams. You'll be in safe hands!
If you'd prefer to create your own logo, the best DIY logo solution is Wix Logo Maker
. You can bring your vision to life in no time at all, and you don't need to worry about it looking amateur. The tool's clever AI makes the design process quick, hassle-free, and fun. It's perfectly fine to take time considering which route is right for you. While you're thinking it over, why not check out my colleague's
expert logo design services review
 to see how Wix Logo Maker and Fiverr held up against their competitors.