So you're trying to run an online business. Trying to keep your eye on the ball. Even if you're just starting out, before you know it, you'll have hired ten freelancers, on three different continents and five different time zones. Now they're all bearing down on your feeble personal email account.
Finding and hiring freelancers online is easier than it ever was. Knowing how to get the most out of such engagements can be a bit more challenging. If it weren't, there would be no project managers out there.
Trying to keep the machine rolling it seems impossible to put aside the time you need to learn a complicated new software tool (Did somebody say Visio?).
Even if it promises to save you that time right after you get things rolling, it's not like you can loan time.
You need to get your projects in order and you need to do it now.
Conundrum? Not really.
If sometimes you feel like all you do is route emails between different contacts, if finding that attachment file takes longer than writing the message itself, or if you just don't want to be handing around your Dropbox password – Basecamp is what you need.
#1: Too easy to get started
Basecamp is a project management web app created by 37signals in 2004.
Probably it's most attractive appeal lies in its minimal design and effortless operation.
You get a 60 day trial period to get you hooked, which means no registration hassle from the get go. You'll visit one page, fill out four fields, then right into your fresh account you dive.

Considering whether or not to open an account would take you longer than opening one. This is a terrible cliché, and like a lot of those, quite true.
#2: 0 set-up
Your first concern when approaching a new software tool is learning all the nooks and crannies, getting comfortable with the interface and familiar with all the features.
When it comes to Basecamp – this simply doesn't happen.
The crannies just aren't there. Some might say there aren't any features either; I would claim there are just enough.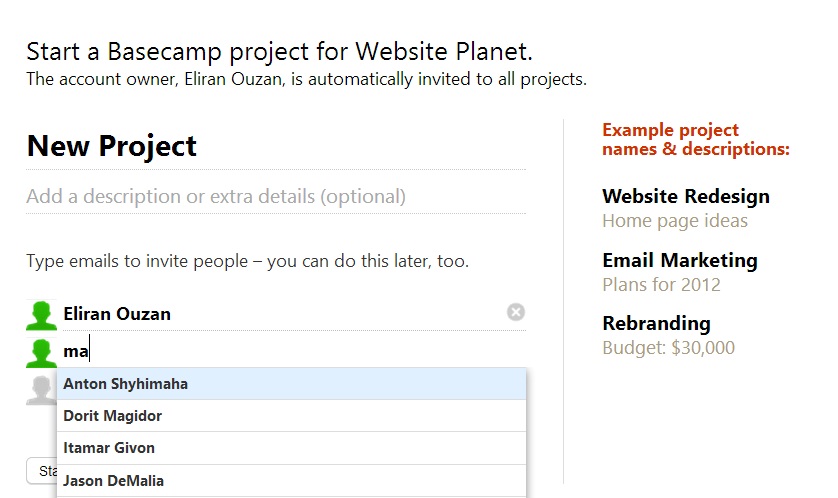 When I started using BaseCamp myself, I simply invited my contractors to join me on my account and – that was it.
No questions, no explanations, no syncing. They all just took it in stride, it's that intuitive.
Basecamp offers a flat design interface which means no clutter, and nothing to get confused with.
#3: Less is just enough
Basecamp hates configuration.
Want to invite someone new? Just type in their email.
Want to add another task to a to-do list? Just press enter.
Yet with all this minimalism Basecamp still dishes out all you need to keep everything in check.
BaseCamp serves you with just enough to fill your appetite, it would rather leave you a bit hungry than even slightly bloated.
Set up your project, invite collaborators, assign tasks, schedule events, and attach documents and files. If your list of needs is this short you will want for nothing. When your requirements are slim and explicit, you can really start making software do all the hard work.
Basecamp is not perfect, and it's not for everybody, nothing is. But as your first PM tool, it comes pretty close.
Many times the problem in this age of information, is having too much of it (link to slideshare about spam). Its flow becomes congested, even overwhelming, becoming in effect – disinformation.
Features that swamp instead of assist and interfaces that look like Chinese keyboards are too common and simply waste time instead of save it.
With Basecamp's one page project you can achieve maximal return on your predictability, which means the computer can work its smarts that much more easily.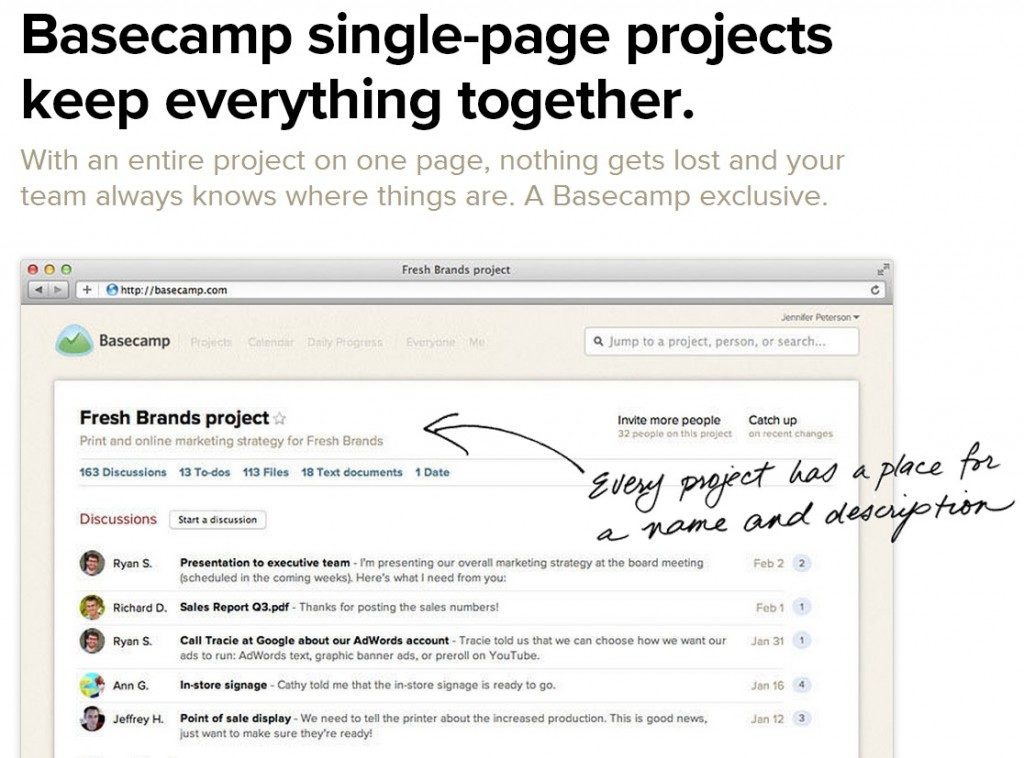 Add elements in your account – projects, files, collaborators etc. and let Basecamp handle how they interact. You can see the MVC paradigm heritage on Basecamp's navigation bar, allowing you to pick how to observe your project data in the context you care about at a given moment.
View your projects' progress as actions are made, peer ahead by looking at them in calendar to know your plans are in order. You can even browse all your projects by element if you need to find a misplaced file.
Its Basecamp's job to manage your projects, so you can focus on increasing your productivity.
#4: Brings everybody under one roof
This is the real bliss of online apps , no sharing necessary, it's already on the cloud.
Basecamp allows you to have a unified dashboard for everybody involved.
Invite whoever you need to join your project by typing in their emails and provide them with access to all the project's resources. Most importantly, you get a platform for communication and sharing with everybody involved.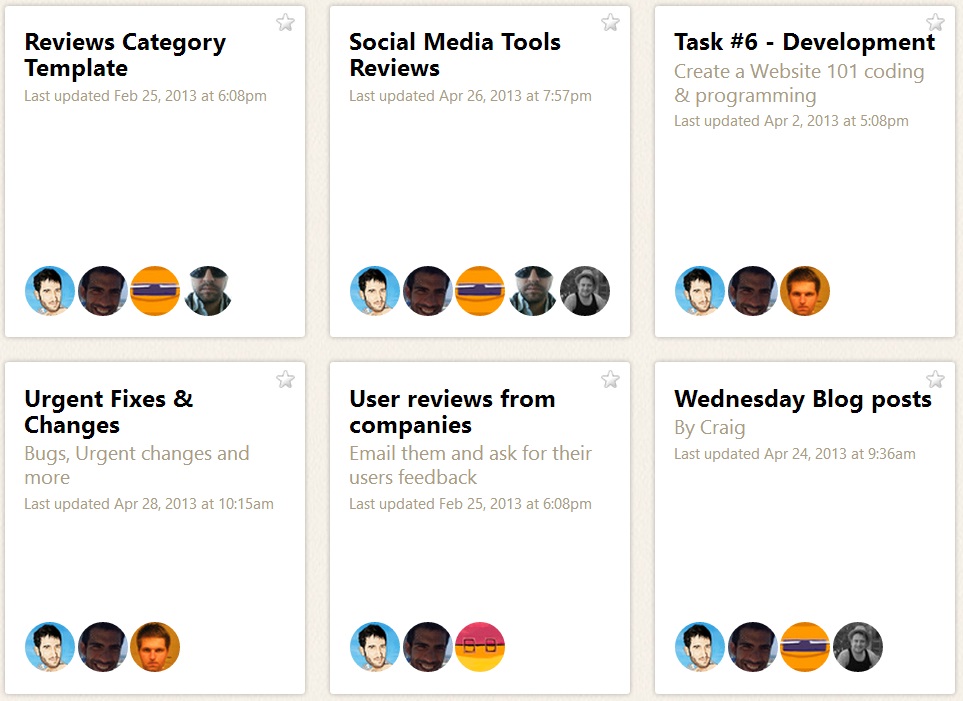 You get the option to assign people to different projects or tasks, schedule events and start discussions right from within the project in a dedicated virtual area.
Basecamp can be your library and your secretary, holding on to all of a project's resources and contacts, keeping everyone synchronized and up to date.
#5: Get on te 37Signals ship
As Jason Fried, 37Signals founder writes in their bestselling book "Rework" – "the tone is in your fingers".
37signals showcase in all their products not only their professional vision and  solution approach, but their business philosophy.
If you haven't read "Rework" yet, you should get your hands on a copy. But getting into the heads of market leaders by trying out their products can help you not only improve your working practices, but your business thinking.
Be it Basecamp, Campfire or Ruby on Rails, every product associated with the 37Signals brand can be used to learn their innovative, even avant-garde approach to doing business today.
You may have heard about 'lean start-ups', or companies that never hold meetings. Using Basecamp is not just a route to getting your project management fix, it's a path to converting your business into a more frugal and effective initiative.
Final Thoughts
Perhaps after reading this post, you are still not sure what flat app design is, what exactly are the features and limitations of Basecamp, or what the 37Signals philosophy really is.
What I do hope is that I've managed to tweak your curiosity to a point where you will just go out there and give it a whirl yourself. That's always the first step to accomplishing any of your goals.