"What business are you in?"
There are a million ways for an entrepreneur to answer that question. Bakers, organizers, retail owners, restaurateurs, and artists can all be small business owners. None of these people are accountants. Yet, maintaining finances is essential if you want to keep pretty much any business alive.
No small business owner should handle their company finances alone. It's important to understand your company's assets and liabilities, and an accountant can help you manage your money beyond day-to-day profit.
It's easier than ever to find an affordable accountant in today's digital age. One reason is that literal, physical space is no longer needed to keep records. Expensive software and tools like dedicated servers and even something as simple as meeting rooms are not necessary to do the job. Nowadays, all an accountant needs is a laptop.
Still, you need to know exactly what to expect from even the best freelance websites to be sure you are finding candidates that will truly meet your unique business needs.
Short on Time? These Are the Best Freelance Websites to Hire an Accountant in 2022:
Fiverr – Affordable, but professional financial consultants; ideal for small businesses on a tight budget
Freelancer.com – Tons of freelance accountants to browse through, all vetted through on-platform tests
PARO – A platform dedicated to the finance sector; more expensive, but freelancers are thoroughly vetted
#1: Fiverr
Let's get started. Fiverr is a great freelancing platform where you can search for an accountant, or—to use their specific term—a "financial consultant." What makes this platform different is that instead of clients posting jobs and freelancers submitting proposals, freelancers post their offerings, which clients can then search through and purchase directly.
When I searched "accounting" I got 4,000+ hits. Narrowing it down to "financial consulting" produces closer to 1,000. Fiverr offers fewer freelancers than the competition, but at significantly cheaper rates.
You can sort choices by "recommended," "best selling," or the "newest" arrivals to the site. Profiles vary because they are built by the freelancer, but we were impressed by the option to add an "FAQ" section to answer the most common questions clients may have about your service offerings.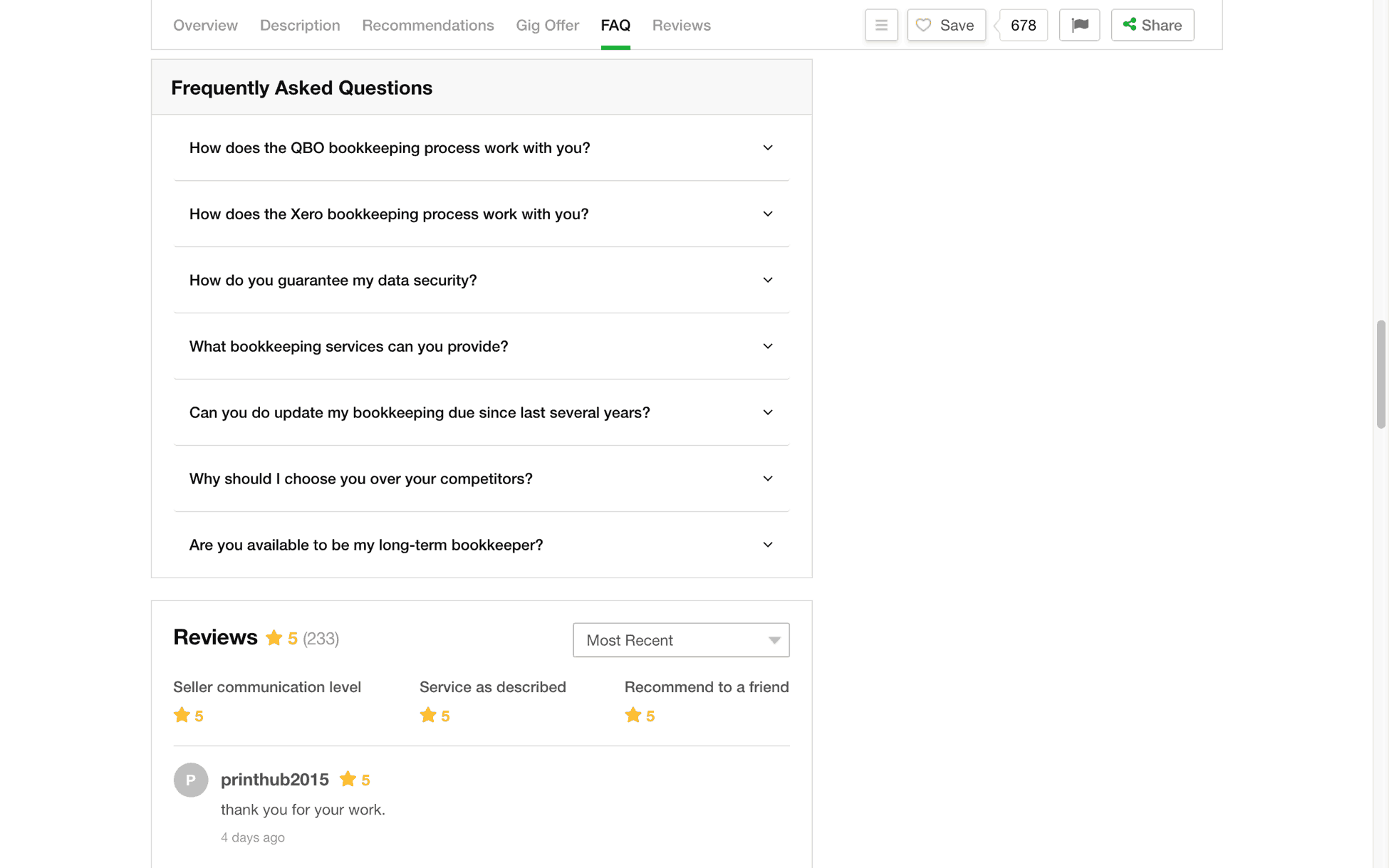 While more filters would be helpful, the options to choose a delivery time and to create your own price range are especially useful.
To learn more about Fiverr, read our expert review.
#2: Freelancer.com
The Freelancer.com directory has more than 6,000 accountants for hire. The filters are more limited than competitors like Upwork, but they include location, hourly rates, skills, ratings, etc. The platform offers a number of qualification exams for freelancers to prove their abilities in different fields. This can be helpful for prospective clients to narrow down potential candidates, however, the platform currently only offers one exam for personal accounting.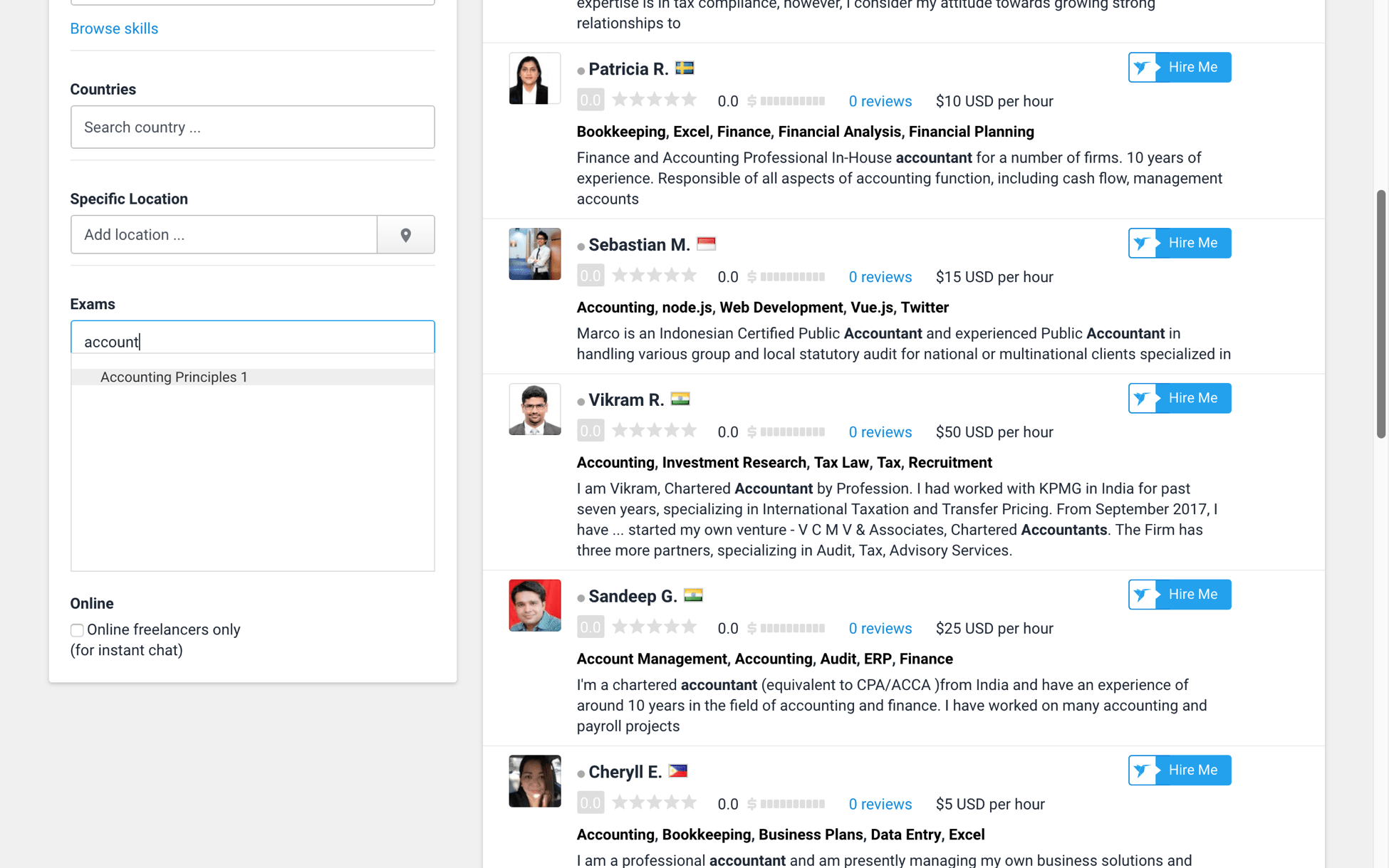 Clicking a profile is the best way to make a final decision about the accountant you want to hire on Freelancer.com. I like that there's a section for prospective hires to upload projects they've done for former clients. Client reviews are also easy to read on the expanded profile. Another option is to just look at "online users" if there is a position that you need to fill quickly and are looking to start the application process right away.
For more information, read our expert review of Freelancer.com.
#3: PARO
Hiring a freelance accountant on PARO is a bit different than any of the other options on this list. For starters, they specialize in the finance sector. To begin the process, you take a quiz so the service knows how to best meet your needs. After indicating that I need an accountant, I selected my industry: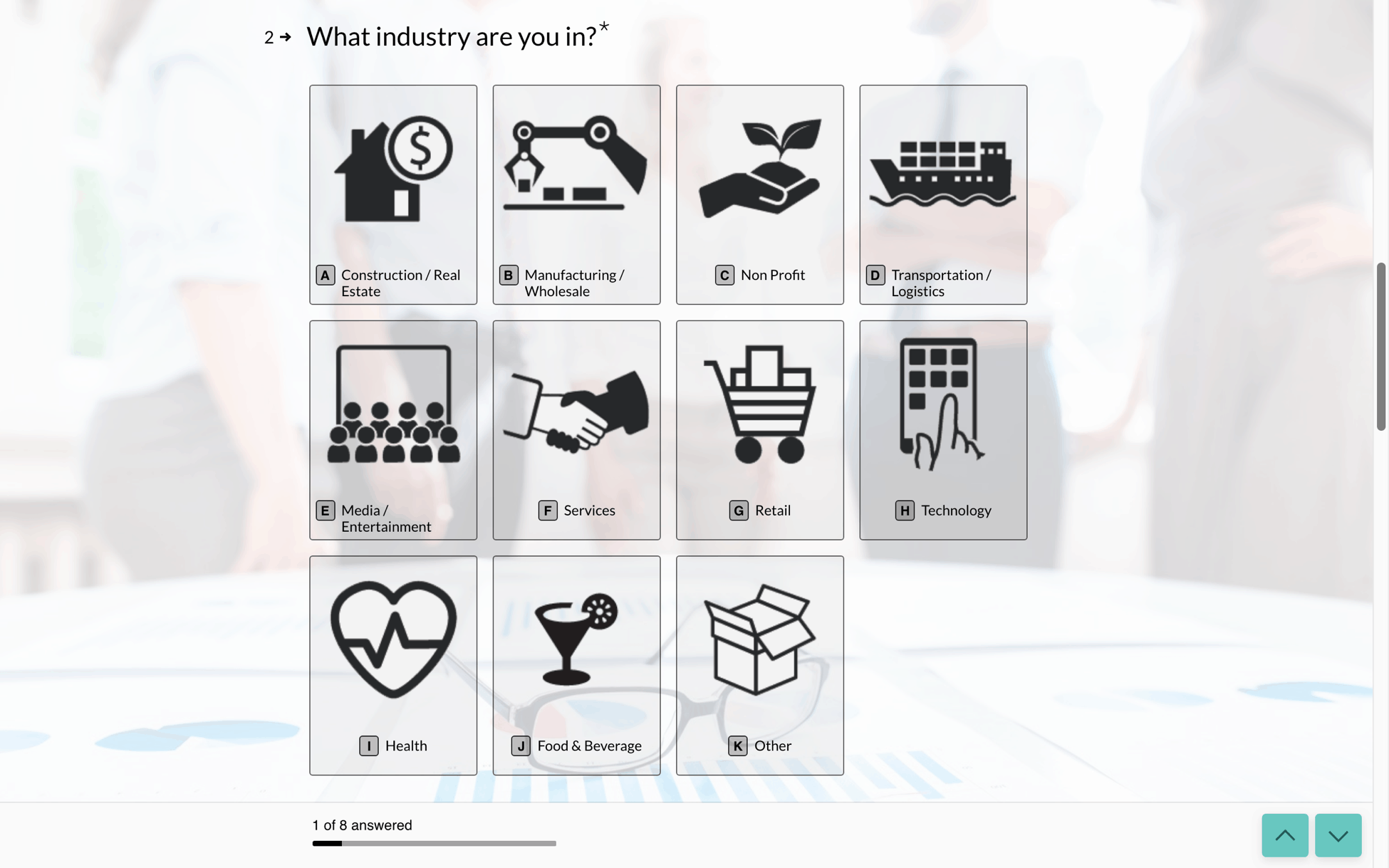 At this point, you provide information including your company size, name, and contact information and are told that someone will reach out to you. While I don't particularly love this model of getting in touch, the questionnaire does make it feel like a more personalized way to find a freelance finance professional for your business.
According to PARO, only the top 2% of finance freelancers make it through their rigorous vetting process, which includes a skills assessment, interview, test project, and reference check. PARO matches clients with the best financial analyst, CFO, CPA, or bookkeeper for the specific job at hand.
While you don't get a good sense of the number of freelancers that are available on the PARO platform, the website states that you will be matched with an hourly expert who has experience in your company's specific software (e.g. QuickBooks, Xero, ADP, etc.)
#4: SpareHire
SpareHire also starts out with a survey of sorts. This is another service that provides "highly vetted independent consultants to power your business," including specialized accounting services. After stating that I was looking for help with Accounting (as opposed to Sales, Data Analytics, Strategy, etc.) you select which of the following services you require help with, ranging from tax support, to bookkeeping, payroll, or CPA support.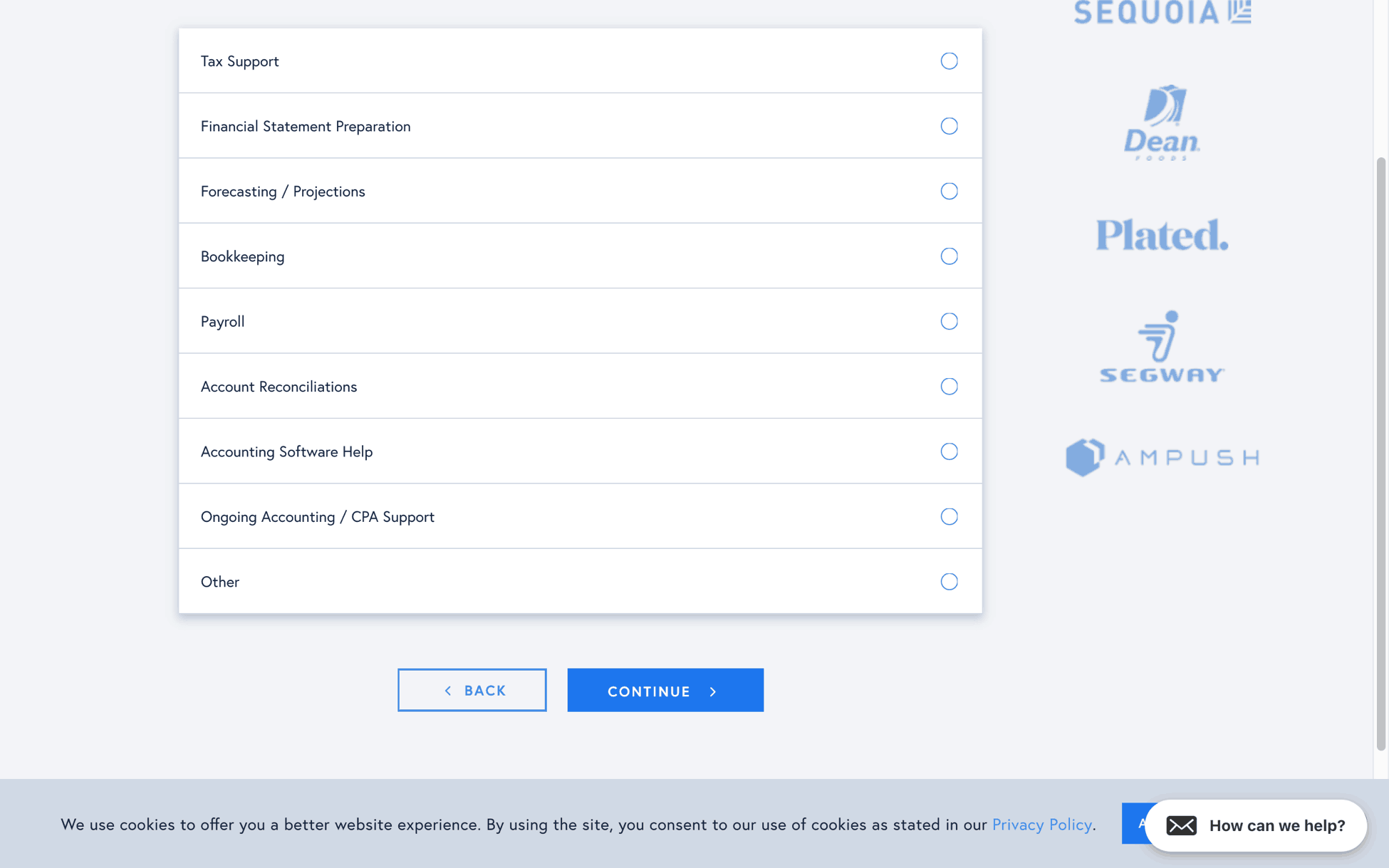 I chose "Payroll," thinking specifically of small businesses. After describing my needs, I answered questions surrounding how long I anticipated utilizing the service, and was able to indicate my desired pay rate/budget.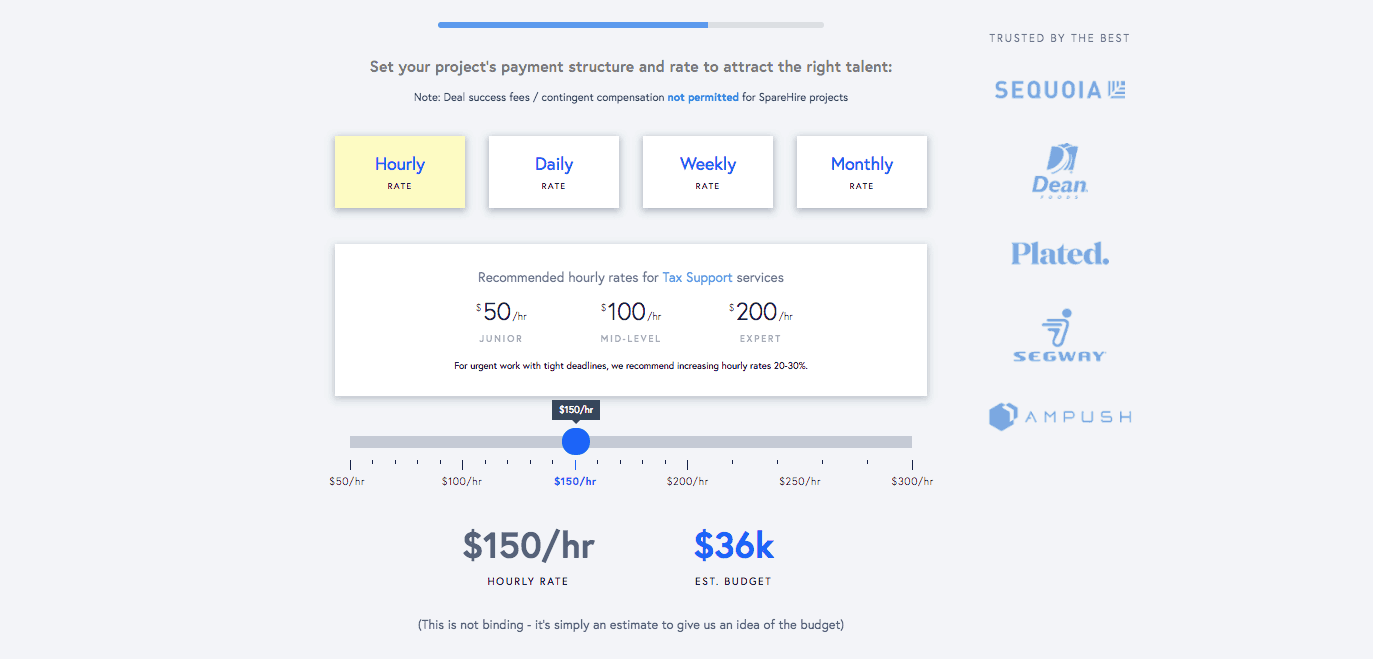 After choosing all of your specifications, you sign up and post the job. Professional accountants then bid for it (they are only allowed ten bids per month, which could help keep the number of candidates at a manageable level), at which point you will be able to compare applicants, review their experience and prior ratings, and message them directly. SpareHire takes a 25% cut of all payments.
This method is a great way to ensure you find a freelance finance professional who can expertly meet your needs. That said, this is a more expensive service than others on the list (the minimum pay rate is $50/hour), so this may not be a realistic option for every company's budget.
#5: Upwork
Upwork is one of the most well-known freelance platforms out there today. Not only is it a great place for freelancers to land high-quality jobs, but clients can also count on finding top-notch talent.
If you type "accountant" into the freelancer search field, you'll immediately receive more than 29,000 results; and 4,000+ results with the "U.S. only" feature on. Overwhelming, I know.
That's why their advanced filtering system is a lifesaver.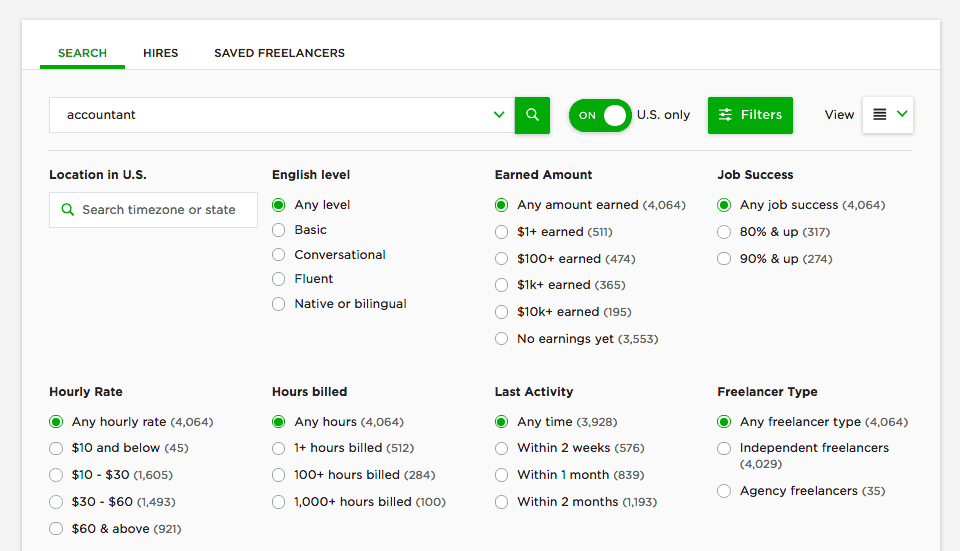 Just click on your preferences in categories such as language, job success score, hourly rate, location, and more. You can even indicate industry tests to find people with specific qualifications.
I chose an hourly rate of $30-$60, a 90% job success rate, and a $1,000+ earnings, and was able to narrow my results down to a much more manageable 90 accountants within the U.S. At this point, you are able to click on profiles to see more details, such as client history, bios, education, reviews, and more. You are also able to save the candidates that stand out to you, message them directly, or invite them to apply to a job you've posted.
For more information, read our expert review of Upwork.
Finance Is Personal
Do as much research as you can. Don't just click on the profile of someone whose services seem to be within your budget and reach out to hire them; read the profiles, reach out to potential candidates, and ask the questions that are on your mind.
When you do find the right person, remember that your financial information is delicate. Whoever you are hiring will be privy to very personal information. To protect yourself and your company from the damage that can come from information being shared with outside parties, make sure to have any freelancer you hire sign an NDA.
Once the research is done and all the papers are signed, having a personal accountant can truly lift a weight off an entrepreneur's shoulders. As a business owner, you need to be marketing, creating, growing, and sustaining your company on a daily basis—that's more than enough to focus on. So, what are you waiting for? Pick a freelance website and find someone who can help with your finances.