Why a Good Profile Is the Key to Success
Freelance platforms are a great way to find work, but after you register, you shouldn't do a rush-job on your profile
. Think about it: You are one of millions of freelancers registered on various websites. If your profile is incomplete, hard to read, or poorly laid out, potential clients will just move on to the next freelancer. Creating a shoddy profile is obviously a bad move – why would you attach your name to something without making sure that it's perfect? Some websites – notably Upwork – help you stand out from the crowd by offering a Rising Talent badge to impressive freelancers who are new to the platform.
One of the requirements is to keep your profile complete and up-to-date
.
A fantastic profile stops clients in their tracks for a second look. That's the type of profile you want. Your profile on a freelance hiring platform is your storefront, business card, and public face. Clients who have never worked with you before only have your profile to guide them on whether or not they should hire you.
Need help getting started? Find more tips and tricks on how to make your profile stand out on Upwork, Fiverr, or any other freelance platform.
How to Create an Awesome Freelance Profile
The first step is to make sure your profile is complete.
That means filling in all the relevant information about you, your experience, and your qualifications
. As a start, be sure to cover the following fields:
Your real name – don't be tempted to use a made-up name like "A. Writer" or "Best Editor"
A good profile photo
A descriptive job title
Your relevant skills and qualifications (you might have to select only the most pertinent here)
A portfolio of your previous work
All of this is just a starting point to create a basic profile.
Moving your profile from "okay" to "awesome" requires a little more effort
. Here are some tips:
Use a striking cover image and professional-looking profile photo that is clear and uncluttered. Your profile picture should be a headshot with your face centered and well-lit.
Most freelance platforms allow you to link to an online portfolio. Take full advantage of this, so you can show the client what you can do, as opposed to just telling them.
Remember that your profile can be more than just text. You can enhance your profile with a video and/or a link to a professional portfolio website, which gives you more room to display your samples, certifications, and more.
Connect your social media accounts, especially professional ones such as LinkedIn. This helps establish your presence and authenticity and provides a human dimension.
Craft the perfect title. A generic title such as "graphic designer" doesn't make you stand out from all the other graphic designers out there. A slightly longer title that describes exactly what you can do and shows clients how they will benefit from your skills (see our example below) is far more effective.
Make your overview brief, but compelling by ruthlessly cutting out every unnecessary word. Clients browsing for a new worker don't have time to read a novel!
Don't include work experience that isn't relevant to your field. For example, if you're a freelance graphic designer, leave out the time you spent working as a chef in a fast food restaurant in your senior year.
Remember to put the most important and relevant skills first in your overview and in lists.
Always keep your profile client-centric. If you choose to write about your personal interests and experiences, make it clear how they can benefit the client.
Be specific versus generic. You might worry that going into detail about what you have to offer will scare off clients looking for a different specific skill, but actually, the opposite is true. The more specific you are, the more confidence clients will feel in your ability to complete projects – even types of projects that are not included in your original profile description.
Never use "we" unless you actually do work as part of a team – way too many freelancers fall into that trap. Using "we" when talking about your own achievements dilutes their impact and makes you appear nervous and unsure. Besides, your potential clients are looking to hire a freelancer, not a company.
If you're writing a profile in English, but your command of the language isn't good enough, you could ask a friend who is more fluent in the language for help. Most platforms invite you to list your languages, so you can use that section to tell your potential clients that English is not your first your second language. Many of them will appreciate the honesty.
Once you've written your profile, go back and proofread it. Have a friend proofread it too, to catch any typos, spelling, or grammar errors that could undermine all of your hard work. Overlooked typos or bad grammar make a terrible first impression.
Finally, remember that your profile isn't static. Revisit it every few months to add your new experience and skills, and to tweak the wording.
Don't Forget: If you don't have any relevant work experience (in other words,  you are a newbie freelancer), you can include other work you've done and explain how it's relevant to your current field. For instance, "being a chef taught me all about time management, organizing tasks, and completing tasks quickly and accurately."
This example of an excellent freelancer profile helps demonstrate the advice above (we've followed the Upwork template, but it's relevant for all freelancer platforms).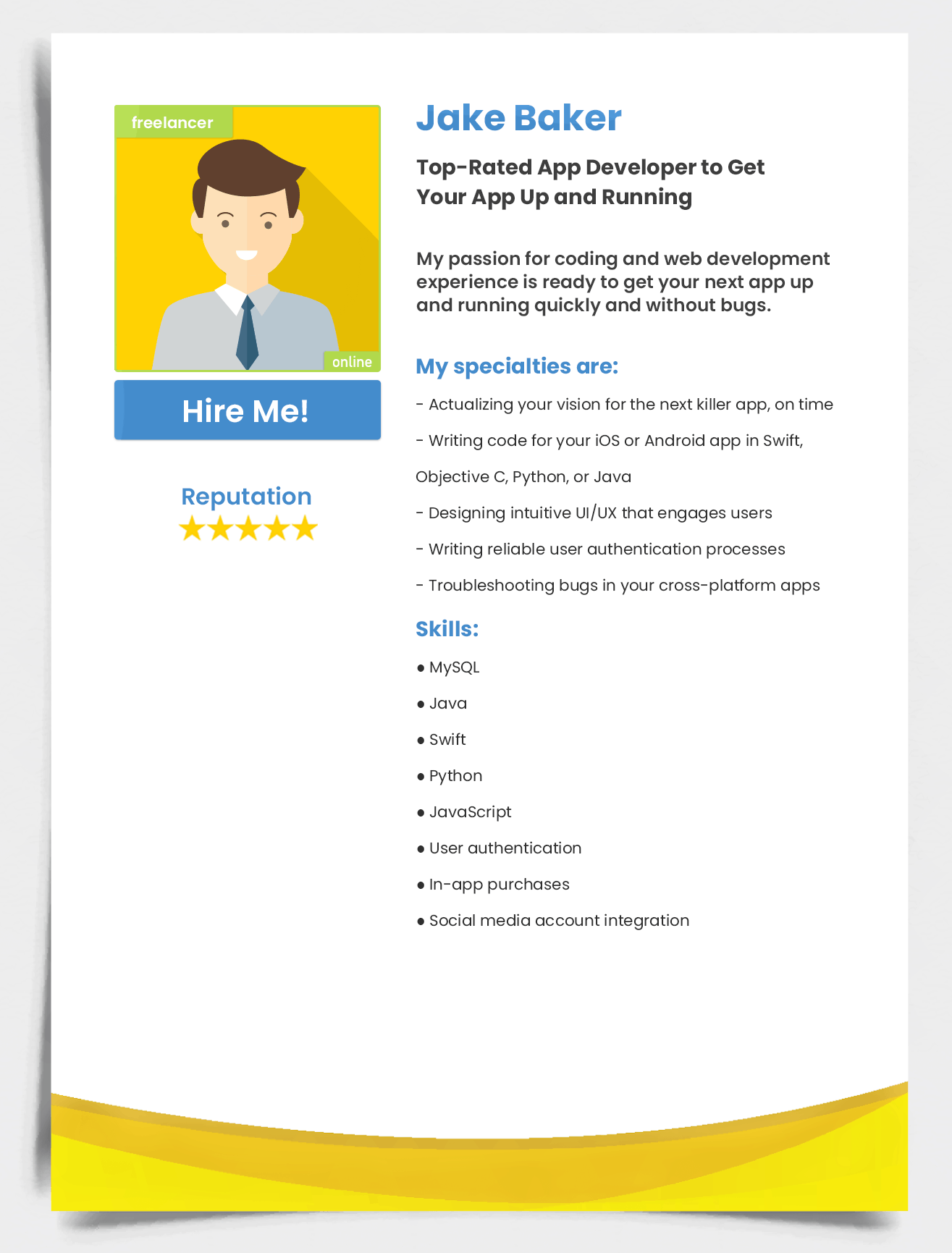 How to Create an Awesome Portfolio
If you're working as a freelancer, you'll want to create a portfolio. 
A portfolio can be part of your profile on a freelance platform, presented on your own website, or included on a portfolio website
, such as Contently or Dribble. Your portfolio is your chance to show what you can do. Creating an effective portfolio requires thought. For starters, you'll need to choose which pieces to include. It's not recommended to include every piece of work you've ever done – this can be overwhelming for visitors and will inevitably mean that you're sharing some samples that are relatively weak compared to others.
Choose only the best examples of your work
, not the ones you weren't quite happy with. If you're only interested in specifics types of projects, it's a good idea to keep the focus on those. For instance, if you're a graphic designer who really loves web design, you may want to include as many website examples as possible and skip all of the print work you've done.
A portfolio is basically an upcycled version of "Show and Tell." Although the goal is to show the client what you've achieved, it's going to need some explanation as well. For each item, recap your aim or brief in creating the piece. Say something about the client who commissioned it and explain in what ways the project was effective. Keep the description short, but very clear.
If your portfolio is still a bit skimpy, or you want to branch out into a niche in which you don't yet have much experience, don't worry. You can create your own pieces, or make freebies for friends and colleagues that showcase your specific skills. For example, as a graphic designer, you could design a logo for a local bath products store, or develop new dream packaging for your favorite candy.
It goes without saying that you must never use someone else's work in your portfolio
. It's not just ethically wrong, it's also bound to backfire when the real creator discovers your theft or a potential client asks why the same work is in two portfolios.
Don't forget: If your examples were created for a client, make sure you receive permission to use them before including them in your portfolio.
One more issue to consider when creating your portfolio is whether to make more than one. There's a real difference of opinion here. Some freelancers advocate putting all of your good work into one portfolio. You can divide it up into sections for the different areas that you work in, but show the client all that you are capable of so that they can see the full breadth of your skills and abilities.
Others prefer to create a number of different portfolios, one for each type of job
. So, as a graphic designer, you could have one portfolio for logos, one for business cards, and one for product packaging. You'll simply send a potential client the relevant portfolio, depending on what type of work you're applying for. This way you can tailor your portfolio much more tightly to showcase the most relevant skills for each niche. Finally,
always review your work before adding it to your portfolio
. Make sure that there are no sloppy errors or typos. If you're showing work that has been published online, share it as a PDF or similar format rather than a web link so it can't be changed later by a client who edits your work for their needs.
What to Do if Your Profile Is Still Weak
There won't be a red flashing light to tell you if your profile isn't quite there yet –
but if you've bid on a few jobs that you know match your skillset and expertise, and you haven't succeeded at any of them, it's a good sign that your profile needs a boost
. Remember that asking for help is not a sign of weakness. If you're not confident that you can write a strong profile, turn to a writer or marketing expert for help. If you know your spelling and grammar are weak, ask a proofreader to check it for you. You could:
Ask friends who are skilled in these areas for help
Barter your freelance skills with those of another freelancer, so you both benefit
Hire a freelance writer, marketer, or editor to write, proofread, or generally improve your profile
If you hire a freelancer for this task, you will gain a valuable opportunity to experience the client's perspective of freelancing. This will help you better understand the hiring process and identify the most effective profiles in your search for a freelancer.
To Do: If you've noticed less interest in your freelance profile over a period of a few months, it's probably time to update and revamp your profile. And as always, ask a friend for help. They may see things you need to change that you've never noticed.
More Ways to Boost Your Freelance Profile
Along with creating a top profile, there are a few more strategies you can use to promote yourself in a crowded freelance market.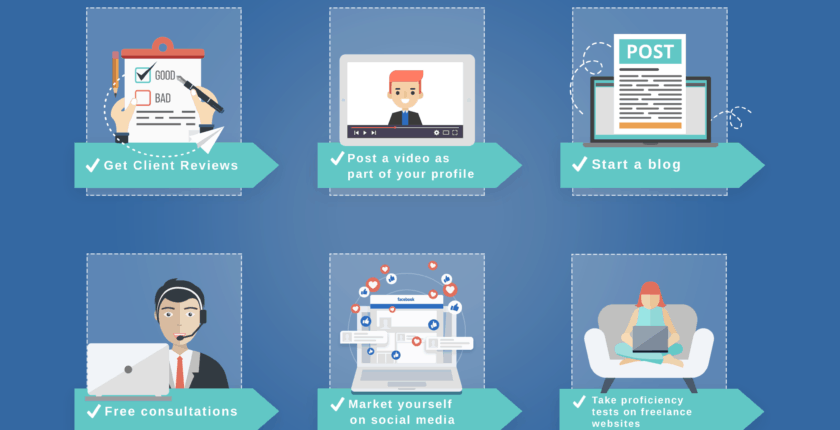 Client reviews: Freelance platforms like Upwork, Freelancer.com, and Fiverr make it easy to request a review from clients after you finish a project. Include these reviews in your profile to build your reputation as a reliable and effective worker. If you're promoting yourself on your own website, ask permission to share client feedback there too.
Video: Upwork and Guru both welcome freelancers to create a video as part of their profile, which is a great opportunity to make a human connection and build trust with potential clients. Once they've heard your voice and seen you interact with the camera, they'll feel like they know you. You should keep this video short – no longer than one minute – and make sure it comes across as professional and friendly.
Write a blog: Whether you post on your own professional website or guest blog on other sites, a blog is a great way to reach out to potential clients. No matter what your industry focus is, you can find an angle that's engaging for future clients, which will raise your authority in the field.
Freebies: If you're just starting out, consider offering free consultations or sample products. For instance, a graphic designer could offer five free logos to get some positive reviews and add to her portfolio.
Social media marketing: Remember that your social media channels are also your storefronts. Include snippets about your latest project or opinion on issues in your industry to build or strengthen connections with others.
Proficiency tests: Many freelance platforms offer skills-based tests. Although these aren't vital for getting work, they can be a way of proving your capabilities in certain fields – this can be particularly helpful if you don't yet have much experience.
Action Items

Write a rough draft of your profile for the freelance site you want to join – be sure to read terms and conditions for what you can and cannot include, as well as look at other successful profiles on the platform to get an idea of what works and does not work.
Create a portfolio of work-related samples. This can be a zip file you can send to clients, as well as a video and/or a portfolio website.
Share your profile with friends and colleagues in the freelance community to get an objective opinion.
Post your profile!
Feel free to share this article and/or copy this post or parts of it to your website, blog, or social networks. All we ask is that you attribute it to WebsitePlanet.com
---
Sources:
https ://www.upwork.com/blog/2015/09/rising-talent-program-for-new-freelancers/
https://www.forbes.com/sites/abdullahimuhammed/2016/09/27/how-to-create-a-freelance-portfolio-that-pops/#262ded4d7116
https://ambitionally.com/careers/building-a-freelance-portfolio/