The risk is that you'll end up saying 'yes' to the wrong jobs
. It might sound strange, but if you want to succeed as a freelancer, you'll have to say "no" to certain jobs. Some jobs will be the perfect fit for your skills. Some will not. If you accept the wrong jobs, you could find yourself frustrated, to say the least. You'll lose money if you're working for a price that is way below the rate you deserve. You could also lose out on better projects while you're working on this particular project. And,
you'll feel unmotivated because you're doing work that doesn't suit you
. Remember why you opted to become a freelancer in the first place? It was probably so you could spend more time on the projects you love and set yourself free from office politics that sometimes force you to do tasks that aren't in your job description.
These are the projects that deserve a clear but respectful "no":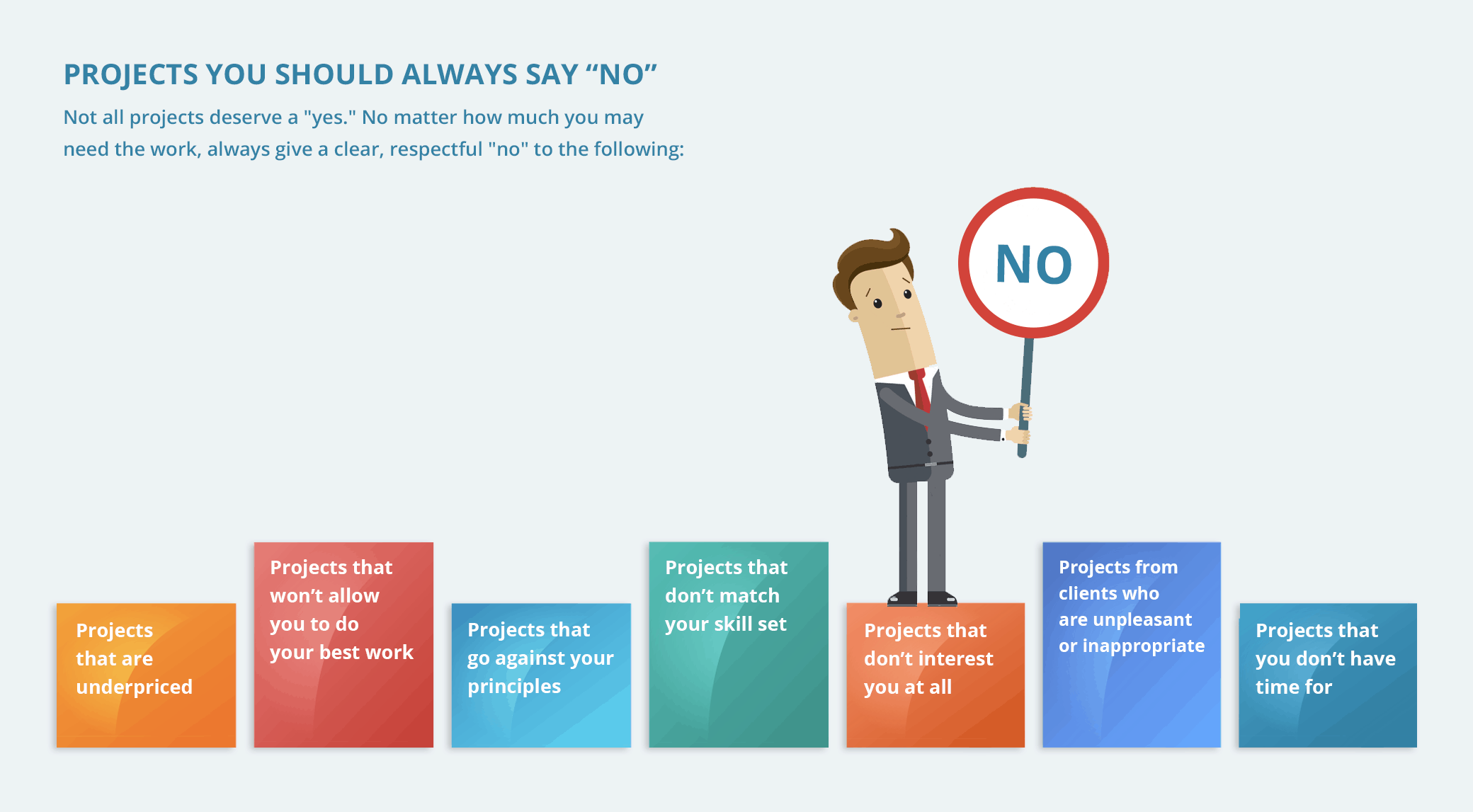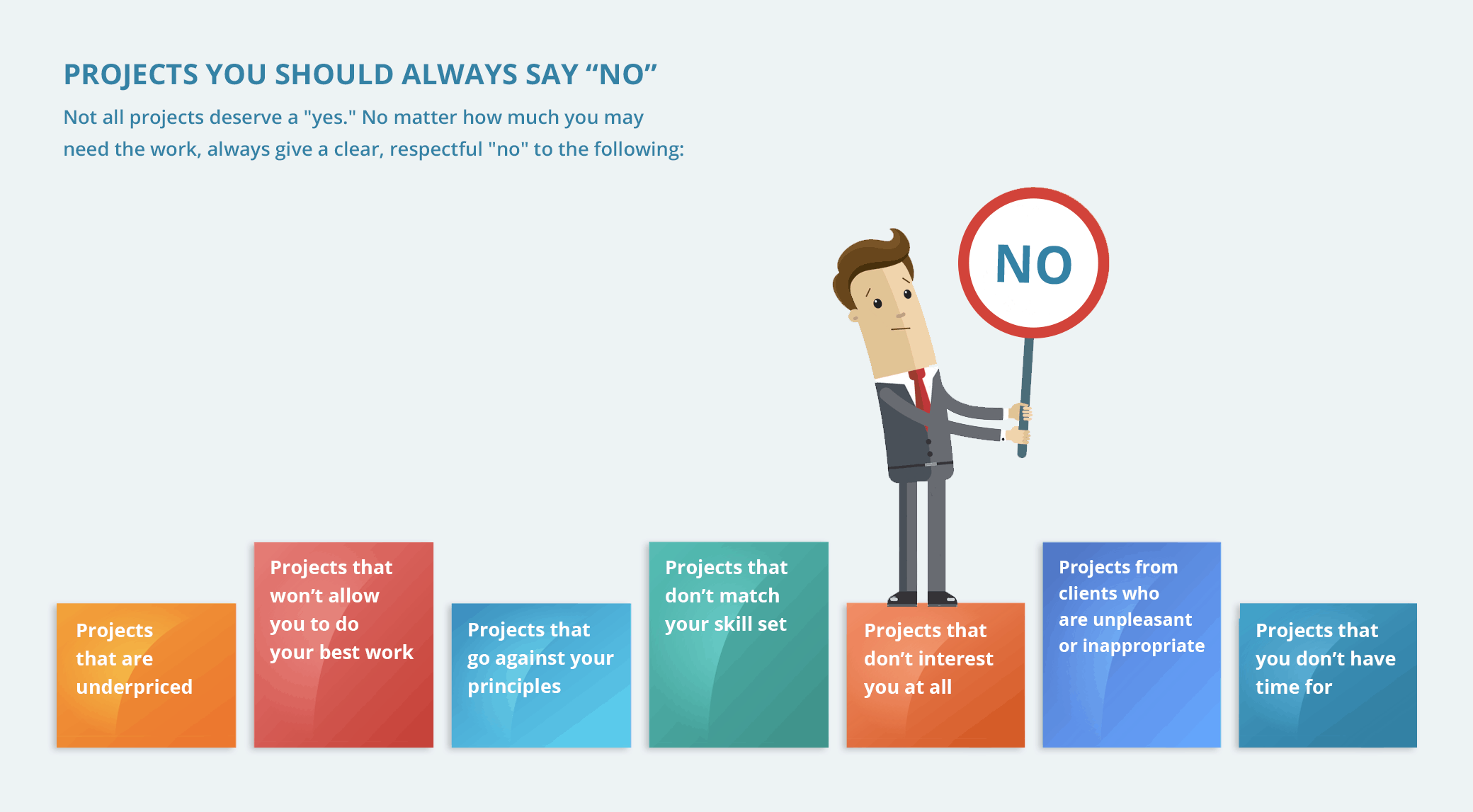 Projects that are underpriced: If the client's budget is too low, you'll lose money twice: once because you aren't being paid enough for this project, and again because you can't work different projects for better prices while you're occupied with this one (there can be some situations when you can or should accept a low-paying project—see Chapter Three).
Projects that won't allow you to do your best work: You want to leave a trail of happy clients and feel proud of your work, but you can't do that if the project time frame is too short for you to do your best.
Projects that go against your principles: These will just make you unhappy, which can make it very difficult to deliver good results.
Projects that don't match your skill set: If you don't think you'll be able to meet the client's expectations, don't take on the work.
Projects that don't interest you at all: You love your work, but sometimes you encounter a project that you find really dull. Even if it pays well and is within your skill set, it might be better to walk away – you're not going to do very good work if you're bored.
Projects from clients who are unpleasant or inappropriate: Working for a client who makes inappropriate demands or uses language that makes you feel uncomfortable can become a nightmare. You don't deserve to be treated that way.
Projects that you don't have time for: If you overload yourself, you'll just end up disappointing clients when you can't meet deadlines, and that's certainly not going to help you find more work in the future.
Saying "no" to clients can be terrifying. Every freelancer will have to say "no" to a project at one point or another.  The rent could be overdue, your bank account overdrawn, and you may feel the pressure to get some work, any work at all – and you may want to say "yes" even though you know you shouldn't. But saying "no" to projects you do not want can also be liberating. Now, you can invest the time in finding the right project instead. But make sure not to be too picky, or you will end up with no projects at all! If you do opt out of a project, see if you can suggest someone else for the work. What may not be a good fit for you might be just right for someone else in your freelance circle.
How Do You Know When a Project is the "Right One"?
Here are several basic questions to ask yourself when you're considering whether or not to take on a project:
Does this project match my skills? (Read the project description carefully.)
Is the delivery time realistically achievable?
Do I have time on my calendar to complete this project?
Does this client have a good hiring history? On freelance platforms, you can check if the client pays on time and has positive reviews from other freelancers.
Does this project interest me?
Does this project offer extra benefits? For instance, the project could provide you with the opportunity to grow new skills, a chance to work for a prestigious client – or even just be really lucrative.
How to Write a Winning Proposal
Your project proposal is what convinces the client to give you the job – or not! Because a strong proposal is so important, be sure to allow a good amount of time to write each one. As time goes by, you'll get faster at writing them. Once you know what works in a proposal for your field, it's a good idea to save a template. That way you can just change the details and save time with each proposal you submit.
Every proposal needs to include:
A summary of the project
A cost estimate
A breakdown of the timeline
What you'll provide, including the number of drafts and revisions
Your contact information
To write the best proposal, you need to:
Read the project description carefully
Be sure that you are well suited for the project
Check out the competition
Address questions the client hasn't asked yet and anticipate what they really need
Show that you care about the client's problem and be specific about how you can solve it
Send relevant samples of your work
Make the proposal look good – use paragraphs, correct punctuation, and a clear layout
Here's a sample proposal. You'll need to tweak it for your profession and also for each specific gig.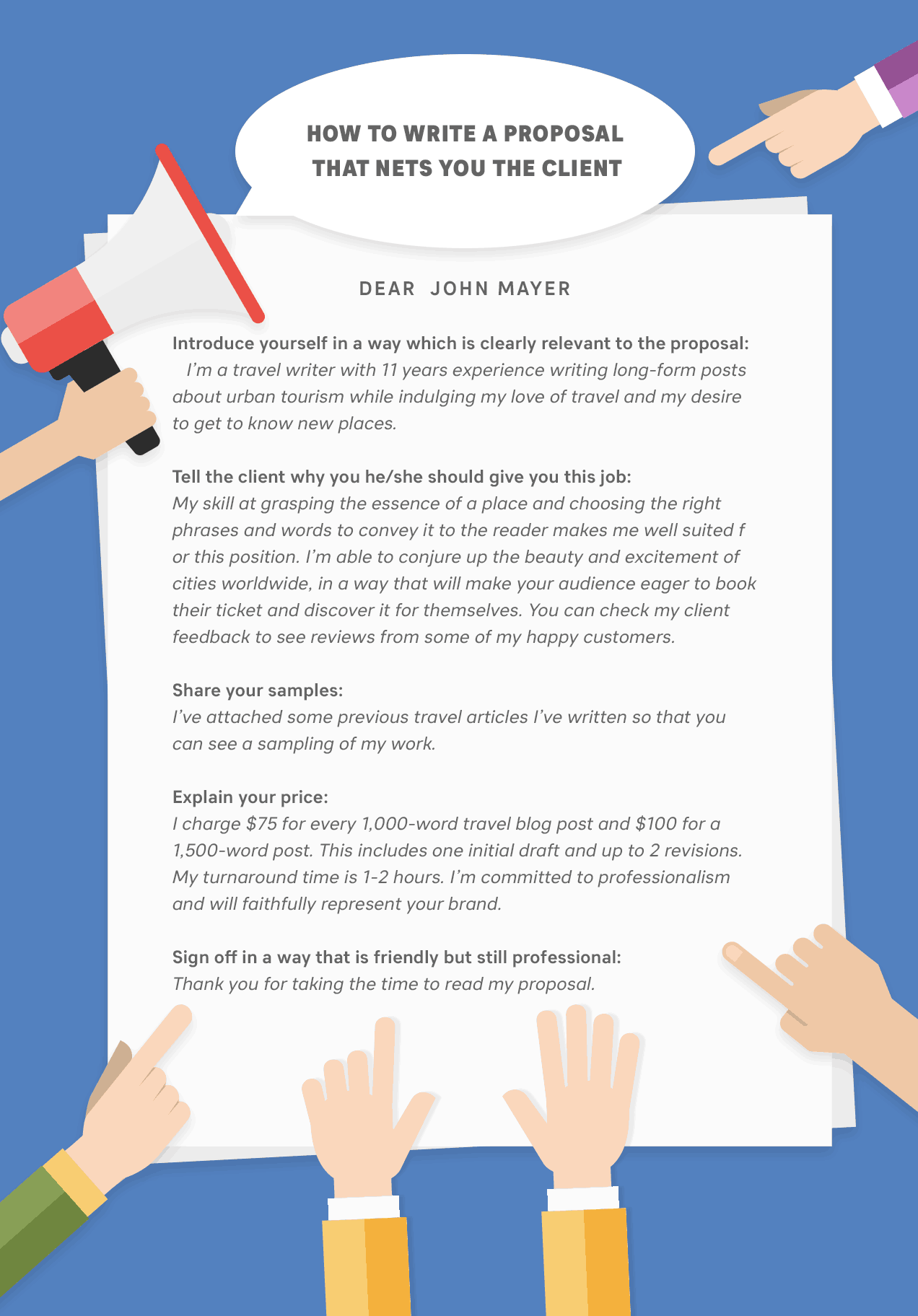 The 10 Most Common Questions Asked by Clients
If the client likes your proposal, they'll usually get back to you with some follow-up questions before they agree to a contract. Prepare yourself to ace every job prospect by considering how you'd answer these most commonly asked freelancer interview questions:
How did you get started? A new client might ask a few personal questions – for instance, when you got started as a freelancer, what are your strengths, and what people like most about working with you.
Can you show me samples of similar work? The question might come in a slightly different form, like "Have you done work like this before?" or "What experience do you have with this type of project?" The client is looking for reassurance that you know what you're doing, either by seeing samples or by hearing your explanation of your relevant experience.
What is your work process? With this question, the client wants to understand how you work and know when you'll be available to answer questions or respond to requests. They may also be looking to hear that you're open to accepting constructive criticism and can be flexible when collaborating.
How much do you charge? You need to be prepared to back up your pricing and demonstrate the value you provide
What is your availability? Clients want to know how soon you can start work, but also how many hours a week or month you are able to dedicate to their project
What type of projects do you usually work on? The client wants to hear more about your experience in the field or in related fields.
How long have you been freelancing? Why do you freelance? Clients ask these questions to check that you have experience as a freelancer and to get reassurance that you're not going to cancel halfway through the project. Many clients fear that you're just freelancing to kill time until your next "real" job, so they worry you'll drop your freelance work if something better comes along.
What's the best way to contact you? The client wants to hear that you're easy to reach when they have a question and that you communicate regularly. You might also be asked about your time zone, so the client knows the best times to contact you.
What tools do you use? Some clients will want to know if you use the standard software and tools in your field. They may also want to check that you are organized, or if you're familiar with the productivity and communication tools that their team may be on, like Asana, Slack, Toggl, etc.
Do you have any references? Depending on the size and scope of a project, a client may ask for some references, just to make sure you are who you say you are and can do what you say you can do. If you have feedback from other clients on your freelance platform profile page, you can send them the link. If you're just starting out, you may want to ask your previous employers for reference letters.
3 Ridiculous Questions Freelancers Get Asked
While normal interview questions are expected, there are some questions that are just simply absurd! Here are three common questions all freelancers have been asked at one point or another:
Can I get a free trial? No! If I don't get a free trial on my electricity bill or mortgage payments, you certainly can't get one for my freelance services.
Can you make my logo/website/content look exactly like Company X? Here you need to politely remind the client of copyright infringement, trademark laws, and plagiarism. Tell the client you will make what they want BETTER than Company X.
Can you read my mind? No, clients won't usually ask that directly, but they may expect you to provide the results they dream of without fully explaining what they have in mind. Remember – you can only do your best at interpreting their vision with the information they provided. When in doubt, never hesitate to ask for more information. It will show you are genuinely interested in the project and want to do the best work you can.
Tricks to Landing Your First Gig as a New Freelancer
Finding work when you have little experience or no client reviews can be tough, but these tips just might make it easier:
Actively seek out work by browsing new jobs posted to freelance platforms and other job boards
Review your profile and make it shine, using our recommendations in Chapter Two
Create a portfolio that showcases your abilities, even if it's made up of projects created for imaginary clients
Don't underprice yourself – your rates can be lower than what more experienced freelancers are charging, but if you work for peanuts, you won't be taken seriously
Be patient – it can take weeks for a client to get back to you, so don't give up hope too soon
Build your reputation through real-life networking and by taking an active part in online discussion forums for your field – this can be a way to make a name for yourself, and get good advice from more experienced freelancers
Volunteer to work for well-known charities, family and friends, or on open-source projects in exchange for good references and material for your portfolio
Don't pretend that you have more experience than you really do – if your portfolio is still slim, tell the client why and highlight your strengths, your passion to succeed, and your desire to prove yourself
How to Keep a Steady Flow of Freelance Work
The first few gigs are definitely the hardest to get, but as a freelancer, you can never stop looking for more work.
A few tips for securing ongoing work are:
Ask clients to leave positive reviews on your profile page
Ask clients to recommend you to their colleagues and connections
Ask clients to write you a reference that you can share as part of your future proposals or on your own website
Keep in touch with previous clients to remind them about your services and ask if they need any further work (but don't be too pushy!)
Short-Term or Long-Term Projects?
There's no "wrong" answer to this question; it depends entirely on your personal preferences.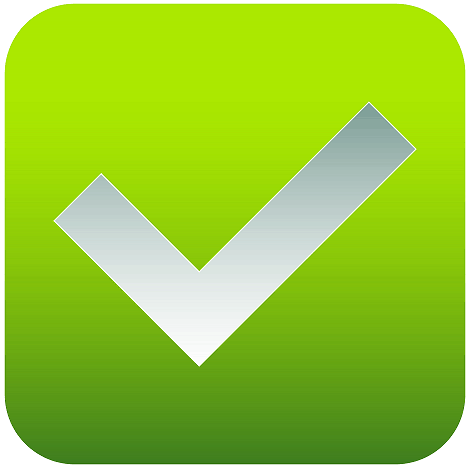 The advantage of taking long-term projects are:
More income security – you know you'll be getting paychecks regularly throughout the length of the project
You can build a relationship with the client, which makes it likely that you'll get more work from them in the future
You can learn to really understand the client and their needs, which enables you to do better work for them
You have the chance to make social relationships with colleagues at the company
Bookkeeping is easier because you have fewer separate invoices to send out and fewer clients to chase for payment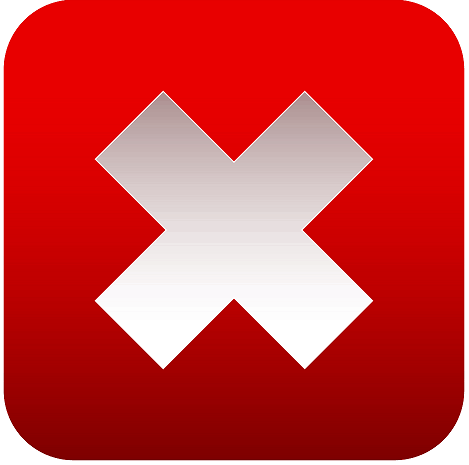 But the downsides to long-term projects are as follows:
Your time won't be as flexible, so it won't be as easy to take on last-minute work
If the project or your relationship with the client goes bad, you'll have to finish the project anyway
If a client doesn't pay, you lose out on a much larger sum of money
Your job-chasing skills might get stale because you aren't regularly looking for work
Your work has less variety and can get boring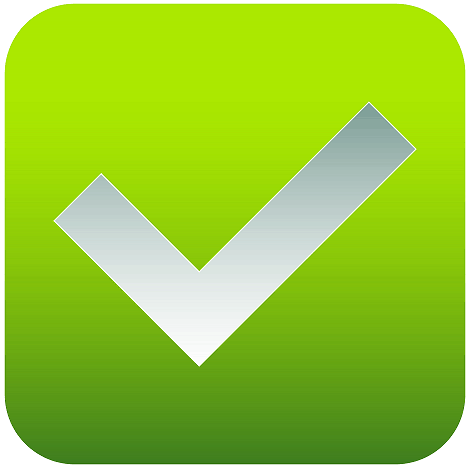 The advantages of short-term projects are:
Your time is more flexible, since you can easily fit in more projects or ramp up your workload when necessary
Clients will know they can rely on you, because you're always available for a short rush job
You get more variety for a diverse portfolio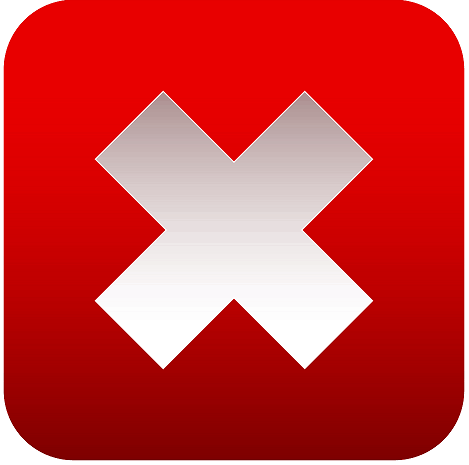 Then again, when you take short-term projects you'll discover these disadvantages:
You'll spend more time searching for opportunities and crafting proposals
You'll have to write more invoices and spend more time chasing after payments from multiple clients
It will be harder to predict your workload
Your income will be unstable – it can be hard to know when payments will arrive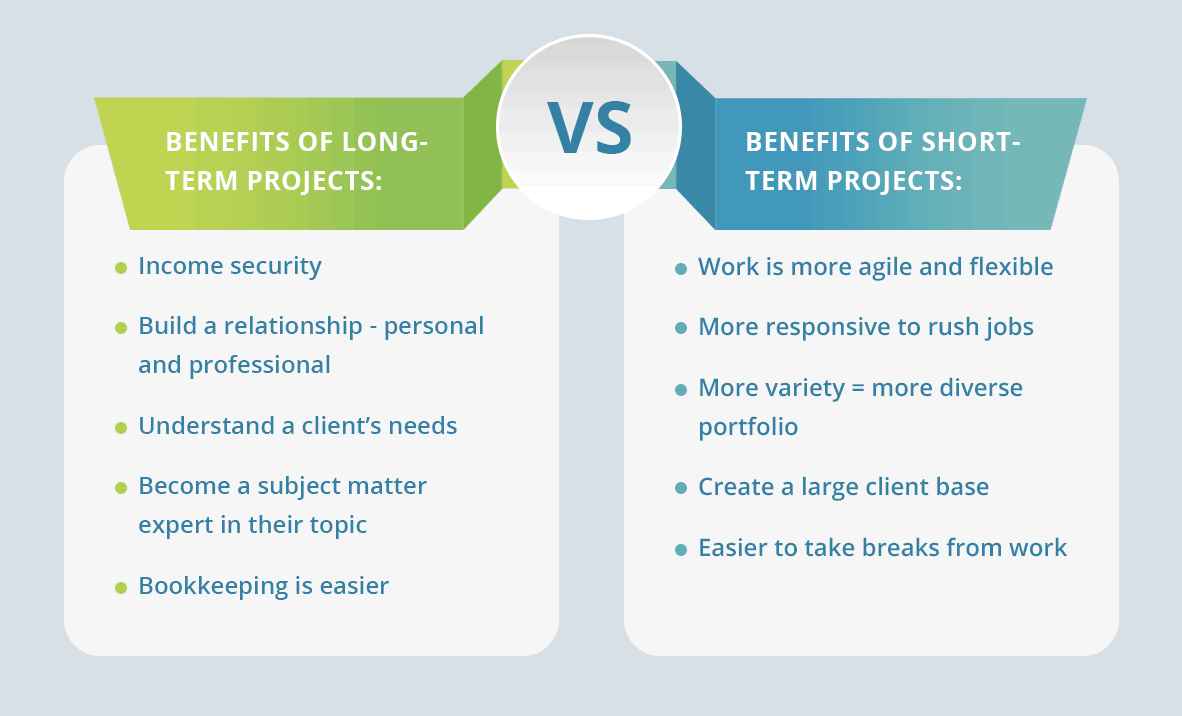 Action Items:
Determine what kind of projects you would like to take on, and how to politely say "no" to the ones you don't want
Browse through all your avenues for locating jobs (forums, social media, freelancer websites) and find the ones that fit
Create a proposal outline you can use to get the client's attention (and hopefully land the job)
Figure out if you like short-term or long-term projects
Feel free to share this article and/or copy this post or parts of it to your website, blog, or social networks. All we ask is that you attribute it to WebsitePlanet.com