The Treasure Trove of Freelance Platforms
Freelancers can find clients in all sorts of places, but one of the best options is through online freelance platforms.
Recent data shows that this is how 75% of freelancers
find work
. Freelance platforms are online marketplaces where freelancers can showcase their skills, share their portfolio, and outline their rates. Clients know that they'll find plenty of freelancers on these sites, so it's usually the first port of call for businesses to browse talent and find the right person to work on their next project. Some of the most popular freelance sites are: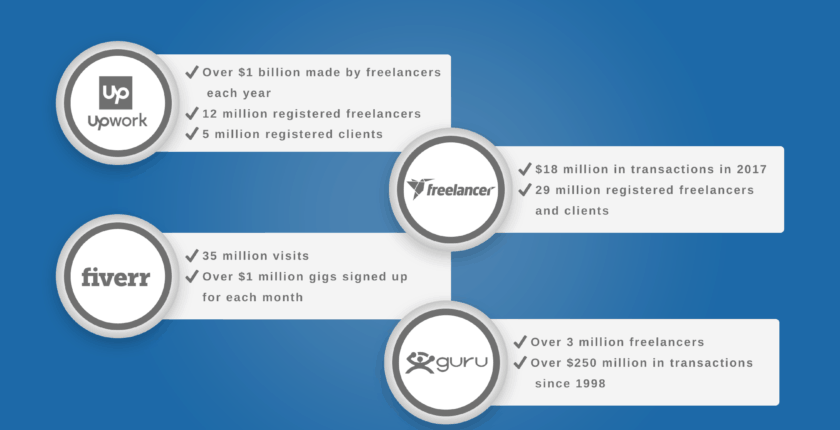 Upwork is one of the largest and most popular freelance platforms. It's a great choice for all freelancers, chiefly because it serves as a marketplace for every type of project and skillset. Freelancers at all levels of experience can find short or long-term projects in just about any field. Thanks to its merger with oDesk and eLance, Upwork is also extremely well-known among businesses seeking to outsource work, which ensures a steady stream of clients visiting the website. Upwork is free to use, but you'll pay a fee for every job you get through the platform.
Fiverr is very well-known, especially for small tasks. It's ideal for anyone freelancing on the side, allowing you to offer specific jobs that make the most of your niche abilities. The name comes from the original concept of freelancers offering jobs for $5, otherwise known as a "fiver," and jobs on the site are known as "gigs." You can use Fiverr to offer literally any type of work, from logo design to dog walking. This makes it a good choice for anyone just starting out. It's free to use Fiverr as a freelancer, but you will have to pay a fee for every gig you take.
Freelancer.com is free to use, but you'll get more work if you pay for the premium membership. Free users also need to pay a small percentage of their earnings each time they get work through the platform. Freelancer.com presents millions of jobs for all types of freelancers, so you can browse through project requests and send a bid for the ones that best match your skills.
Guru serves all types of freelancers, with both long and short-term projects and the option to take on hourly or project-based work. You'll need to pay fees on successful projects – the rate depends on your membership level. Guru has a long history as the first online marketplace for all types of freelance work, so the process has been well tested, and users tend to be loyal to the platform.
How Freelance Platforms Work
Every freelance platform has its own set of rules, but there are two main processes for finding work:
Platforms where freelancers create a profile to promote their skills and abilities, and wait for clients to make contact to inquire about their services or hire them. Fiverr uses this approach.
Platforms where clients post details about the type of work they need or the skills they are seeking, and it's up to the freelancer to respond by bidding for the work. You can find this approach on Freelancer.com and PeoplePerHour.
Today, many sites use a combination of both approaches. Some sites, such as Freelancer.com, also offer "competitions." This is where the client sets up a contest for freelancers to create a piece of work, according to the client's requirements. Freelancers submit their work and the client chooses the one that he or she prefers. Only the winning freelancer gets paid. To use a freelance platform to find work, you'll usually need to: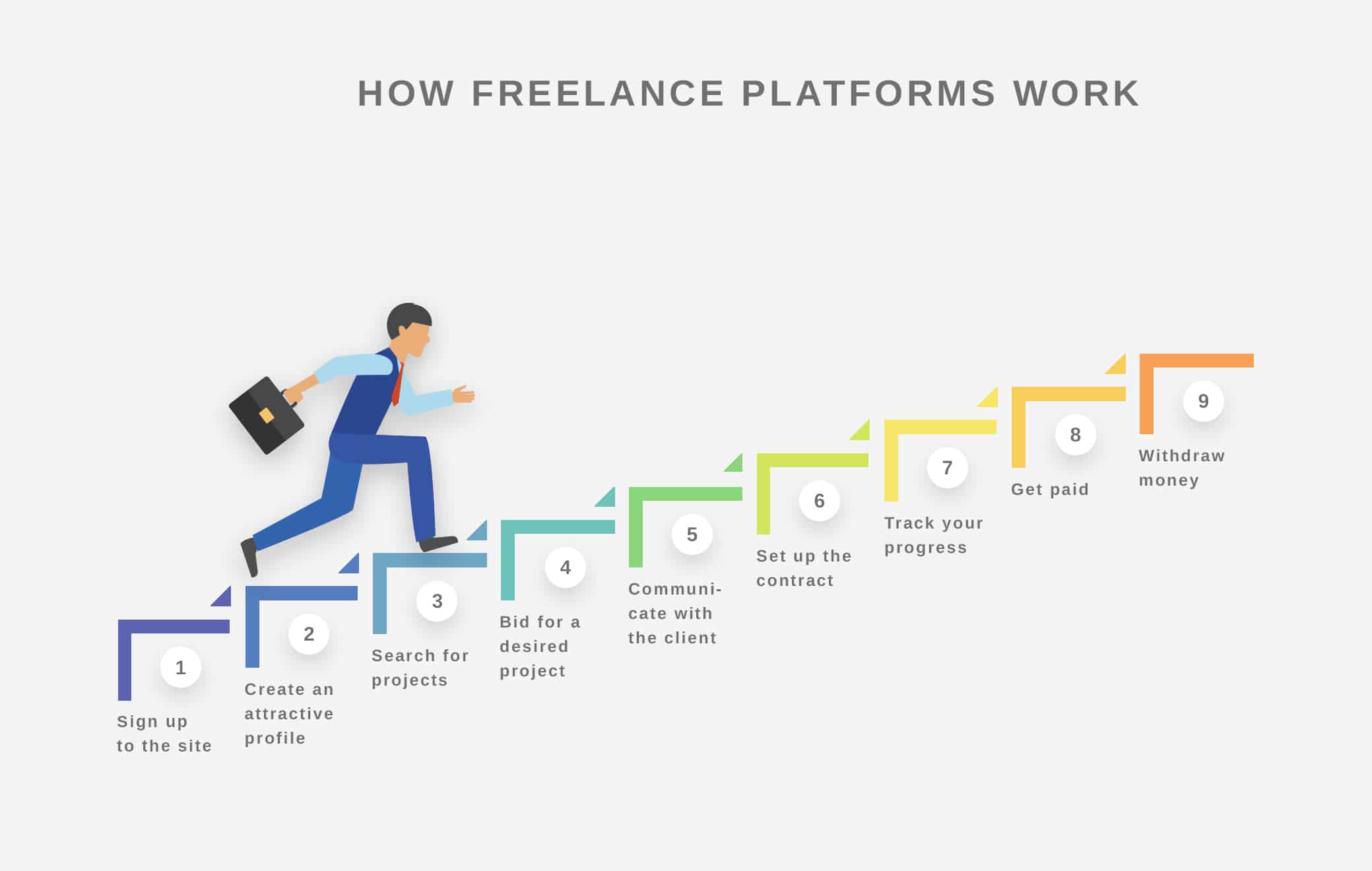 Sign up to the site (sometimes for a fee)
Create an attractive profile that lists your qualifications and experience, and showcases your previous work
Search for projects and jobs that have been posted by clients; you'll usually need to make a proposal or a bid that emphasizes your expertise in this area
Be quick to respond when a client invites you to make a proposal for a project so that you don't miss an opportunity
Your bid should include: (1) Your price; (2) Your previous experience in this type of project; and (3) Exactly what you will deliver (e.g., three logo options with up to two revisions)
Once you agree on the project, the client will send you the full brief through the platform; you'll also send your completed work and request feedback through the same system
Use the freelance platform to track your time, or to set up and mark milestones and deadlines along the way
Most platforms have an escrow arrangement: This means that before you begin working, the client sends the money that they've agreed to pay you to the platform. The platform holds the money while you work, and releases it to you automatically as you meet your deadlines, according to your agreement with the client. If you're working on an hourly rate, you'll be automatically paid per hour as you record your time
Once the funds arrive in your account on the platform, you can withdraw them to your bank account using: (1) An online payments solution, such as PayPal or Payoneer; (2) A wire transfer; or (3) A direct bank transfer
Your options for
withdrawing money
vary depending on your country and currency (some currencies are only compatible with certain types of electronic transfer) Every freelancer platform requires you to
register your location
. This is part of your obligation to provide accurate personal information. It's possible, but not easy, to change your location after you register. Most platforms require you to provide a secure phone number or talk to customer service in order to change your location. Using a VPN to hide your actual location is considered a violation of your user obligation to provide accurate personal information, and could lead to suspension of your account. You can still use Fiverr, Upwork, and other freelance platforms through a VPN without using it to change your location. But if the platform sees inconsistencies between your IP address and your registered location, it will flag your account to make sure that there's no unauthorized access, and that could lead to your account being temporarily closed. When you're just starting out as a freelancer, you might prefer to begin on
a very easy-to-use platform like Fiverr.
Opening an account as a freelancer on Fiverr is simple – all you need to do is enter your email address and choose a username and password. Other sites have much more complicated signup processes. For example, to join Toptal, a site for software developers, designers, and financial advisors, you have to complete demanding tests in language proficiency, technical knowledge, personality tests, and a live screening. That said, the site that's easiest to sign up for as a beginner isn't necessarily the best site for you to make money as a more experienced freelancer – see our advice below on how to choose the best freelance platform for you.
It's Important to Note: If you're a US citizen, Upwork may withhold taxes on your behalf. (The issue is complicated and depends on whether you're getting paid as a freelancer, or as an employee through Upwork Payroll. So, it's very important to go over this information with a CPA before you get started.)
If you're not a US citizen, you'll have to complete form W-8BEN before you can withdraw money from the platform. Once you've completed this form, Upwork will leave it up to you entirely to calculate and pay your tax obligations in your country.
How Much Does It Cost to Use a Freelance Platform?
Just like there's no such thing as a free lunch, there's also no such thing as a completely free freelance platform. Different platforms use different pricing models, which can make it hard to compare your options.
Some platforms charge an upfront membership fee, like iFreelance, which then doesn't have any further charges.
Most platforms are free to sign up, but they charge a referral or connection fee, meaning that every time you agree to a job through the site, you'll have to pay a certain percentage of your earnings to the platform. Upwork is a great example of this model. Here's a breakdown of Upwork's fees to help you understand how it works:

It's free to open a basic account with Upwork. There's no charge at all to register and market yourself to clients.
When you get work and start getting paid, Upwork will take 20% of your income for the first $500 with each client.
Once you earn more than $500 with that client, Upwork's fee drops to 10% of your income.
When you pass $10,000 from one client, Upwork takes 5%.
Note that Upwork calculates the fee per client, not according to your overall income. So, if you earn $400 from 3 clients, you'll have made a total of $1200, but Upwork will take $240 in fees (20% of $400, from each client).  If you earn $1,200 from one client, you'll be charged $100, which is 20%, on the first $500 you earned, and then $70 (10%) on the rest of your income from that client, adding up to $170 in fees.
Upwork allows you to bid for projects using a system it calls Connects. Free members are given 60 Connects each month. Each time you bid for a job, you'll be 'charged' between 1 and 5 Connects. Most jobs cost 2 Connects. You can buy more Connects for $1 per Connect.
You can choose to upgrade to a Plus plan, for $10 per month. This gives you more Connects, more information about client proposals, and other privileges like using a custom URL for your freelancer profile.
Most freelance marketplaces offer both a
basic, free membership
model and a
premium version
, which gives you more visibility and access to additional work opportunities. You'll be able to find information about the fees each platform charges in their Help section or knowledge base. The fastest way to get all the fee details is to find the Help section and search for 'fees.' There are rumors that platforms like Freelancer.com charge hidden fees. This isn't true – none of the sites we checked have hidden fees. But the trouble is that Freelancer.com and other sites have a pretty complicated fee structure that's hard to understand. If you don't read the details carefully, you could be hit with fees that you didn't expect.
| | | | |
| --- | --- | --- | --- |
| Freelance platform | Free to Sign Up? | Monthly Fee? | Fee per Booked Job? |
| Upwork | Yes | Only for premium membership | Yes |
| Fiverr | Yes | No | Yes |
| iFreelance | No | Yes | No |
| Freelancer.com | Yes | Only for premium membership | Yes |
| Guru | Yes | No | Yes |
As you can see, it's not always easy to understand the fee structure for each platform. Investigate each one thoroughly and consider every aspect of the pricing model before you decide which one is best for you.
How to Choose the Best Freelance Platform for You
As you can see, there are plenty of excellent freelance platforms available. The challenge is to choose the best options for your own specific needs. Here are some points for you to consider when choosing a freelance platform:
Location: Many platforms are truly global and serve hundreds of countries. Freelancer.com covers 247 countries; Upwork has users from 180 countries; Fiverr is used in 196. But, you might want to use a platform that is based in your region (e.g., Croogster is based in India, Freelancer.com is in Australia) or that has more clients in a particular region. A local platform can be easier to use from a finance point of view, since all prices will already be in your local currency, saving you currency conversion fees. You'll have more options for withdrawing your money.
Commission: Nobody wants to pay more fees than necessary, so you'll need to determine which fees are worth paying to get access to new clients.
Another option is to choose a
dedicated platform
. These are freelancer marketplaces that are specific to certain fields or industries. The advantages of using a dedicated freelance platform include:
Far more of the projects posted are relevant to your skill set
You have a higher chance of finding work because all of the clients are looking for your skills
You can refine your profile to focus on your niche skills within your field, which might be too specific on a general freelancer site
Some of the most popular dedicated freelance platforms include:
99designs – for all types of graphic designers; find work here on logo design, packaging design, web design, etc.
FreelanceWritingGigs.com – for any freelancers who work with the written word, which includes content and copywriters, technical writers, editors, and proofreaders.
Freelancewriting.com – another great source of writing jobs for freelance writers.
Toptal – a freelance platform for the best software developers. It screens freelancers pretty rigorously, so only the top 3% are accepted to register on the site – but those that do can look forward to pretty high-paying development jobs.
Designhill – another platform for all types of designers to find creative design work.
The Creative Group – helps freelancers who work in all types of creative fields find work, including photographers, designers, marketers, writers, and artists.
Don't Forget: Check out smaller freelancer platforms. Although the biggest platforms get the most potential clients, it's also harder to stand out in the crowd. Small, local platforms give you a better chance of getting noticed and finding work.
More Ways to Find Freelance Work
There are plenty of successful freelancers who get all of their business without setting a digital foot in a freelancer marketplace. These are the best alternative ways to find jobs as a freelancer:
Social media: There are dozens of Facebook groups where freelancers can seek work and share job opportunities. You can use your own profile to let your friends and followers know you're looking for freelance work, or even set up a page for your business. LinkedIn can also be very helpful for freelancers – you can make the most of your profile to attract offers for freelance work.
Quick Story: As a content writer, I've tried out some of the freelance platforms – specifically Fiverr and Upwork. Although I got a couple of small gigs from each of those, the vast majority of my work has come through Facebook. Just by joining a few freelance writer sites, I was able to find and land some large, long-term freelance projects.
Industry-specific social media platforms: These platforms – such as Behance and Dribble for designers and visual creatives, Contently for writers, and StackOverflow for software developers – offer freelancers a stage to display their work. On these sites, you can display your portfolio and network with fellow freelancers to find more gigs.
Word of mouth: The most effective way to find work is through personal recommendations. Sometimes, this comes through fellow freelancers who pass on clients when they have more work than they can handle themselves. As your reputation grows, your clients will do your advertising for you.
Your own website: Your professional website should be optimized to rank well on search engines when a client searches for freelancers with your skillset. Having a website is a great way to promote your services and showcase your abilities.
Cold-emailing: Send potential clients a short, engaging description of your skills. Suggest ways that they can benefit from your talents.
Action Items:
Research the different freelance platforms and find the one that fits your needs (and your budget)
Sign up at one freelance website (for starters)
Look into alternative ways of getting work outside freelance websites
Feel free to share this article and/or copy this post or parts of it to your website, blog, or social networks. All we ask is that you attribute it to WebsitePlanet.com
---
SOURCES:
https://www.payoneer.com/downloads/freelancer-income-report-2018.pdf
https://www.upwork.com/i/how-it-works/freelancer/
https://www.fiverr.com/terms_of_service
https://www.ifreelance.com/help/inline/pricing.aspx
https://www.freelancer.com/feesandcharges/#
https://www.guru.com/help/freelancer-help-center/my-profiles/membership-information/
https://www.peopleperhour.com/static/terms
https://www.crunchbase.com/organization/fiverr
https://dynomapper.com/blog/266-top-25-freelance-websites-to-find-work-in-2018
https://www.entrepreneur.com/article/245953