What You Need to Know Before You Begin
Before you can jump into signing a contract, it's important to fully understand what the client expects from you. This is your chance to verify whether the client's expectations are realistic, check that the client is reliable, and establish all the parameters of your responsibilities.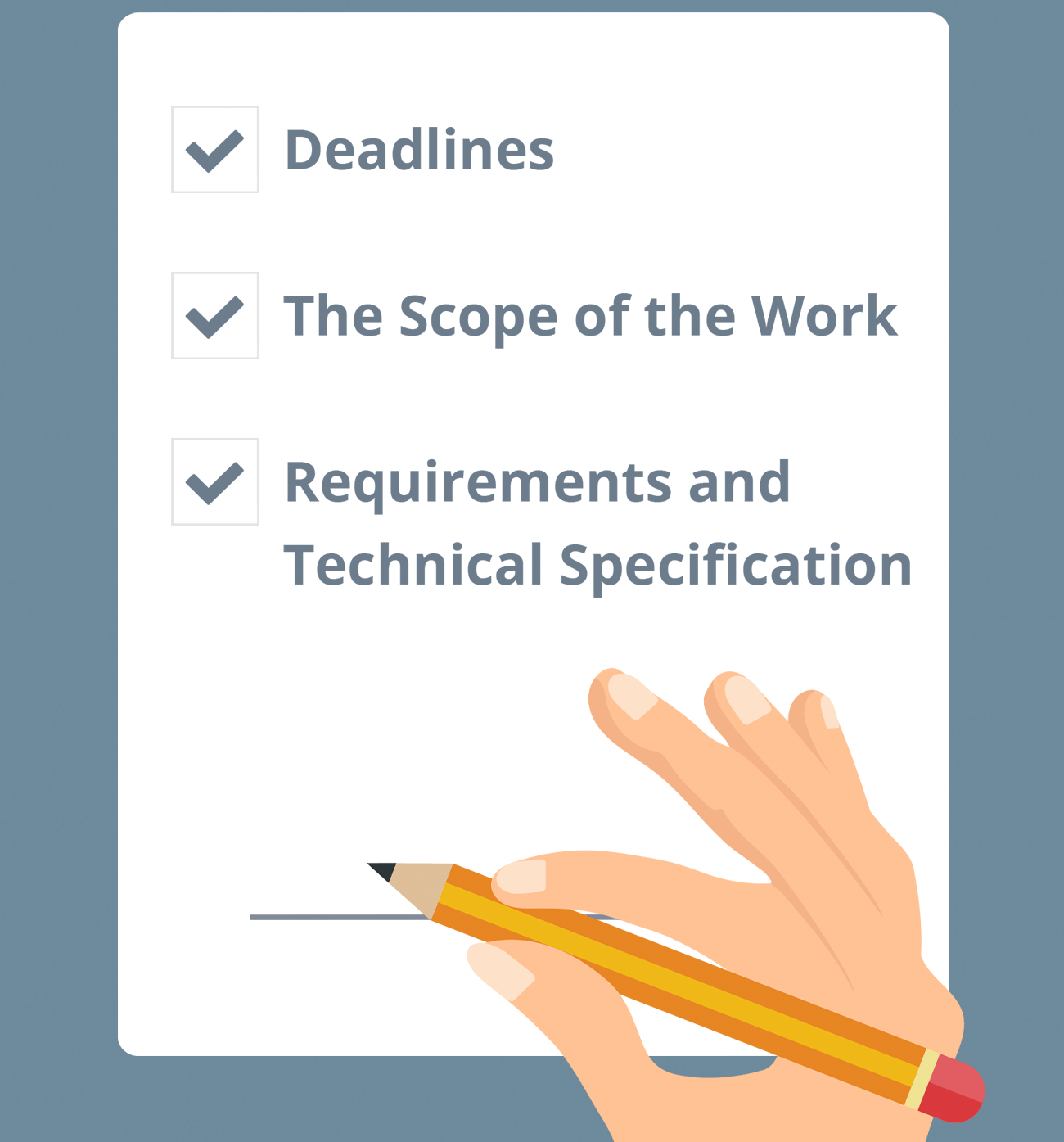 Deadlines
The first area to discuss is that of deadlines.
What is the deadline for completion of the project? Make sure it sounds realistic given the work involved. You can ask the client questions like "How much time do you expect the project to take?" and "What difficulties do you envisage arising that could delay the project completion date?"
Are there other deadlines along the way? Check when the client expects the first draft, for example, or when parts of the project, like certain key web pages, should be created.
How long does the client have to get back to you with feedback? You don't want the client asking for another revision six months after you submit the work, expecting it to be included in the original price.
When is payment due? If you're to be paid at the end of the project, define what exactly counts as the end of the project – for instance, you might think an app is completed when you've written all of the code, but the client doesn't consider it finished until the app has been user-tested a few weeks later.
How should the work be submitted? Which file format(s) will the client need? Will they want you to upload the work directly to their server or website?
Here's a Tip: Discuss with your client when work is considered "complete." Is it when you email it as an attachment, or when it's checked off as "completed" on a project management task list? This will affect deadlines (and when you can add the project to your invoice).
The Scope of the Work
You'll also need to fully understand the scope of the work. Ask questions like:
How many rounds of revisions are included in the project? You'll need to agree on what counts as an acceptable revision and what is considered to be a change in the scope of the project. For instance, changing the background color of a website could be an acceptable revision, but changing the entire page layout would not.
How many drafts does the client want? For example, designers might be asked to provide two or three initial versions of a logo, or a few alternative home page options.
Who's your primary point of contact in the client's company, and what is their role there? Often, you'll work with the individual who first got in touch with you, but sometimes, someone else in the company will be your contact for a specific project.
Is part of the project already completed? How much of it? For example, you might think you're coming to build a new website from scratch, only to discover that the shell exists and you just need to complete it.
What are the technical specifications? For example, a software designer needs to know what functionality to build into an app, a graphic designer needs to know the dimensions of a logo, an accountant has to ask what tax code to follow, etc. In order to cover yourself, you should get all of these specifications written down in a brief before you sign a contract.
Be Careful: Every freelancer should be aware of "scope creep" – that moment when a project slowly moves away from the original agreement into something completely different than what was originally agreed upon. Don't allow scope creep to continue unchecked. Refer back to the contract to keep the scope of the project under control.
Dealing with an Uncertain Client
The hardest projects to deal with are the ones that are poorly defined. How do you deal with a client who just asks for a new website, or a set of blog posts, without any further specifications? You might deliver brilliant work to the client's satisfaction, or you could produce something that is awesome, but not what the client had in mind. Here are some options for handling a client who doesn't give a clear project description.
Encourage the client to think through the project until they have a better idea of what they want. You could ask about the goal of the project to help the client work through their needs.
Make some suggestions about the scope of the project. As you become more experienced, you'll learn to recognize what a business needs and gain confidence to make suggestions. When in doubt, always ask. Don't assume the business needs what you think it needs.
In some cases, you could write the project description yourself and send it to the client for approval. Sometimes, this is exactly what the client needs: They may read it and say "That's not what I want, here's what I'm looking for," or they may make only a few small adjustments and then approve it.
Prepare a set of onboarding questions. The answers you'll receive can form the basis of every brief. This saves you time in getting to know your client's needs and helps the client define what exactly they are looking for. For example, a graphic designer would include questions about brand colors and styles, whereas a software developer could ask for three examples of sites or apps that they want to emulate.
Some clients never quite manage to make up their minds. In these cases, the best thing you can do is walk away. Never start work on a project without a clear  – you will just get sucked down a vortex of endless revisions and changes without ever reaching the end.
Pro Tip: Save your onboarding questions as a file you can easily share with a client without having to write all your questions from scratch each time. We recommend saving it as a Google doc or a Dropbox file. That way, you can access it from anywhere.
Understanding Your Client's Vision
Getting a full view of the project doesn't always mean just receiving a list of technical requirements. If you're a creative freelancer, you'll also need to understand your client's mind. That means seeing much deeper than just the project brief. It's important to be able to
internalize your client's values and branding
. Is their vibe trendy or traditional? Are they focused on growing their customer base as fast as possible, or is it more important to attract just a certain type of customer? Do they want you to suggest new ideas and help brainstorm possibilities, or just to stick to the parameters of your brief? In some ways, it's easy to get the technical requirements.
It can be harder to pin down things like the style of a webpage or the mood of a video
. For example, the client could ask for a contemporary vibe, but you still aren't sure exactly what that means to them. You don't want to spend hours creating a funky video only to discover that the client had something much grittier in mind. This is where there's no substitute for communication. The more you talk to your client, the more you'll understand him/her. Here are some questions to help clarify what the client wants:
Can you share three or four words that describe your brand?
Are there are any websites/logos/blogs/images that convey the style you want?
Can you name any other brands which share your style?
Drawing Up Your Contract
Once you've discussed the project with the client and you feel that you fully understand what's involved, it's time to draw up the contract. Don't feel anxious about this part—you don't have to be a lawyer to get this right. There are several contract templates available online for every type of freelancer.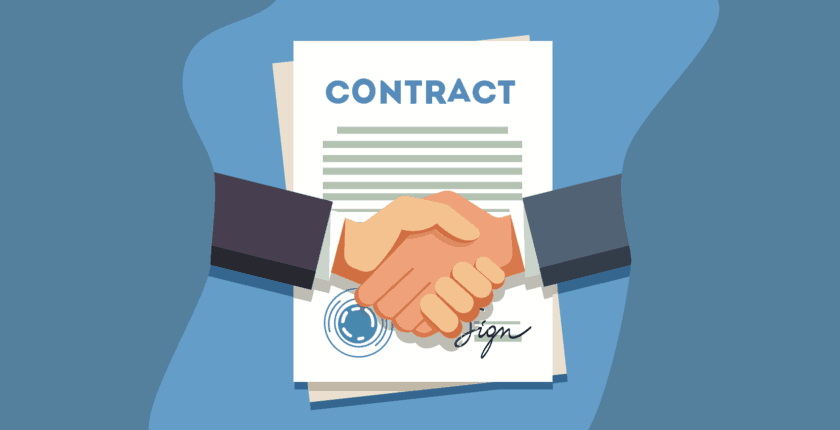 Your contract doesn't need to be several pages long, either. In fact, often the client will use your proposal as the contract and sign it as a binding agreement.
These are the points that should be included in every contract:
The price. You'll need to specify if this is a fixed amount or calculated per hour. You might also request some of the money – usually between 20-50% – upfront, especially if it's a big project. It's common to request an advance payment for fixed-price projects, not for those charged by the hour.
When exactly the payment is due. If there's a late payment fee, include that as well, along with any other fees that you might need to charge.
The checkpoints which you have to meet in order to get paid, and what happens if you don't meet them.
What happens if the client doesn't give you all the information or resources you need to complete the project on time?
What should happen if the project is canceled before completion? That includes how much payment is due to the freelancer, and who owns the partially completed work.
What exactly can your product be used for? For example, if you're designing a t-shirt for a business retreat, can the company use the same design on their sweatshirts two years later?
Who owns your work once it's completed? For example, can the company sell your website theme? Can you reuse the photographs you take for a different project down the line? This also includes whether your name will show up on the content or you will be a "hidden agent" or ghostwriter.
A non disclosure agreement (NDA) is important for showing your integrity and reassuring your client – it governs exactly what you can and cannot share about the project.
What assets or resources the client needs to provide so that you can complete your job.
Action Items
Create an onboarding questionnaire regarding the scope of the work that your clients can easily fill out
Determine which points must be included in your contract – go over it with someone to get their input
Set a time to go over your contract. As you gain more experience, you'll notice more items that need to be included in it. We suggest every 3-6 months.
Feel free to share this article and/or copy this post or parts of it to your website, blog, or social networks. All we ask is that you attribute it to WebsitePlanet.com