To succeed as a freelancer, you will need to schedule your work time just as if you worked in an office
. It's important to treat your work seriously, so schedule your work for your most productive time of day. That could either be early in the morning, late at night, or during the classic nine to five – the point is that you can choose the best time of day for you.
Don't Forget: What works for one freelancer may not work for you. You need to determine what time of day you are most productive. Just because industry experts say they start work at 9 o'clock in the morning after a cup of coffee, doesn't mean you have to do the same. If you are more productive later in the afternoon, go with that.
What really matters is that you develop a work routine for yourself. It's a good idea to define your work time by making a cup of coffee, setting up your computer, closing your home office door, or settling into your favorite table at the local cafe. Having a routine for starting your work time makes it easier to transition to a productive mindset.
It's not just about when you work, but also where you work. The popular image of freelancers working from the beach or in a trendy cafe looks exciting, but you might find that you just can't concentrate in those places. With some trial and error, you'll find a place that's comfortable to sit in, allows you to focus on your work, and where the sand won't get in your laptop.
How to Juggle Your Many Projects
Many freelancers find it difficult to juggle multiple projects at the same time. It can be confusing: different clients, numerous deadlines, emails flying back and forth. You could be asked to do urgent edits for one client at the same time that another is requesting a proposal for a new project. How do you keep all your responsibilities straight? You have to find the way that works best for yourself, but here are some general tips to make it easier:
Use a calendar to keep track of your obligations and deadlines so that you don't end up double-booking yourself. If you have multiple projects going on at once, schedule when you'll work on each one. This way you'll give it your full attention without interrupting yourself for other tasks.
If you have a really large project that seems overwhelming, break it down. List the separate tasks that need to be done and give each one its own deadline, to make it more manageable.
Use a project management tool. It doesn't have to be sophisticated – many freelancers are happy with a simple Excel spreadsheet that displays each task and its corresponding deadline. Or you can check out these best project management software for 2023.
Save all your work emails so you can double-check deadlines and instructions. It's a good idea to create a separate email folder for each client so you can file their emails accordingly.
Track your work time. Even if you're not getting paid by the hour, tracking your work time is a good habit. It helps you know how long you've spent on each project, so you can compare it against your price estimate. It also means you can't kid yourself that you worked eight hours when you actually spent three of them getting coffee and browsing through your Facebook feed.
Online file-sharing tools like Google Drive, Dropbox, or Microsoft OneDrive are great for keeping projects organized, as well as sharing completed work with your clients. Open a folder for each client, and add sub-folders for different projects if necessary. You can file project materials in the correct client folder so that you can easily find and access them when needed.
Be realistic about how much work you're able to take on. If you're feeling overwhelmed by the number of projects you have agreed to, it's probably time to dial back your obligations.
How Many Freelance Sites is Too Many?
It's easy to think that more is better when it comes to freelance sites.
In theory, the more freelance platforms you're registered on, the more opportunities you'll have
, and the more work you should get. But, it doesn't quite work that way. In order to make the most of freelance websites, you need to spend some time on them. It's a good idea to browse for potential jobs every few days, and you'll need to keep your profile updated as well. In order to land a client, you'll need to write a proposal for the job or create an entry for the competition. All of this also takes up time.
If you're on too many sites, you simply won't have the time to look for new work on all of them or to respond to every job that catches your eye.
It's impossible to say what is the right number of freelance platforms for every freelancer, but you have to be selective. When you're just starting out, it's best to register for just one or two sites. Take the time to understand how they work and create a really strong profile. Hopefully, you'll have chosen the right websites, and you'll start landing clients. If things aren't going well for you on the first one or two platforms you've chosen, try adding a different one. Four is about the limit – much more than that, and things are likely to get out of hand.
As a beginning freelancer, it's best to stick to the free membership option until you gain some experience. If you already have plenty of experience in your field, or you're an experienced freelancer trying out a new platform, you might want to go straight to the paid or premium version. This usually boosts your visibility in the marketplace – a good move for experienced freelancers who are new to a platform.
The Best Tracking and Project Management Tools for Freelancers
While you may find there are specific tools for your particular field, there are some tools which are vital for every freelancer, regardless of industry or location. Broadly speaking, you'll need two types of tools:
Time tracker tools and apps
help you to keep track of the time you spend on a project. The best ones automatically calculate your rates, let you record expenses, and make it easy to assign time to different clients and projects.
Project management tools and apps
take the place of an old-fashioned paper planner. These are what you'll use to schedule projects, keep on top of deadlines, and manage your work obligations. Some tools combine both time tracking and project management. Here are our nine best time tracker and project management apps for freelancers: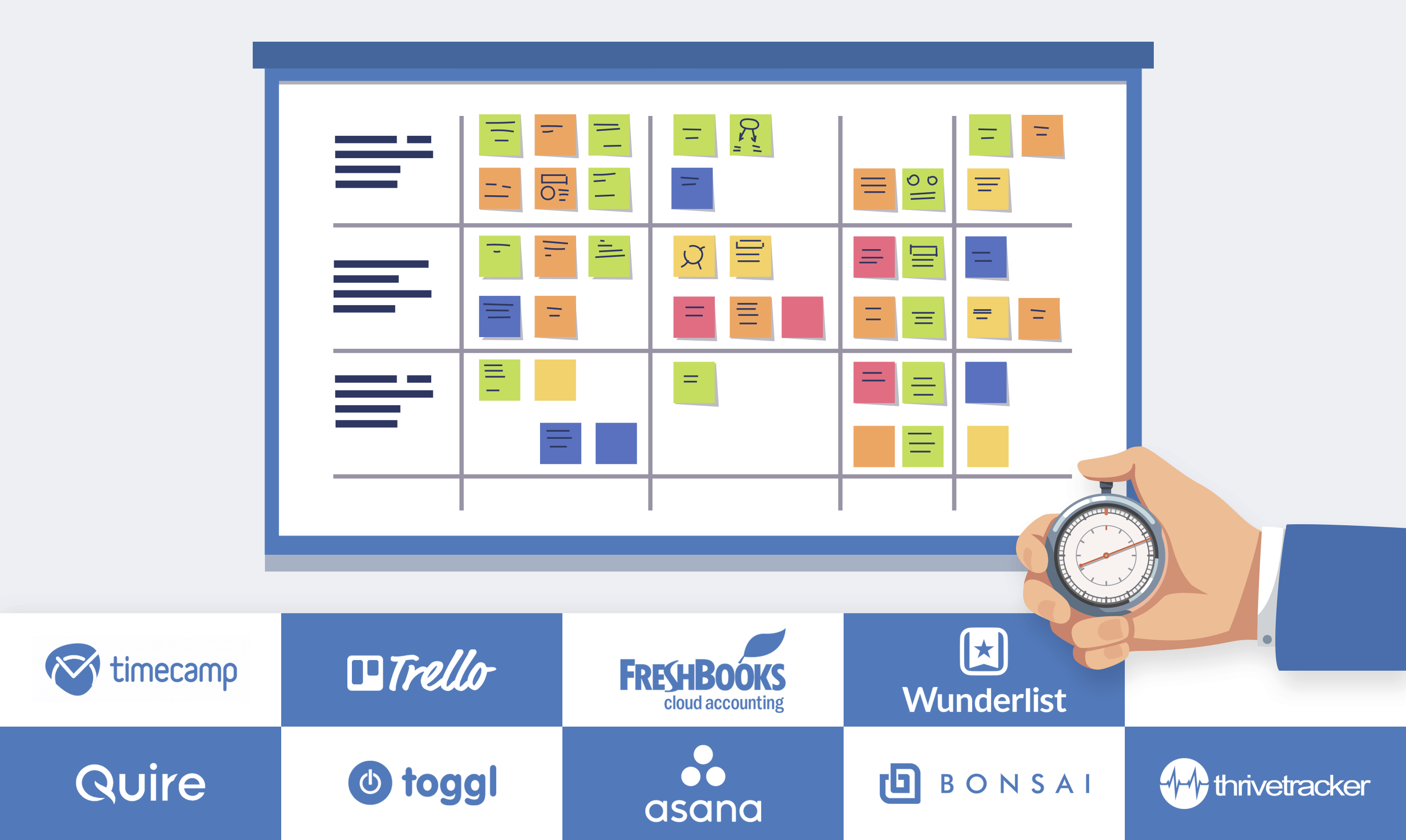 Asana
is one of the most popular project management apps for freelancers, managers, and small businesses. With Asana you can create projects, break them down into individual tasks, and even assign them to others, which is convenient if you need to collaborate. You can also communicate with clients and collaborators within the app, making it a good communication solution, as well. The interface is quite easy to use, and you can upload attachments, send yourself (or others) reminder emails, and much more.
Trello
is a very visual project management tool. The simple interface lets you create boards and pin different tasks and projects. You can break projects down into separate steps, assign tasks to others, set deadlines, and share materials via attachments. Project flow is intuitive, allowing you to easily move tasks from "To Do" to "Done."
Wunderlist
is a very popular project management app for businesses, families, and agencies, thanks to the easy way that it crosses platforms. Wunderlist can pull information regarding deadlines and tasks from emails, and organize them according to your created projects so that you have no excuse for losing track of your next task. Wunderlist also allows users to set deadlines and send reminders.
Thrive
neatly combines project management and time tracking with invoicing and client tracking. You can create projects, assign deadlines, and track time on each project, but it's also easy to create invoices and send them from within the app itself. Thrive stores your clients' contact details and monitors client metrics like profitability, returning client numbers, and client sectors.
Bonsai
is a user-friendly tool which rolls project management, time tracking, invoicing, and expense tracking into one. You can create projects and proposals, break them down into tasks, set due dates, and track your progress by time or by milestones. Bonsai also helps freelancers create and send contracts. Having time tracking and expense tracking in the same place as invoicing adds to its efficiency.
Quire
is an easy-to-use project management and time tracking tool. Plenty of keyboard shortcuts make it fast to add, edit, and track tasks. You can set deadlines, track your time and progress, and move tasks from one project or sub-project to another. Quire also makes it easy to share individual projects so that you can send project specs and scopes to just one client.
Toggl
is one of the most widely used time tracking apps. It's simple, intuitive, and effective. You can create multiple clients and projects and then track your time for every task. Toggl makes it easy to add time entries manually if you weren't able to turn on the timer, and has both a mobile app and a desktop version.
FreshBooks
combines time and project tracking with simple invoicing software, which makes it even more useful. You can track your own time for different projects and clients, and then use the tracked time to issue invoices from within the tool.
TimeCamp
is an advanced time tracking app. It enables freelancers to track billable time, whether you're charging by the hour or according to a fixed price. You can then create invoices within the app. TimeCamp includes a visual calendar so you can plan your projects around your available work time. TimeCamp doesn't include project management tools, but it does integrate with apps like Asana for advanced project management.
Pro Tip: There is some trial and error involved in finding the best project management tool for yourself. Don't feel obligated to stick with the first one you signed up for if it doesn't suit your needs. Take advantage of free versions and free trials of paid versions to test drive and determine which tool is the one you cannot live without.
Automate Your Freelancer Processes
Automation might sound like a grand decision for a freelancer to make, but as a freelancer, you're running your own business – including all those repetitive tasks that occupy so much of your time. When you automate them, you gain all that time back, and you can devote it to the tasks that earn you money – or to pure leisure. Here are some of the best tools for freelancers to automate business tasks: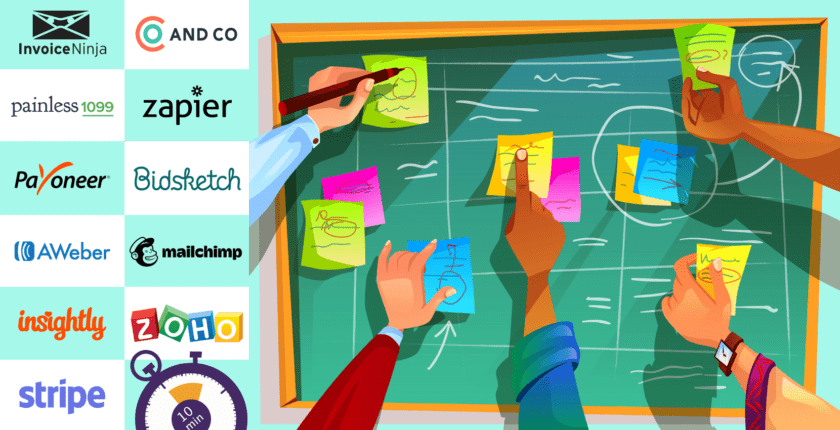 Zapier allows you to automate tasks by creating "zaps." You can set a zap to automatically share your blog posts to social media, produce email alerts when relevant gig listings come up on your freelance platforms, and much more.
Invoice Ninja is a great tool for automating late payment reminders. You can also use it to automate monthly billing for your retainer clients.
AND CO is a versatile tool for accounting automation. You can automate invoicing, late payment reminders, accept payment from clients automatically, and automate expense tracking, reconciliation, and categorization.
Painless1099 automates tax payments for US-based businesses. It calculates the amount you'll need to pay, withholds it from your income, and deposits the net amount into your personal checking account. Then, it sends it to the IRS at the right time.
MailChimp and AWeber are two equally good tools for automating emails. You can create autoresponders to onboard new clients and respond to initial inquiries automatically, triggered by certain words or by clients coming through a certain page on your website.
Bidsketch automates the time-consuming process of creating proposals. You can direct new clients there to receive your automated bid proposal.
Stripe and Payoneer are both ways to automate processing payments from clients. Through these tools, you can accept payment online automatically and process it to your bank account without needing to cash a check or share your bank details again.
Zoho and Insightly are CRM tools. With these, freelancers can automate tasks like following up on new client inquiries, gathering information from new clients, and keeping client details consistent.
How to Maximize Productivity during Your Work Time
As a freelancer, every minute you dedicate to a non-billable task translates to a minute where you're not generating income. Consequently, activities such as formulating your work schedule, providing progress updates, responding to client emails, prospecting for new opportunities, and overseeing invoices and finances, though indispensable, don't directly contribute to your earnings.
True Story: James is a software programmer. He's a wizard with code, but when it comes to keeping an office in order, he falls apart. After losing a couple of clients due to missed emails, he hired a freelance personal assistant. He earns $500 per hour, and he pays his assistant $40 an hour to reply to initial client requests, create invoices, and record his expenses while he spends his time programming. It's a win-win situation for James: His finances, documents, and office are all well-organized, and he has more time for high-earning projects.
Here are three tips on how to optimize your work time so you can be more productive, while avoiding having administrative tasks steal your working hours away.
"Batch process" your work tasks. That means allocating time throughout your day to blitz all mundane tasks at the same time. Schedule 15 minutes to check and reply to client emails at a fixed time each day, instead of interrupting yourself whenever your inbox pings. Block off 90 minutes to focus on your project without stopping to check your messages.
Prioritize your best working time for the hardest tasks. For example, if you are at your best first thing in the morning, keep that time clear for your most important project. Leave simpler tasks like writing invoices for the end of the day, when your brain is tired.
Delegate. Ultimately, you can't do two things at once. Either you can do the work you are being paid to do, or you can complete mundane tasks, like invoicing and filing. It might be worth it to pay a freelance personal assistant to take some of these jobs off your hands so you have more time for your paid work.
Action Items
Choose a project management system that suits your needs – no matter if it's a spreadsheet, a large wall calendar, or a cloud project management tool.
Determine which of your tasks you can automate to free up more time.
Reassess your working hours and think about whether or not you are using your time efficiently.
Feel free to share this article and/or copy this post or parts of it to your website, blog, or social networks. All we ask is that you attribute it to WebsitePlanet.com